This Greyhound Was Born to Be A Turtleneck Model
By Ish B May 24, 2021
---
Some dogs just have the natural sense for high fashion. Some of them look completely natural wearing dog boots, and others look amazing in turtlenecks. Hazel, a Silken Windhound, has a lush, silky coat that's made for wearing turtlenecks. Her built is slender, and her neck and legs are long, too. Her mom, May, noticed that her body was perfect for sweaters, and decided to make them a staple in Hazel's closet.
Hazel not only wears turtlenecks but, occasionally, May will throw on a scarf to highlight her features. Anything that drapes her neck, which is worth accentuating, looks fabulous, and mama May intends to go to town with her lovely dog.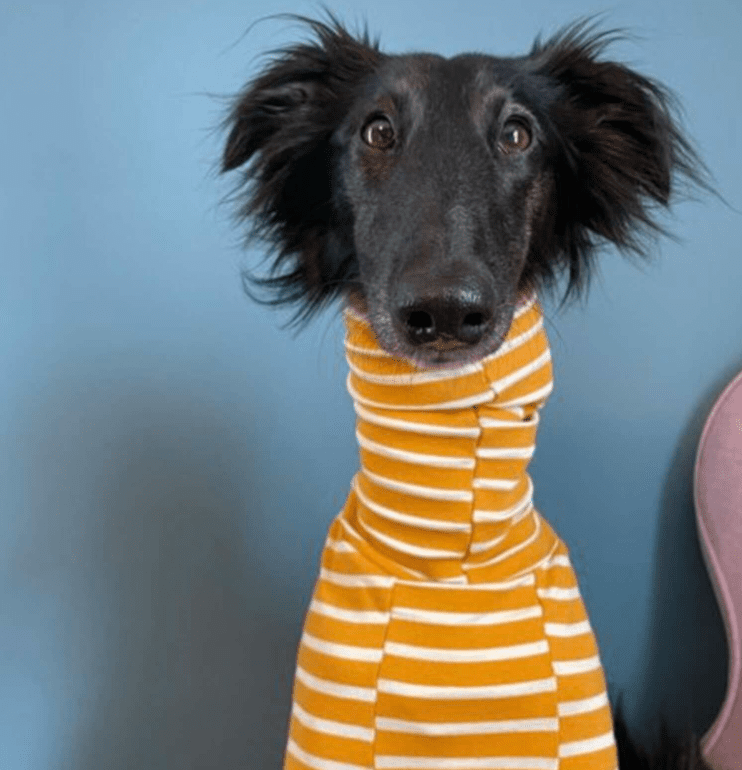 Her turtleneck sweaters are custom made to fit her body, and sometimes a scarf or a handkerchief around her neck completes her look. The scarves and turtlenecks aren't purely for aesthetic purposes. In fact, because of Hazel's lack of body fat, she can get way more chilly than other dog breeds on cold days. The articles of clothing keep her warm and comfortable during the long winter months.
Hazel doesn't wear her turtlenecks year-round. Instead, she only wears them during fall or winter, or for photoshoots. During the summer days, she ditches her turtlenecks and runs around freely. Her character is genuinely charming and sweet, and Hazel manages to make friends wherever she goes, regardless if she wears a sweater or not! Her unique taste in dog fashion has garnered numerous followers on Instagram and the numbers keep on growing. Way to go, Hazel. Keep rocking those stylish outfits!