Cats and Celebrities: 40 Picture-Purrfect Pairs
By Satarupa D June 22, 2021
---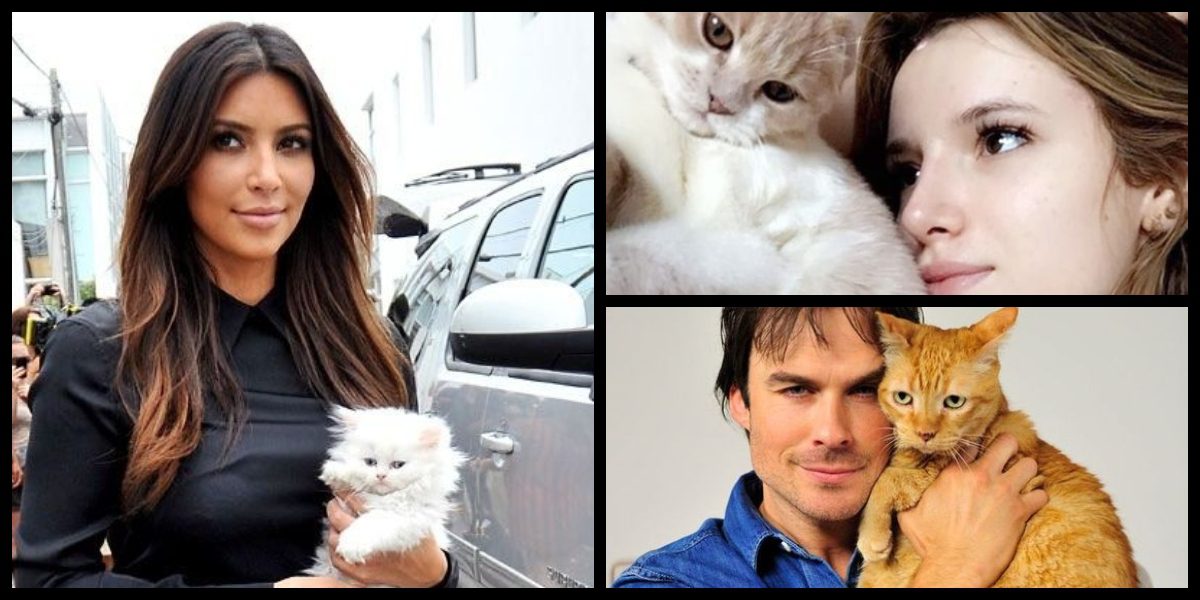 With all the time we've spent remaining in our homes, all of us are feeling a little claustrophobic, and need to distract ourselves from everything going on around us. We've done lots of online shopping, quite a bit of yoga, maybe tried our hand at baking, and watched way too much Netflix. We think it's time for more lighthearted entertainment. We want to smile and saw, "aww!" And what better way to do that than looking at our favorite celebrities? But wait, we have something better. We are going to give you your favorite celebrities cuddling with their cats. Excited? We bet you are. These are some of the most adorable picture we've seen, so be prepared to fall in love!!
Karl Lagerfeld
This article would be remiss if we didn't put Karl Lagerfeld at the top of the list. Karl Lagerfeld was a world-famous fashion designer who entered the world of fashion at the young age of fourteen, and he never looked back till he sadly left us in 2019. But one of the other things Karl was famous for was his incredible love for his cat, Choupette.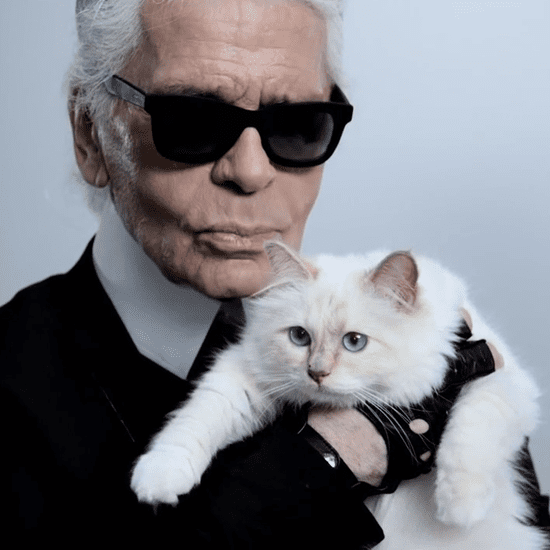 Choupette, being a cat, has achieved more than us in her small lifetime. She is extremely stylish and has her own feline-inspired product line as well, which was produced by Karl himself. But that is not all. She also modeled for Karl extensively and has her own maids and personal cook.
Gigi Hadid
Gigi Hadid is a model who has mesmerized the world with her beauty. Appearing on multiple runways, including the Victoria Secret Shows, Gigi Hadid has also modeled for various major brands. When she is not stunning the world in front of the cameras, she is usually found cuddling with her cat.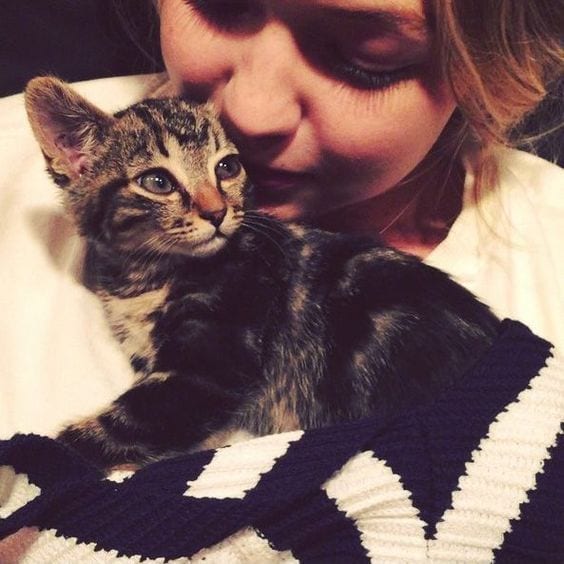 She adopted the cat last summer, and Gigi Hadid, as well as her sister, Bella Hadid, are usually seen taking pictures with the little munchkin. If that wasn't cute enough, the little bundle of joy also has its own Instagram page by the name of @therealcleohadid.
Jenna Fischer
We are sure you remember the quiet and charming Pam from The Office. With her cuteness and calm demenor, she had stolen the heart of Jim Halpert. But what you might not know is that Jenna Fischer has recently started winning our hearts by posting pictures with her cats.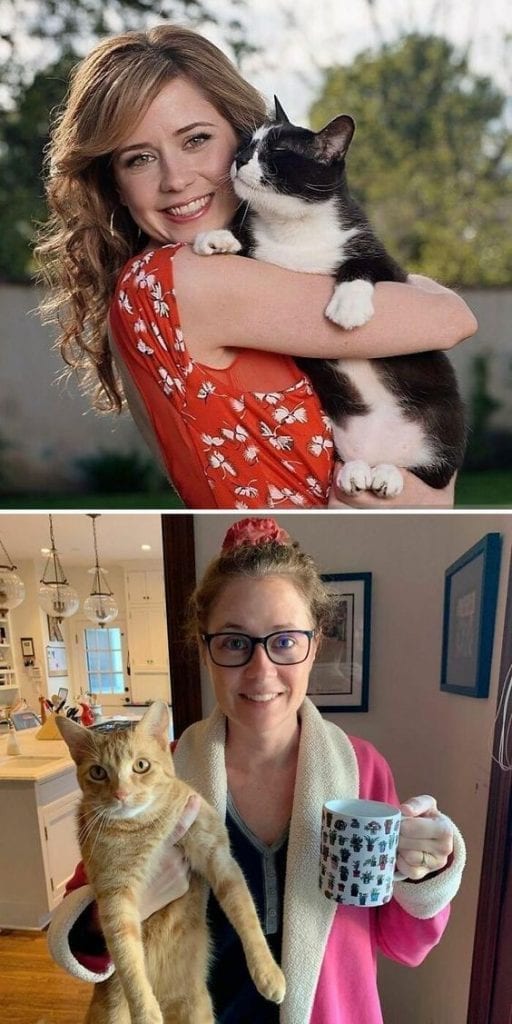 Jenna adopted her cats, and according to her, she has rehabilitated about 13others. She has told the story of how she came to own her orange tabby by the name of Sonny. She says that he loves everyone, and that he is a bit of a rascal.
Keegan Allen
Keegan Allen is a household name thanks to his stint on the hit show Pretty Little Liars. He plays the character of Toby Cavanaugh, and he has become something of a heartthrob due to this very popular role. But what you might not know is that Keegan also happens to be a photographer, and one of his muses his his well-loved cat.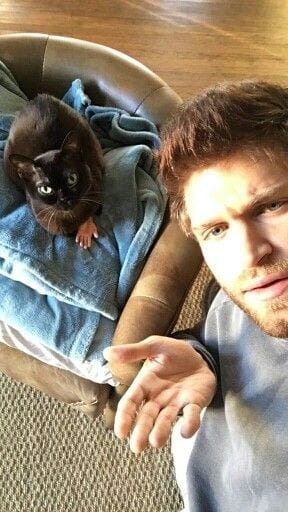 Keegan started photographing his black cat a few years ago, and his cat proves to be very photogenic. He clicks multiple pictures, including one where his cat is perching over his shoulder while he snaps a picture in the mirror. Stop making us fall in love with you, Keegan!
Martha Stewart
When Martha Stewart is not mesmerizing the world with her delicious cooking, she spends her time cuddling with her cats. The cooking icon doesn't have one or two, but three cats that she considers to be members of her family.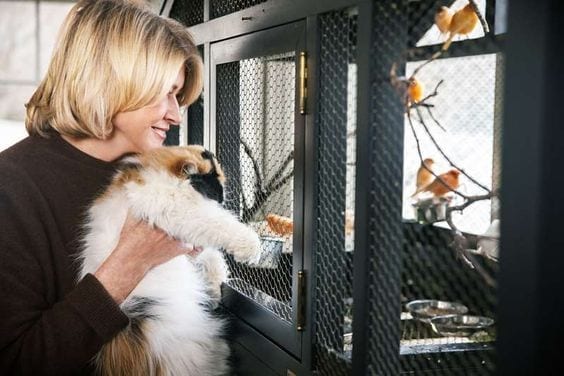 Stewart reveals that in the past she had owned nine cats, but she realized that that was too much. At present she has three cats: two Persian cats by the name of Princess Peony and Empress Tang. The third is a greenhouse male cat by the name of Blackie.
Jay Baruchel
Jay Baruchel is an amazing actor who has gained fans all over the world with his amazing ability to play quirky and roles in movies like The Sorcerer's Apprentice and She's Out Of My League, and giving his voice to Hiccup in the How to Train Your Dragon series. But the actor is also a fan of cats that keep him busy all the time.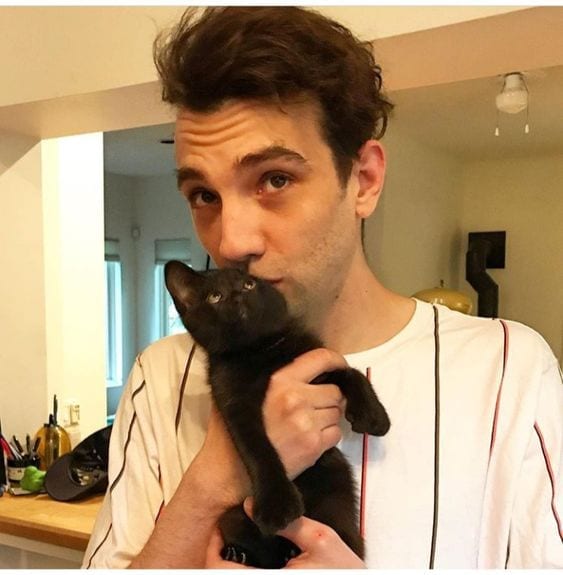 Baruchel owns two cats by the name of Mary Minew and Rocky Montana (we love the names!!). He admits that he goes to the cat show in Montreal whenever it is in town, and also that he used to have a subscription to Cat Fancy. You do you, Baruchel!!
Russell Brand
The popular comedian and actor Russell Brand is also the ex-husband to the music icon Katy Perry. But another interesting fact about this celebrity is that he loves cats and had one by the name of Morrissey for many years.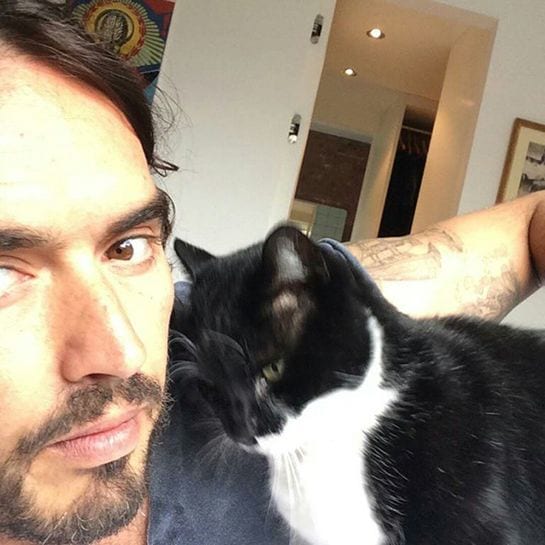 Russell named his cat Morrissey after the front-man of his favorite band, The Smiths. Morrissey was his companion for 16 and a half years and sadly passed away in 2020. The heartbroken actor shared the news on Facebook. Our hearts go out to Russell!
Taylor Swift
When Taylor Swift is not charming the world with her super relatable songs, she is actually spending some cuddly time with her cats, the felines that inspired her to play the role of Bombalurina in the film adaptation of Cats.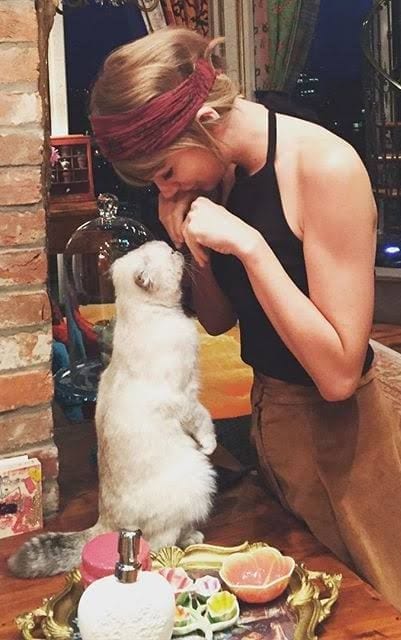 As of right now, Taylor Swift has three cats: Meredith Grey, Olivia Benson, and Benjamin Button. Meredith and Olivia are Scottish Folds, whereas Benjamin is a Ragdoll Cat. Swift considers her love for her cats only second to her singing career.
Katy Perry
Katy Perry hit the bigtime with hit songs like "I Kissed a Girl," but did you know that there was someone else in that video that has a tight grip on the pop icon's heart? The "someone else" that we are talking about, is Katy Perry's own cat, Purry.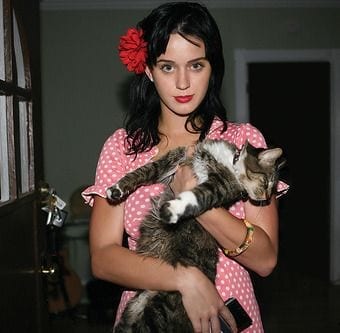 The cat, named Kitty Purry, was a cherished cat of Perry who sadly passed away in 2020. She also had another cat by the name of Monkey. As of now, Perry has a cat called Butters Perry that gets lots of love and attention from the star. How adorable!
Gilles Marini
Remember the hot French guy from 2 Broke Girls? Or Dante, who appeared in the first season of Sex and the City? Well, that is Gilles Marini, and we have gathered here today to share a photo of him with his adorable cat, Penelope.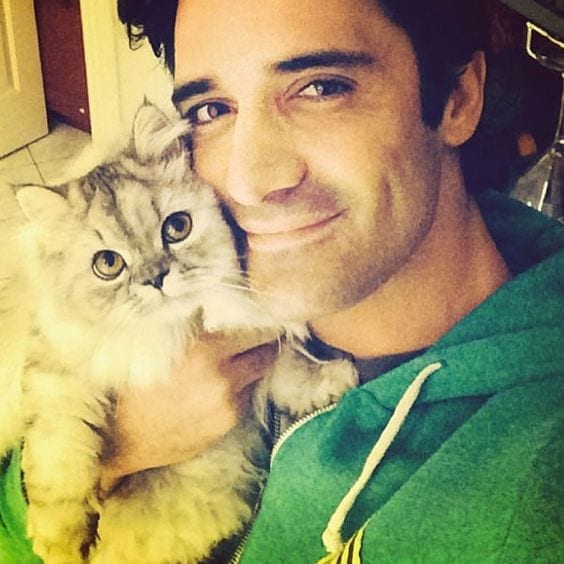 The Dancing with the Stars actor surprised his daughter, Juliana, with an adorable white cat by the name of Penelope. He gifted the cat to his daughter so that she could learn responsibility and love, but the cat quickly ended up becoming the apple of everyone's eye.
Nicole Kidman
The tall blonde, who has starred in many blockbuster movies such as The Golden Compass and Aquaman, and the hit TV series Big Little Lies, is a huge fan of cats. The star has three of them, the most recent of which joined her family in 2020.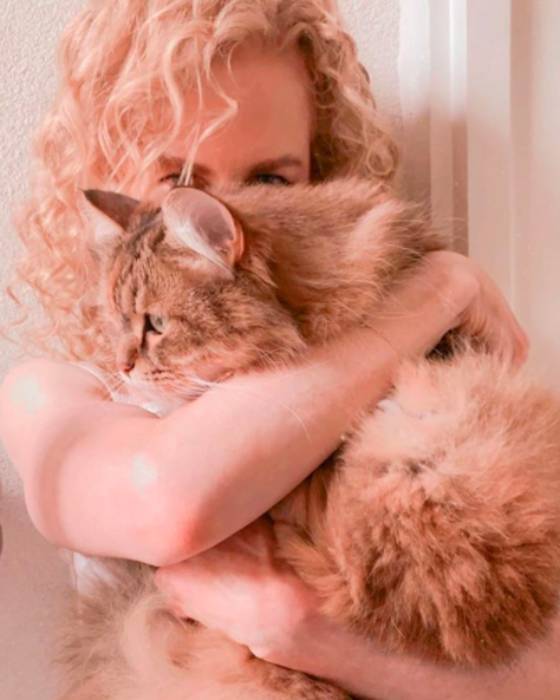 The Oscar-winning actress recently adopted a black-and-white rescue cat named Louis. She announced his formal induction into her family through Instagram. Louis joined Kidman's feline family and inherited two cat siblings, Ginger and Snow. We are sure he will be very happy!
Peyton Clark
The star of movies like Danger Jane and Mild Mannered has won the hearts of the world by posting adorable pictures with his cat. The cute little fur ball is usually seen right alongside Peyton in his social media posts.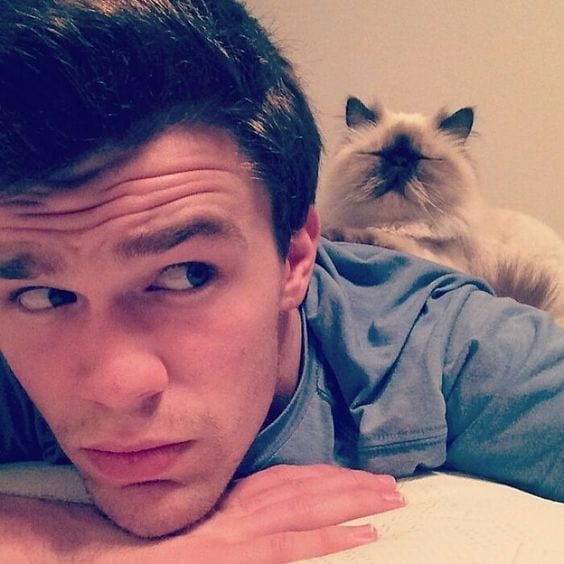 The Disney star has an adorable cat by the name of Cotton who he loves very much. When asked about his cat, Peyton answered that no matter what happens, Cotton will always have his back. Awwww! We wish we had someone like that as well!
Kim Kardashian
The brunette bombshell who rose to fame as the star of the very popular show Keeping Up With The Kardashians has a guilty pleasure in the form of her love for her cat, Mercy. She was also seen with Mercy on a few red carpets, who was a gift from her then boyfriend, Kanye West.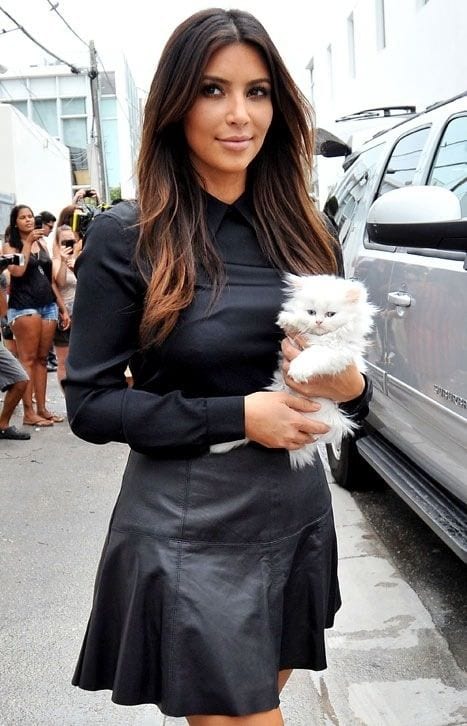 But sadly, in the year 2012, Mercy passed away after being afflicted by a cancer-like virus that is often associated with breeding. Kardashian had given away Mercy to Khloe's assistant after Kim had realized she was allergic to the cat.
Ricky Gervais
The actor, who has cracked us up multiple times – especially as the boss of a paper company in the UK version of The Office – is a huge fan of cats, and fosters a beautiful cat by the name of Catkins. Gervais and his long-time girlfriend, Jane Fallon, are in love with him.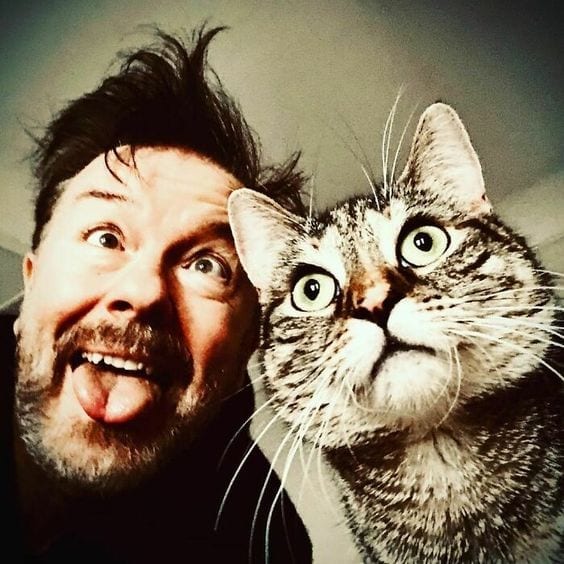 Back in 2020, Gervais and his girlfriend had sadly lost their beloved Burmese cat, Ollie. After 17 years of spending fun times with Ollie, she passed away, and Gervais was heartbroken. But as a ray of sunshine, Catkins came into their lives and Gervais is happily fostering the little guy until he goes to his permanent home.
Kesha
The pop singer, who is known for changing the color of her hair to match her different outfits is also a genuinely passionate cat lover. She is usually seen taking walks with a number of cats that she takes care of and adores.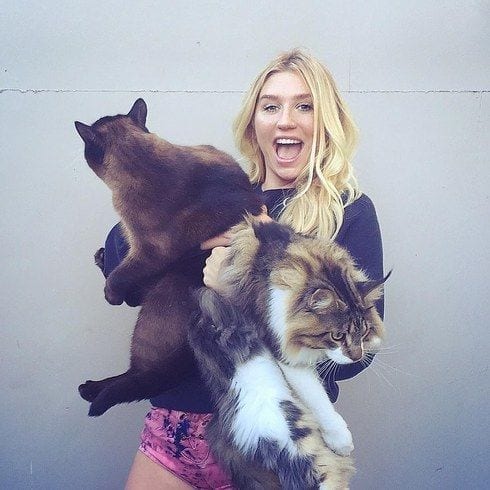 The name of one of Kesha's cat is Mr. Peeps, and the cat has his own Twitter account as well! Kesha is known to post multiple pictures of her with her cats on her Facebook and Instagram accounts. Mr. Peeps also won the 'official cat of the universe' on International Cat Day.
Mandy Moore
The star of movies like A Walk to Remember and the voice actress of the charming Rapunzel in Tangled has numerous cats of her own that she absolutely adores. One of her cats, Fargo, tries to harmonize her every time that she sings.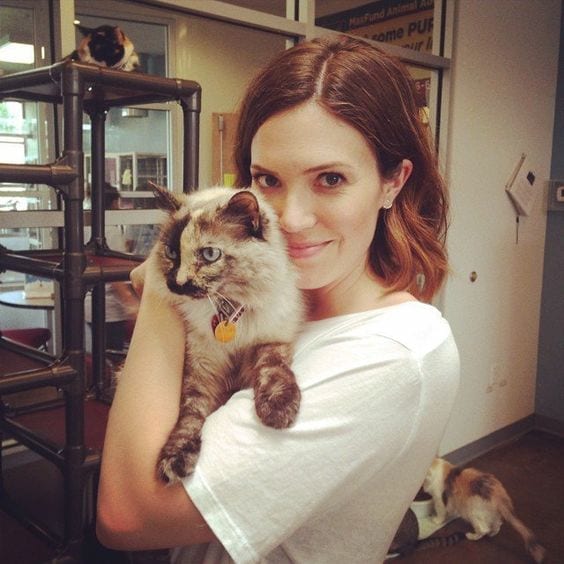 But sadly everything is not hunky dory when it comes to her cats. In 2018, one of her cats Madeline died on the same weekend that Moore got remarried again. We're sure that was heartbreaking! Thankfully, she has more fur babies to keep her and her husband company.
Kat Dennings
The break-out star of the hit TV sitcom 2 Broke Girls – who has made her entrance into the Marvel Universe with her portrayal of Darcy in WandaVision – is very clearly in love with her cat, and she doesn't care who knows it.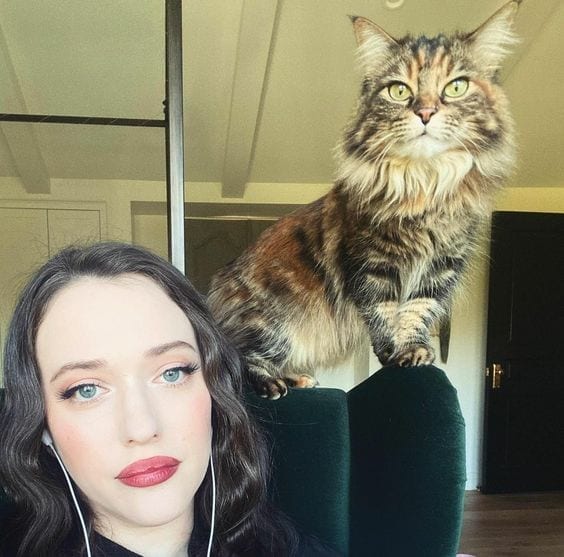 The star, who made an appearance on Ellen recently to promote her show WandaVision, proclaimed that her eight-year old cat Millie is a secret genius. She also said that she is worried to adopt another cat in case Millie gets jealous.
Dita Von Teese
Dita Von Teese is a famous American burlesque dancer who has mesmerized the world with her glamorous looks. But what you might not know about her is that Dita is an animal lover, and she three cats and two dogs.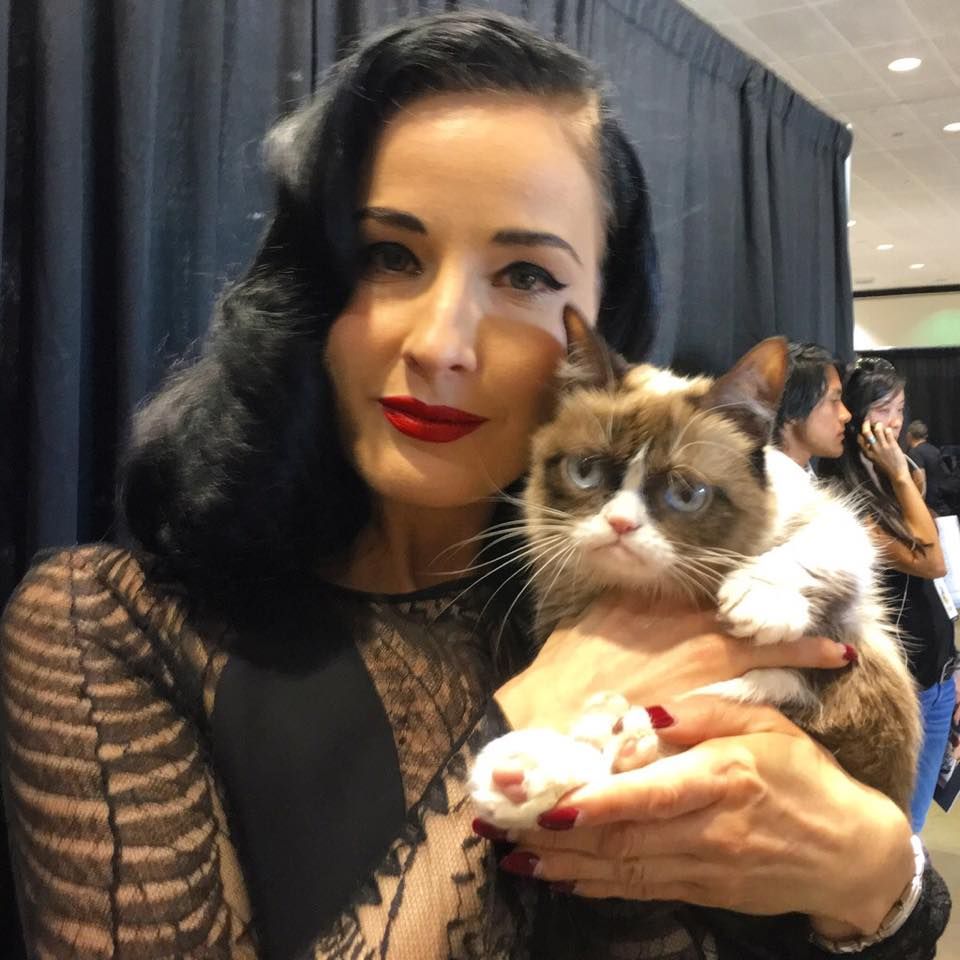 One of her cats, Aleister, is a Devonshire Rex kitten that stealthily walked into Dita's life in 2003. Dita's life was never the same again. Aleister was usually seen everywhere with Dita, being carried in his own Louis Vuitton carrier painted with her monogram. Aleister, sadly, passed away recently.
Drew Barrymore
The gorgeous actress who has multiple movies under her belt and is hosting a very popular talk show at the moment is actually a mother to not one, not two, but three cats. She got these cats in 2018 and added them to her pet family, which already included a dog by the name of Douglas.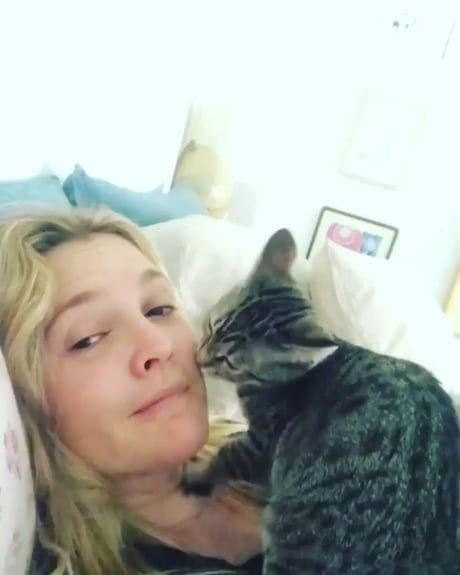 The actress brought one of the cats, named Fern, for herself, whereas the other two cats, Lucky and Peach, were meant for her daughters, Olive and Frankie, respectively. We hope this happy family enjoys their cats as much as we love seeing photos of them!
Ian Somerhalder
The blue-eyed heartthrob, who played the character of Damon Salvatore in Vampire Diaries to perfection, has quite a few pets in his house that he shares with his wife, Nikki Reed. The pets include dogs, horses, and his very beloved cat, Moke.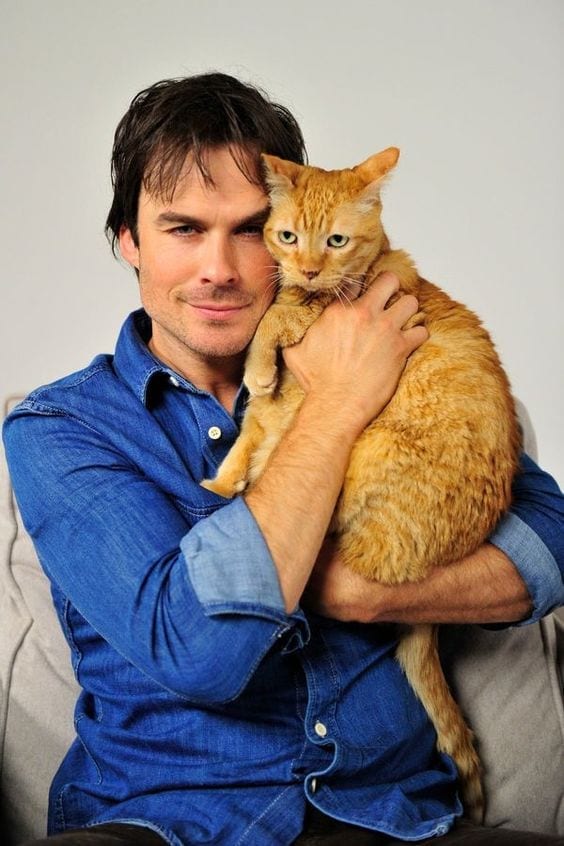 The orange tabby cat is more than fifteen years old, and is a constant companion of the actor. Somerhalder first found the cat back when he was shooting Lost on an island. The moment he saw the cat he knew he had found a keeper.
Robert Downey Jr.
The man who brought the iconic Iron Man to life recently played the character of Dr. Doolittle who can talk to animals. Coincidentally, Downey in real life owns two cats with his wife Susan. Their names are Monty and D'Artagnan.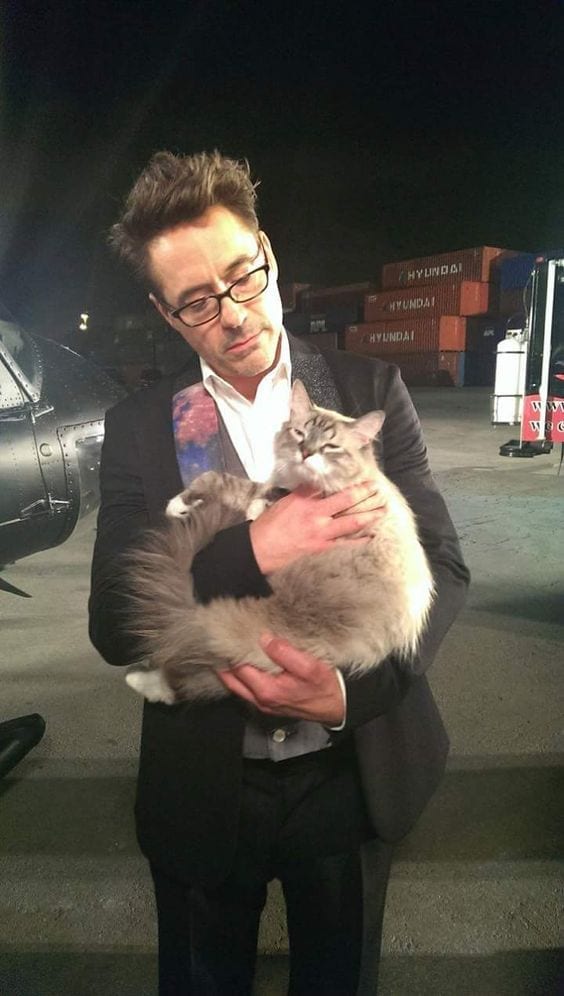 The popular actor revealed to reporters that he is obsessed with his cats, and tends to show people pictures of them whenever he can. According to him, his wife has requested him to stop doing that. He also admitted that he gets teary-eyed when he sees commercials about animal cruelty. Awwwwwww.
Bella Thorne
Now, this one is a doozy. The popular Disney star Bella Thorne, known for usually playing the gorgeous high school cheerleader, is the mother of – wait for it – nineteen cats. NINETEEN!! Wow, now that is quite the number of fur babies.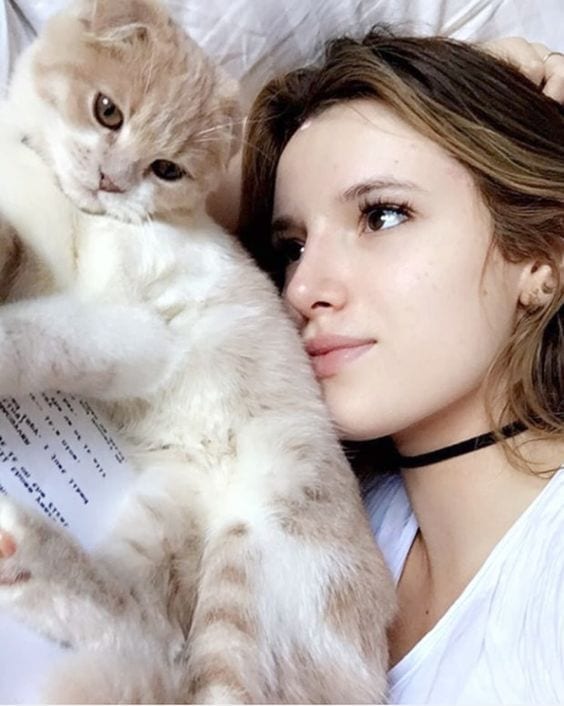 The actress has nineteen cats that live with in her 4,800 square foot apartment, and it might make you wonder if she even knows the name of all of them. We are sure she can recognize each of them, but remembering their names seems like a task!
Penelope Cruz
Penelope Cruz, the woman who has made many man weak at the knees with her sensual poses and brilliant acting, is secretly a very devout cat lady. When she is not smoldering in front of cameras, she is the savior of cats.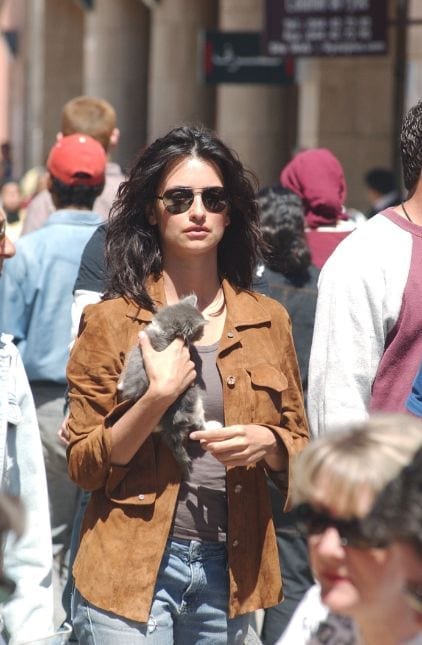 Penelope has admitted that when she first moved to Los Angeles, she would find cats on the streets and she would raise them as her own. According to her, she raised a lot of cats during that period of time.
Kelly Pickler
The famous American Idol contestant Kelly Pickler went through a lot of controversy and confusion when it came to her cat, Pickles. Kellie brought Pickles in the year 2006, and the cat quickly became an important part of her life.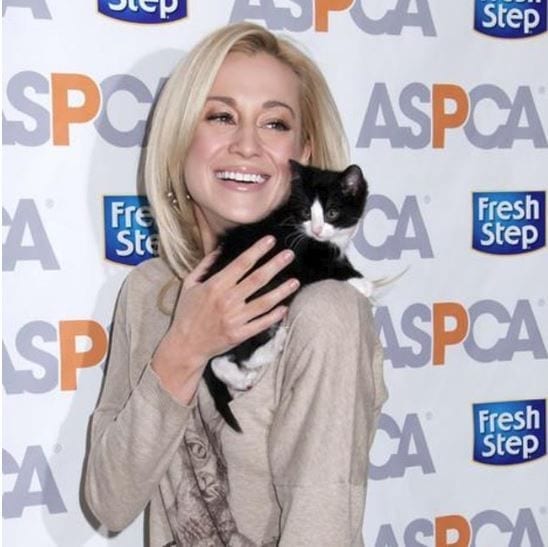 But after a few years, Pickles just disappeared, resulting in confusion. In 2012, it was discovered that Pickles hadn't died, but had been relocated to another loving family, because Kelly's husband was allergic to cats. That made us feel better.
Kate Beckinsale
The Underworld star who refuses to age has found a kindred soul within her cat, Clive. She is seen in numerous photos with him, and she shares them with her fans on social media. Hey, we are definitely not complaining.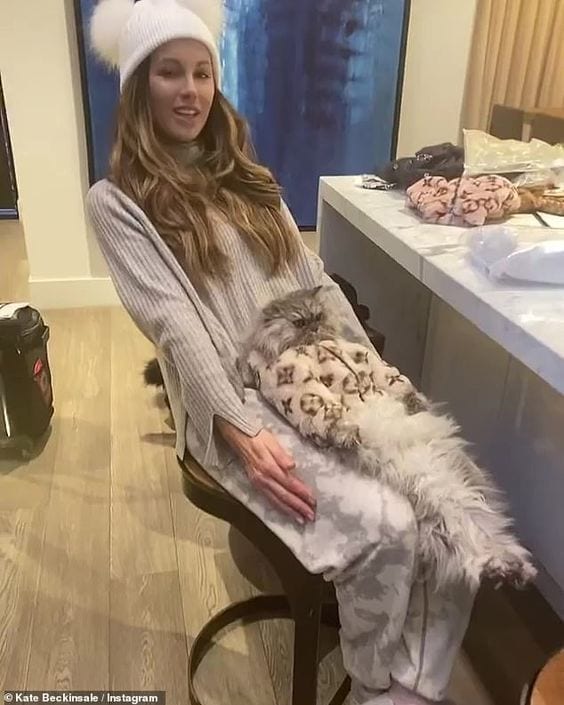 Beckinsale has one other cat that she adores by the name of Willow, and a Pomeranian dog named Myf. But it is Clive who is the star and muse of the actress, and the one with whom she shares funny photos that are much enjoyed by her followers.
Nikki Reed
The wife of Ian Somerhalder, and the actress who played the character of Rosalie in the Twilight series is also a famed animal lover. She should probably be person at the top of the list of celebrities who loves animals the most.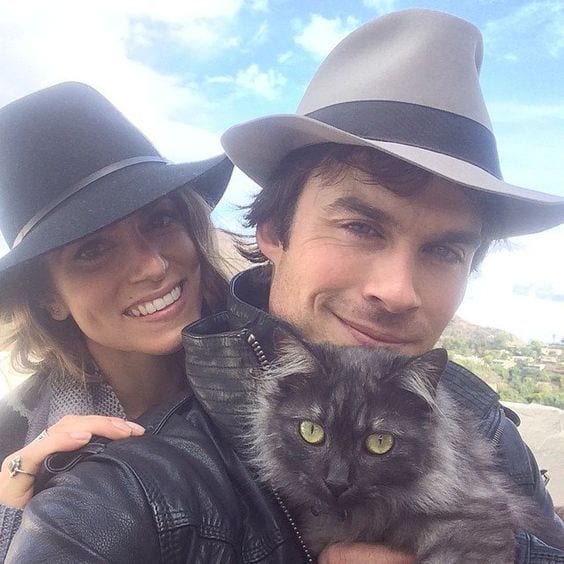 The actress adopted a cat, along with her equally animal-loving husband, in 2014. She posted the update on Instagram and asked her fans what she should name the cat. Nikki Reed also has two horses and five dogs that she shares with her husband.
Cameron Diaz
Cameron Diaz, the well known celebrity who made herself a name playing the iconic character of Natalie Cook in the movie Charlie's Angels, can also be included in the list of cat lovers. The actress, who recently retired from Hollywood, has a cat by the name of Little Man.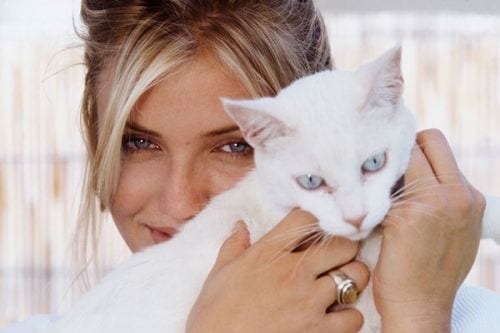 The white feline is the star of Diaz's life and is a constant companion that Diaz usually takes with her when she is out shopping. And that's not all. Little Man also wears fancy clothes and is well known for his fashion sense.
Ed Sheeran
The "Thinking Out Loud" and "Perfect" singer, who is well known for writing songs that make you wanna clutch your pillow and cry your heart out from all the emotion, is actually a goofball when it comes to his cats.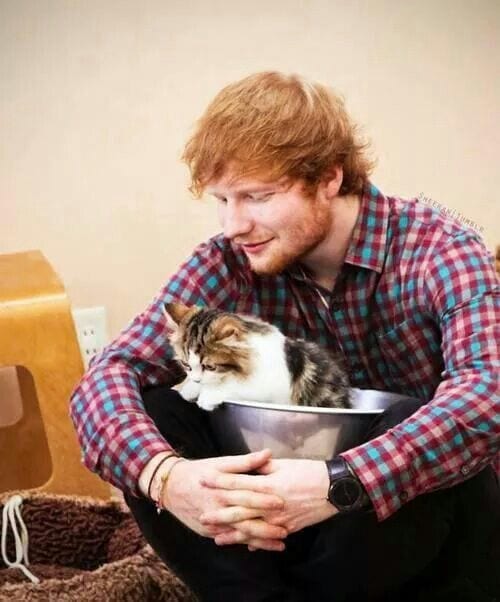 Ed Sheeran's two cats, named Dorito and Calippo, are Instagram stars with close to 400k followers. The profile showcases their antiques mixed with their cuteness. Another of Sheeran's cat, Graham, passed away in 2019. He had been with Sheeran since 2014.
Mayim Bialik
The cute, nerdy doctor of neuroscience in the hit comedy show The Big Bang Theory is also a mother to three rescue cats that she loves and adores. The name of the three cats are Addie, Frances and Nermal. Cute names for sure!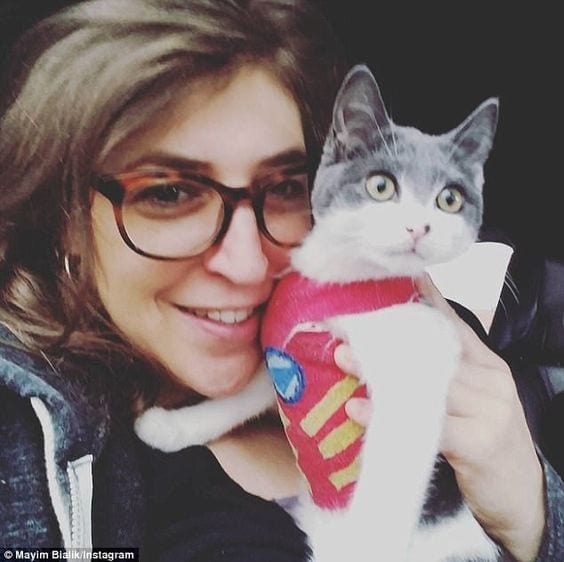 The actress reveals that the cats have been with her in all her trials and tribulation. They have seen her through her divorce and her father passing away. They were also there when are second son was born. She encourages her son to learn boundaries the way her cats do.
Macklemore
Benjamin Hammond Haggerty, who is also known by his stage name Macklemore, is a popular American rapper whose songs have peaked the Billboard charts. But another interesting fact about this rapper is that his cat has him wrapped around its tiny little paws.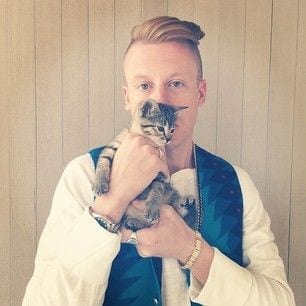 Macklemore has a beautiful tabby by the name of Cairo that he brought home in 2019. In an interview, Macklemore revealed that while his wife was pregnant and the singer had to be on tour, it was the cat who gave his wife some much needed company and spent time on her tummy. Aww!
Isla Fisher
The Now You See Me star who also starred in Confessions of a Shopaholic is an avid lover of cats as well and loves to celebrate the National Cat Day since she has a few of her own which she shares with her husband, Sacha Baron Cohen and three kids.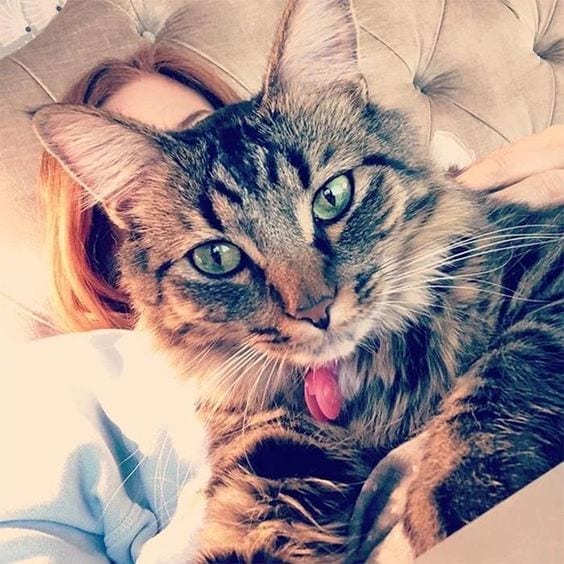 But ironically, Fisher's husband Sasha is not a huge animal person, but that did not stop Fisher. Oh no it didn't. She surprised her husband with two cats on his birthday by the name of Hamilton Whiskers and Madame Tiny Paws.
Ellie Goulding
The singer who stole our hearts with her husky nightingale voice is also the owner of three cats that she named Wallace, Lennon, and Eve. Lennon and Wallace are Bengal kittens that Goulding brought home and into the family back in 2015.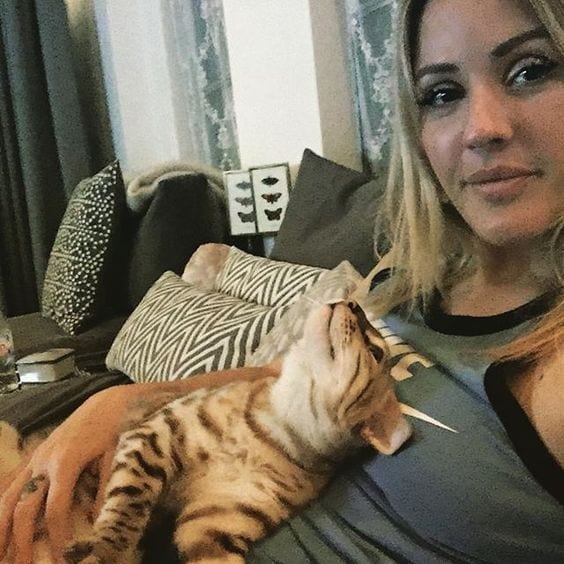 But later she gave away Lennon because she felt like he needed a bigger family to live with. But later that year, she adopted another tiny kitty by the name of Eve. Goulding's cats make appearances in her social media quite often, and we love to see them.
James Franco
James Franco rose to fame playing the role of Spiderman's best friend Harry in the Spiderman movie in 2002. But the Spring Breakers actor is also a cat lover, having two cats of his own by the name of Sammy and Zelda.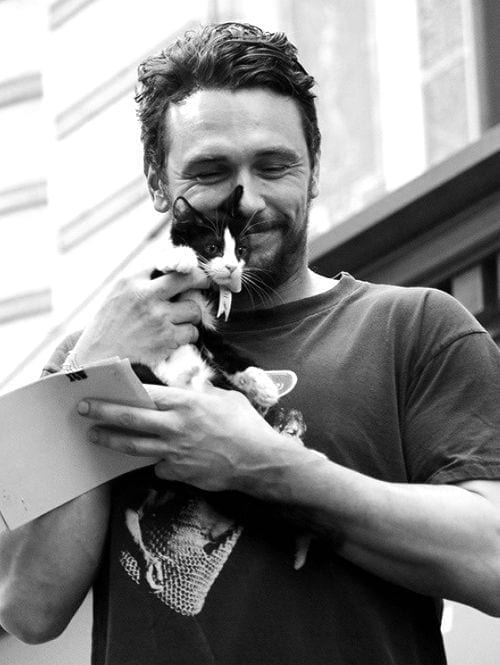 Franco revealed that he named Sammy after Sammy Glick from What Makes Sammy Run? and named Zelda after Zelda Fitzgerald. He says that he was raised as a cat person, and names his cats only after literary characters. He also claims he loves cats more than his brother does.
Hailey Bieber
The wife of popular singer Justin Bieber, and a supermodel in her own right, Hailey Bieber is also in this list of cat lovers since she has two cats, Sushi and Tuna, with her husband. The cats are a cross between a domesticated cat and a medium-sized wild African serval.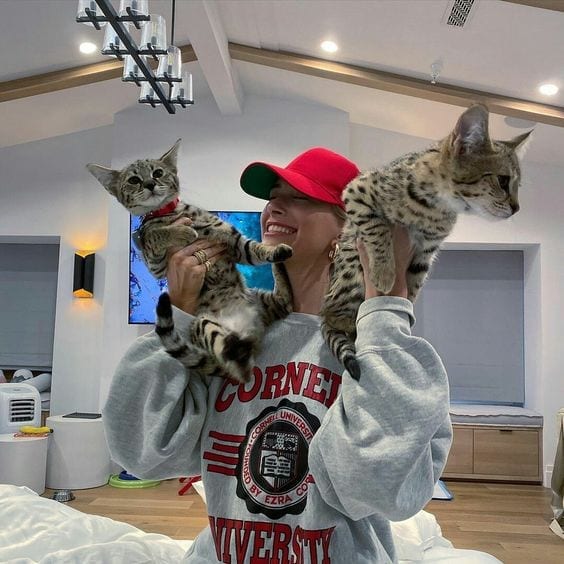 They adopted Sushi back in 2019. The couple also shares a dog by the name of Oscar. But just looks at the joy in this photo! Those cats must be very loved, and valued as important members of the Bieber family.
Norman Reedus
The Walking Dead star who lives with his equally gorgeous wife, Diane Kruger, also is the father to a cat by the name of Eye in the Dark. And yes, the cat wins the award for the best pet name ever! The name was given to him by Reedus's then five-year old son.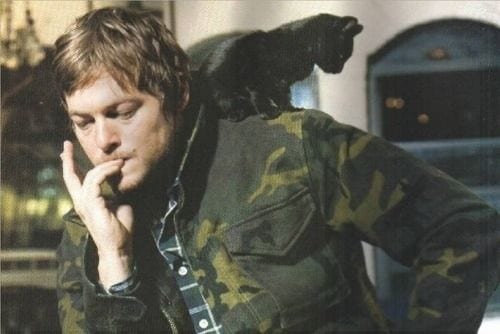 Although, it was his son who named him, the cat quickly became Reedus's favorite creature and now he travels with him everywhere. He accompanies the actor to his shooting sites, and also has his own Twitter page. Color us jealous!
Miley Cyrus
When she is not making the world groove to the catchy tunes of her songs, Miley Cyrus spends most of her time nuzzling and cuddling with her cat. The pop star is a huge animal lover and owns many cats, and some dogs as well.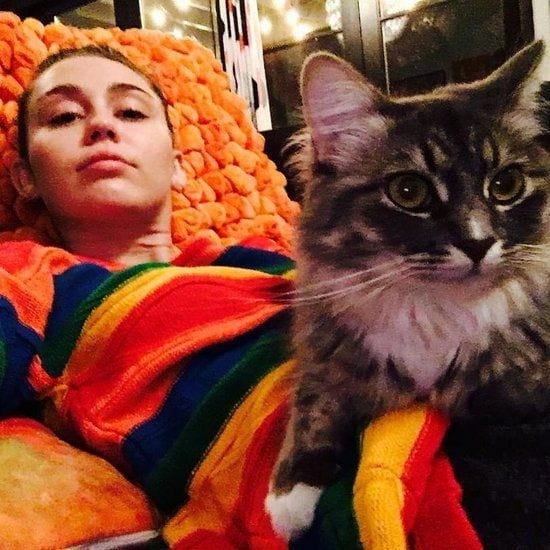 The singer's cats Keke and Lilo were adopted at the same time and they are usually found in Miley's bathroom. Shanti Om Bb, another cat that she owns, has her own Instagram page with many followers. All of the cats appear in Miley's social media quite often.
Lana Del Rey
Lana Del Rey, who sings of having "two cats in the yard" is indeed the proud owner of two cats that she has dubbed Niko and Topanga. In a recent interview, she called herself a "crazy cat lady." She calls it like she sees it!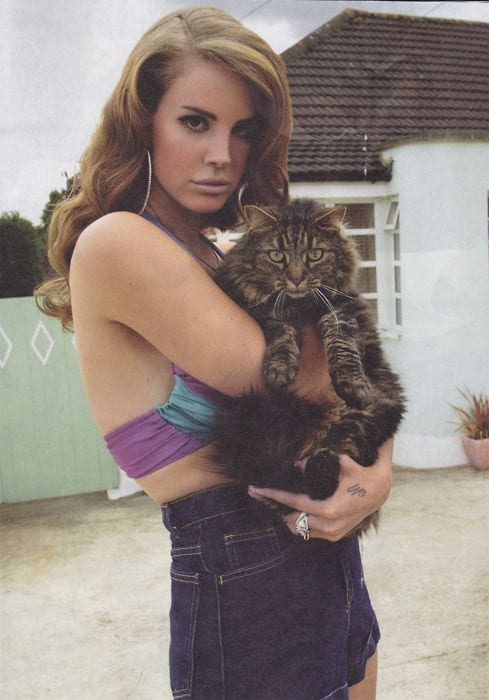 In the interview, Lana has full makeup on and is wearing a fancy dress while sitting in a tub full of water and bathing her cats. At first, her cats seem calm, but quickly get irritated and try to get out, as cats often do during bath time.
Lea Michele
The actress who impressed the world with her high vocals in the hit series Glee was known as the resident cat lady on the set of the show. She is also included in this list because she crazy for her feline friend, Shiela.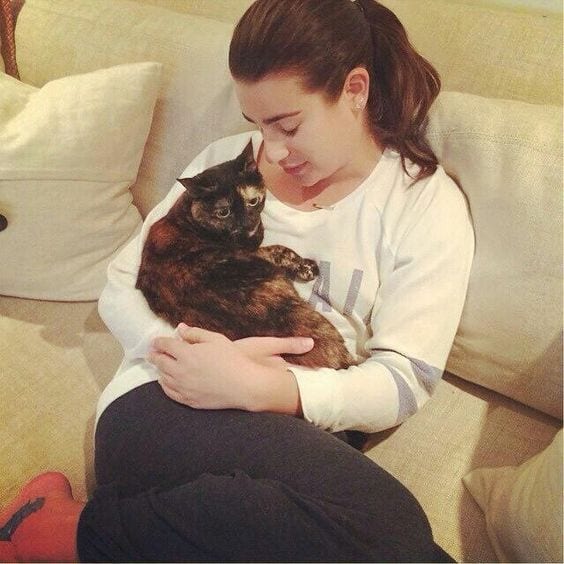 Michele states that her adorable cat is more than a cat, and is actually her perfect companion. She credits her job for meeting Sheila, since she found the cat on the Paramount lot, and decided to take her home. Talk about the purrfect love story!
Anthony Hopkins
This Oscar-winning actor is known for his versatility. Even if we first remember his as the cannibal Hannibal Lecter from Silence of the Lambs, it turns out he is as gentle as a lamb in real life. He looks so happy with his kitten!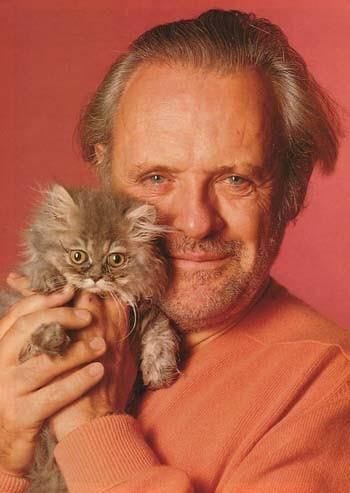 This photo is a few years old, but we heard rumors that Sir Anthony Hopkins has been serenating his cats and playing piano for them while staying home. This gives us warm fuzzies, and we love to hear he is such a great cat dad.