45 Snazzy, Silly, Sly Snakes That Look Better In Hats Than We Do
By Iulia P June 27, 2021
---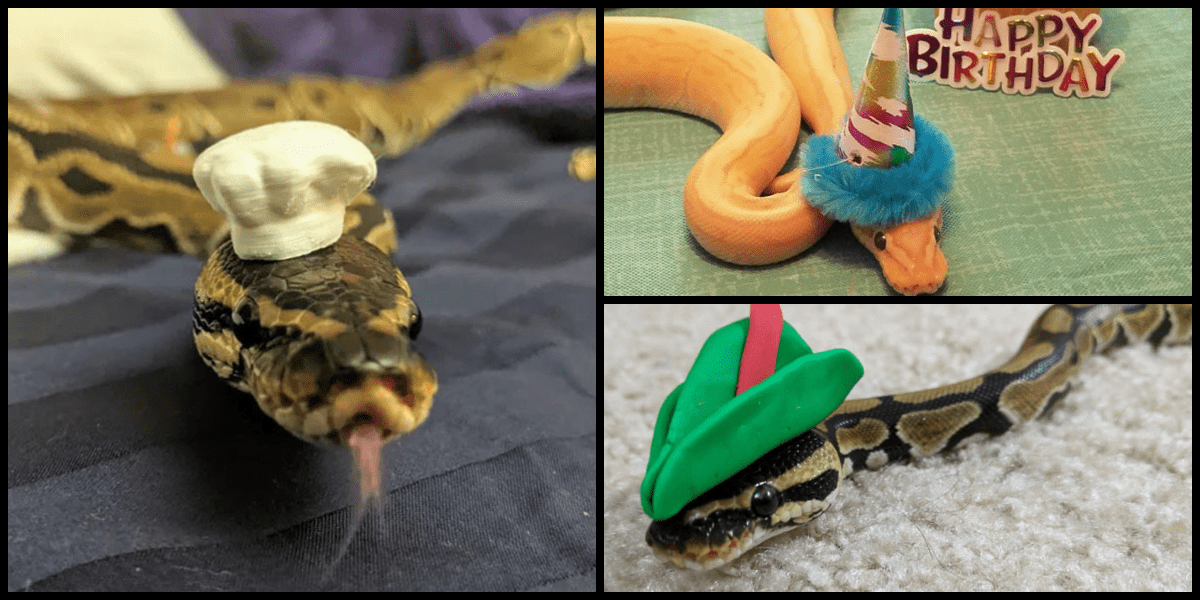 Snakes have a pretty bad rep — especially on planes. A quick peek through the internet will show you a host of people who prefer to call these reptiles "danger noodles"! They are known for their venomous bites, sharp fangs, and their ability to pull off a cute hat… Wait, what? We were shocked when we discovered these slithery serpents wearing some of fashion's finest headwear.
There are many forums online dedicated to the craft of making adorably tiny hats for pet snakes. We tip our hats off to these artists and are all too excited to share with you photos of snakes wearing everything from minuscule party hats to formal top hats and even a Baby Yoda-inspired hat or two. Hang onto your hats, ladies, and gents; this is our favorite compilation yet!
Top Of The Morning To Ya!
Well, isn't this the most dashing snake we've ever seen! We're not sure if he's heading out to a banquet, the opera, or performing his latest magic trick- but we're totally here for it. This just in, this snake is actually Dr. Facilier from The Princess And The Frog.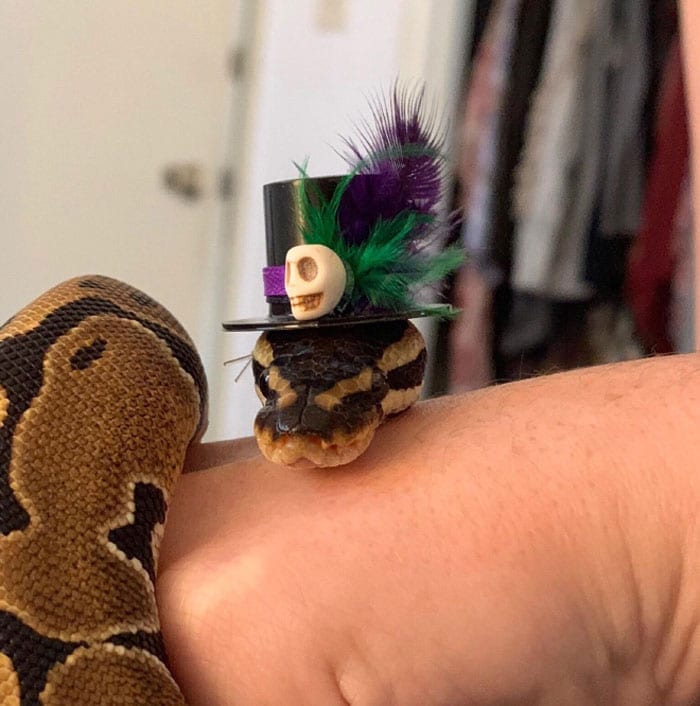 There is something extra mysterious about the small skull perched atop the brim of this glorious hat. As he is an evil bokor (witch doctor), we hope this snake doesn't have any cruel tricks up his sleeve planned for us!
Baby, It's Cold Outside!
Have you met Gandalf? Gandalf is known as the original hat-wearing snake. He is a star amongst the snake-loving community for his photos wearing the sweetest miniature caps you ever did see. And just look at him; he is a natural!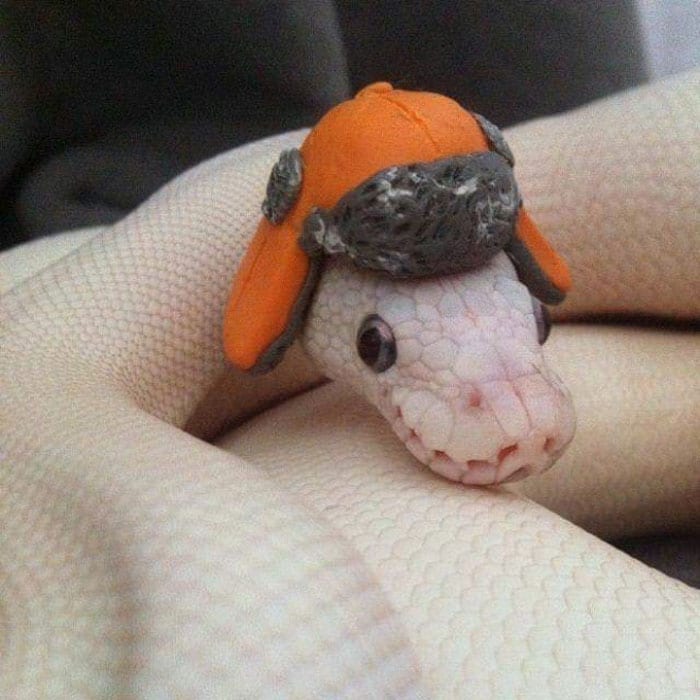 Many people aren't confident enough to pull off a hat in public, and they would never dare take a photo in one. In walks Gandalf, the most renowned hat model to exist within the reptile world for sporting endearing caps like this one. Snowstorm warning? No problem, Gandalf is ready.
Chicken Little
Snakes and chicken are not known to have an excellent relationship. As in, the snakes try to eat the eggs, chicks, and chickens themselves. It's not hard to understand why a chicken wouldn't be too keen on making a new snake friend.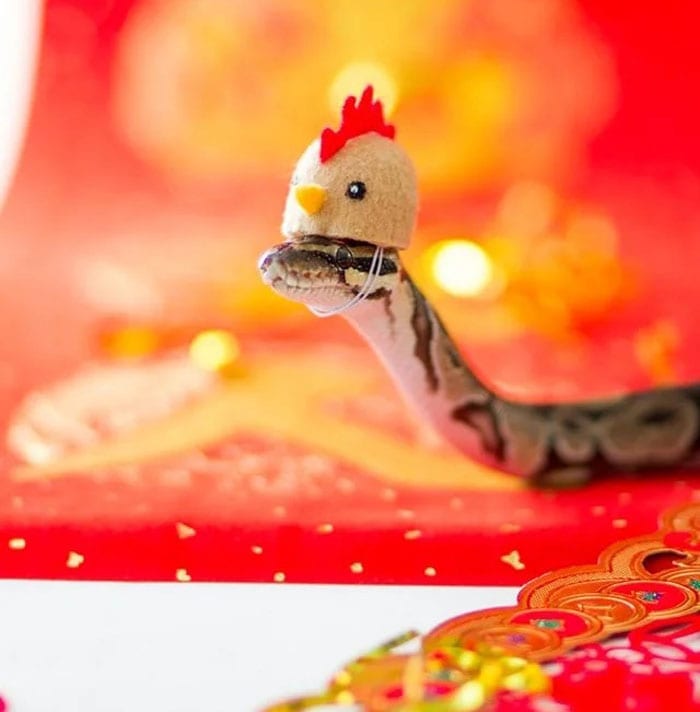 This here is a conniving and clever snake. Do as the Romans do, they say. If he wants to get in with the chicken, her has to think like a chicken, act like a chicken, and even be a chicken.
Happy Birthday To You!
It's party time! This cutie is turning one today, and you can see the excitement in her eyes. Julia Child once said that a celebration without cake is just a meeting. One look at the pompom on the tip-top of that hat confirms what we already knew to be true: this sure is one party-animal.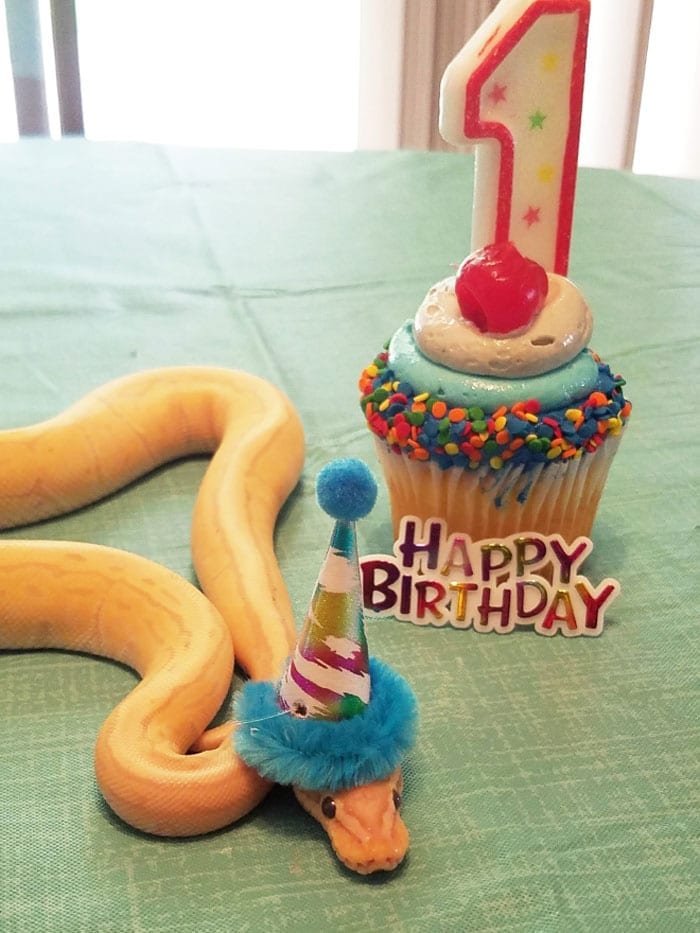 It's her party, and she'll cry if she wants to. But there is no need for tears by the looks of that cupcake and that fabulous party hat. Congratulations sis! We are happy to celebrate with you! See you next year, and don't forget to BYOH!
Sherlock, Shelock Holmes
It was Professor Plum in the ballroom with a candlestick; you're honor. All this snake is missing is a pipe, and then he has the entire look of a seasoned detective down pat. Our favorite part of this hat and cape duo would have to be the white feather strewn across the top of his hat.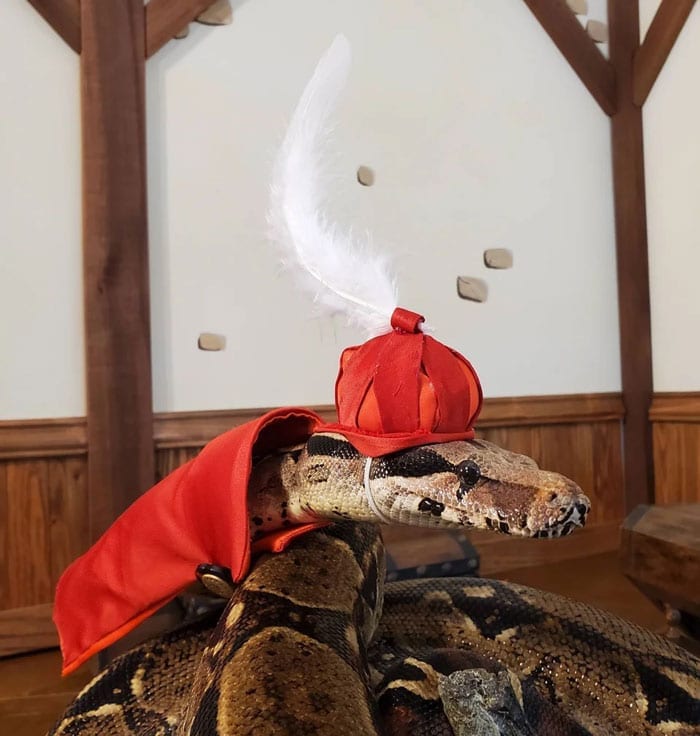 The feather is practically the size of his head and definitely makes him look rather distinguished. Question for you, Mr. Snake, what's heavier? A ton of bricks or a ton of feathers? Try to wrap your head around that one!
Happy Fall, Y'all
This gal is giving us total autumn vibes. Her foliage crown is gorgeous, and we can't help but associate it with all the beautiful things fall has to offer. We now are still thinking about pumpkin spice lattes and cozy oversized sweaters.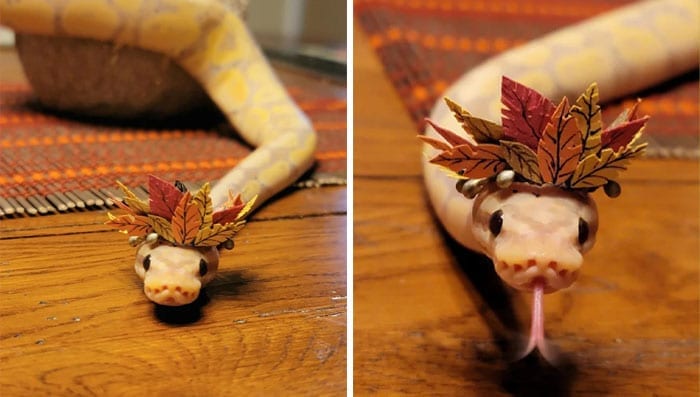 We hope there won't be another lockdown during next Thanksgiving weekend because this outfit needs to be seen. Girl, we are totally fall-ing for you and hope you'll let us use your crown as inspo to make our very own.
Go Vote!
We are not here to get too political. We respect everyone's choice, but we still encourage everyone to vote and let their voice be heard. We love a snake that uses its social media platform for good causes.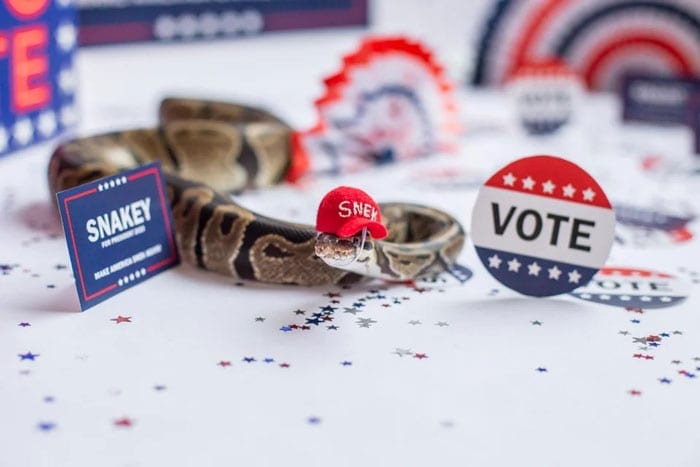 Let's get this straight; the bald eagle represents America. The donkey represents the Democratic party, the elephant represents the Republican party, and the snake represents…? We're living for the fact that this snake's sideways cap reads SNEK. Before you check Urban Dictionary, we'll let you know the snek is internet talk for snake.
Coachella Baby!
Yes, you guessed it right, it's Gandalf again in all his glory! And this time, the king of hats is rocking a very bohemian white flower crown crocheted by his human. Gandalf is just a free spirit who feels most alive out in nature with his besties at a music festival.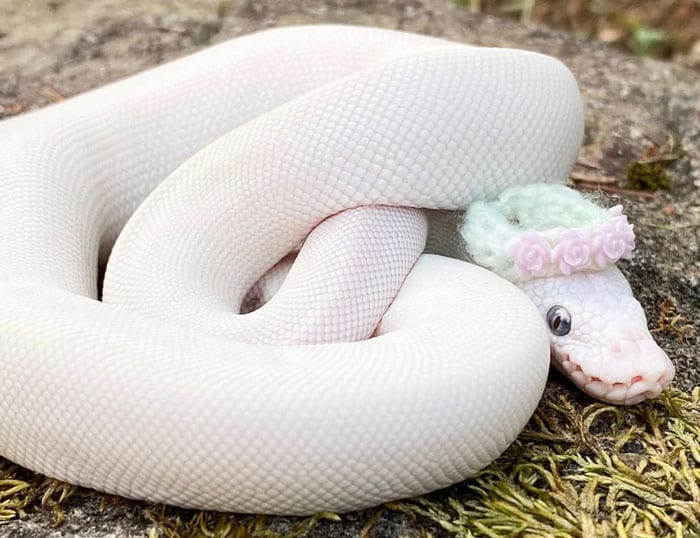 We honestly love this look for him. We're all about bending typical stereotypes, and we love a man who embraces a good floral. We know that he was all the rage at Coachella last year, where he danced the night away and is totally wild at heart.
Howdy Partner
Being a cowboy is more than just cowboy hats and boots; it's a way of life. This little guy knows exactly what it takes to embody the spirit of a real cowboy and shouts a loud "yee haw" when things get interesting.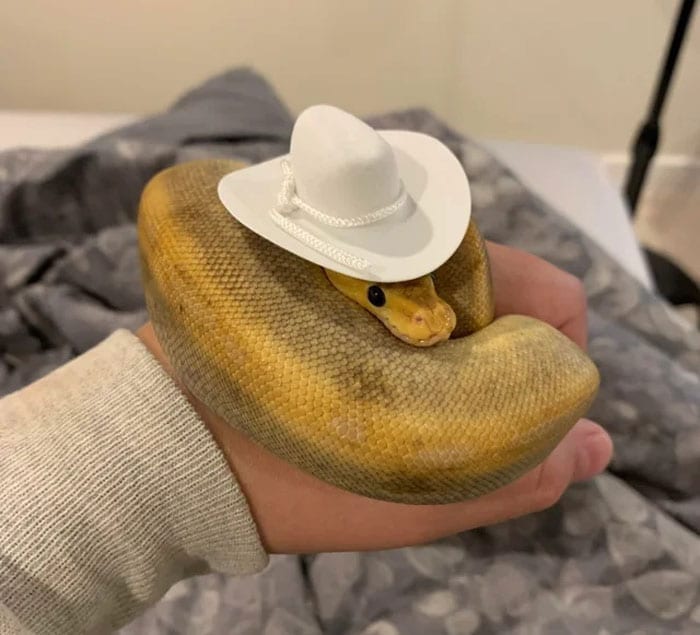 This snake is ready to get out to the ranch and saddle up a couple of cattle. Did you know he's the face of the campaign "Save A Horse, Ride A Cowboy"? It's only boots, chaps, and cowboy hats for this reptile.
Famous In Fez
You don't need to look twice at this guy's picture because it is pretty straightforward if you ask us. This gorgeous guy is more than proud of his Moroccan roots. He's gladly rocking his fez, also known as a tarboosh while serving you fresh mint tea.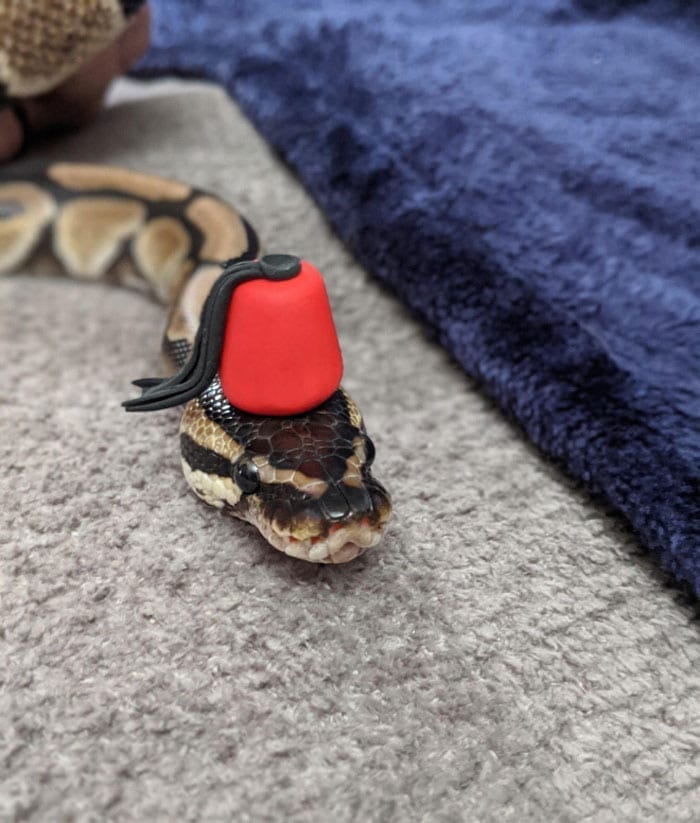 The original fez was dyed red from crimson berries. This snake's motto is "go big or go home," so there's no doubt he's making his hat from berries as well. After crafting his hat, he most definitely snacked on a berry or two and is even happy to share them with you.
Playing Coy
Don't be fooled by her hat that boasts confidence; it's all for show. Everyone loves themselves a homegrown honey, and that's precisely the look she's going for. There is no way this gal has ever laid her hands on an authentic lasso. (Yes, we know snakes don't have hands- just go with it!)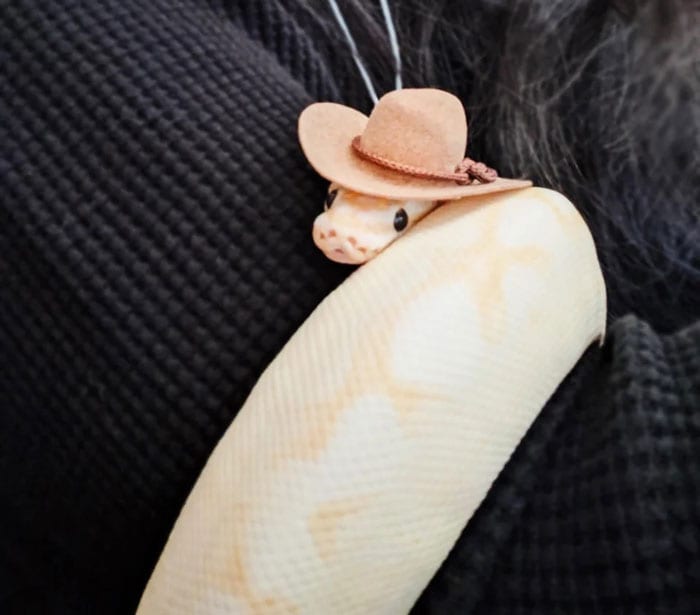 One look at her shining scales tells us that she prefers to spend her days relaxing at the salon rather than down and dirty on the farm. That is the finest snakeskin we've ever come across. This southern babe is just for show.
Under The Mistle Toe
Tis' the season to be jolly! This sweet fella lives for the Christmas spirit. He has a countdown all year round, and he can't wait for December to roll in so that he can wear his poinsettia crown with pride.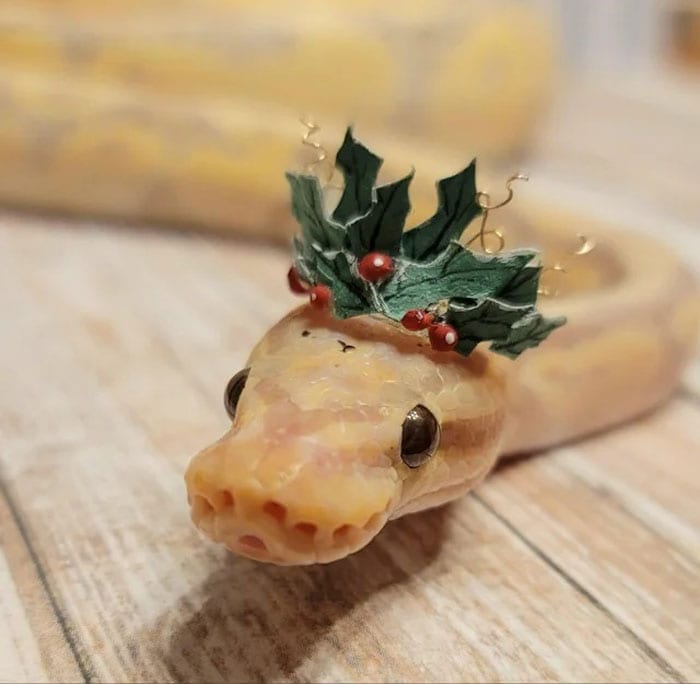 This snake knows that the true meaning of Christmas is time well spent with family and friends. It's snowball fights in the backyard followed by hot cocoa snuggled up on the couch. We can't help but wonder what kind of gift Santa stores in his sleigh for good boy and girl snakes.
King Of The Castle
At first glance, we were wondering if the crown atop this little guy's head was actually a chess piece. This snake is the king of the castle, and he wants to tell you, "do not pass go, do not collect $200".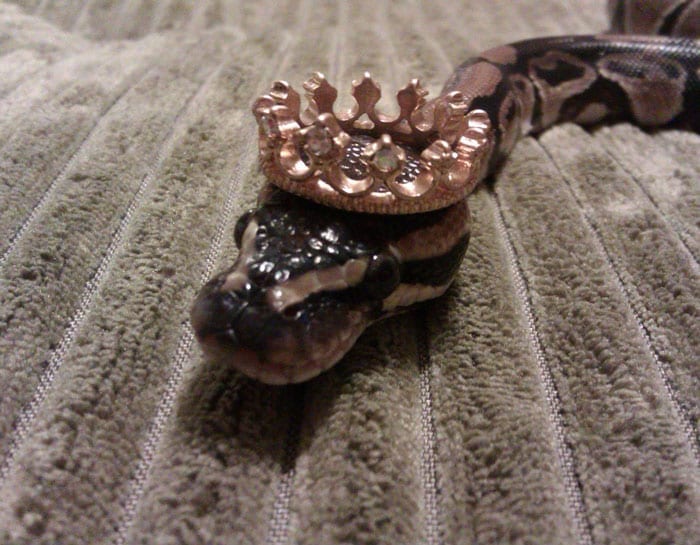 A quick search on Google led us to learn that there is a snake bread that goes by the name king snake. Even more interesting than that was finding out that Batman and Robin have an evil nemesis named King Snake in the DC world. The more you know!
You're A Wizard Harry
This picture made us do a double-take. We weren't sure if it was a witch hat or a poop emoji on his head. We noticed the wand getting ready to cast a spell on you upon further inspection. This gal is sitting here thinking, it's LeviOsa, not LevioSA.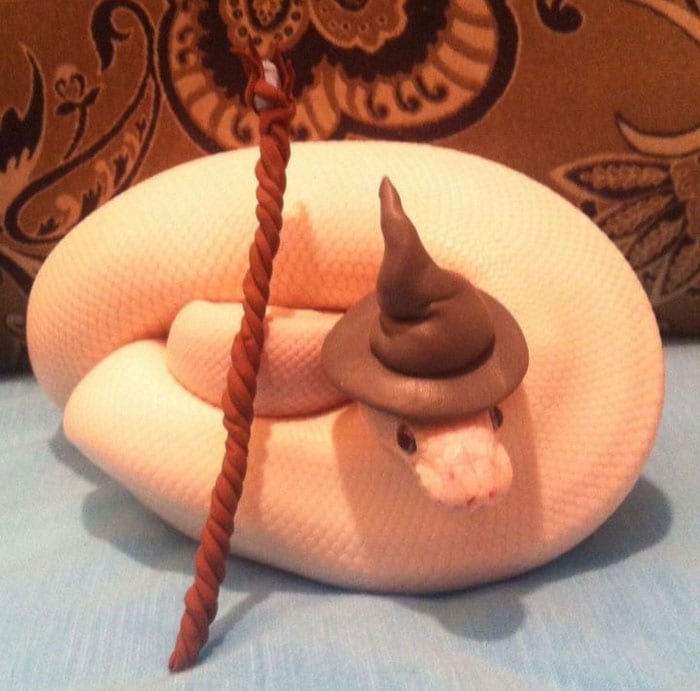 Considering that this is our friend Gandalf, we just realized it might not be a poop emoji or a Harry Potter costume, but just Gandalf being himself. The wizard from Lord Of The Rings version, that is. Fool of a took!
Happy Fourth!
We love people who celebrate their pets as if they were human. We've seen puppies in birthday hats eating a cake made out of treats. We're not so sure what the snake equivalent of that would be, a platter of dead rats to enjoy? How fun!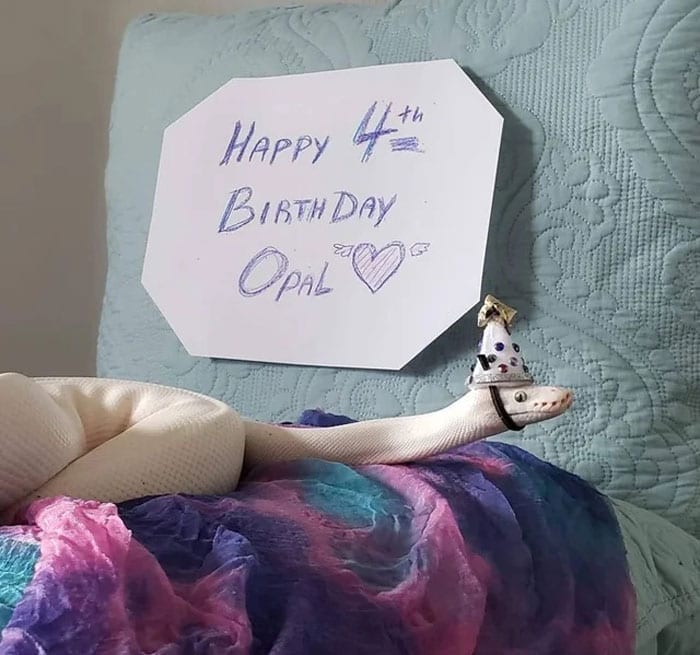 Opal is one special lady to have an owner go through the trouble of handcrafting a birthday sign. Who does anything by hand anymore? If I can't find an application on my phone to order it, where I am guaranteed not to have to communicate with any human, then I won't be doing it.
Ho! Ho! Ho!
This is Snakey. He's the same friend that was previously wearing a Moroccan fez hat. We are definitely vibing with the diversity this snake brings to the table. Santa Clause is coming to town with his long white beard and all!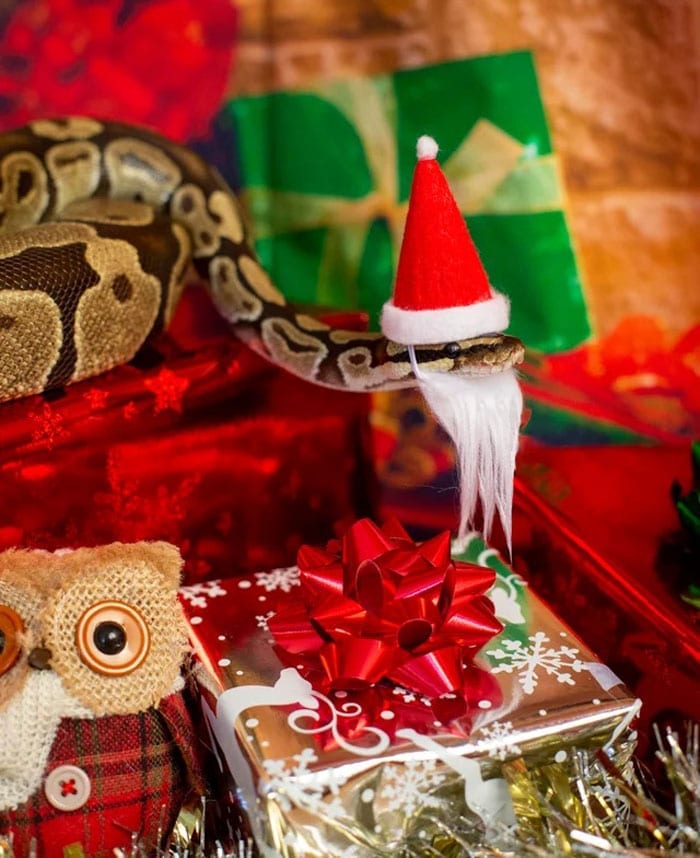 Despite being a bit apprehensive about having a snake as a pet, we must admit that we would not mind if he were waiting under our Christmas tree as our very own gift. He is adorable, and the aesthetic in the photo is doing wonders for his complexion.
Llama Llama Red Pyjama
Llama-mania is a real thing, and it is sweeping the entire nation, watch out! Unicorns are out! They used to be the favorite go-to animal, but somehow, this odd-looking saliva-spitting animal has made its way to the top of the charts.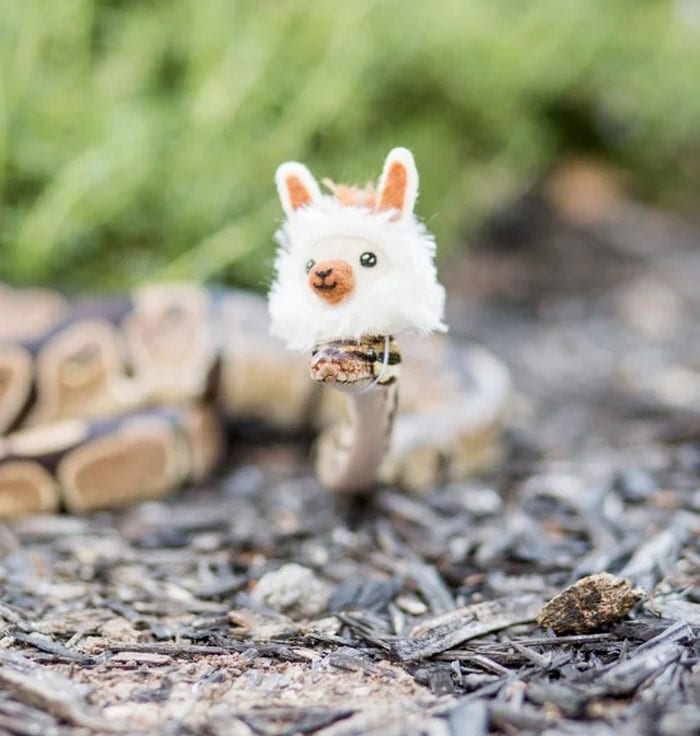 Your kids even love llamas because of the Netflix show based on Llama Llama's books. We think this snake should probably get a role in the next season. He would definitely fit right into the cuddly Llama family.
Robin Hood
Robin Hood is a classic hero. He was kind to the poor, stole from the rich, and even had a love interest in Maid Marian. We aren't here to debate whether or not Robin Hood is based on a true story, or more like based on a few stories.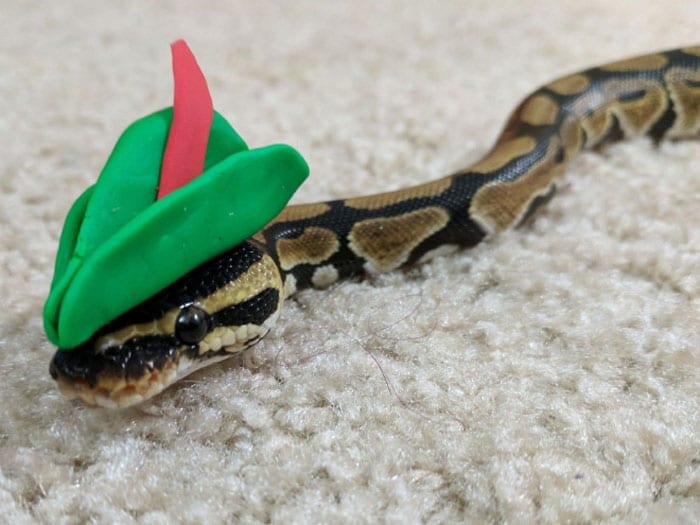 After seeing this guy suited up, we know that the original Robin Hood must be real. We are proud to say that this guy is reaching the standards of the nobleman. "Keep your chin up; someday they'll be happiness again."
Unicorn Kisses & Magical Wishes
Okay, we know we said that the unicorn trend was over in favor of the llama, but we'd like to take that back for a second. Maybe these two snakes should share the title for most adorable? Did you ever think you'd see a python wearing a unicorn hat?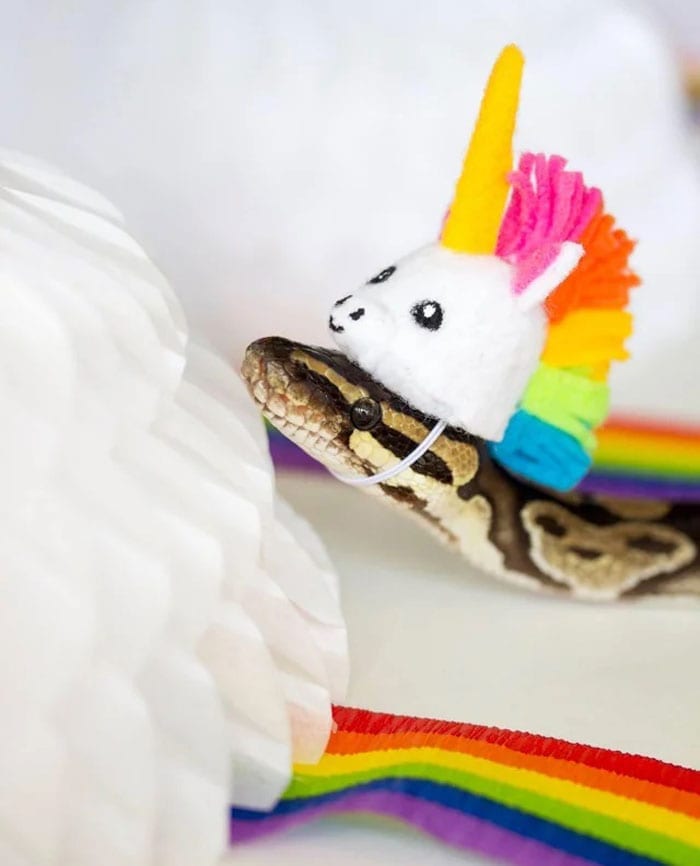 A fascination for unicorns is nothing new. They're mysterious and glorious in their way. This unicorn is sporting vibrant colors in her mane and posing next to some rainbow. All she is missing is a little sparkle dust to complete the look!
The Hipsssster
This snake has good vibes only and is happy to chill out on the beach with his bros. He will be wearing this hat no matter the season. He is totally ecologically aware and would never use disposable cups for his shot of espresso.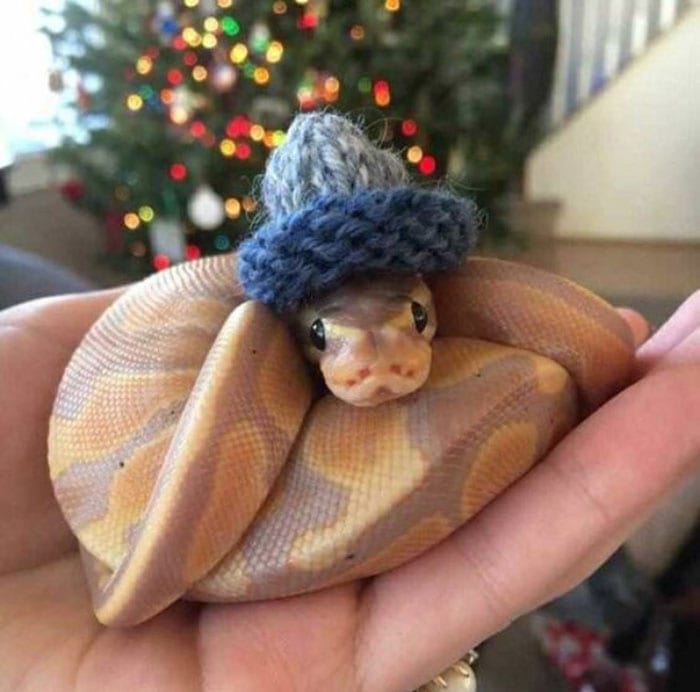 Okay, but really, this guy is so cute. We've been thinking about getting into crochet lately, and this seems like the perfect first project. How much yarn do you think we'll need to craft this? Would a matching hat for us be cute or too much?
Blue Suede Hat
Hello good sir, and thank you for joining us this evening. We are blessed to be graced with your presence. There aren't many of your kind that can pull off such a hat or color, but you are doing a fantastic job.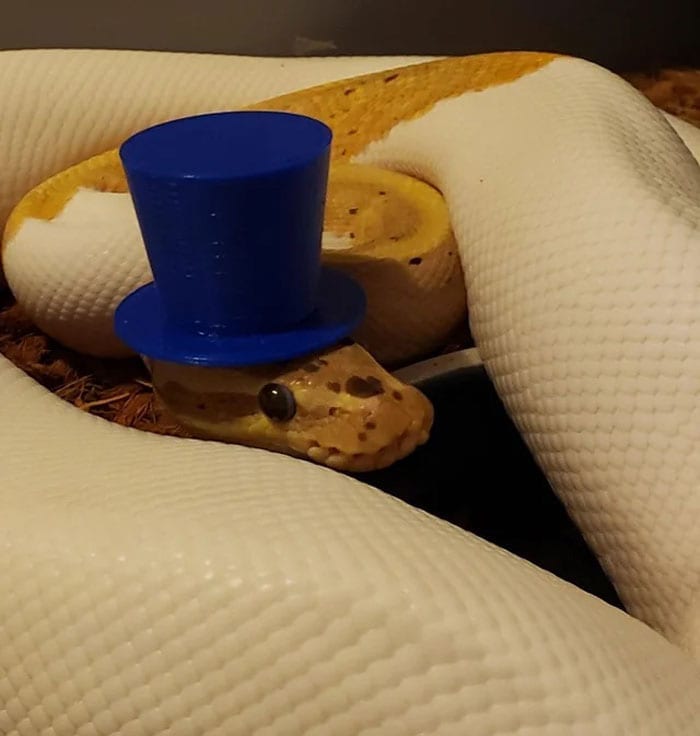 According to his human, that hat was actually crafted on a 3D printer; how awesome! Now that's a very spoiled snake right there! If the cap were a bit brighter blue, we might even think he's dressing up to be a part of Roblox.
Truly Adorable Baby Yoda Is
This has to be the most aesthetically pleasing and utterly adorable hat we have come across on a snake. Baby Yoda and this Snake are both so tiny and so loved. Our advice to this serpent: find someone that looks at you the way The Mandolorian looks at Grogu.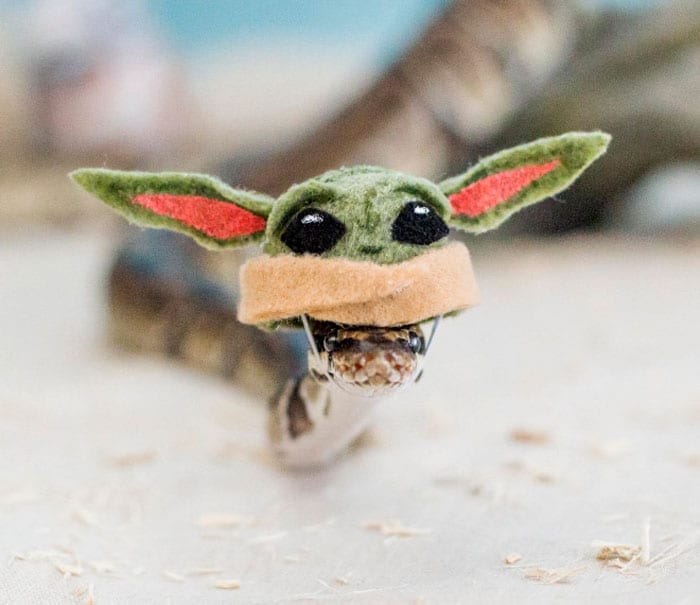 Never watched any of the movies in the Star Wars franchise? Well, one thing you need to know is that the OG Yoda is filled with sage advice. "Named must be your fear before banish it you can." If you want to face your fear of snakes, you must be aware of it and call it out directly as it is. Only then can you tackle the challenges you endure head-on.
Bad To The Bone
Yes, some snakes are dangerous, but the one pictured below is twice as menacing looking than most. Personally, we are not going to mess with this guy. The skull symbolizes death and immortality, two things we're not really into.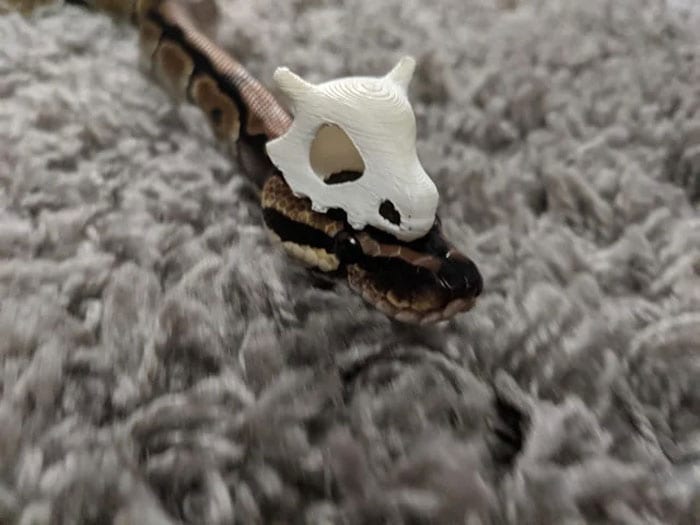 But apparently, this is just an impression that this snake likes to portray from time to time. Because from what we hear, behind closed doors, he loves listening to Celine Dion while baking his flambe. Sometimes he just wants to be a bit anti-social, and we can respect that.
Flamingos
We've seen so many types of hats on this list so far, but this one wins the internet culture category. For though who have NO idea what is happening here, he is wearing a Flamingos aka The Floaty Flamingo hat from Among Us.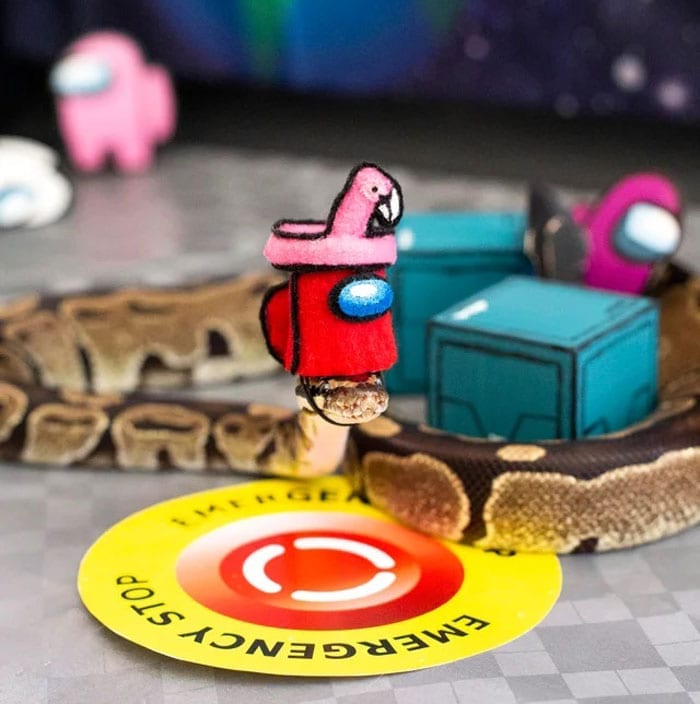 We are embarrassed to have even to explain that one because it's fundamental, but someone asked if this was a cool Russian beach hat on the original post. We hope they were joking! Impostor! It seems kind of sus to us…
Pretty By Dangerous
Meet precious Lucile! She is absolutely beautiful with her onyx black eyes and Snow White skin. Not to mention that blue bow, which compliments her whole look perfectly, and the crystal gems on the collar totally give us a punk rock vibe.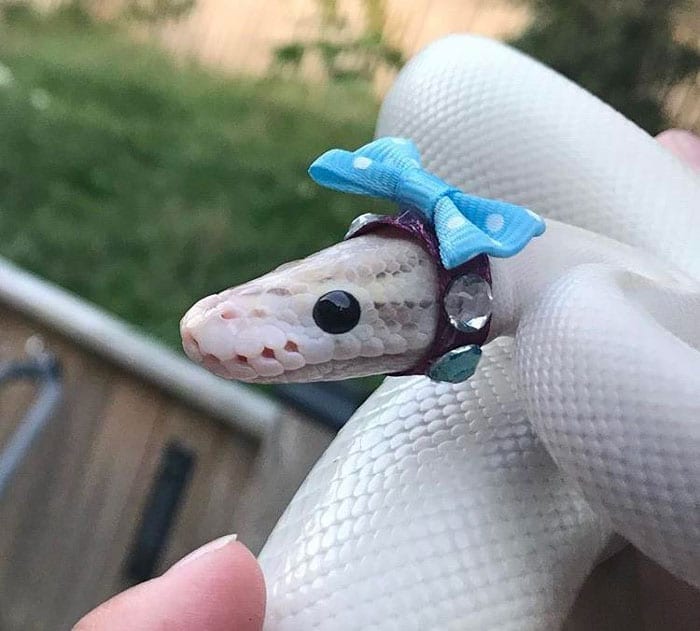 Her attitude says it all. Lucille is precious. Lucille is classy. Lucille is beautiful, and she sure is aware of it all. She is definitely the type of girl we would want to sit next to at the lunch table at school.
Shine Bright
There he is again, the famous Gandalf rocking his famous hats as usual. This is a bit of a softer look for the usually loud and expressive Gandalf. We appreciate seeing his different sides. Also, the ears' color perfectly matches his skin tone, and we forgot for a quick second that snakes don't have ears.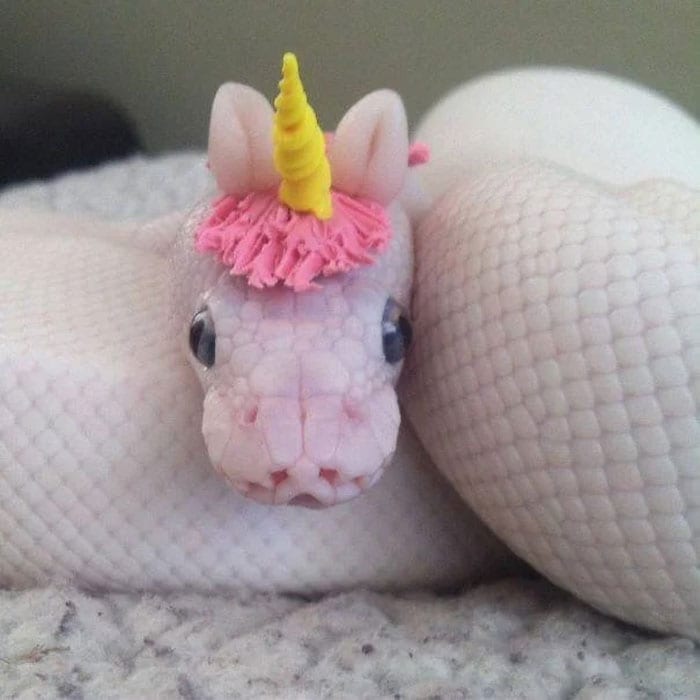 To clarify, for all of those snake enthusiasts out there cruising through this article, snakes do not have ears in the sense that we do. But, they do have a middle ear bone that connects the inner ear to the jaw, which allows the snake to hear vibrations.
YOU'RE The Wizard, Harry
Okay, we previously thought that the image of Gandalf in his poop- I mean, witch hat, was Harry Potter before further investigation. But this snake is obviously Harry, and we're sure that there is a lightning bolt scare hiding under that sorting hat.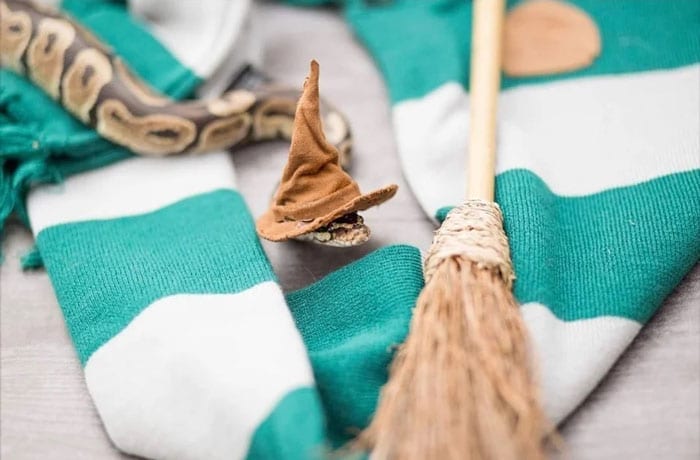 We're not surprised that this snake is part of the Slytherin house- he's literally a snake. He's even got his broom ready for a quick game of Quidditch. Will Gryffindor finally lose their streak, or will Malfoy ever stop being rude? Let's find out!
Paper Planes
A sailor went to sea, sea, sea, to see what she could see, see, see, but all that she could see, see, see was… This girl is wearing a cute origami handmade original hat made by her very talented human. We question the folding technique a bit, but we don't question how cute the concept is.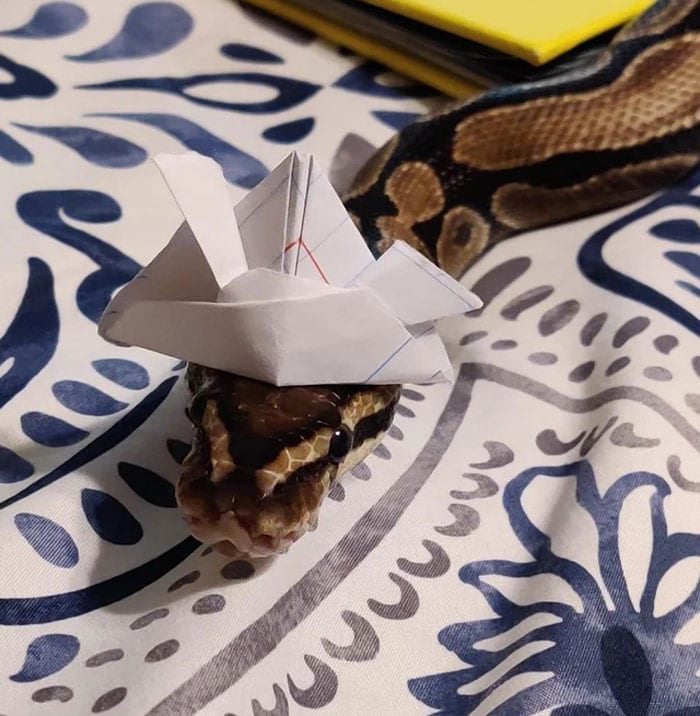 We tried to replicate this hat into one for our size. We had to glue four pieces of paper together. The only problem was we had no glue, so we used tape. Everything seemed fine until we put it on our heads and the tape got stuck in our hair. Snake size appears to be the most appropriate version of this hat.
Sophie? Is That You?
We are proud to introduce the latest hybrid animal- the snaffe. This giraffe hat has to be the cutest thing we've ever seen. Did you know that giraffe horns are called ossicones? Male giraffes use their horns to defend themselves. This snake will only need to fight off many potential love interests.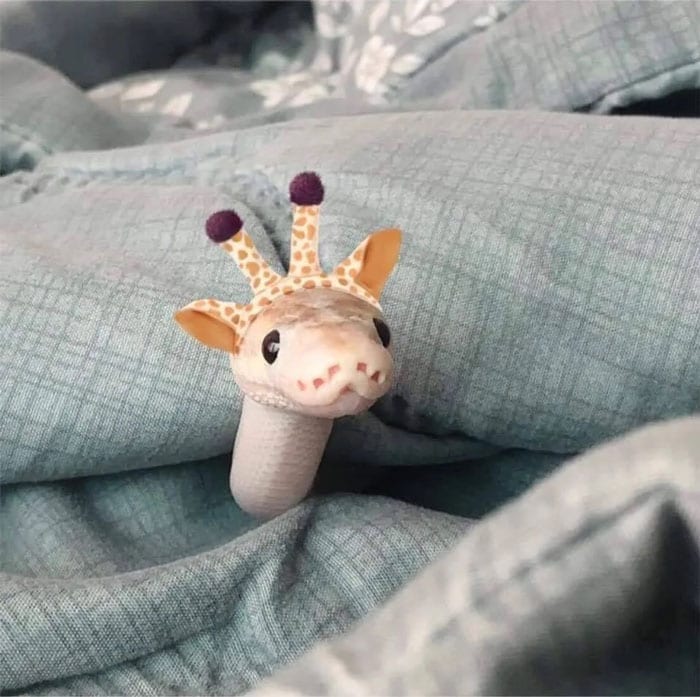 Even for someone who may not typically love snakes, don't you want to just boop this guy's nose and smother him in smooches. Also, doesn't he resemble Sophie the Giraffe? Sophie is one of the most well-known baby teethers out there. They should probably collaborate somehow.
Hissassin's Creed
Can we all agree that this guy will win Halloween this year? His assassin costume is beyond realistic, and he jumped into the role so fast even his attitude is vicious. This isn't just a hat; it's an entire get-up!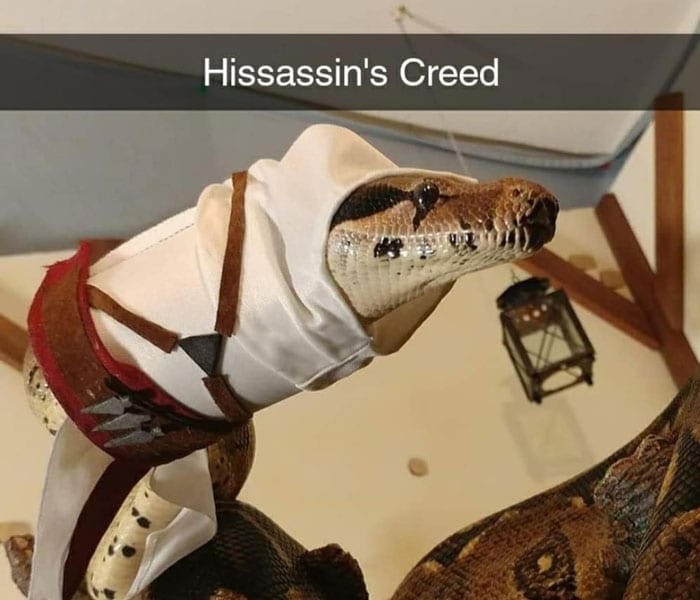 It might have been a while since you've picked up the game yourself, but you can't deny that this costume is incredible and takes you right back to your assassination days. What craftsmanship and talent from the designer! Don't you agree?
Tip-Top
Just another topper gentleman that is ready for a night on the town with one lucky lady. The whole aesthetic of camouflaging into the carpet is working for him. It helps keep your eye trained on the main event: his hat.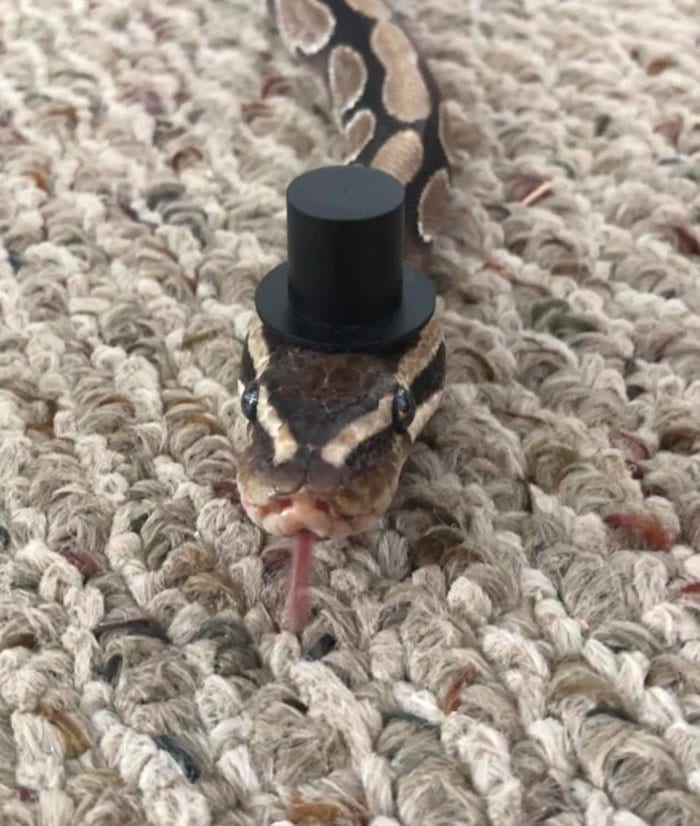 The snake pictured above decided to show off his goofy side by sticking his tongue out during this photoshoot. He may not be the classiest, but he is hilarious. Women always say they are interested in a man with a good sense of humor.
Sea You Later
We love the vibe of this photo. It is clearly just another beach babe headed off to get a tan with her besties by the pool in her floppy hat. We love a good floppy hat. It's the best for both sun protection and style.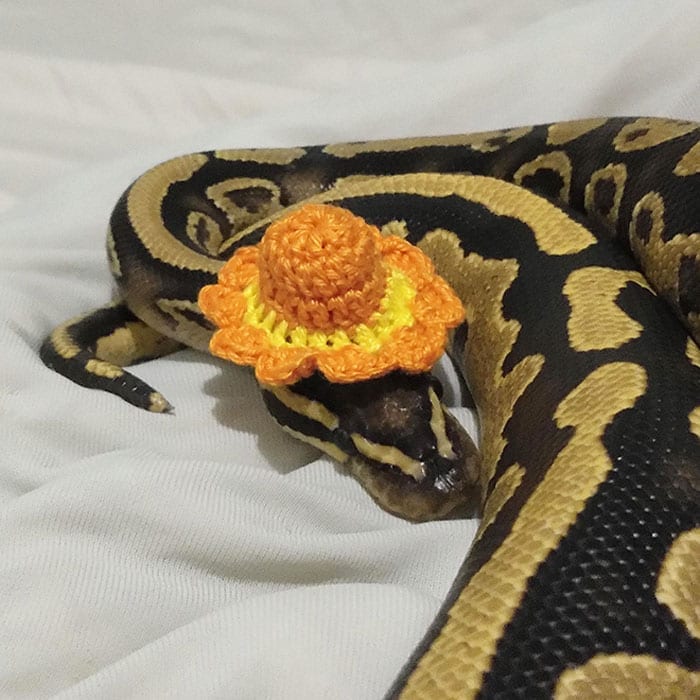 We are curious which dress she would choose to wear with this hat. With that crocheted hat, a white linen dress would be just perfect. A sweet smile from ear to ear in the following picture is the only other accessory this gal would need.
Hoppy Easter
Most kids are terrified the first time they meet the Easter bunny. He's enormous, fluffy, and likely going to eat them (that's what they say). I do not know if they would be comforted to meet this guy instead.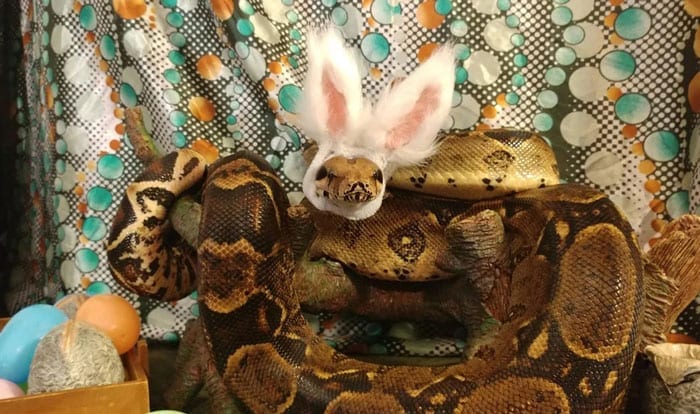 The intentions are pure and sweet; the ears are just a bit freaky and give us more Bunnyman vibes than Easter Bunny. We still respect the effort and the holiday spirit from both the human and snake. Better luck next year, though!
Regards To The Chef
Anybody can do anything they put their minds to. If Ratatouille could become a famous chef, Snakey most definitely can too. He will have to put in some extra effort into it, mainly because having no hands can be problematic.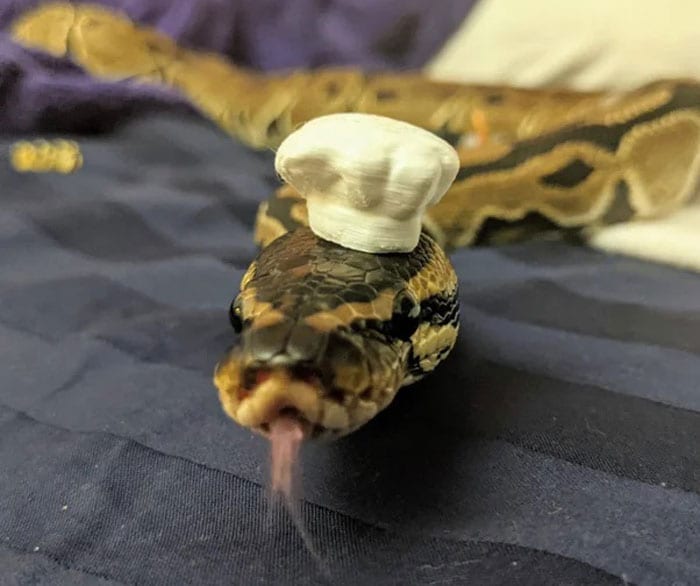 We can't wait to try a dish from this guy. What do you think would be on the menu at a restaurant with a snake as a head chef? A lovely glazed rodent, some amphibian stew… On second thought, we're not so hungry anymore.
Fairly Odd Parents
If there were ever a contest in which the participants compete for the best cowboy hat, there is no doubt that this rugged cowboy right here would win it – even against his human competitors. His hat is enormous! Or maybe his head is too small…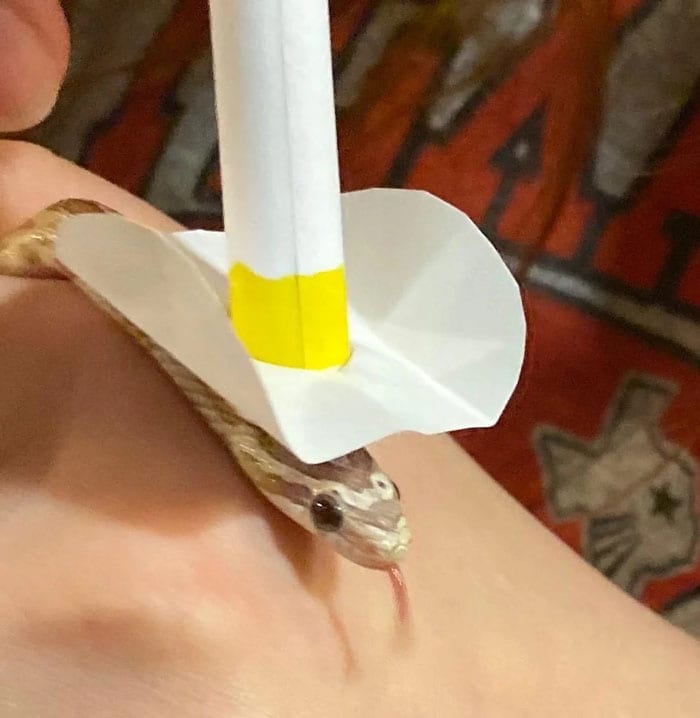 No matter the case, this hommage to Doug Diammadome from The Fairly Odd Parents is incredible. Sorry friends, turns out that a paper cowboy hat is more desirable than a suede or leather one. Until it starts raining, that is, then we'll talk.
Edgy But Sensitive
This looks like the most minor and sweetest snake on the list. We all love cute babies that are dressed like tiny adults. This baby is in a big hat with a bigger poof on top is too much for my heart to handle!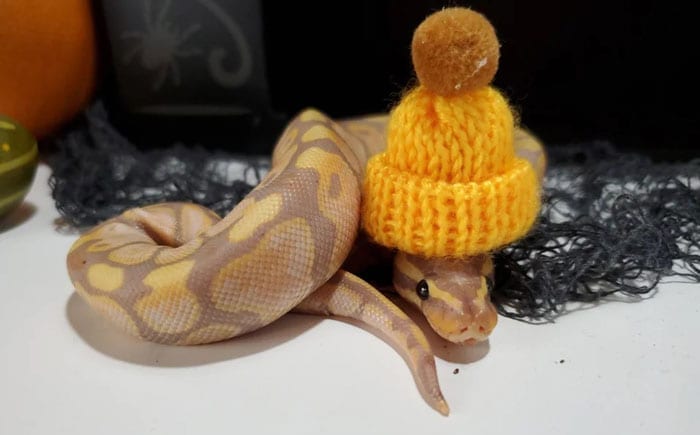 Just by looking at this guy, we feel the need to buy ourselves a hipster beanie, grab a book, and post-up at some urban-loft new coffee shop that's not even on the map yet. Okay, but for real, what do you call a baby snake?
The Lonestar
This snake is giving us moody teenager vibes. It's as if his mom said that he needs to wake up and get ready for school 100 times. On the 101st time, she got tired of him ignoring her, so she decided to embarrass him to his friends.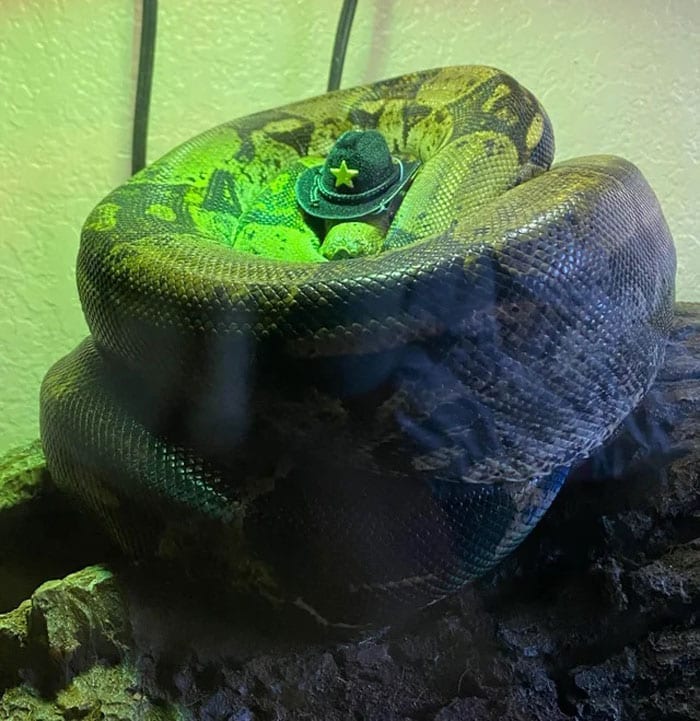 This teen snake gives off such IDGAF vibes that he probably was unfazed by his millennial mom trying some parenting hack she read online. He's warm and cuddled up under his heat lamp, and he's not going anywhere.
Strawberry Fields Forever
Wait, did this snake just get smaller than our little hipster dude in a poofy hat? This snake and her sweet strawberry hat have officially stolen our hearts. We appreciate this snake owner so much for crafting something tiny and adorable.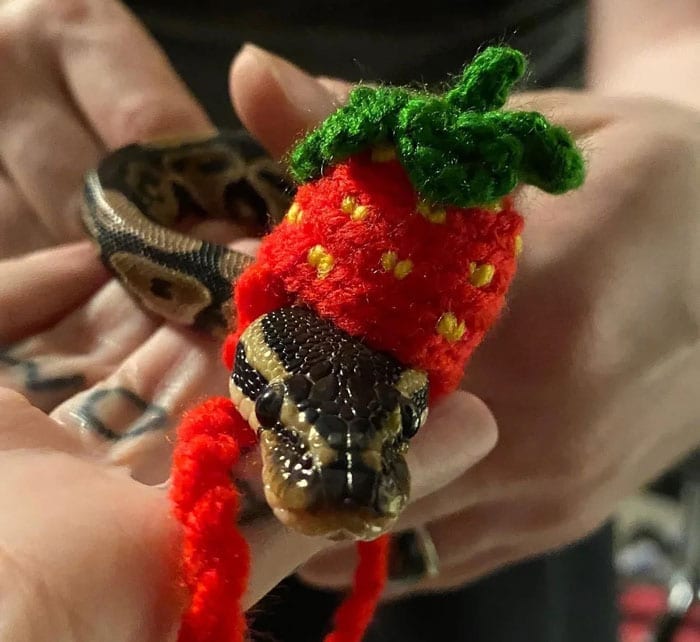 The tattoos inside this human's fingers, and the fact that they own a snake, would have me assuming that they are a rebellious one. However, outcomes this snake, with a homemade strawberry hat, ready for its photoshoot… Don't judge a book by its cover!
No-Face
Anime and Japanese fans unite! Here is No-Face, also known as Kaonashi, from the animated film Spirited Away. We weren't aware of this character until this very minute. But we're always happy to make new friends, especially such popular ones.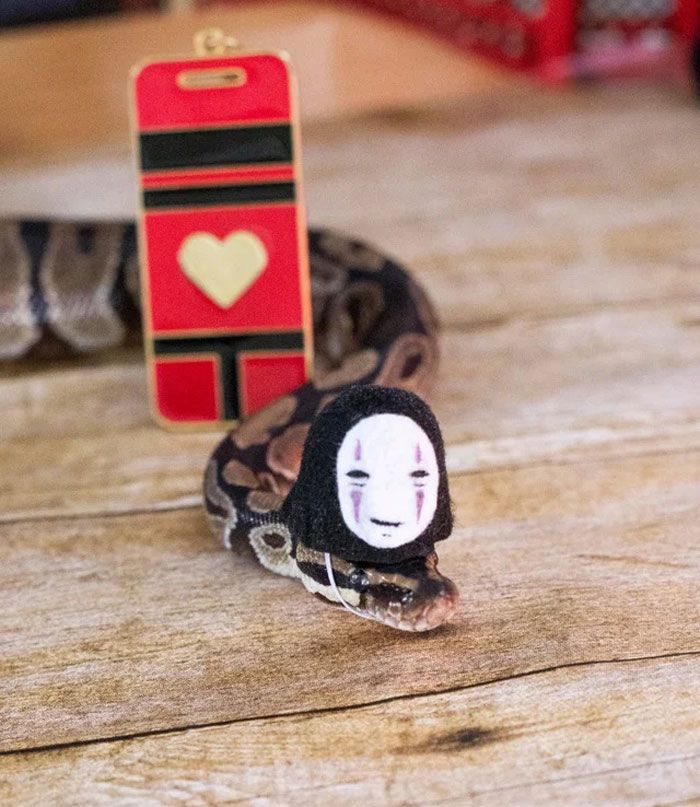 A quick search on Wikipedia led us to know more about the exciting character above, 顔無し (Kaonashi). At first, we found out that he can react to others' emotions, how sweet… Then we found out that the way he does it is by ingesting them… less sweet.
Santa's Little Helper
This year's Christmas present preparation shenanigans look really prom-hiss-ing. Snakey might not be an elf, but he seems like he would be a very efficient helper. And with help like his, Santa's big bag will be prepared way before December arrives.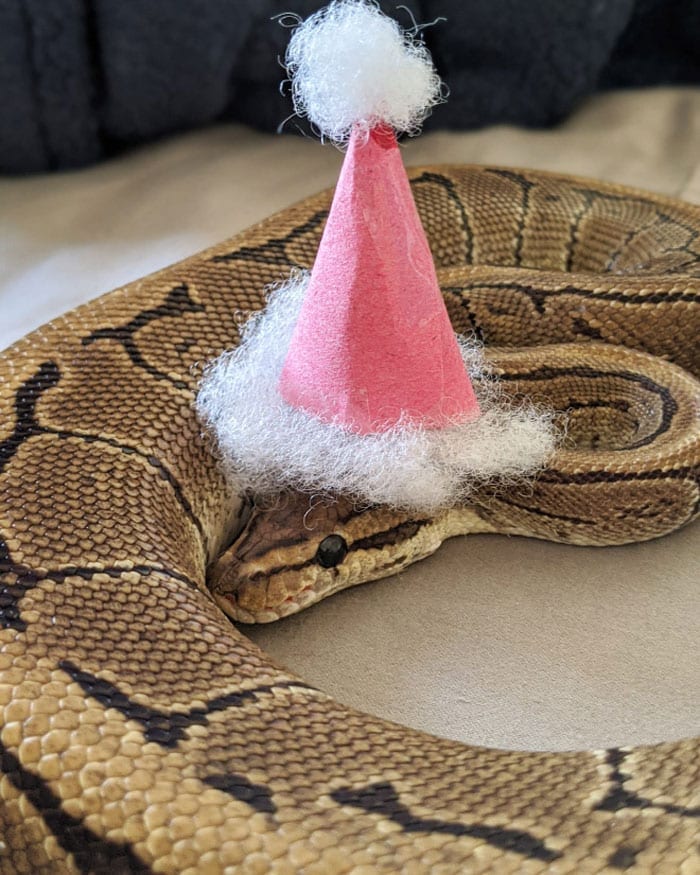 Just thinking out loud, what material is the white fluff on this handmade hat made of? Do you think it's comfortable and cozy? Look's a little scratchy or itchy for us. What a champ this snake is, sticking it out for the photo shoot.
Daisy Dukes
Meet Elizabeth! She is a charming and artsy snake who loves spending her time at the lake and sipping some apple juice while painting the beautiful landscape over and over again. She might be an old soul, but she is only three years old.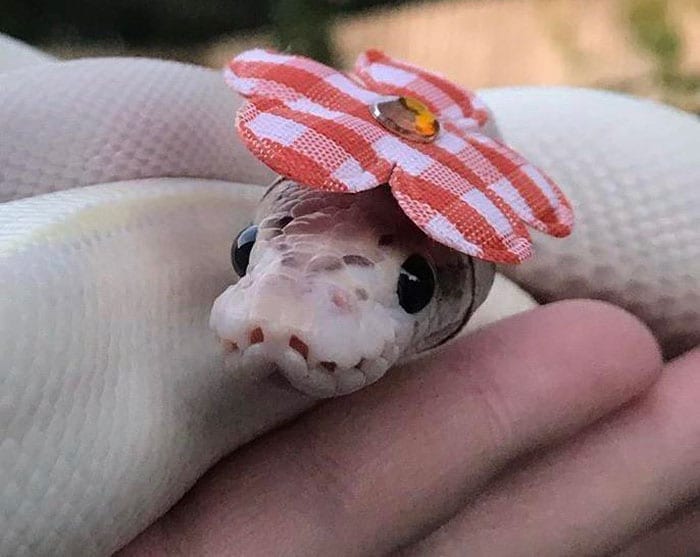 And for a snake who lives approximately 30 years, three is pretty darn young. She is still a baby but so intelligent and well beyond her years. In this case, we can not help but wonder what her personality will be like when she's older.
Yeehaw!
It was about time a fine young lady joined our cowgirl community in this list. She looks awesome and is giving us some Sasha Fierce vibes. You go, girl! People love a homegrown and down-to-earth honey, and this snake is as natural as it comes.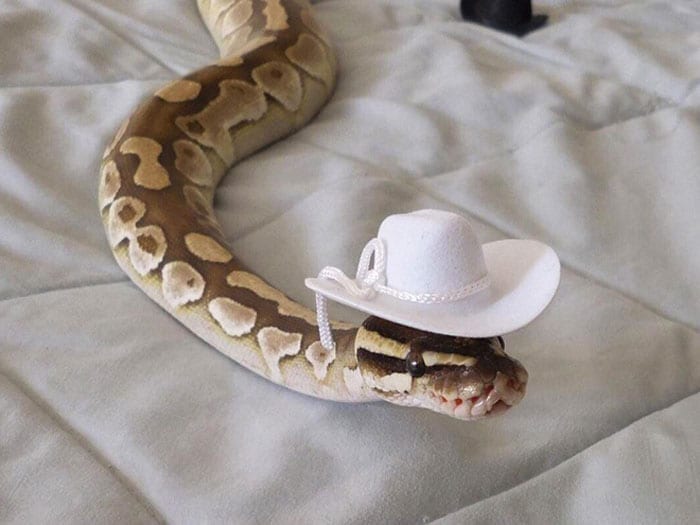 Let's take her down to the rodeo to catch a ride on a bull. With a long body like that, she could wrap herself around the bull and definitely manage to stay on the longest. See ya later at the square dance party in the barn.
ZZ Top
We have seen our share of snakes wearing top hats, but this is the first time we get a snake in a groovy colorful tiny top hat! We always love someone that likes to stand out on top of the rest.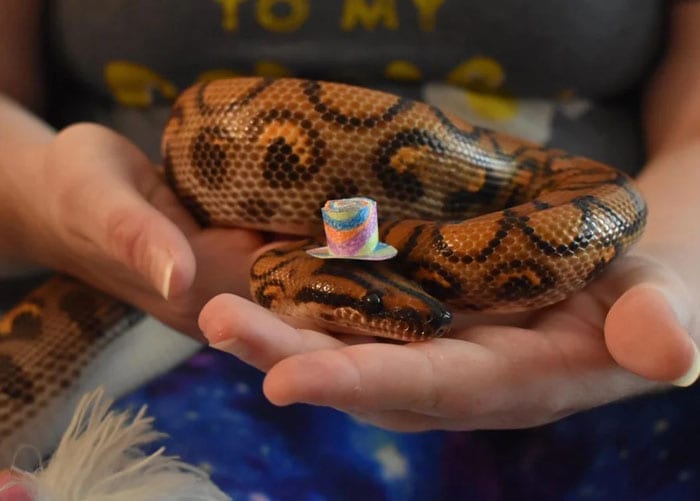 This hat reminds us of the dance parties we used to go to in elementary school. The DJ would give out prizes to the best and most enthusiastic dancers on the floor. We did everything we could to get a hold of one of these bad boys.
Birthday Suit
If this snake is not the happiest birthday boy you will see today, we don't know who exactly is. We love his birthday vibe and the goofy face and the pointed tongue he's giving the camera. This is one picture to hang up on the living room wall.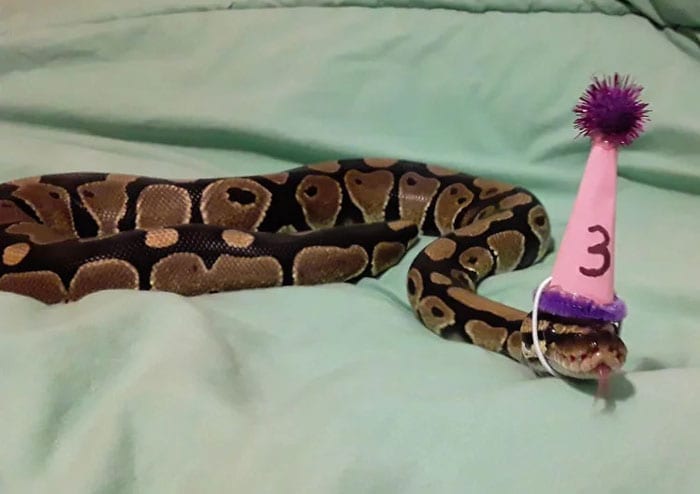 He looks like he had a lot of fun at his birthday party, and we are so happy that he did. We wish that we could see more pictures from his party. We are pretty curious about the other guests who showed up and the theme of the cake!
Winter Wonderland
Just another snake who is rocking his small hipster beanie. Our last sweet hat for our last charming serpent. We don't know how much this tiny hat will keep this beaut warm, but we respect the fashion aspect of it.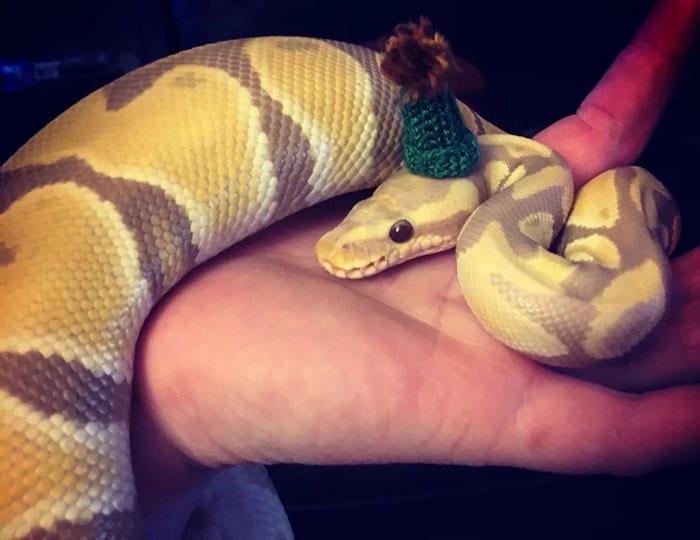 Maybe if her human would be able to knit her a scarf, then we'd feel a bit more reassured that she would be safe in the brutal winter. Can her human make a matching set for us too?