40+ Wig-Wearing Dogs That Deserve A Spot On The Cover Of Vogue
By Ragini A June 29, 2021
---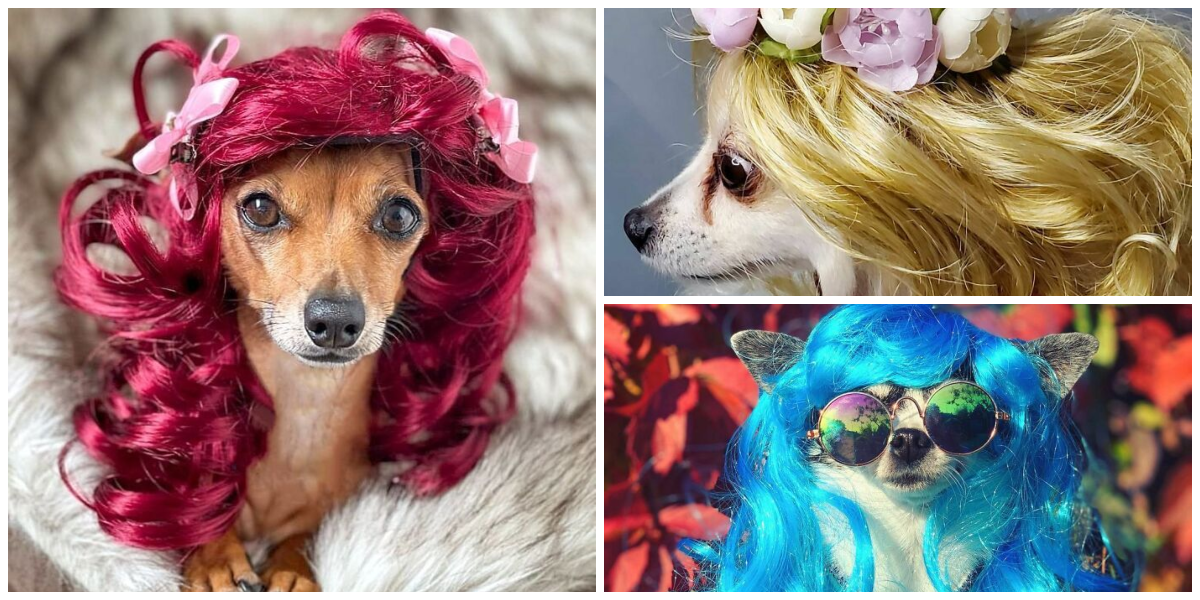 There are many reasons why dogs are considered man's best friend. For starters, they're known for their loyalty and commitment to their two-legged caretakers. No amount of face-squishing, surprise trips to the vet, or confiscated toys will break that bond. It seems like playing dress-up isn't a deal-breaker either. Some dogs love it, while others will patiently put up with whatever shenanigans their human is up to.
We tend to see pictures of dogs in booties, raincoats, or even sunglasses, but some owners went above and beyond with their beloved puppers. For whatever reason, the trend of dressing up dogs in wigs has taken off, and the results are hilarious! From downright celebrity model look-alikes to wild party animal looks, brace yourself for 45 photos of dogs looking like Katy Perry threw them a birthday party worth singing about.
Brunettes
This is a good dog, and we will tolerate no slander against it. If you're a 2000s kid or the parent of a 2000s kid, you know all about Hannah Montana and her double life. Some of us still have the theme song stuck in our heads.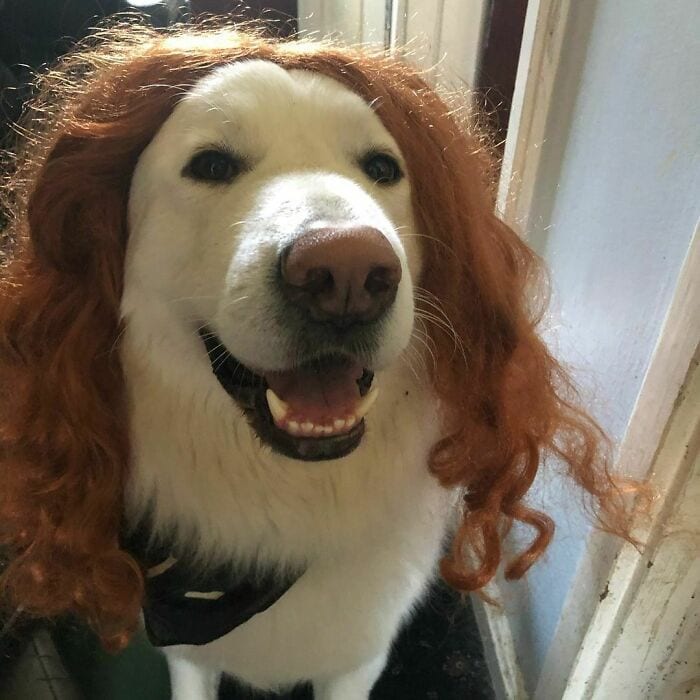 Don't you think our furry friends have dreams, too? They want the best of both worlds, and this Labrador gets it. Who are we to stand in the way of their dreams, huh? All we know is, wig or not, they're stunning!
Dye
For some reason, we're sure that if you're reading this, you have had at least one friend who dared to go blonde for the thrill of it, but ended up hating it. You do, don't you? It's pretty likely we all do.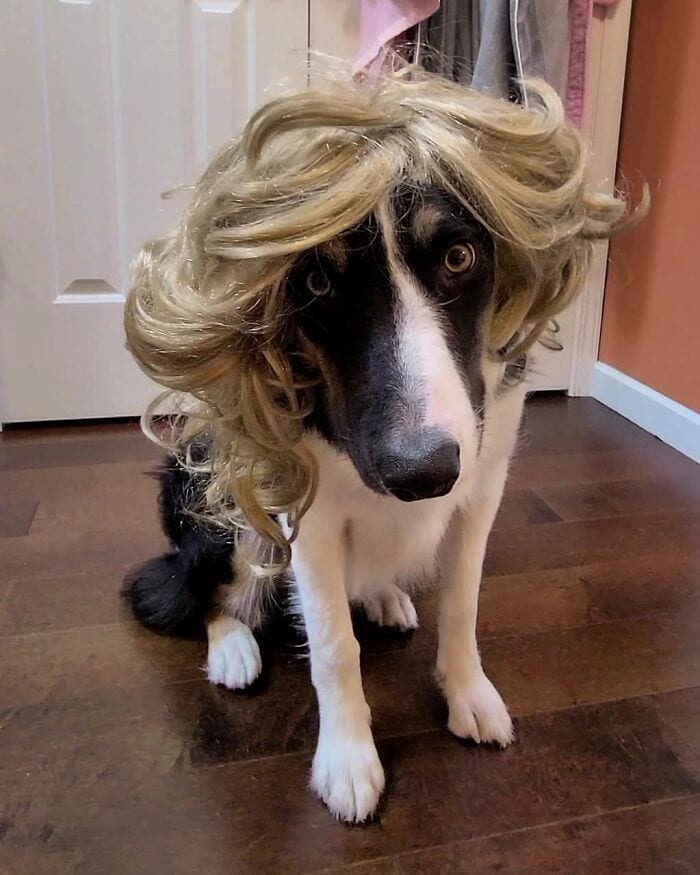 Well, we can assure you that this little cuddly dog is thriving and not at all regretting this blonde wig! Look at that pose, with the wide eyes and the still paws. That's a model right there. Get this Furrah Pawcett a contract!
Perfect Match
We didn't make the rules, and we are fairly certain you didn't either, but this dog definitely does not concern itself with any rule-following! Are you seeing that perfect color match? Their hairdresser has a sharp eye for sure.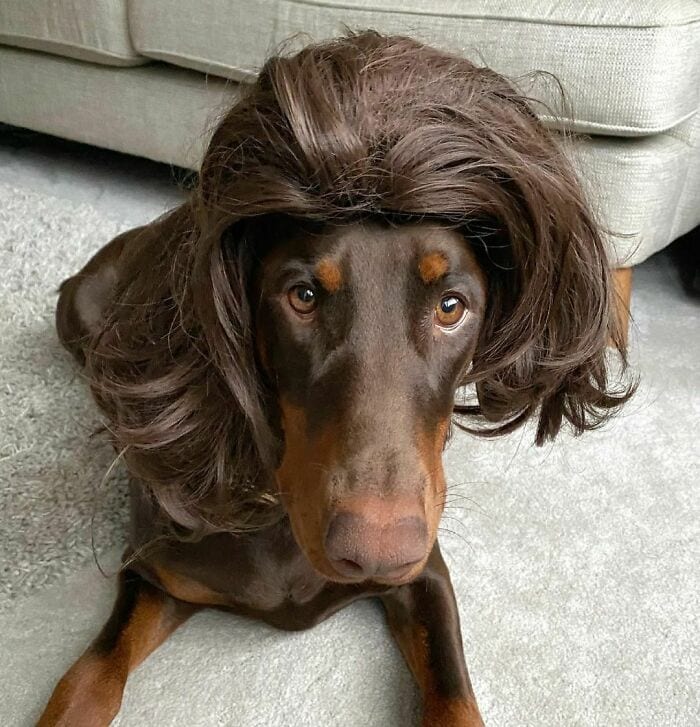 Brown fur, brown nose, those honey-colored eyes, and a luscious brown wig; this dog has it all, and more. Someone please make this stunner a model and put them on the cover of Vogue and Elle as soon as possible!
Who?
Seeing this photo, the only reaction that is valid is saying coolly, while lounging by the pool: "Victoria and her Secret, who?" Because honestly, where have talent recruiters been spending their time? They clearly haven't laid eyes on this beauty.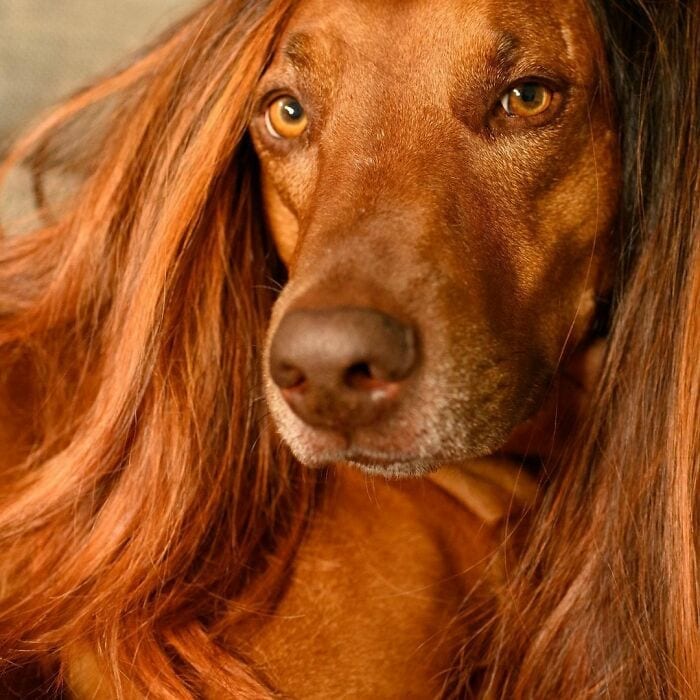 This proves everything positive said about brunettes. They're stunning! Brown is beautiful, and this dog deserves the best spa treatment of their life, like, now. If you didn't gasp and aww at this photograph, we don't want your negative vibes here.
Big Eyes
You have heard about Big Foot, but have you seen this cutie who we officially want to call Big Eyes? Isn't it super adorable? Most of us agree, it looks like this dog is getting ready to shoot a slow motion shot of a hair flip.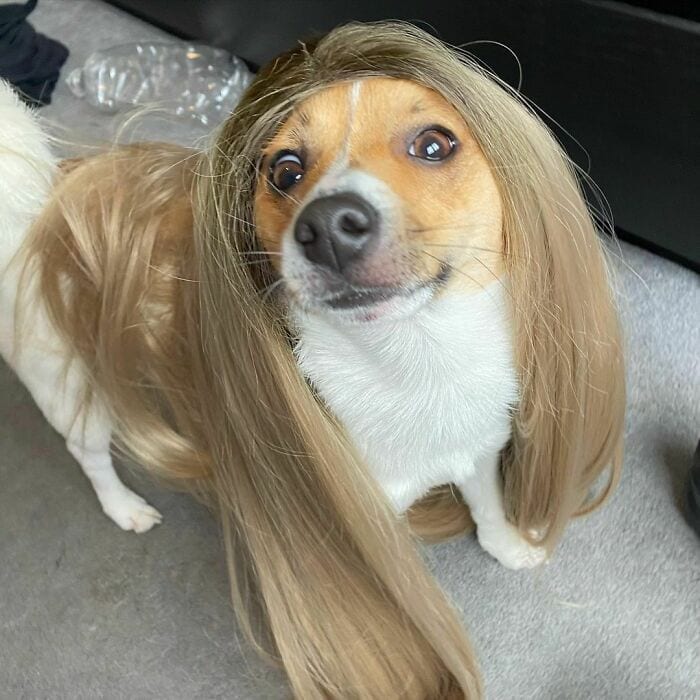 To be frank, it is hard to nail the perfect hair flip for humans and dogs alike, and we want to reassure everyone reading this that regardless of how that video might have turned out, we still love this pupper.
Oh, Goodness
You know you're an older sibling or cousin when you're surrounded by really loud, whiny, and annoying young kids and they want to play 'dress up' with you. Yup, this is exactly what all those older siblings and cousins looked like. The irritation is real.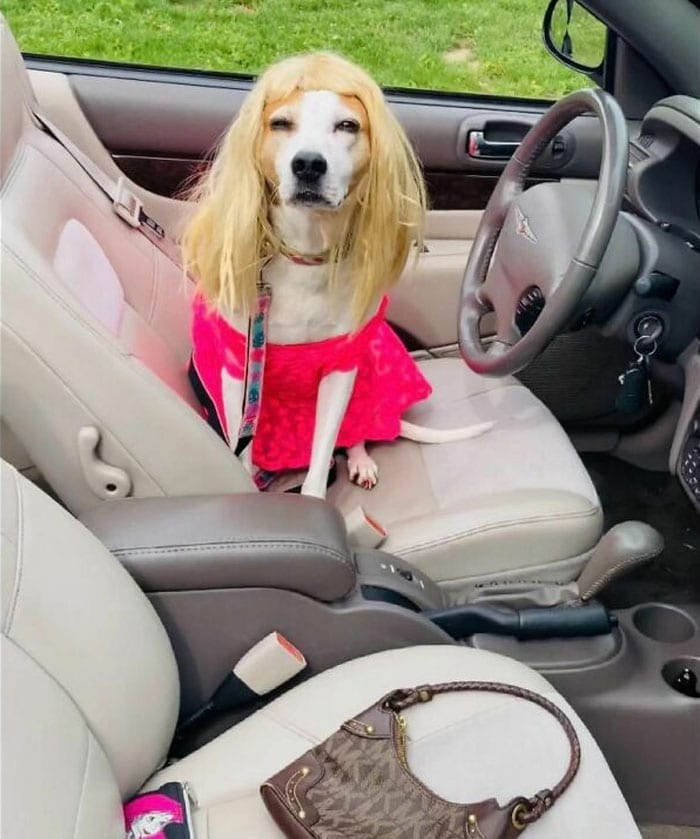 Just enough patience for the picture to be taken with the disgusted expression, and her body is bracing itself to run and put her face under running water to forget all about this horrid experience. Yup, we've faced it too. This dog has had enough of this.
New
We have for you a new Billboard artist who has smashed all records, including fetching the title of the most-liked Instagram post ever! Yup, it's Katy Perry 2.0. You think these two stunners would ever collaborate and do a concert together?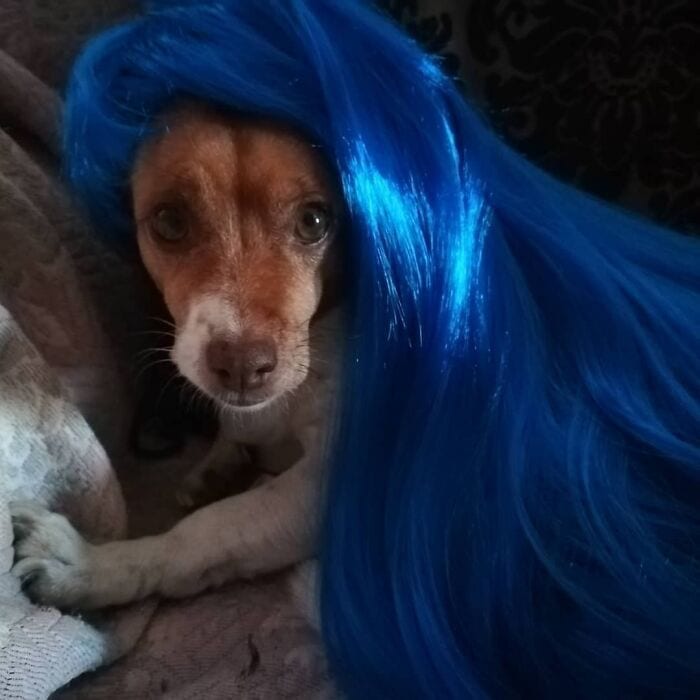 We would totally pay double the money to see them both live, and we'd drag you along with us! How many wigs do you think this cute dog has in their wardrobe? We bet about a dozen different colors and textures. You know, for fun.
Spot
Hey, let us know when you spot it, and yup, it might take you a while! While this dog is absolutely stunning and has fur that speaks for itself, the texture of the wig doesn't quite match their hair type. But that doesn't bother us.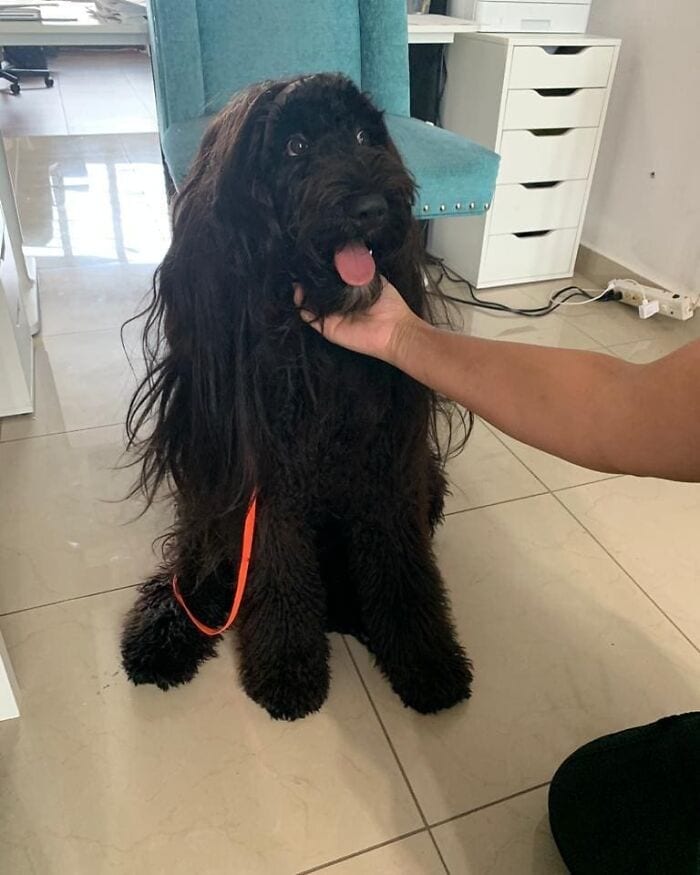 The best straight wavy hair routine we've ever seen is here, and we demand a YouTube video tutorial right away. Do you think you can pull this look off? Think again, and don't get ahead of yourself. This dog looks natural with all those flowing locks.
Smiles
Oh, this one made us smile and cry at the same time. Wow! This dog has a million dollar smile, and is perhaps the only animal that can pull off this shiny red wig absolutely perfectly. Our hearts have been won over.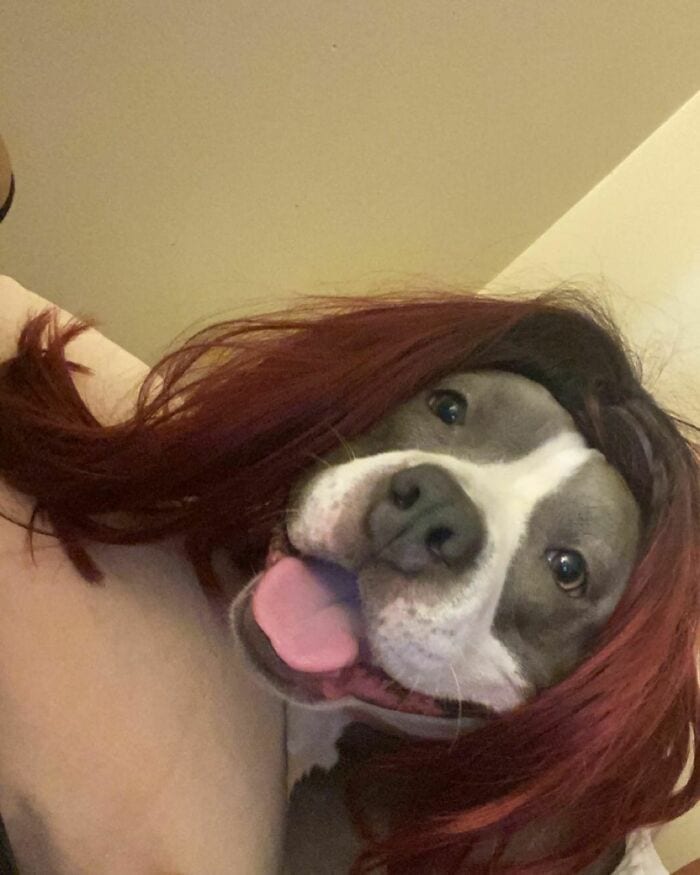 Just look! Looking like an absolute diva and the dog knows it. She is downright flaunting it. This is what humans call the tongue out selfie pose, is it not? This dog is doing it better than all of us combined.
Ariel Who?
Look, we are stating it as clearly as possible. Only one red-haired scaly-tailed mermaid can exist on land, and that is not Ariel anymore. Look out! This dog is swimming up in style! Doesn't seem to care, though. Good hair, don't care.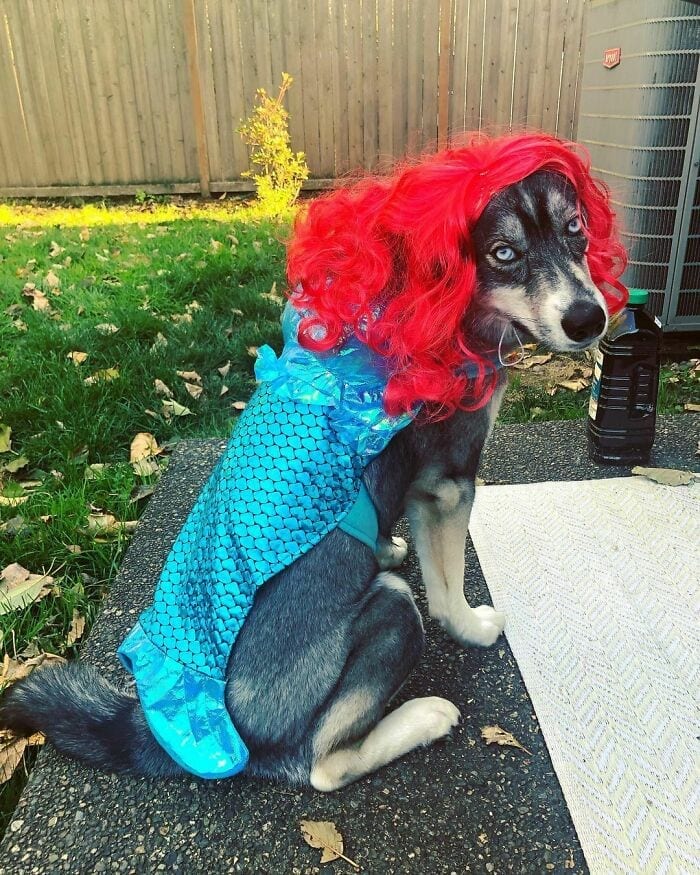 The dog's attitude just makes it better, because she looks like she KNOWS she looks amazing, and knows the angles you need to capture so she looks absolutely stunning. Absolutely fabulous, and there is no denying it. Disagree? We don't care.
Um
Do you think Ed Sheeran looks like this when he wakes up in the morning after a long night at the studio? Or is this one of the Weasley siblings from Harry Potter? Either way, we have to say this actually looks pretty natural.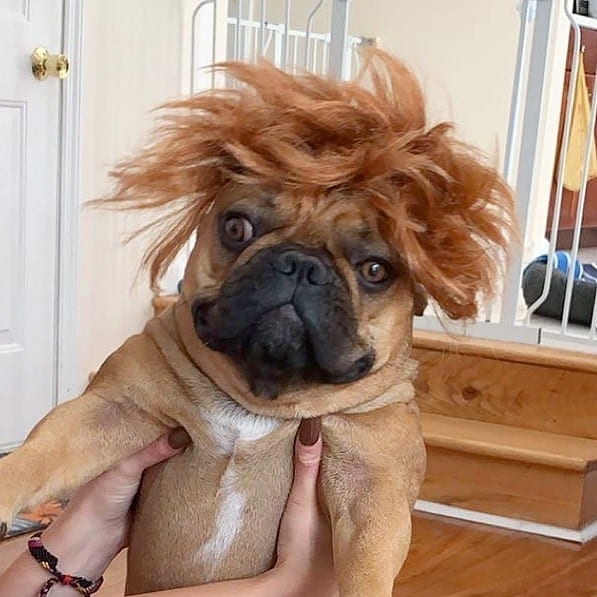 But this dog is already a master entertainer. We're giggling over here, and we just know everyone in the house was splitting their sides at this sight. The dog itself looks quite concerned. Maybe the volume of the laughter was too intense.
Angry
If you've ever been to a salon or parlor for a hair straightening or a fancy blow out for a party later at night, you've probably seen this image in its human form; disgruntled, unhappy, and frizzy! What to do?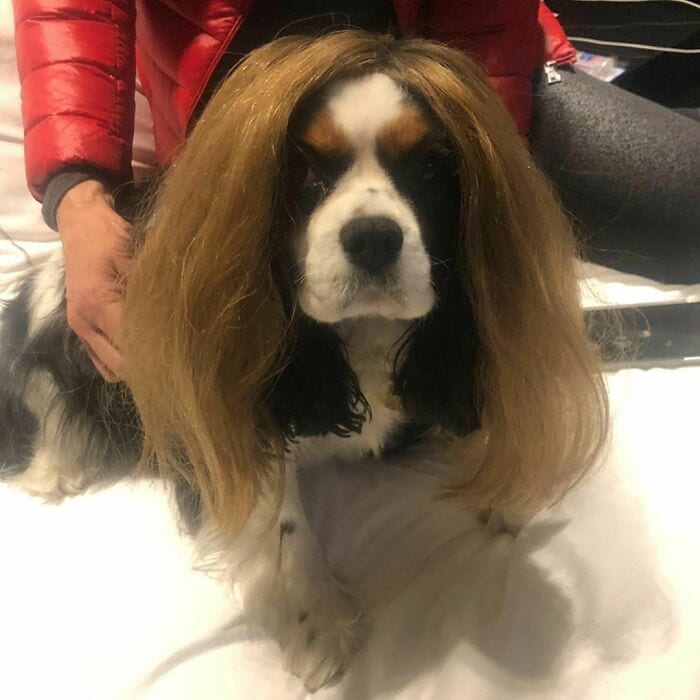 Well, we're not surprised. If we're paying for a complete blow out to look fantastic and make heads turn (or should we say dogs drool?), we want something sharper than this silly wig. You shouldn't blame the dog for frowning. It expects better.
2008
This dog looks like he could be the lead singer of an emo band in 2008. Many of you have probably gone through this phase, thinking that covering on of your eyes with your straightened and dyed hair is cool.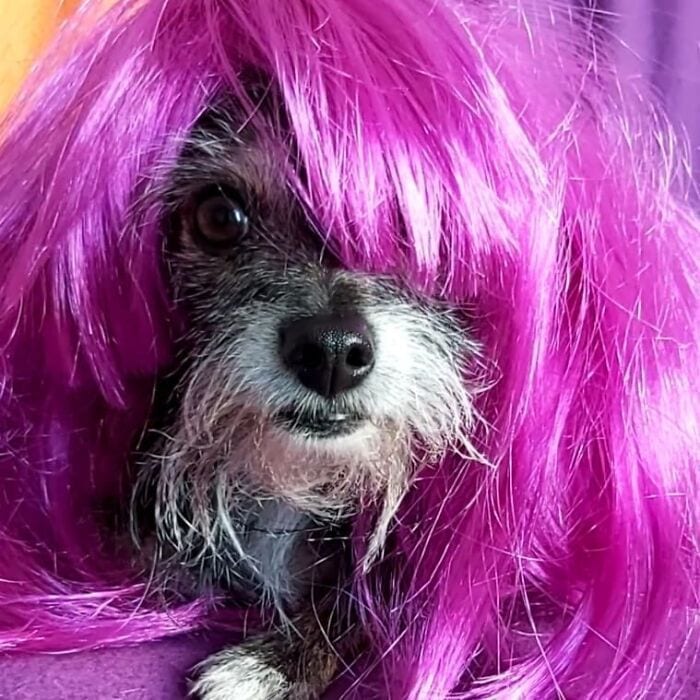 Well, we're happy to tell you, it is! Look at how cute this dog is! Sure, her vision is impaired and she seems too old for any of this, but who are we to judge people or dogs by their age?
Concert
Think of the second concert you attended with your friends. Not the first, because your parents probably really dimmed the experience by worrying too much. And by the third one you're too deeply into the concert culture to be unsure of how to dress.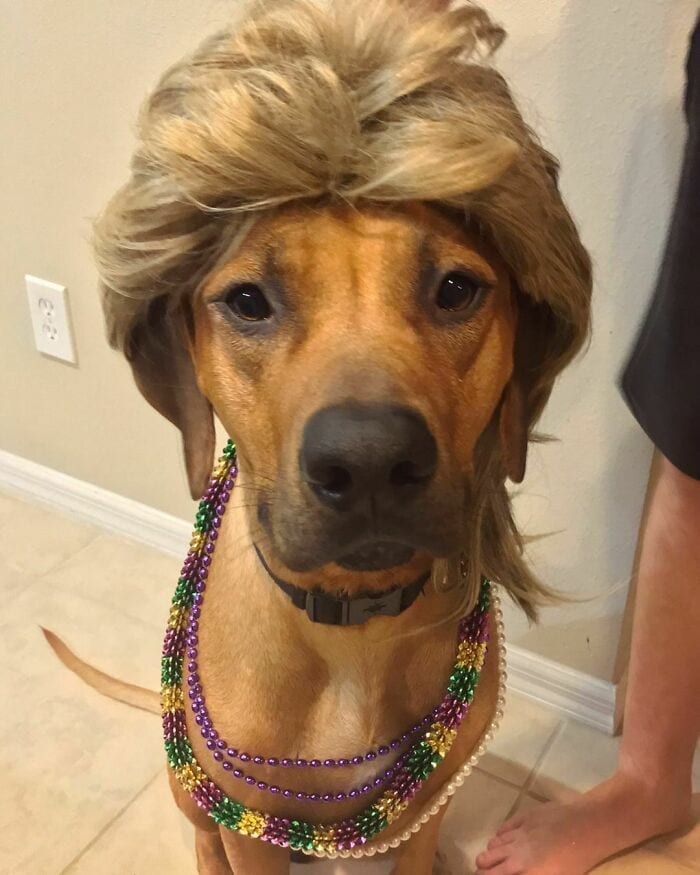 So, second concert, you look around you to see someone touching your knee. It isn't a creepy man, but this stunning dog with the perfect 1970's wig to show his appreciation for music as he likes it! Becoming friends? Heck yes.
Oldie
We know, we know, we already made a joke about Ed Sheeran, but the red hair makes us think about him almost instantly! This adorable little dog is far smaller compared to the singer, but we'd pay to watch him.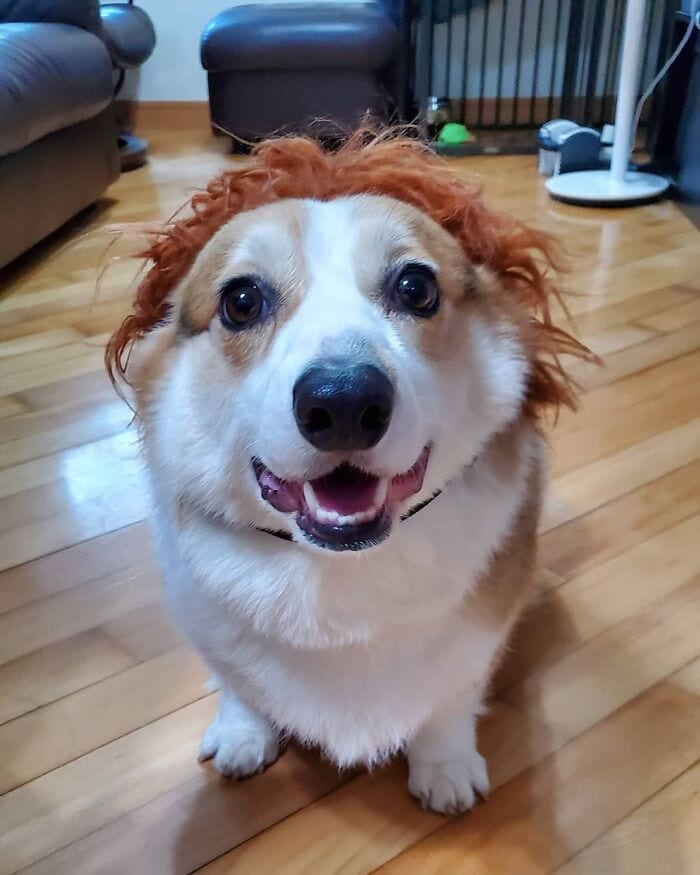 Surprised that this corgi's ears aren't standing up straight, pointing to the ceiling? Don't be, we're sure they're under that very bright wig, tucked away safely, waiting to pop out once the wig is removed. At least this dog is half smiling!
We Can't
This Chihuahua either does not find this amusing, does not wish to smile, or doesn't know how to. Either way, the same cannot be said for us, because we find this hilarious, and we're sure you do, too! How could you not?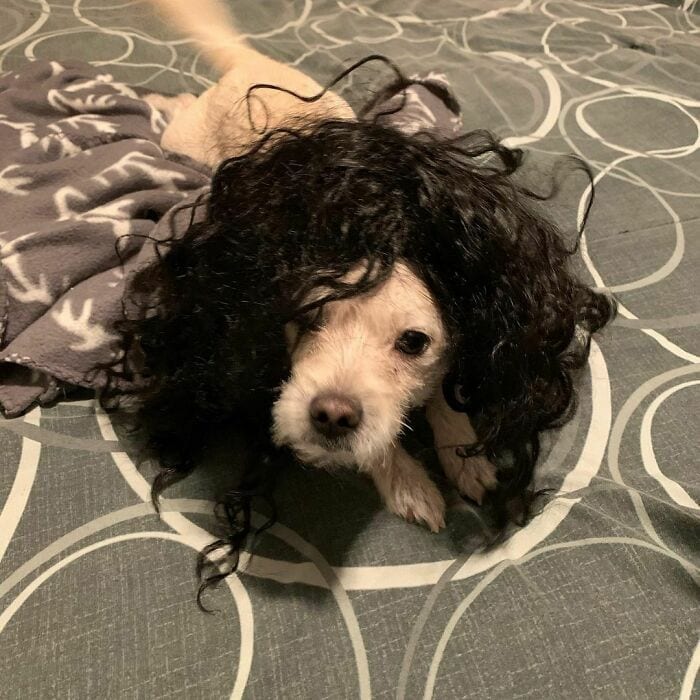 We can almost hear this poor thing barking to be left alone, to have this weird jumbled up hair called a wig removed from his head. Well, except we can see that his tail was wagging when this was taken, so maybe he isn't as unhappy as we first thought.
Tea
Very honestly, this looks like a posh British dog asking its posh friends to come join it for afternoon tea, where they can enjoy a cup of warm tea with milk and biscuits, don't you think? We'd be delighted to get an invitation.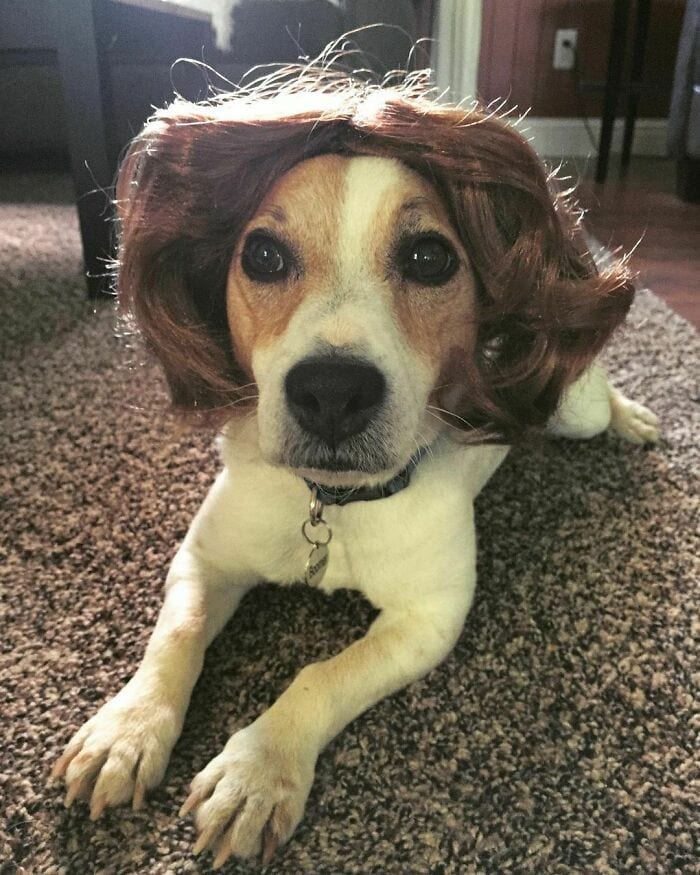 Unfortunately, as much as we may want it, we're not nearly cool enough to be a part of this dog's friend group that gets invited for tea and gossip. If you get an invite, will you smuggle us in with you?
New
It is so strange, but its like this image is the epitome of the "new phone, who dis?" meme. If this cutie was trying to avoid and ghost us and our constant talking, we might never get over the devastation.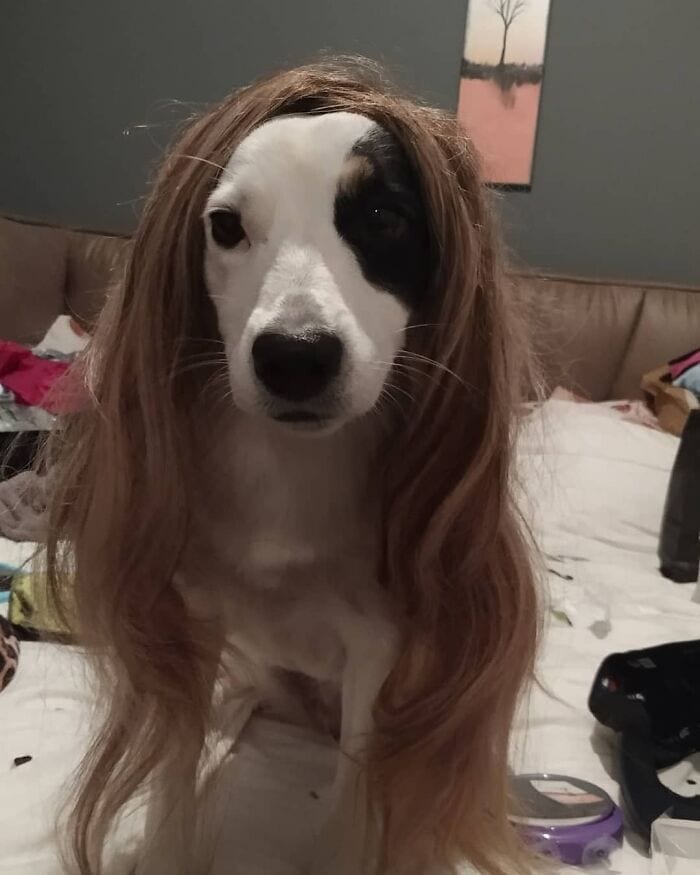 Also feels like this dog needs to be backstage at an Ariana Grande concert, right? Soft hair, good posture, and a cute nose. Seems like she has a beautiful aura. Wondering if this babe likes to hear notes from the whistle register.
Pray
If we came across this angry-looking dog on the street, it would break our hearts. It's either upset by the new style or, let's be real, by the fact that there's anything on it's head in the first place.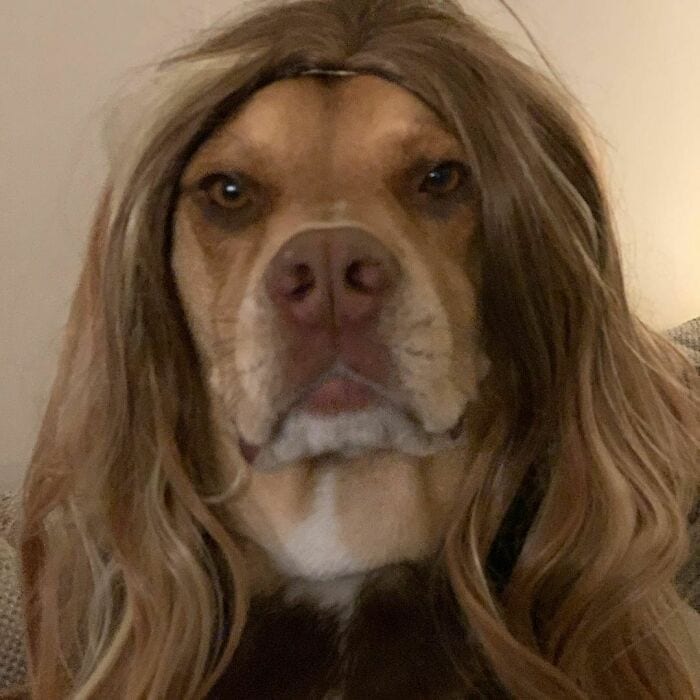 But hey, as we've said, all the brunettes on this list are looking like absolute royalty, and there is no one that can convince us otherwise. Just because this one has an attitude doesn't mean it doesn't look fierce and fabulous.
Malfoy
If you're a Harry Potter fan and resonate with the title we've bestowed upon this image, Dumbledore sends his blessings. If you don't, your father will definitely be hearing about this, and the messenger will be none other than this dog.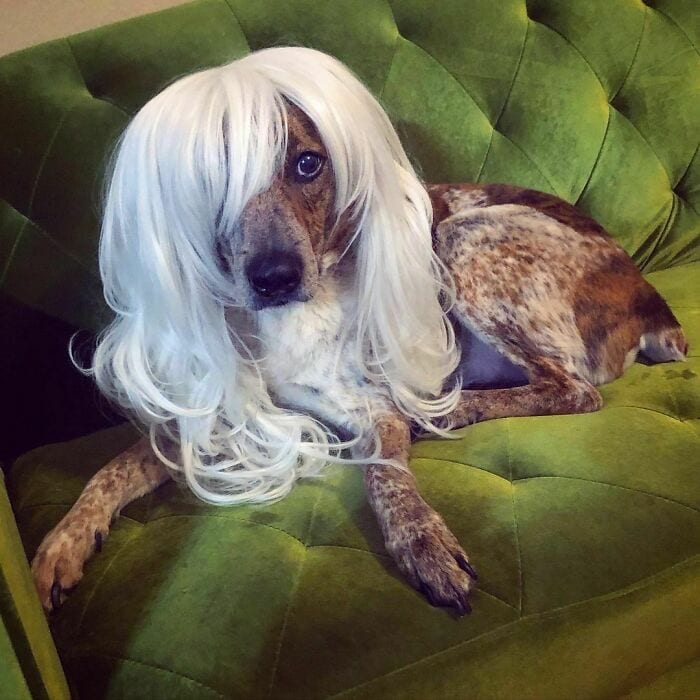 The poise, the grace, the perfect positioning of the hair all stand unmatched when compared to the bulging eyes and the frantic fear that we're picking up on. We're guessing he hasn't seen a mirror yet and seen how fabulous he looks!
Pop
In which year did Miley Cyrus have this hair style again? It was well after her Hannah Montana career, and way before the blonde bombshell took over the charts, and our hearts, again. But whether you like her or not you've got to admit it looks good on this pup.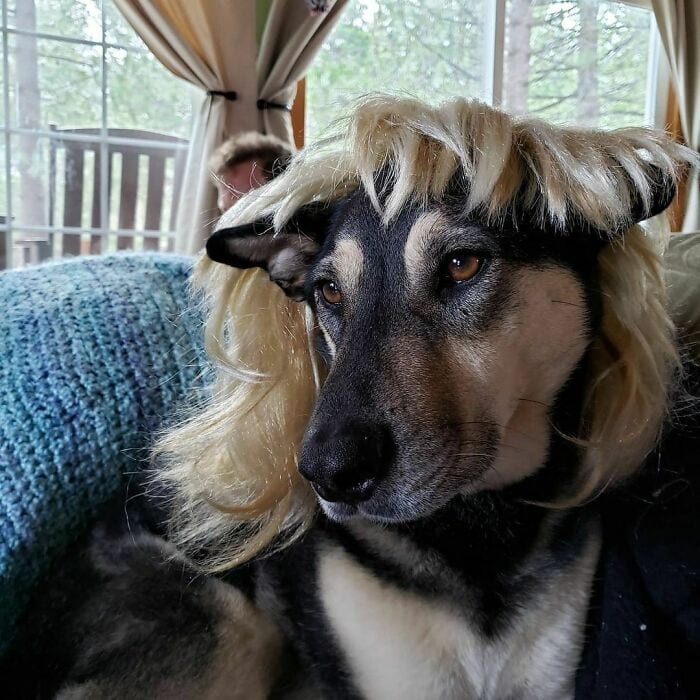 This photograph came in like a wrecking ball of grace and beauty and we've never hit so hard in love. Now this is what we call the perfect candid, completely natural. With this cutie, they haven't even troubled it with the ears and tucking away!
Wow
Whether you're staring at her natural coat, or the beautifully bright wig she's sporting on her smiling head, we've got to say, both look super soft and make us wonder what shampoo she uses. We'd at least like some cuddles, please.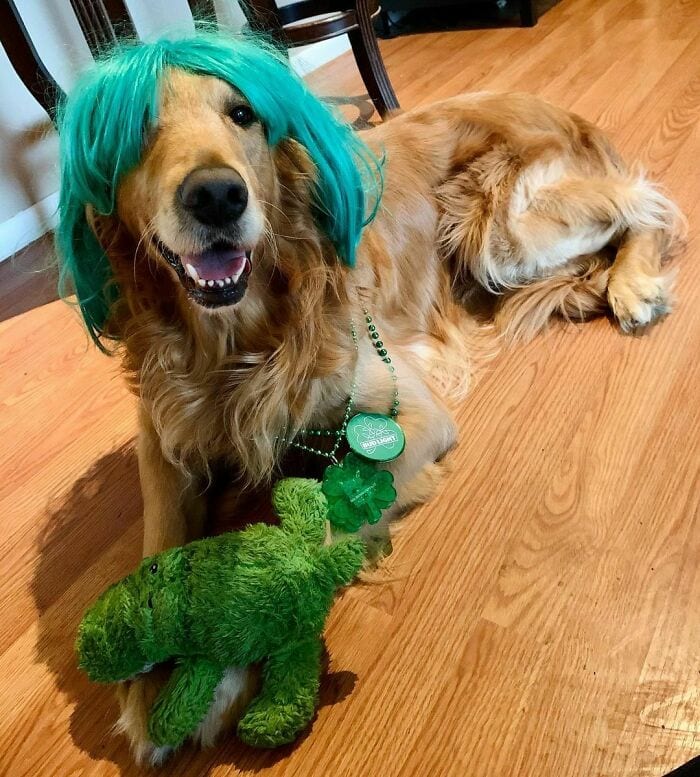 If we didn't know any better, we would say this is an international superstar. We hope he has lots of followers on Instagram at least! We can see this doggo had a happy St. Paddy's Day, and we wish him a wonderful rest of life!
Rough
If we were to guess, we'd say this dog either had a rough night or a rough morning. Either way, it has its shades on, it has the wig on, and is ready to make this day its own. Learn from this dog!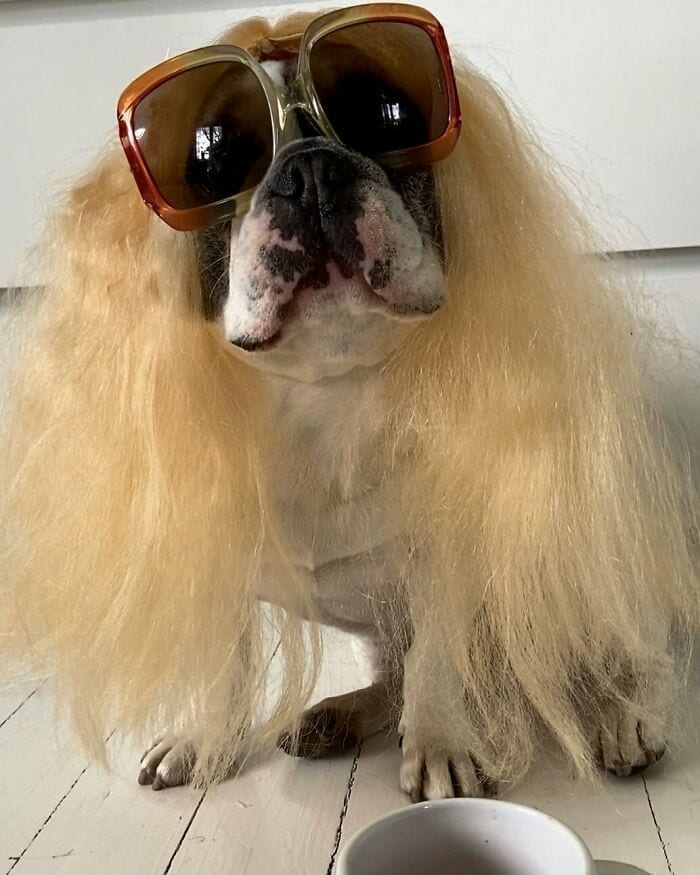 If only we had this motivation to get out of bed and not care about what people around us think. Do you think this dog enjoyed quarantine? If it got to chill in bed with these shades on, we don't see how it wouldn't have.
Aesthetic
There is something about this image that shouts in our year that it is belongs in the 2012 Instagram OR the 2010 Tumblr era. Right? You see it too? The round shades, the high contrast edit, and the overall too-cool-for-you vibe.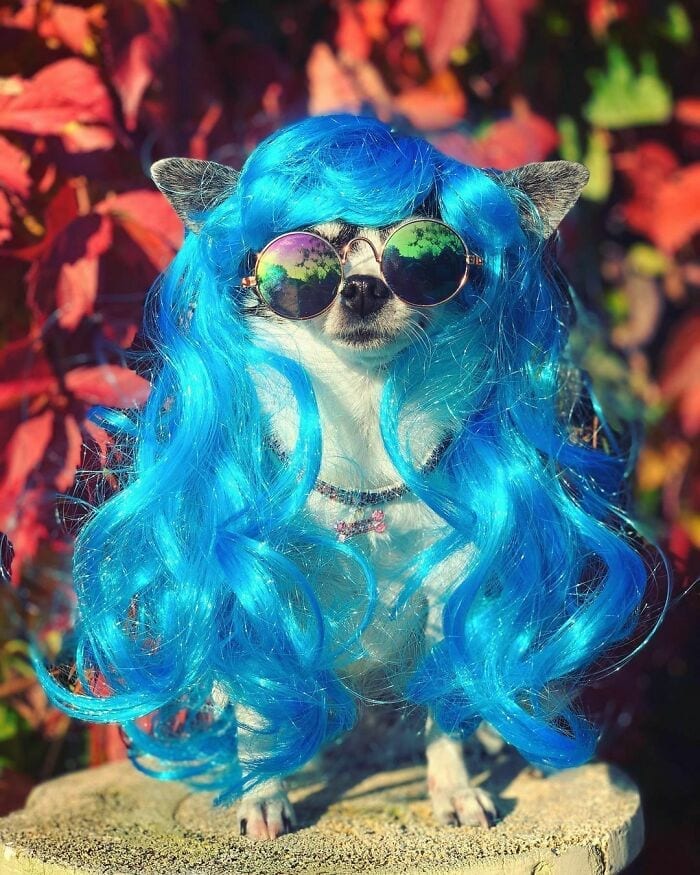 We think Snoop Dogg would vibe with this Chihuahua. We're not sure why, but we can imagine Snoop carrying this pup around. We know you were thinking more along the lines of Paris Hilton, but we're standing our ground on this one.
Aliens
On a planet far far away from us, one that we have no idea about — and honestly thank God for that — this dog is their leader, their queen, and their most loved celebrity. We're so sure of it that we're presenting it to you as a fact.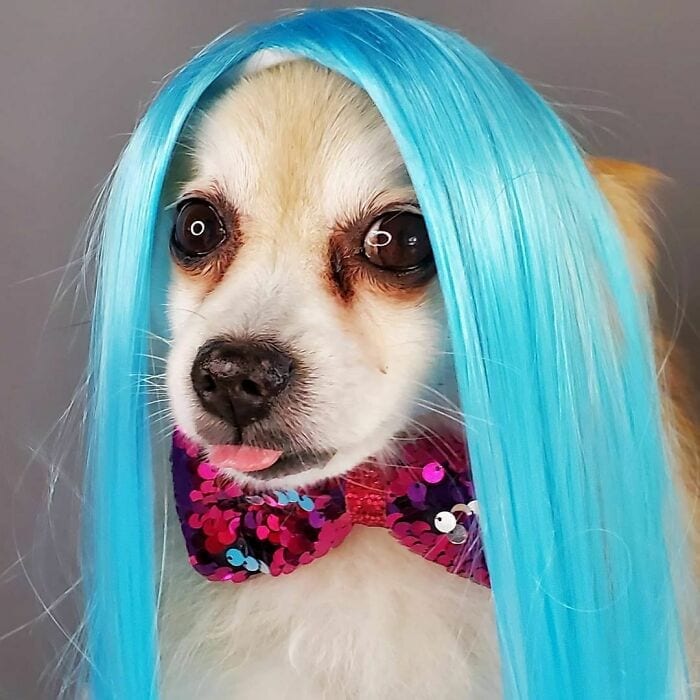 This is like a throwback photo of this dog being seated to take an yearbook picture during high school, not knowing what to do, so they jutted out their tongue. We're sure this dog is glad the photo shoot is over!
Sparkle, sparkle
If you can look past the terrified expression — seriously, did this pup see a ghost? — then you will see a beautiful and elegant creature. This wig fits her perfectly, doesn't it? And that sparkly bow tie? To die for!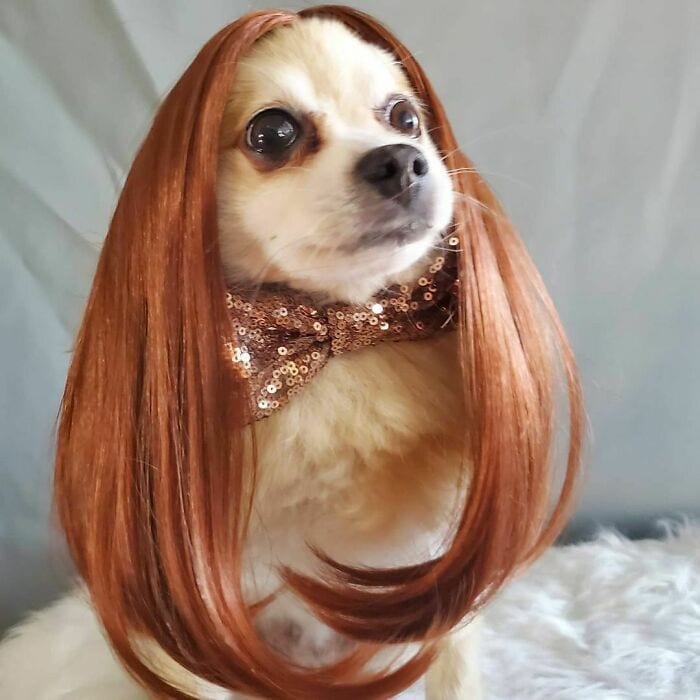 If Sandra Bullock and this dog both auditioned for the lead in Miss Congeniality, we think we all know who would have gotten the contract. The avid stare into the distance while maintaining that arched back? She is the embodiment of cuteness.
Patchy
The idea of body positivity has lately been hotly debated, but we think we all agree, that fur is perfect the way it is, and the beauty standards that surround us should not corrupt the animal world. This dog, for example, we just want to cover with kisses!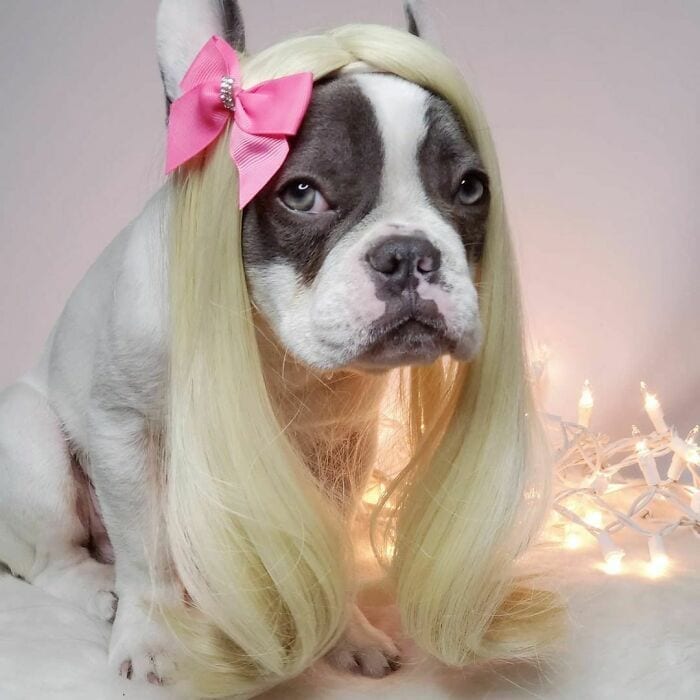 Not only is this dog looking like an absolutely snatched model who could be on a magazine cover one day, that wig hair is set perfectly! However, the look on her face tells us she would rather be playing fetch than posing.
Rapunzel
If you're a fan of the movie Tangled and have been waiting for your one and only Flynn Rider to show up and take you on your adventure, then you will definitely see the similarities between this blonde wide-eyed cutie to Rapunzel.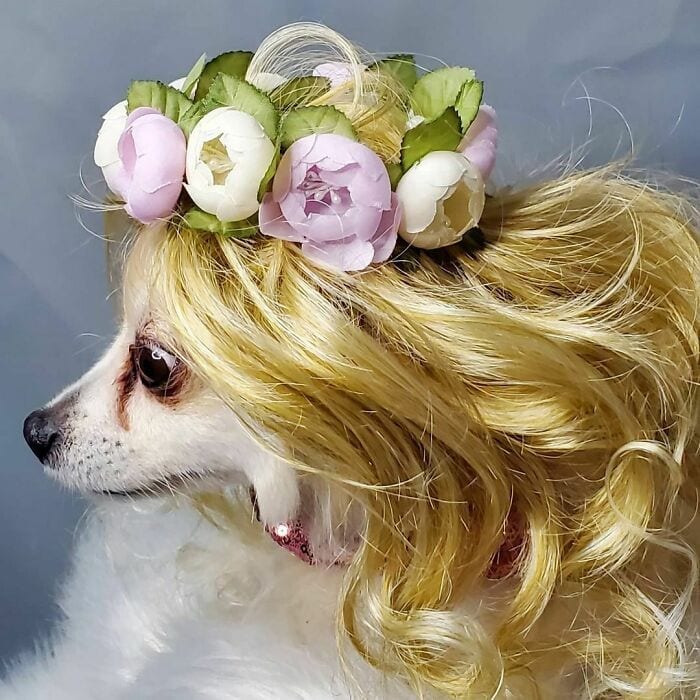 We don't blame you, since they're both stunning, have glowing, soft, blonde hair, and are both full of energy. This dog, though, has her own unique beauty, make no mistake. We're sure she has other outfits, but we do love this flower crown.
Lockdown
Hey, we get it. The lockdown has been tough for everyone, and some may have succumbed to making decisions that impacted their lives quite a bit. If you're someone who cut your own bangs or hair over this last year, we're looking at you.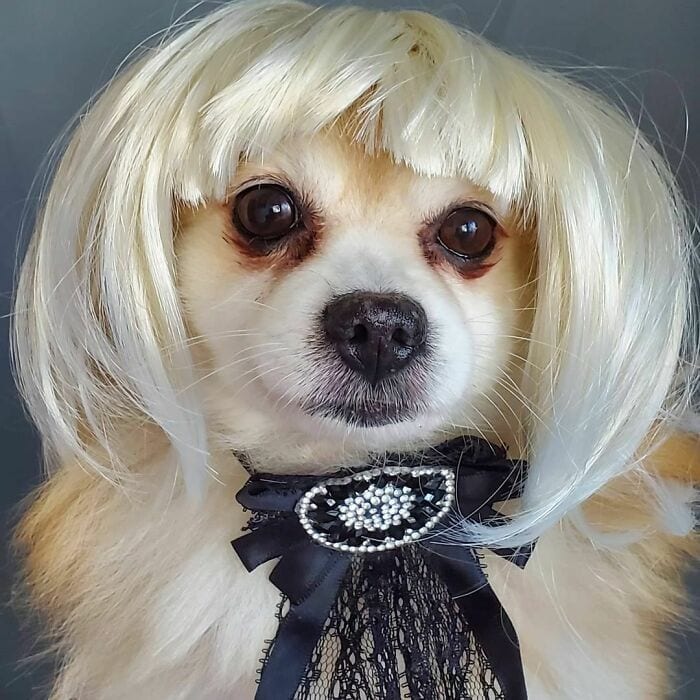 If the aim was to look like a low-budget Madonna, or even that young dancer from Sia's infamous music video, the dog and its owners have more than succeeded. This may not be a cutting edge hairstyle, but the edges have definitely been cut.
Stop
This one we are not very thrilled to see, primarily because this dog just looks too unhappy and done with life, and that makes us sad. The wig is horrid, the color doesn't suit the dog, and the lighting in this room is not for photography.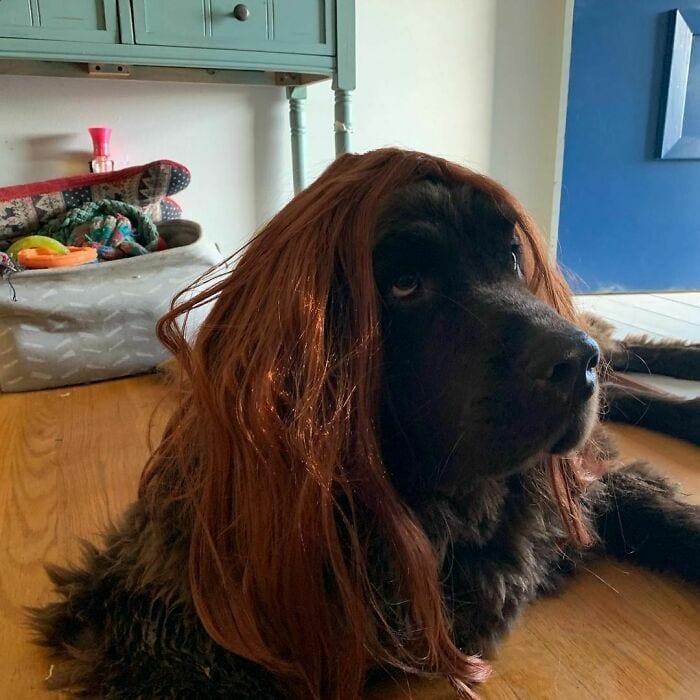 No wonder the dog is so upset and grumpy looking; nothing really is working in his favor in this photograph. If you have a nice treat lying at home that you don't need, send it over to make his day!
Lick
It took us a while to spot the wig because we were so preoccupied by the cute way this dog's tongue is dangling and flopping about. It is an adorable expression, one that should become a trend when it comes to selfies.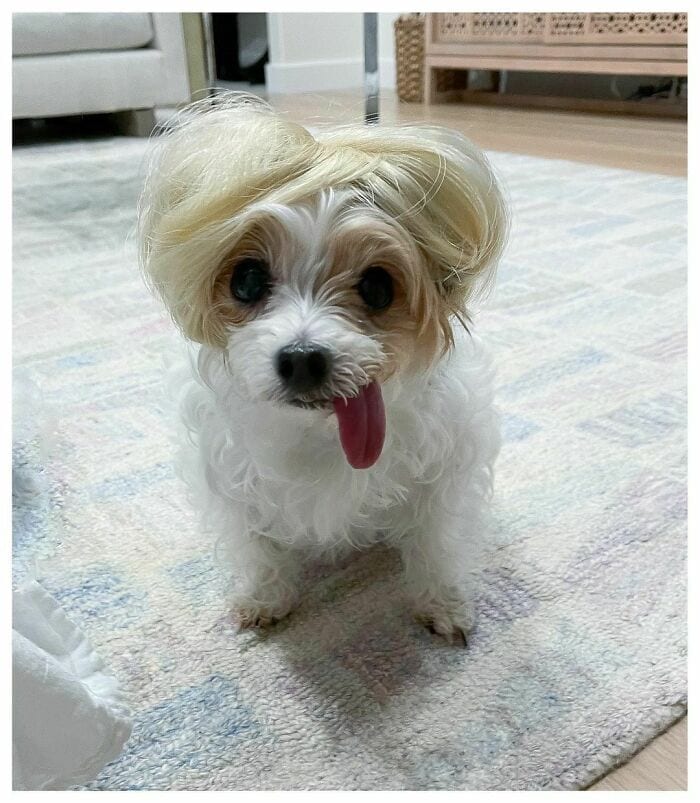 Let's just talk for a moment how perfect this wig is for this pupper. It's a great color match! It looks almost natural, and this dog definitely rocks it. Kudos to the owners of this dog for helping their dog live its best and most fabulous life.
No
Not having a good time? Yeah, neither is this dog. Frankly, if we had fake hair from a wig getting into our eyes and not having thumbs and fingers jointed enough to shake it out, we would be annoyed, too.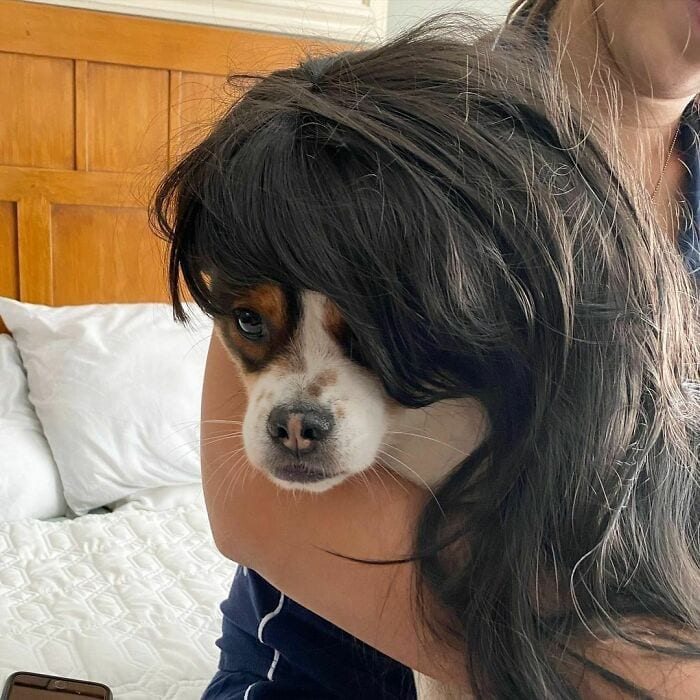 Glaring at the camera? Check. Plotting a plan to escape as soon as possible? Check. Getting a new wig that actually goes with this dog's personality? On the list. This wig just does not go with the personality of this dog! Make it stop.
You?
We don't know about you, but this photo makes our hearts soften into puddles. Is it the shaggy hair and the innocent eyes? Probably. This looks like your well-meaning but clumsy best friend who just broke your favorite mug. How could you stay mad at this face?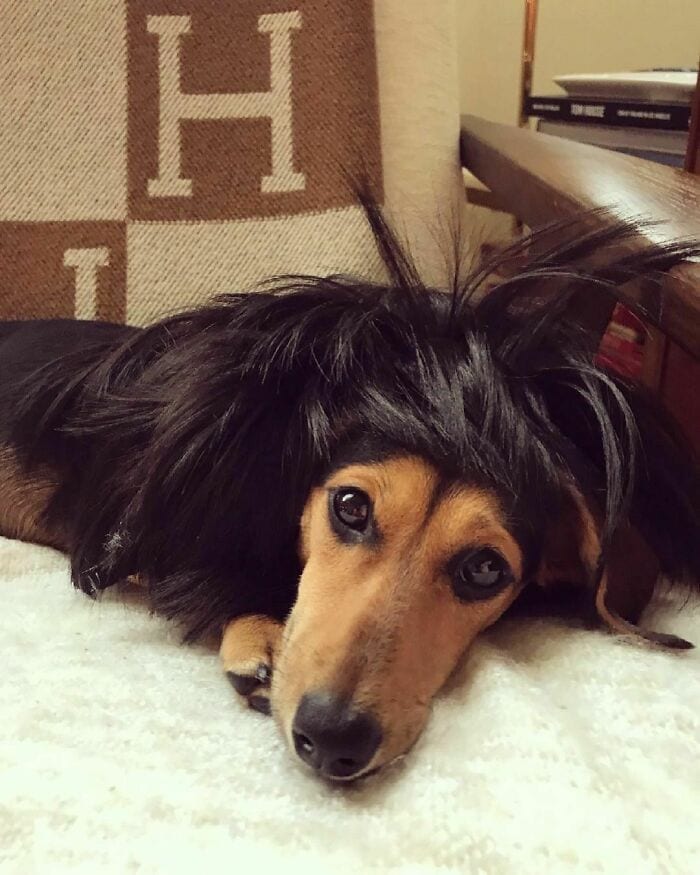 How you're still reading this without getting teary eyed is beyond us and honestly, unacceptable. Look at it! Give her a treat right now. She deserves it just for existing on our screens. She looks like she could use some petting, too. Get on that!
What
There are very few things that could potentially provide any extra terrestrial life with proof that human beings are incredibly smart and self sufficient. That we have created amazing things and progressed beyond our potential. This image is not one of them.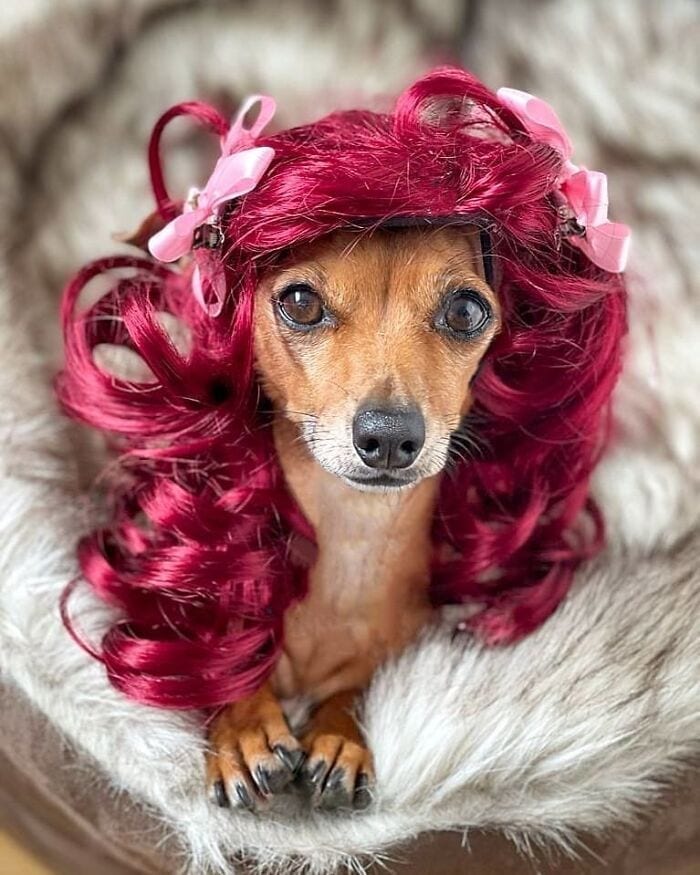 That sounds harsh, doesn't it? So does putting light pink ribbons and clips on a glossy wig made of plastic hair for a dog who needs a somber, fluffier, and softer wig for its daily use. This feels like a crime to even see, but it does make us smile.
Hollywood
This dog might be too late but we bet if he tried, he could still get an acting role in a Hollywood movie as the most dashing rising star of the year. And this parted-in-the-middle straight hair is trendy once again!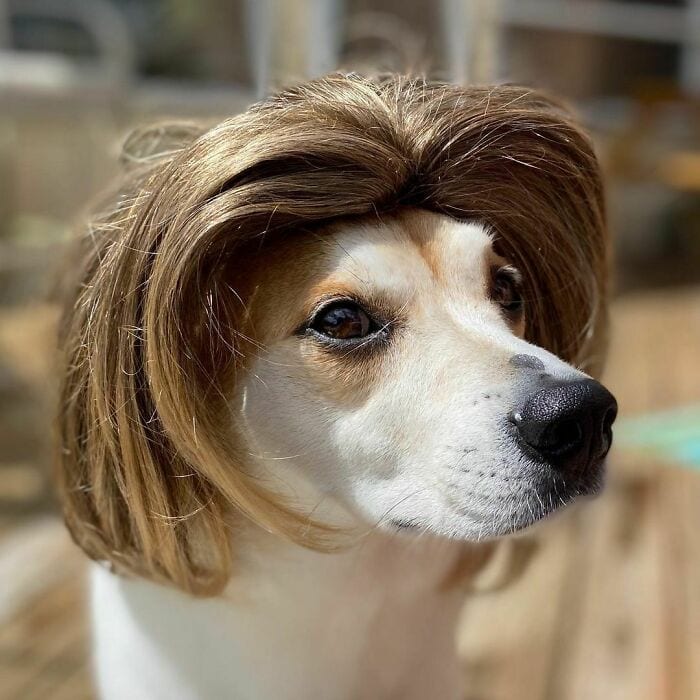 Bright eyes, cute whiskers, and a polished button nose; we don't think this dog is missing anything when it comes to being amazing, fresh, and hip! Give him a peck on his head and a treat, because he's a good boy!
Hungover
We've all been to parties we shouldn't have gone to, and we've all come back home more dysfunctional than we had intended to. But the next morning is when we felt it the worst. We think this dog gets exactly what we mean.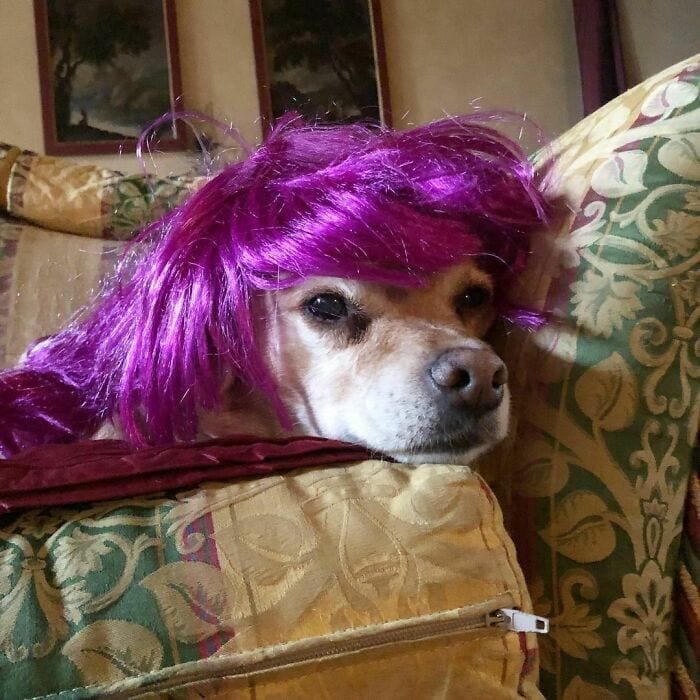 Too many treats the previous night, or too much dancing to the beats; whatever it was, this cutie had a wild night and we encourage him to go back to sleep. If he wakes up, his owners will put a wig on him and take pictures.
Artist
Give this dog a cool name fast because the stance, the attitude, the wig, the color coordination, and the deep set eyes — everything yells rock band drummer and we wouldn't have it any other way. That messy fro looks just too fab!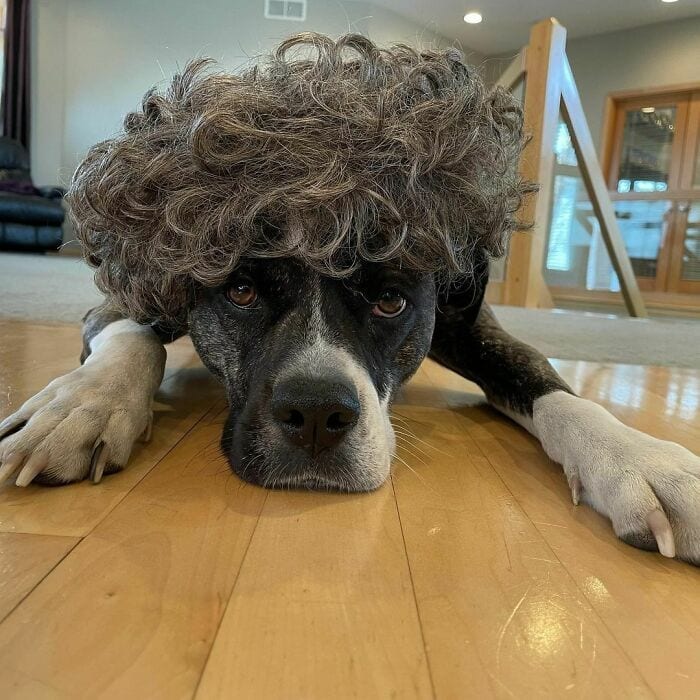 This dog might seem broody, but you don't get it to do you? That is his smoldering look. He knows his angles and he knows how much to lean back to get the perfect depth. The wig was the perfect addition to a brilliant photo shoot.
Was I Good?
If you have children, or performed onstage yourself as a kid in a talent show or concert, you have probably seen parents being asked by their child how the performance was. Chances are, the kids (or you) sat exactly like this, waiting for their approval.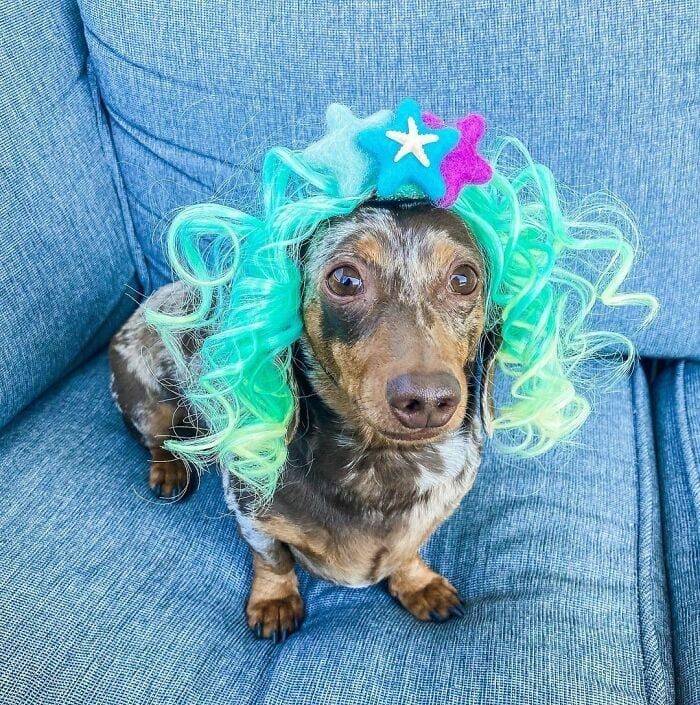 In case they didn't say it, we absolutely loved your performance, honey. You killed it! Just like this dog. We're all very proud of this cutie, and are sure good things await you. This is such a good doggo! Bring treats.
Cara
Cara Delevingne has been sporting a similar silver blonde look for years now, and we hadn't seen anyone else pull it off as well as her until now. This adorable little guy sits calmly while absolutely killing a beauty trend!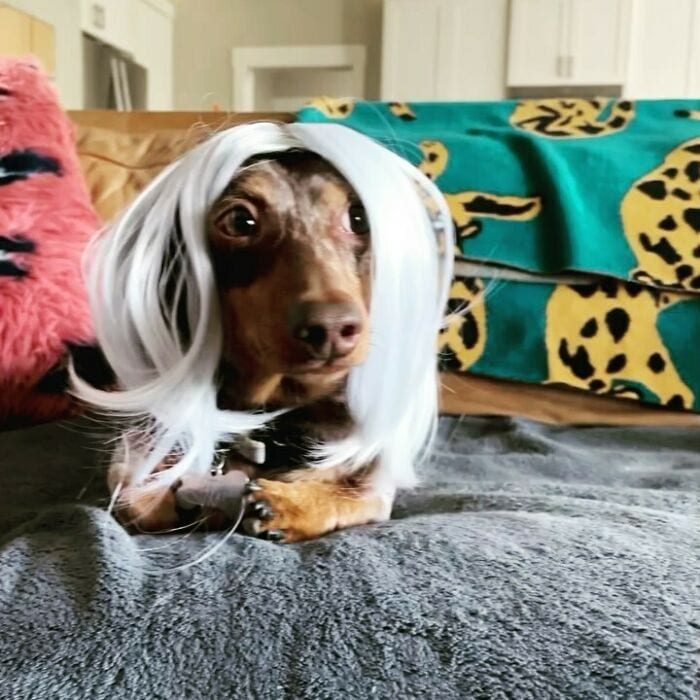 We would love to see an interaction between this dog in this wig and Cara Delevingne and see their reactions to each other and their matching hair. Considering his expression, we don't think the dog would say much, but it would be cute.
Quirky
You don't understand, this dog is QUIRKY! Quickly, take the picture so that she can post it to her private Instagram account to show to everyone just how fun and "different" she is. Straight up, it looks like this dog is mocking a teenager, and we're here for it.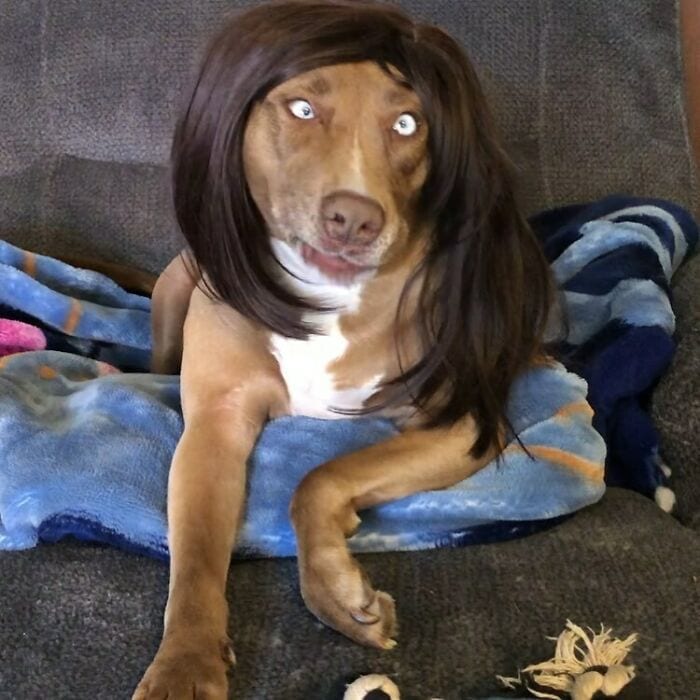 The big crossed eyes, the wig, and the pose — everything is doing it for us to the extent that we can hardly contain our giggles. Please laugh with us, because this photo is worth it. It can take all your cares away for a moment.
Scary
If we saw this in real life, regardless of what time of day or night, we would probably shout with fright. The eyes are as dark as the wig and an eerie shadow surrounds the face of this otherwise adorable dog.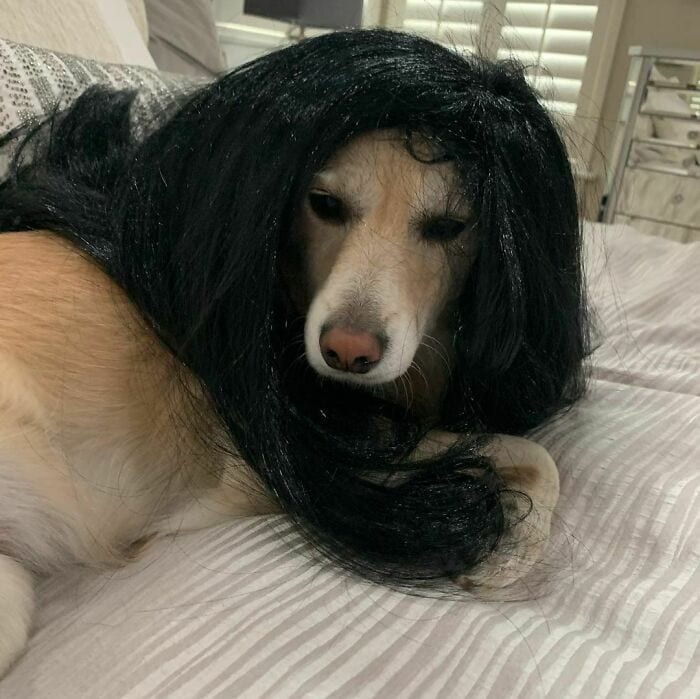 While the dog looks like he's having a moment and needs her own space, we don't really know how much and at this point, no matter how much we love dogs, we don't want to annoy her more than the wig already has.
Who?
If this wasn't a member of One Direction at one point, we have no idea who it is. Just kidding. This dog is beautiful and cool all on his own. And he's already a well-loved model in his own right!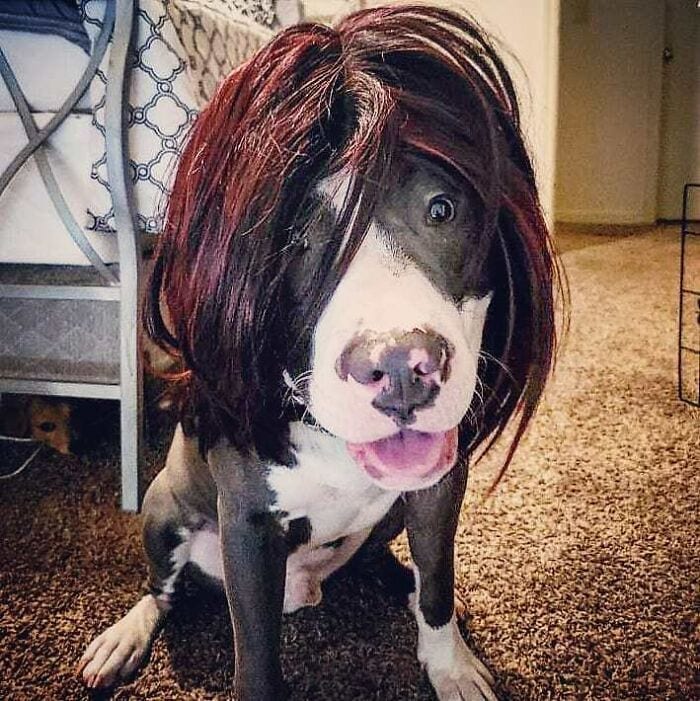 Pit bulls — the dogs, not the rapper – are often mischaracterized as vicious and violent, and this cannot be farther than the truth. Look at his smile! All he needs is a wig, his human, and a camera in front of him.
Joker
This dog right here knows it is funny, knows what makes us laugh, and is more than likely also the class clown and the life of the party! Or, we are completely wrong and this dog is actually really angry.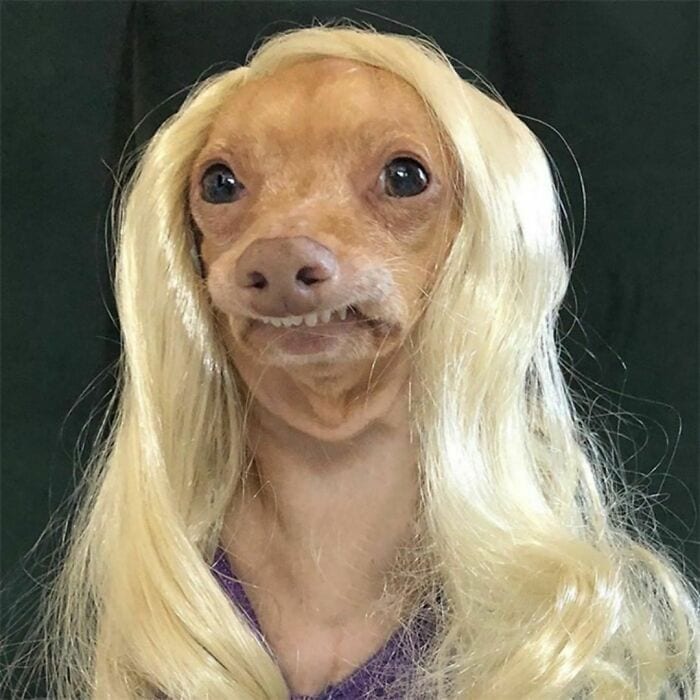 What do you think; is the dog a comedian, or is it really angry and preparing its revenge against the human on the other side of the camera that put this ridiculous outfit and wig on it? We're split, just like our sides.
Bed Head
This pup's eyes are barely opened, but do the humans care? Nope! They just plunked a wig on this adorable little pupper and photographed him as soon as he woke up from this power nap. How annoying! And the wig hasn't even been styled recently!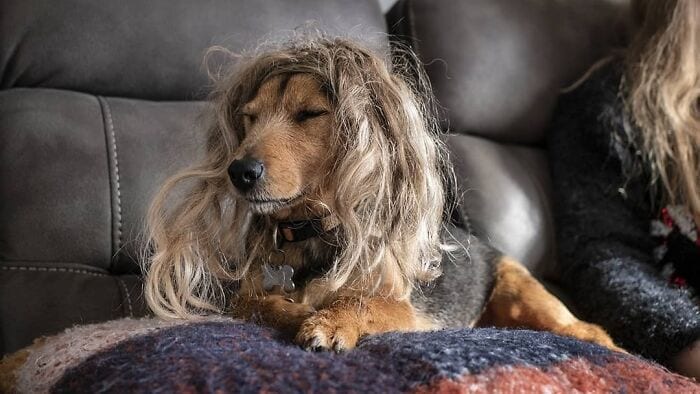 Some of us here are deep sleepers, but if a light sleeper was bothered like this, and had a temper, their friends would be lucky if they managed to leave the room without a fight. On a side note, the person next to the dog and the dog are twinning when it comes to hair!
Ice cream
Don't know if its the heat of summer beating down on us, or the general white and brown of this image, but we could use a couple scoops of vanilla bean ice cream with spoonfuls of fudge on top of it.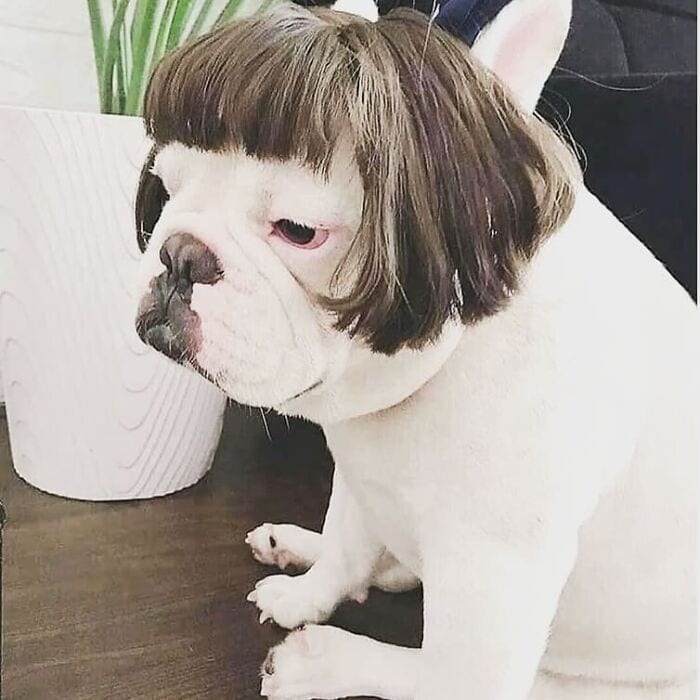 We are feeling like this dog could use a treat, too. It looks to us like this guy thinks this is a haircut gone wrong, and he's pretty unhappy. But honestly, it does compliment his adorable face. Cheer up, pup!