Stylish Doggos Pose For The Cover of Canine Vogue in the Dogue Challenge
By Abigail T August 22, 2021
---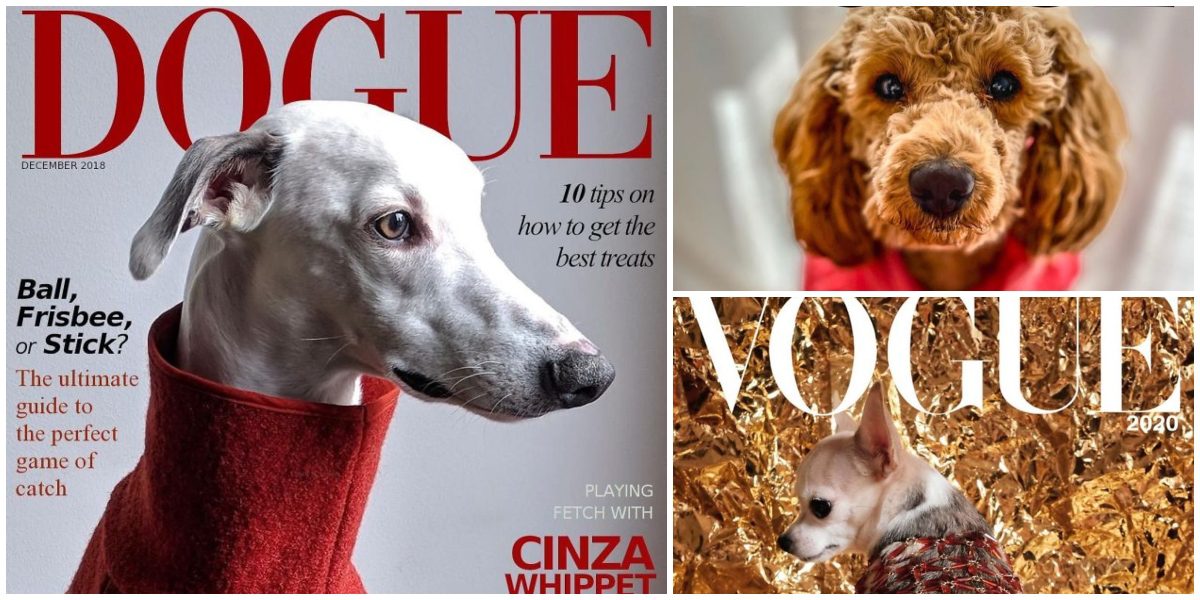 If there's one thing we can count on with the Internet, it's that it doesn't stop churning out new trends. From TikTok dances, the newest baking recipe, or beauty hacks, there is enough content out there to keep us entertained forever. One of the newer trending challenges is the #VogueChallenge, which surfaced in 2020. People would put photos of themselves on the cover of Vogue, no doubt to boost their confidence and have something to laugh at. But some people, particularly dog owners, took this trend a step further. They edited photos of their dogs onto not Vogue, but "Dogue." Yup. It is a chance for dogs to be put on even more of a pedestal and be lauded for the gorgeous, lovable creatures they are. Here are 40+ of the Dogue-est of them all!
Piercing eyes
You can't tell us that this husky wasn't made for the magazine covers. Even if he weren't on Dogue, we'd think that he's been on the covers of various pet magazines. Rusty the husky, who has over 20.000 Instagram followers, stuns on the cover of our favorite canine magazine.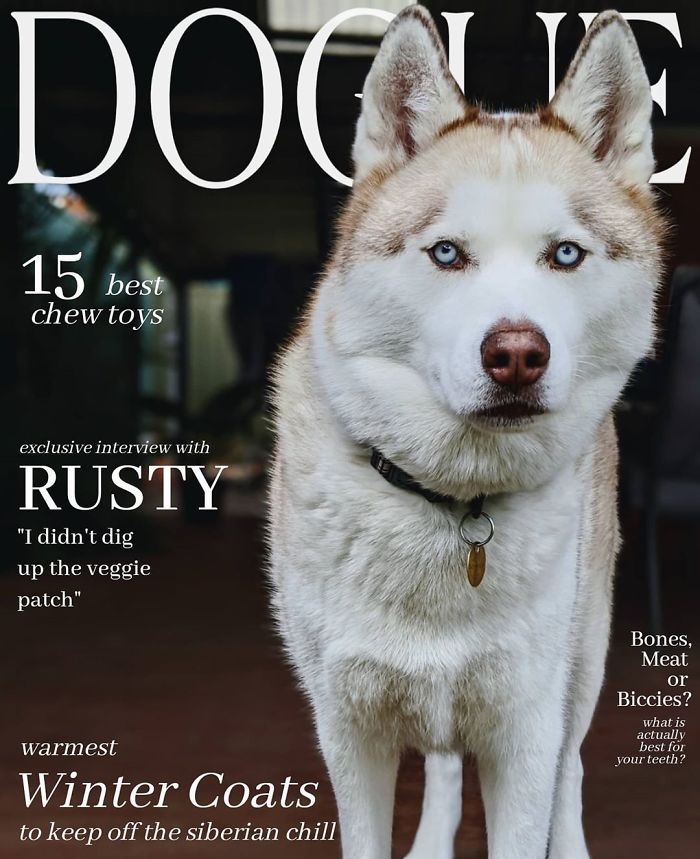 His icy blue eyes pierce the camera lens—and right through our souls. He's truly a stunning model. If there were a prize for Best Dog model "Zoolander" Blue Steel pose, it would go to Rusty, hands down. Bet Rusty gets all the ladies at the park!
Trend-setter
Fashion magazines are known to predict and then set the trends for the following fashion season. But humans aren't the only ones setting trends these days. Watch as Jackie-O, the dear head Chihuahua dictates what all stylish pooches will be sporting in Spring 2020.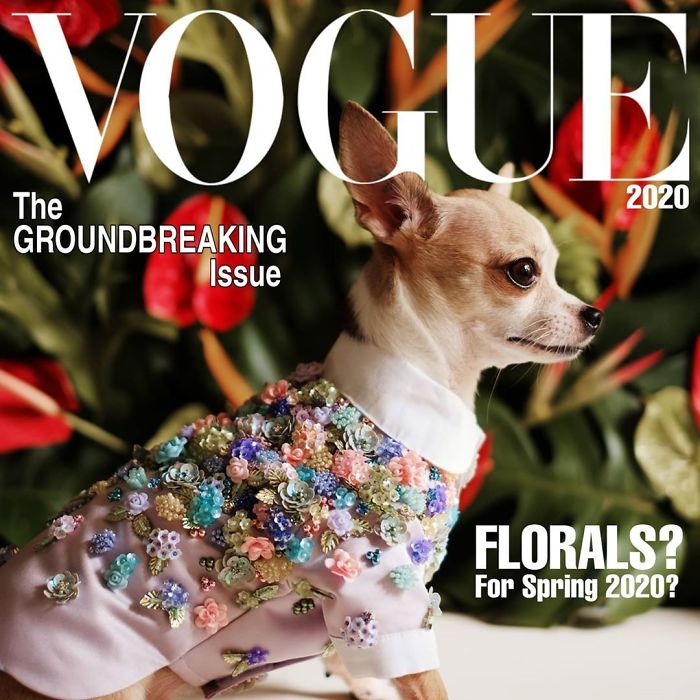 Jackie-O said floral. But not just floral—flower-embellished. The blouse she is wearing was hand-made by her human back in 2016, making this a vintage piece in dog years. It's classy, it's elegant, it's regal. Jackie-O went from Dogue straight to actual Vogue with this number.
Most Eligible Bachelor
Everyone, meet Skye, a 4-year old Siberian husky with the charm of only the most charismatic men. We know Vogue doesn't normally name a Most Eligible Bachelor every year, but they made an exception for Skye. Just look at him!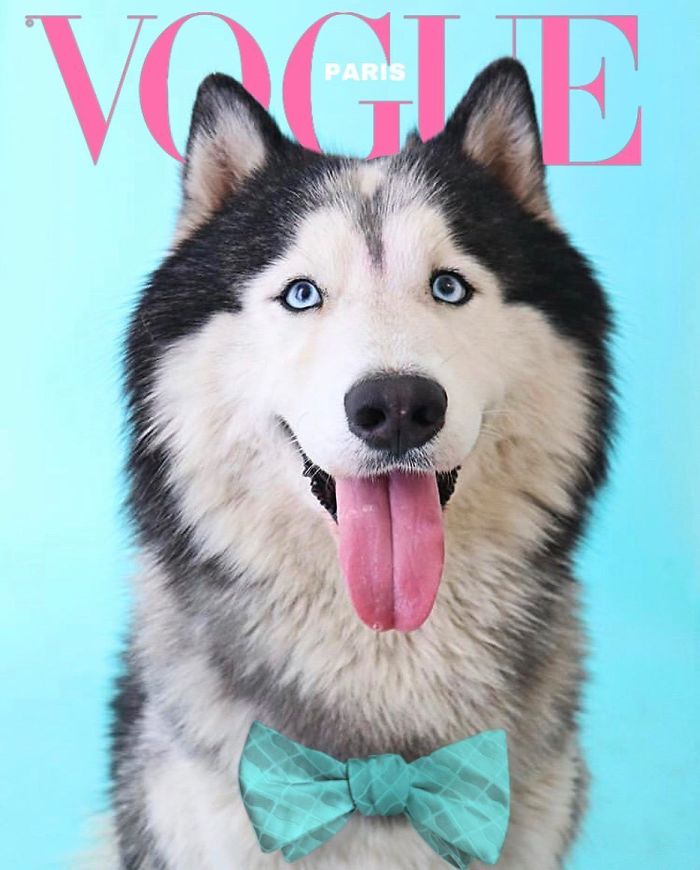 The friendly eyes, the smile, the tongue sticking out. Not to mention, he's very well-groomed. Skye is basically the tall, dark, and handsome trope in the dog world. All the female pooches want to get some of that Skye.
Diva
Jackie-O wasn't the only dog to set the floral spring trend. Eva the diva here predicted the trend a whole year earlier. In this issue of Vogue Canine, she shows us all how to rock flowers crowns in our hair.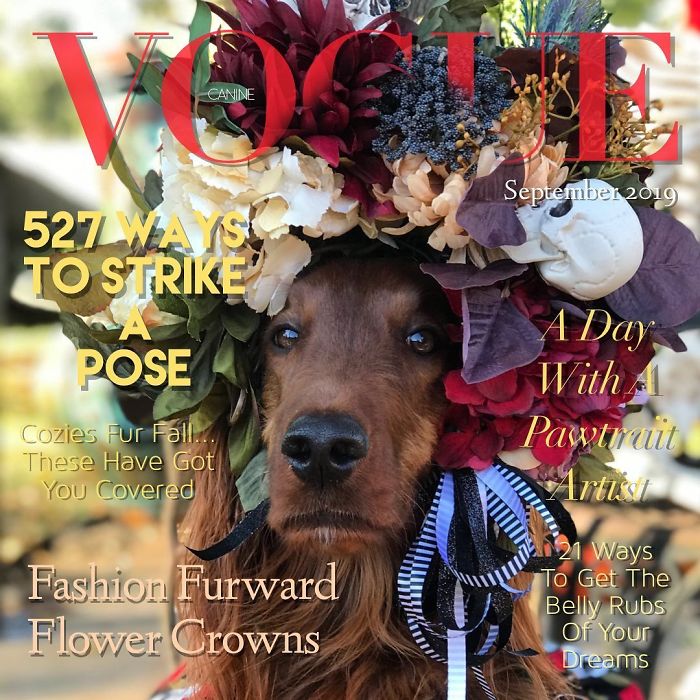 Speaking of hair, can we talk about Eva's dark red mane? What a beautiful coat of fur she has. We can just tell she's regularly groomed with only the best canine products. Eva also has an air of wise, veteran Hollywood star about her.
Street style
Vogue isn't normally associated with street style, but they gladly made an exception for the coolest paws on the block. Check out Lil Schroeder Junior and his sick drip. The shades, the hat, the Supreme x Louis Vuitton collab. Iconic.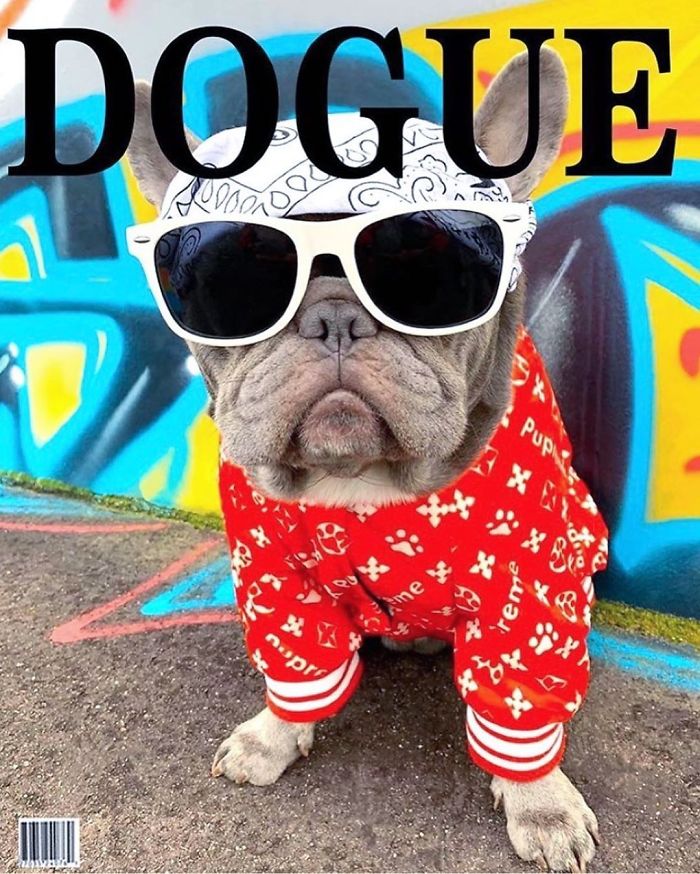 Schroeder Junior didn't just make it onto the cover of Dogue. He also made it on the Instagram page @bestdresseddogsofig. That's an award in itself. We can't believe a dog looks cooler than us and dresses in more expensive clothes.
The Fitness Issue
Who better to show all the dogs how to stay fit than Tonka, the English bulldog? The shredded stud took time out of his busy day to pose for Dogue in his leg warmers and headband. He's rocking the mean, but motivational personal trainer look.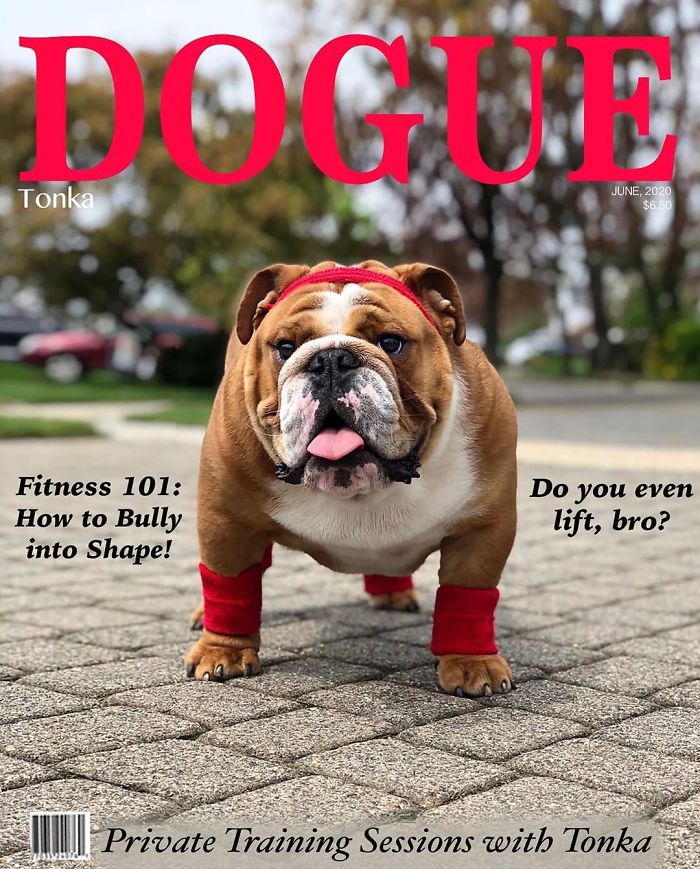 While he looks intimidating on this cover, Tonka actually has a sweet side to him. His Instagram, which has 43.000 followers, features images of him jumping into pools and chewing on dog toys, just like any other regular dog.
Time for my closeup
Vogue for dogs isn't all about the fierce looks and the pouts. The covers can also be playful, showing off the dog's cheekier side. The point is to represent the dog's personality in the best way possible, the way this cover does Perdy justice.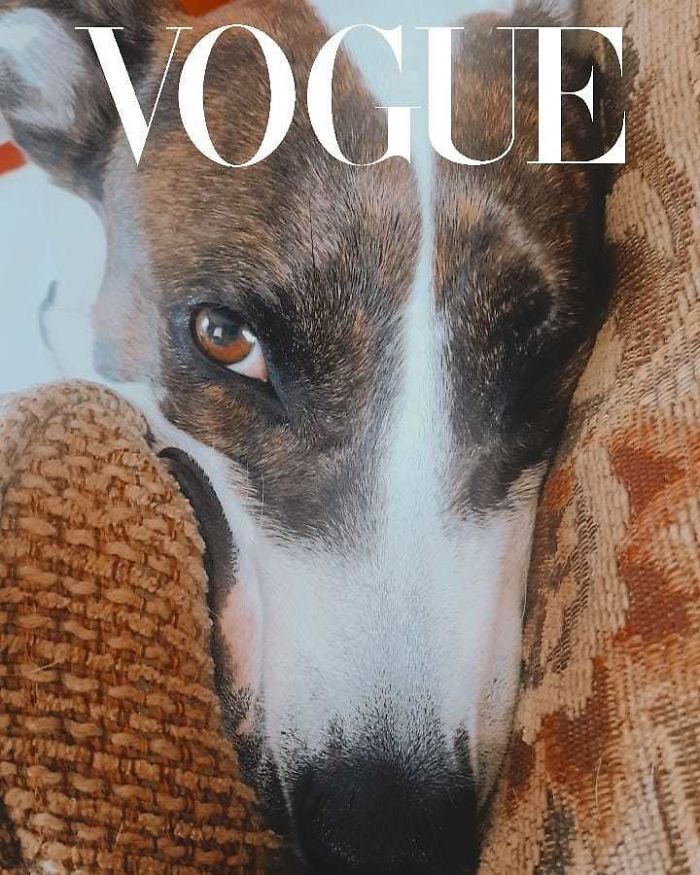 Perdy, the Pointer Boxer mix, is a silly little pup. You can see it on her Instagram, and you can see it on this Dogue cover too. Perdy made great use of her closeup to show the world just how cheeky she can be.
The cats want in
Seeing the dogs take over Instagram with their Vogue covers, the cats felt left behind. Cat owners quickly jumped in on the trend and made their cats their own Vogue covers. Acil, an adopted orange tabby from Indonesia, made her mark on the editorial world too.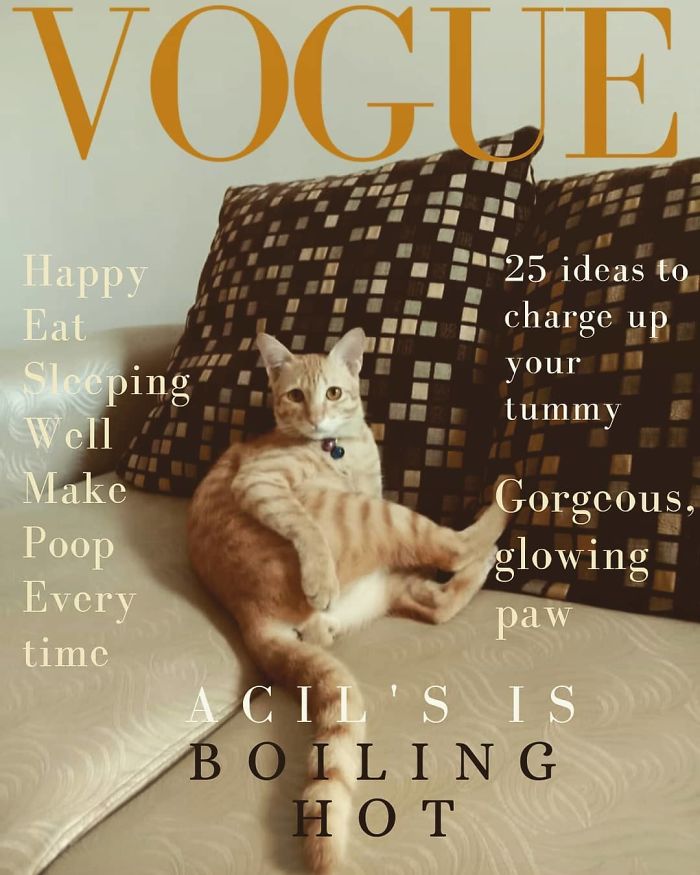 Just look at the pose in which she is sitting. Kind of sultry, kind of mysterious. She's channeling a little, "I can help you but don't waste my time." The pose and the facial expression are enough to put any Dogue cover to shame.
Girl power
Breeze here shows us that women can do it all. She gave birth to and raised six puppers while still having the time to look like a princess and pursue a modeling career. What a badass chick! We ought to learn more from Breeze.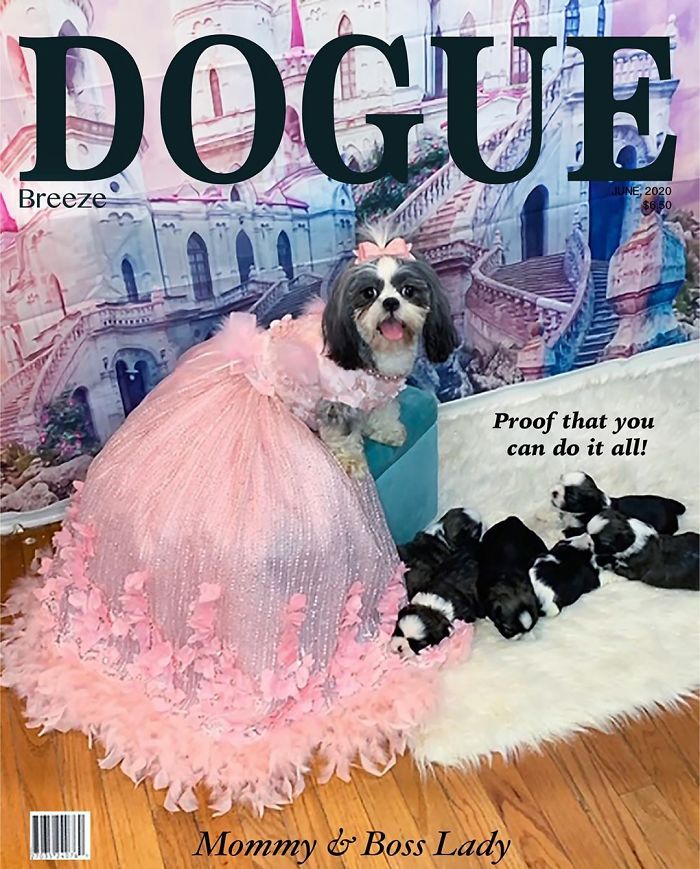 As the cover dubs her, Breeze is both Mommy and Boss Lady. She is setting such a good example for her incredibly adorable puppies might we add. Keep up the good work, Breeze! You inspire us all to follow our dreams!
Cool kid
There's nothing better than seeing a dog wearing shades. Somehow they manage to make the glasses look so much cooler than if humans wear them. Exhibit A: Virgil, the bulldog. Just look at him totally rocking the classic aviators.
The cover doesn't lie. Virgil does have swagger like no other. If only those swagger lessons worked for humans, too, we would love to read this issue of Dogue. This photo almost looks like Virgil is in the middle of rapping for his new music video.
The protectors
Dogs aren't only known for being man's best friend and resident cuddle buddies in every home. Certain breeds are also great for protecting the family and alerting them to any danger. Their barking at the slightest unusual activity is the home's best alarm system.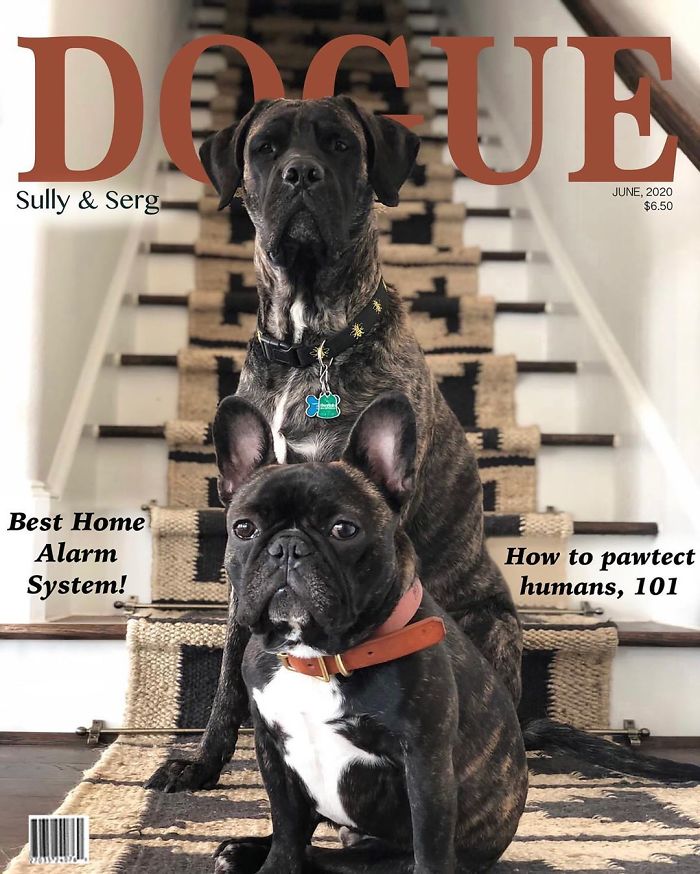 Sully and Serg, the cover dogs of this issue of Dogue, show their paw pals how it's done. Protecting the human family isn't just a duty, it's a privilege. There are certain barks and specific ways to get the humans' attention that takes years to hone.
Pup comfort
Now, this is the epitome of comfort. It may look like a high-end conceptual shoot for the cover of Vogue, but really it's just Norman, the sausage dog wrapped up in a very soft pink blanket. We just want to get in there with him and cuddle!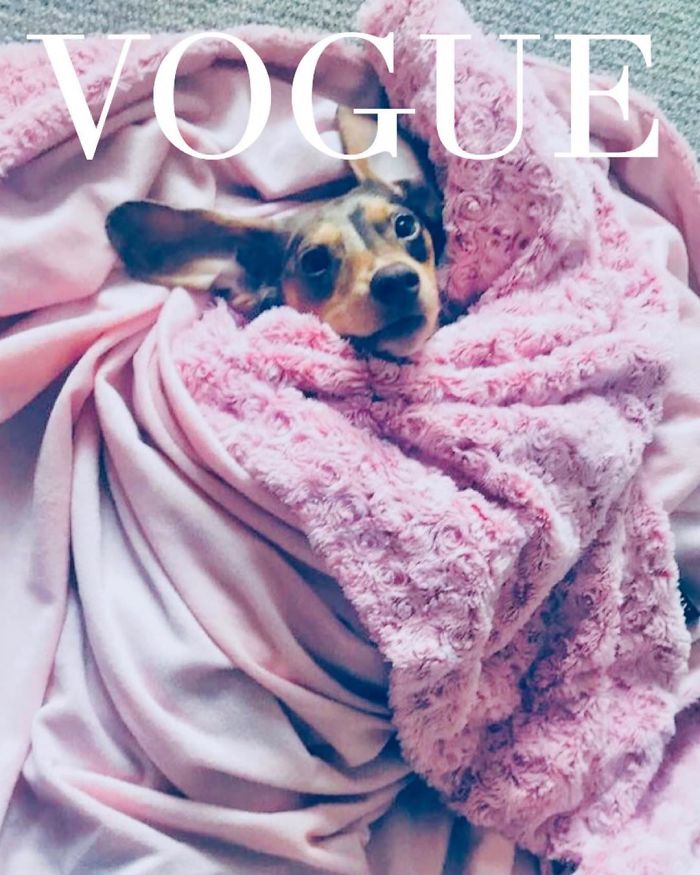 Norman, the dapple dachshund, achieved model status last June after his first cover of Vogue Canine. His Instagram page now has a growing follower count upwards of 400. Norman loves showing off his gorgeous coat and his quiet demeanor.
Staring wistfully
There are many poses and facial expressions a model can pull. Whether it's a human model or a canine one, both species can get creative with their poses. One of the classic ones is the "staring wistfully off into the distance," and Couscous here has sure nailed it.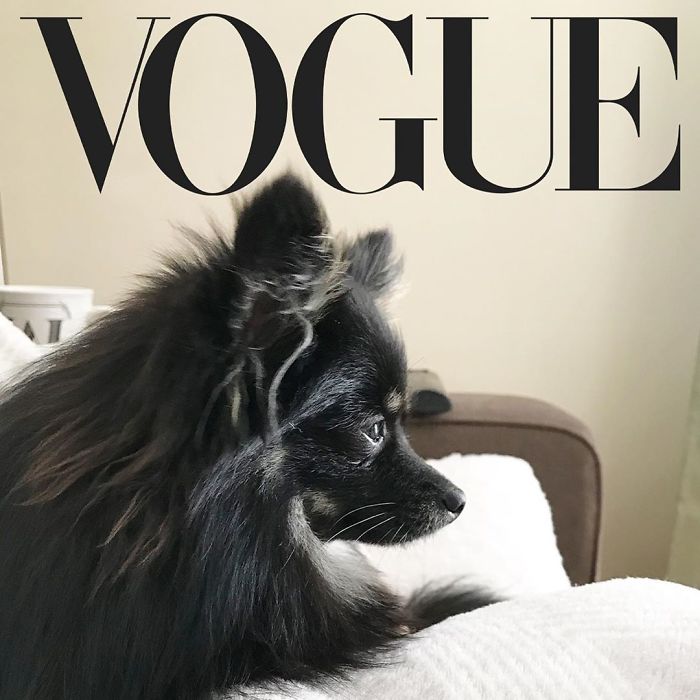 This black pompom sure knows how to find his light. He saw the sunshine stream in from the window and sat still facing that way, almost begging his owner to take a picture. The longing gaze is perfect in this shot.
Probably TikTok famous
You take one look at this Ukrainian Yorkie terrier, and you'd immediately think, "She's probably TikTok famous." Just look at her! The bow in her hair, the denim jacket, the white trainers. She even has her little tongue out.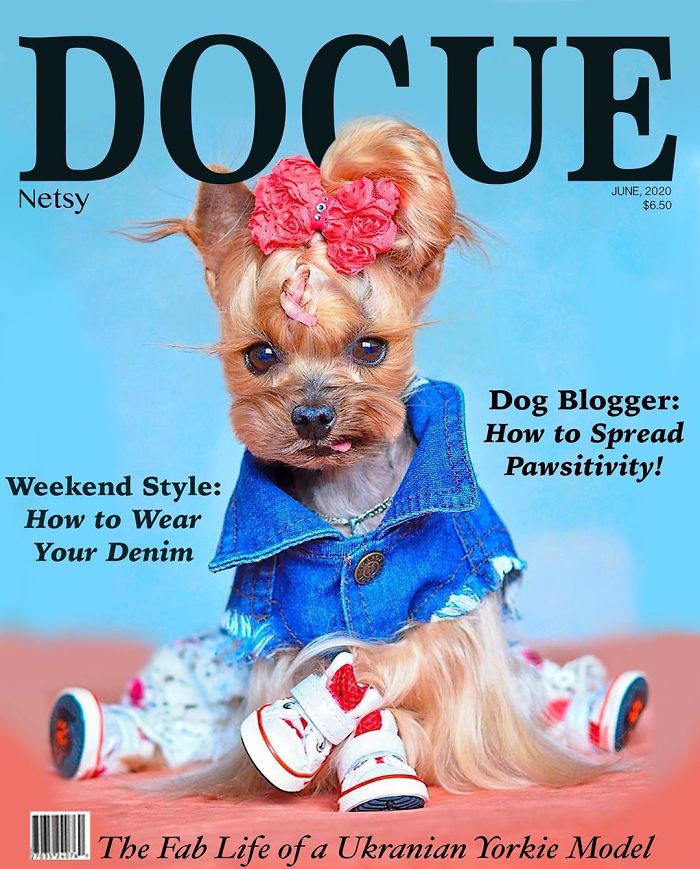 This girl's name is Netsy, and she is ready to take over the world. With her killer cute poses and her stylish signature updo, no one is ready for the power Netsy has. Get ready, Internet. This pooch is about to dominate.
Model facial structure
Everyone is always on about high cheekbones and a strong jawline. It's just two of the things that make models aspirational, not to mention, sure great to photograph. It's not just human models that need to meet these facial structure standards, though.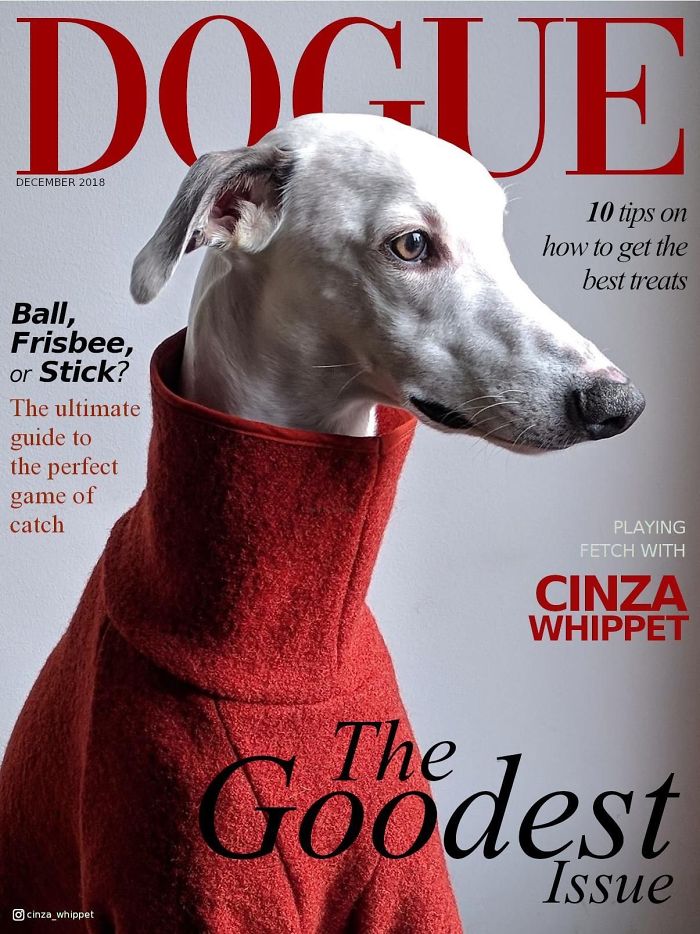 Cinza, the Whippet, has both the high cheekbones, a strong jawline, and as an added bonus, a long neck. That makes her the most perfect dog model out there. Just look at her in that turtleneck. Other dogs would drown in it, but Cinza appears almost ethereal in it.
Elegance in a picture
Some dogs don't even have to try. They just look effortlessly regal. At least, that's the case with Apple, the mini cavoodle. Just look at her on this cover of doggy Vogue. She's only lying down, but somehow she manages to make that look classy.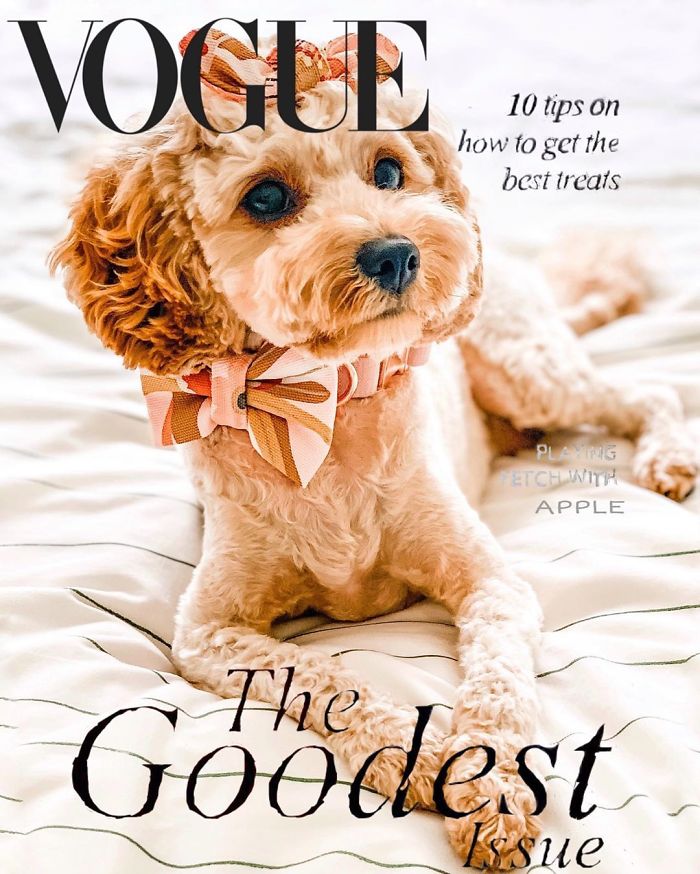 We also appreciate the patterned bow on her collar. Very classy, very elegant. Apple could very well be one of the Queen's dogs, although we all know the Queen loves her corgis. But just look how sweet she looks! Who can say no to that face?
Motivational dog
Who says only humans can become motivational speakers? Dogs on the cover of Dogue motivate both humans and fellow dogs all the time. Take this mini Yorkie Lacey, for example. She's got her head held high, saying, "Go after dreams, not people."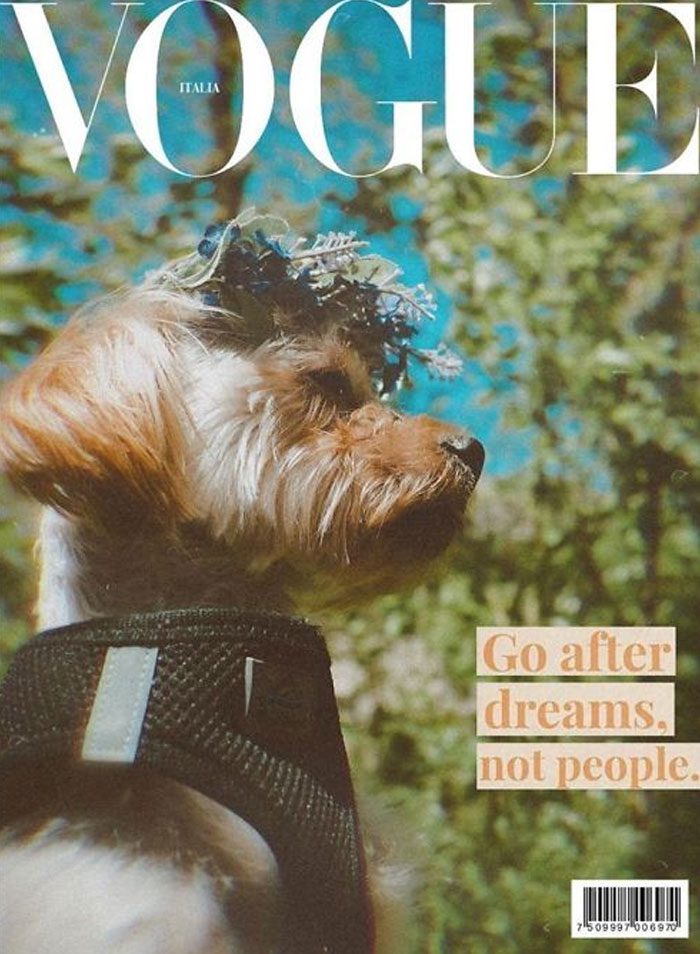 Sure, this quote is more of a reminder not to chase people around to try to nip their ankles for the canine readers. But for us humans, it can also be a reminder to chase our dreams and not put other people down for chasing theirs. Deep, huh?
Living La Vida LV
When you see a dog dressed head to toe in Louis Vuitton, that's when you know they belong on a magazine cover. Latte the chorkie here dons a gorgeous Louis Vuitton couture ensemble. And she's not afraid to flaunt what she's got either.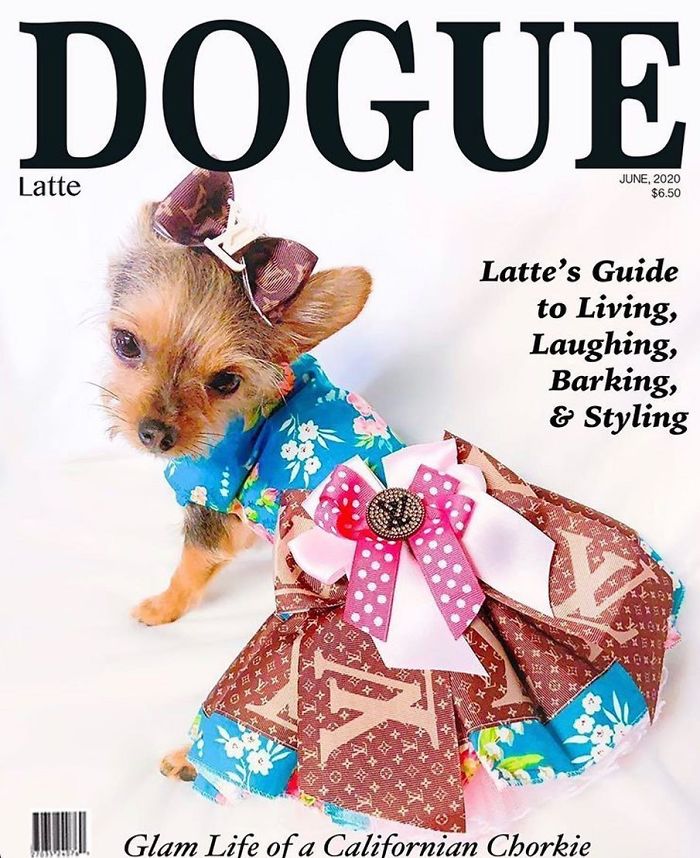 California dogs sure do prove that they're of a different caliber entirely. Strutting down Rodeo Drive in branded gear, posing in front of the camera for Dogue, and then stopping by Starbucks for a quick puppuccino on the way home.
The summer issue
Who better to appear on the cover of the Vogue summer issue than a dog who enjoys basking in the sunshine? He may be pushing 9 years old, which is basically grandparent age in dog years. But he's still got that summer glow.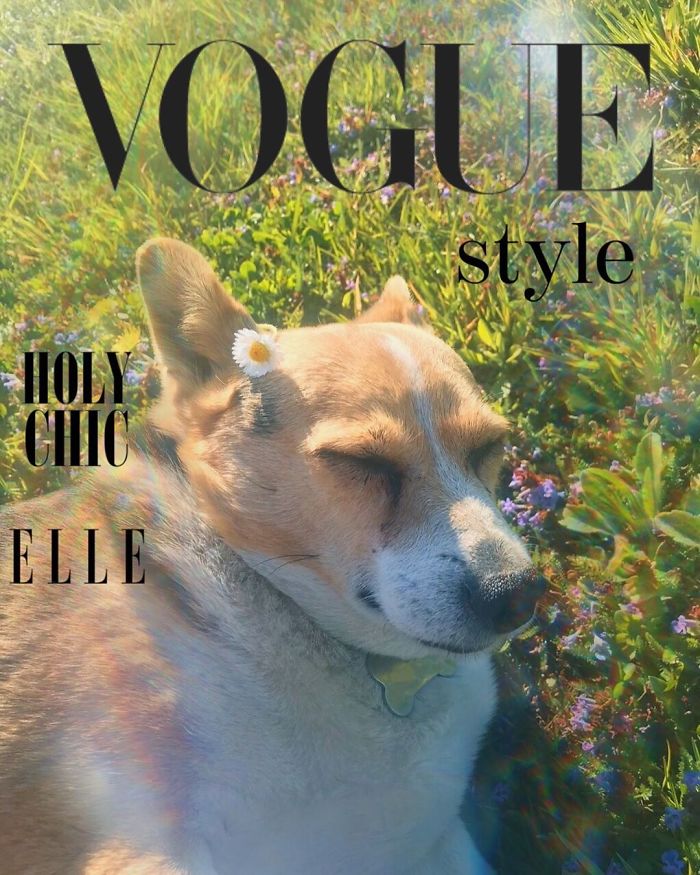 Lucky seems to be chilling in the sun while his photos are taken. He's even got a flower in his ear! We love a dog confident in his masculinity. He's in his element, he's happy, he looks great. Lucky is the perfect Dogue cover star.
Doggy glam
What a stunner! Imalaya slays in handmade Moroccan couture. This dress must cost more than anything we own. It's not just any dog that can be trusted to wear this masterpiece. It has to be a well-behaved good girl like Imalaya.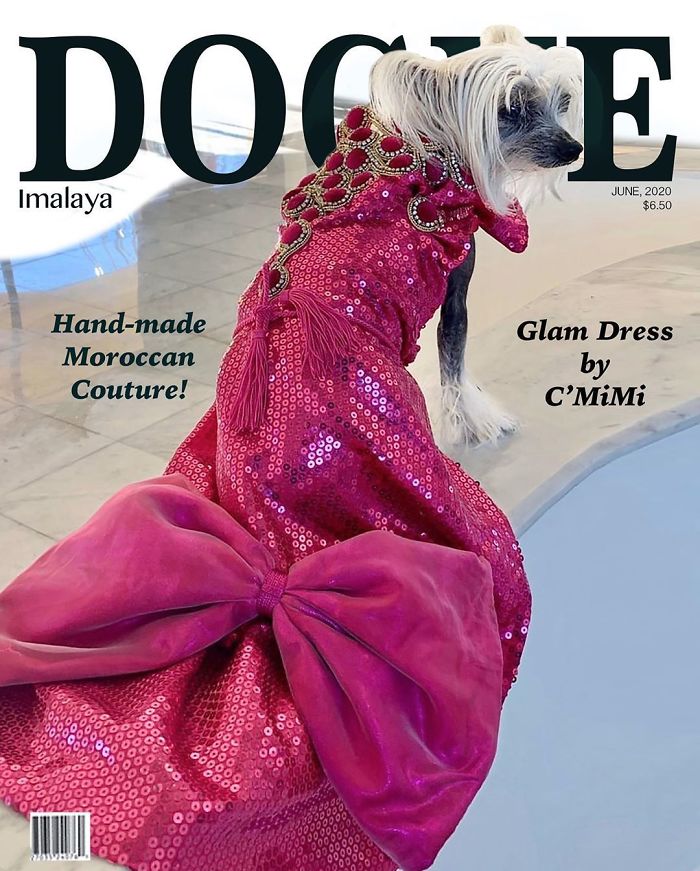 The dedication that some pet owners have to not only photoshop their dogs onto Vogue covers, but also handmake the dogs' outfits… insane. To be fair, this trend began in 2020 when people were stuck at home with nothing else to do.
Gorgeous
This is just one of the words commonly used to describe cover stars. It's certainly the word we would use to describe this photogenic pooch. Ellie, this German shepherd and husky mix, shines on her cover of Dogue debut.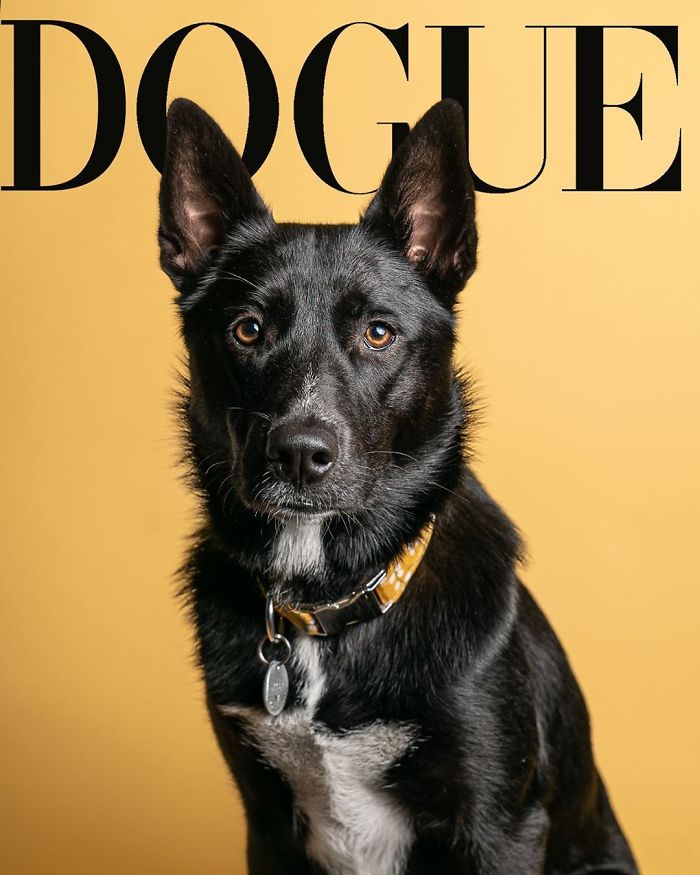 Against the single-colored golden backdrop that matches her eyes perfectly, Ellie sits completely still for the camera. She looks absolutely stunning. Just look at the way her coat glistens and shines in the light. That's a gorgeous dog right there.
Dogue-fluencer
Doesn't this dog look like it's on an episode of MTV Cribs, showing off his space? Here, he stops by his huge gold-framed mirror to let everyone at home know that the frame is actually encrusted with 24-karat gold leaf.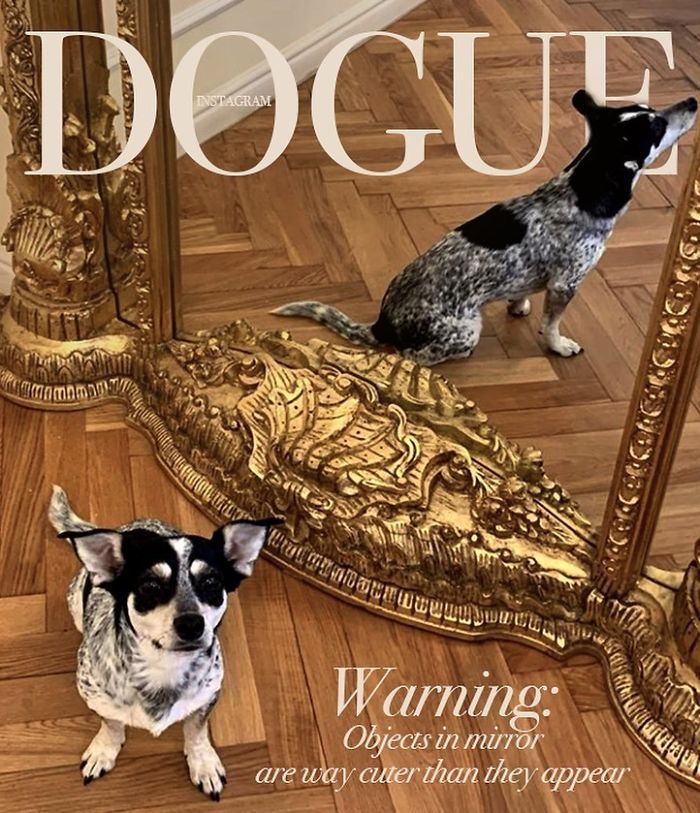 Yup, Pani here looks like the ultimate doggy influencer. Or should we say, dogue-fluencer? He and his lifestyle is everything the other doggos aspire towards. Of course, as influencer lives are, it's always just a little unrealistic and a lot unattainable.
The great outdoors
Nothing makes a doggo happier than being in the great outdoors. Soil under its feet, the wind blowing in its coat, and the wide-open space. Lincoln here sure knows how to enjoy being outside. He also has a few tricks up his paws.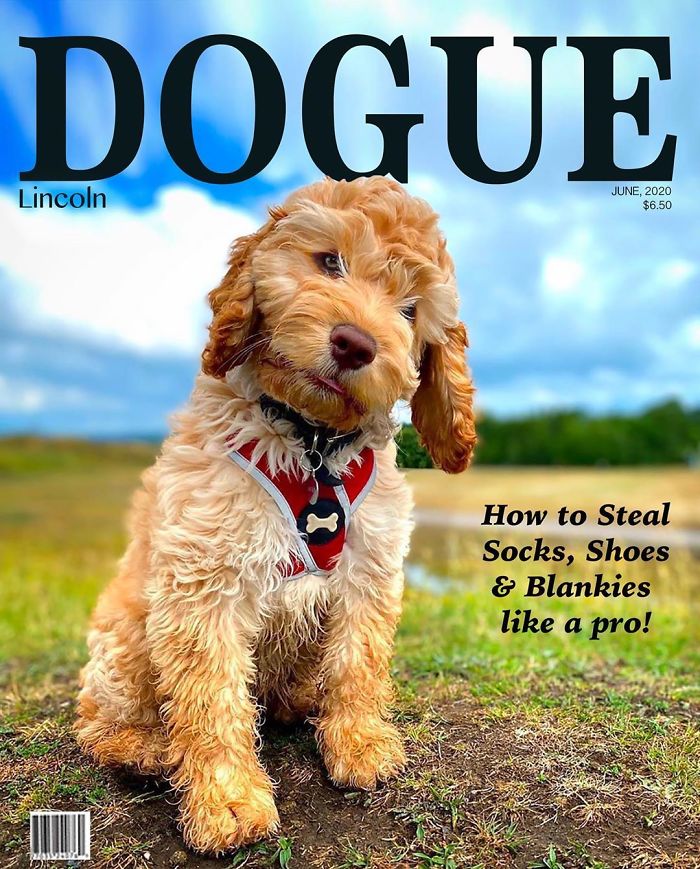 In this issue of Dogue, Lincoln shares with his dog friends how to steal household items like a pro. But that's not the only thing he's a pro in. Lincoln is also very evidently a pro in posing for the camera!
Kimi cat
Here's another cat that wanted to join in on the Vogueing fun. Kimi, the cat model, shows us how to look fierce in the golden hour on this cover of Vogue Feline. We have to admit; she does look incredible in this closeup.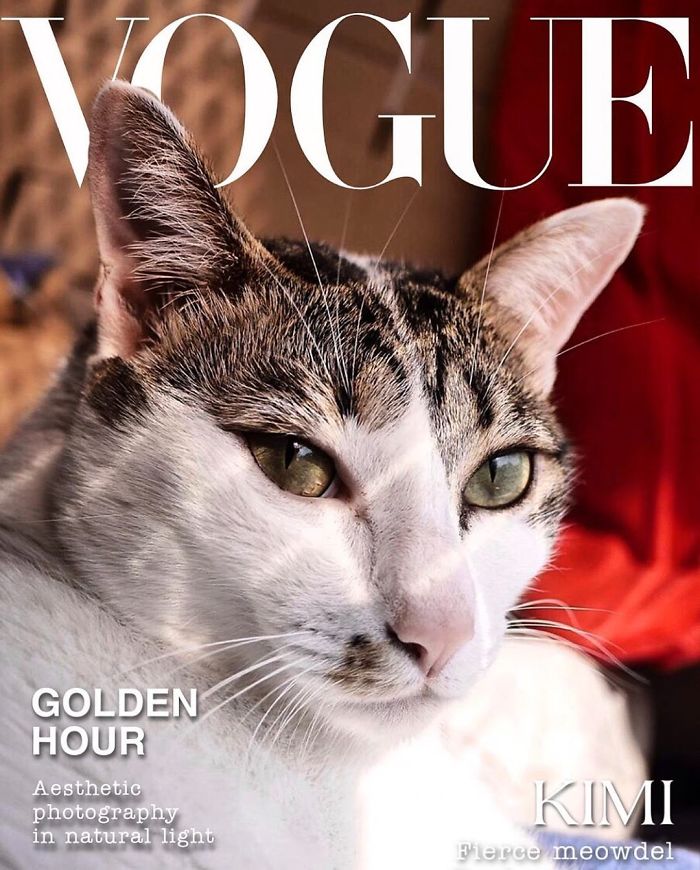 What a photogenic cat! Even in natural light, without much help and probably taken with the regular iPhone portrait mode, Kimi looks divine. We're willing to bet she was the queen of the litter when she was just a wee kitten.
Showing off
Next up on the Dogue covers, we present to you Leo, the dashing German shepherd. Not only is he the handsomest and goodest boy out there, but he's also a pretty athletic fellow. Just look at the ball he's posing with.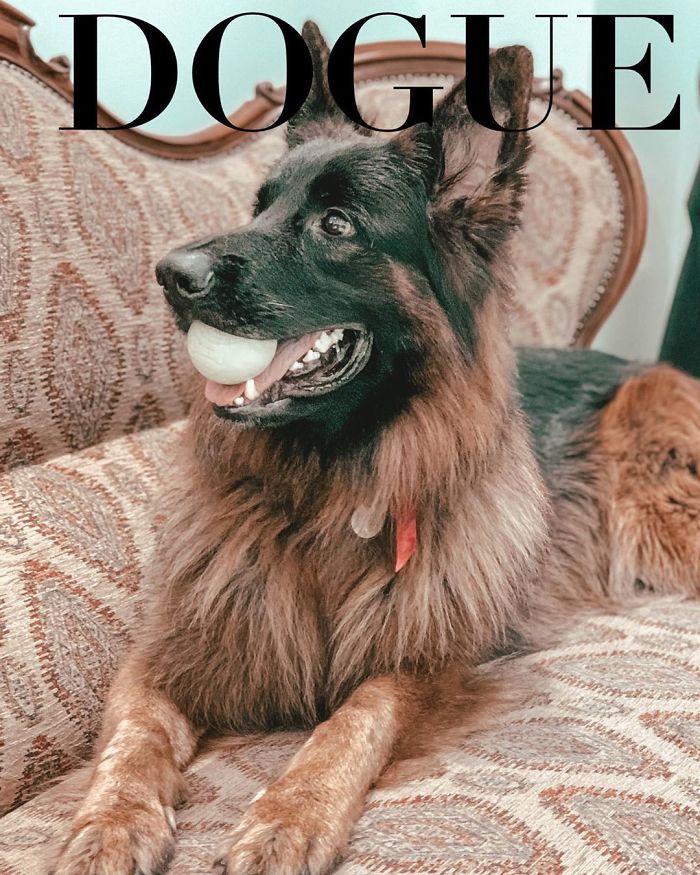 Leo shows off his skills in a game of catch. He catches the ball and brings it back to his owner 10 out of 10 of the time. There's no doubt that Leo here is a catch with the ladies. Who wouldn't want a charming athlete on their arm?
Pampered puppy
Look no further than the cover of doggy Vogue to find the most pampered puppy out there. Quick question, how much do you invest in clothes for yourself? Now, how much do you think pet owners invest in clothes for their dogs?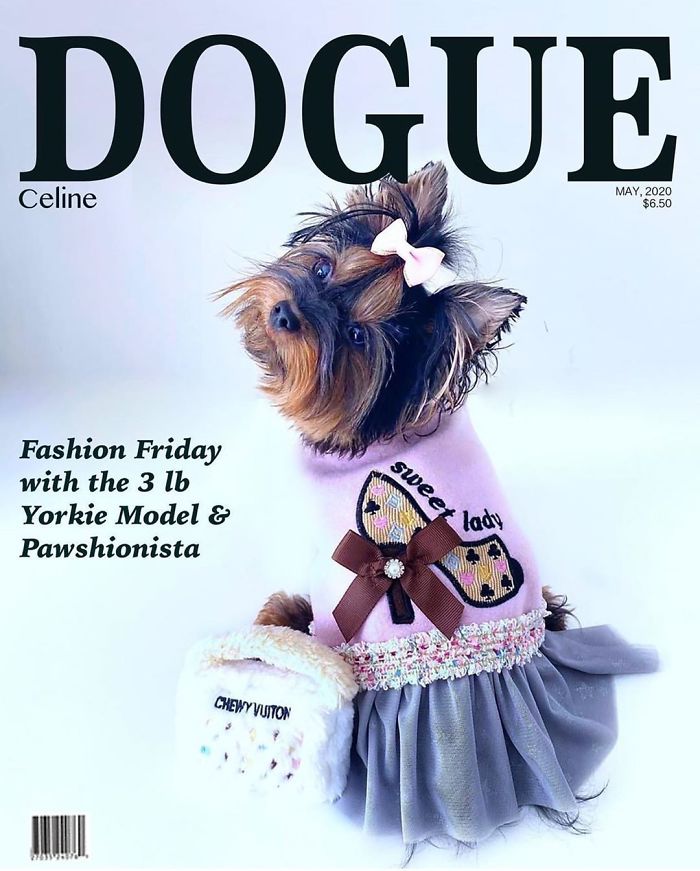 Most days, accessorizing isn't even on our minds. But Celine, the little Yorkie, has a killer dress on, is carrying a bag, and even has a bow in her hair. Pets consistently outshine their owners every time. It's almost like they're the ones that are naturally meant to be on magazine covers.
Style icon
Just as models on the cover of actual Vogue are considered to be style icons, so are models on the cover of Dogue. Chloe here may not seem to be donning much, but her pink harness and leash are enough to dub her a style icon.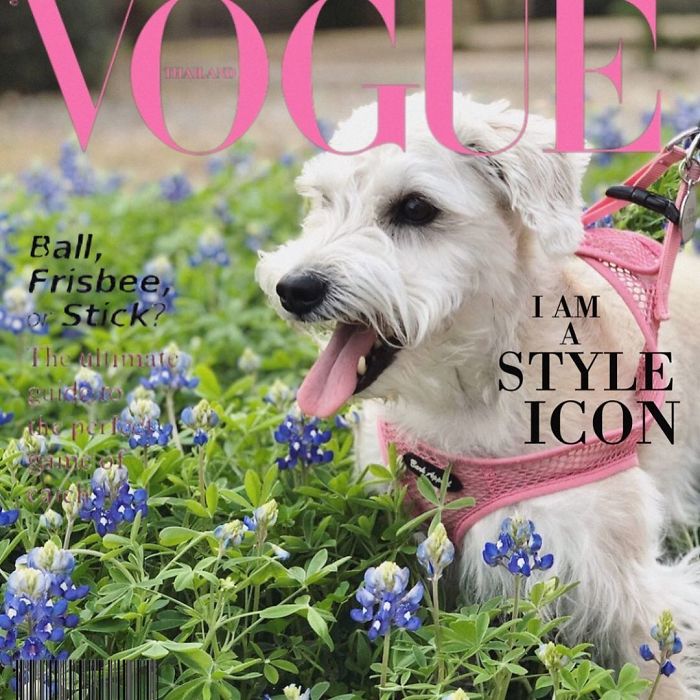 Sometimes it's not so much what you're wearing as it is the way you're wearing it. Chloe is sporting her harness in pink while out and about in a field full of indigo flowers. The colors compliment each other perfectly!
Posing masterclass
Sometimes dogs outshine their humans. In the case of modeling for magazine covers, they definitely do. Just look at Mr. Prince here. He puts every model who ever graced the cover of Vogue to shame, just by the pose he is sitting in.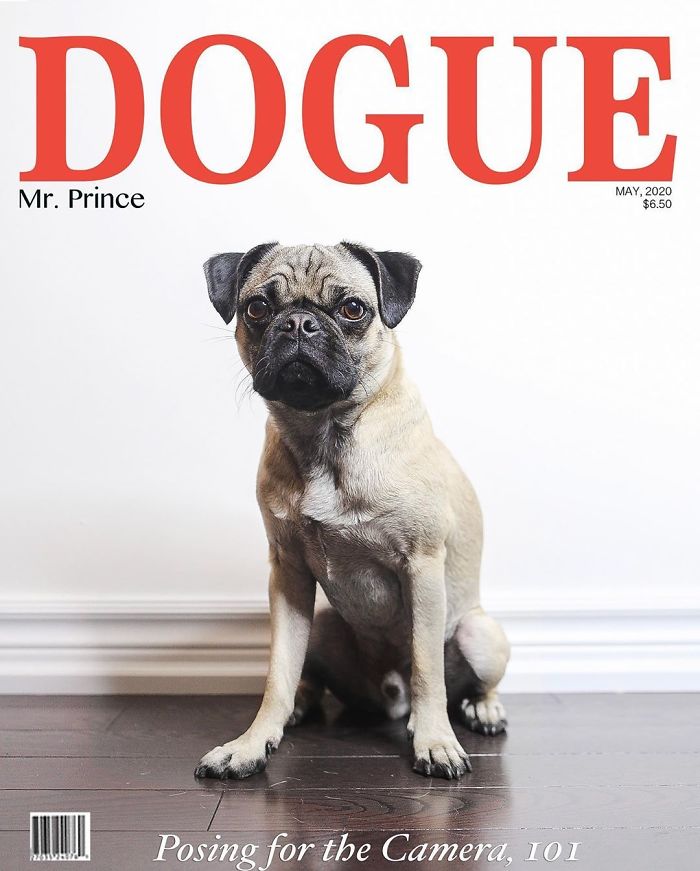 Let's break down Mr. Prince's pose. Eyes looking straight at the camera. Back straight. Eyebrows arched just the slightest bit—mouth in the tiniest hint of a pout. Chest out. He must have been such a joy to photograph. He doesn't even need direction!
Pampered puppy, part 2
This dog looks exactly like the cover says – Fancy Tails. We don't even parade around the house in soft, white, pearl, and crystal bedazzled wardrobes. This puppy really is getting the special pampering treatment. It's almost stereotypical that chihuahuas are spoiled.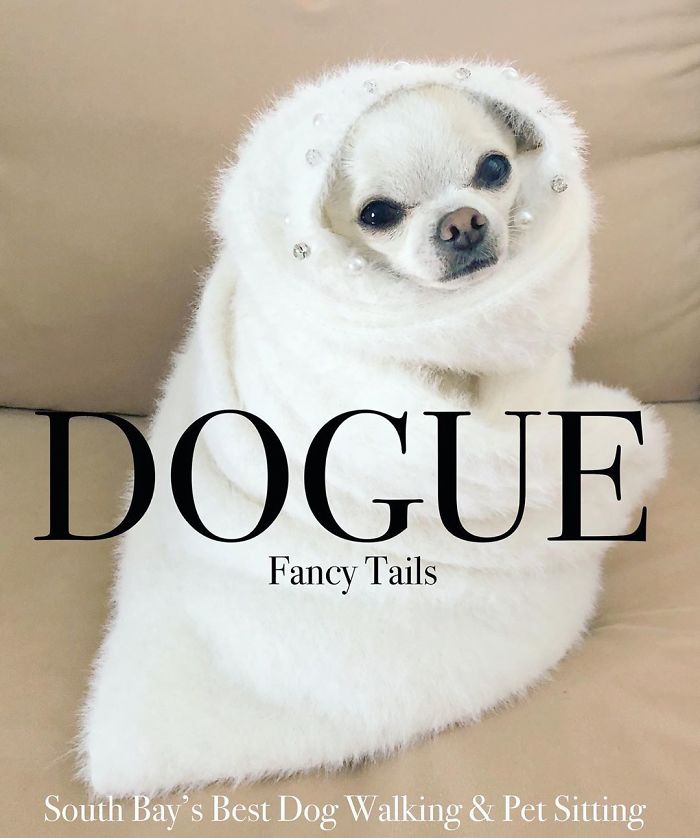 Whoever owns this little pup must desire for a Paris Hilton lifestyle for herself and her dog. The only thing missing is the branded dog clothing, being carried around in a purse, and having the paparazzi following their every move.
Know your angles
One of the things they teach you at modeling school is how to find your light. This also means knowing which is the good side of your face. But to natural-born models, this isn't something that has to be taught.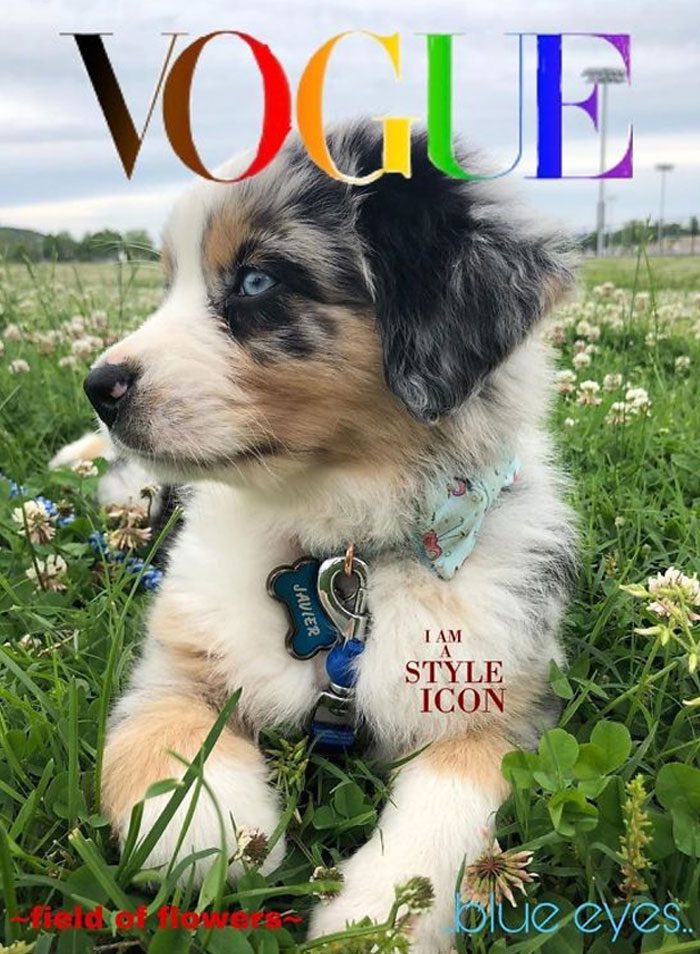 For example, Javier, the blue merle Australian shepherd, knows that his side profile is the best angle to shoot. You can catch all of the colors of his coat that way, and you also get a glimpse at those dazzling blue eyes.
California dogs
You know you're Ista worthy when your dogs have their own custom-colored car to cruise around the house in. Cruisers Murphy and Coral Blu, the poodles, are the best of friends. They are the typical California homies driving around in their Jeep.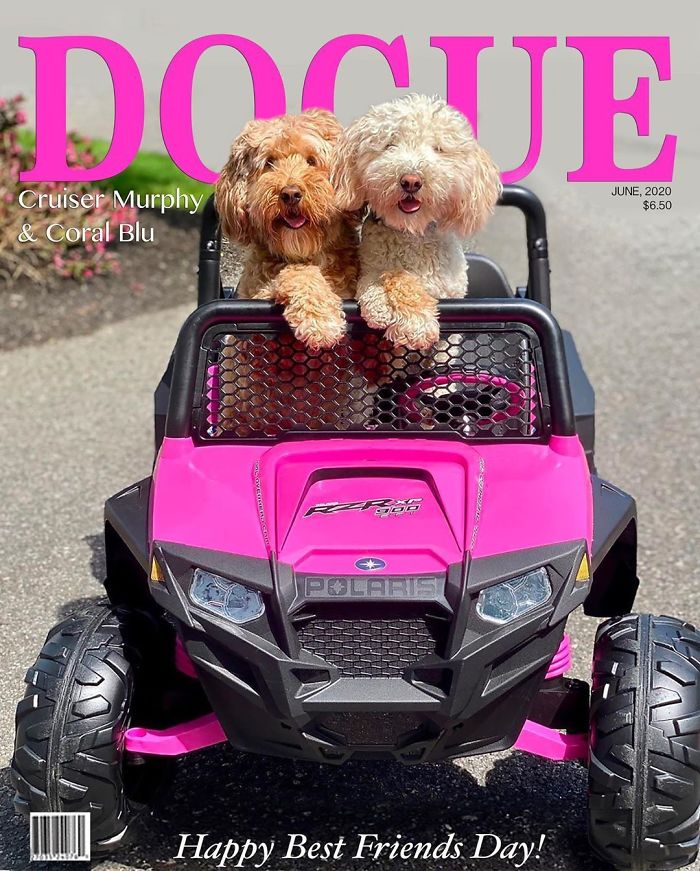 These two are off for a morning yoga class before stopping by to get a green smoothie on the way home. And yes, they always ride with the top down because they live in Malibu, and it's always sunny there.
A happy doggo
Don't you just hate it when the people on magazine covers portray a skewed standard of beauty that only lowers your self-esteem because you feel like you'll never look that way? Well, then you're picking up the wrong kind of magazine.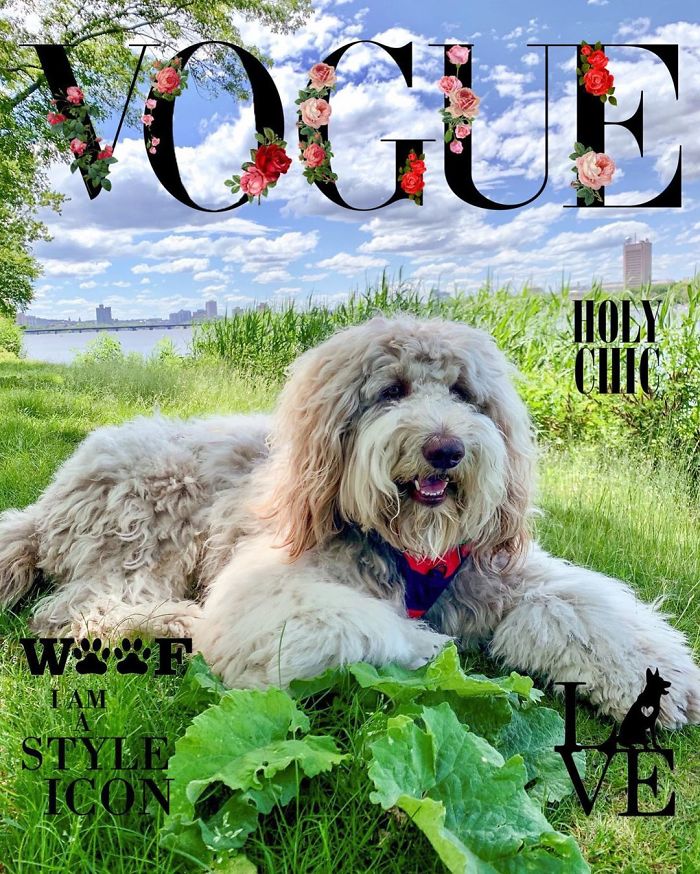 If you pick up a copy of Dogue, you're only in for smiles and a good time. Take this cover, for example. Boo Boo, the Goldendoodle, is just chilling and having fun on the green. You can't possibly tell us you didn't smile just looking at him!
A natural
This dog is a natural-born star. We've seen other dogs on this list master the "staring wistfully into the distance" pose. But this dog is the first one we've seen to truly nail the "over the shoulder, nonchalant" look.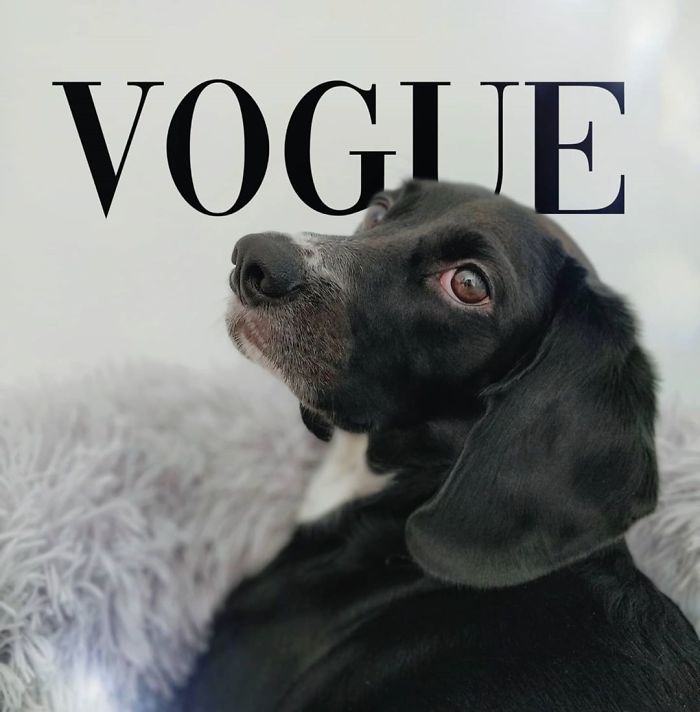 This look screams, "Oh, it's just my human mom taking photos of me again. No big deal." It's like he's already so used to all the attention and getting his photo taken for Vogue that this is just another day in his modelesque life.
Avenger cover
When you think of the Hulk, you immediately think, big angry green muscular guy. Not once would you ever think, small adorable white Shih Tzu. So this particular Hulk on the June 2020 cover of Dogue shocked everyone into taking a closer look.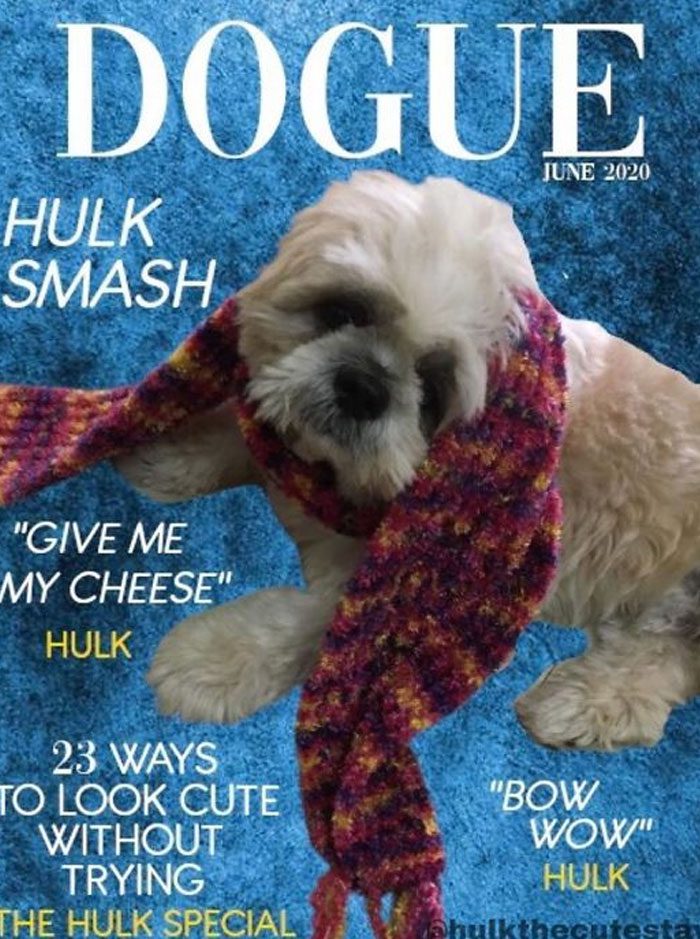 Hulk is a 7-year old Shih Tzu living in Mumbai. In dog years, he's a lot older than Bruce Banner, the actual Hulk, or Mark Ruffalo, the actor we all know as Hulk. You can tell that Hulk is an old man by the thick scarf he's got around his neck to keep him from getting cold.
Cute side
Unless it's a teen magazine, most models on the covers of fashion magazines ooze one mood only: fierce. Lucky for dogs, they aren't held to such unattainable standards. When a dog poses for the cover of Dogue, they don't have to be fierce.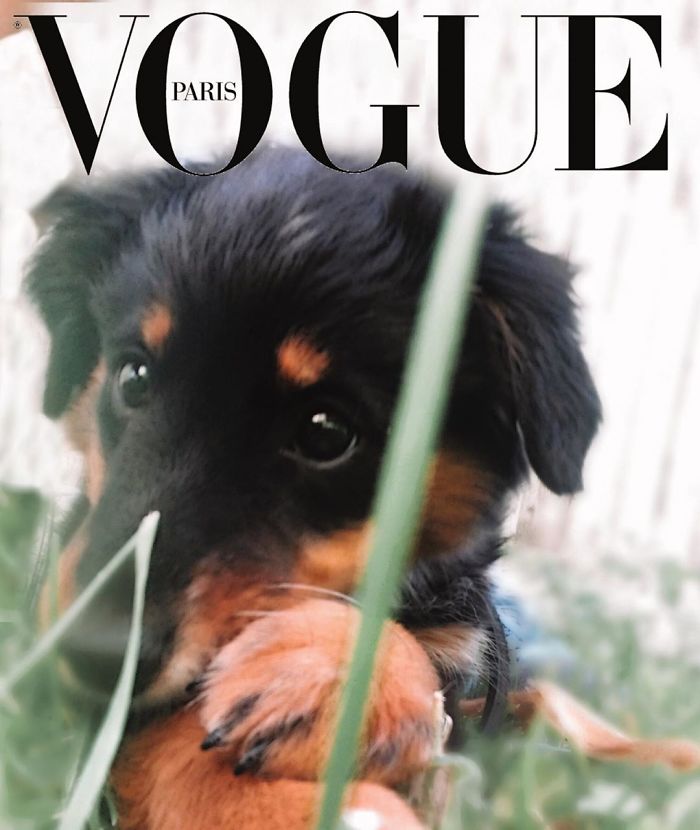 Little Luna, the mini Aussie here, decided to show her cute and playful side. She cheekily hides behind a blade of grass with her little paws crisscrossed. And can we talk about these puppy eyes? We're pretty sure Luna invented the puppy eyes. Who can say no to that face?
Dramatic shot
What does Chewie the chihuahua and his lion mane costume remind you of? With the black and white picture and the dramatic bokeh, Chewie's look reminds us of Leonardo DiCaprio in The Revenant. Do you see the resemblance now?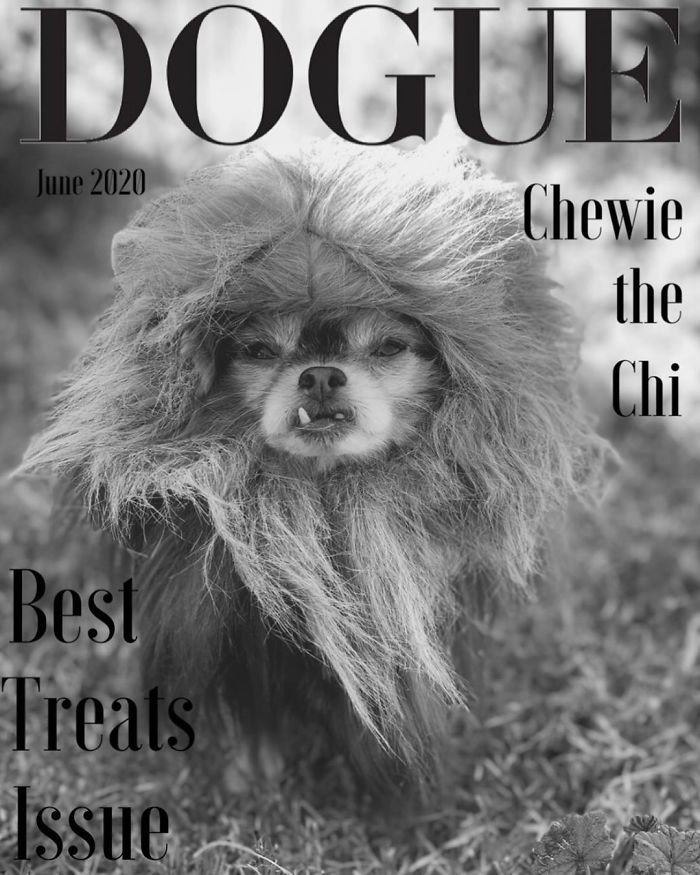 It's everything from the unruly mane headgear resembling the hood of DiCaprio's winter coat to the way Chewie is squinting into the camera. Perhaps the thing that makes Chewie look the most rugged is his front teeth sticking out.
Fit for the Met
Jackie-O, the chihuahua, is back with another incredible Vogue cover. The DIY gold tinfoil backdrop alone is worth applauding, but it doesn't stop there. She's also wearing a gorgeous couture dress fit for the 2018 Met Gala-themed "Celestial Bodies."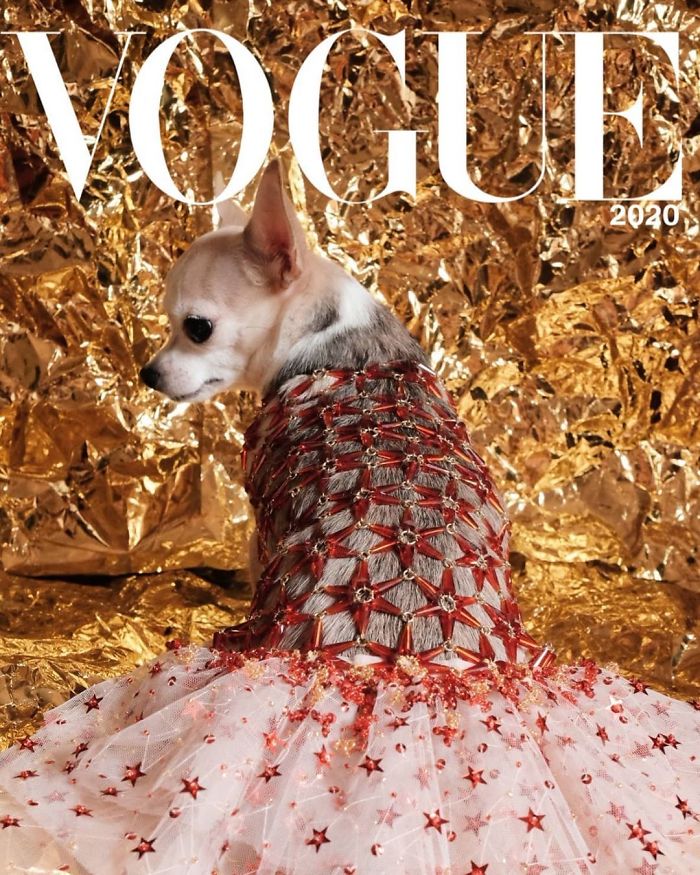 Here is Jackie-O on the gold carpet, showing off the train of her star-studded dress. This pooch really does know how to pose for the camera. She features the dress really well while also still being the center of attention.
Basking in the light
Photographers know that you have to make use of good natural lighting. It can disappear so fast, so you better snap whatever photo you need before it's gone. The person behind this cover of Dogue definitely knows how to work with it perfectly.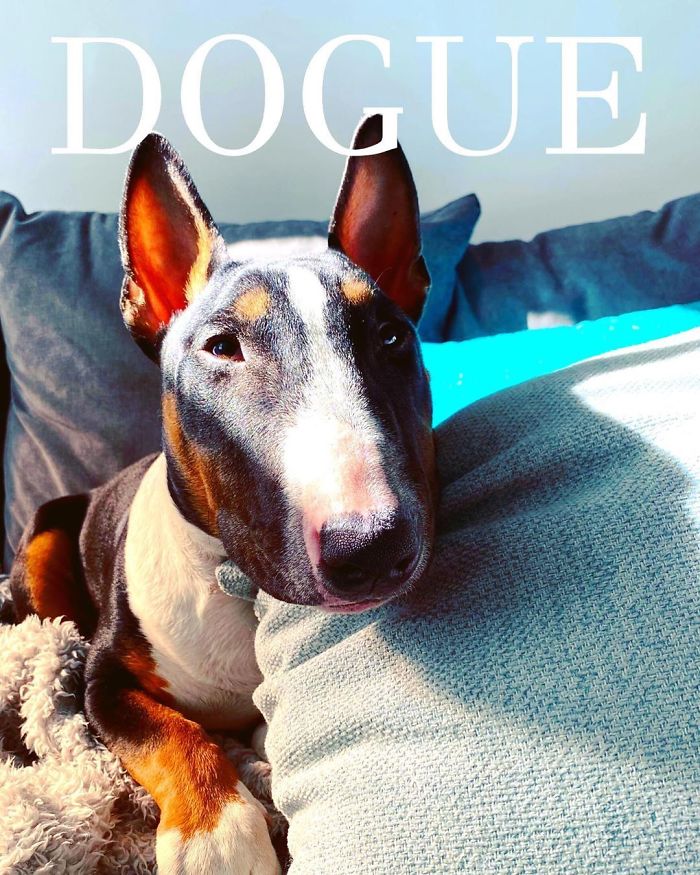 Lenny the mini bulldog, is basking in the light streaming in from the window. The photographer knew that this was a moment that couldn't go to waste. Out comes the camera. Snap, snap, and done! Lenny is on the cover of Dogue!
Lazy day
You know how those Calvin Klein celebrity ads seem always to be set in bed, between the sheets? Well, that's the vibe that this particular Dogue shoot is giving off. Leo, the German shepherd, poses in bed after an exhausting game of catch.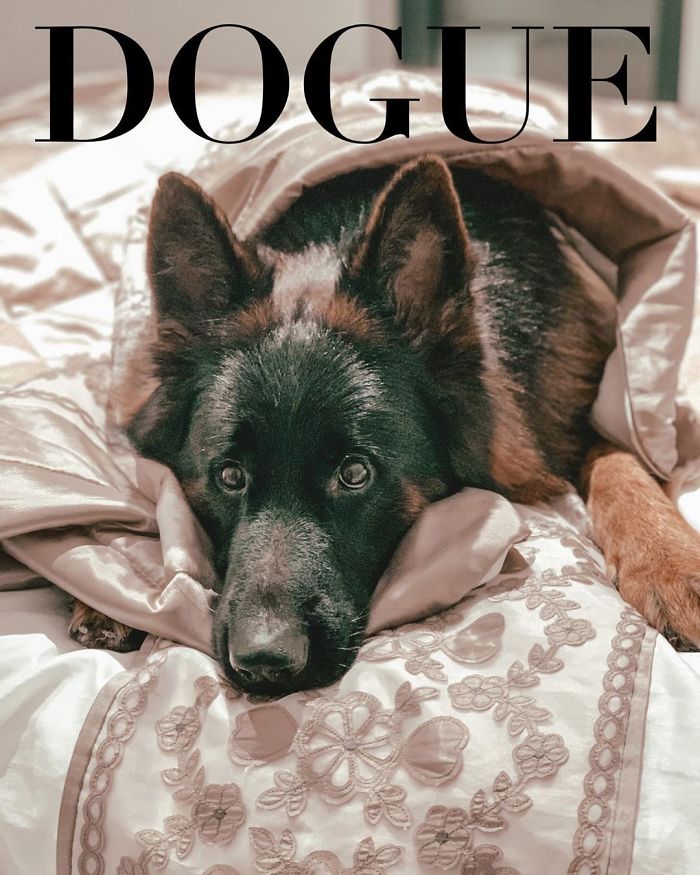 Leo here is giving the camera intense puppy eyes. "I'm incredibly knackered from playing catch, but I'm going to let you take some photos of me anyway." He really is a good boy. And, of course, we love it when he's on the cover.
Next level dedication
All the photos we've seen so far are just digital photos of Dogue covers. This dog owner takes the Dogue challenge up a couple of notches and actually printed a physical copy of Dogue magazine. Now that's true dedication.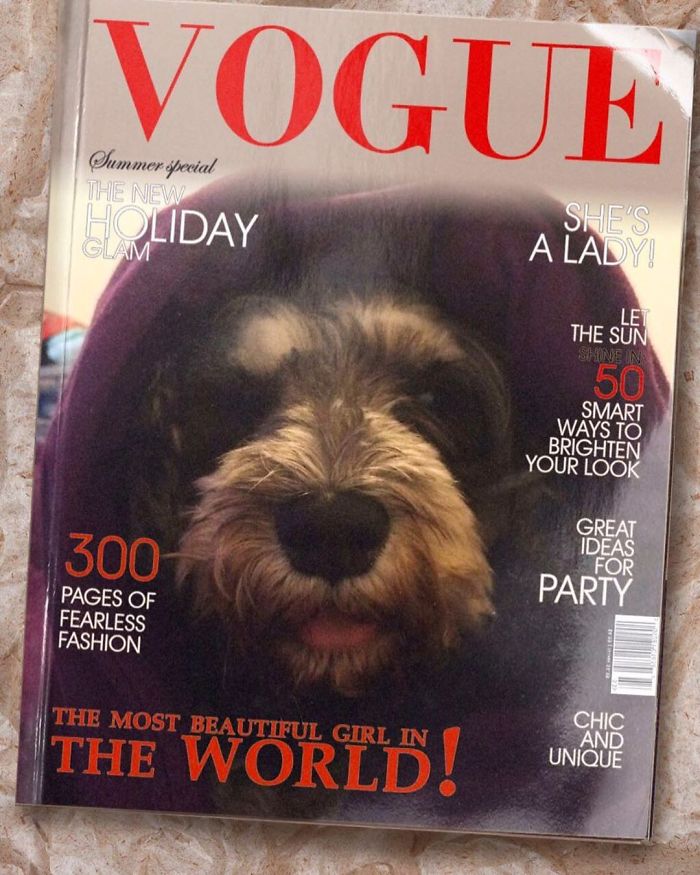 The doggy Vogue summer special features Tio Bear, just chilling under the covers in her human's bed. Just look at that cheeky side-eye and the little tongue sticking out. We can just tell that she's a little rascal.
The cats want in, part 2
More cats want in on the Dogue trend than we expected. There's no harm in a little friendly competition. According to this cover, Mishi the cat is "the most beautiful girl in the world." Well, after all the dogs we've seen, that title is not that easy to win.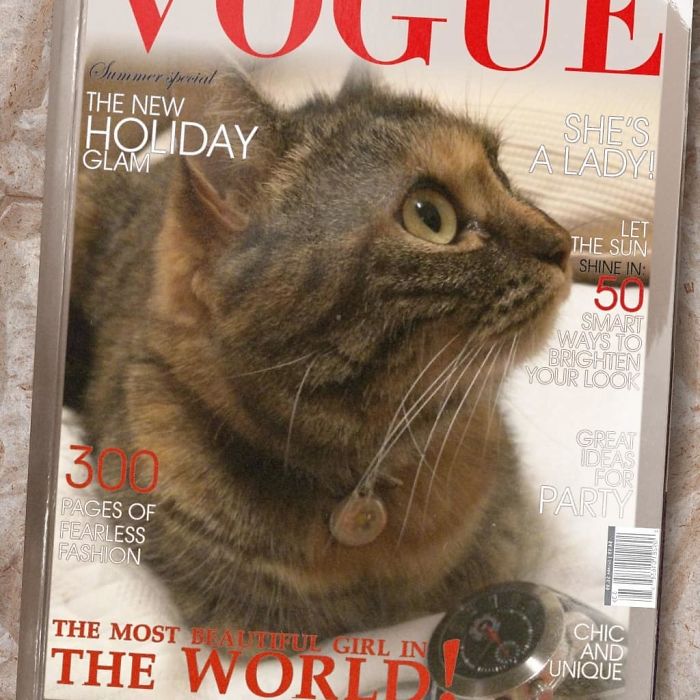 Sure, Mishi's fur is impeccable. And that collar she has on is also adorable. It's dainty and is more like a necklace than a collar. And okay, maybe the way she's gazing up away from the camera is slowly melting our hearts. Maybe she is the most beautiful girl in the world after all.
Bed face
We'll bet anyone $20 that Vogue models can't just roll out of bed, into their outfits, and straight onto the set. That's what makes Dogue models so special—they are confidently rocking their bed face in front of the camera for all the world to see.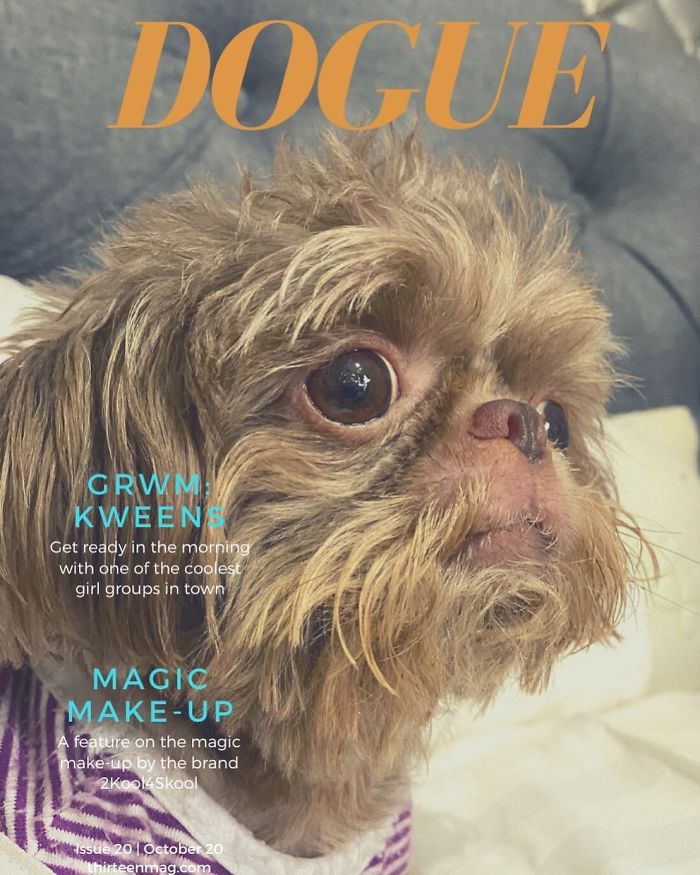 This Shih Tzu very clearly just woke up when his mommy told him to put some clothes on for an impromptu photoshoot. He doesn't really look like he wants to be there, but nevertheless, he made the cover of Dogue anyway.
Regal
What do you make of a dog wearing a cape? Well, you would assume he's dog royalty, of course! Especially if the cape is this shade of red. Take a moment to admire Igor the poodle here. Doesn't he just ooze regal vibes?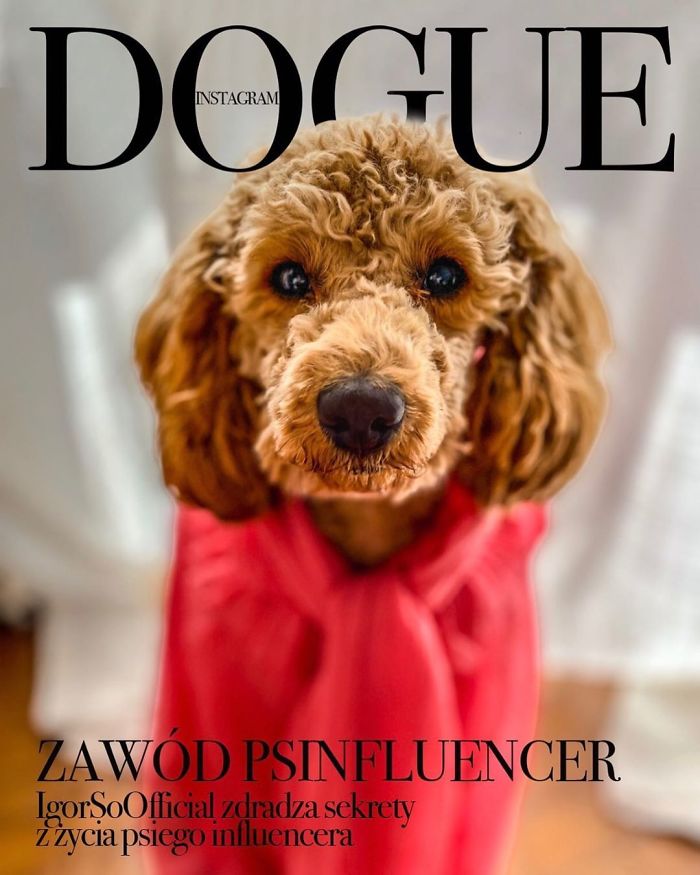 Igor's golden-red curls are his crown. The cape he wears gives him power and status above every other dog. That's what earned him this spot on the cover of Dogue. He is dog royalty, modeling royalty, and influencer royalty in his own right.
Next level dedication, part 2
You know how a few covers before this, someone printed out an actual copy of the cover they made for their dog? Well, this cockapoo owner did that person one better. They blew up the cover, printed it, and framed it.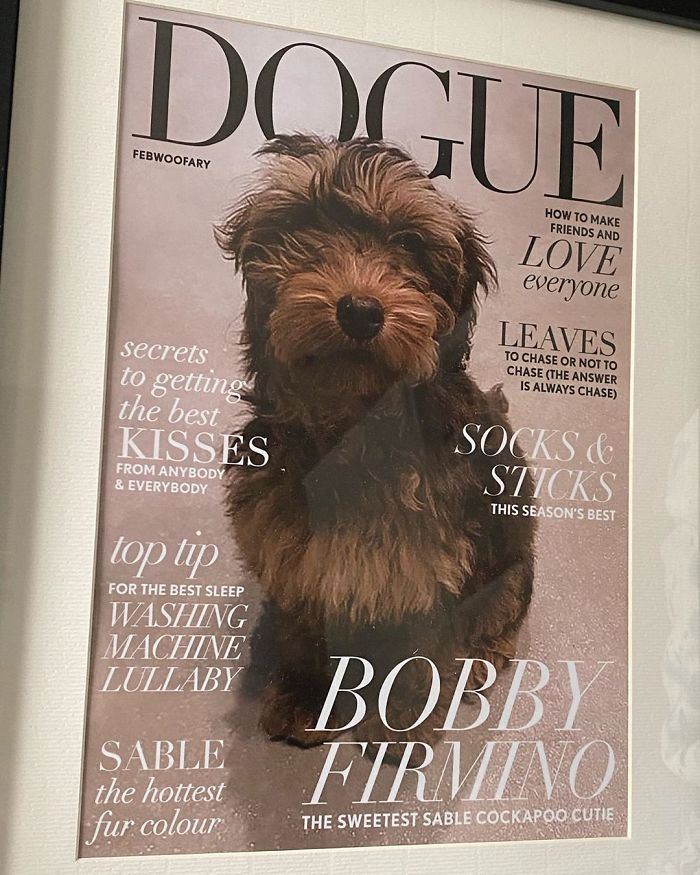 Now, anyone who walks in this house will be able to see that Bobby, the resident pooch is a superstar model on Dogue's Febwoofary issue. Guests will know that they have walked into the house of a legit and bonafide superstar.