45 Hairstyles For Dogs That Make Them Look Like 'Fur-bulous' Humans
By Aakash M November 22, 2021
---
Many of you might have been holding a pair of scissors and were just going to try to style your puppy's hair by yourself. But, you thought of learning about it on the Internet, and you stumbled upon this article. Let us give you a spoiler, and it's going to be adorable! We might have heard or seen so many goofy things about our furry friends, but have you ever heard of a human hair-dos? We didn't hear of it either until we saw these photos! Kudos to those who did it because they took these hairdos to the next level. Also, it will be challenging to take your eyes away from the sight of these beautiful dogs trying to be fashionable with their hairstyles. So, here are 45 hilarious dog hairstyles that almost make them look like us!
Side Fringes
Meet Indi, a cute pupper killing the side fringe look. She looks pretty elegant in these fringes. It also looks like she is in love with this hairstyle. What's impressive is that it seems as if it is fresh out of a supermodel magazine!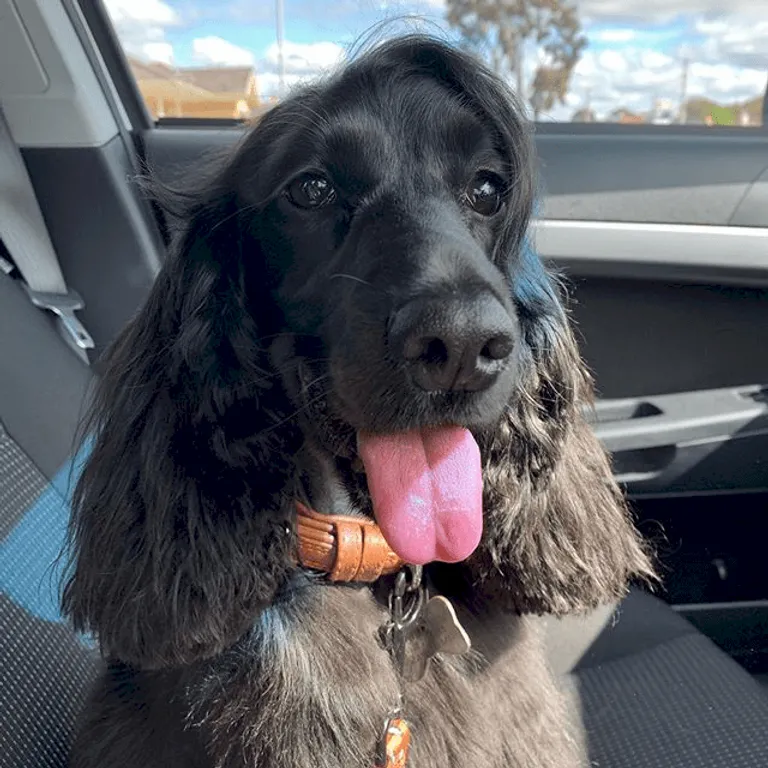 Indi here seems to be making some sort of a fashion statement with her new look. She also looks quite photogenic, hence, the perfect photo. We are in love with Indi's side fringe looks. How does it look to you?
What suits me better?
Take a look at this cute collage. Smoochy, the model in the photos, wishes to know what suits him better. Is it the hair with a partition in the middle, or is it the let-it-grow look? He is in love with his new look, and he also can't wait to show it to his buddies!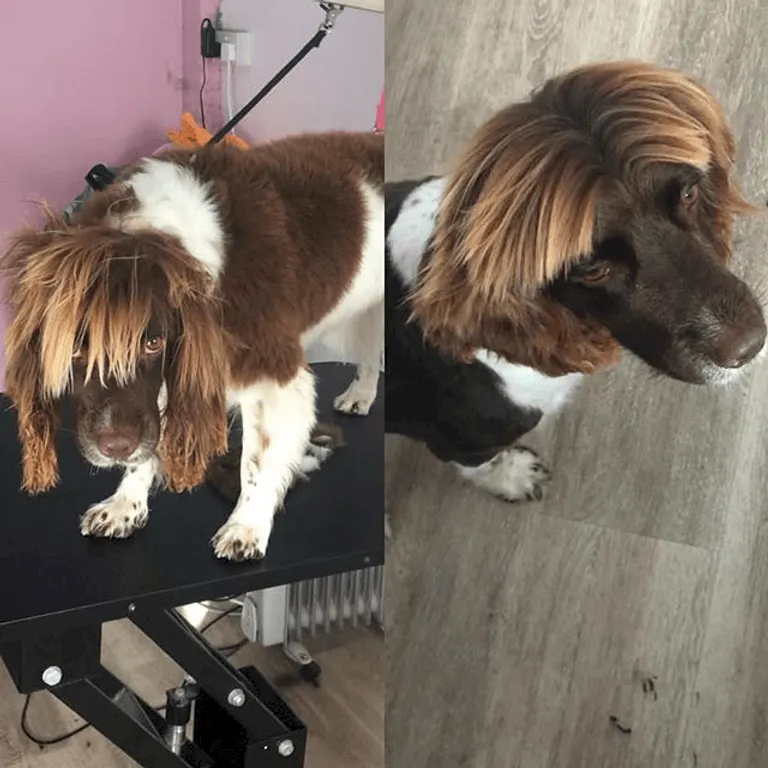 However, we can deduce that Smoochy wasn't quite in the mood to visit the groomer and get his hair done on this day. However, he must be thinking that visiting the groomer was a good decision after all. No regrets.
Rocking the hair clip!
It's pretty astonishing when you see that dogs can carry out any look with perfection. Consider this photo. This black puppy is sporting a hair clip to perfection! Although it can barely hold any of his hair, it doesn't seem to bother him.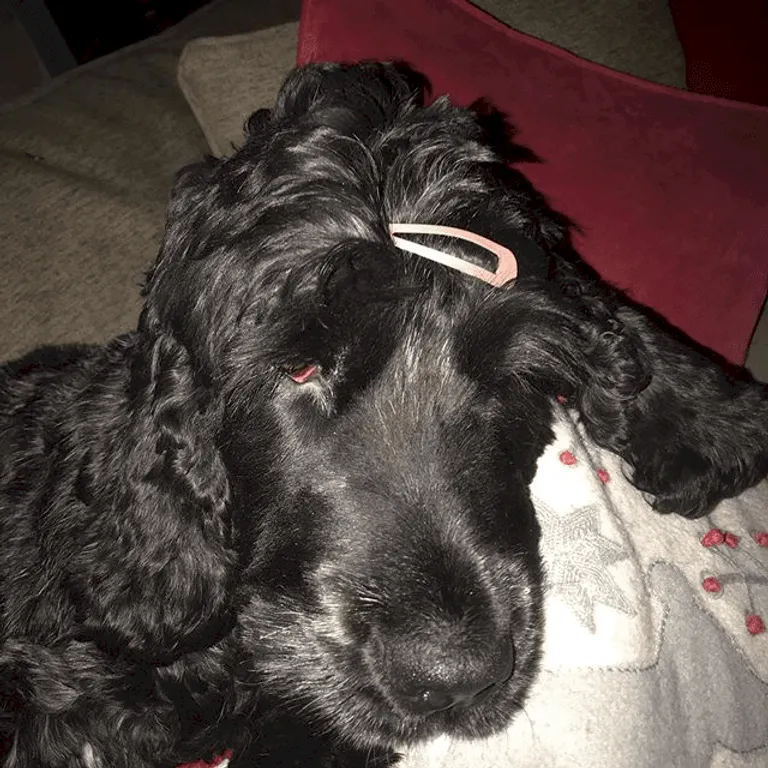 He couldn't understand it. Instead, he kept on requesting his human to let him wear it. However, that's what he looks like now. The hair clip seems pretty useless, but the dog still looks very cute and tired from all the messing around in his hair.
Better now
Things were quite tricky for this puppy since she used to have long hair that blocked her vision. Finally, she got a haircut, and she looks pretty satisfied with it. Nothing stops her vision now, and she can gaze at the marvels of our world with ease.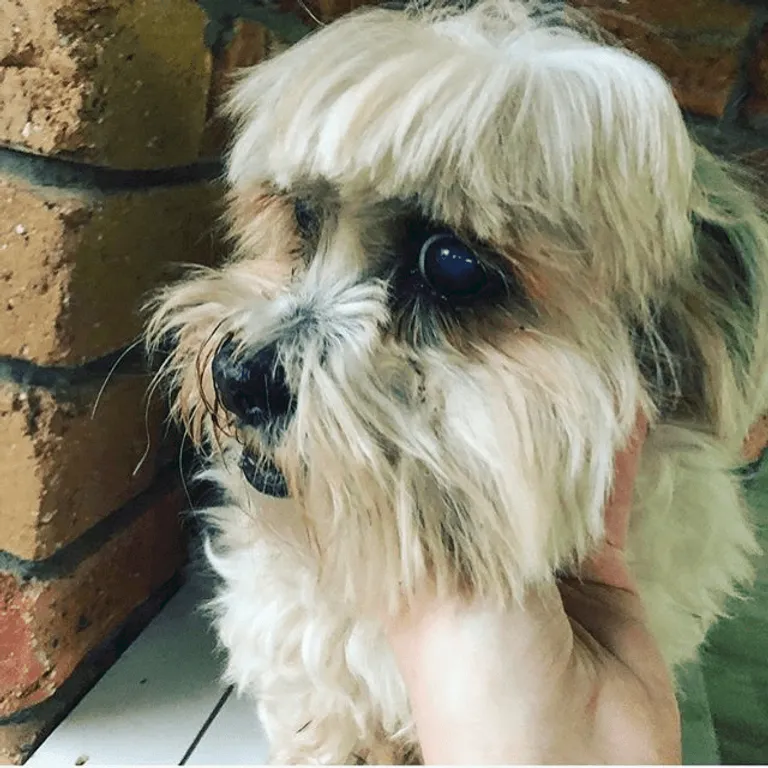 She also looks to be in love with the fringe look. Although her fringe is relatively tiny, she looks like a stunner in them! She is killing it, and we seem to love it as well. Does her short and snappy fringe look cute to you as well?
Gina, the fashionista!
The big black bow on Gina looks excellent to us. But we aren't so sure if the little pupper likes it as well! It is pretty fashionable, and it even has her name printed on it. She definitely seems to be setting a new level of fashion here.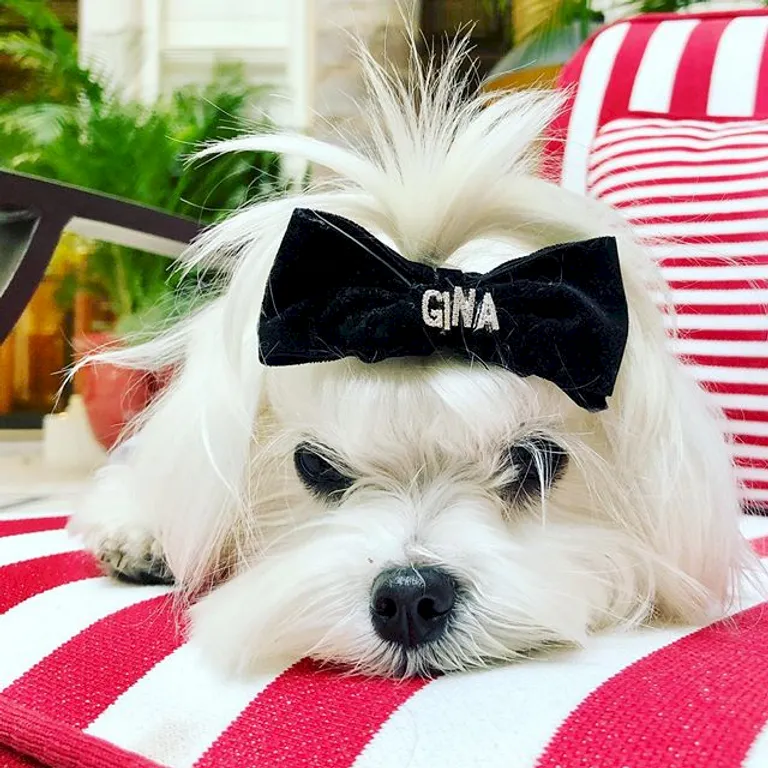 On the other hand, Gina also looks a bit grumpy here. Nonetheless, she is equally cute when she is cranky. Wearing a bow with your name printed on it is pretty innovative. We must say that Gina has done an outstanding job here!
Bow down to the pooch!
Excuse the pun, but doesn't the furry creature look like a princess here? She wore this bow because she couldn't think of a better hairstyle. And now, just look at how fabulous she is carrying that look! You go, girl!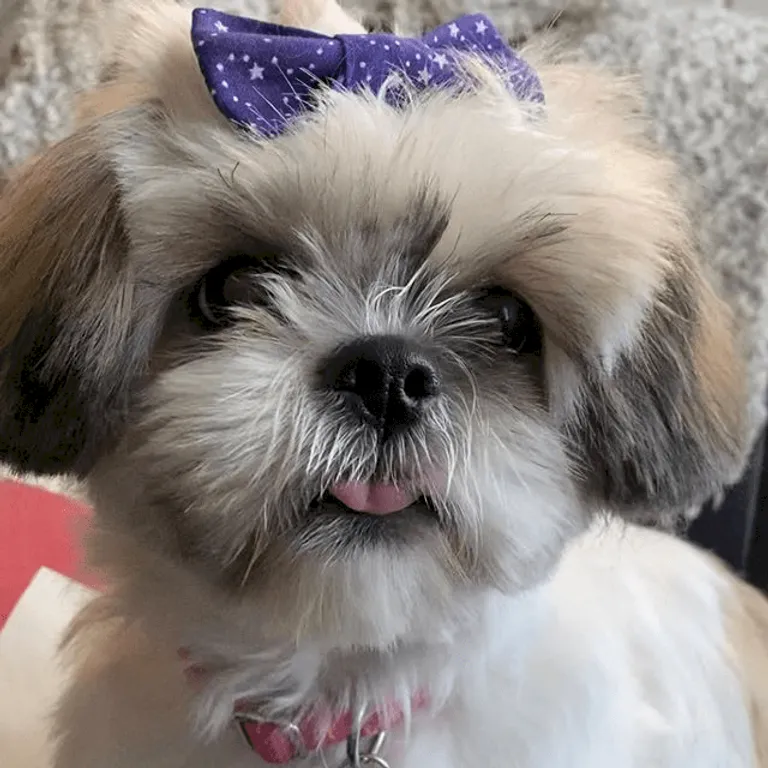 Also, according to her, it is best to wear a bow all the time, because you can always look good in it. Well, we don't know about others, but she will always look adorable in it for one. If only we could convince her to explore other hair accessories as well.
Radiating calm
Wearing a warm and comfortable hairband and relaxing with your human on a chilly night sounds nice, right? What else would any dog want? Amber here seems to be loving this hairband that her human knitted for her. Shout out to the human for doing such a marvelous job.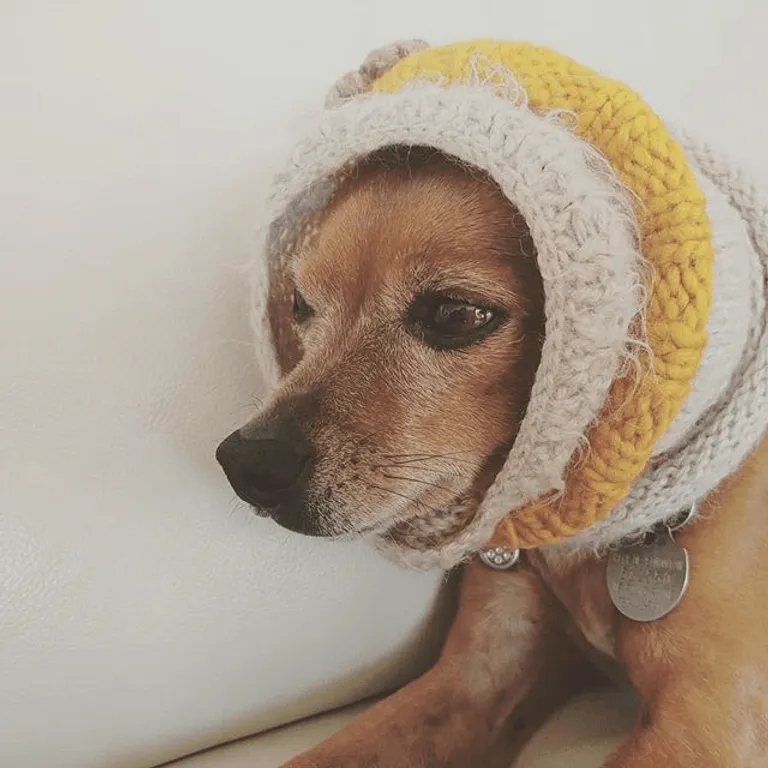 Not only will her hairband keep her warm, cozy, and comfortable, but it will also make her look absolutely adorable. She also seems so relaxed that she appears to be radiating positive energy and calmness around her. Lucky Amber!
Am I cute?
How could we say no to that face? This cute little Irish pupper is not only rocking the new fringe look, but he also seems to be enjoying it thoroughly. It is so challenging to stop admiring his new looks.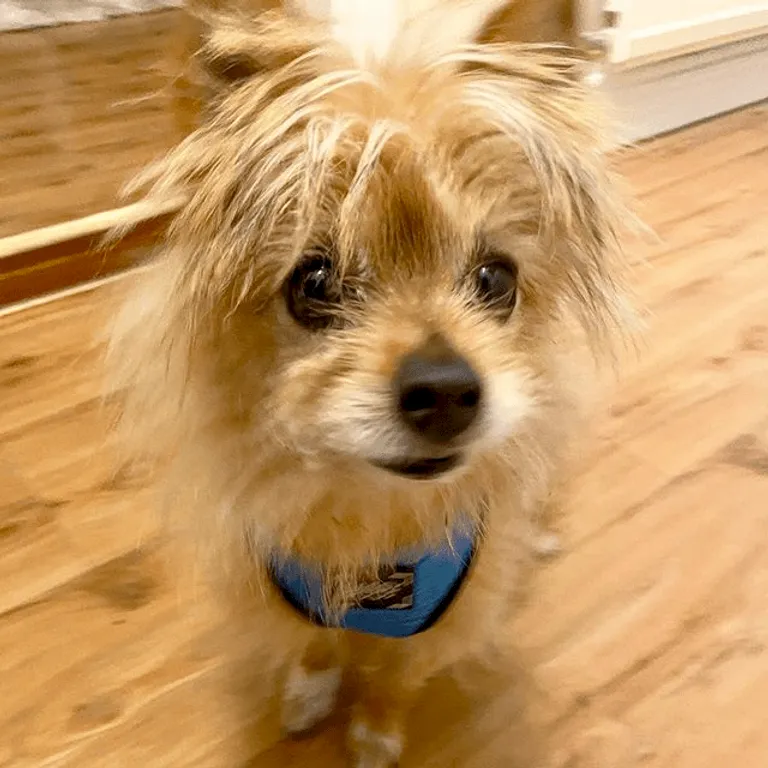 What makes him unique is the little hair popping out of his forehead with a bend, looking like a swirl. On top of that, his expressions go so well with his hairstyle. He truly is one of the cutest little puppies we have come across.
Making a statement
This puppy definitely seems to be making some sort of a fashion statement here with her crimped brown hair. It indeed looks adorable, but the question is, how did she even achieve this hair texture? Was she just born with it?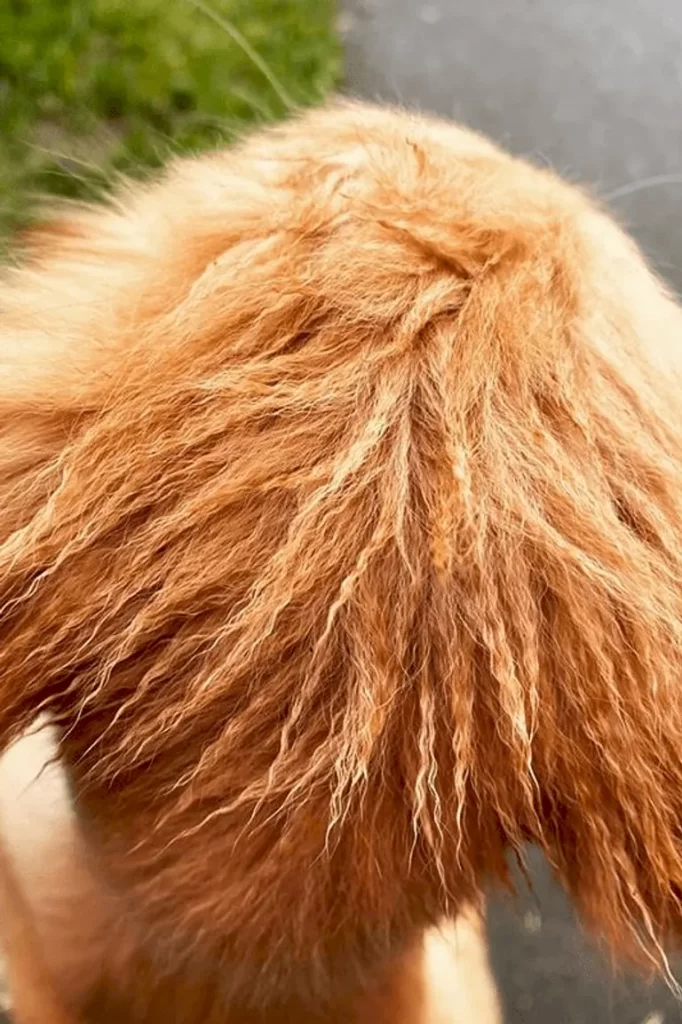 Many of you would be wondering if she used a crimping iron. To your surprise, it is an all-natural look! We couldn't believe it as well, but what helped her get a crimped texture effortlessly was just air-drying her hair.
Going Old School!
This puppy seems to be a fan of spikes. If not, it's human is surely a fan! Almost every guy would try using hair gels, hair wax, and don the spiked hairstyle back in the day. The pupper seems to be doing the same thing here.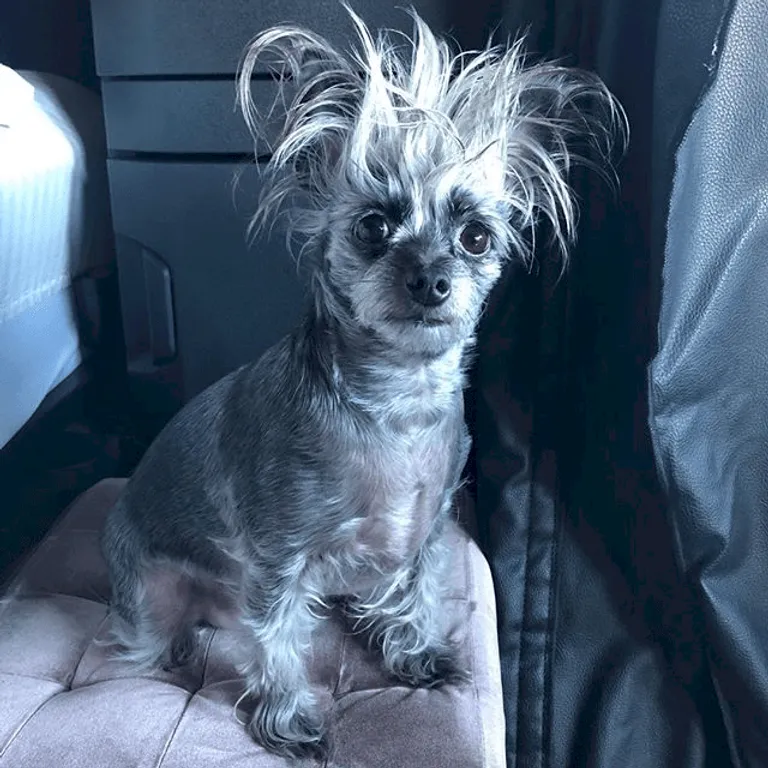 He definitely looks like he's relaxed and living in the 90s while rocking this look. One question that we have is why does he look so confused? Could it be his human who tried to snap a photo of the puppy against its wishes? We must look into it!
Larry, the Grumpy dog
Larry looks pretty grumpy today. Obviously, he isn't in the best of moods. For those who ask why, here is a backstory. His human thinks that it's time to cut his hair, but Larry disagrees. He believes that his hairstyle is the best.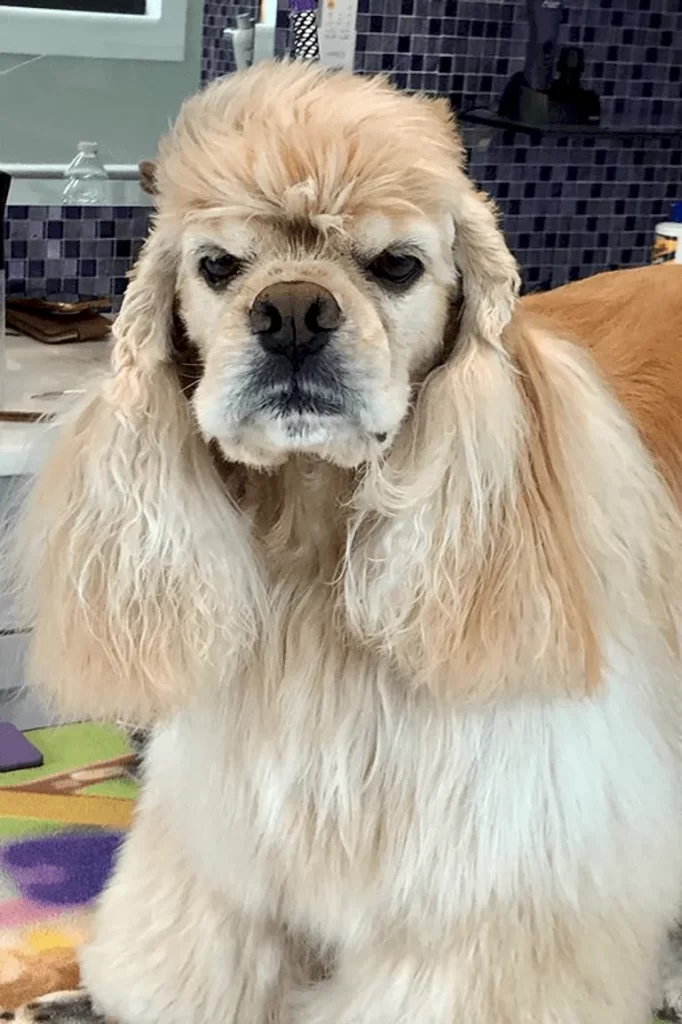 Well, we agree with Larry! He has also been trying to tell his owner that getting a haircut now would be entirely out of fashion. As of now, convincing larry to get a haircut seems like a tough job, even for his human.
Heart eyes for you
This puppy here is undoubtedly one of the cutest Pomeranians we have ever seen. His owner might be thinking that the haircut has ruined everything, but in reality, the little guy is killing it here. He looks like a heart-shaped puppy, and thus, the pun-intended title!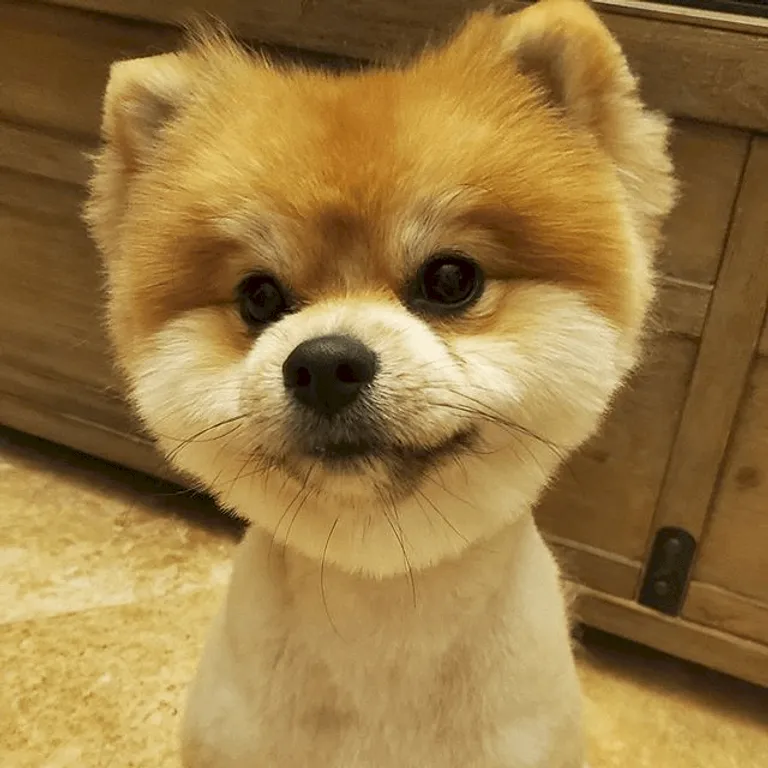 It is almost not possible for a man or a woman to pull off any poorly done haircut with such perfection, and that too, pulling it off without even making the slightest fuss about it. We must say that this doggo definitely knows how to handle bad situations with ease.
Madame poodle
What this Poodle did is unbelievable. She actually brought the matching bandana and scrunchie look to fashion. We can surely see that she loves the cheetah print style. Luckily, she also got a matching scrunchie to complete her beautiful look.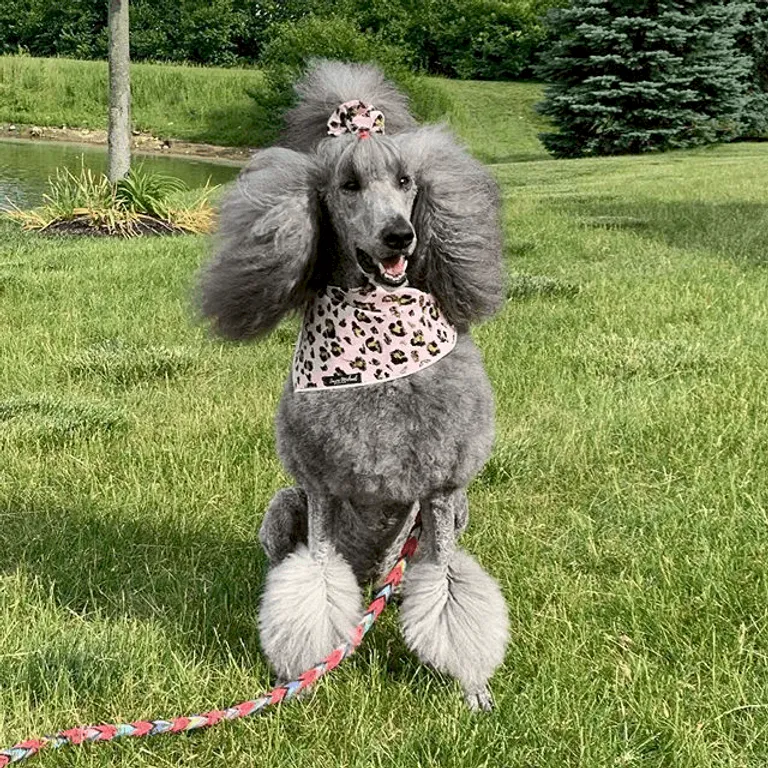 According to us, that is one of the most stylish Poodles we have ever seen. What is more surprising is that a cute dog pulled off such a great look effortlessly. What are your thoughts on this classy look of hers?
Orange hair, don't care!
Unlike many other puppies, this puppy loves to get his hair colored to see which color goes best with his skin tone. After all, what could go wrong with some orange color? In fact, he pulls it off really well!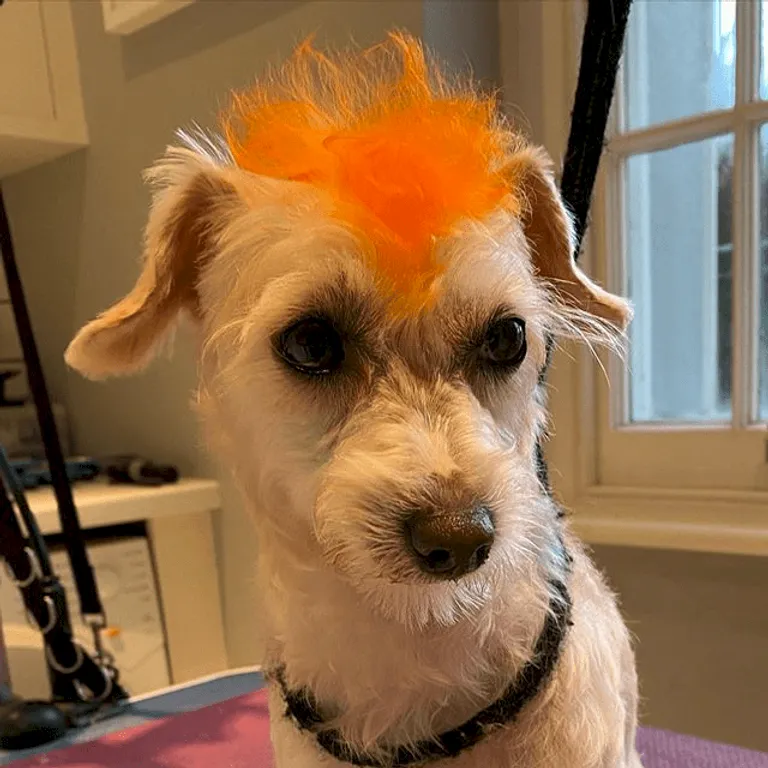 We think he rocks this look, and instead of getting embarrassed, he is going to be appreciated and adored in public even though it doesn't look like it now. However, this pupper needs more opinions. How about you help him out with it?
Sporting them braids
Meet Fiona, a doggo that loves experimenting by trying new hairstyles. Also, she loves tying up her braids while going for a walk. It looks like she likes noticing human hairstyles, and testing the best ones is her hobby!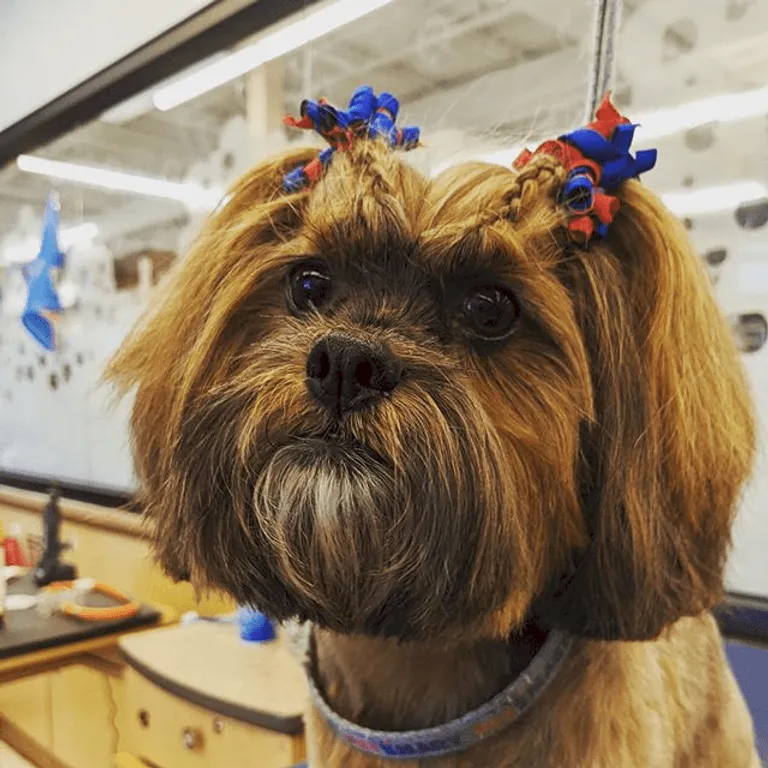 According to us, Fiona is doing great, and she is, in fact, a trendsetter who is setting a new benchmark for dog hair stylists. She looks stunningly adorable in these braids, and she is carrying them with the utmost perfection!
Pigtail fashion statement
Meet Daisy, a nature-lover whose favorite part of the day includes spending time with her human in her backyard. We have got a concerned and well-behaved citizen here who always wears a mask when stepping out of her house.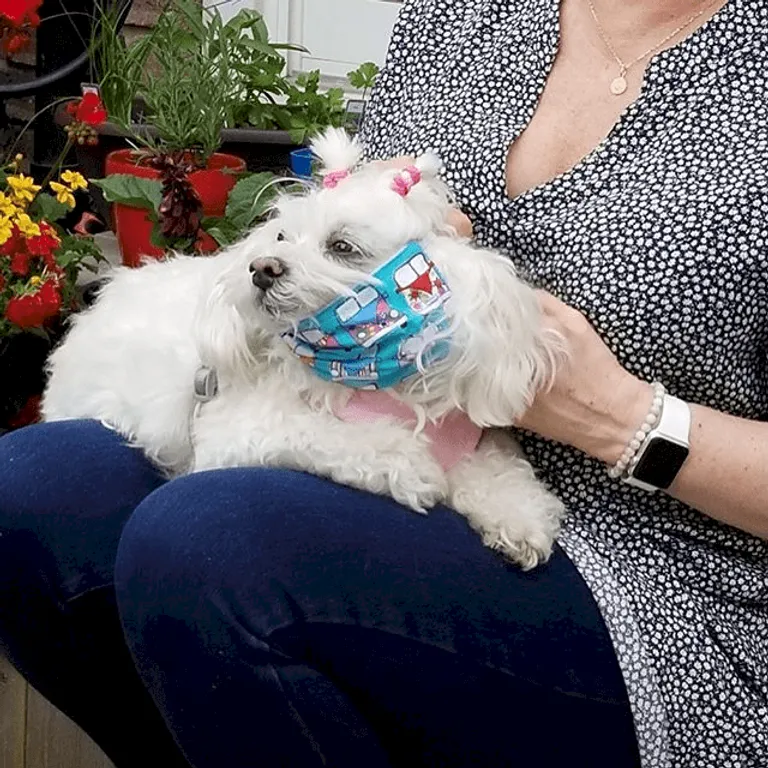 But, it also looks like she doesn't really know how to wear a mask. Nonetheless, she looks charming! She loves pigtails, and she carries them out beautifully. Look how relaxed and adorable she looks in those pink hair ties.
Rocking the bun
That top bun makes her look like an elegant woman! That's just so classy of her, and it's so difficult not to be in awe. The bun is simply perfect, and the amount of hair tied with the band is also appropriate.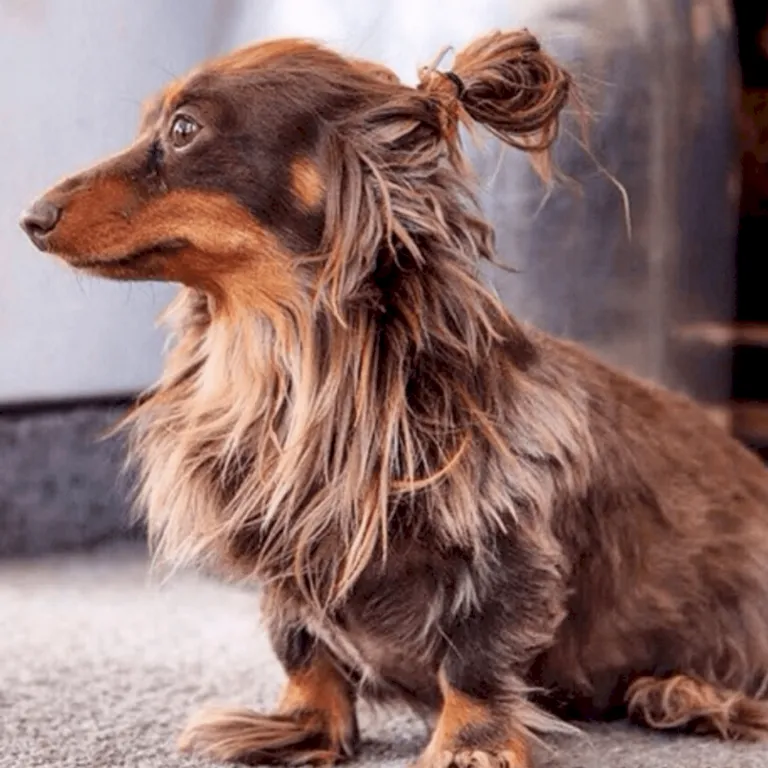 After looking at this picture, it has become almost impossible to believe that any human can rock a top bun with this amount of perfection. All in all, this canine looks amazingly cute. We wonder which other pupper can pull off a bun like this!
Is it a balloon?
Or is it Jake from Adventure Time? Nope, it is a cute and innocent puppy sporting a new look. This pupper indeed looks like a chonky balloon, and we can say that its hairstylist definitely knows a lot about symmetry and shapes.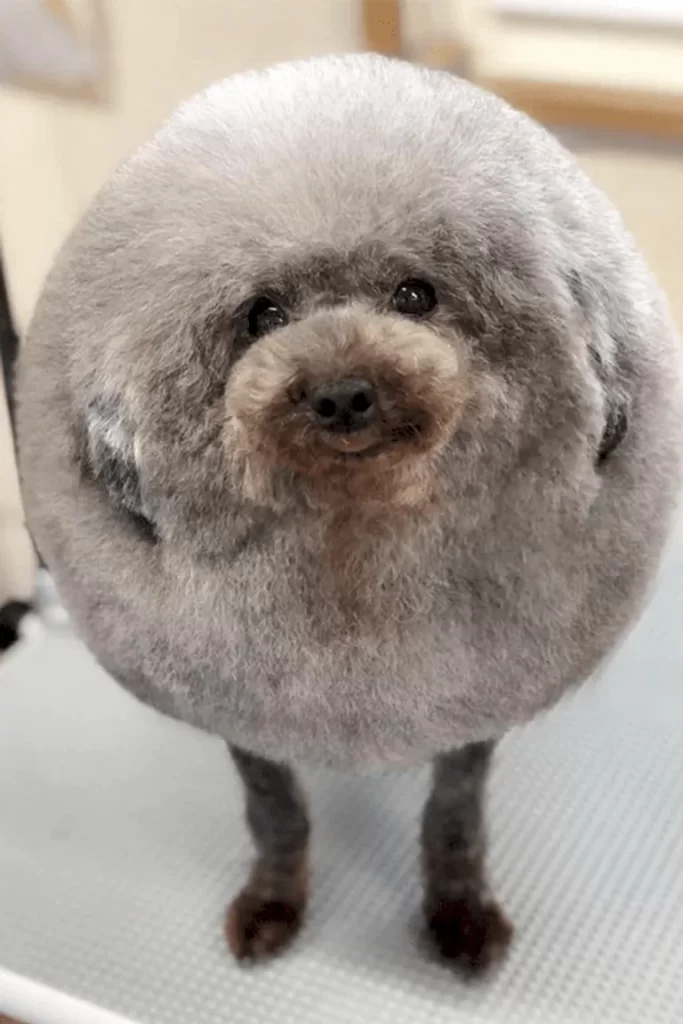 This cute doggo is staring directly into our souls with its round shape and innocence! After looking at this, we can indeed say that round-shaped, fluffy doggos will set the trends in the future, if not the near future.
As carefree as ever
We all are familiar with those days when we don't feel like doing anything at all. We don't even feel like combing hair. This puppy could be going through one of those days here. But, he also loves leaving his hair that way and lets it go whenever he wishes.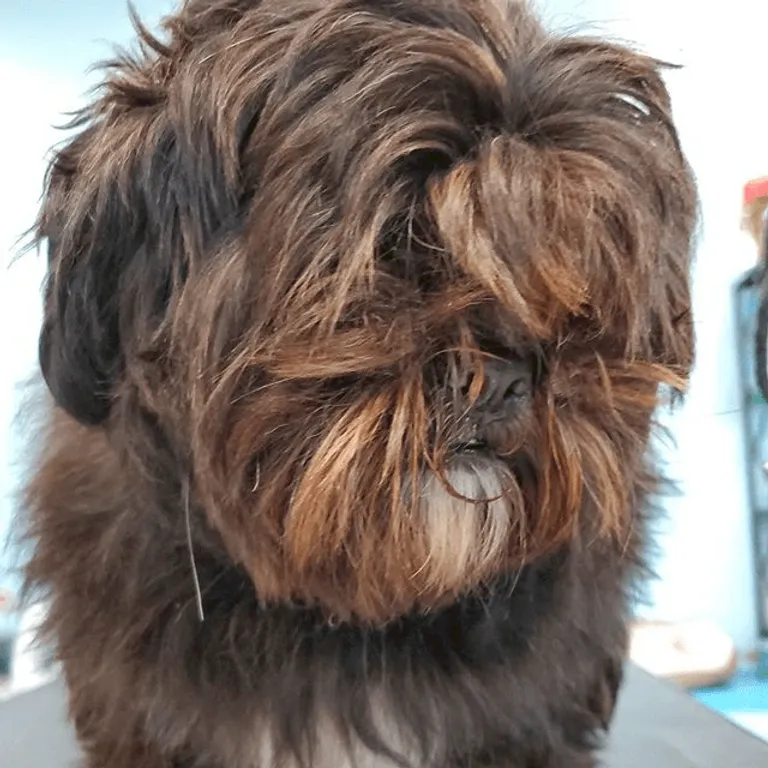 Well, what he doesn't like is when his human tries combing his hair. Sadly, his owner got him a haircut. But he doesn't look like he cares about it! On the brighter side, he can finally see things without his hair blocking his vision.
Dejected!
This puppy seems like he lost all trust in his human, and we genuinely feel for the little guy. He trusted his owner with his hair, and it looks like his human failed him, thus, his dejection. The puppy can't even believe what he sees in the mirror.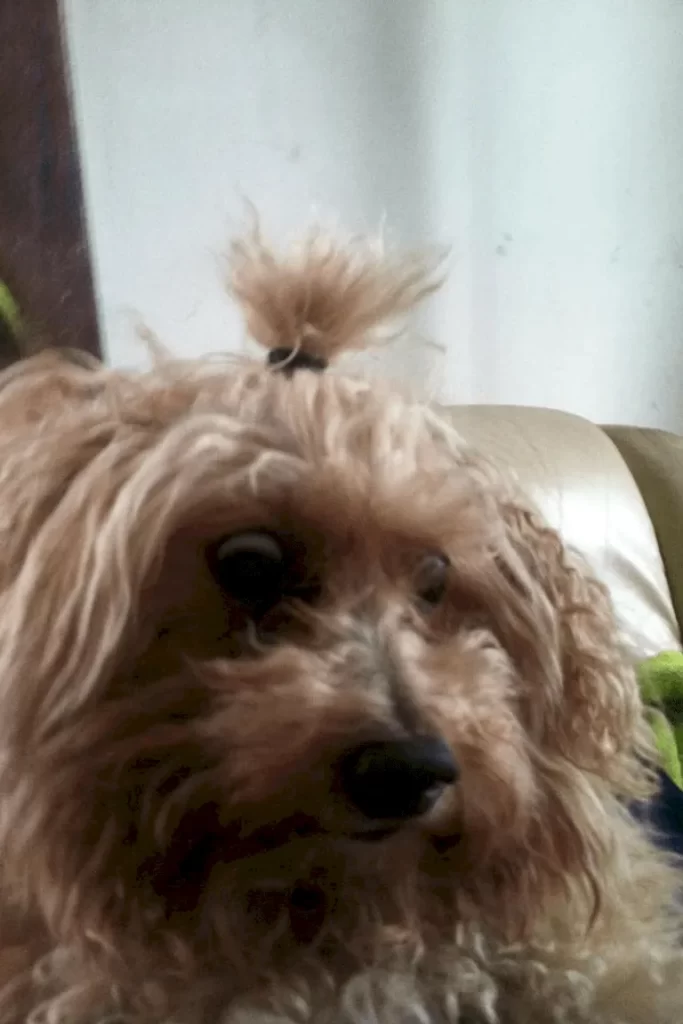 According to what it looks like, there is just a little ponytail sitting on the top of his little head. From the look in his eyes, he finds it intolerable, he doesn't like it, and he demands an immediate apology with treats!
Pixie the princess
She loves playing fetch, and she could play fetch with her owner all day long. The pink toy that she is holding in her mouth is her favorite, and she loves chasing it. Notice the high-pony that makes her look like an adorable little princess.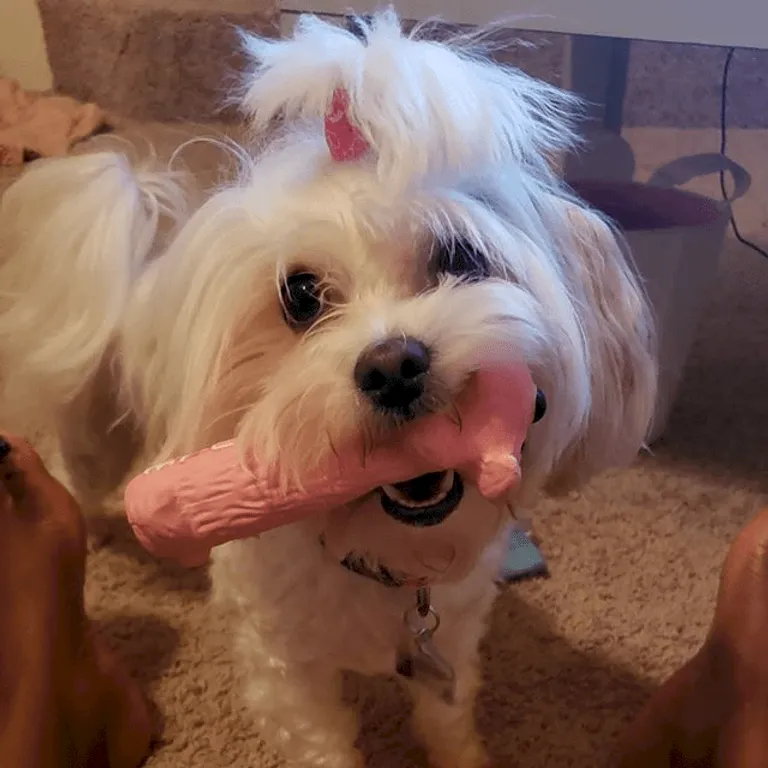 She ties her little ponytail up high because she doesn't want it to interrupt her in the middle of her play-time. Thus, it's the high-pony that makes her look so gorgeous! We are amazed by her cuteness. What about you?
Extra treats for me!
We all know that dogs love treats, but can you dare say no when this cutie comes to you, wagging its tail, to ask for treats? From the photo, it looks like something like this happened, and she cannot believe that her human just told her that treat time is over.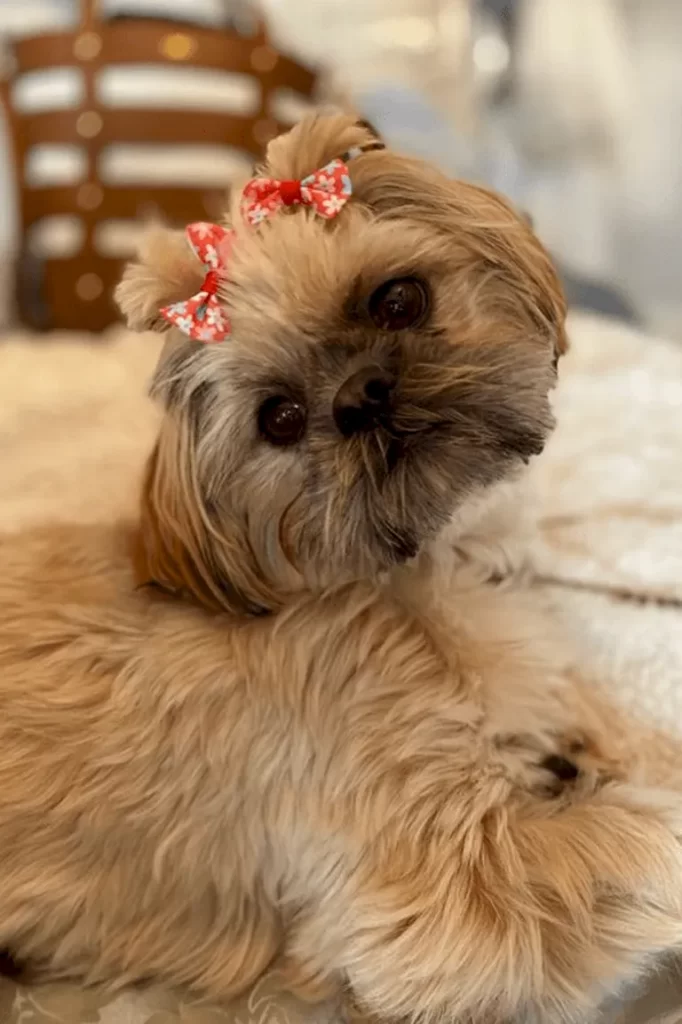 We sympathize with her. Looking at that face, it won't be long before she gets more treats. What makes her even cuter is the little bow with a floral print that rests on her crown. Well, saying no to the puppy for treats must have been a tough job for its human.
How do my bangs look?
Meet Copper the Cocker Spaniel. Copper loves playing outdoors, and he loves his human. He is an obedient little boy who always listens to what his owner says. Recently, Copper got his hair done, as you can probably guess.
The problem is that some people are making fun of his bangs. What's unbelievable is that how can someone not approve of that hairstyle? It looks perfect on him! Do you think there is something off with his hair?
At the hairdresser's, be right back.
That is one busy dog right there. It looks like he took the hairdresser's appointment and headed straight to the salon. He doesn't look that happy, sitting with a judging face in the chair. Nonetheless, he still looks adorable in this hairstyle.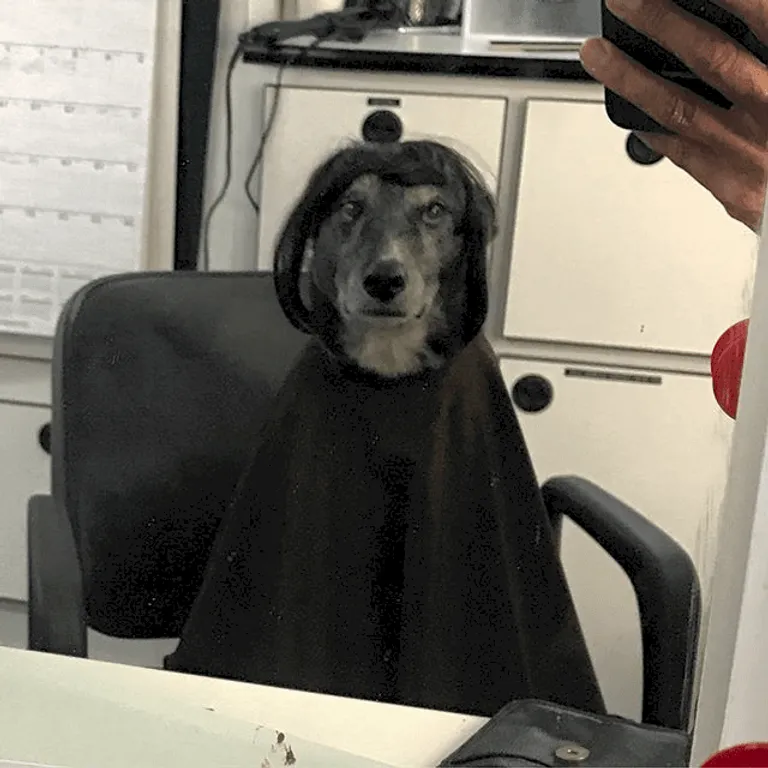 It doesn't look like that, but we hope that he loves his shoulder-length bob. But, he does recommend his hairstyle to all the other fashionista pups out there. What do you say about this hairstyle on this friendly doggo?
Hair problems
Does it look like a haircut gone wrong? Or was this done on purpose by the human or the hairstylist? Whatever it is, it still looks charming. But, it could also be a consequence of cutting your dog's bangs at home without professional help.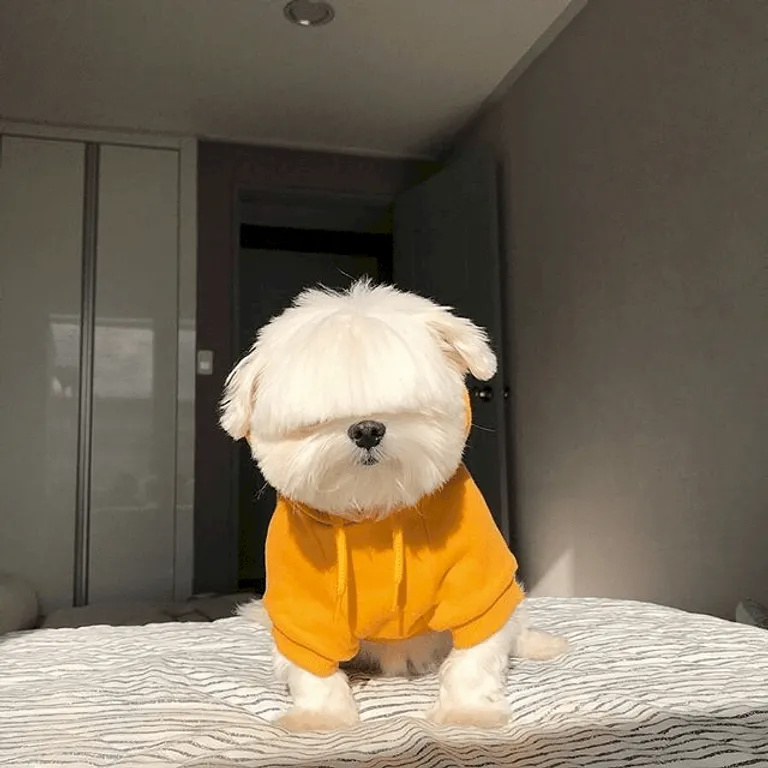 It looks like this cute puppy experimented with his hair at home. Sadly, he cannot see anything, and his bangs seem to be hitting smack-dab in the middle of his vision. That's unfortunate. The biggest question now is how he will eat his treats?
I woof you!
This photo shows how happy the puppy looks! Meet Casper, a trendsetting Lhasa Apso that looks like he is living his life to the fullest. He likes going out for long walks, and he also loves running around the house without any reason.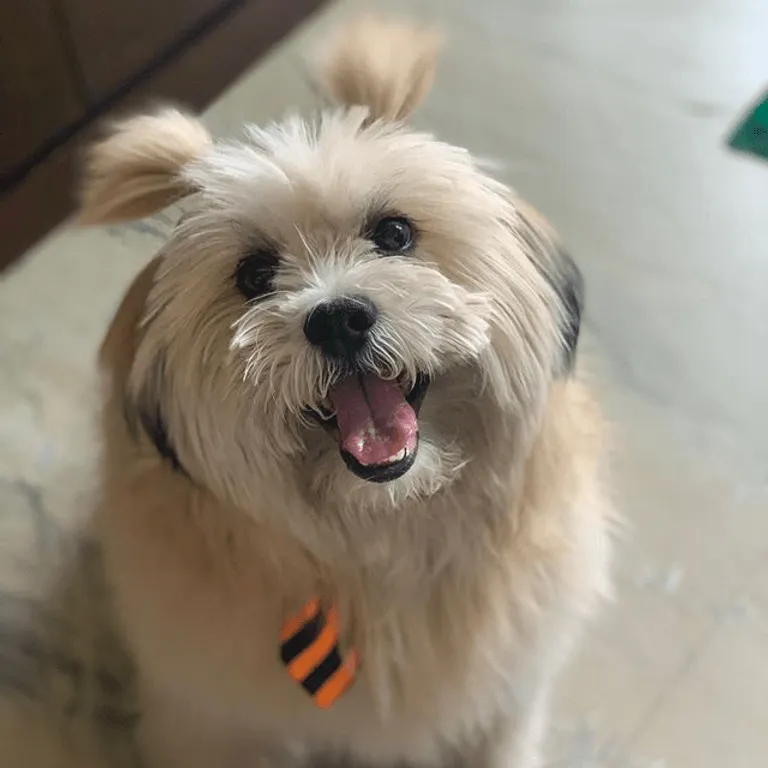 Casper is a hyper puppy who loves his human a lot. His human came up with this hairstyle for him, and Casper looks like he seems to be in love with this hairdo. We, for one, are indeed fascinated with this hairstyle. Do you think it suits him as well?
How about now?
Meet Copper again. We saw him sporting a different hairstyle earlier. Now, he looks like he can't wait for you to check out his new hairdo. According to us, he looks great. In fact, both hairstyles look equally fabulous!
Well, you shouldn't make fun of him because he looks adorable. If you look at the photo carefully, it also looks like he is kind of asking you how he looks in his new hairstyle. So, how would you rate his new do?
Hate you for doing this to me
This Shih Tzu definitely looks angry because of his new hairstyle. He also seems the least bothered about what is happening as if he is literally saying that he doesn't care if other puppies are rocking braids or fringes.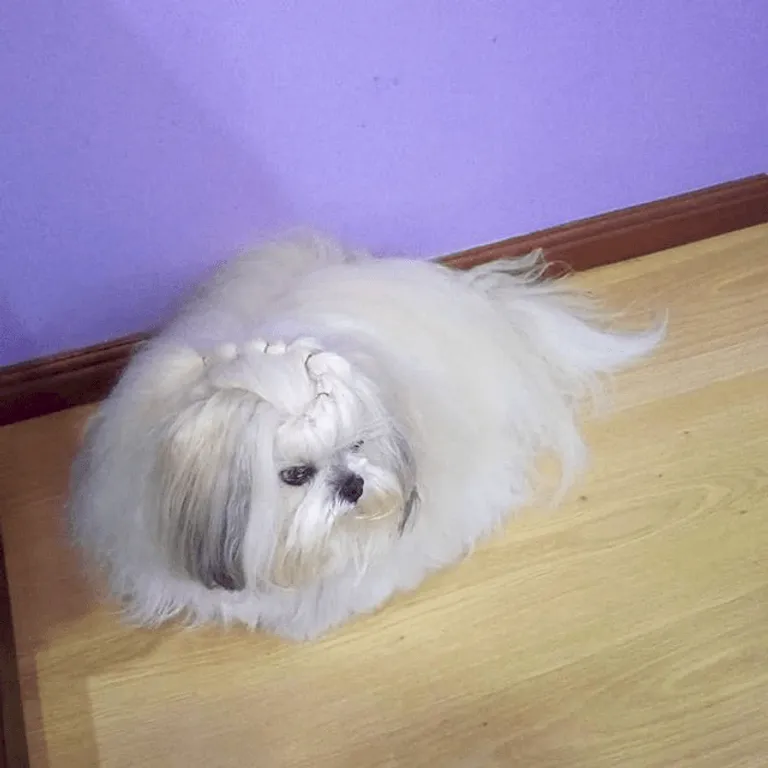 He only seems to be bothered about one thing, which is to get rid of these braids as soon as he can. So, would you help untie his braids? Or, like us, do you believe that that hairstyle looks great on the puppy?
Is it real?
After looking at this and all the other braid pics, it feels like every dog is trying to make a fashion statement with these braids. They all look trendy, classic, and gorgeous. When we look closer, we find ourselves asking, is it even real?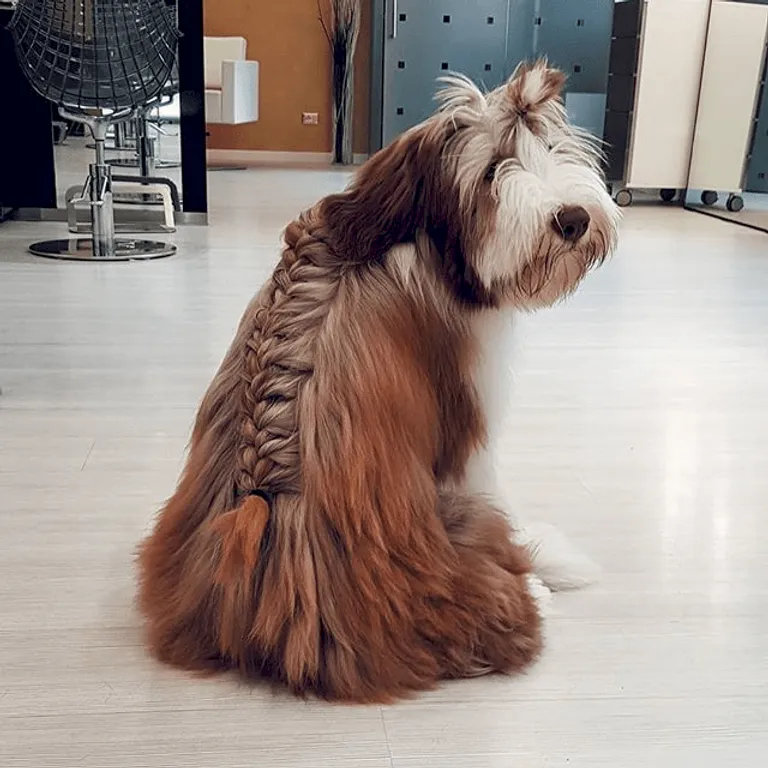 It is majestically real. It looks pretty royal, running down the spine of our furry friend. All in all, this dog looks stunning. We also think that every dog owner and hairstylist should consider coming to this puppy and its owner or stylist for fashion advice.
Another one!
Meet Barney, a Cocker Spaniel, and apparently, also a trendsetting pupper. As you can make out from this image, he indeed has long and silky hair that every other dog, and even us humans, dreams of having. *Sigh*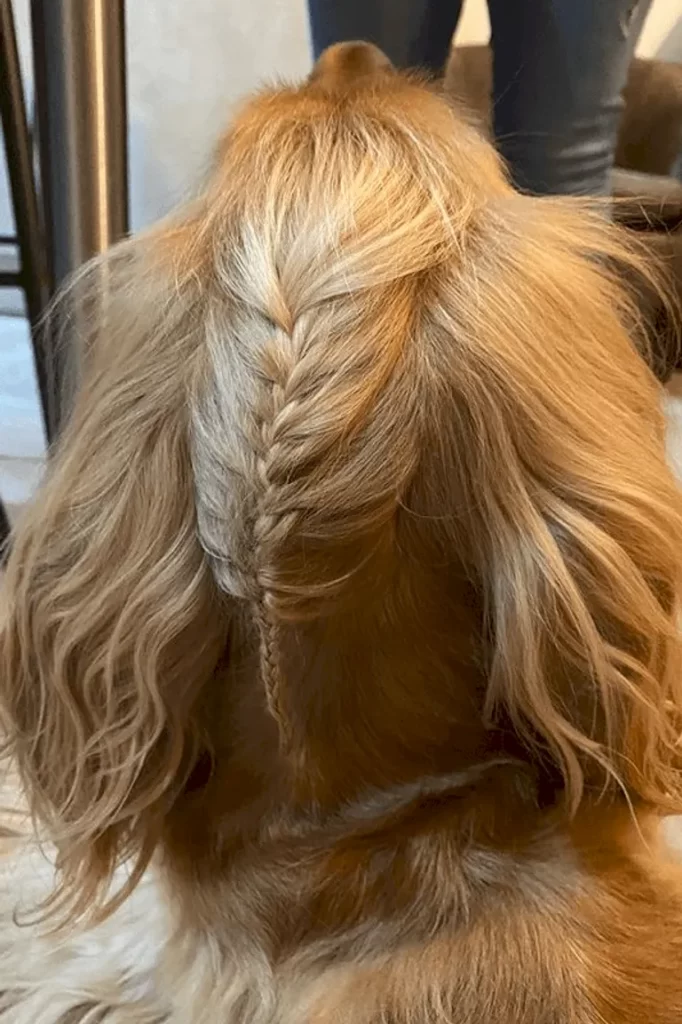 This photo was taken on a fine day when Barney's Aunt, Katy, thought of paying him a visit. She then decided to style him up a bit. What you see is the result of Aunt Katy's hard work! She did the braids, and they look stunning.
Symmetrically circular
Before now, many of you might have heard of haircuts that are ideal for round faces or ideal for symmetrical faces. But have you ever heard of a haircut that makes the face of the puppy circular? This is a perfect example!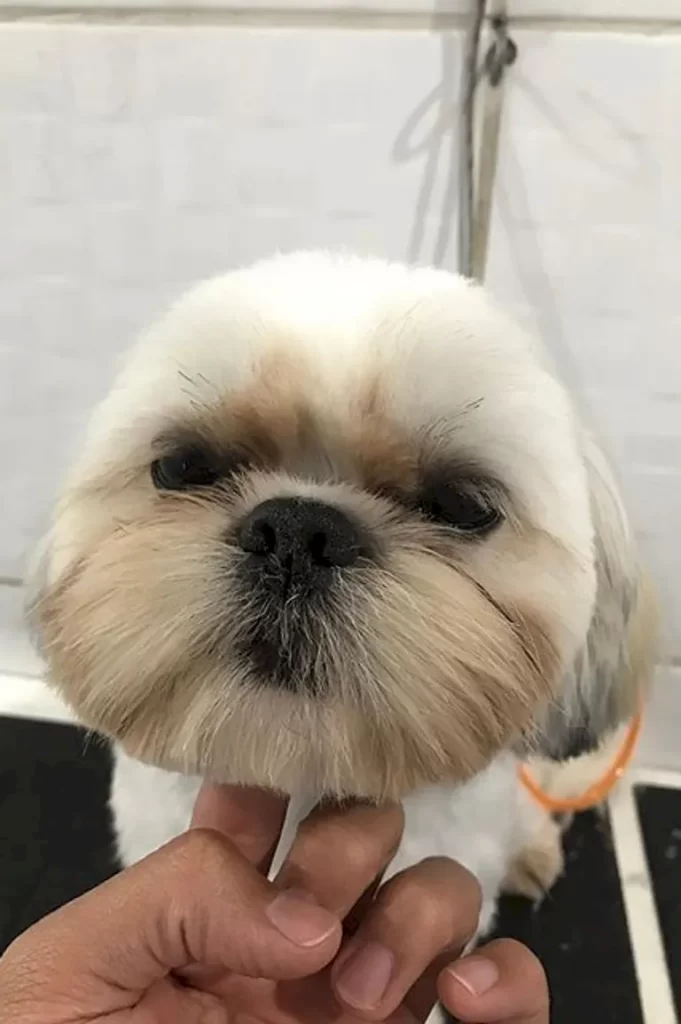 This little puppy looks irresistibly cute with his new haircut. Looking at the symmetry of the face, it almost looks like the stylist drew a circle on the puppy's face with compasses to achieve this perfection. On top of that, the puppy seems to like it as well!
The bow-keeper
Meet Livy, a cute Yorkshire Terrier who is also a huge fan of bows. Her love for them is pretty evident, just by looking at the photo. Livy thinks that nothing is better than wearing a bow, and it is the best hair accessory. She prefers sporting one every day.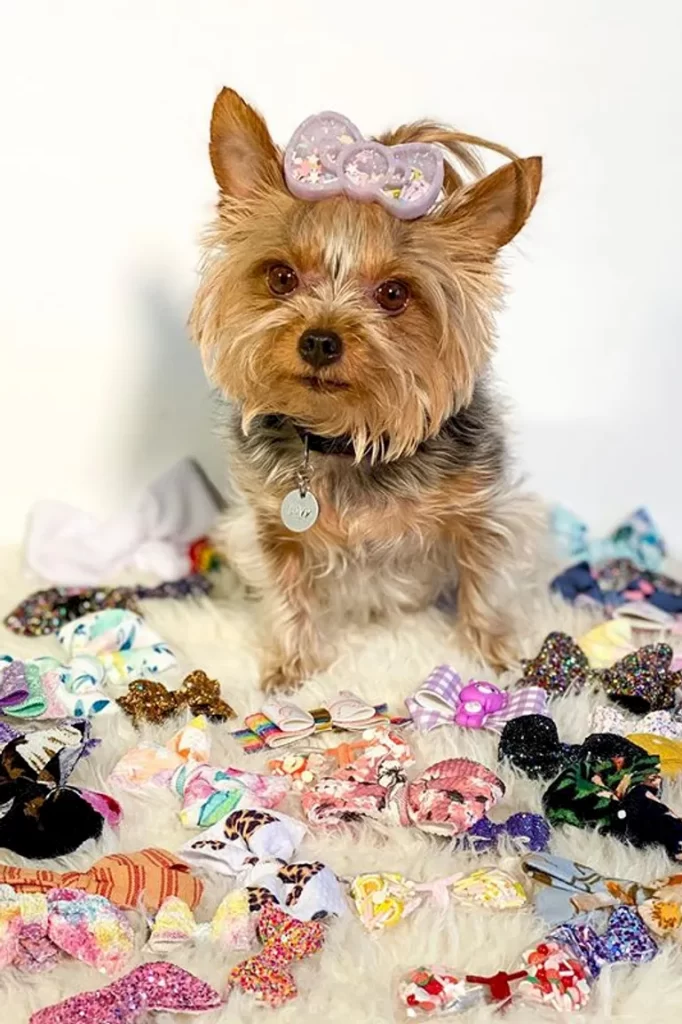 Be it a pin or a clip; she always wants you to style it on her. According to us, she looks lovely sporting these bows with every look of hers. What do you think about this look? Do you like this bow look as much as little Livy does?
Modern-day rockstar
What we see here is what is called hair goals in simple terms. This mohawk is quite an innovative hairstyle on a dog. What's more creative is that the mohawk isn't only on its head. Instead, it runs down his spine.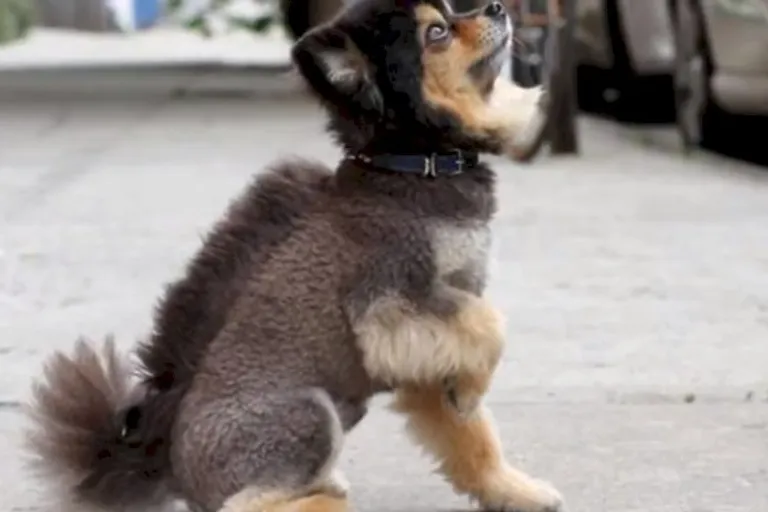 It is undoubtedly one of the fluffiest and cutest mohawks we have ever seen, and it could also be one of the smoothest and cutest ones too. Even humans can't sport the look the way he does. It looks as if the dog has demanded its human to click a candid.
Coolest in the room
It looks like this pug is simply having the time of its life. The pug's look is inspired by rapping legend Juice Wrld. It is pretty simple to recreate this look if you want to do it for your furry friend as well.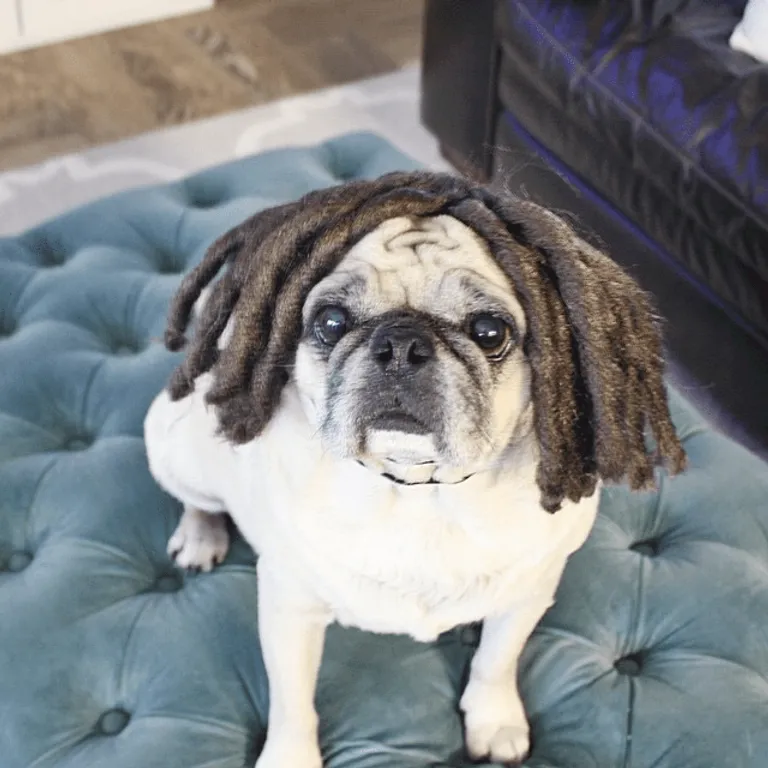 You only need a small wig that will fit perfectly on your puppy's head. Dogs aren't the only ones who can try this look. Men can try, but we aren't so sure if they can pull it off like him. If he is in a room with people, he'd surely be the coolest one!
Acknowledge his highness
Is it a dog, or is it a lion? The way this dog is sitting in its backyard, anybody will be convinced that it is a lion. Even we got confused. It looks like this puppy thinks that he's a lion, and we have no problem believing it!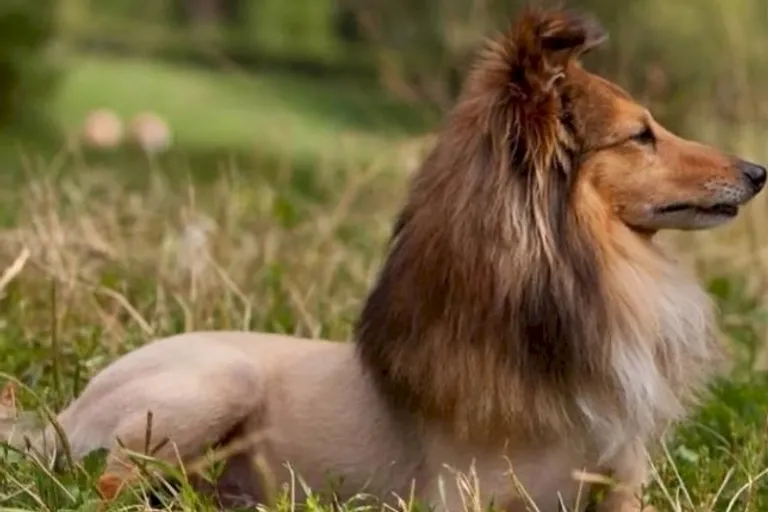 His mane looks quite natural, although it is artificial. All in all, this dog is one cute but scary lion. Yet, he looks adorable and fierce at the same time. It's high time we acknowledge the king of the jungle. Do you like the look of this dog-turned-lion?
Lion (Dog) King!
Danny is an amiable dog that loves bonding with humans. The mane that you see in this photo isn't something random. But, we can indeed say that Danny has grown to be highly fond of his new royal look.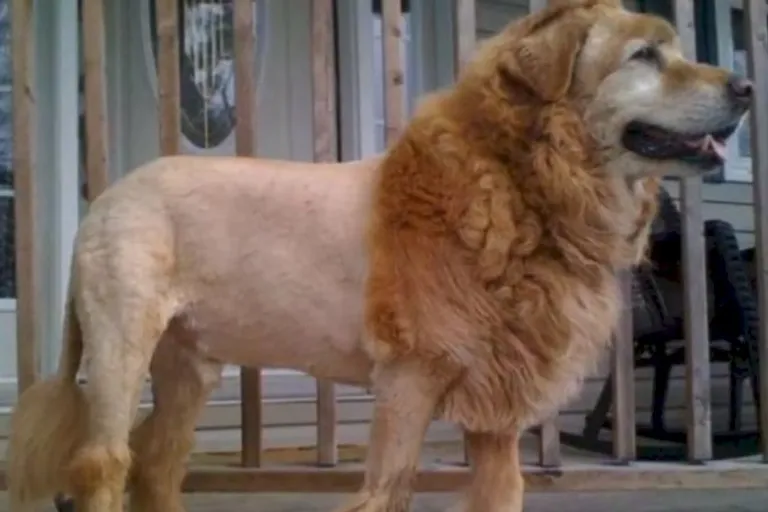 What happened was that his human decided to give Danny salon-like treatment from home. That makeover transformed Danny from a cute dog to the king of the jungle. His mane indeed compliments his build, and the tail also looks really cute on him!
Second thoughts?
This cute pupper seems confused about his look. It also seems like he needs your approval. So, do you like this puppy's new look? If you ask us, we cannot get over the cuteness of this puppy and the picture.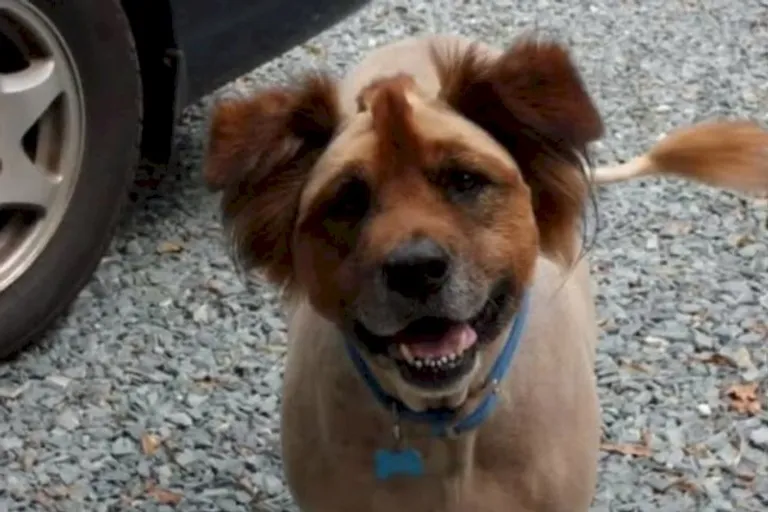 The mini mohawk resting on the top of his forehead and those furry ears are what make the puppy look all the cuter. Indeed, this doggo must be getting the attention of everybody when going out for a walk.
Seriously?
This puppy right here definitely has the "are you kidding me?" look. After all, he seems to be unsatisfied with his new hairdo. The amount of annoyance on its face tells the whole story. We indeed believe that his human must be loving it, because we love the look as well!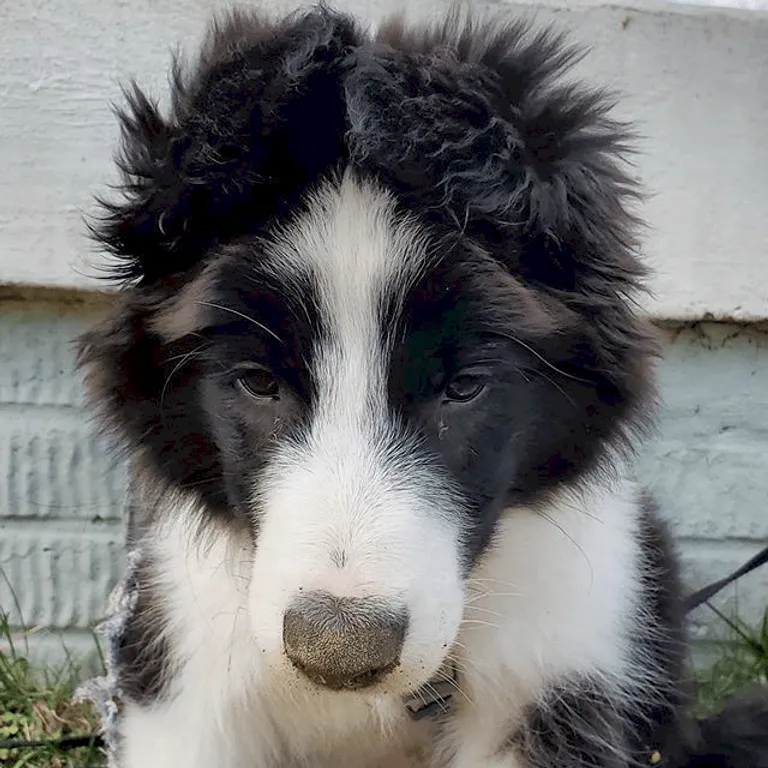 However, irrespective of what we feel, the doggo doesn't seem to be happy with it. He also might not trust his human with his hair anymore! Well, none of us would want their doggo to look at them with a questionable look—best of luck to the human.
Top-notch
Excuse the pun, but this top-knot seems to be top-notch. Meet Georgie, a cute Yorkshire Terrier with a perfect top-knot. On top of that, the bow on her head also seems to be equally adorable. But, something tells us that her intentions are quite different.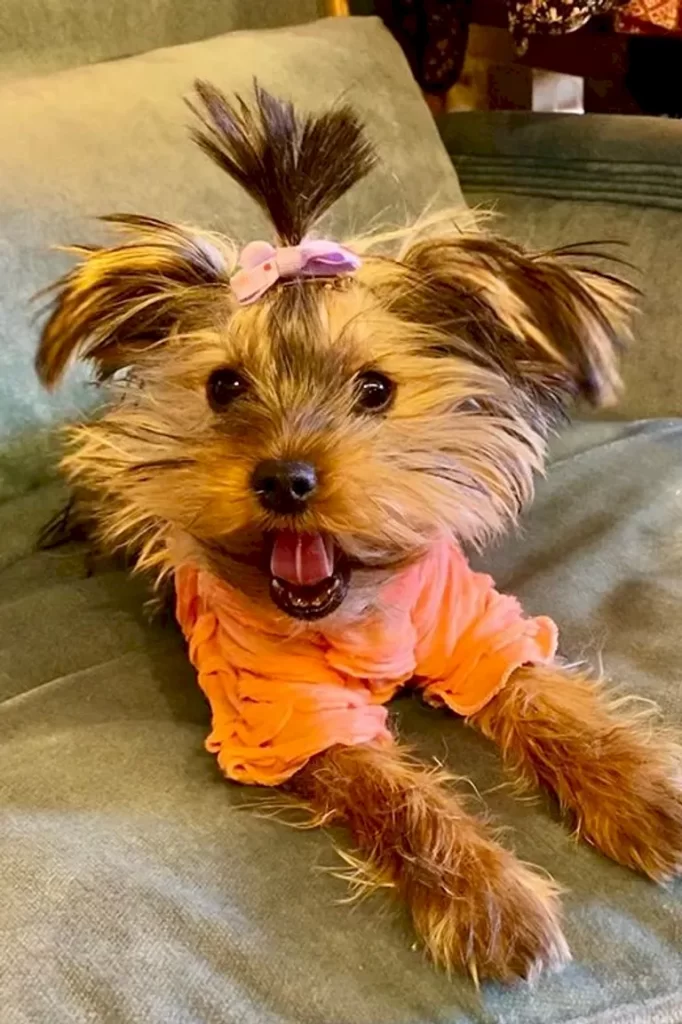 It looks like she wouldn't let you come too close to her, and her eyes are enough to show her naughty plans. So, the question is would you consider overlooking the warning and petting the top-knot, or would you follow our advice?
The wise one
This dog, with its long and straight hair, looks like a wise person with a lot of experience in life. It is undoubtedly rocking the long and golden hair look, and the hair is managed with perfection, we must say.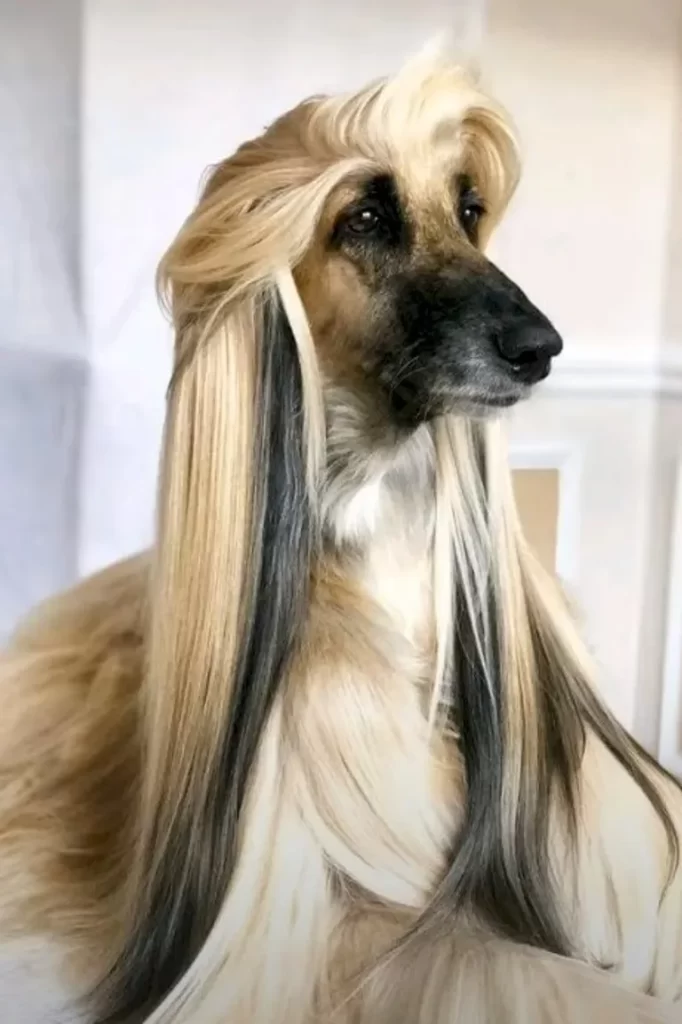 The most noticeable feature is the way her hair has what looks like some black highlights! Not only does she have hair that every puppy would want, but she also serves to be an inspiration for numerous human hairstylists worldwide.
Feelin' good
This cute little white Maltese looks adorable and cheerful. Although it could be unhappy because of the lockdown, because of which all barbershops are shut. On the brighter side, he is looking happily at the camera and showing off his long hair.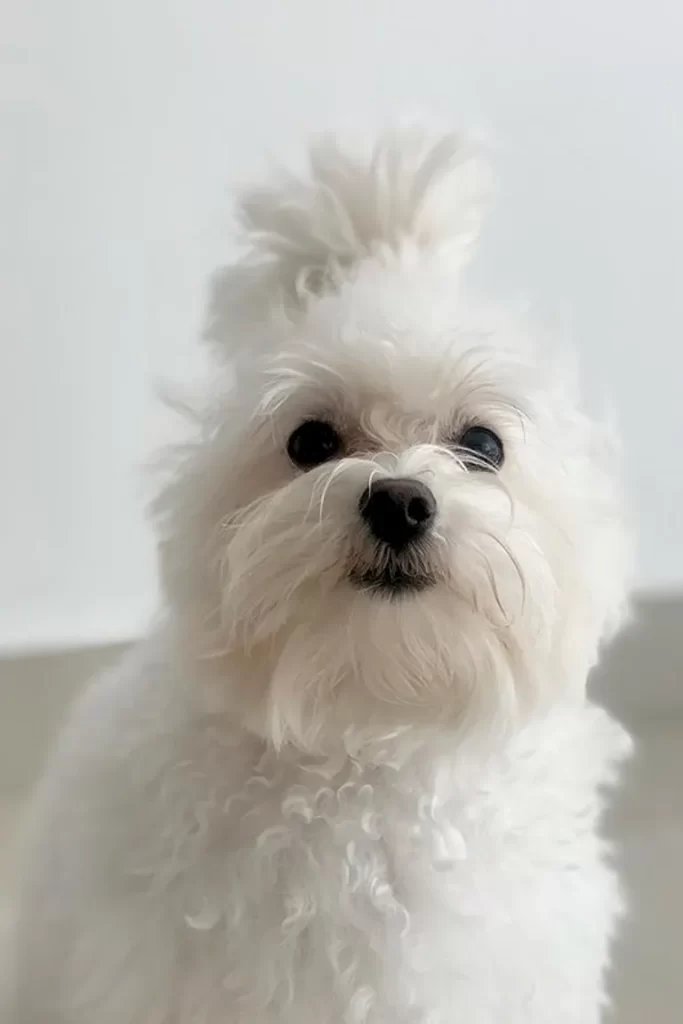 What makes this dog unique is that it follows a glass-half-full approach in this situation. We saw many dogs pulling different haircuts with perfection, but we don't know how many dogs can pull off a no-haircut look. However, this one indeed does.
Confused!
This puppy is doing a great job at confusing us, and hopefully, many of you could be looking at this picture the same way. It has a black and white color, which could help it blend in like a cow or a calf with ease.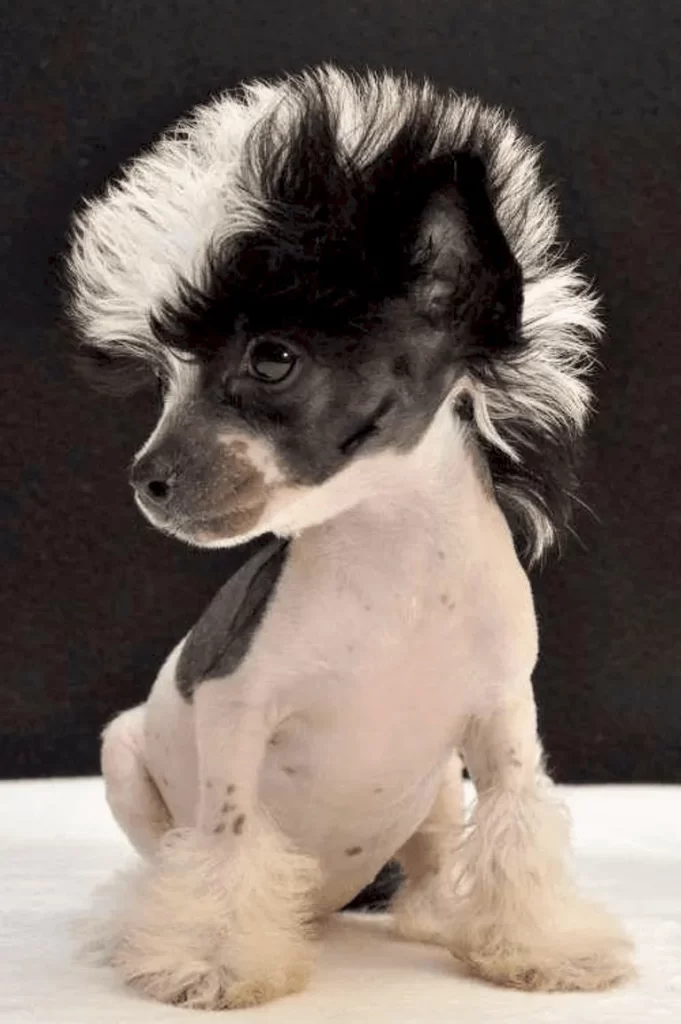 He also looks to be really confident, which will help him a lot if he ever tries to be an imposter in a herd. On top of that, he seems to be sporting a mohawk, which, from a very different angle, makes him look like a magnificent horse.
Elegance at its best
This elegant dog is posing and trying to show off her new hairstyle fresh out of the salon! However, she looks like a classy woman. You can imagine the amount of perfection by simply looking at the tiny knots and the partition in the middle.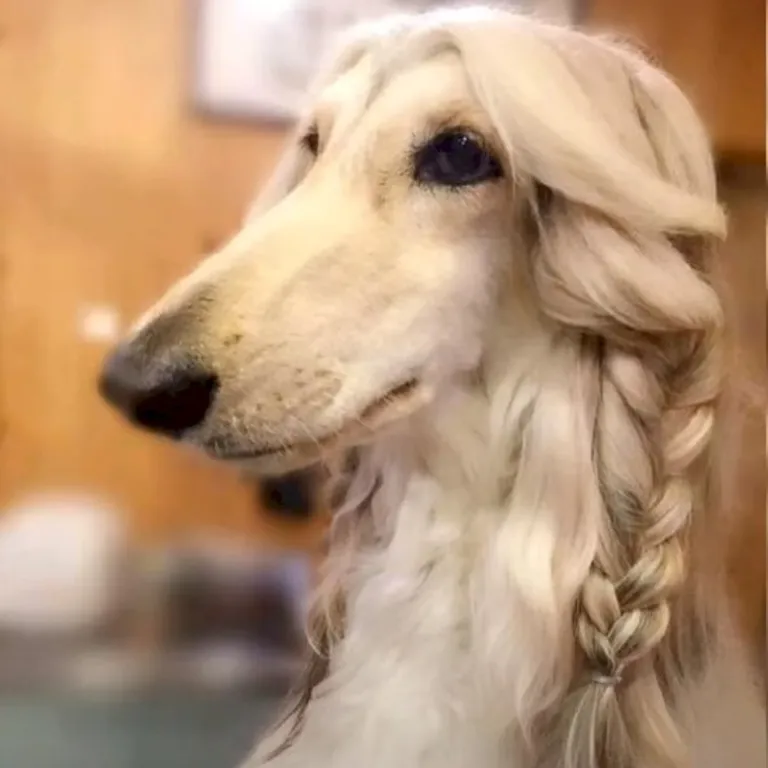 We must say that this dog has queen-like qualities. Its expressions are also going incredibly well with the look. If any of you ever want some top-class hairstyling tips, you know where to go! Her hairstylist must definitely know what is needed for the ideal hairstyle.
Dog from Vogue – Dogue!
This pupper is definitely the most handsome of all. He looks so classy and elegant that he almost looks like a model for Vogue magazine. Thus, it's a Dogue because when you put two and two together, well, we don't have to explain.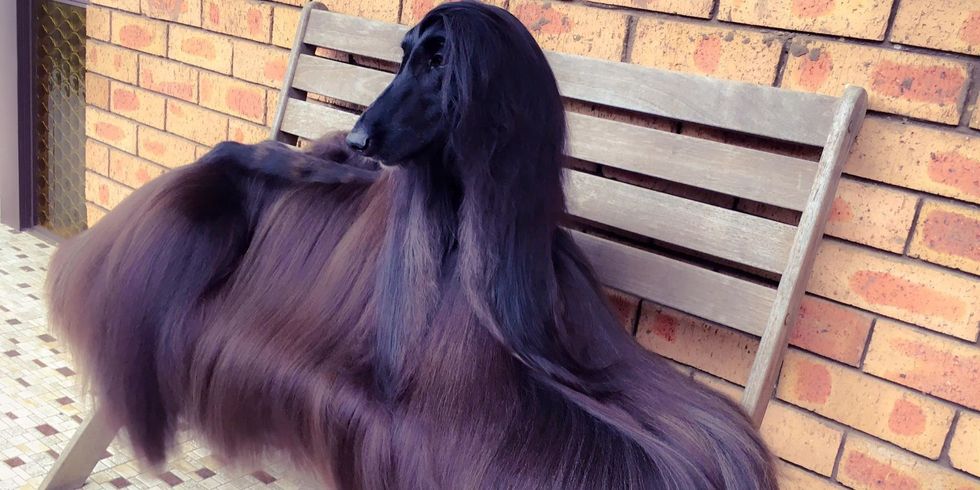 Just imagine this dog, well-dressed, in that hairstyle, stepping out of a sleek limousine, right onto the red carpet. As soon as he steps down, hundreds of people flash their cameras to click his photo. We imagined that, and we are in awe. How would you rate this look?
Ear ponies!
It looks like this dog isn't exactly in its best mood. The reason for this Weimaraner's grumpiness is its hairstyle. But wait a minute, is that even a hairstyle? Well, his expression is more than enough to convey what the poor guy feels.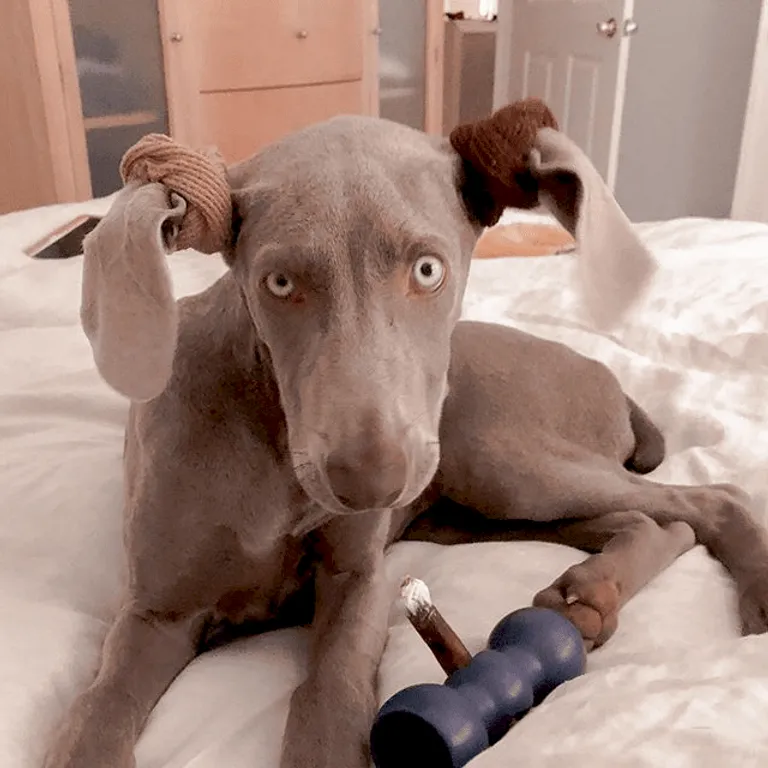 He isn't satisfied with his human or his new look. He also could be feeling sad because he doesn't have long hair like others. But don't you worry, we got you! Hair or no hair, he still has a hairstyle that makes him look super-cute, thanks to his ears!