A Heartfelt Collection Of Rescue Pets Who Found Their Forever Homes
By Aakash M March 31, 2022
---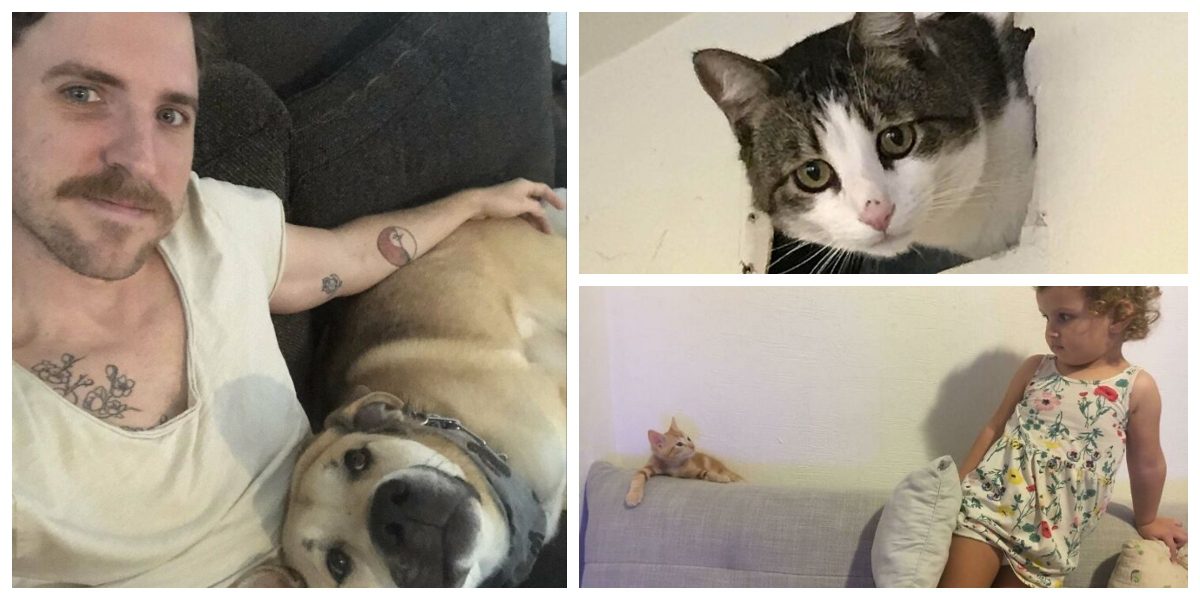 In 2019, around 625,000 adoptable dogs and cats were euthanized in the US alone. When you look at the numbers, you can easily say that many animals are coming to shelters, but only a few of them are adopted. We could easily reduce these alarming numbers by doing one of two things. Firstly, pet owners should be more responsible so fewer pets end up in shelters. Second, people should adopt pets instead of buying them. When you adopt a pet, you are getting a furry friend for life, and you're also creating space in a shelter for an animal that might be in desperate need. While looking for some adorable photos of rescue pets, we came across the subreddit r/BeforeNAfterAdoption, where we found many beautiful pictures of animals in their furever homes.
Welcome him!
Here is an adorable image of a very innocent kitten. He has an interesting story. One day, a woman heard some meowing in the bushes at a gas station. The next thing she saw in the bushes was this little cat. Her husband then took a photo of the kitty and posted the picture of their new family member!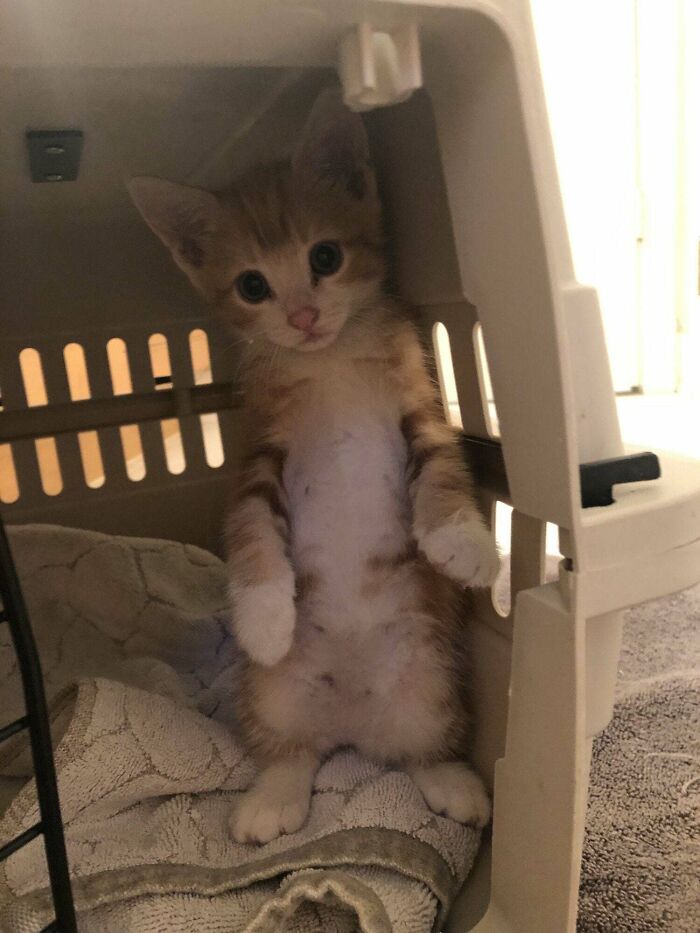 First of all, the couple and the cat both are so lucky! They went on to name him Lionel, and he's the newest and the cutest addition to their family. What a wholesome story! One thing that we know for sure is that Lionel is a cutie.
A dual citizen
Hello everybody. It's time to introduce Nova to you, and Nova, guys, also has a fascinating story to tell. She is a rescue dog who was adopted from Spain. Currently, Nova is living in the cold and beautiful country of Sweden. Have a look.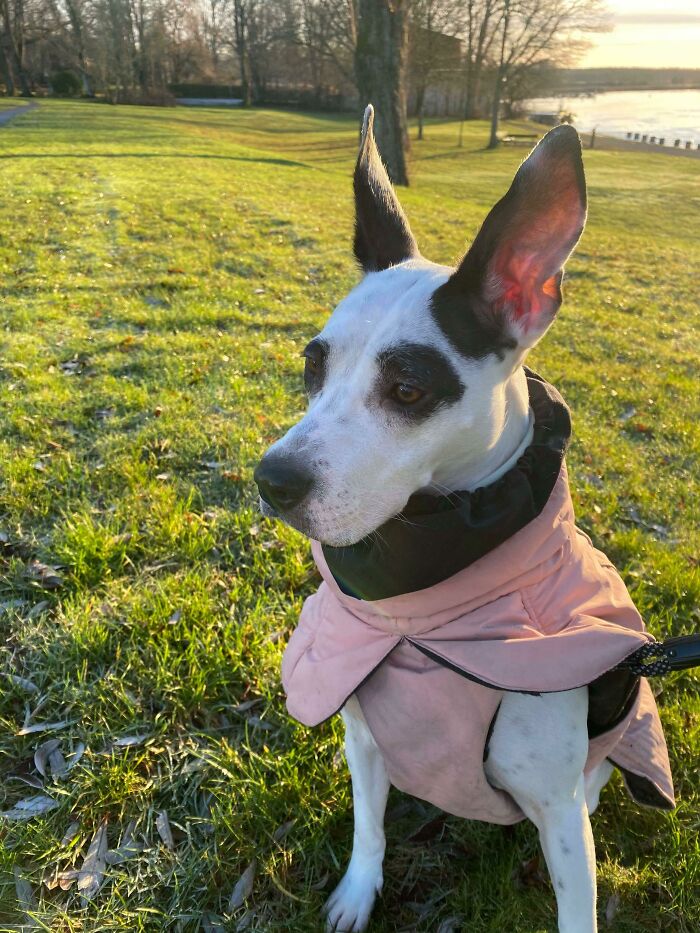 She's what you call a dual citizen. Well, does she have a passport? To that question, let us tell you that every pet in Europe needs a pet passport! Although they are serious documents, these pet passports are really cute for obvious reasons!
Really very beautiful
Truth be told, we need more kind-hearted people in this world. Meet Toby, the cat who has been living in a shelter for the past six years. The photo's uploader also said that they plan to be his "forever" home!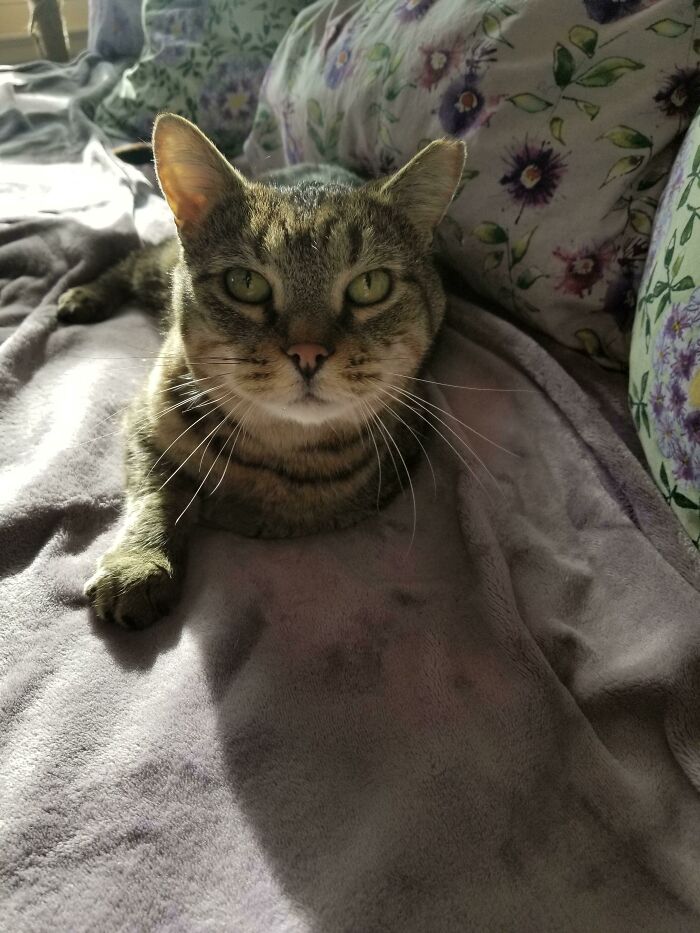 Isn't Toby a lucky guy? It's unfortunate to see animals stay in shelters for so long. All our furry friends deserve a home. We are glad that Toby got his forever home, and we hope all other animals in need do as well.
Sharp
We have seen a lot of wholesome rescue stories till now, but we haven't seen something like this one, and we're pretty sure you might not have heard something like this either. In short, the humans of this dog had to search a lot.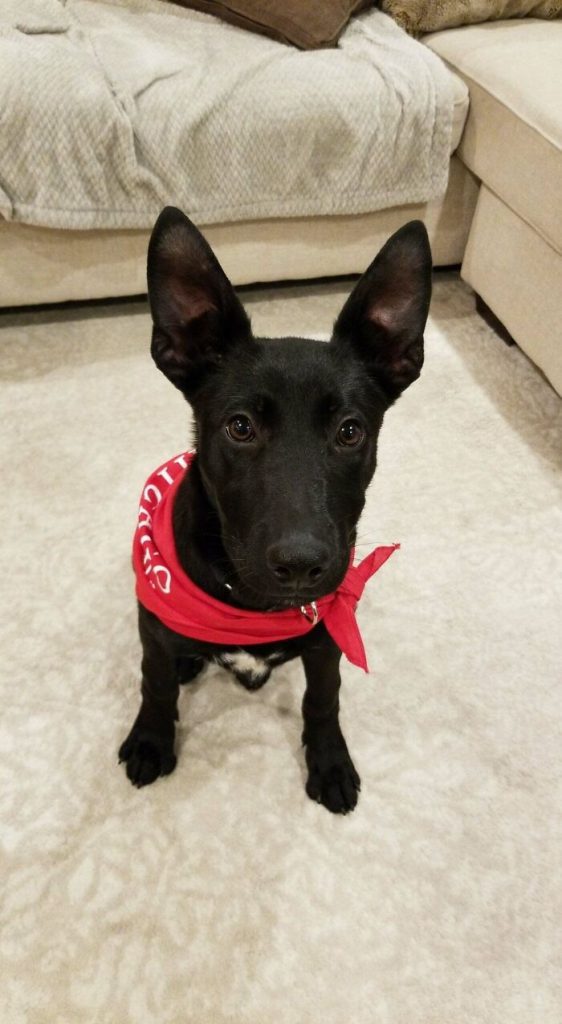 They applied for almost every pointy-eared pup at every shelter in their city. After many applications, they got approval, and you can see the pointy-eared puppy in this pic. As of today, she has been home for several months.
Awww!
Here's a kitten named Toby. Not to be confused with the Toby we read about earlier. The person who uploaded this photo had to go through a lot to gain Toby's trust and be his forever human, but we are really thankful that such people exist in the world.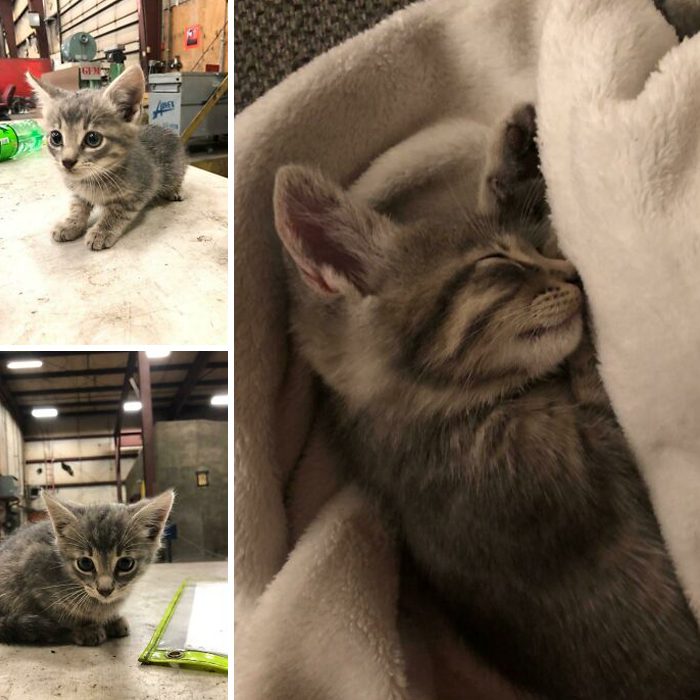 Toby's human found him under some pallets during a heavy rainstorm. The human had to sit in the rain for 40 minutes before he could gain baby Toby's trust. As a result of waiting so long, Toby came out and found shelter!
Multiplied
Ladies and gentlemen, you are all now looking at the photo of a wholesome dog that's staring into the camera with its loving eyes. Well, we need to congratulate her, since she has recently become a mother! Isn't that amazing!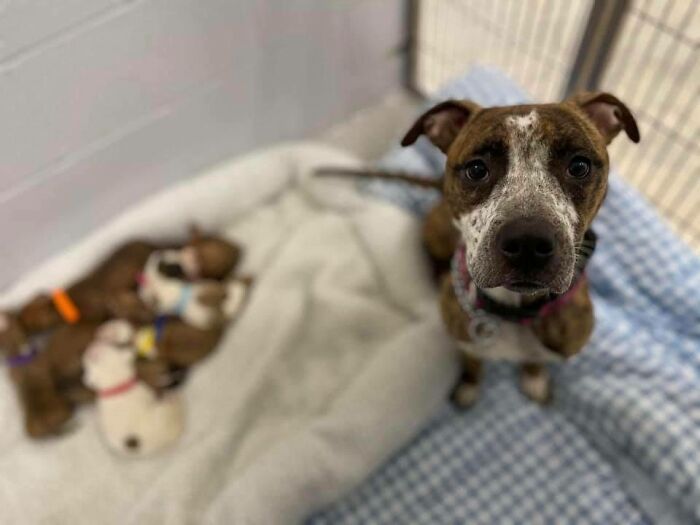 The dog's name is Emmy Lou, and up until this moment, her humans had only one dog to take care of. It did not take long before they jumped from one dog to 11 dogs. Emmy Lou gave birth to 10 of the sweetest puppies! Amazing fostering there!
Good find
What's with animals looking like emojis? This cat indeed looks like an emoji, right? We mean, the expression that's going on here, doesn't it have an awful lot of resemblance to that emoji with the sad puppy eyes that makes you want to do whatever you can to make it happy again.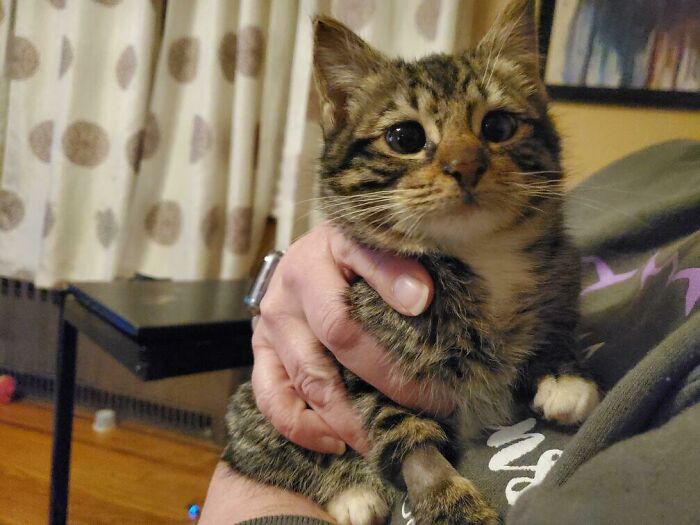 This cute and furry kitten was crying in the person's backyard who uploaded this image. It was a Friday night. That's when they found her, and that's when things changed for everyone because this cute kitty got a warm place to sleep for good!
Sleeping beauty
Meet Tuna. Tuna has recently found her home, and we can't be happier for her, and we're sure you can't as well! First of all, she's so little, and secondly, she's sleeping so peacefully snuggled in the lap of her human!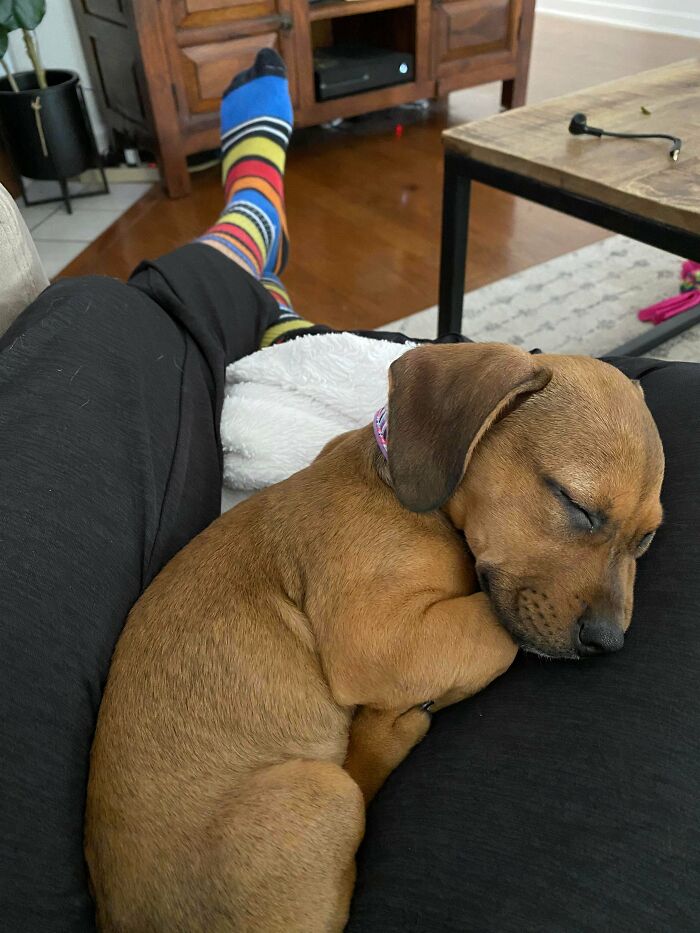 If there were an option or a technology through which we could have a real-life interaction with a photo, it would have been really useful here. That's because we're sure nobody can go without wanting to shower Tuna with affection!
Inseparable
These two cats cuddling each other is one of the cutest things we've seen on the Internet. Here's the thing about them. Apparently, their shelter made a rule that both of them need to be adopted together since they're inseparable!
If anything comes close to the amount of wholesomeness in this photo, it's the rule! Well, the cats are siblings, and guess what. These cats sleep like that every night! That's what's called inseparability. We know that they will find the perfect home to accept a two-for-one deal!
Confused
This photo is just amazing. We love the angle, the lighting, and of course, the cute doggo in the picture! How can we ever forget that? Meet Sanoi, a bewildered 14-week old puppy. There's a reason why Sanoi is confused.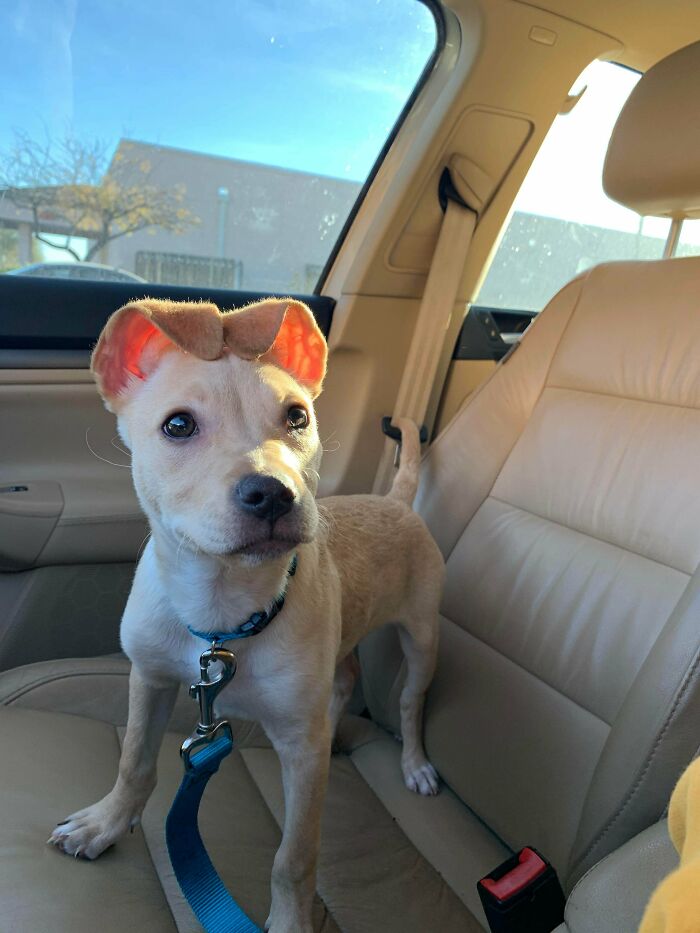 Well, Sanoi is confused because of a very serious matter. She can't seem to figure out what to do with those floppy ears of hers! They're charming, and they're unique as well. It does seem like something is going on with those ears.
Inseparable part-2
Wow, it's incredible to see how there are so many pairs of inseparable animals and how often we get to come across them! Just look at the way these two cats are sleeping. Isn't it adorable? It is just heart-melting.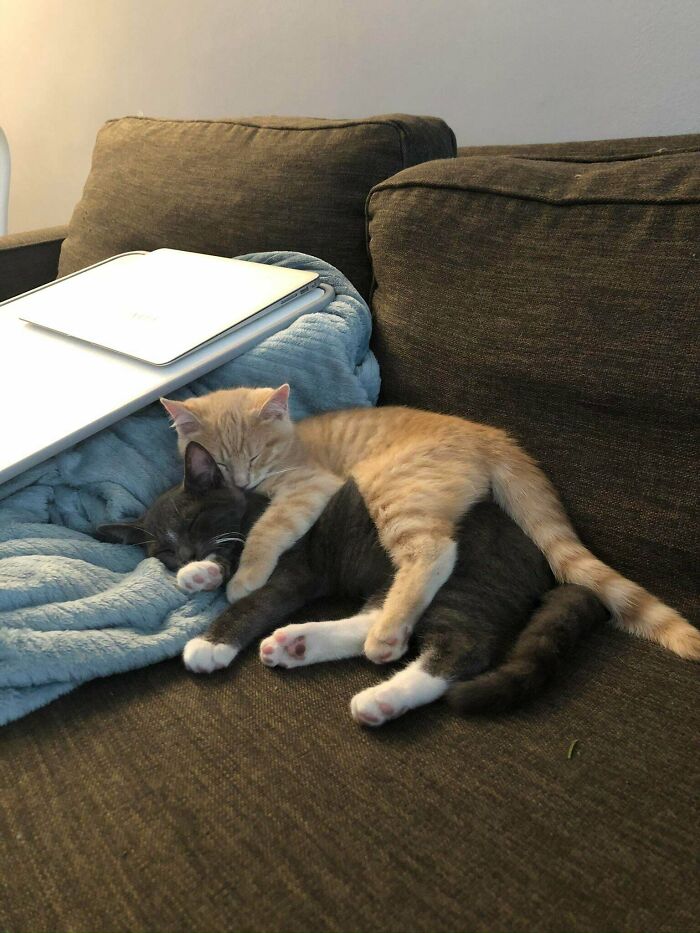 The story about these two cats is quite similar to the ones we have read earlier. This time, the owner was a bit hesitant when the shelter told them that they had to get two and not one. It did not take long for the new pet owner to understand well why the shelter told them so.
Something unique
Meet Salem. This photo was taken only a day before Salem joined his new family, and we must say that Salem looks really cute. There's something special about her. But we don't need to point it out because you can see her unique ears.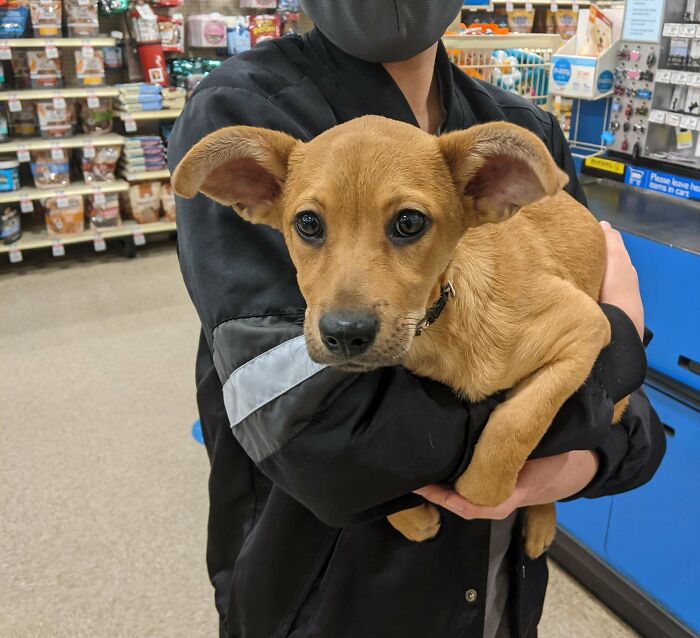 Don't her ears look like Yoda's ears? Or wait, do they look like Dobby's ears? Which one is it? We're confused. What do you think about her ears? No matter the resemblance, we can surely say that she is unique, wholesome, and a lucky doggo.
Insert wholesome emoji here
We have seen quite a few till now, and there are many more to go, but this has already gotten really, really sweet! There's nothing better than seeing an old and wholesome couple smiling and enjoying their lives! That's just so cute.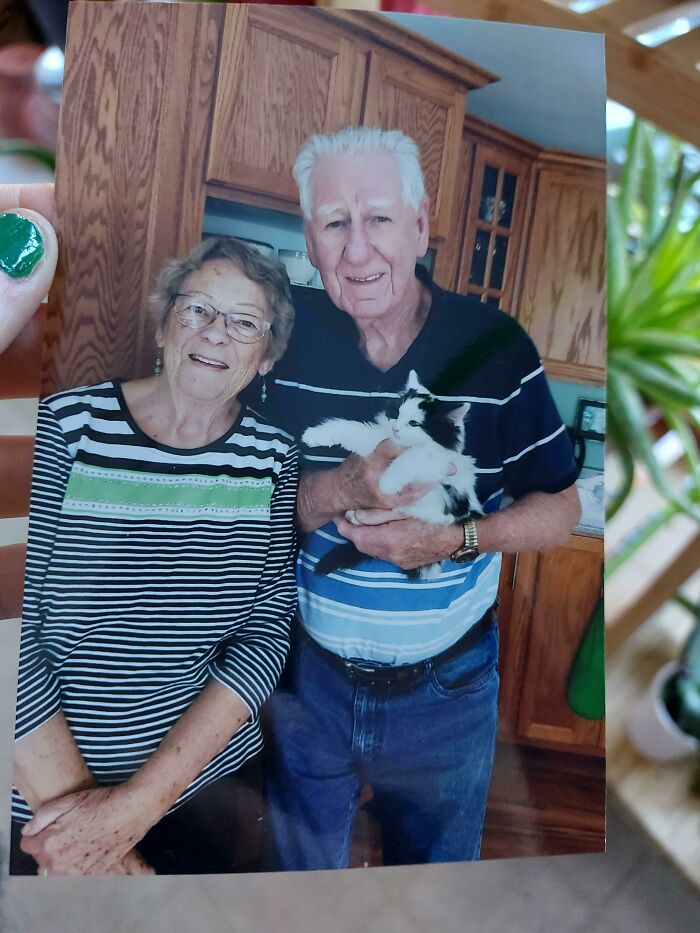 Here's what happened. As you can see in the image, the lady who uploaded this photo said that her grandparents had recently adopted a cute kitty. To introduce the new family member, the grandparents took and printed that wholesome photo and then sent it to her by post!
Heart eyes for you
This image looks like a still from shooting a very emotional scene between a human and a dog. Just look at how they are looking at each other! Also, the cute pupper has really beautiful eyes that are full of love.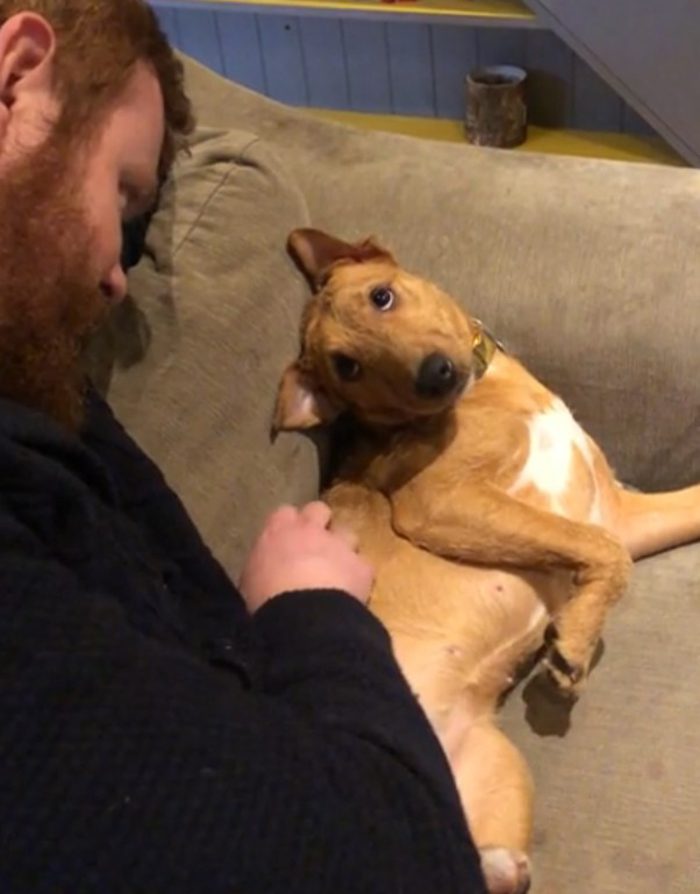 The woman who uploaded this image captioned it, saying, "How Our Rescue Pup Looks At My Husband." Even the husband looks at the rescue pup in the same way! It's pretty much mutual! There's a lot more love to come for these two!
Hearts
This time, we have quite the rare photo collage for you. Here's what happened. A couple adopted two kittens a week before this photo was uploaded. That's a really fantastic thing, but there's more! There always is.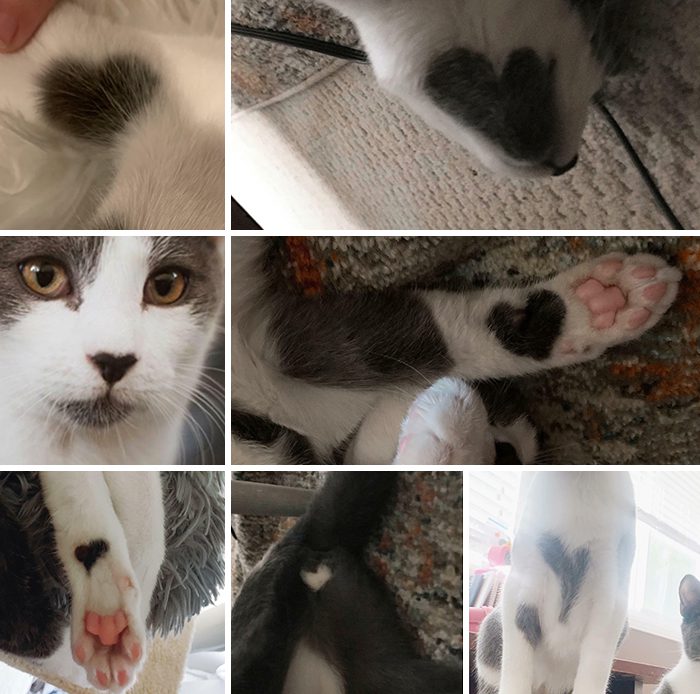 The kitten in this image is River, and, as you can see in the picture, he's covered in hearts. As captioned in the photo, the couple could find seven hearts on the little guy. Well, of course, they are still on the hunt and hopeful to find more!
Just what we needed
We have seen quite a few heartwarming stories until now, but here's a funny one for you. This person adopted a cat, but things seem different here, as we can see from this photo. What are your thoughts about this expression of the cat?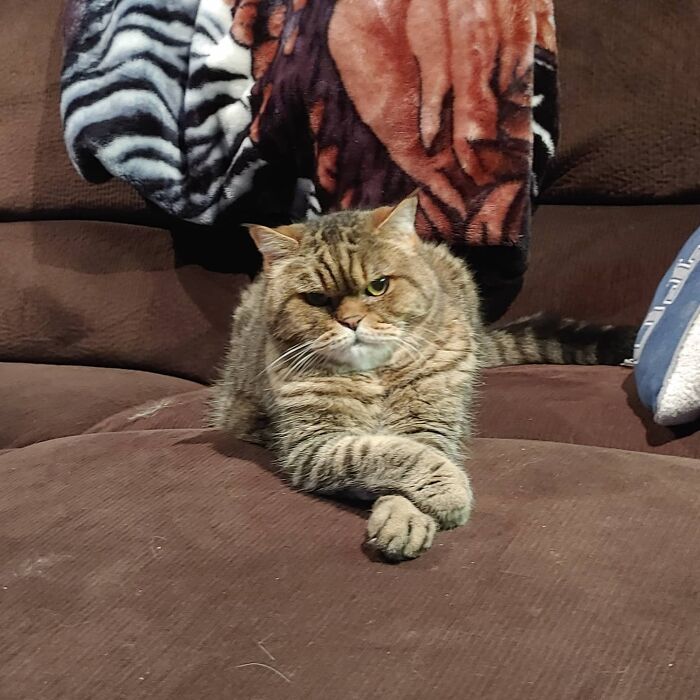 Well, it's almost like the cat is sitting there and judging the life choices of his human, which must be quite tough, and of course, hilarious for the human. We must say that expression is stern, and that cat has a lot of attitude, or cattitude!
Yayyyyy
Have you seen those memes with the template that says, "That moment when?" This next image should be combined with that caption and be used only to reflect only the happiest moments. This doggo is only giving off sweet, positive energy!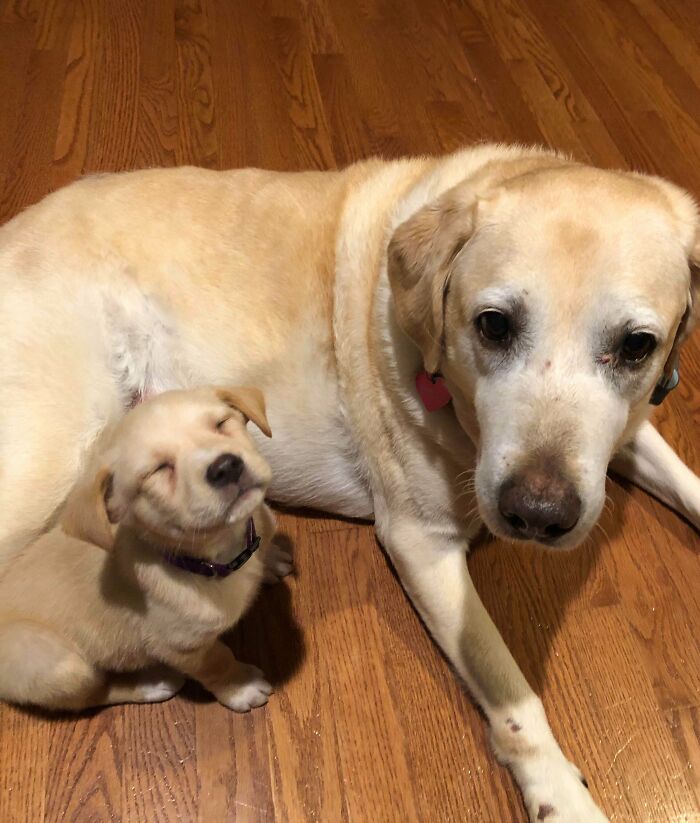 Just look at the amount of joy on the little puppy's face. It's just so pure! We won't be getting over this image anytime soon. It's almost like the puppy knows that it's in for a lot of treats, cuddles, and in the end, a good night's sleep!
Puppy eyes
We are blown away by this picture. We literally cannot think of another image that depicts "puppy eyes" so appropriately. This ladies and gentlemen, is what you call puppy eyes! This dog is the master of getting anything he needs.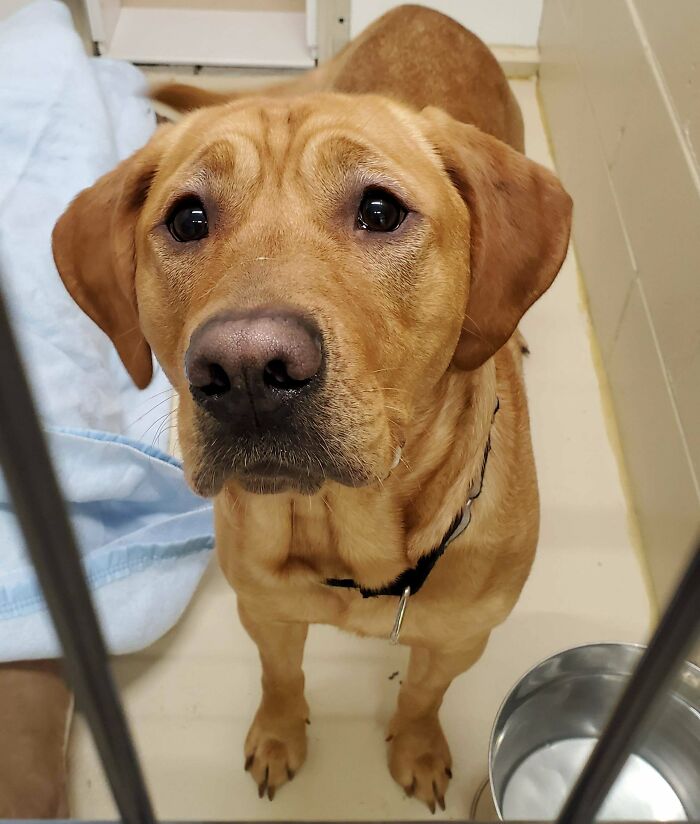 If you have an expression like that, how would anybody ever say no to adopting you? He's also wagging his tail really fast, which is why it looks so shaky in the image. This guy is Axel, and he didn't have a problem getting adopted.
Need some help
This person recently adopted this adorable kitten that you see in this image. He was trying to put the little kitty to sleep so he could work on his assignments. This, friends is a stalemate. Nobody can move, so it is a draw. Just kidding!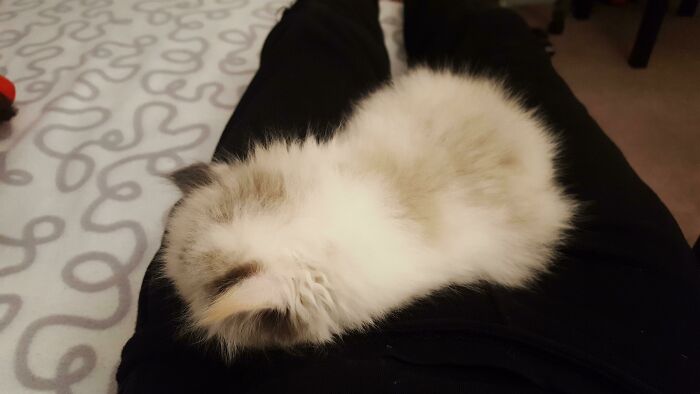 But, the main question is, how is the guy supposed to get up and do his assignments when he has a cat sleeping on his lap? These moments are one of the best reasons we should get ourselves a fur buddy!
A wholesome moment
We are glad that we live in a generation where there are mobile phones, because thanks to technology, we can record all the wholesome and memorable moments, just like this one. Just look at the amount of happiness on the cat's face!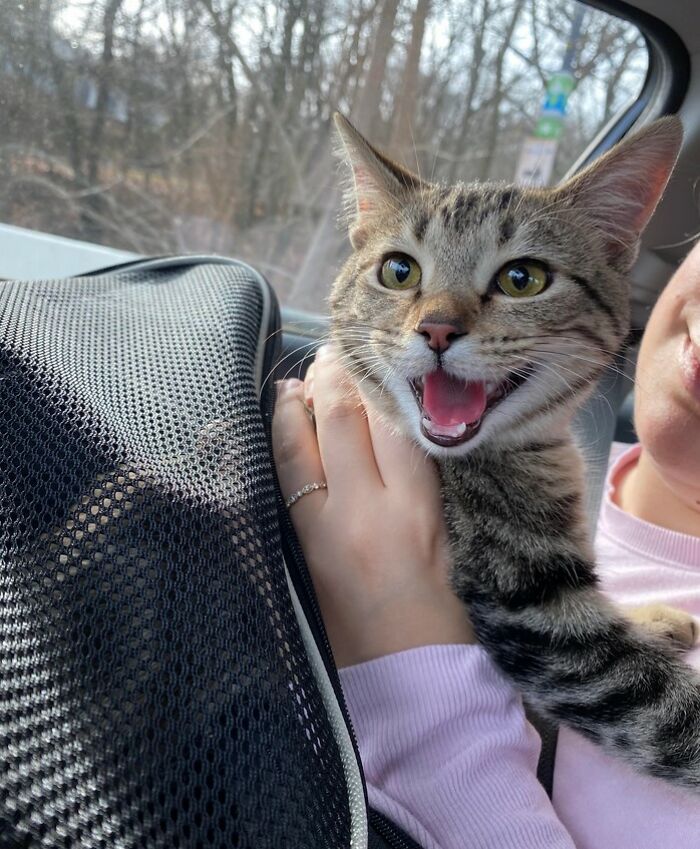 The cat's name is Cece, and this photo was clicked on the day she got adopted! She looks delighted about the fact that she's going to a new home! If we had a video, we could surely hear some meows of happiness.
I'm tired
That's exactly what this image says. The cute cat looks tired, doesn't it? Haha! This guy has a weird name, which somehow also suits him really well. Mind taking a guess at it? Well, his name is Bug. Yes, Bug.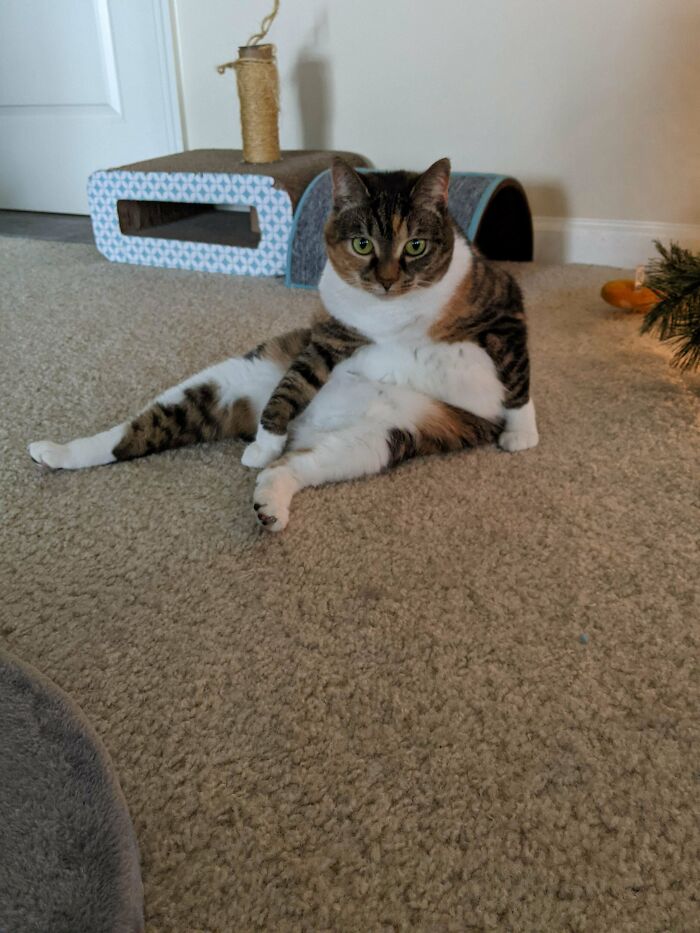 You read that right. His human captioned this image by saying that adopting Bug was the best thing about 2020. That's a really good thing because we all know how tough 2020 was for all of us. Life in 2020 must have been easier for those who were living with pets.
Lots of love!
Why is this cat peeking through a broken wall? We're not really sure about what's happening here, but we can surely say that it makes for a fantastic photo, doesn't it? Also, do you know that it has been more than two years since they adopted this guy?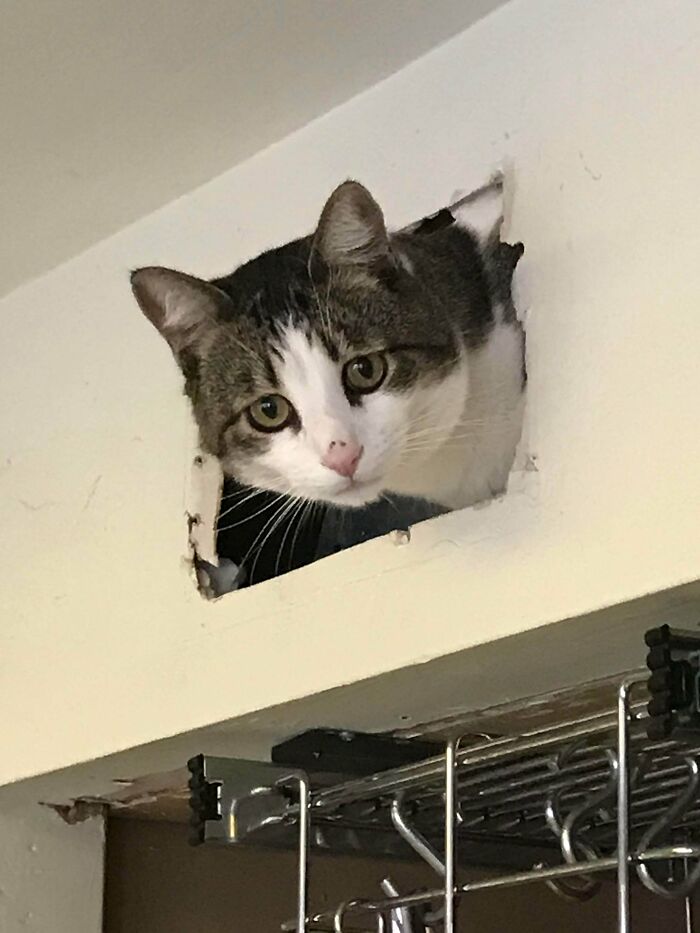 This cat's humans also captioned this image by saying they love him so much. All of us here can't be happier for both the cat and its humans! Also, the way this cat is peeking through the crack in the wall makes him look mischievous!
Cute little cat
The adoption story behind this cat is quite a tragic but positive one. This couple shared a lovely life with a cat who passed away. They were devastated by their sudden loss. It took them three years to decide to go to the shelter and share their love with a new deserving cat.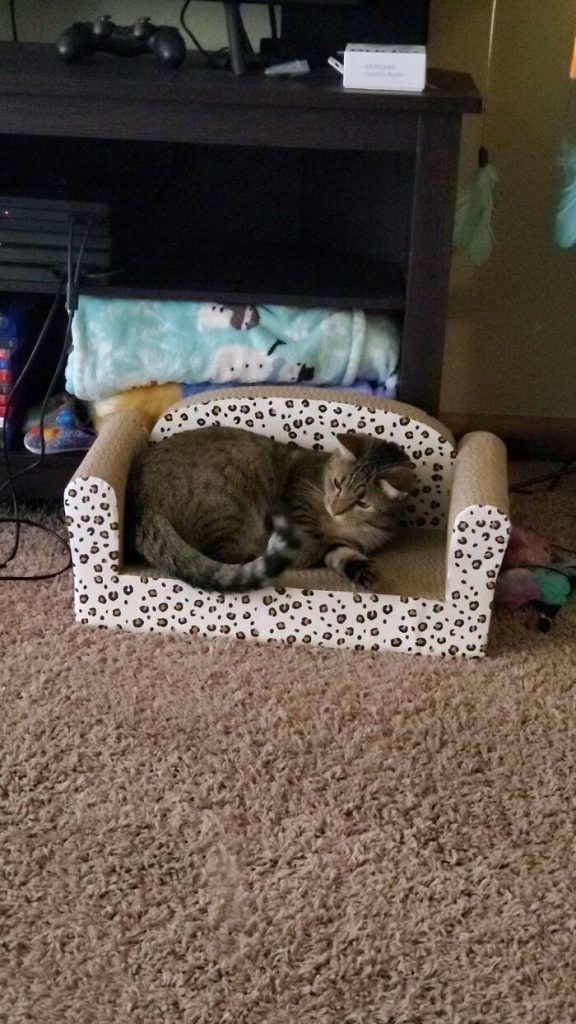 The new cat's name is Mouse (wow), and her humans already love her very much. They also said that she's a bit weird, but hey, that's the problem with many cats! We can't get over the cuteness of this image!
Another one
Guys, meet Lemmy. Lemmy is a rescue dog with a deep story. Before Lemmy's humans rescued him, half of his teeth had to be removed due to maltreatment. But that doesn't change anything about this peppy guy because he's still the cutest!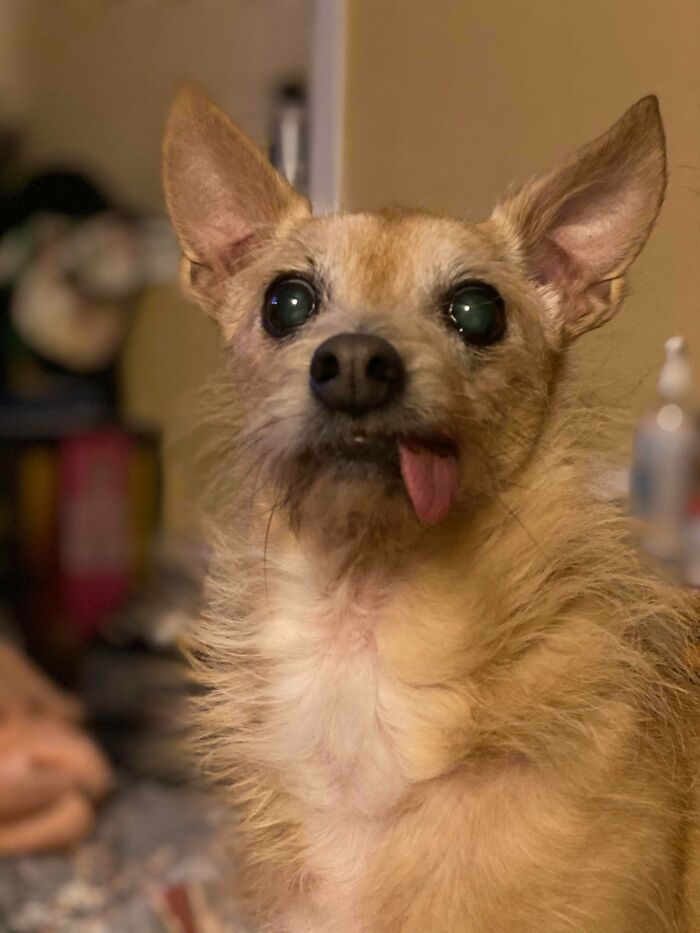 Although it doesn't change so much because he's so cute, it does change one thing. Because of that, he can't keep his tongue in his mouth. That's the only thing. He's still amazing, and isn't his cute face like an emoji?
She's adorable
The person who uploaded this photo captioned it by saying that they had just adopted a kitty. The kitty is eight months old (older now) and is a timid one. Well, from this photo, we can tell that the kitty is shy.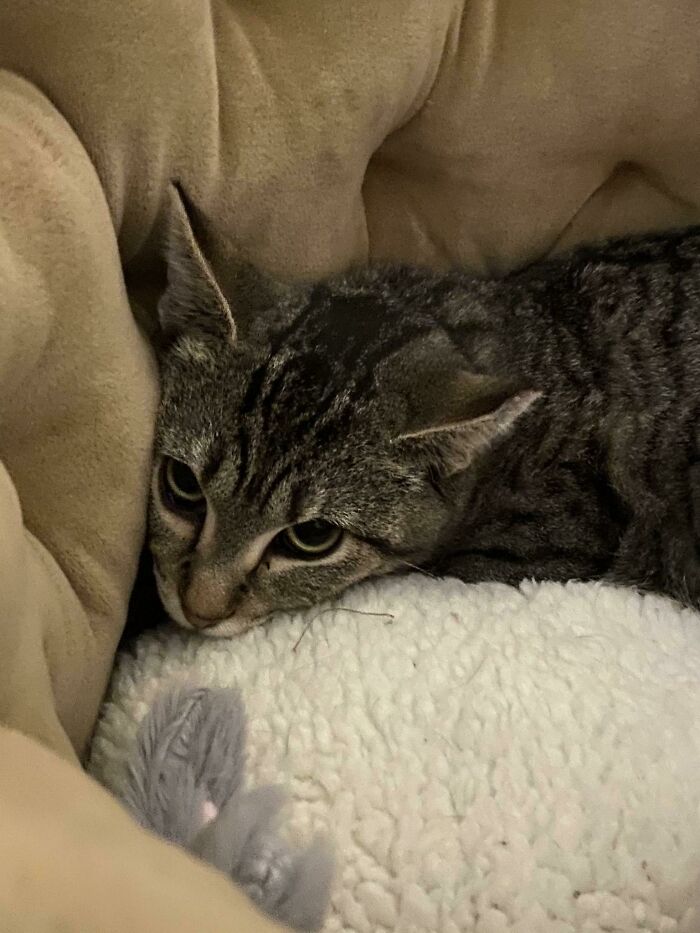 It happens. The best part is that this kitty now has a forever home. Also, since the photo was posted quite some time ago, there are high chances that the kitty would have settled in really well with her humans by now!
A good night's sleep
This cat's human got the cat from a shelter. Now, Someone else had already adopted the cat once before this guy adopted it. Due to anxiety issues, the poor cat had to be brought back to the shelter. That was then, and this photo is now.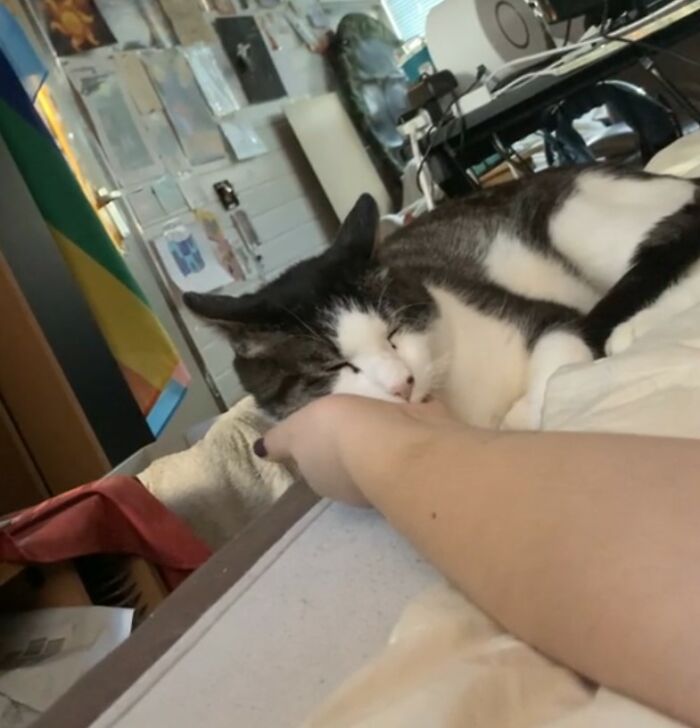 As you can see, the cat is in its favorite position since that's how it likes to fall asleep. We can also see from the image that the cat isn't anxious anymore. In fact, it's as relaxed as it can get. Wow, the cat and its humans have come a long way.
Who rescued whom?
This photo is of a rescued kitten. The person who uploaded this photo captioned it by saying that they rescued a kitten during the lockdown, but instead, the kitten ended up rescuing them. How cute is that! Have a look.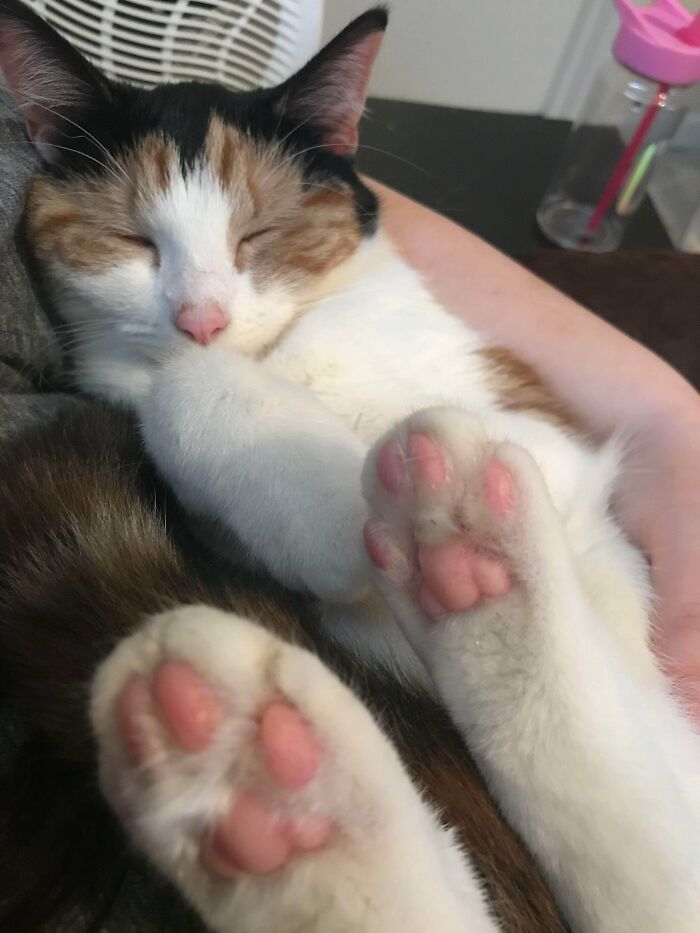 Well, you know what? That's actually how rescue pets work. It's beneficial for both parties. You rescue a kitten by providing it home, and it does all the magic after that. Your fur buddies are always going to be there for you at the end of the day.
Icebreaker
This child looks somewhat alarmed upon seeing the kitten. She pretty much is because she wasn't aware of the kitten's presence. This little girl's parents had recently adopted the kitty, and the parents were revealing their new pet in this photo.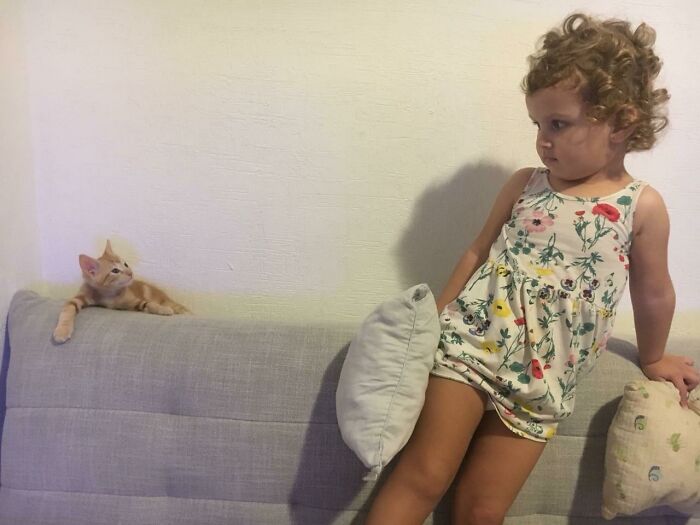 The photo that you see above is of the moment they first met. It is magical, right! Although the girl and kitty look a bit apprehensive of one another, we bet they would be best friends by now. It is always so much fun to grow up with a kitty in your home.
All the way
This black kitten looks so cute, sleeping all cuddled up in his human's arm! He's a rescue cat from Alabama. He was picked up from there, and he had been sleeping in his human's arm from Alabama to Florida! Wow!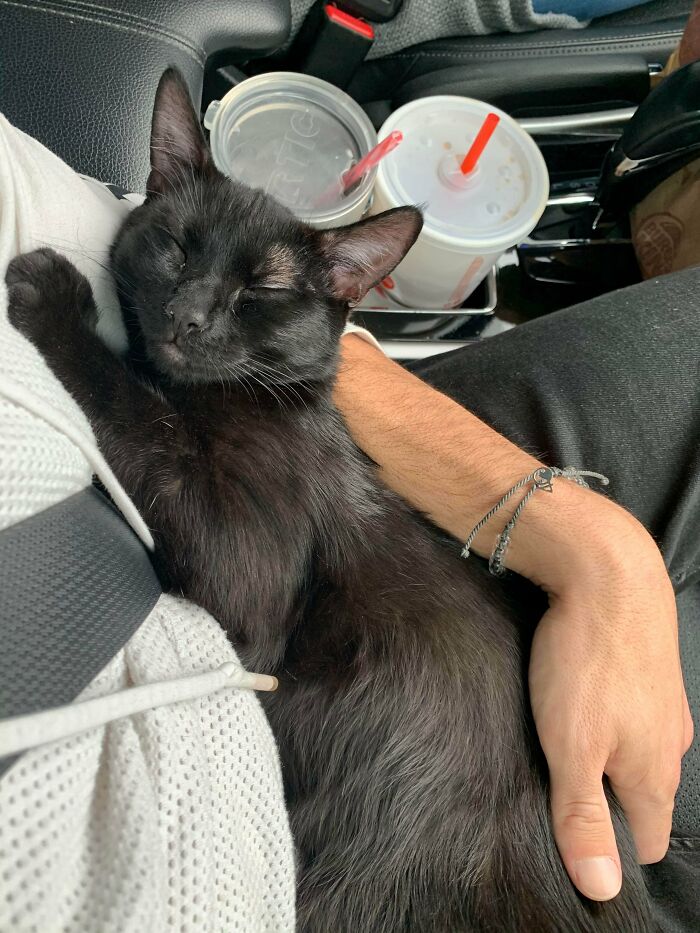 For those who don't know how that journey would be, you can still guess that it'd be long, right? Well, to be precise, it's almost a 9-hour car ride from Alabama to Florida! The kitten must have had quite a nap during the journey.
Aesthetic much?
Can you guess the name of this pup? Sorry, that'd be a really long shot, even if it's a common name. Well, the name isn't so common! Anyways, meet Sunnymae, a newly adopted rescue pup! Sunnymae is a really photogenic pup.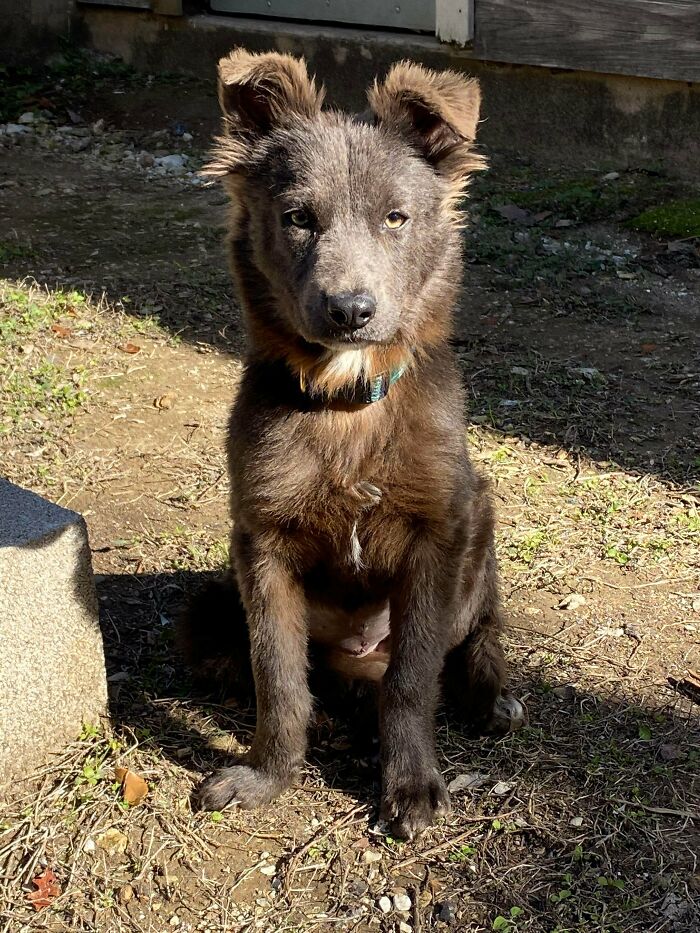 Sunnymae is also very beautiful, and his aesthetics are just so different! The ears are unique, and it looks like Sunnymae has a quest for us (gamers would understand!). Also, we can't get over Sunnymae's cute paws! Doesn't this dog look like a bear as well?
Opinions?
Take a really good look at this image. Now, we know the cat is really cute with big button eyes, but we have a question for you here. The question is, do you think the kitty is happy that her human adopted her?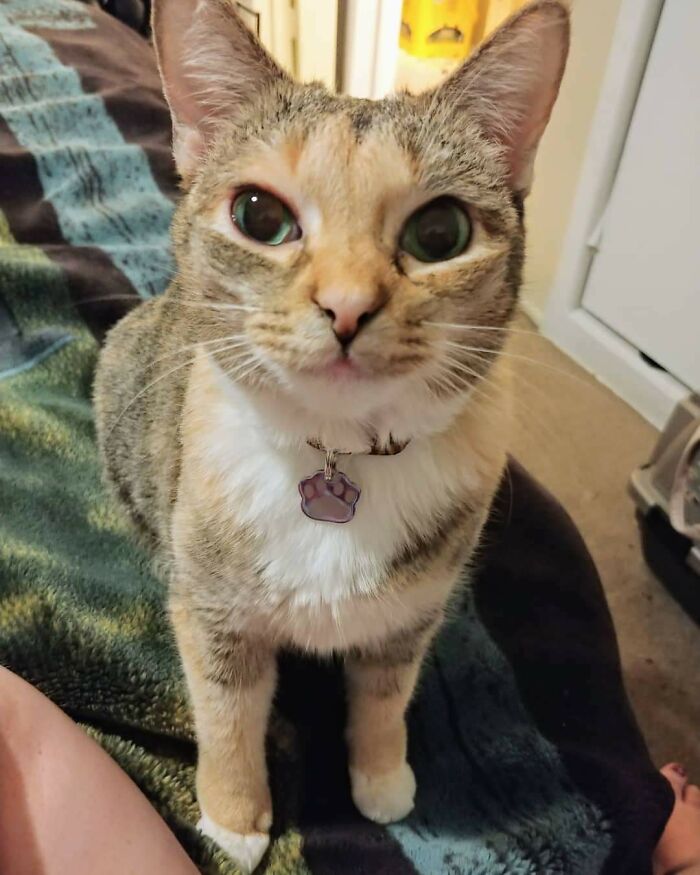 It's just a trick question, and we aren't asking you that! The human of this kitty, the person who uploaded this photo, is asking this question! The kitten has quite the judgmental look going on. Hence, the confusion is pretty much understandable!
Goku
There are two types of people in this world. The first type consists of those people who love dogs, and the second type are those who love cats. This person is definitely not the second type, but he still rescued a cat!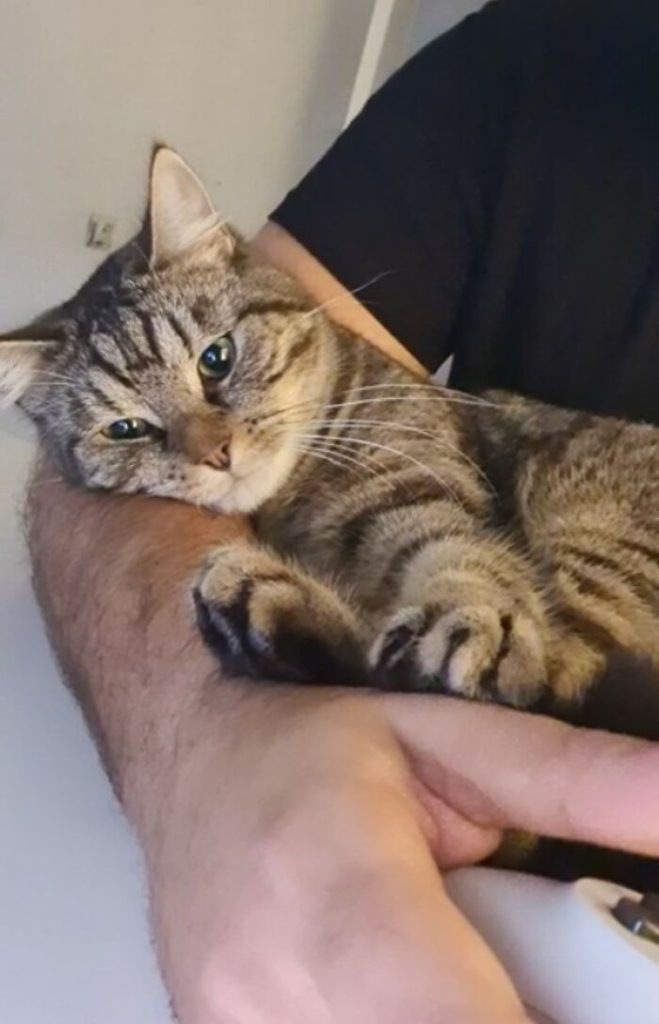 He also has a really nice story behind that. He never wanted cats, but he promised his girlfriend that he'd get her one if she moved to where he was living. Well, she did, and then he kept up on his end of the promise. So, meet Goku!
An update
This human and his dog look really happy being with each other. Who wouldn't be happy when there is a cute doggo with them? This photo is a third-month adoption update. It has been three months since this person adopted the doggo.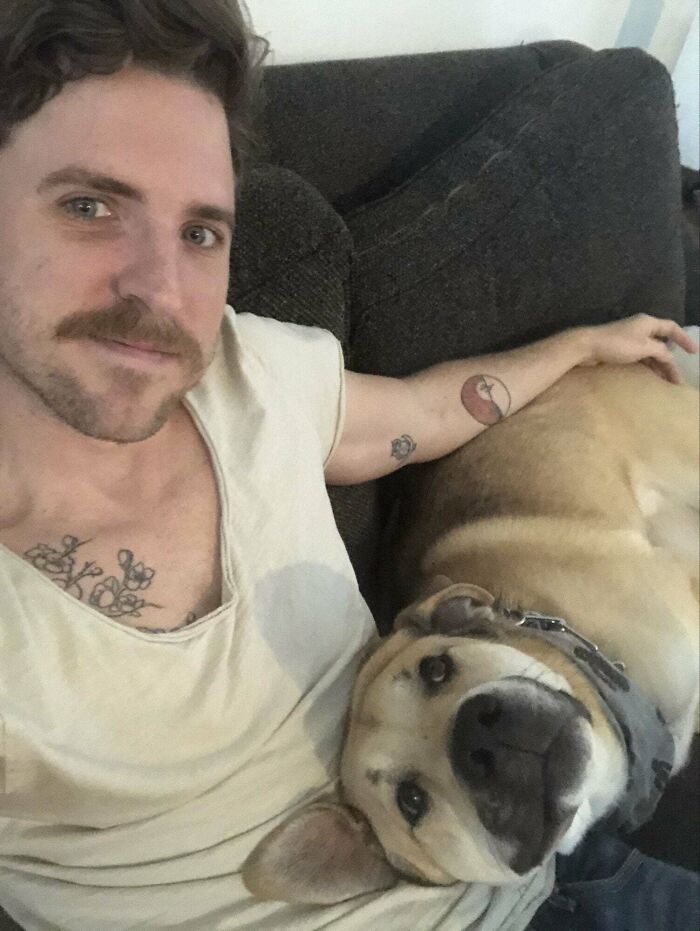 According to his human, things are going well between the two, and his doggo is a certified cuddle bug. Well, if you ask us, the dog would have been a more-than-certified cuddle bug from the first day. Not the first day of adoption, but from the first day of the doggo's life!
Astonishing
We have another question for you, which of course, we are asking rhetorically, but we're sure many people would be curious about. Take a good look at this photo and take a guess about the mix of this cute dog.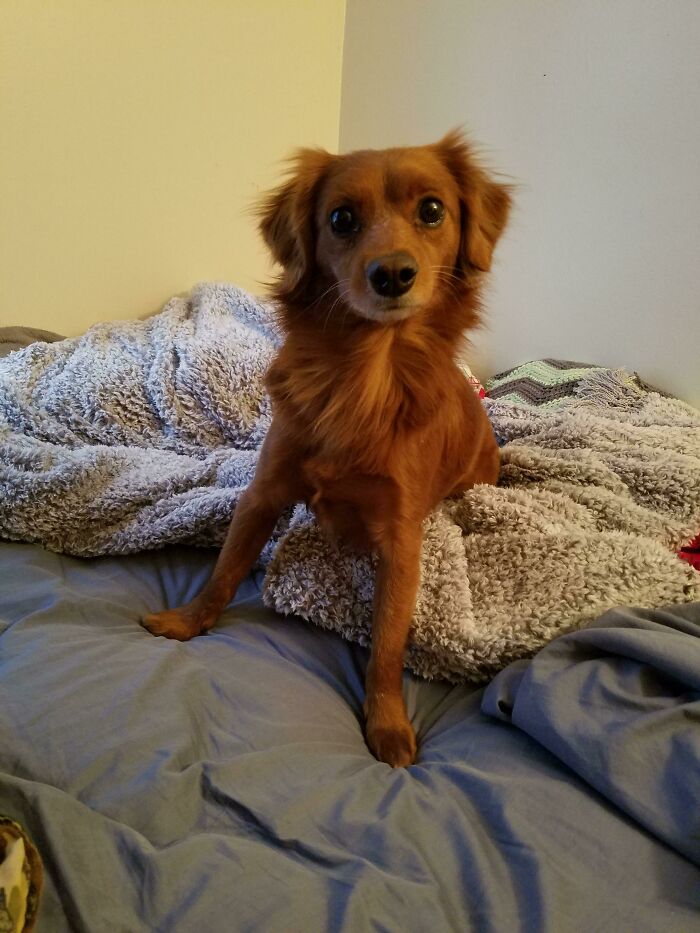 What do you think? Well, truth be told, the mix of the dog doesn't really matter since all that matters is that it's a furry cutie who would shower you with all the love. This adorable boy is a rescue who was also picked up from a shelter.
Happy!
Look at this happy little doggo wearing a cute red shirt! His name is Waffled (Aww!), and his eyes are full of love. He seems to be really happy since he has found his new forever home. Looking at this just melts our hearts!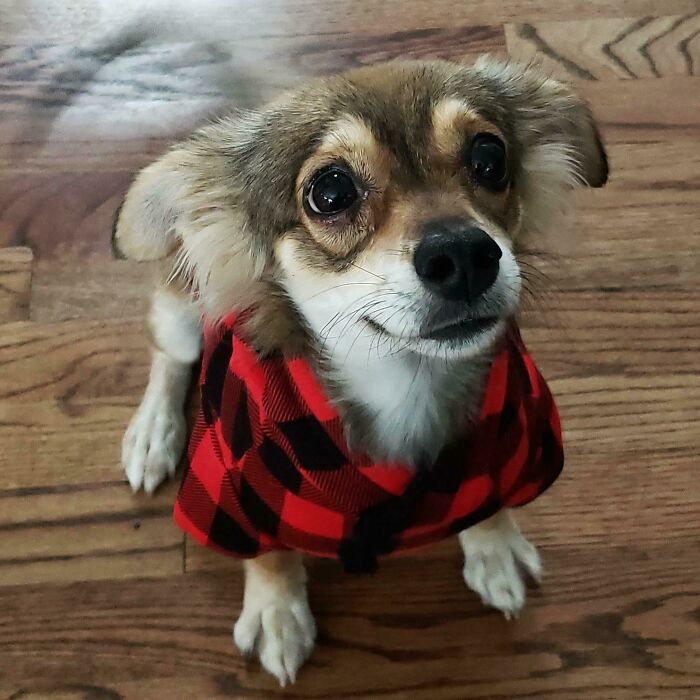 Also, Waffles is quite the fashion icon. We can see that because he looks dapper in the red shirt. If you look at the image closely, you can see a really shaky tail. We assume that Waffles must be wagging his tail fast in excitement!
Boop!
This one is titled 'Boop!' since we know what every cat lover would feel like doing after looking at the photo of this perfect rescued kitty. Have a look and let us know. We were right about it, weren't we?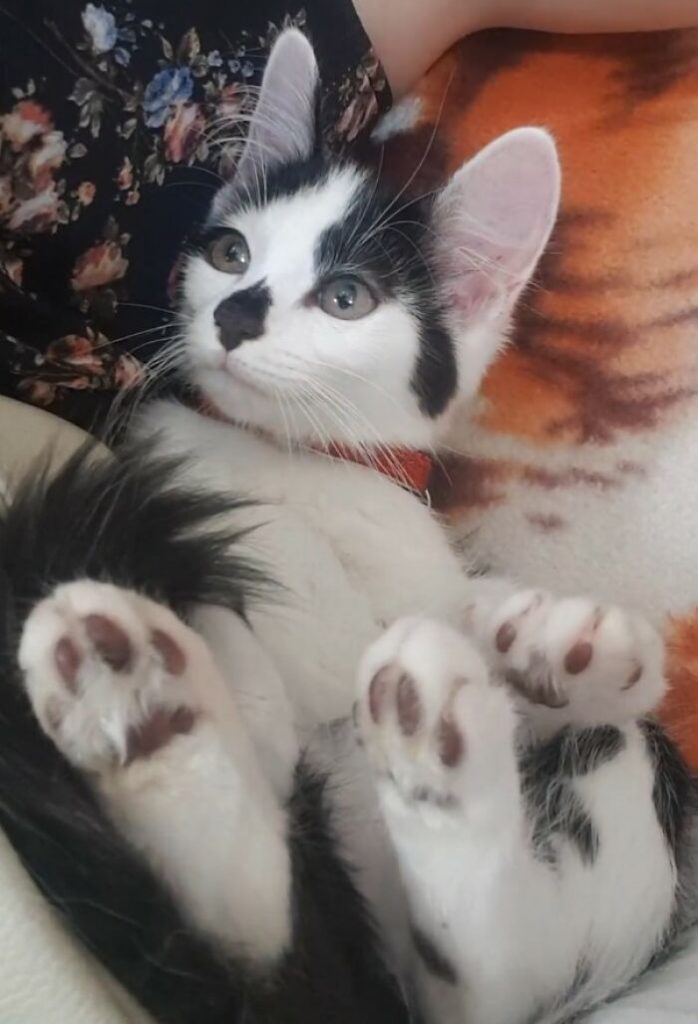 Who wouldn't want to boop that nose! Also, look at those cute paws and, of course, those sideburns. They technically aren't sideburns, but they still look pretty much like sideburns, don't they? We can't really seem to figure out the cat's eye color. Can you?
Couple goals
The person who uploaded this photo had adopted one of these cats (the orange one) during the lockdown. It wasn't just that it looks like the cat came home to meet her long-lost buddy. You can see from this image that they are pretty much inseparable.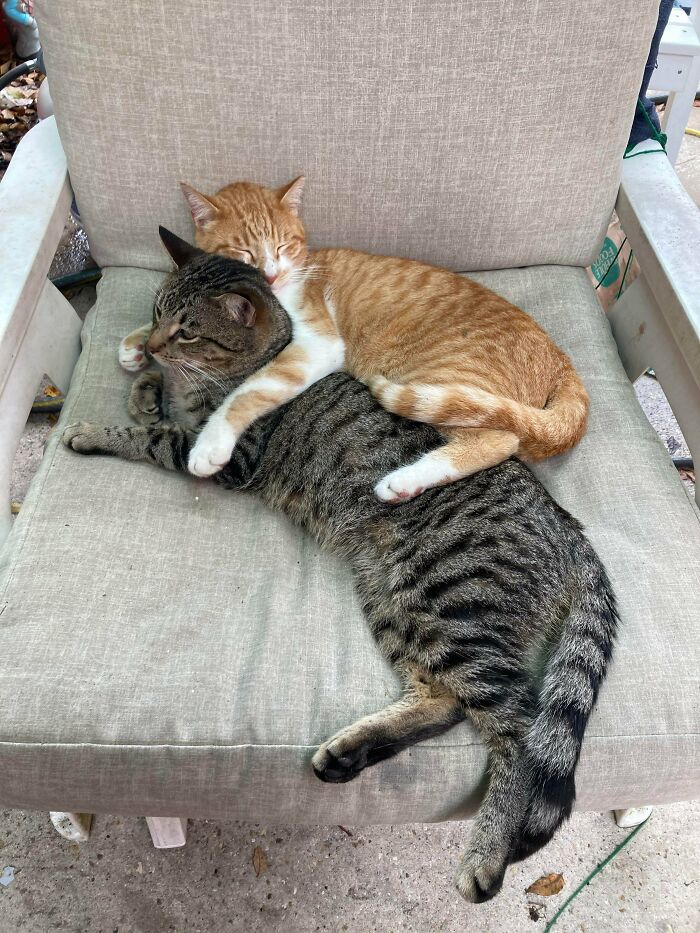 The male cat looks like he wants to run around, but he won't do that because the other cat would wake up if he ever left her side. How considerate is that! We are glad to see such a wholesome photo of these soulmates.
A good decision
Meet Willow, a cute little rescue pup. The thing is that the wife wanted a puppy, and the husband wanted a rescue. So, they both combined their decision and got a rescue puppy, as you can see in this image!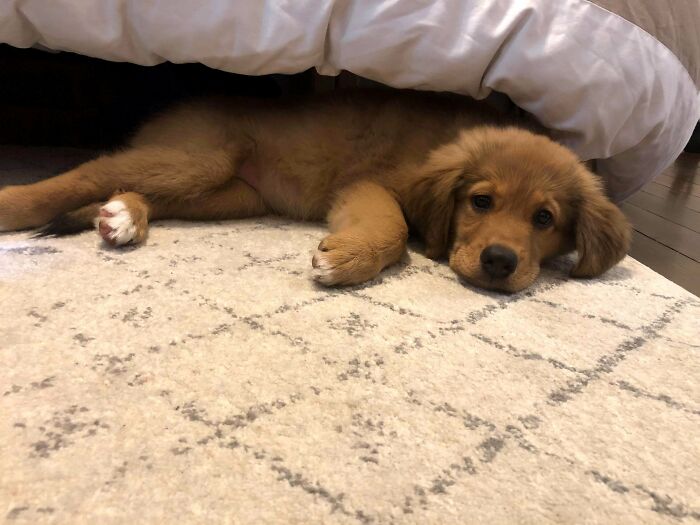 And we'd say that it's a fantastic decision. Adopting animals is one of the kindest things we can do, and when we do that, we are in for a lot of happiness and cuddles! Look at Willow. He's a fluffball who will receive a lot of love from his humans!
Hello there!
Meet this cute kitten, who's just twelve weeks old! The little guy is curious and adorable. Cat paws are the cutest thing ever. Look at those tiny little paws! The people who got to adopt this little kitten must be fortunate.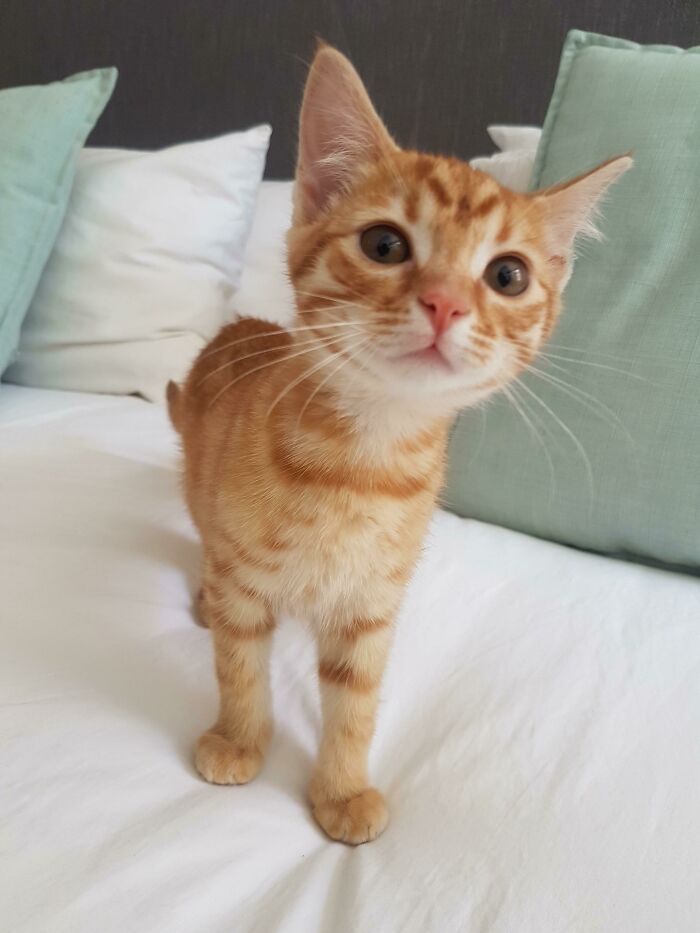 Those whiskers make the little cat look all the cuter. We are sure that this little boy will be a spoiled but affectionate brat within a few years! Also, we know another thing for sure: these humans wouldn't want it to be any other way!
In the snow
If we'd just take a guess or a long shot, we'd say that this dog could be a mix between a Rottweiler and a Border Collie. That's just a random guess because its eyes largely resemble those of a Rottweiler.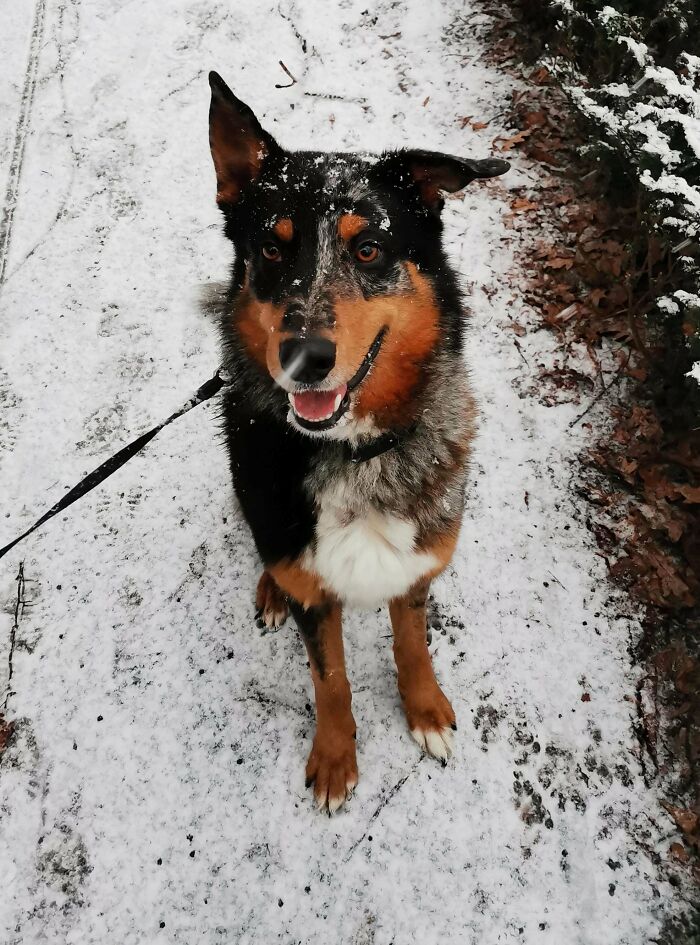 The breed or the mix never matters, but it's fun guessing, isn't it! His name is Fussel, and that's a great name. His humans had been searching for a dog for months, and then they finally decided to adopt Fussel!
Time to click a selfie
It's not really a selfie, but let's just go with it because this kitty is so adorable! She's a rescue cat who seems to be delighted that she just found her new forever home! Or should we say "furever" home?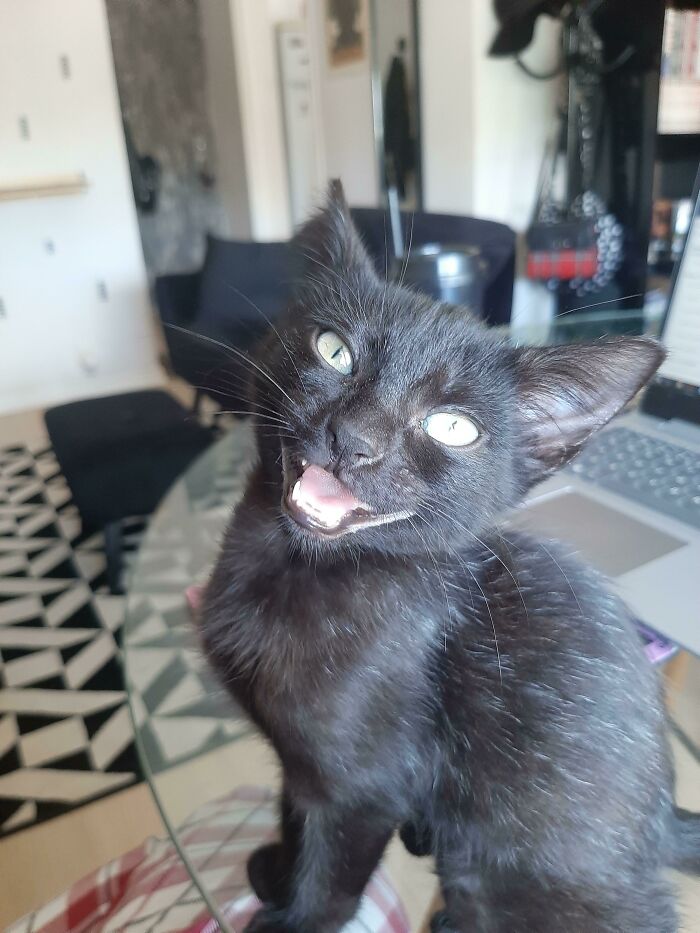 We think that if she could speak, she'd thank her humans for adopting her, but she'd immediately let them know that she's the queen. She would start by claiming her demands and making changes, and her humans need to follow her rules. How cute!
Cute ears!
Pointy dog ears are just so cute and unique! Meet this puppy with pointed ears. It's a mutt puppy that was rescued from a shelter. Just look at how happy it looks! It's happy about the fact that it's living with some amazing humans!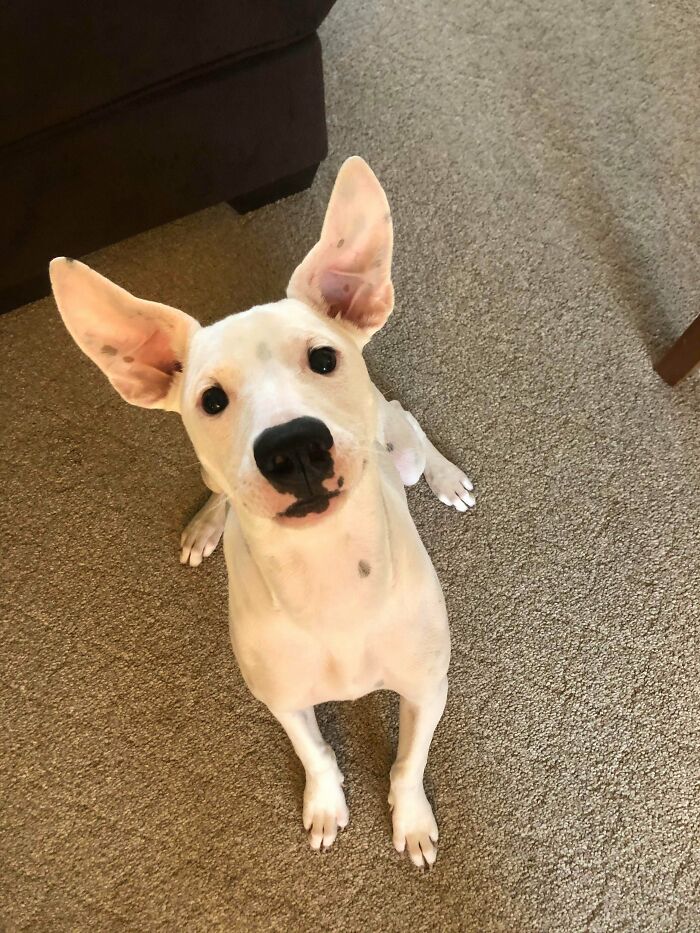 The person who uploaded this photo also captioned it, saying that shelter dogs are the best. To that, we'd say that you are absolutely right. Shelter dogs, and literally every single dog, is the best dog. Dogs, thank you for existing!
Judging you
The dog on the right is a 2-year old Doberman, and the dog on the left is a 3-year old Boxer. Both of them are rescues, and both of them are, of course, adorable. The person who uploaded this photo has an interesting backstory.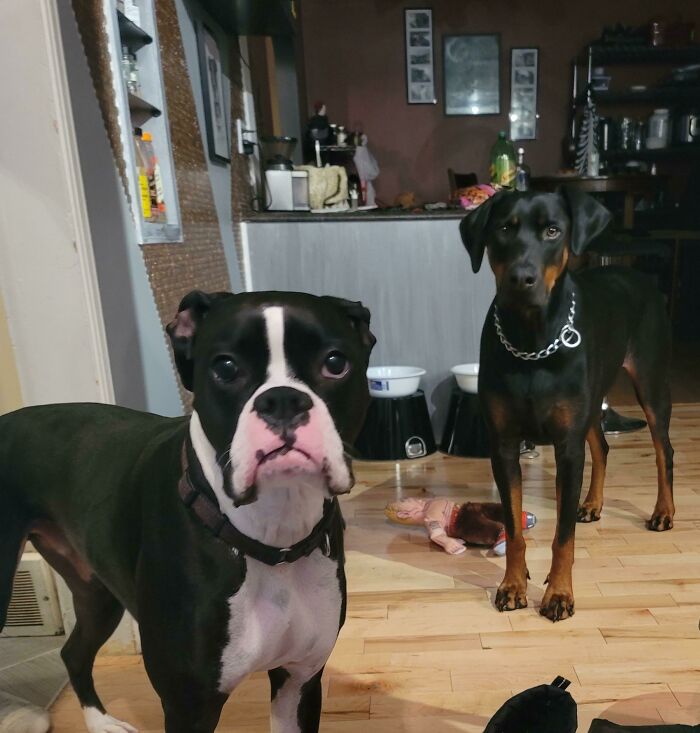 Just look at the amount of intensity in the eyes of both these cute dogs! The person who uploaded this photo had recently adopted the 2-year old Doberman to join the 3-year old Boxer. Well, these dogs are disappointed in their human for stepping out of the house without them, they're part of the gang now and want to be involved in everything!
Well…
It looks like there has been a bit of mix-up here because, although all animals are equally outstanding, we have mostly been seeing cats and dogs here. This one seems strange because we don't know whether it's a cat or a frog!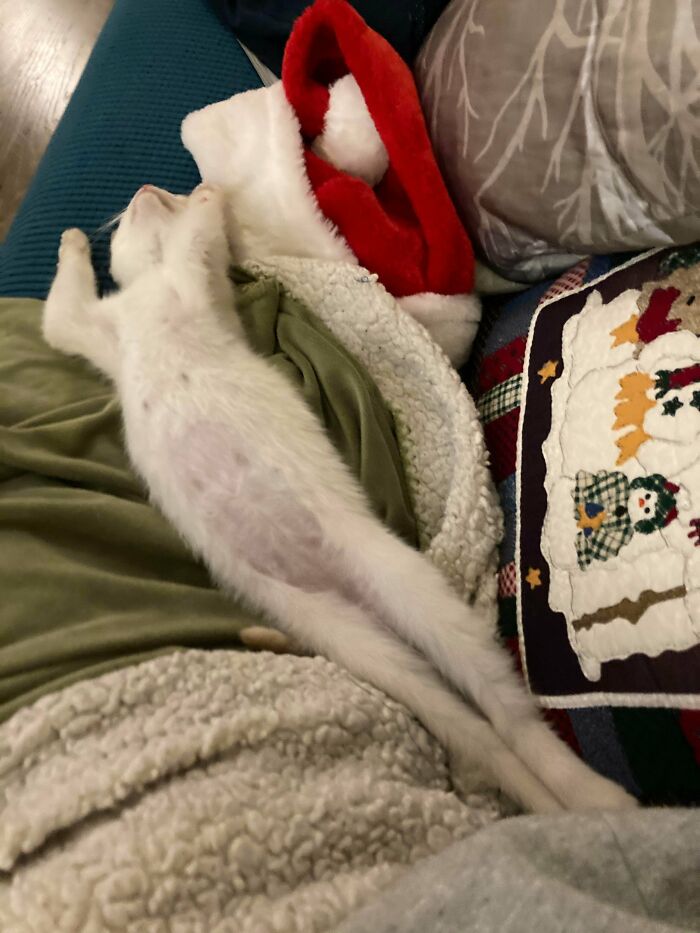 If you look at its face and paws, you'd easily be able to tell that it's a kitty trying to get a good stretch, but if you look at its body and its hind legs, you'll be in an awful lot of confusion, because it pretty much looks like a frog—great disguise little one.
Find me
Before beginning, we have a task for you. There are two cats in this picture, not one. Try spotting the other cat. There are two black cats in this picture to make things easier for you! Did you find the other one?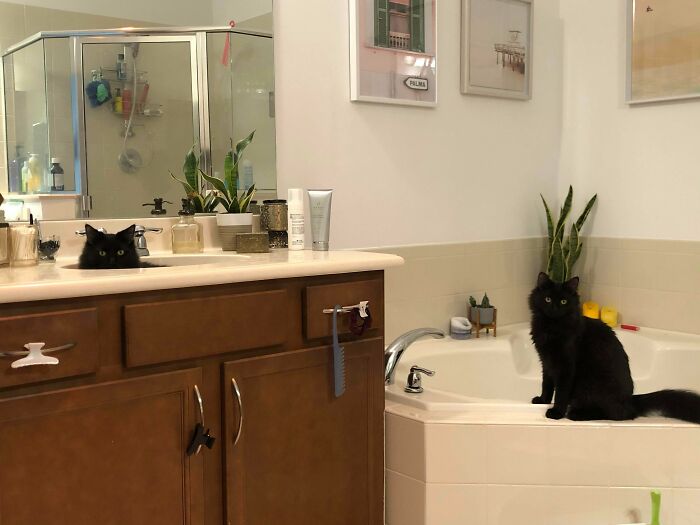 There it is! It's understandable if it took you time because it also took us time! This person had adopted only one of these cats. It was not long before they went back to the shelter to adopt the second cat, who happened to be his brother. No one wants to be responsible for tearing a family apart!