35 Festive Felines That Deserve Their Own Tree
By Farah J October 2, 2022
---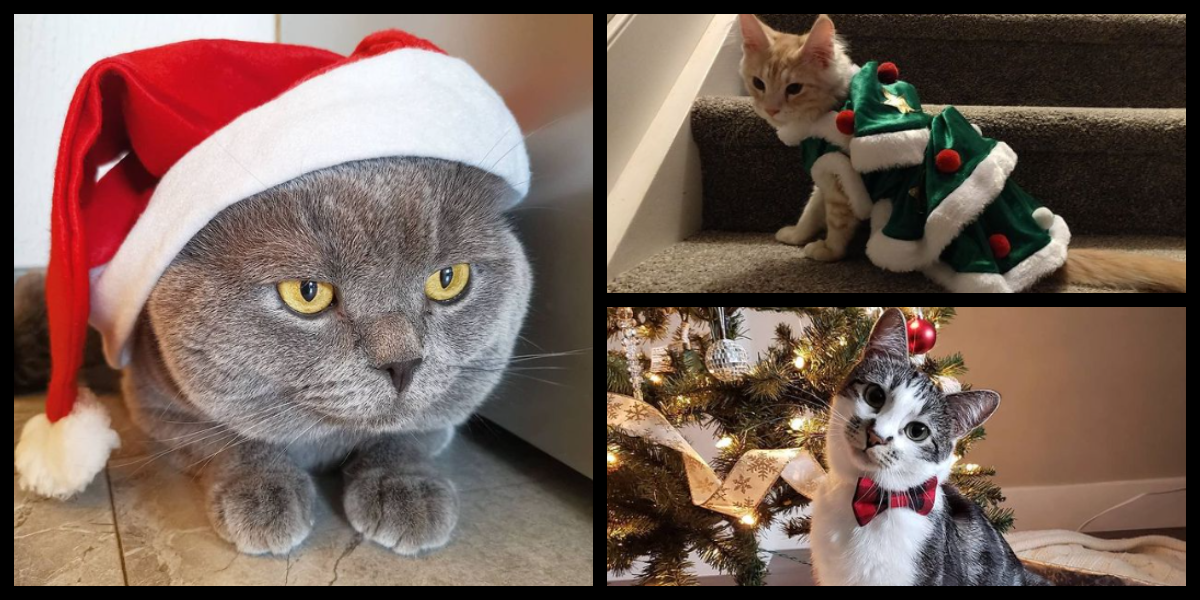 For many people, Christmas is the best time of the year by a long shot. Family and friends get together to enjoy one another's company, hot cocoa flows abundantly, the fire crackles next to you as you nestle under your warm blanket, and of course, who could forget the presents!
You should know that cats are no different from humans when it comes to Christmas. With the sparkly fairy lights; the huge, bushy Christmas tree; the round ornaments and decorations; the warm cuddles with their humans all day long; and the toys (the toys!!!!!), how could they not love the holidays?
Don't believe us? Well, we have a bunch of pictures that prove Christmas is for cats! These festive kitties could warm the heart of even Ebenezer Scrooge!
A Christmas ornament
Cats love to hide in the weirdest of places. You can get them expensive racks or build them little bedrooms, but nothing attracts them more than a shaggy tree! This is one of the reasons why cats love Christmas: they get to climb up the trees and chill out on the branches.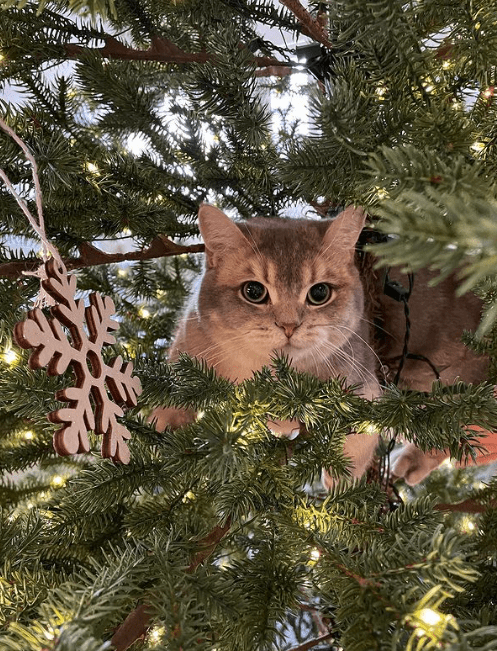 Mr. Chebs, a chubby cutie, has built himself a house in the Christmas tree. So, dear humans of Mr. Chebs, if you feel piercing stares on your back like someone is watching your every move, chances are you'll find your cat in the tree.
Grinch's new apprentice
We all know how the Grinch works alone, lives alone, and wants to be alone all the time. The only companion he has is his dog. Now, maybe it's the adulthood talking, but this sounds like a perfect life to us. Still, we would need a cat as an apprentice.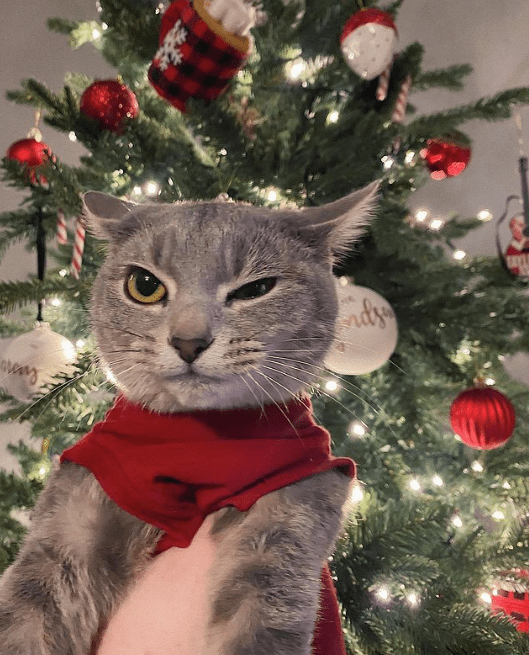 Just like this one! This gorgeous, gray feline is a natural apprentice for the Grinch. If the Grinch doesn't take him in, we will! We can already tell from the suspicious expression on this cat's face that he doesn't believe in Santa.
Guardian of The Polar Express
One of our favorite Christmas movies to watch is The Polar Express. When we buy Christmas decorations, we even like to add a toy mini electric train to the list. It is a cute element of décor under the shiny Christmas tree along with the presents.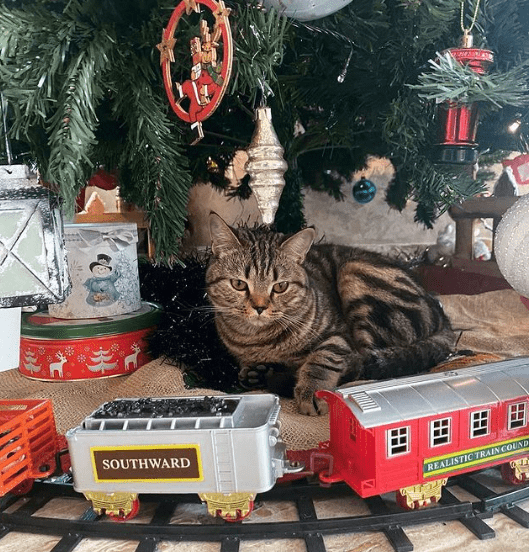 If you have a pet cat roaming around in your house, they may likely shuffle a few things from under your decorated tree to make a comfy place for themselves. Their watching the train circle around the tree makes them look like the Polar Express fluffy guardians!
Jack Frost as a cat
Do you remember when Rise of the Guardians came out, Jack Frost, the kid with white hair, immediately became every young person's dream? This snow-white catto is just the same! The shiny, white hair and grace of the cat remind us of Jack Frost.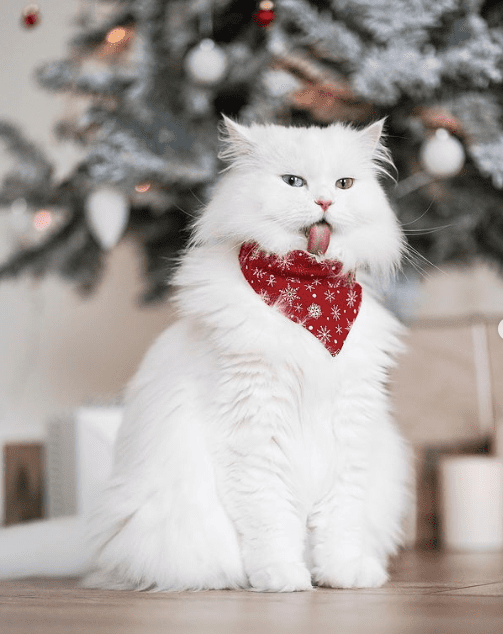 Some cats are "summer cats." This cat is definitely not one of them. This Snow White is a Christmas cat, and we believe that you all know what we are talking about. The red Christmassy bandana with a snowy sparkly Christmas tree as a backdrop in this picture is just a cherry on top!
Henry elves? No.
If you are a cat person, we bet that you have printed a picture of your cat's face at least once and stuck it on different things as a prank. You do it for fun, sure. But have you ever wondered if your cat thinks it's funny?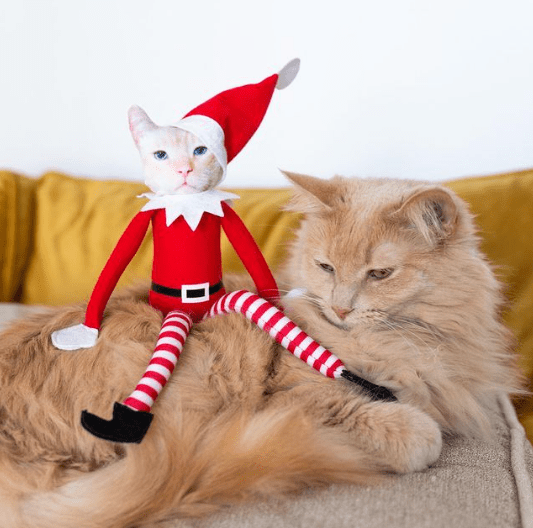 The expression on this cat's face is the answer to your question: it is not funny to stick your cat's face on elves and give them the same name as your cat! Henry the Cat is not pleased with Henry the Elf Sitting around the House. Make a choice, human: Which Henry is staying?
Santa's new reindeer
Dressing up your pets in quirky, cute little overalls and accessories is one of the best things ever! There is truly nothing in this world that can make a cat look ugly, not least because the ugly stuff looks even cuter than the cute stuff does!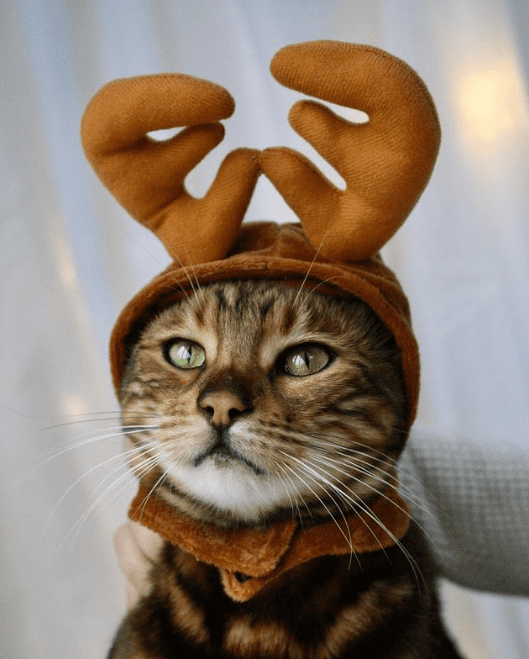 For example: Reindeer antlers on Christmas! This beautiful little Rudolph must have immediately made an adorable addition to Santa's collection of reindeer. He is most likely the leader of the reindeer on Christmas Eve. Merry Christmas, new Rudolph! You're gonna do great.
Christmas peek-a-boo
Being a cat person is hard during Christmas. As soon as the Christmas tree and the décor meet your standards, all you do thereafter is keep your cat away from jumping over them! Especially the tree — keeping the cats from hiding in the tree is almost impossible.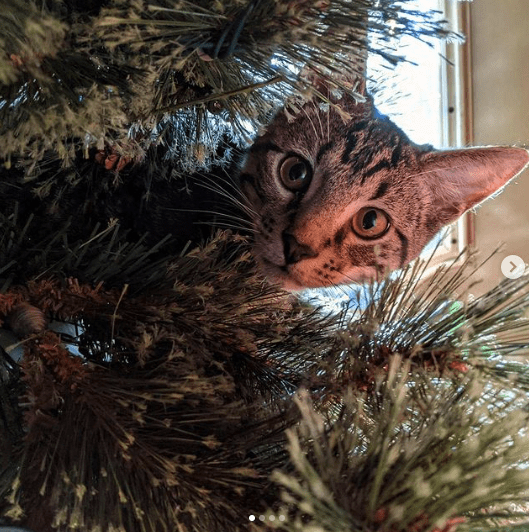 If you don't believe us, here's an example. Beezle here loves playing hide-and-seek in the Christmas tree. This isn't a voluntary game, though. The owners play whether they want to or not. So, when you aren't sure where your cat is, look in your shaggy Christmas tree.
A golden star on a silver tree
When in doubt if your Christmas tree looks perfect, look at your cat. The expression on their faces will tell you a lot about your tree and the Christmas decorations. If they look awe-struck and wide-eyed, take it as a thumbs-up!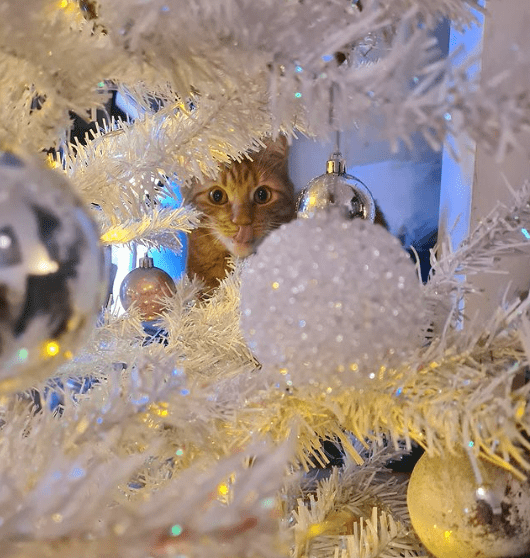 Here is the purrfect example. Cheddar, the cat here, is assisting his human in making sure they don't over- or under-decorate the Christmas tree. The golden Cheddar in the silvery snowy leaves of the Christmas tree is the purrfect star the human was looking for!
Gold and silver in red
Meet Pecan Pie and Blueberry Biscuit, two adorable gold and silver floofs in red Christmas sweaters! If you're a cat person, we would suggest that you build a huge wardrobe just for your fluffy pets. Whether it is a Halloween costume, Easter bunny ears, or Christmas sweaters, cats can wear it all.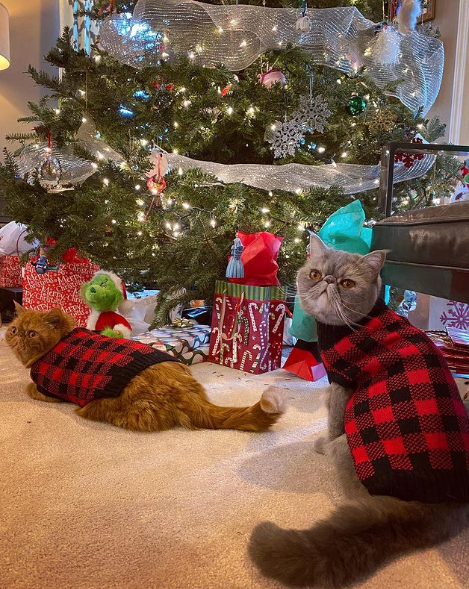 There is no Christmas without you, our favorite winter cuddle-buddies! So, if you wear a red and green Christmas sweater, make sure that your pets feel included in the Christmas festivities, too. Maybe even knit some sweaters and mitten for them!
Snow Belle
It is so wholesome when your fluffy pet cat is naturally a photogenic model for Christmas. So, whenever December comes around, you make sure to arrange a huge photoshoot for your Christmas cat. You think of a theme and try to put everything into action purrfectly!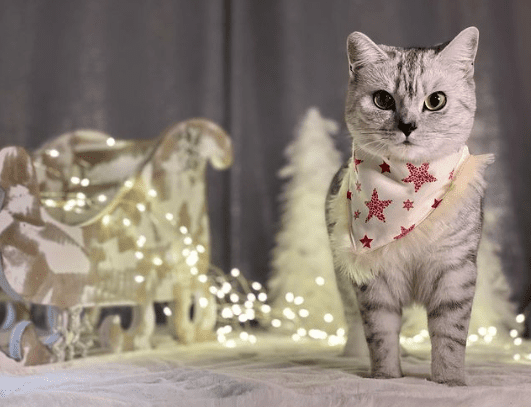 It looks like this magical photoshoot of Snow Belle, the cat, is "the Whisker Wonderland," and it suffices to say that this angelic cat nailed every bit of this assignment. The pose, the grace, the Christmas costume — everything is so on point! She truly is a Silver Glow Whisker Wonderland.
Christmas spirit
Christmas and December are as inseparable as Halloween in October. Those holidays define the months they take place in. As soon as December hits, you see Christmas spirits rise in every corner of the world where Christmas is celebrated. Every non-living and living thing is covered in Christmas colors!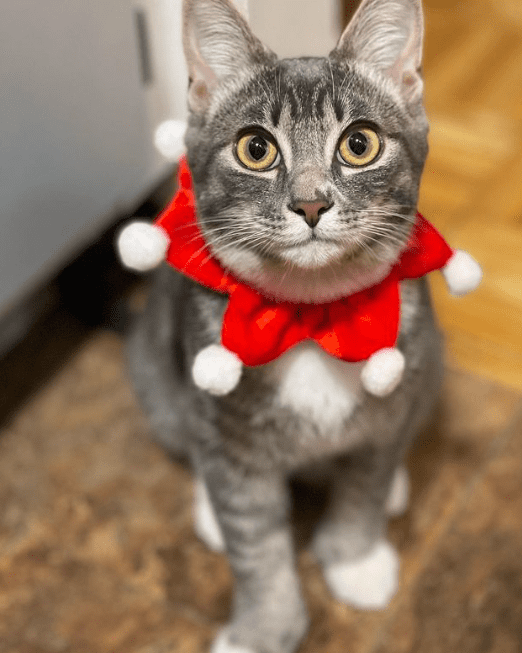 Even your pet animals anxiously wait for the most joyous holiday of the year! As soon as you pull the Christmas décor box and Christmas wardrobe out of the attic, your pet, just like this pretty little gray floof, follows you around while wearing Christmas accessories. Now that is Xmas spirit!
The fluffy Grinch
It's that time of the year again when the Grinch comes out of his hole to rain (snow?) on people's Christmas spirit. With a frown on his face, he goes to people's houses one by one and nabs their presents from under their trees before they wake up on Christmas morning.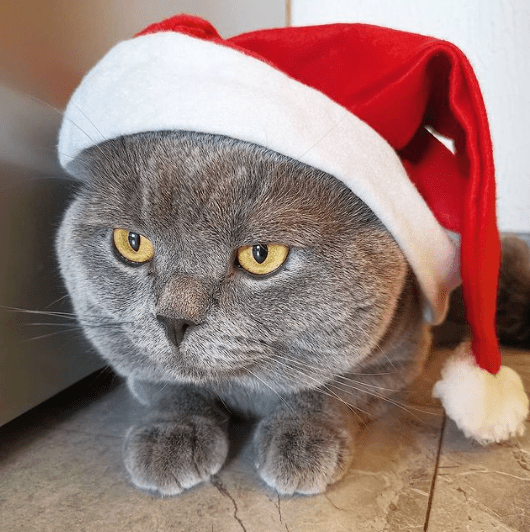 This is the cat version of the Grinch, but this little guy couldn't make us feel bad if he tried. This fluffy Grinch is mad at his hoomans for not letting him play with the dangling ornaments or the fairy lights. He is on a mission to get revenge, but he's already lost!
Sparkle-struck
Do you know how you get sparkly-eyed when you see something that you adore? For instance, when you pass by a bakery shop, a bookstore, or even a beautiful person/animal, you stop and gaze at them with that anime sparkle in your eyes, right?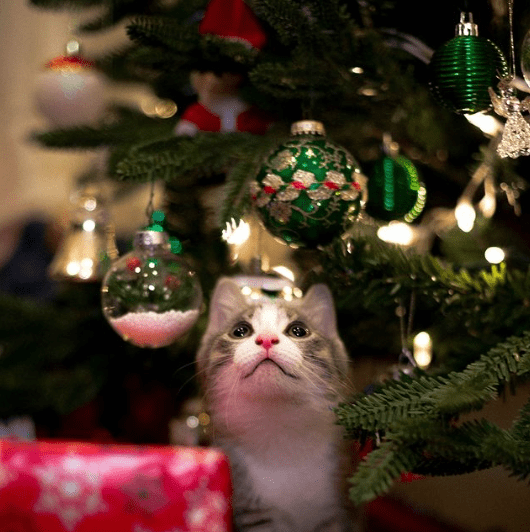 Well, the picture of this cat is the purrfect example, in case you don't understand. For this ball of little fluff, these glossy, shiny, round, crystal Christmas ornaments are what makes her gaze in awe. The Christmas tree has this kitty sparkle-struck!
Distraction buddy
No two friends are the same — one of them has got to be the savior of the other. You can call them the "knight in the shining armor": Whether it is saving your introverted friend from a chatty stranger or becoming a veil for your mischievous friend in front of their parents!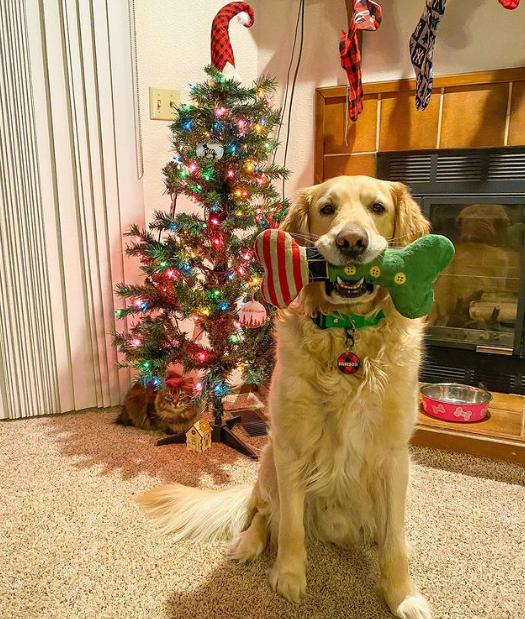 You should know that this phenomenon isn't limited solely to humans — animals are willing to become a distraction in front of their humans to save a friend from getting in trouble for sleeping under a Christmas tree! Take a look at this adorable tag team of a cat and a dog; you'll see.
Pink Christmas?
Cats notice everything. From your changed clothes to a clean bedroom to a new piece of furniture or decoration that you just bought, they know when something changes. They probably even remember last year's Halloween costume and what your Christmas tree looked like.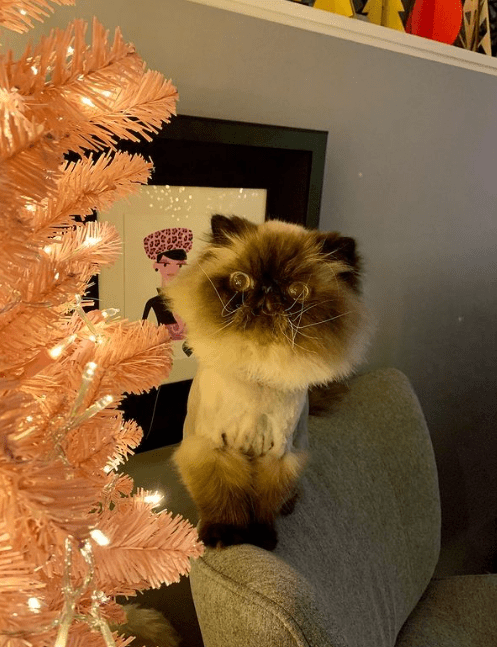 So, don't try to fool them by replacing the green Christmas tree with a pink one! If you do that, all you would get is the same look as this groomed cat on your pet's face as if to say, "A pink Christmas? Santa's going to be so mad!"
A live Christmas elf
After living with your cat even for just a few days, you would learn to read their facial expressions without having them "meow" to you. You would learn to differentiate between an excited or surprised look and the guilty look on their faces.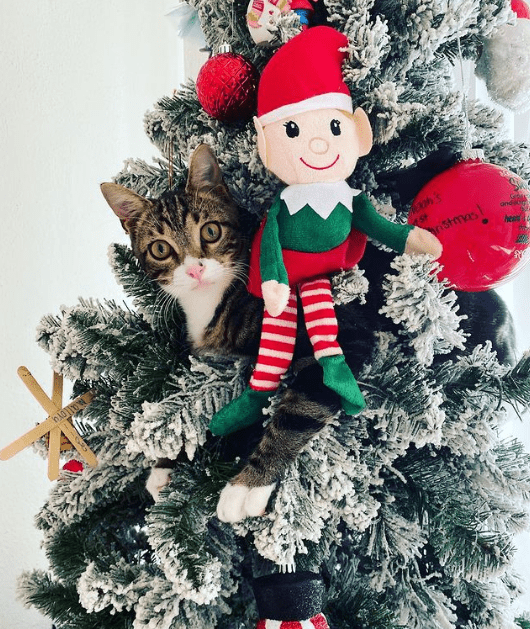 Now, what you see here is a look of pure guilt on this cat's face. He knows that he is not allowed up in the Christmas tree, yet there he is, hiding. He knows that he broke the house rules of staying away from the tree.
Seeing it up close
We believe that cats are just like little kids. They always have to "look at it up close," no matter what "it" may be. Even when they are forbidden to touch the new delicate Christmas décor, they find a way to get high enough to see everything.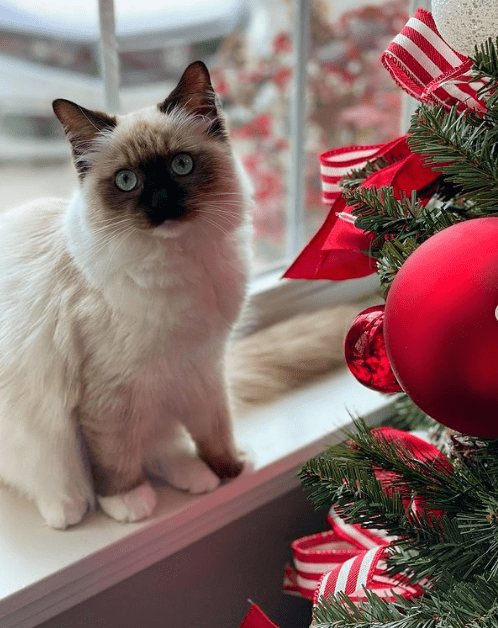 For instance, this cat knows all too well that he isn't allowed to touch the fragile, dangling ornaments. We can tell that this poor kitty was trying to play with the red balls, but as soon as his hooman came, he put on an innocent face! He's too cute to stay mad at!
Santa's coming
Christmas bells ring as soon as the clock strikes twelve on December 25th. It is time to dress up in Christmas costumes and decorate the living room with mistletoes, fake snow, and Christmas fairy lights! Why? Because Santa's coming, folks!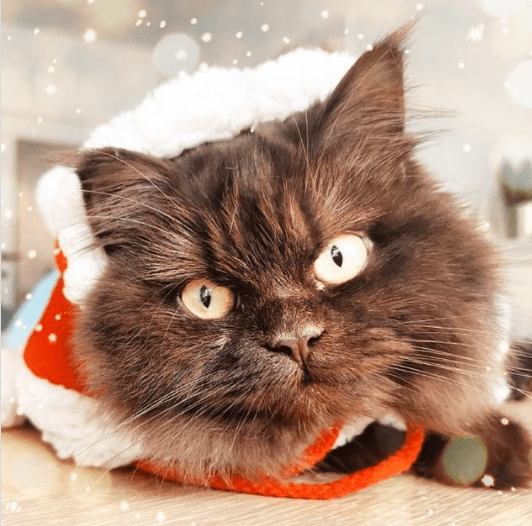 Look at this beautiful cat in Santa's costume! Pippa, the adorable brown feline, is in full Christmas spirit, and there's nothing that can tone down her joy. This photogenic, camera-confident kitty knows how to pose for Christmas photoshoots! Santa is going to be so proud of this cutie.
I'm a part of the tree
Hey, here is another example of cats in Christmas trees! They do know how to make themselves at home in between these branches. We don't know how they are more comfortable up there than on fluffy cushions, but it seems like they manage.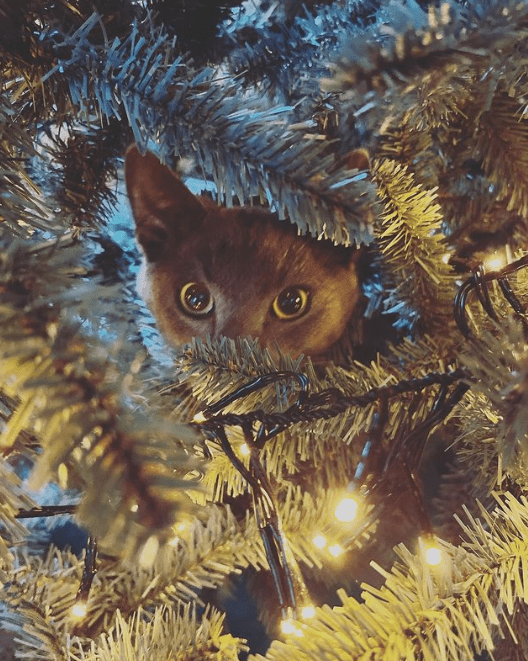 Oscar is hiding in the shags as if he is a spy on a mission to catch Santa at midnight while he eats cookies and leaves presents for the family. So, to anyone who sees a pair of bright yellow eyes peeking from the tree…no, you didn't.
Did you eat my treats?
A lot of people like to decorate their house and Christmas tree with huge nutcracker soldiers. But during the first interaction between your cat and the wooden soldier, you should expect your cat to give you a hilarious reaction with a wide-eyed look of surprise on its face!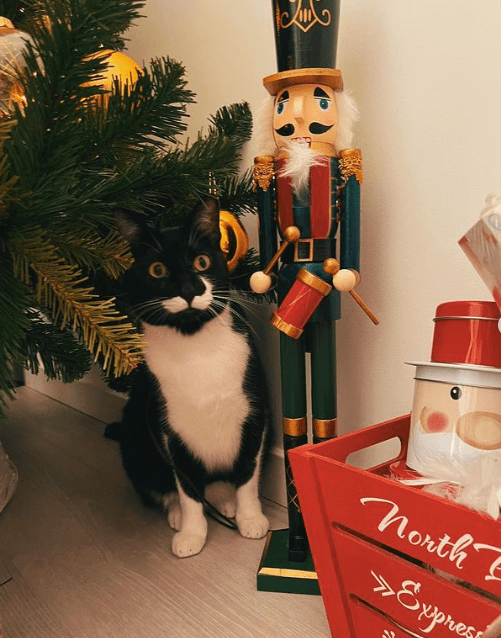 Don't you believe us? Here's proof that cats don't immediately like the nutcracker soldier's presence in their house, and especially not by the Christmas tree! Zelda the Cat looks like she is blaming the soldier for eating her Christmas treats, as she should.
He's a copycat, meow!
During the Christmas holidays, you fill your house with dolls of elves, Santa Claus and his reindeer, nutcracker soldiers, and all those Christmas angels. If you are a cat person, you must have noticed how they try to blend in with a group of elves and other toys!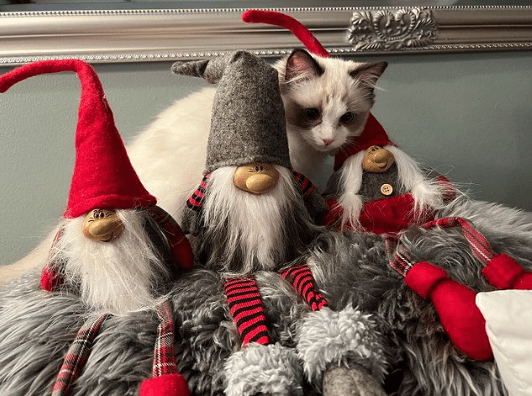 It is so adorable how they reach the dolls so carefully as not to frighten them and then slowly become a new addition to their Christmas team. For example, this cat is a copycat! She is meowing her way into the group of Santa's elves, and soon she's going to be their fourth sister!
I smeow holidays!
When we talk about winters, Christmas holidays, warm blankets and snow, and fluffy cats snuggled up under the Christmas trees; we are talking about this. You can feel the excitement radiating off this picture of Jax, the giant cat, under the snowy Christmas tree.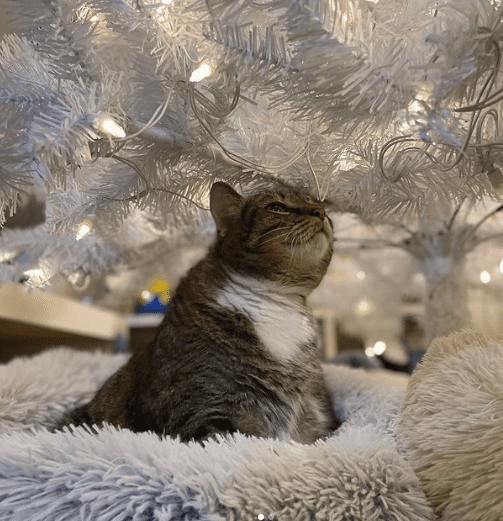 Jax can smell the holidays and the joy Christmas is going to bring; we can tell by the perfect shot his hooman took! Cuddled up under the Christmas tree on a warm fuzzy blanket with silver glistening fairy lights sparkling over you feels like another level of heaven — we wish we were there, too!
My hooman doesn't understand me
You can almost hear this little gem's sighs through the picture: "Sigh, my hooman doesn't understand my meows. I specifically told them that I wanted to be 'in' the Christmas tree and not 'be' the tree! When will this miscommunication end?"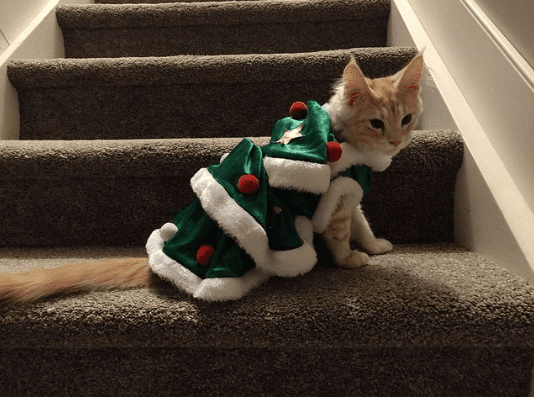 Poor dearie is stuck in a Christmas tree costume when all he wants to do is snuggle up on the branches of the shaggy, snowy Christmas tree with dangling stars and doves and lights all around. We hope that next Christmas, he gets what he wished for. He looks adorable in that green costume, though!
I want that star
Owning cats and trying to excel at photography while staying at home is the hardest job. Unless the cat is sleeping soundly in another room or going out for a walk, it is almost impossible to take pictures without your cat making an unrequested appearance.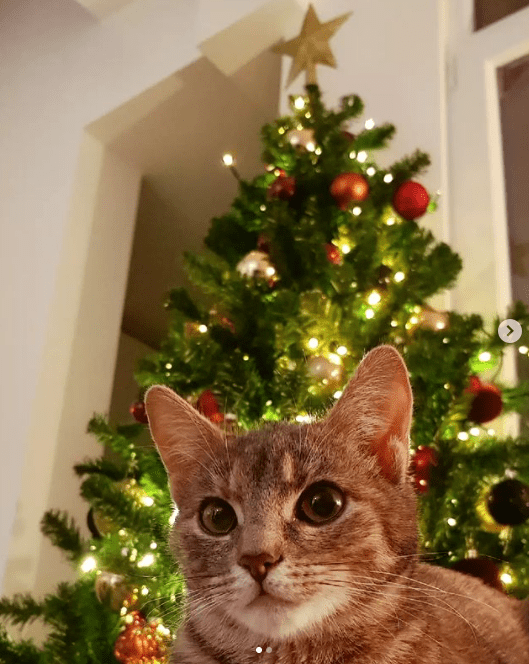 We aren't complaining, don't get us wrong. It's always memorable in retrospect when a cat photobombs your picture! This person was trying to take a picture of their Christmas tree, when the cat suddenly goes, "Hooman, I told you to give me that star now!"
An angel
For the Christmas holidays, you decorate your whole house with white snowy angels and Christmas dolls, with fake snow on the tree and window sills and snowflakes hanging from the ceilings. But then you take a look at your cat and realize that the true angel is right in front of your eyes!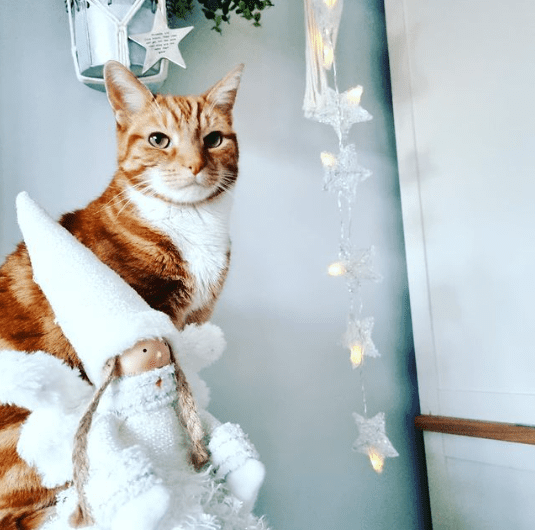 We adore our Christmas cats, who get slightly bewildered when you suddenly dip your whole house in white snow and silver glitter and forget about all else for a brief moment. The cats have to give you a certain look to remind you that they are the Christmas angels you need!
"Cat" red-pawed
Uh-oh, looks like someone got caught red-handed opening their presents before Christmas Day! Or should we say… "cat" red-pawed? Ehh? Pretty good, no? It's quite obvious that this gruesome twosome knew they were somewhere they weren't supposed to be, doing something they shouldn't.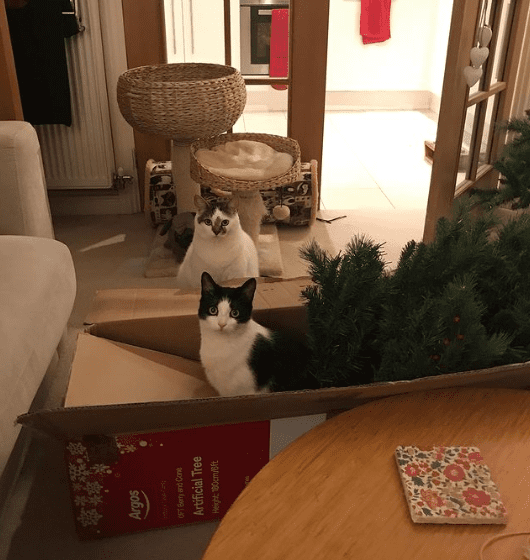 Messing with the trees when they were specifically told not to! The tree isn't even out of the box yet, and the cats have started having the time of their lives. The shocked look on their faces made us laugh as if they were trying to help humans with the tree!
Quality time on Christmas time
Sitting by the window in comfortable silence with your best friend, waiting for Santa to come through the door with your favorite treats, sounds like the best idea for having quality time with your bestie. It's a dream — our foremost wish for this Christmas.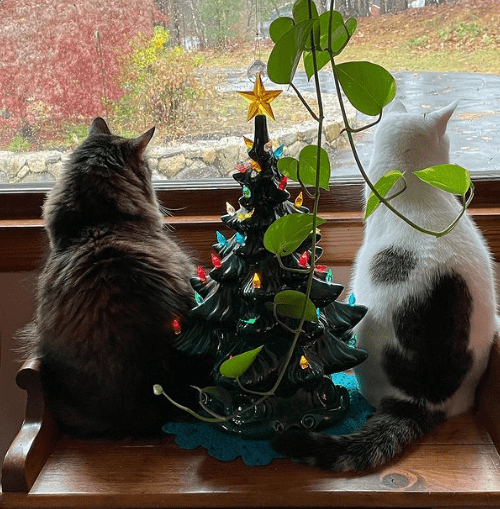 If not us, at least someone is living our dream. We are so happy for this gorgeous pair of cats. They are having the time of their lives, and they know it. It is never too late for Christmas decorations. For cats as well as for us, the whole of December is Christmas!
Jingle bells
Staying at home during the Christmas holidays is fun, sure. But so is going out for a walk in chilly winters with your hooman! So, wear your Christmas sweaters, scarves, and mittens; get your ride ready; and push your hooman off the couch.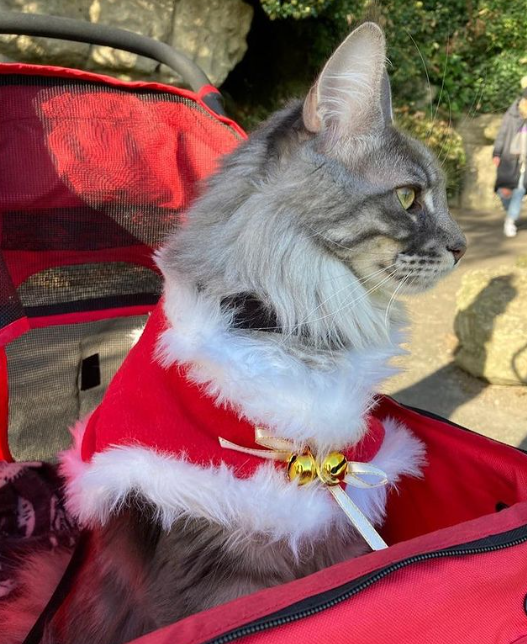 When we say that Santa's sleigh has nothing on this cat's magical ride, we mean it. This cat knows it, and Santa knows it. The cat is confident, and it is radiating off of him. Jingle bells and the red scarf are simply a cherry on top. Once again, Christmas surely is for cats!
A Christmas "tail."
We love cat cults — the way that cats encircle around a center point as if they are worshiping it or telling the younger generation all about their ancestral history and tales about their bravery. These cults are not to be disturbed or interfered in by humans.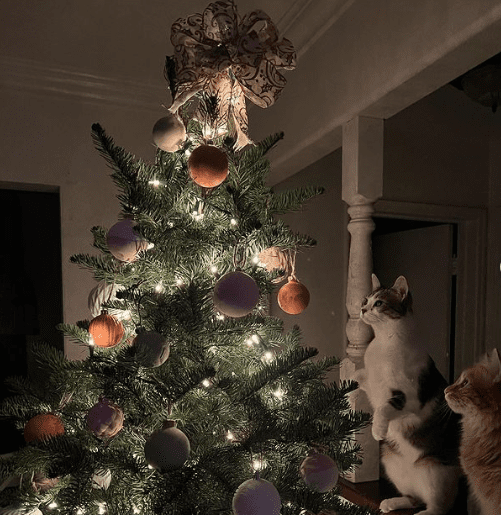 This picture is giving us the same vibes of a cat cult! These two beautiful felines have gathered around the majestic decorated Christmas tree. Either they are gaining spiritual wisdom from the Christmas spirits, or they are telling each other a Christmas tale.
Follow the lights
Fairy lights are a must at Christmas time. You can either spread them all around the house or decorate the Christmas tree with them; you can sprinkle them randomly on the bushes or the roof of your porch or even lay them on the floor on Christmas night.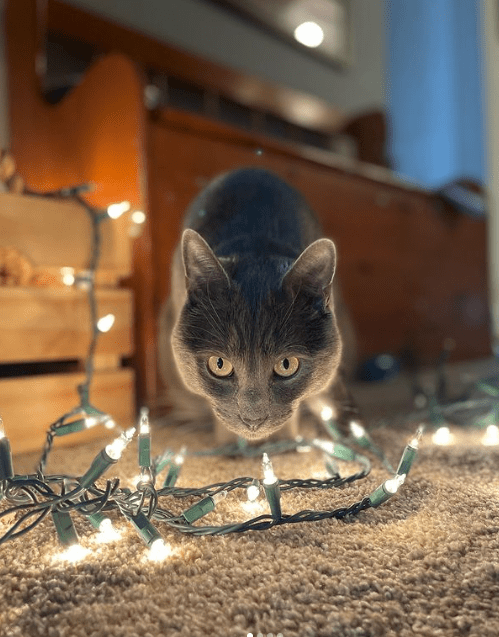 Whatever you do, fairy lights are a traditional Christmas décor. Even this dusky cat knows that. This person lays them on the floor, and this cat immediately knows where to be! She looks like she is protecting the guiding lights for Santa when he comes in through the door.
Christmas tree's guardian angel
There should always be a Christmas photoshoot solely of your pet. It's even better if that pet is a cat. There is something about Christmas that simply changes the cats and turns them into these polite little guardian angels who are ready to listen to your wishes and make them come true.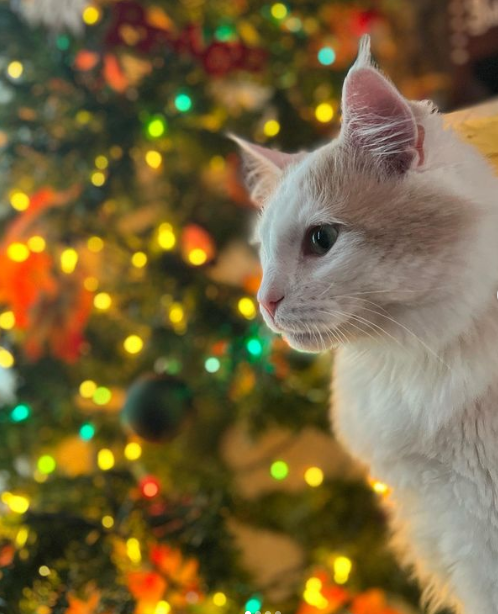 For instance, Mallo looks like Santa sent her to this family to look over them and be their guardian angel until Christmas. The thoughtful, sincere, and gentle look on the cat's face is all that Christmas is about. Christmas cats are a different breed; we all get that now!
And pose!
When Christmas time comes around, one of our favorite things is to dress our pets in Christmassy clothing and stage an impromptu kitty fashion show. It's a show of our appreciation and love for our furry friends and Christmas alike.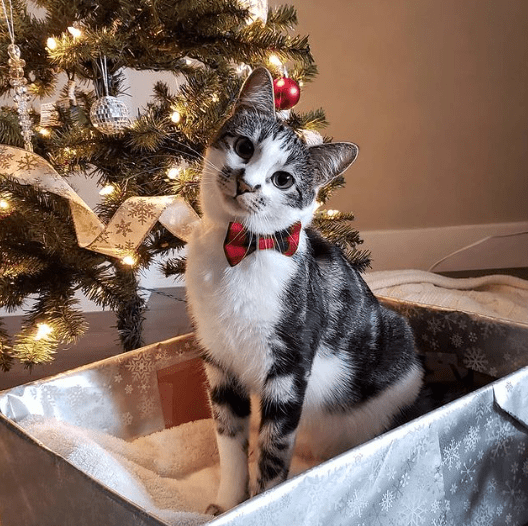 This cat, Finn, is on another level of photogenicity. Some animals may be camera shy and try to scratch when you shove a camera in their faces. But this cat looks like he was born to model for the Vogue Christmas photoshoot! The bow makes Finn look so handsome.
Comfort
When humans spend way too much money on the Christmas tree and its decorations, they worry justifiably that their cat will jump on the tree and ruin everything in the first go. Whether they stop their pet cat or not, they know that it's not stopping until it finds comfort in the tree's branches.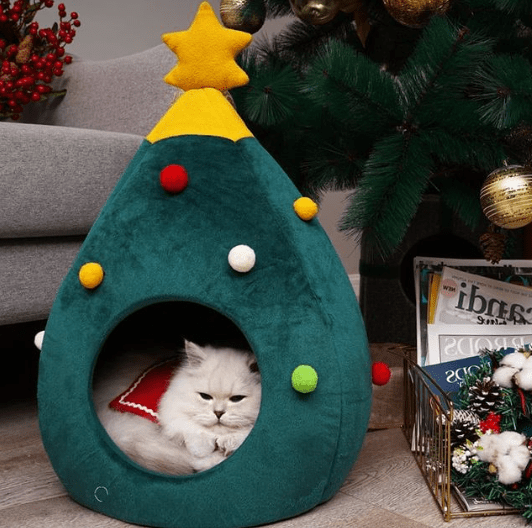 That's when the Christmas tree foamy houses for pets come in — specially made for fluffy pet animals so they can comfortably sleep near the tree in a "tree house" of their own! This white snowball looks like she isn't going to move from here until it is time to open presents on Christmas day.
Beanies: Christmas is coming!
There's no nap like a Christmas nap. Sleeping while wearing a Christmas beanie, on the softest blanket, in front of a warm fireplace just hits differently, and we believe we all can agree on that. This cat is certainly on our side!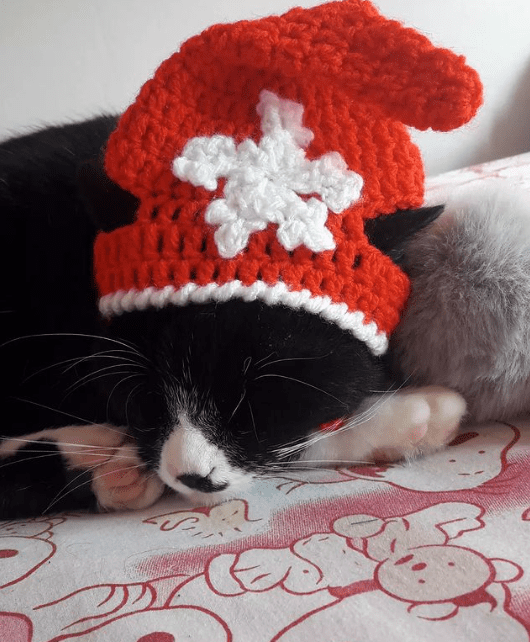 When December arrives and you take out the Christmas beanies with snowflakes knitted on them, cats know that it means only one thing: Christmas is coming! And hand-knitted beanies are on another level of pretty and warm. This adorable kitty is living our dream right now.
Who's ready for a scavenger hunt?
Raise your paw if you like to steal ornaments off the tree and play with them like toys! It's even more fun to deposit them around the house and send the Owner on a scavenger hunt for those hidden Christmas gems!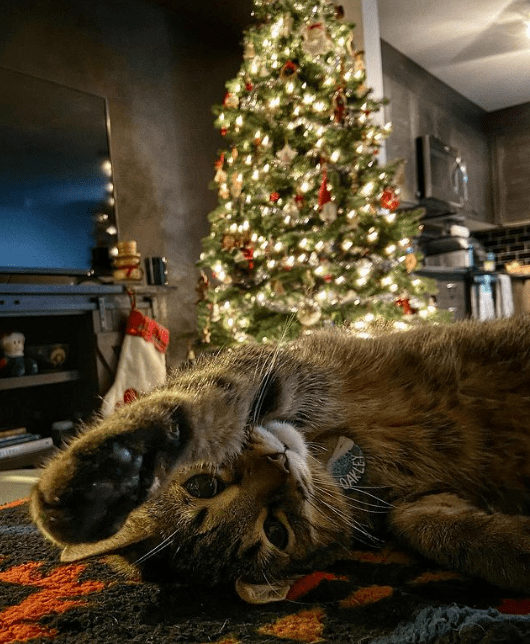 Hey, this catto has the highest-raised paw. And why wouldn't it be? It is the most fun Christmas thing to do with your hooman during the holidays: A scavenger hunt. Except, we are sure that this hooman is usually forced to play.