Deluxe Digs: 40+ Stunning Dog House Ideas For Pampered Pooches
By Anni K March 3, 2023
---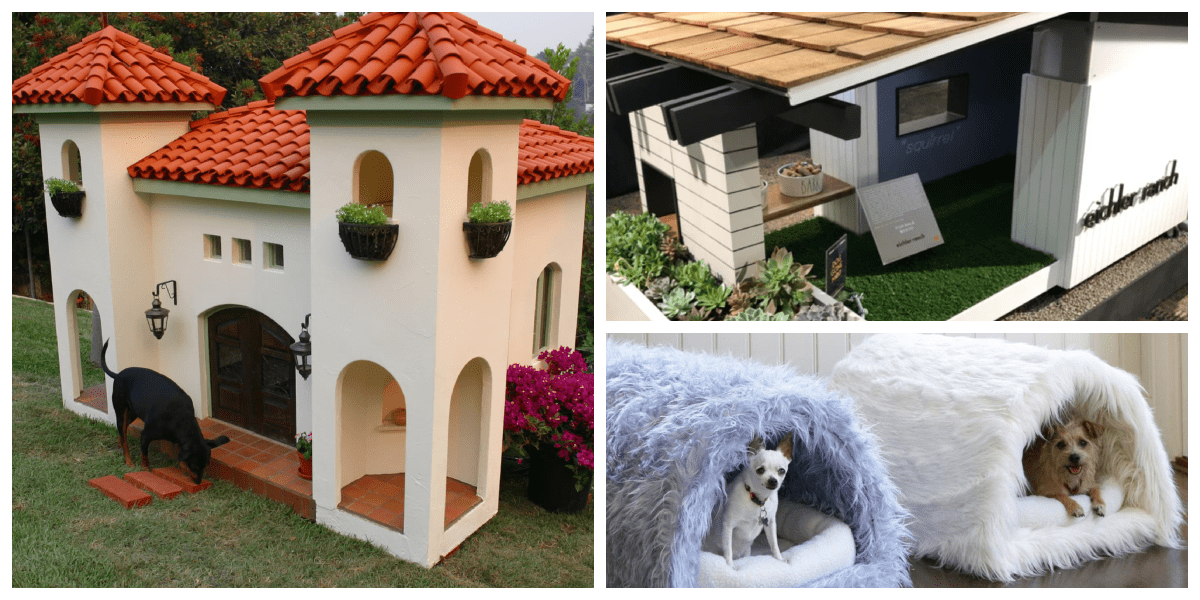 Are you tired of your furry friend's humble abode looking like a basic doghouse? Well, fear not because we've got just the thing to make your pooch the envy of the neighborhood!
In this article, we're showcasing 45 photos of luxurious and functional dog houses that will have your pup living the high life. From mini-mansions to cozy cottages, we've scoured the internet to bring you the best of the best in doghouse designs.
But wait, there's more! Not only will these doghouses elevate your pet's living quarters, but they'll also provide endless entertainment for you as you watch your furry friend explore their new digs. So, get ready to give your pup the ultimate upgrade and watch as they bask in the lap of luxury. And who knows, maybe they'll even invite you over for a playdate in their new little homes!
King of The Backyard
Welcome to the ultimate doggy fortress – a medieval castle fit for your furry friend! This wooden wonder boasts all the classic castle features, including a drawbridge and a lookout tower. Your pup will feel like royalty as they guard their castle and survey their kingdom (aka your backyard).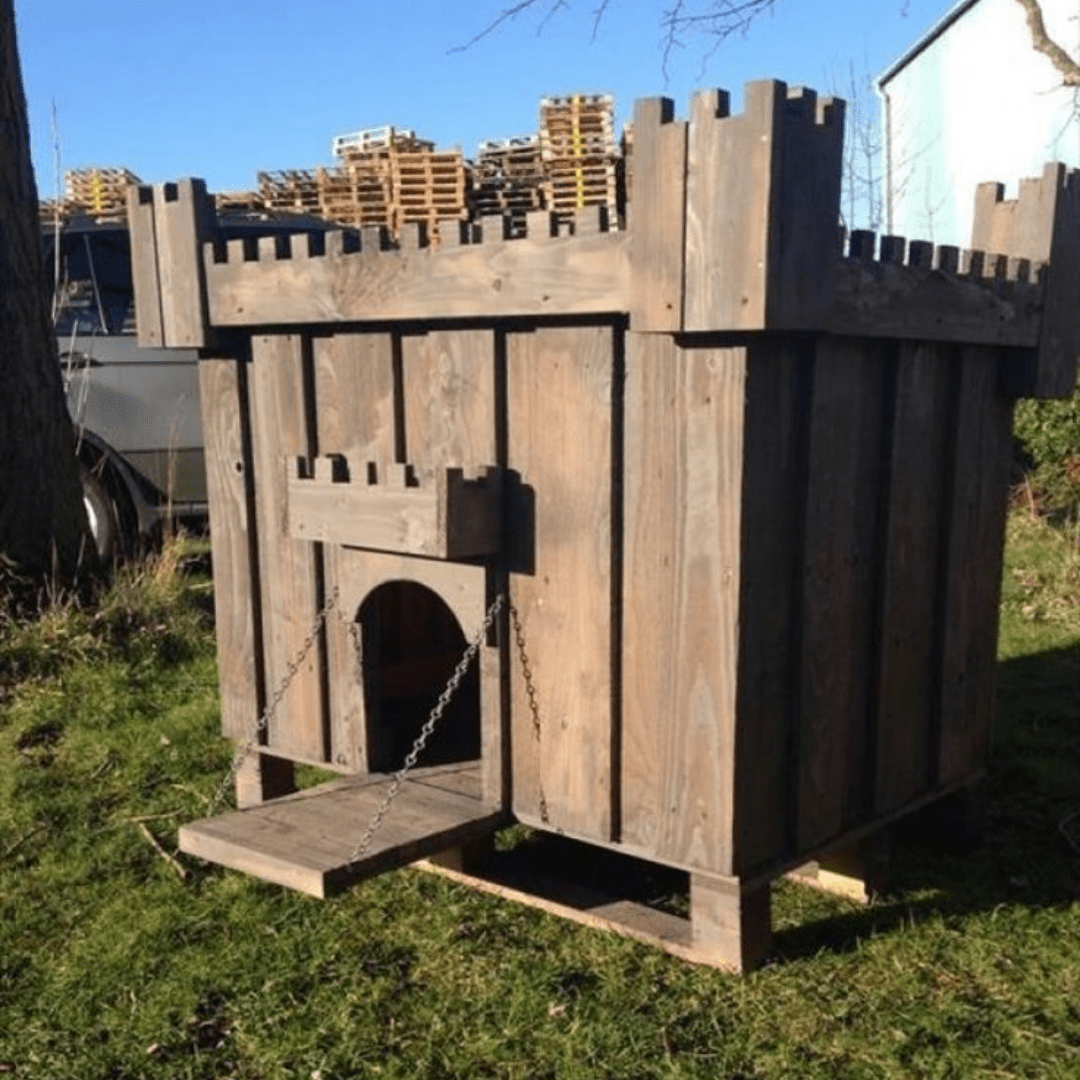 And the best part? You can finally say you have a dog who owns a castle. Talk about bragging rights! Just don't be surprised if it starts requesting a moat and a pet dragon. This is the ultimate way of treating your dog like the royalty they deserve to be!
Artistic Pooch
Move over, Guggenheim – there is a new art space in town, and it's exclusively for dogs! This sleek and modern doghouse is the perfect blend of form and function with its futuristic architecture and glass windows. With this, your dog will rest in style!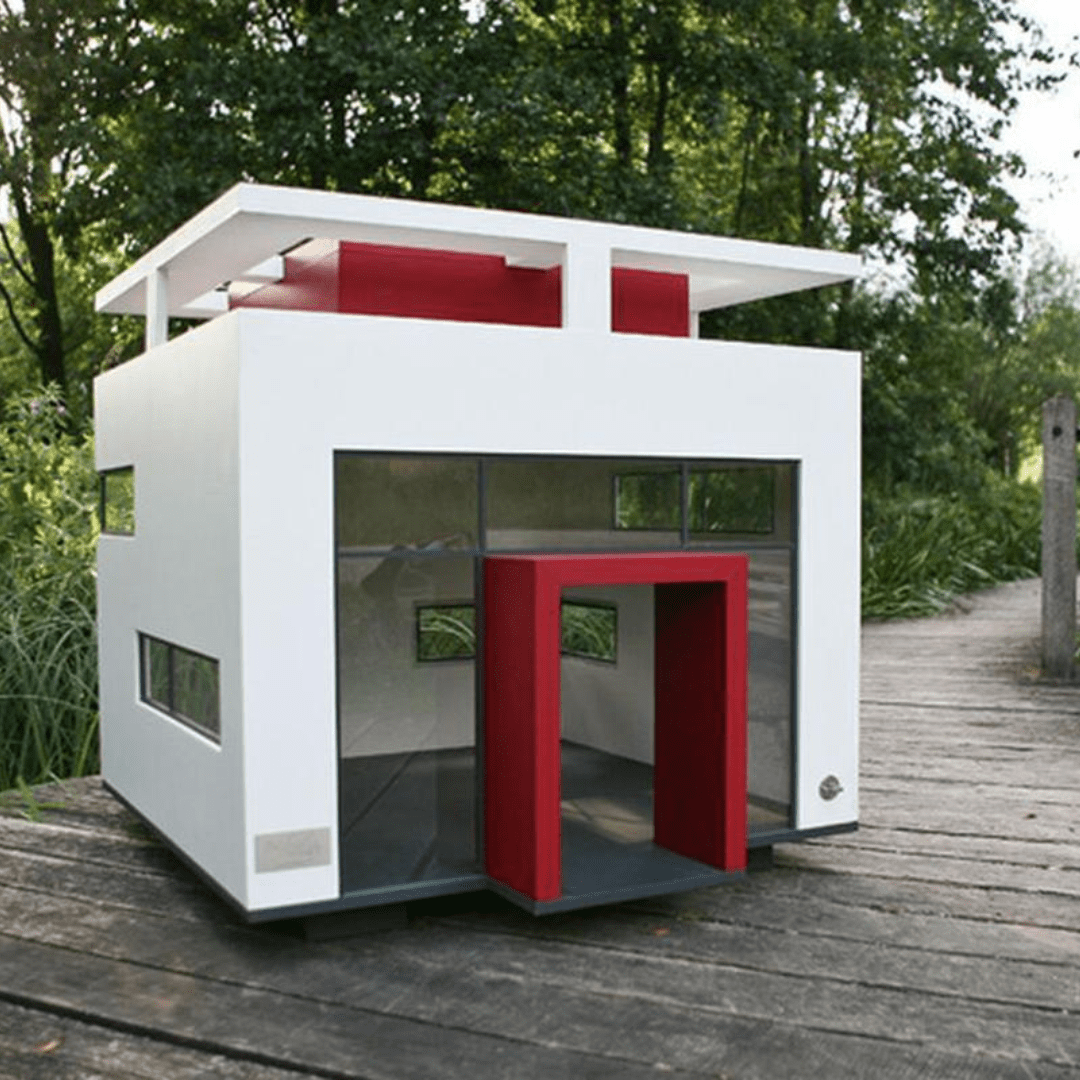 Your pup will feel like a true art connoisseur as they lounge in their very own gallery. And who knows, they may even develop a taste for abstract expressionism. They could even start requesting a private showing of their favorite doggy artists!
Woofville
Welcome to Woofville, where even the doghouses are quirky and whimsical! This adorable wooden doghouse looks like it's straight out of Dr. Seuss's imagination, with its fun bone motifs and whimsical design. The curved doorway arch with odd and awkward angles makes this seem like a cartoon character's doghouse.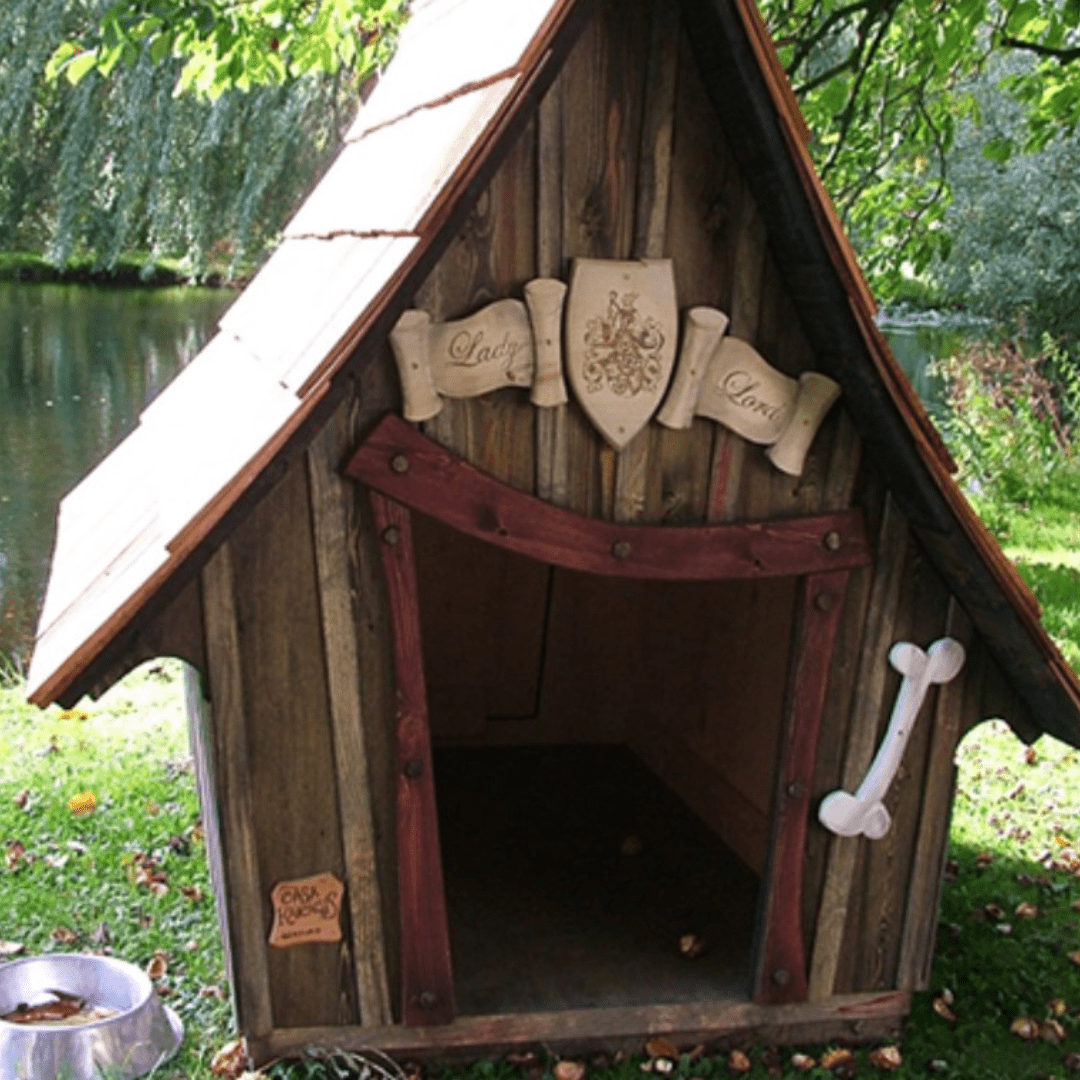 Your pup might even ask for "Green Eggs and Ham" as it gets into character! We guarantee it will feel like it's living in a world of pure imagination, just like "The Grinch's" dog. You'll get to bask in the nostalgia of your childhood and introduce a new species to the wonders of Dr. Seuss.
Modern Dog
This modern wooden doghouse is the perfect blend of style and comfort. Its sleek, elevated platform and additional roof will keep your pup cool in the summer heat. It gives off the vibe of a chic summer retreat for your furry friend!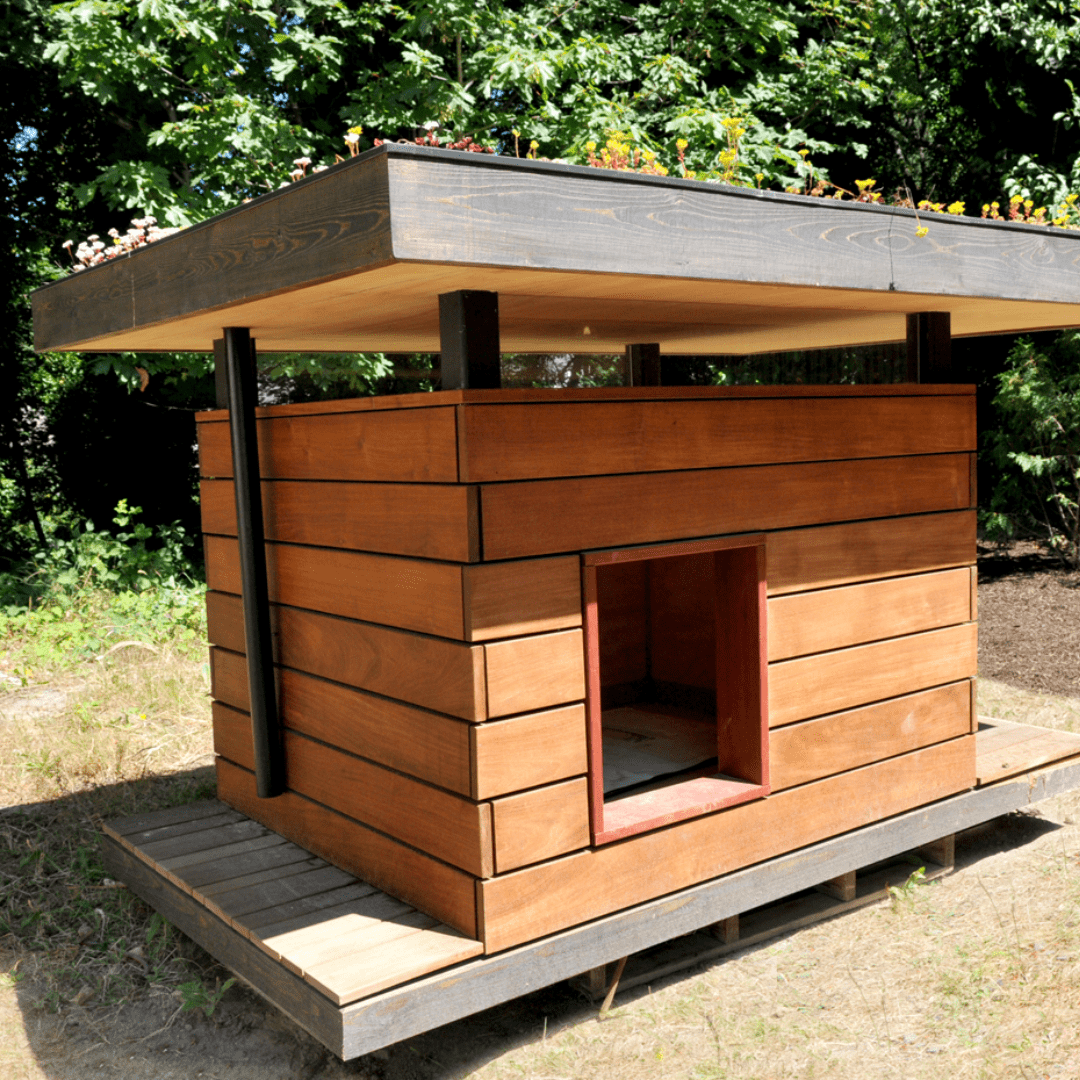 And the best part? It's stylish enough to complement any backyard decor. Just be prepared for your dog to become the envy of all its canine friends. After all, who wouldn't want to live in the coolest doghouse on the block?
Little Replica
Move over, humans – dogs are getting their own house numbers now! This modern wooden doghouse is not only stylish but functional, with a house number on the front to make your pup feel like a true homeowner. Plus, it can be moved!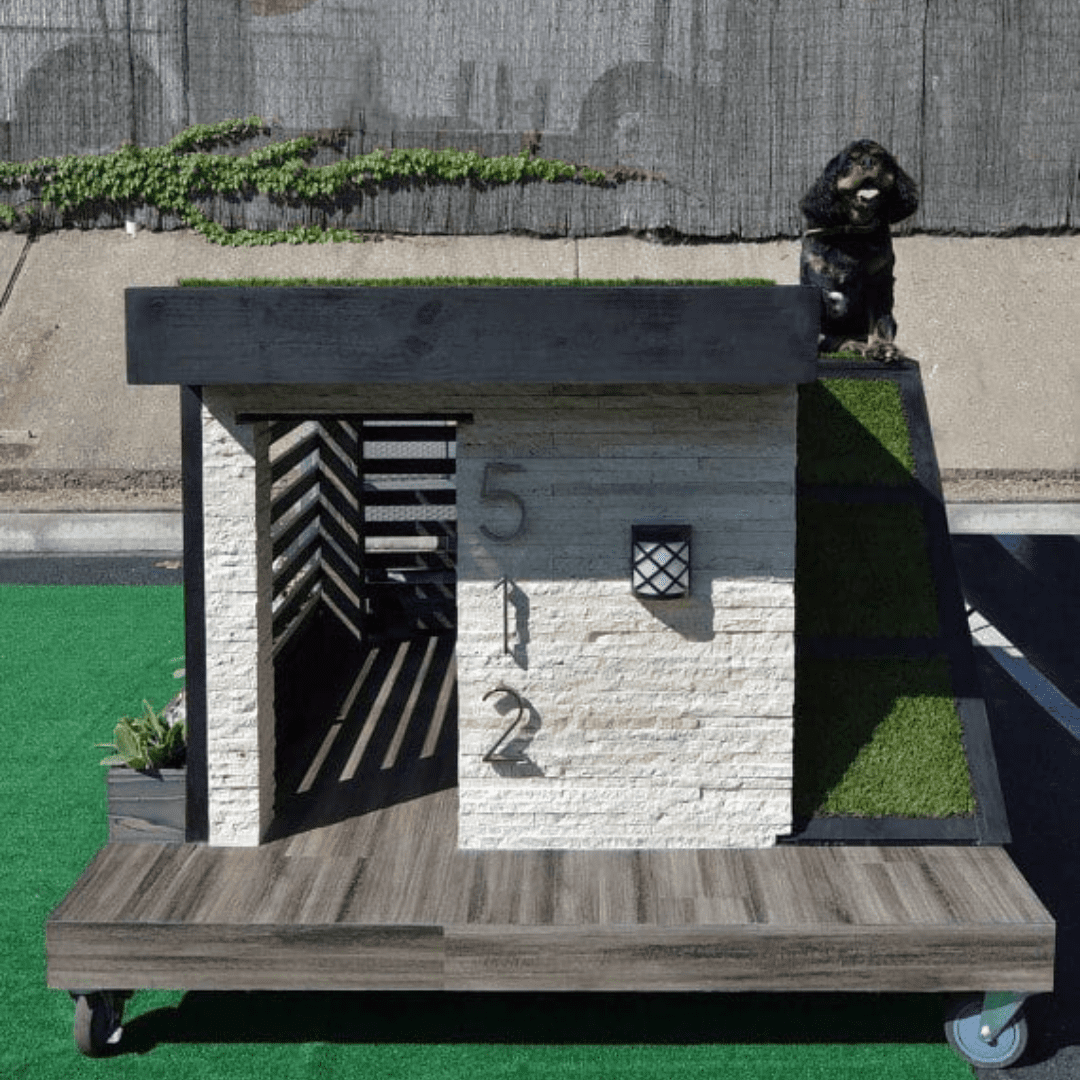 The ramp that goes to the roof covered in grass is the perfect spot for your furry friend to catch some rays and sunbathe in style. You will be receiving mail addressed to your pup's new address in no time since we have a feeling it will be the most popular pooch around!
Hidden Valley
Is that a doghouse or a mirage? This cool canine abode has a mirrored exterior that blends seamlessly into its surroundings, making it the perfect hideaway for any pup who loves to blend in. Let's just hope it doesn't blind anyone!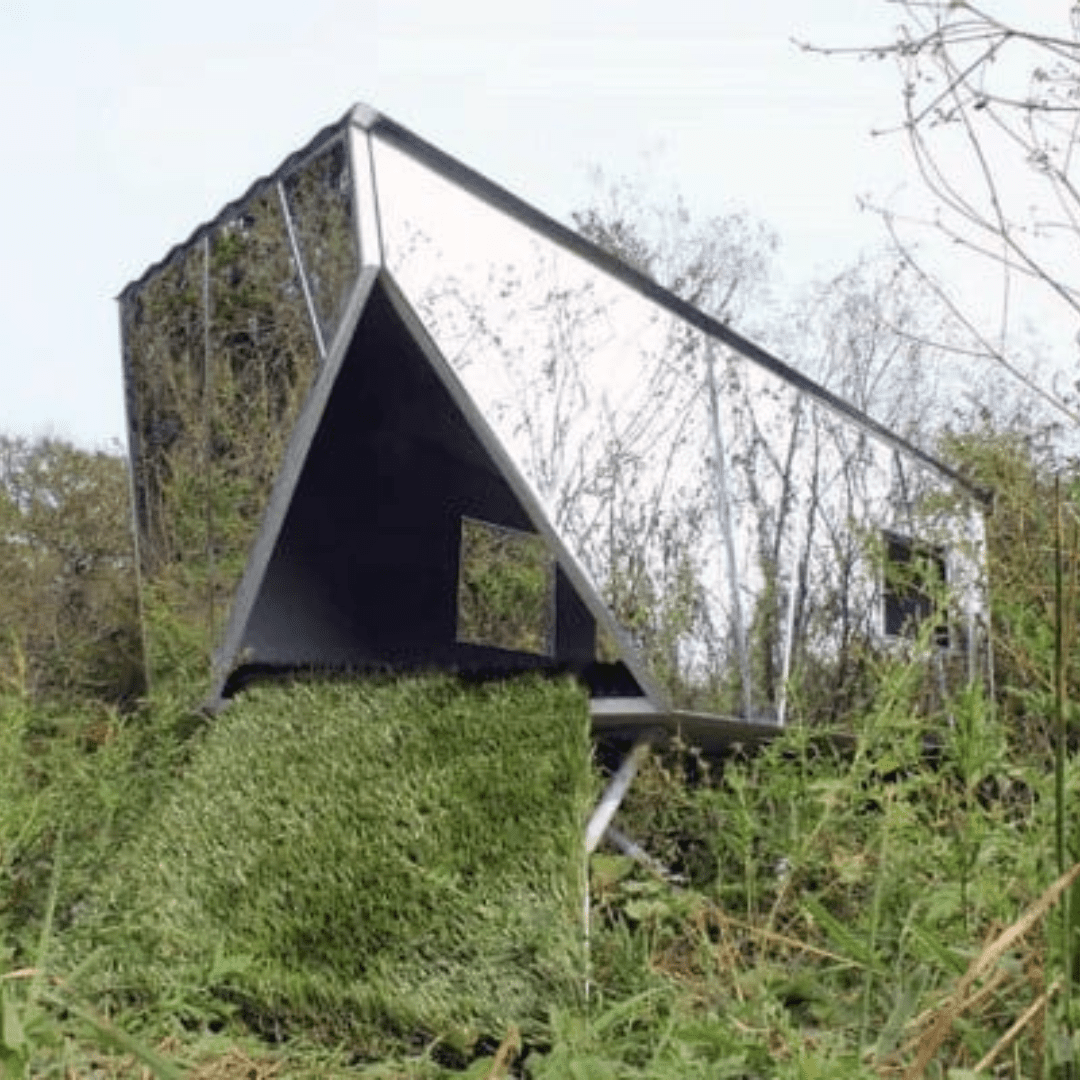 The faux grass-covered ramp only adds to the illusion, so your furry friend will feel like it's living in its very own secret garden. Just don't panic if you have trouble finding your pup in its new camouflaged home. It's probably just enjoying its newfound ninja skills!
Center Stage
At first glance, this looks like a children's playhouse, complete with an upper balcony on the roof to look out for imaginary friends or other make-believe games. But this is a dog house with a roof perfect for sunbathing or guarding the perimeter.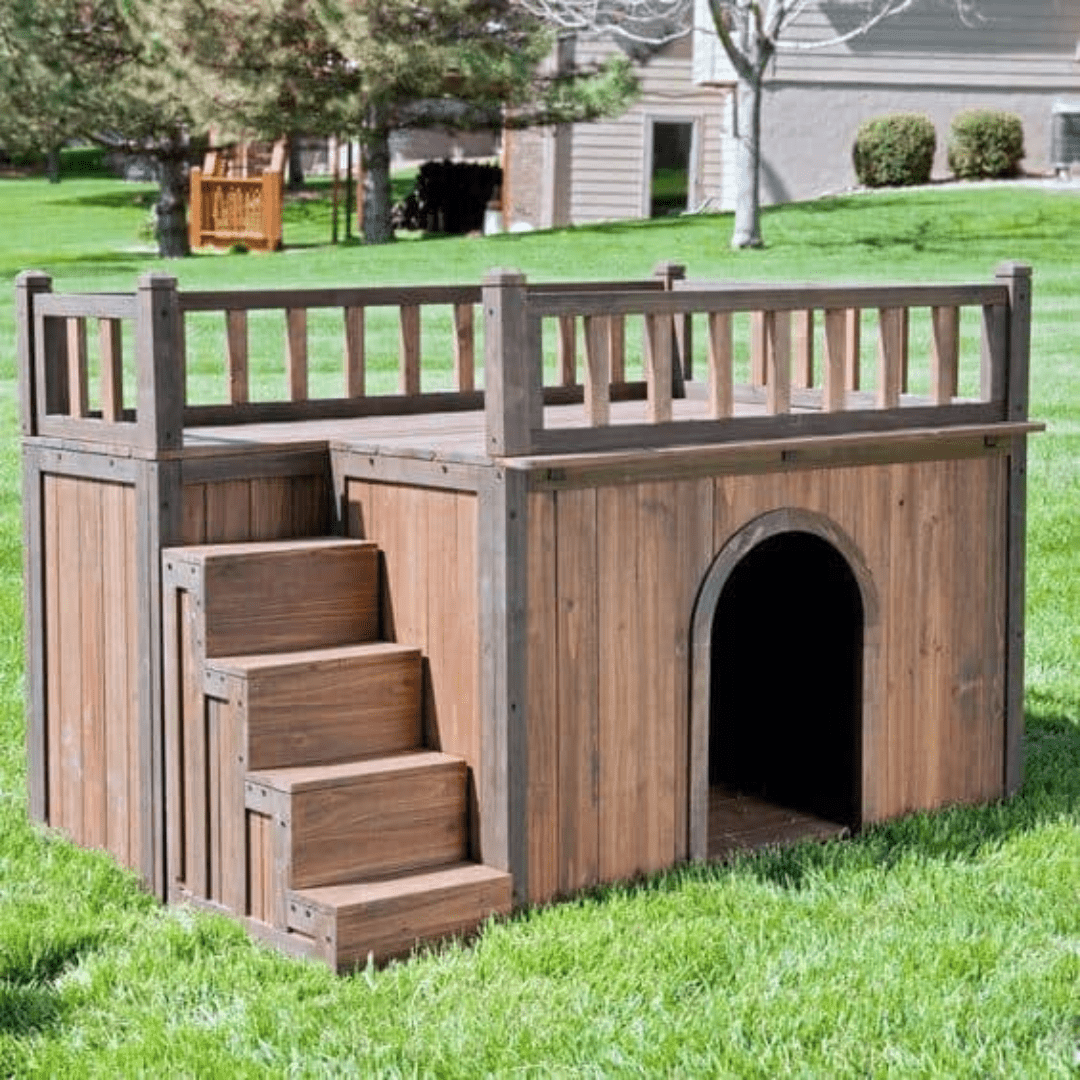 It looks like such an easy and solid house to make for your beloved dog. We also appreciate that it is a two-story house, so the pup can decide whether it wants to catch a tan in the sun or stay toasty indoors.
Farm House
Now, this is what we would call a chic farmhouse-style house perfect for any canine! The detail incorporated in this dog house is incredible, from the tiny roof slats to the sliders and window boards on the sides. It even has little window sill planter boxes!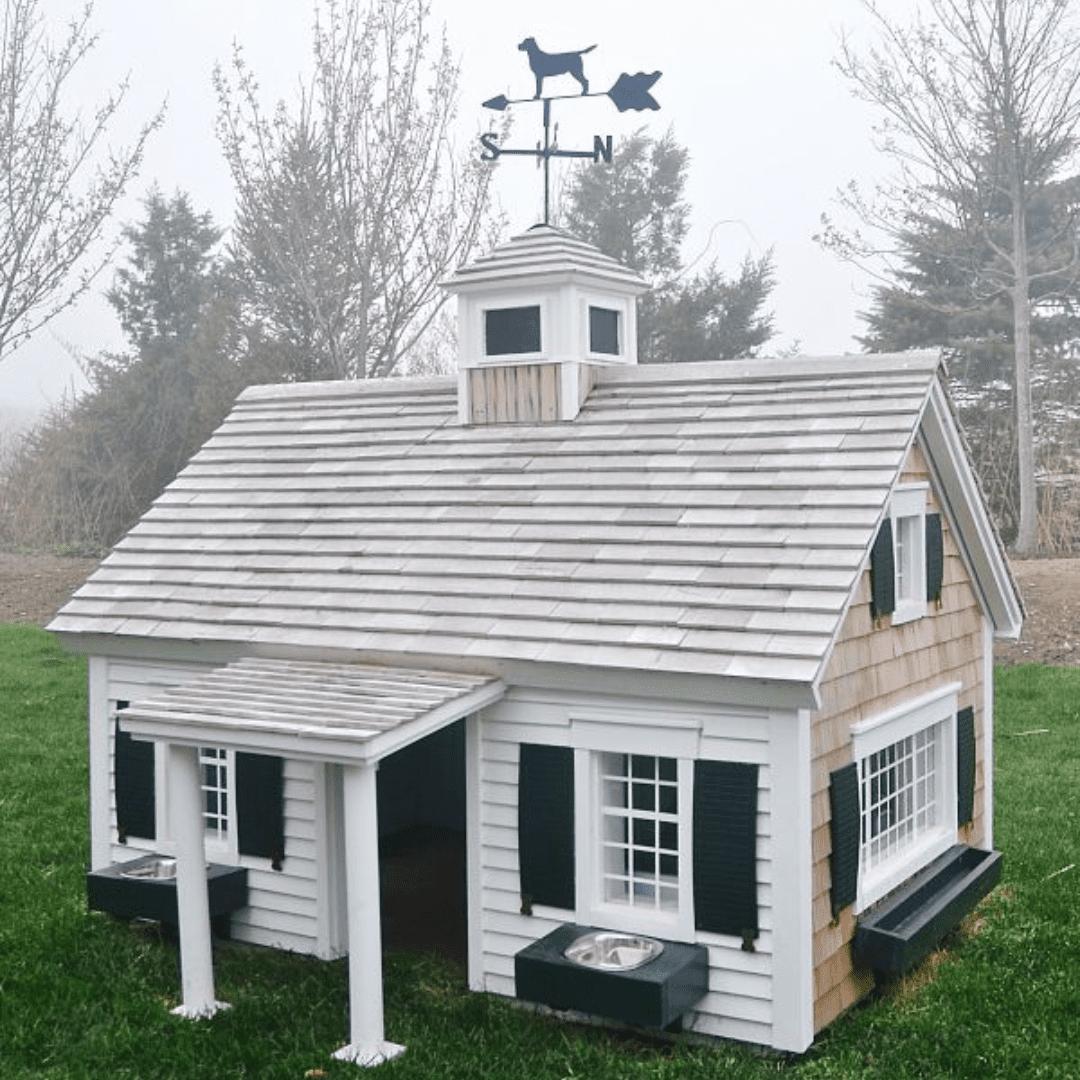 This person put a lot of effort into this piece, and we are so sure that the lucky doggy to whom this belongs appreciates it! Even the wind vane is custom-made with a pup in mind! This might just be our favorite one yet!
Chic and Minimalistic
This dog house screams minimalism and modern art. From the color palette to the neat, straight lines, we don't doubt that the town's hippest dog is taking up residence in this dog suite! It even has wheels for when it needs to be moved.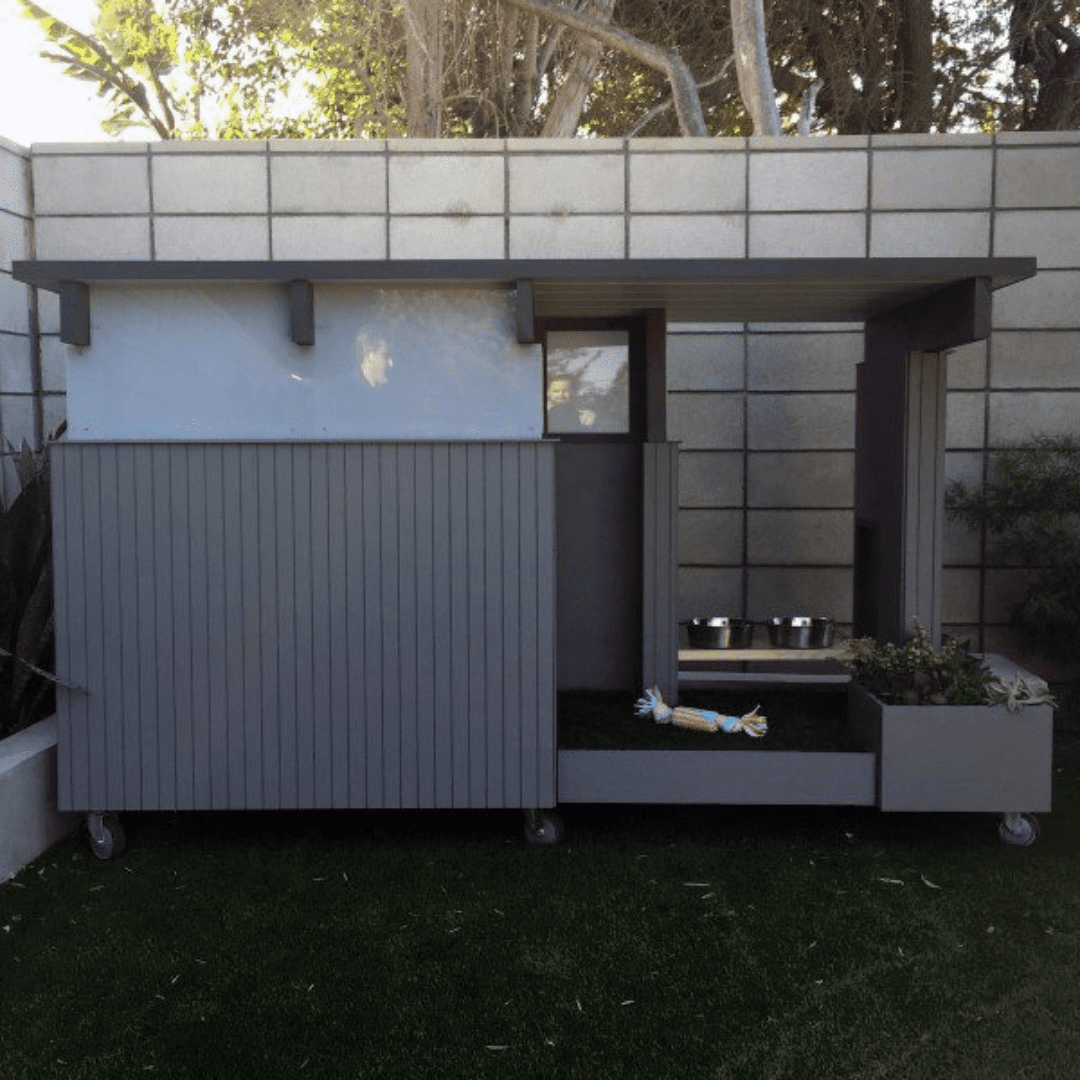 A dog can enjoy a satisfying nap here without being disturbed by anyone since this space provides lots of privacy. This house would blend in seamlessly with the exterior around it and not ruin the look of the owner's home at all.
Oversized Art
This is a more unique approach to a dog house. Or perhaps this would rather be classified as a dog bed since it is smaller than the other ones. Though it's shaped like one, this isn't a cap that a giant human lost; it's just an innovative design and art that mimics life.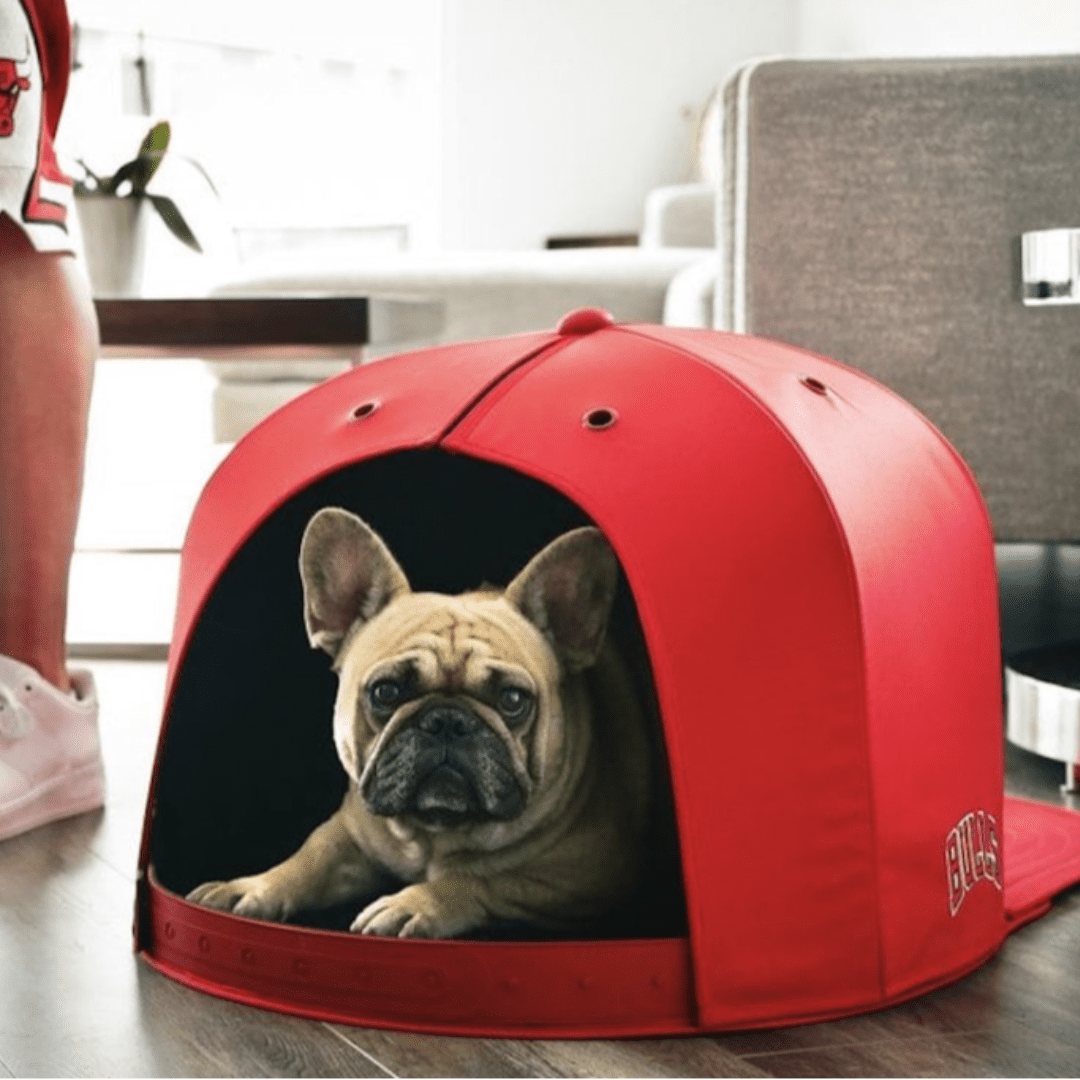 These owners must be massive fans of their basketball team and probably have a great sense of style to go along with it since they thought to bring their love for hats, basketball, and their furry four-legged friend together in one beautiful piece.
Dual Function
We are huge fans of things that have more than one function, especially when it is well hidden or incorporated into other things. This dog hideout, for example, has a fully functional bench and mini garden incorporated into its design.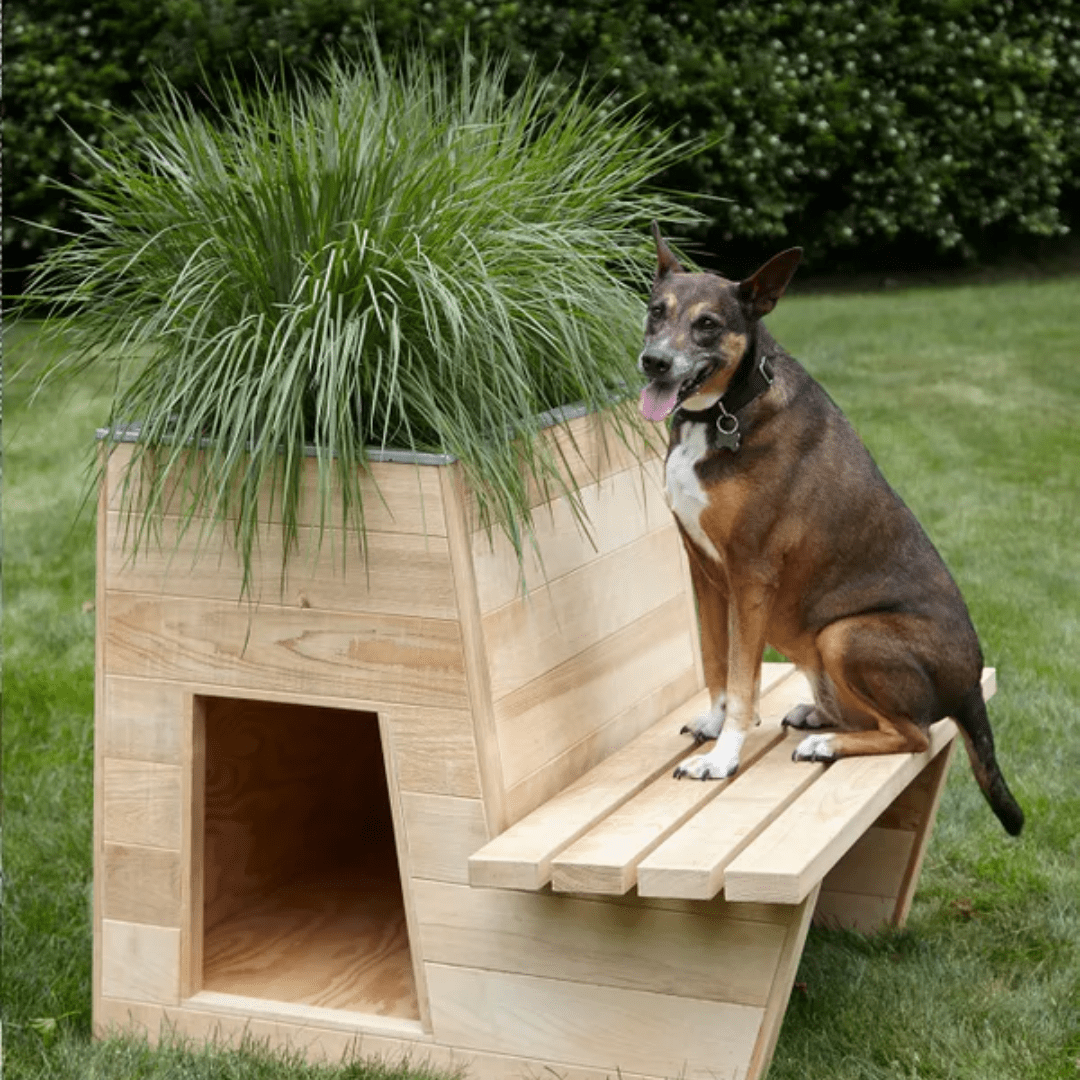 This provides the dog with fresh air thanks to all those plants, a place to rest or chill outside its den, as well as a nice and comfy spot shielding him from the harsh elements, all in one stylish piece of furniture.
Perfect for a Princess
This cottage-style dog house is perfect for any small delicate dog breed that likes to be pampered with only the finest dog shampoo and fed the highest quality dog treats. Just look at that cute doggy posing beautifully in front of her dog house!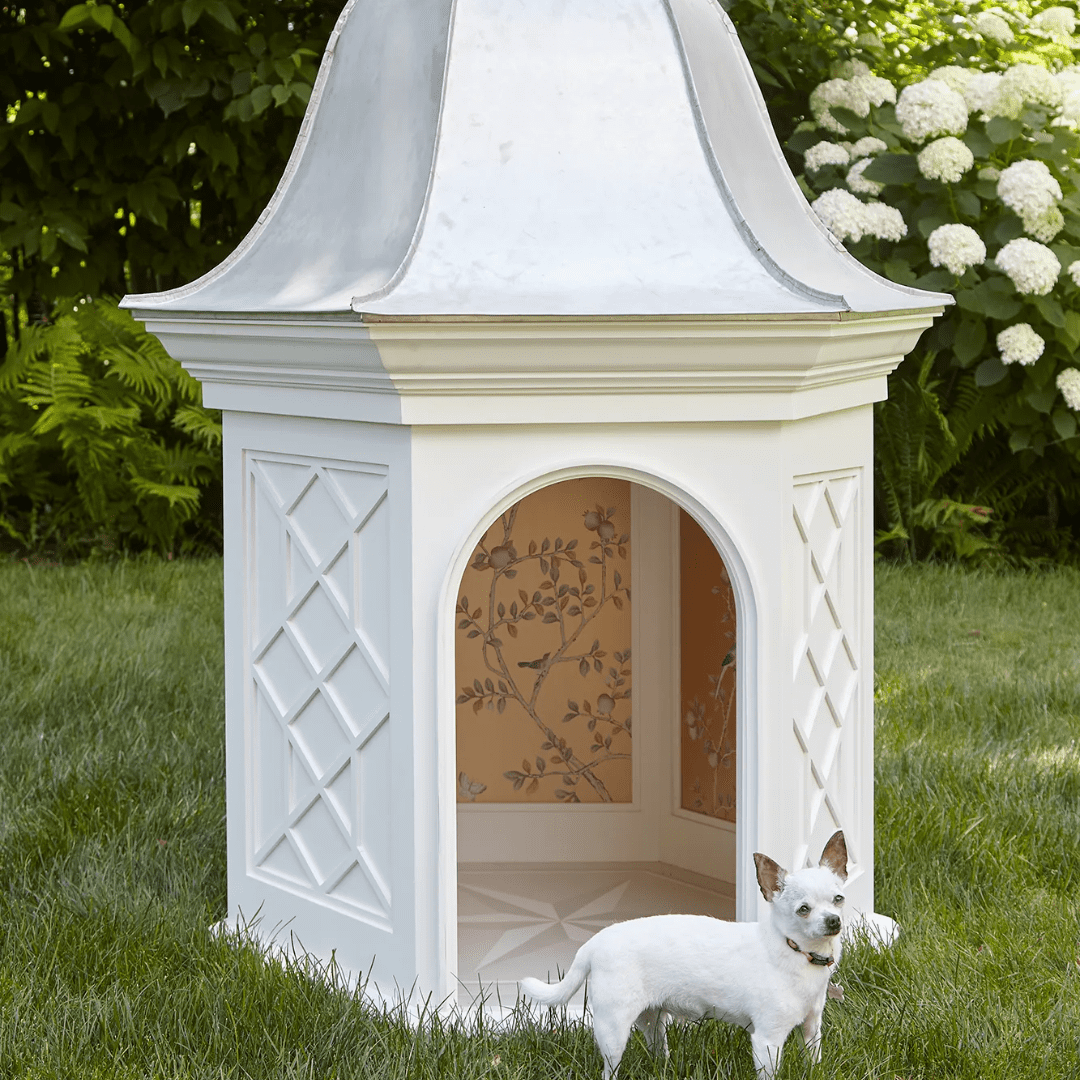 This whimsical style for a dog house might match your home's exterior if you have gothic-style architecture or love something different and unique in your garden. The delicate wallpaper and floor pattern on the inside is also a nice touch.
Mirror Mirror
This is another interesting dog house that might confuse anyone looking at it, including the poor doggy. Let's hope they have a sense of object permanence or good eyesight since you or the dog might run into this house if you're not careful.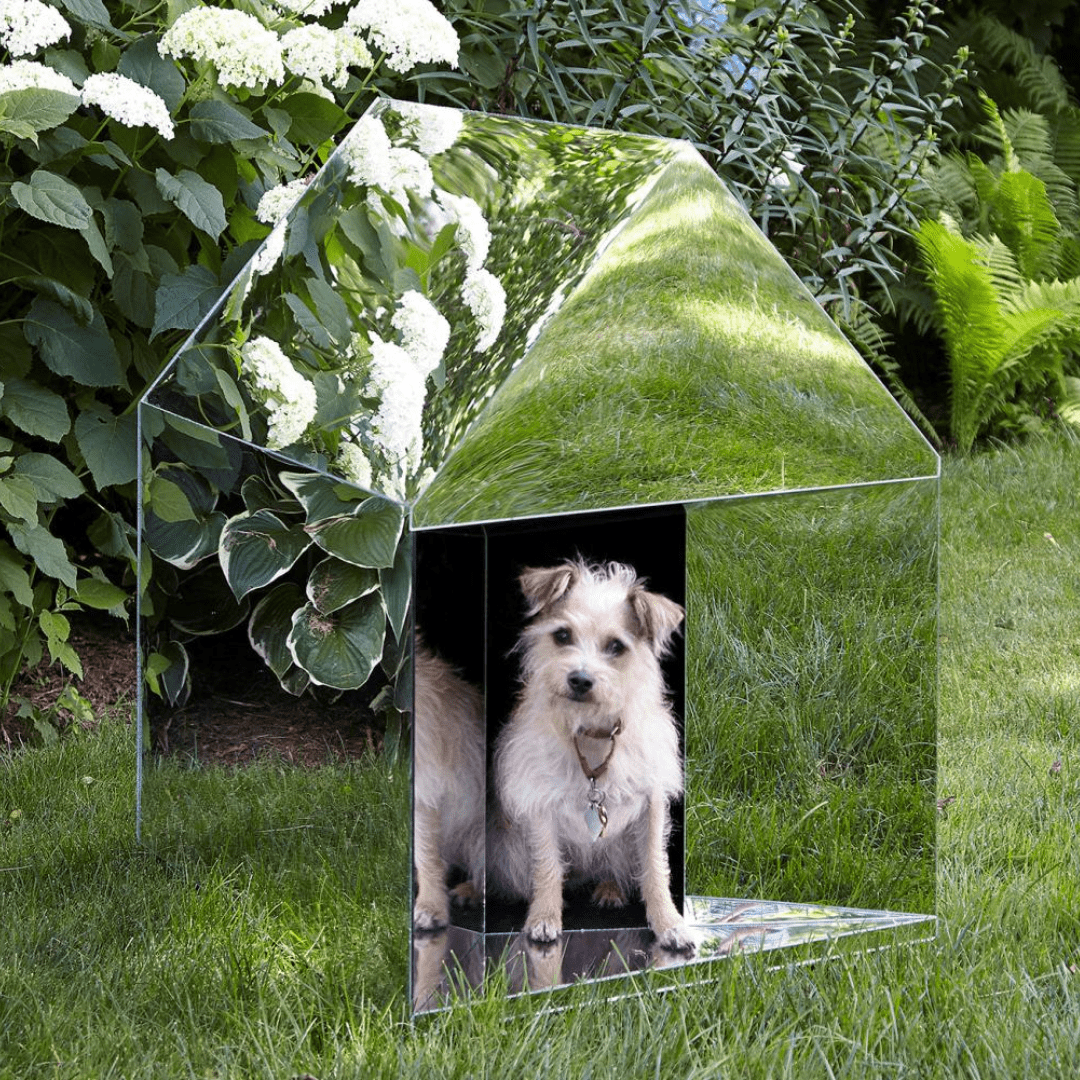 This unique dog house uses a clever illusion technique to make it seem invisible by having mirrored panels on the outside. It's a great design if you don't want your lush green garden's look to feel obstructed by a bright contrasting dog house.
Villa de Doggy
This huge dog house is something to be in awe of. It looks like a stunning little villa you would find hidden in the hills of a wine country somewhere in rural Italy. The detail is amazing, and we can't help but feel jealous of this little guy!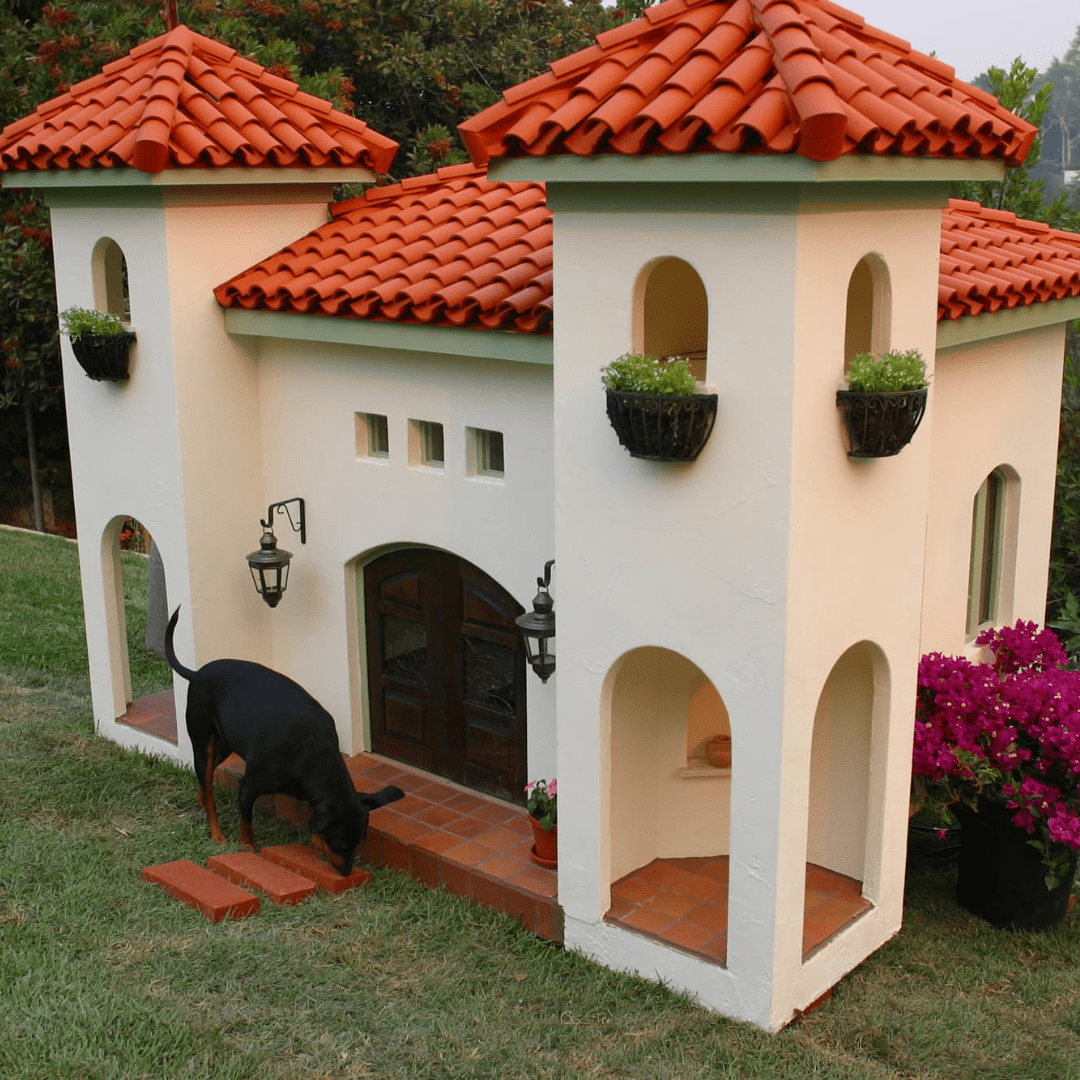 From the roof tiles and little planter baskets to the columns and towers, you just know this dog is spoiled to bits judging by the custom home its owners got for it. We imagine that soft jazz must be playing from the inside at all times.
Movable Modern Home
This modern doggy home is perfect if you want a big house for your dog with great style but you don't have a lot of lawn space to permanently keep it in one spot. You can simply move it around as guests come and go.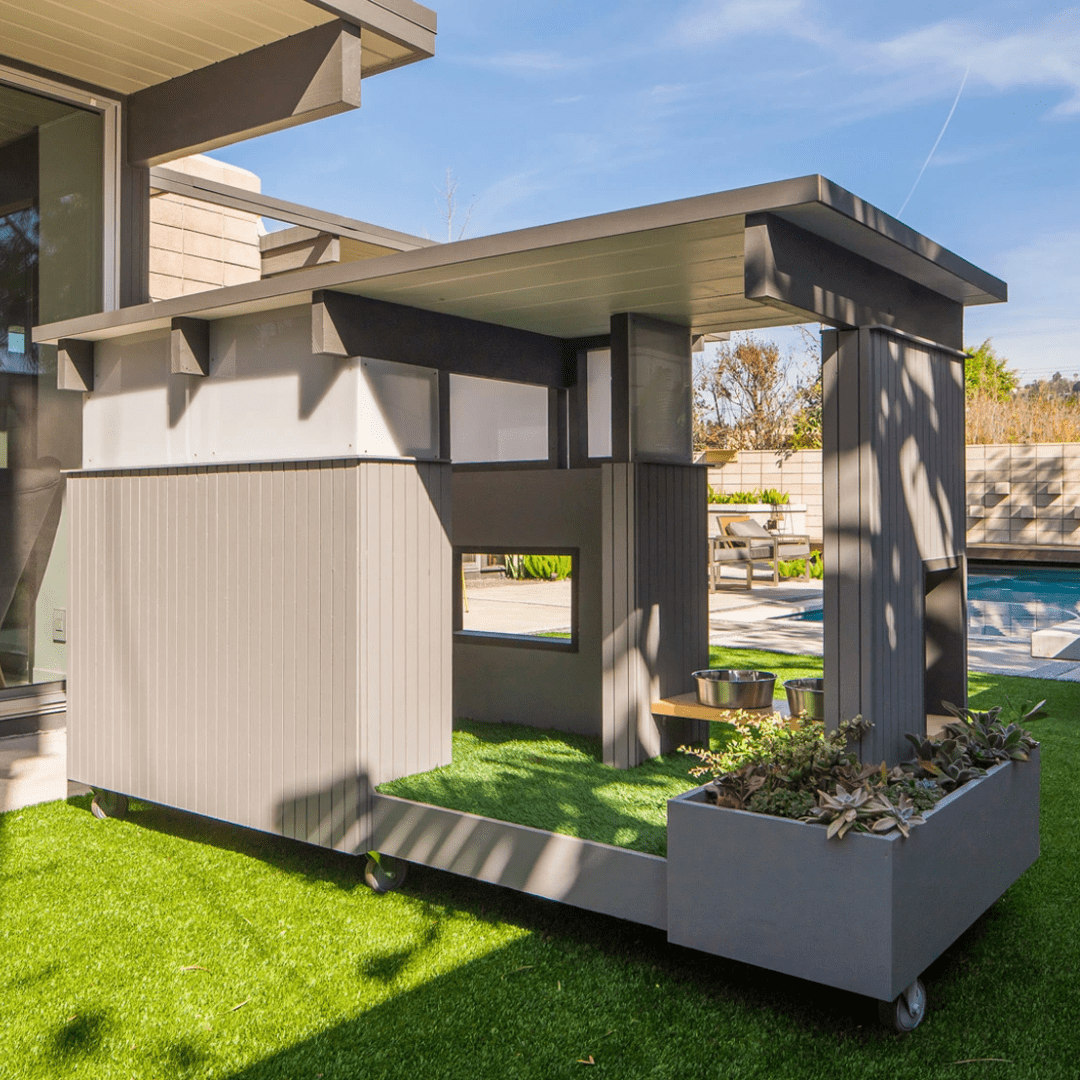 We love that the inside is carpeted with more grass, probably faux grass, to keep it lush and green all year round. It also has a mini garden to give the doggy a sense of home when standing on its 'porch.' We could only dream of such luxury!
Mid Century Apartment
This dog house for a toy pom looks like it could be straight from a mid-century house with its skew and angled lines and classic mid-century railings. The detail on this home is undoubtedly what makes it as great as it is.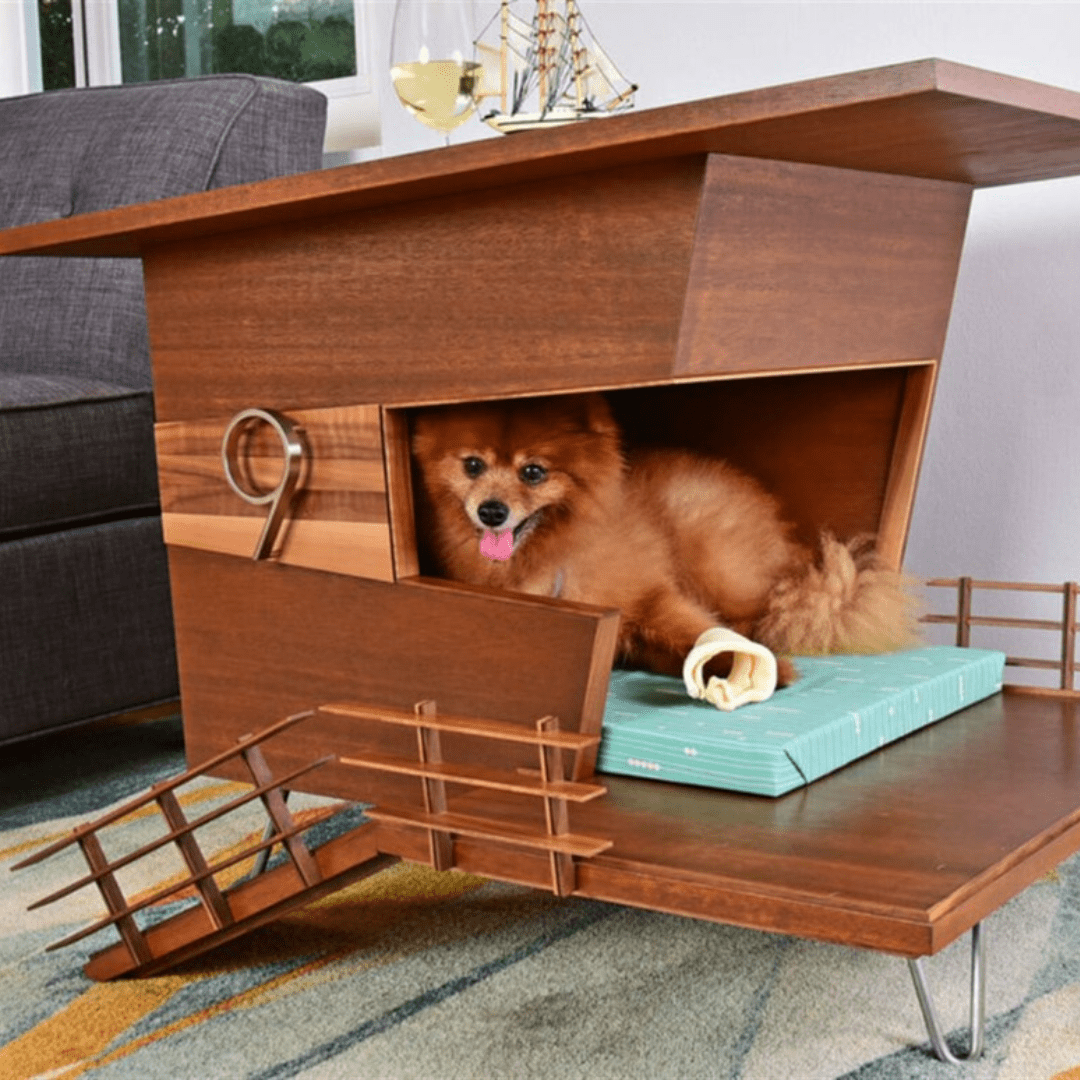 You wouldn't need railings or handlebars on a small house like this, but we appreciate that the designer included them to round off the look of this sleek abode. This would also function as a stunning piece of decor in any home.
Fluff Tunnels
Sure, you may have seen fluffy dog beds and beautiful domes, but what about a simple, super fluffy dog tunnel that looks like the most comfortable thing to catch a quick nap on? That's exactly what these two pooches have.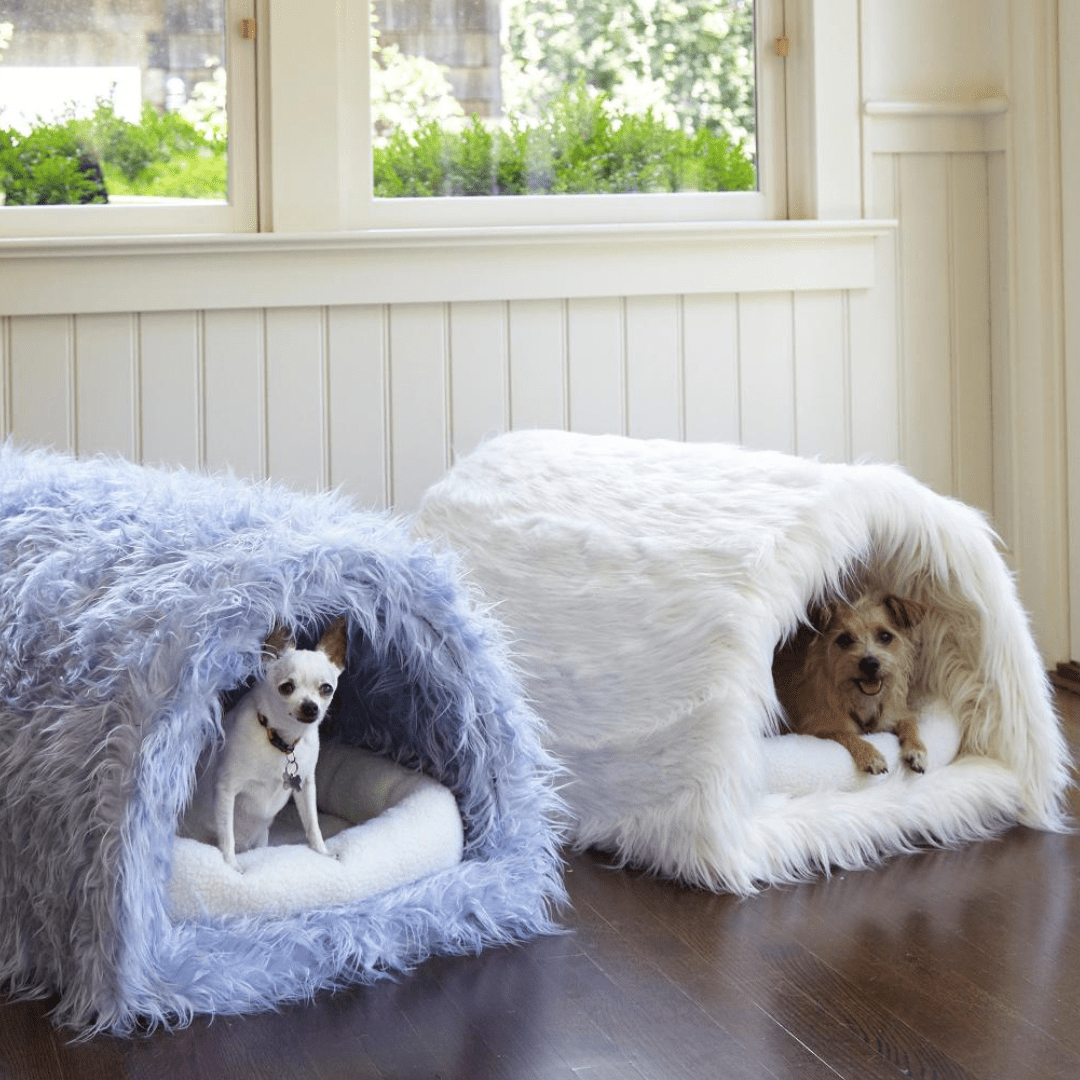 They are covered in soft fluffy faux fur that keeps the two doggies super warm when the temperature drops. Plus, they add a bit of style to the home. We also think it's safe to assume these two throw the best sleepover parties in town because we're getting some serious "Blair Waldorf" vibes from this!
Simple and Stylish
This stylish dog house may look simple, but the composition of all the pieces is what makes it stunning. The corrugated roof, light-colored wood, and floating shelves for the food and water bowls are so sleek, modern, and simply beautiful.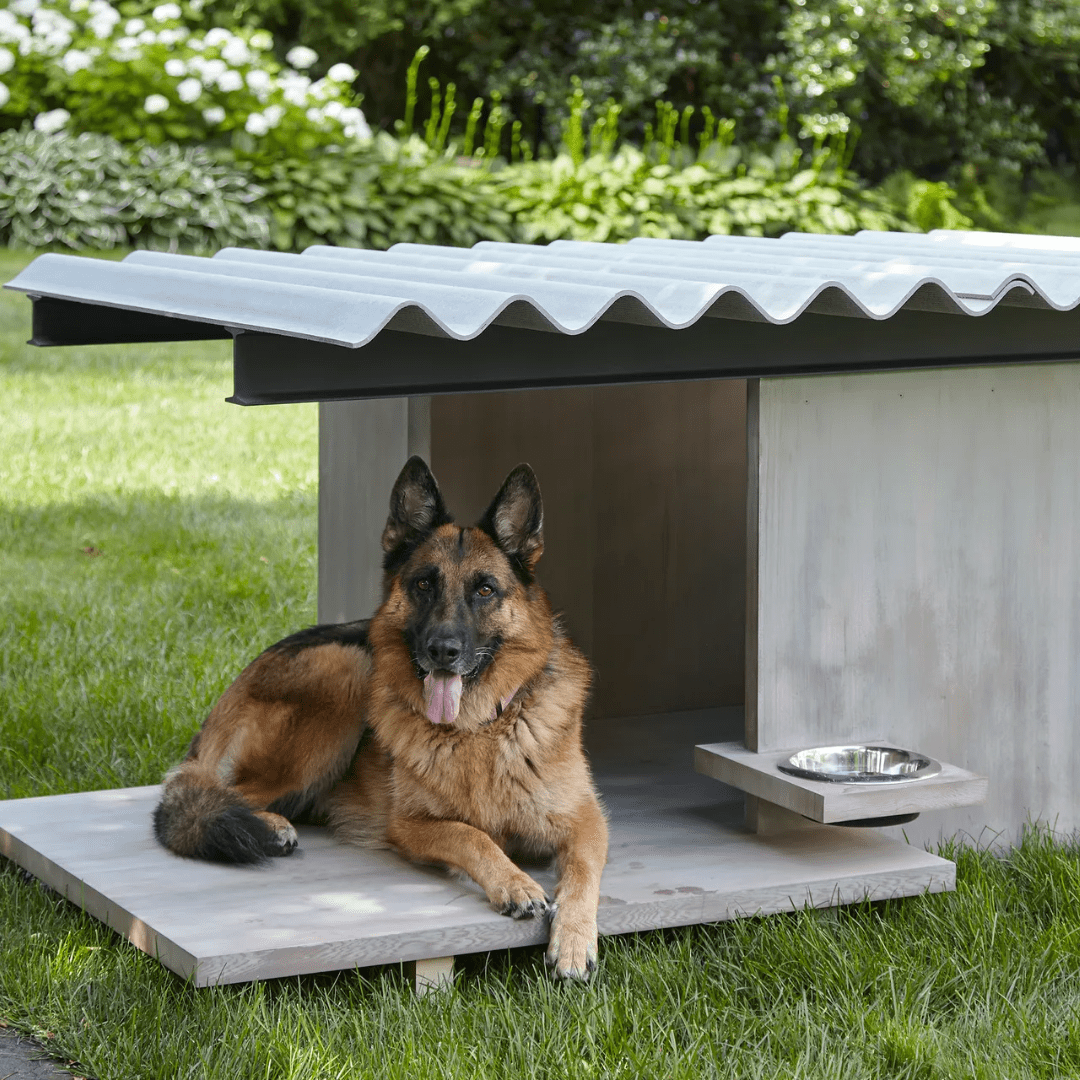 This looks like the coolest hang-out pad a dog could wish for, and as you can see, this one looks perfectly at home here. Just throw in some fairy lights and a comfy rug, and it would be the ultimate setup for a doggy-date night!
Cartoon Castle
This basic yet cool princess castle is the cutest thing we have ever seen! Just look at how happy this little white dog is, thanks to her new digs! It truly is fit for a princess. Although the colors are simple and the details minimal, this is still pretty impressive.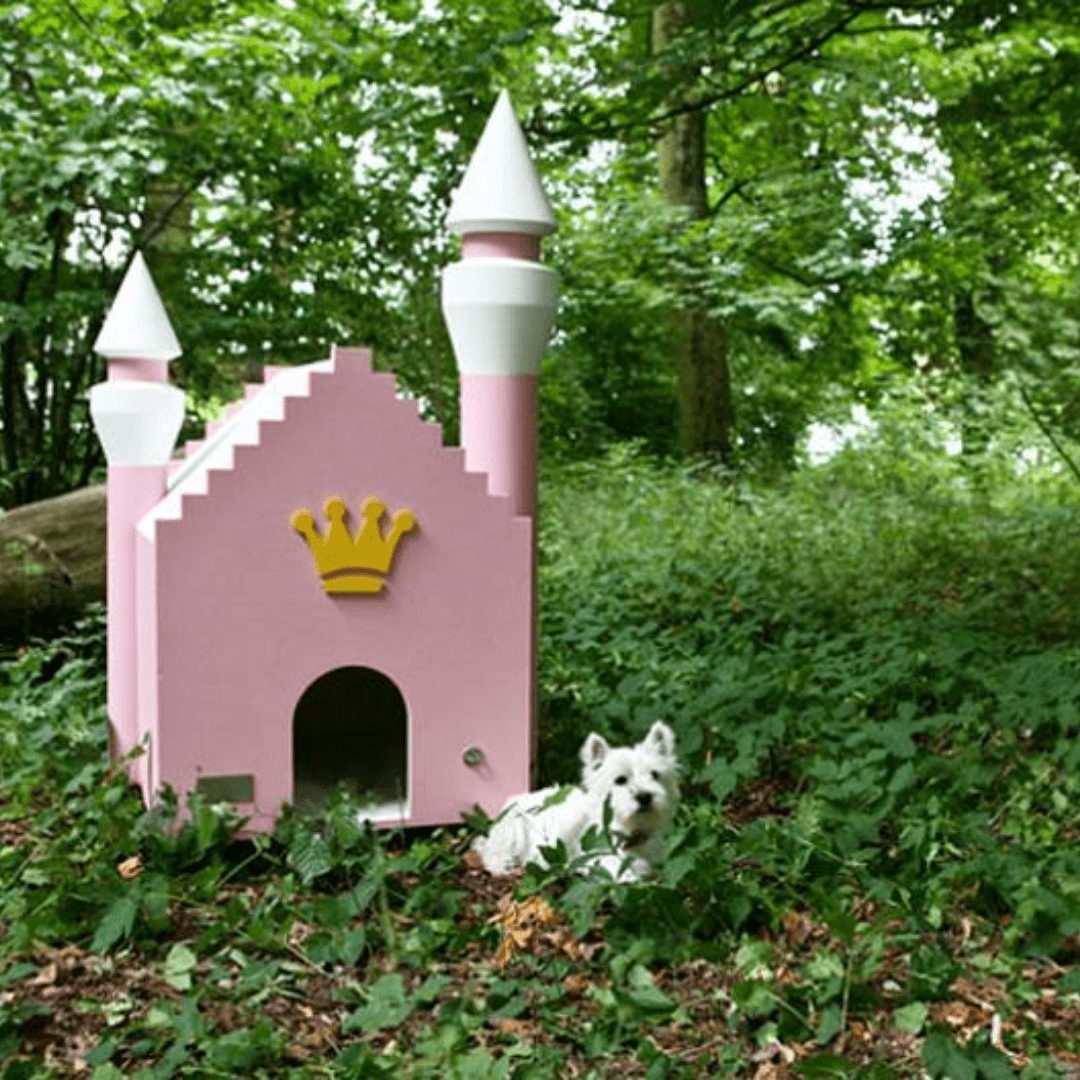 You could easily make this at home if you had some time to spare and a lot of patience to get those details cut into the panels. We are confident it would look amazing in any cartoon lover's backyard. Plus, your little princess would adore it!
Barn House
This dog house seems like the ideal spot to take a break from the harsh sun for a moment and cool off after an awesome game of catch. It isn't that great for sleeping through the night, though, since the walls have slits in them to allow airflow, and it also isn't waterproof.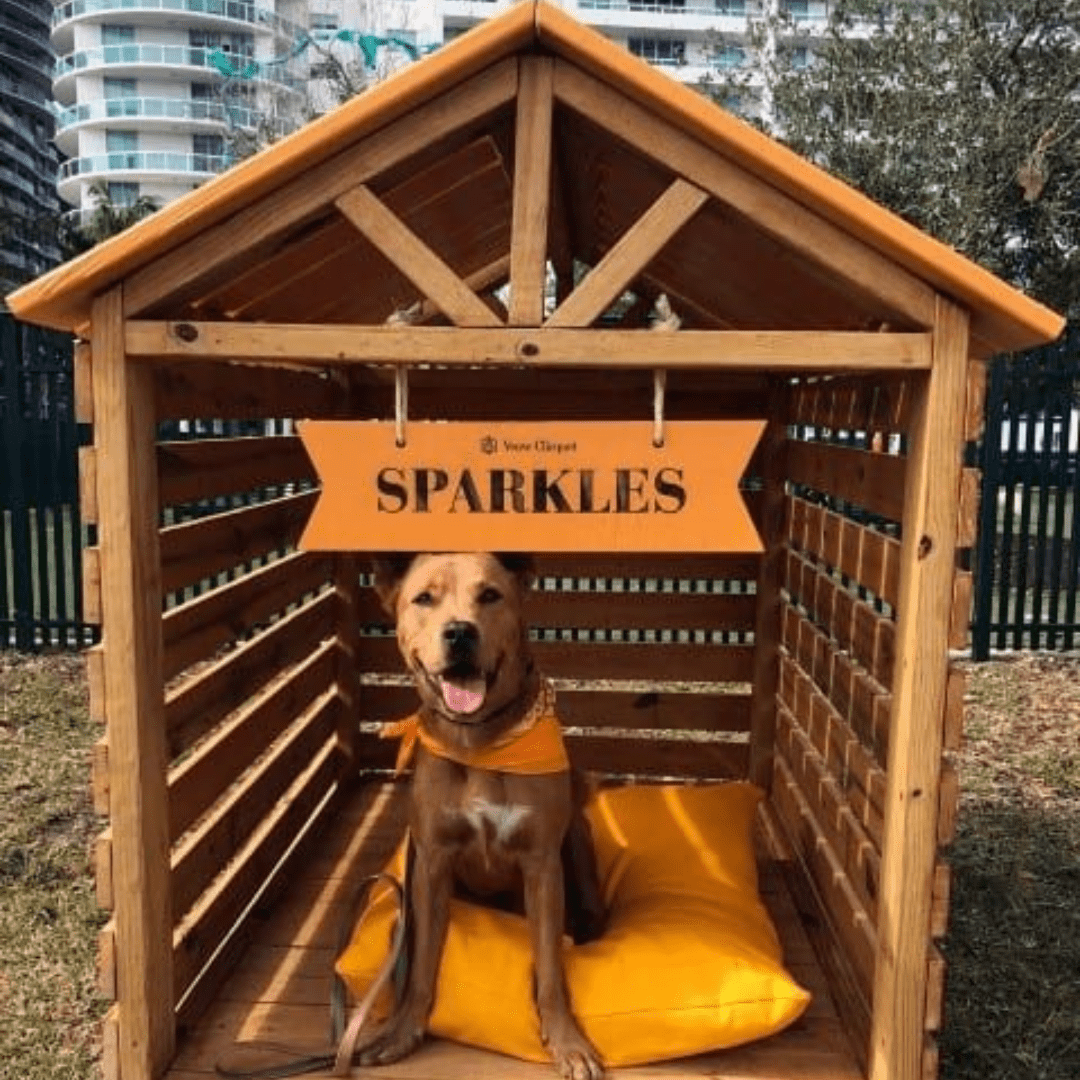 But those same features are what make this house a great idea if you just want to give your dog a place to lounge on a hot summer's day. The addition of the name board was also a great touch, and Sparkles looks like she absolutely loves this little hideout.
Details
This next one seems like it is more of a garden decor piece than a dog house. The shape is quite simple, but what makes it stand out is the insane amount of detail and a lighting feature that make it quite beautiful.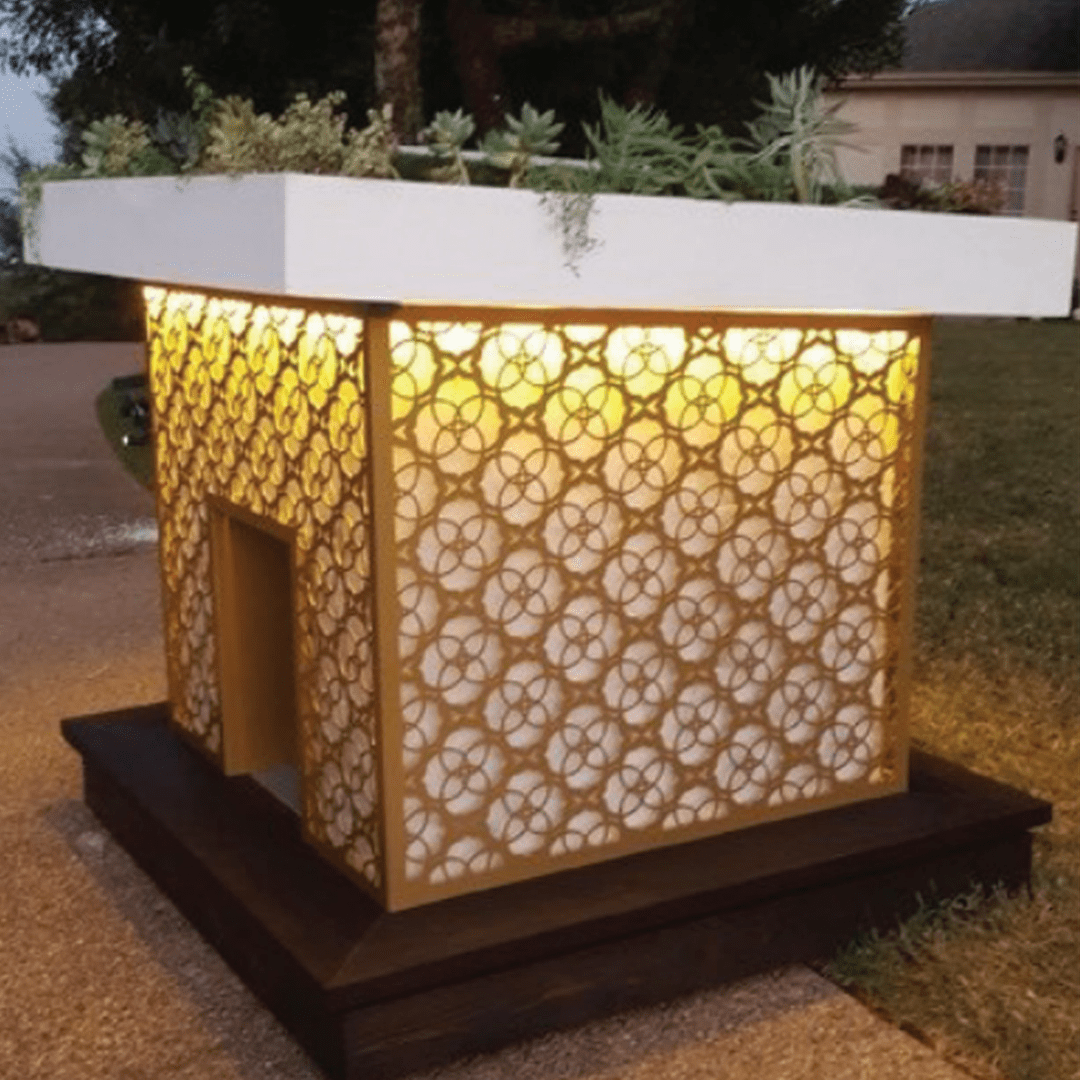 It also has a little rooftop garden that helps to keep the temperatures warm in winter and cool in summer while serving a functional purpose too. This doggy is so lucky to have such a pretty little home for itself.
Ventilation
This dog house might seem basic, but it has some amazing built-in features. For example, not only does it have a slanting roof, making it easy for rainwater to drain off, but it also has little windows near the top to let in natural light.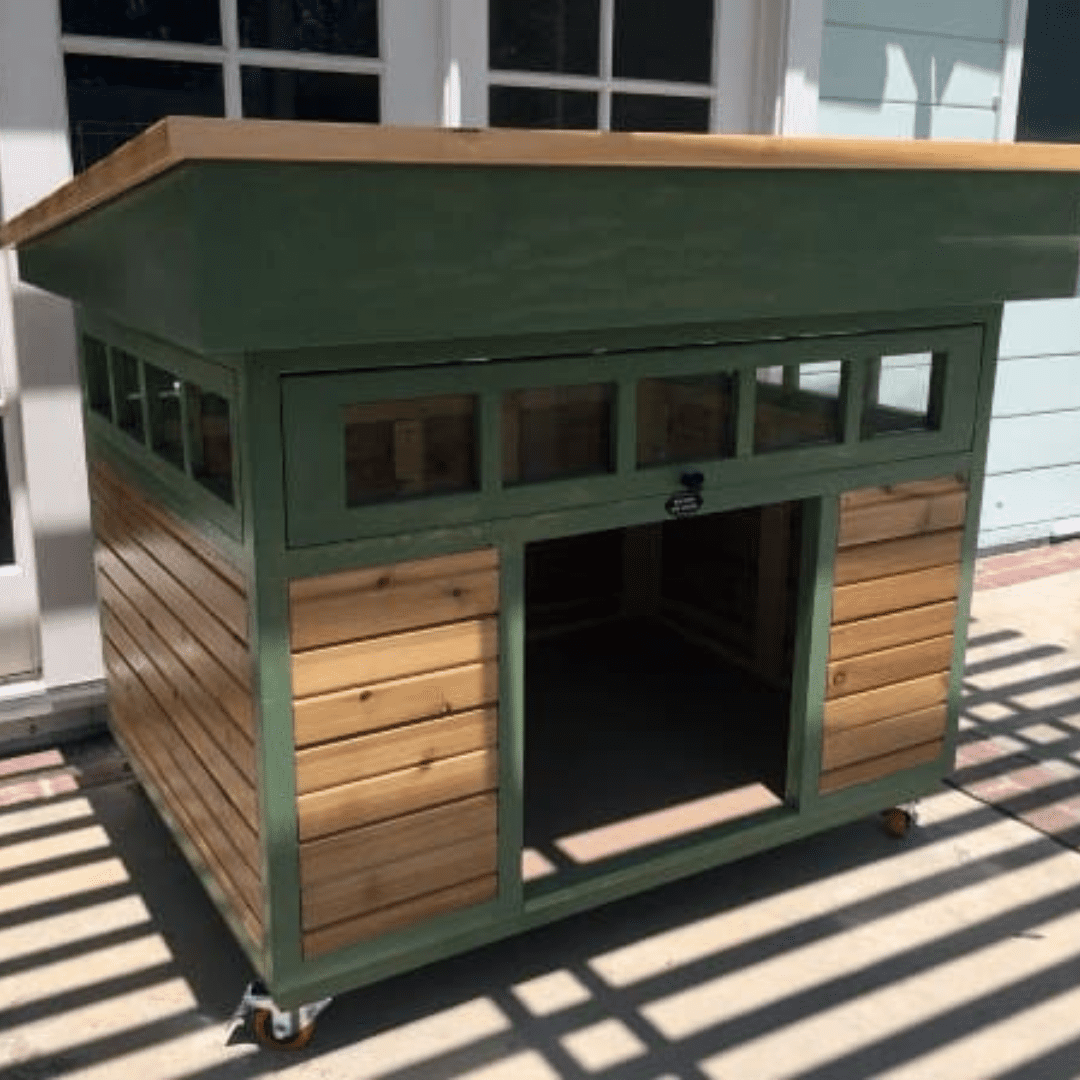 But that's not all. The little windows open up to ventilate the dog house when it gets a bit too warm. Additionally, it is built rather stylishly, and we love the color combo of deep green paint and light natural wood.
Forest Retreat
Does this dog house not look like it could be a very expensive and luxurious AirBnB you would find somewhere deep in a lush forest surrounded by trees, birds, and small animals? Yeah, we would absolutely love to stay in a house like this if we were someone's trusty companion.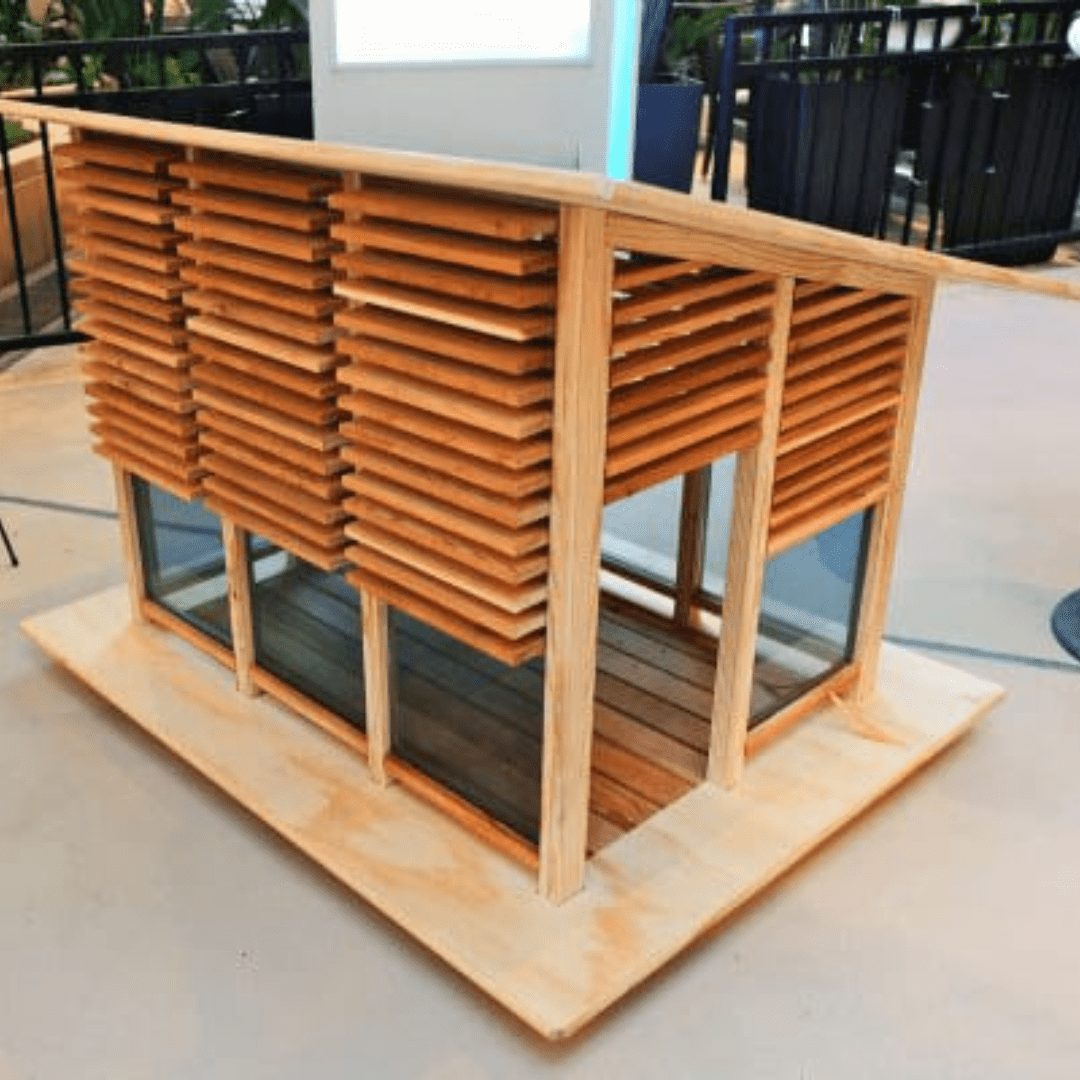 The designers went all out with this, from tinting the windows so no harsh UV rays can penetrate the inside to the stylish slats that help to bring in fresh air while still adding to the aesthetic appeal. This would be our definition of a simple but chic dog house.
Form and Function
This designer took the idea of 'form and function' and ran with it. Their cube-shaped dog house is such a cool piece that it looks like it could be displayed in a modern art gallery or put up for sale for thousands of dollars!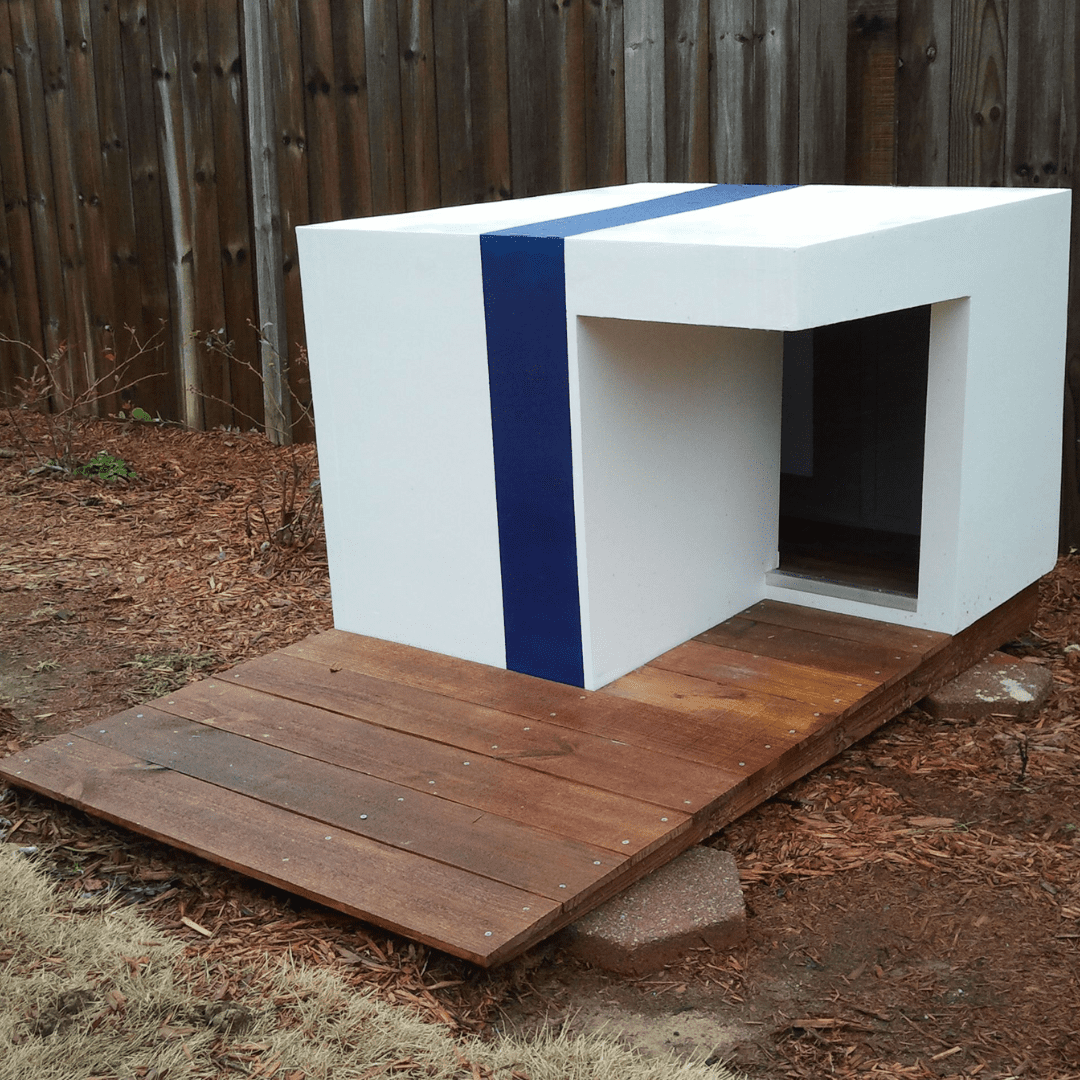 This simple and functional dog house has its own little hallway to allow the dog to get a good night's sleep in comfort and privacy. Plus, we really like the minimalist paint job and that lovely deck. It's the perfect bachelor pad for the town's hottest bachelor pup!
Classic, Upgraded
This is the classic wooden dog house, but it has a little more than you would expect. It not only has a little porch at the front but also legit-looking roof tiles and cute little windows to finish it off.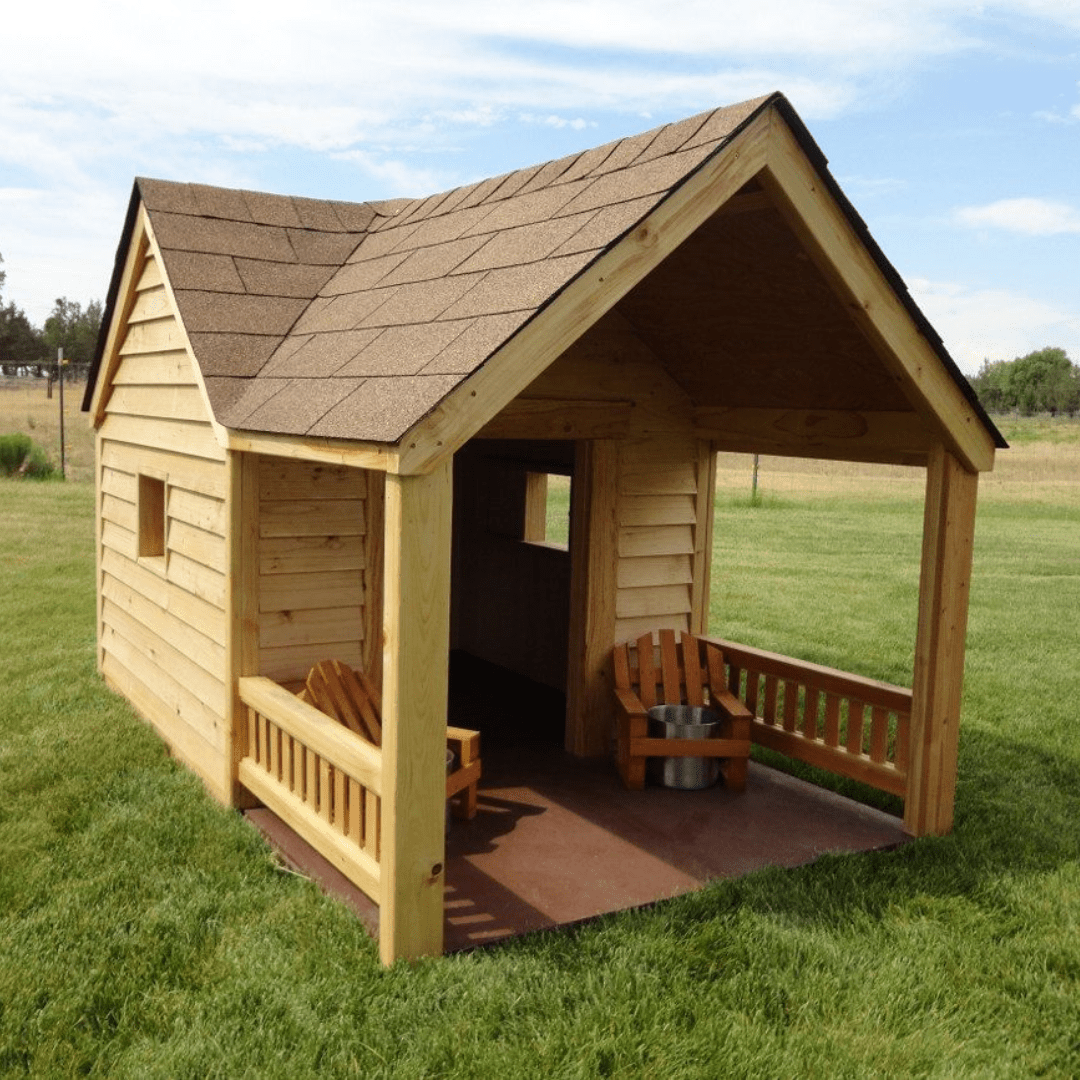 We also love the clever trick where they placed the food and water bowls in the middle of the porch chairs. It makes us think of beautiful sunsets and relaxing evenings full of soothing music, and great times with loved ones.
Simple, Yet Effective
This is a very simple but very effective dog house. Yes, it might just look like a wooden cube with a doorway cut out, and that's pretty much what it is, but the innovation lies in the clever elevation of the roof.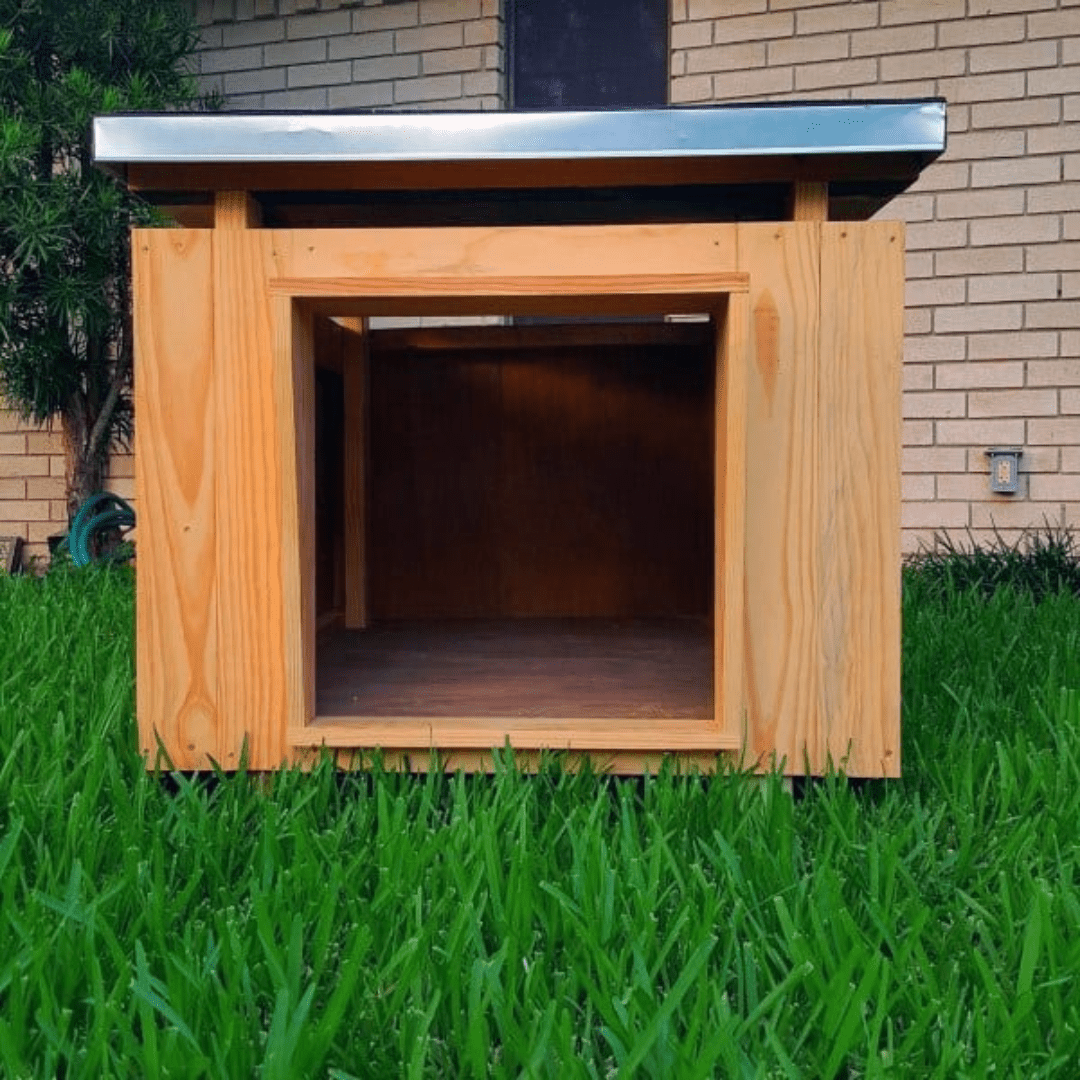 This allows for ventilation as hot air escapes and cools down the house fast on hot summer days. It might be simple, but it looks pretty stylish and very neatly rounded off, making it a great house for any pooch.
Day Retreat
This dog house looks like an outdoor spa hub where you would comfortably sit in your robe on a super comfy couch with a face mask on while you munch on juicy grapes. Frankly, we could use a treat like that!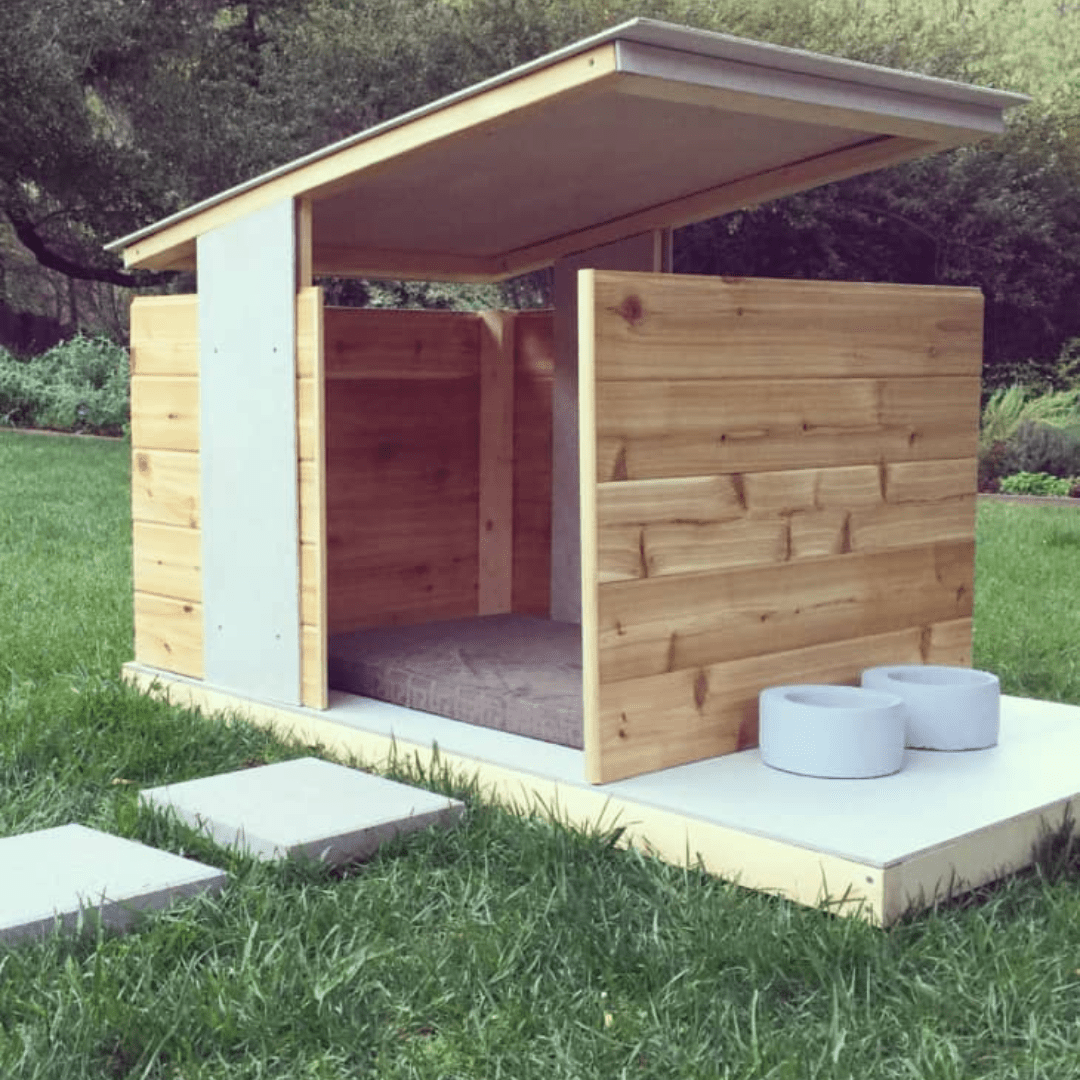 The color and texture of everything that was used to make this dog house are very well done, and we're certain the designer was satisfied. The simplistic cement dog bowls also complete the stylish look of the whole house. We would never leave this place if we were the proud owner!
Luxury Hangout
Judging by the looks of this indoor hangout spot, you can tell that this dog has 4 luxury sports cars parked in his garage, attends galas, and plays golf on his days off. He even has his own little Persian rug!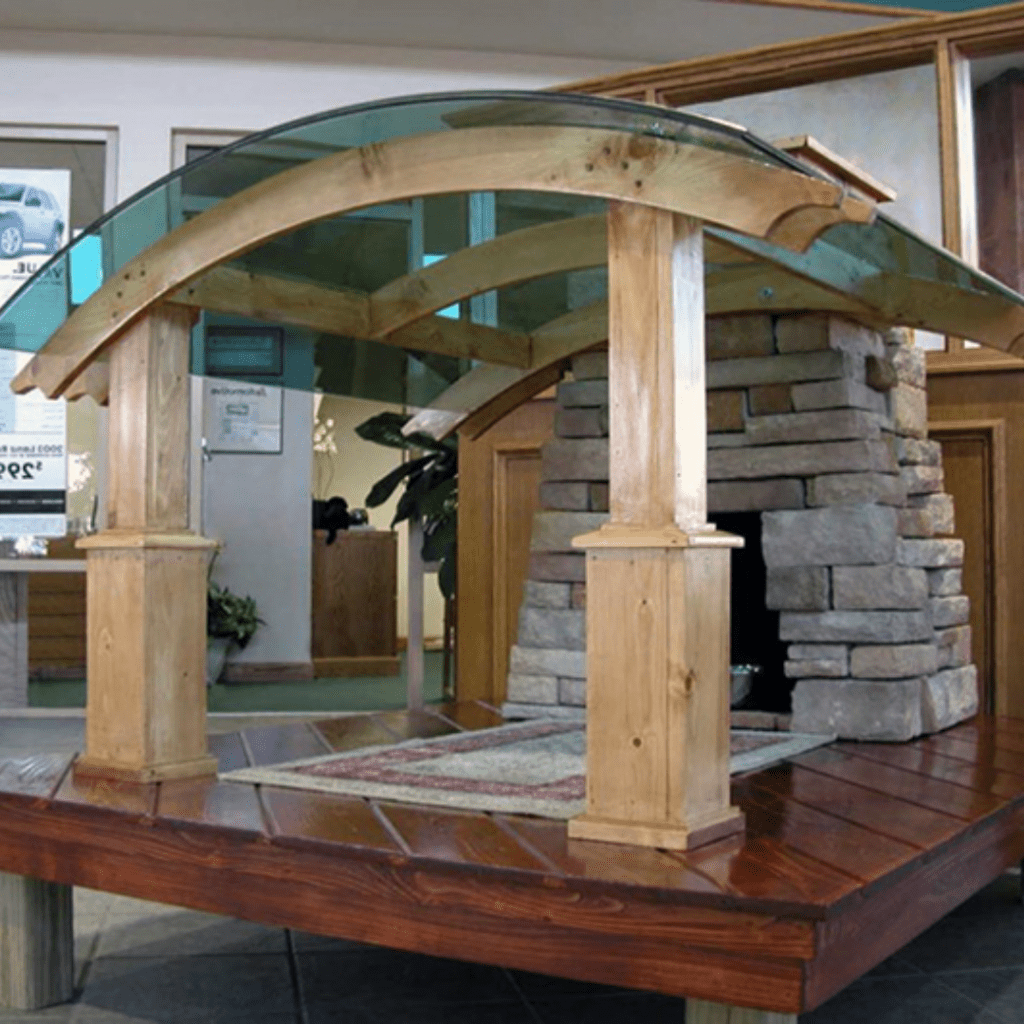 Some people think it would be a curse and not a blessing if you come back to earth as a dog in your reincarnation. However, we think we would be happy to reincarnate as a dog who lived a life of luxury like this one!
Built by Design
This seems to be a recycled dog house project judging from the cylindrical shape that is meant for the dog to sleep in. To keep it dry and safe from the wet and cold ground below, this builder added a beautiful elevated platform.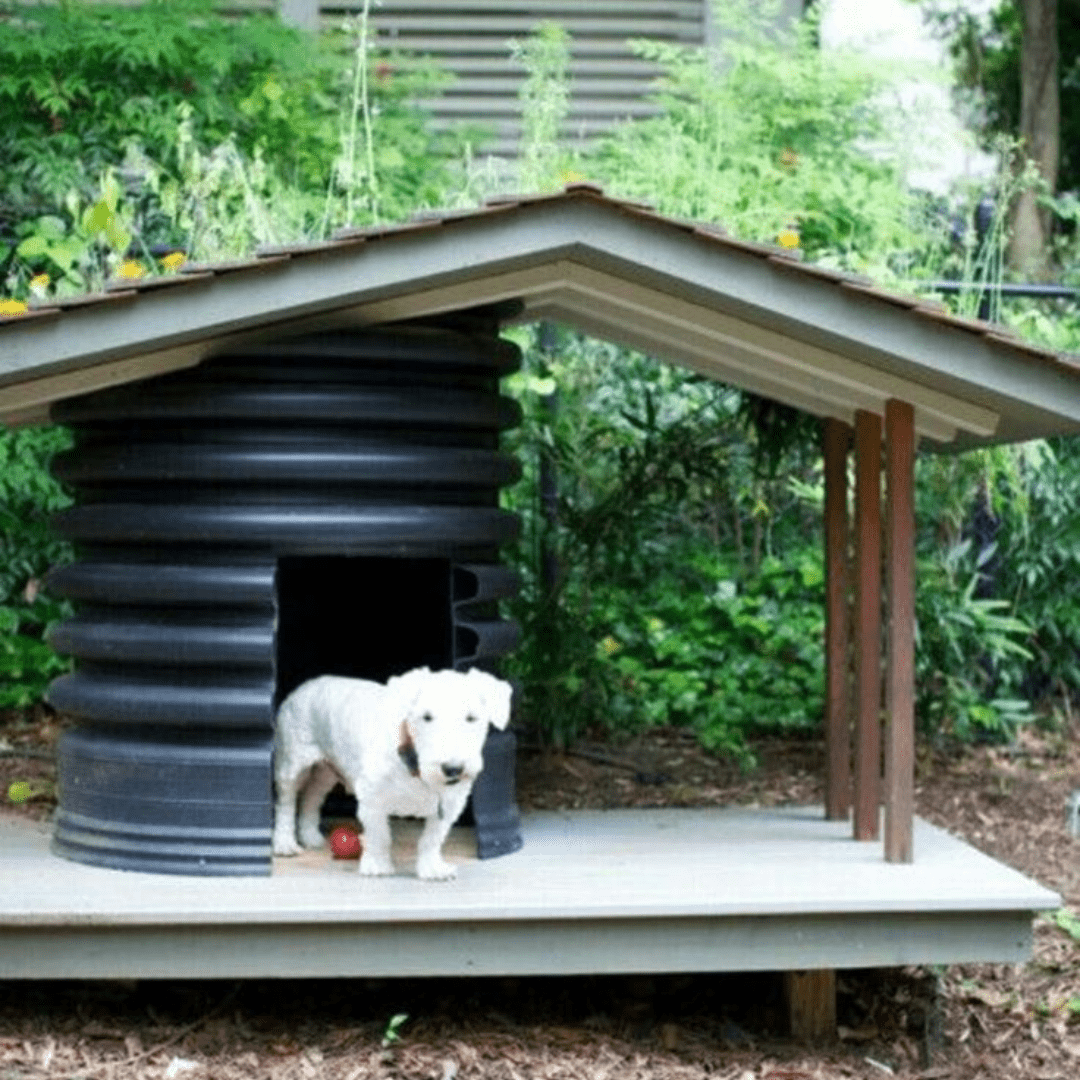 The roof adds an extra measure of protection, shielding the doggy from harsh weather like rain or hot summer sunshine. Also, it must love that it has full and easy access to the backyard. He looks just about ready to show you around after you play fetch!
Doggy Cabin
This is what we consider a dog's version of a cabin in the woods! We love every detail of this house, and there are several to talk about, from the hand-carved bone motifs lining the upper porch to the intricately woven sides of the bottom porch.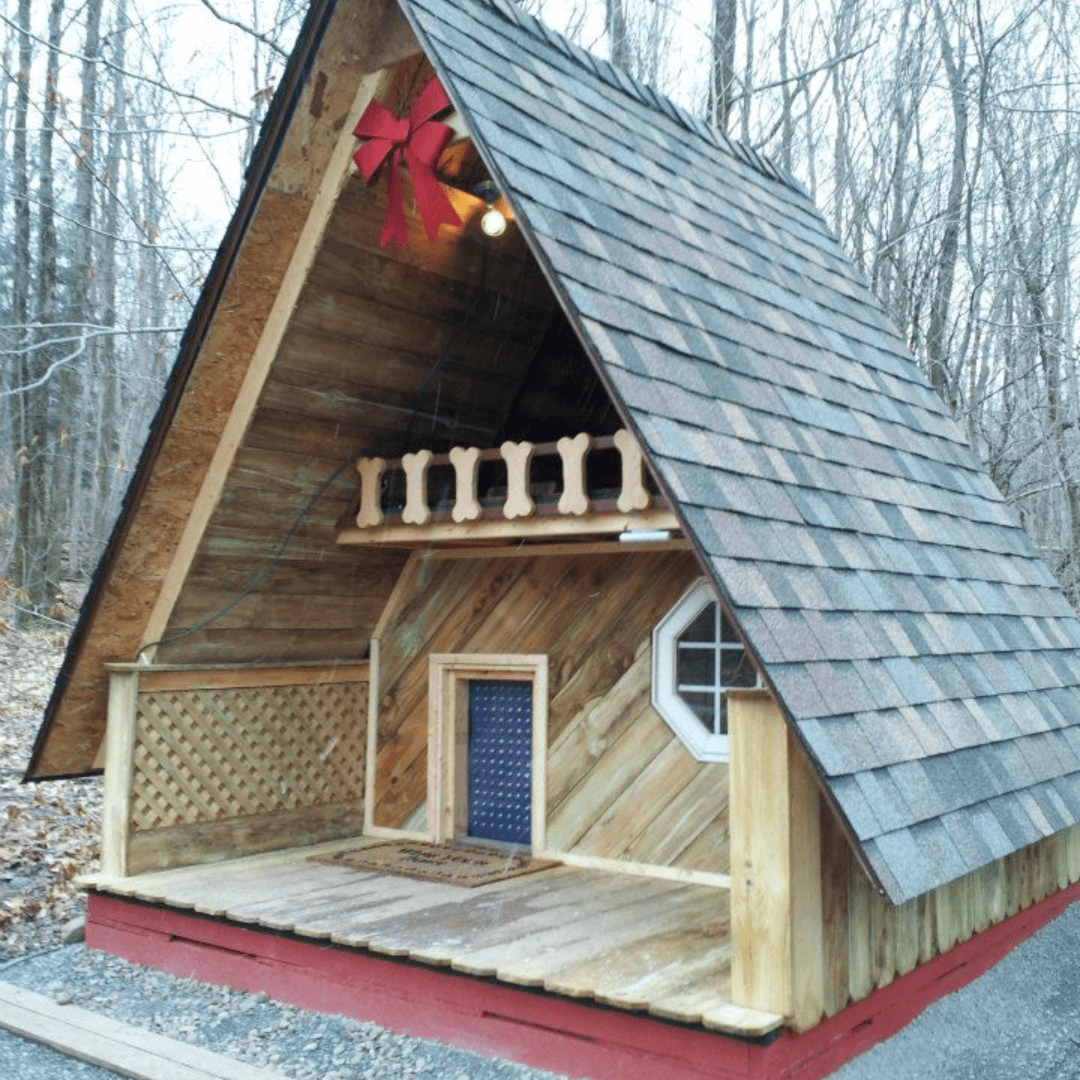 This doggy is super lucky that its owners went all out with this house. The large steep roof makes it feel like you have just arrived at a winter holiday spot and puts you in the mood for a long relaxing bath and chilling in front of a fire.
Built In
This is a clever way of utilizing that dead space under your stairs that is too low for a closet but too large to leave unused. These clever people built a space for their doggy and made it into the shape of a quaint little house.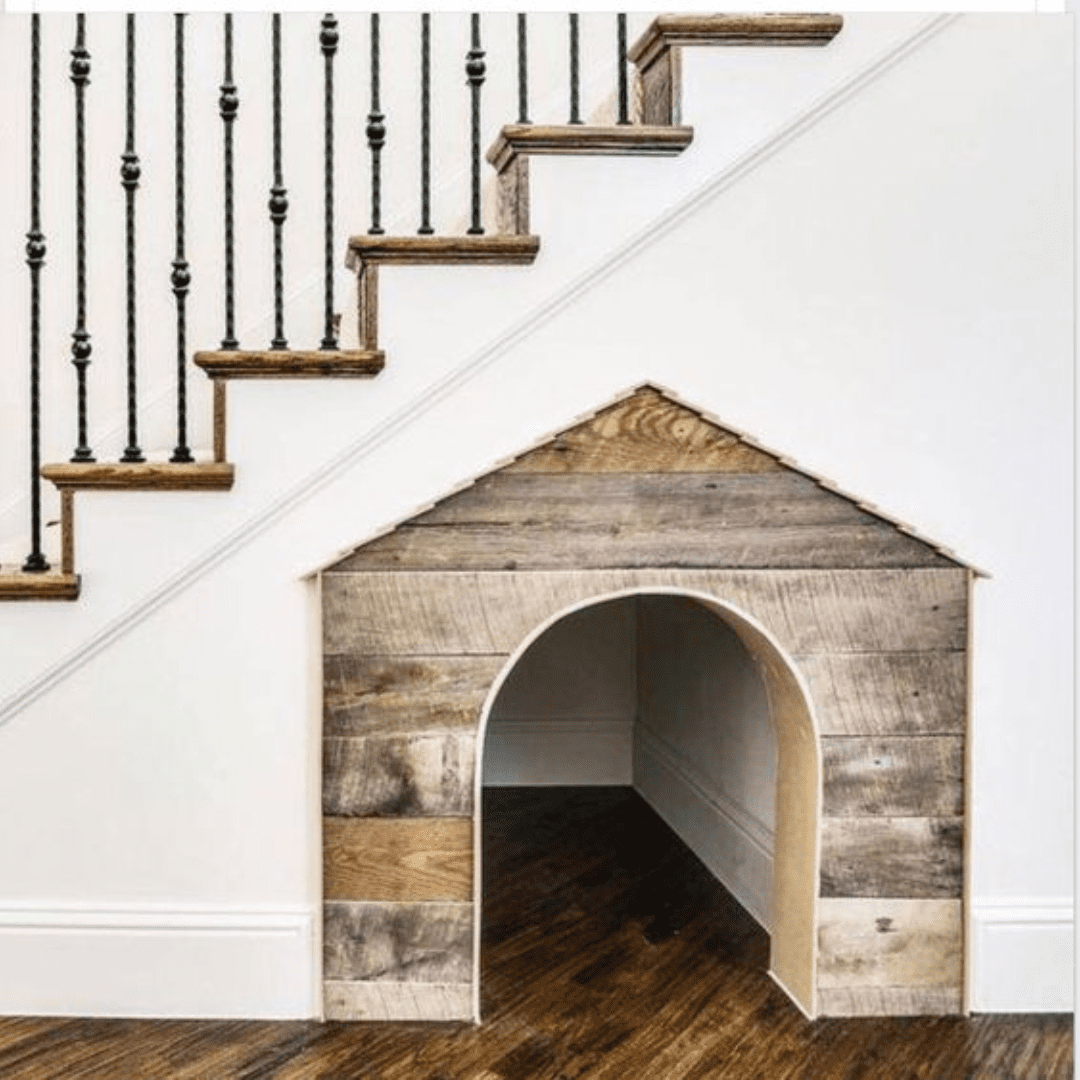 This certainly gave the dog a safe space to enjoy his naps, treats, or gentle playtime without taking up a lot of space. By the looks of it, it is actually rather spacious inside! For those who love dogs and are looking forward to building their own homes, this would be an excellent idea.
Coop-Style
This house looks a bit like a chicken coop and a barn mixed into one lovely and homey space for a pup to sleep at night. It has a nice little porch with added detail and slanted roof panels to keep water from pooling.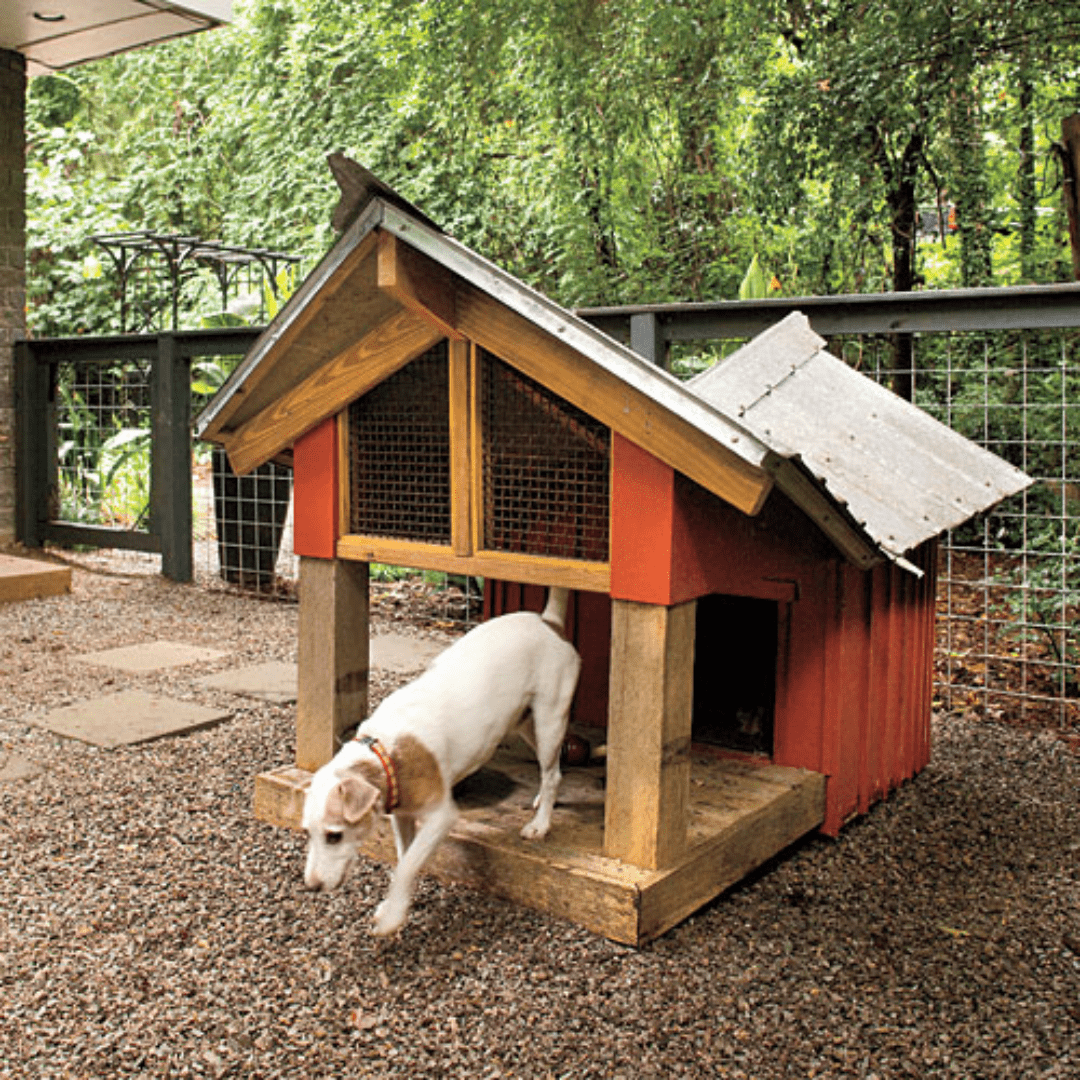 The bright red corrugated metal contrasts well with the bare metal on top and the light wood porch. We also suspect that it matches the color of this doggy's favorite ball! Can we apply to have one of these built for us?
Little Greek
This next one is made from wood, paneling, and some molded details and resembles either a frat house, a mighty mansion, or a Greek palace. Whichever way you look at it, it's still impressive with all that detail worked into every corner.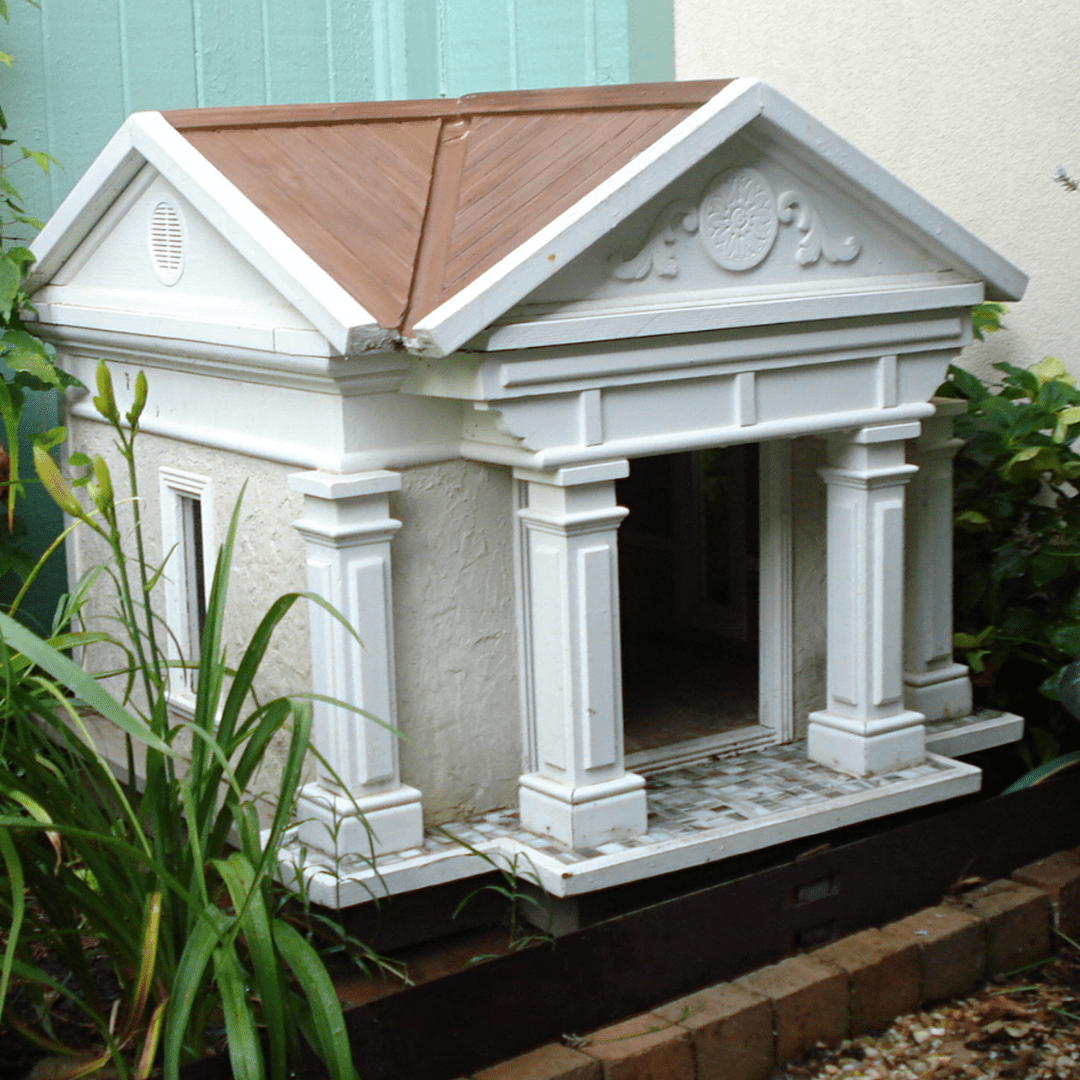 It even has a vent to ensure the pup that owns the house is extra cool! But let's face it, with a dog mansion like this, you are guaranteed to be the coolest dog in the city. We bet he throws some great parties, too, to keep up with the frat house theme!
Log Cabin
This log-cabin-inspired dog house is one that makes our hearts feel warm. Just look at how calm and happy that dog is, drinking from his custom elevated dog bowls. It is really the little things that make a house pop.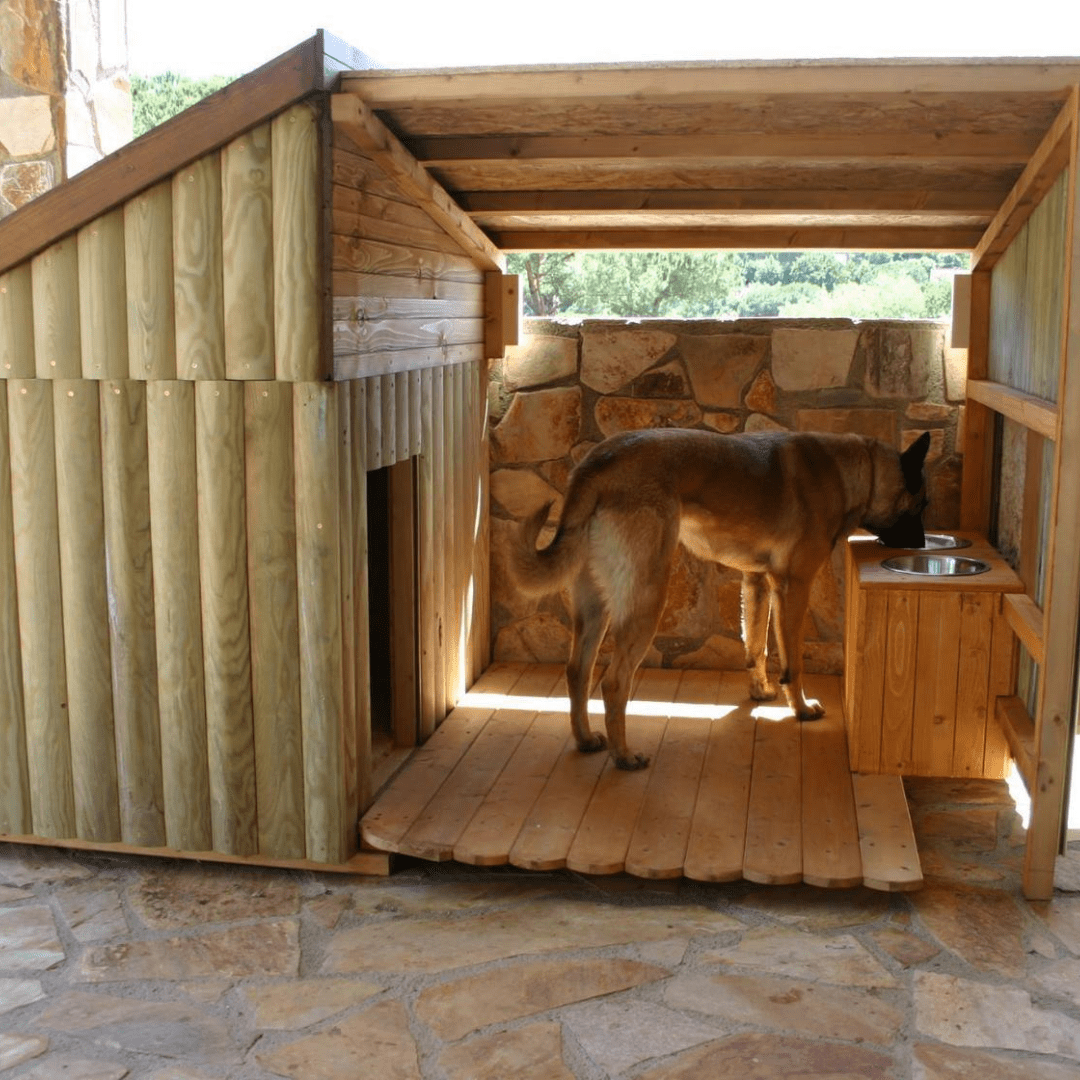 You can tell that a lot of thought went into this design, and the execution was done just as well. It makes us wonder if the dog has a little faux fireplace inside where he roasts chestnuts or marshmallows on cold winter nights.
Fancy Pooch
We can say with 100% confidence that this dog is likely too fancy to be hanging out with us. Just look at this insane dog house! We are certain that if it was a real house, it would cost millions of dollars!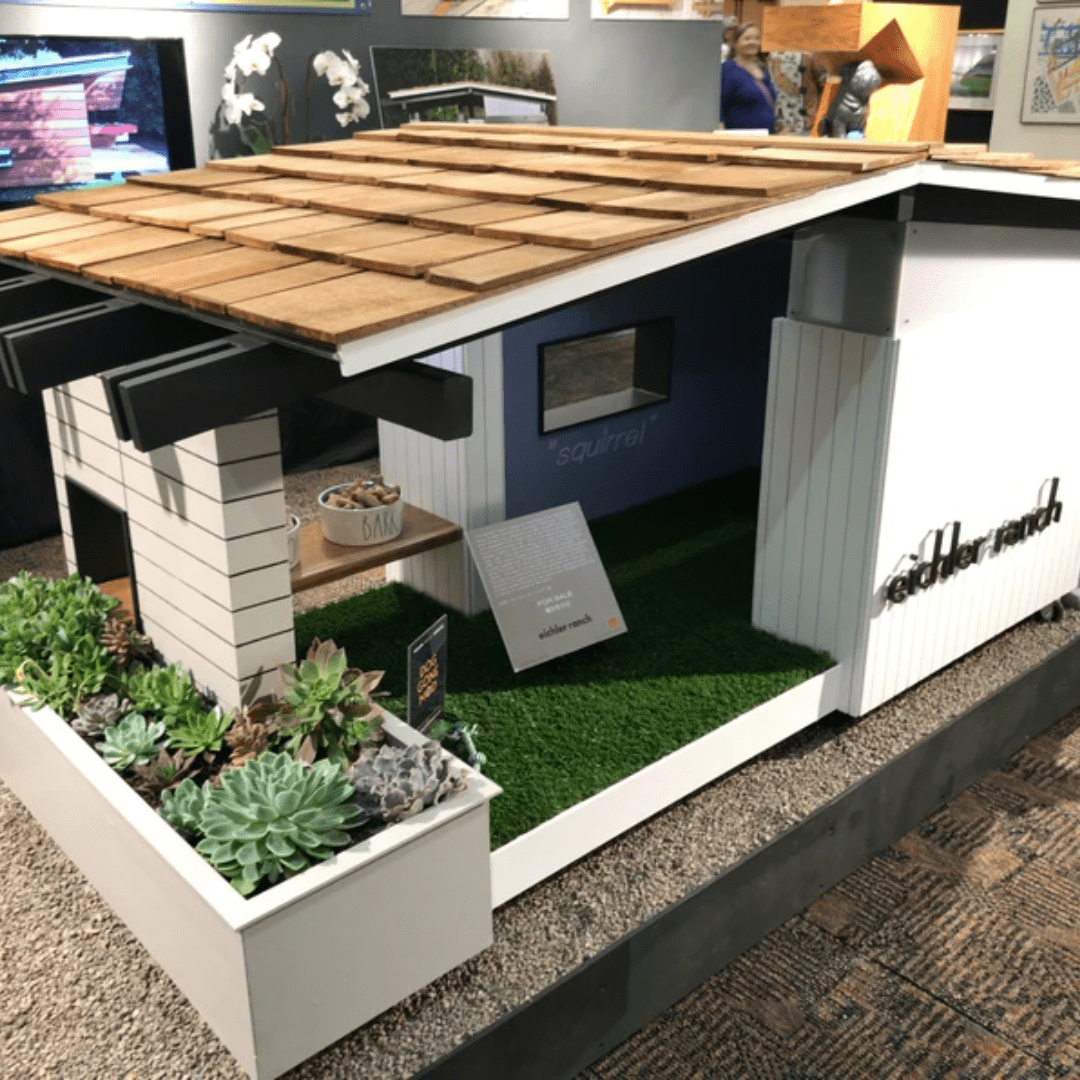 From the perfectly green faux grass, the custom name for the house, the little garden, the eating station, and even the plaque on the front door, this is one great piece of art that someone's spoiled doggy lives in! We wouldn't mind being invited over!
Cathedral
This dog house is a tiny replica of a romantic-style church, complete with a cross, wrought-iron gates, and even some ornamental porthole windows. Oh! We missed the tiny little bell hanging from the tower! Out of all the ones we have featured so far, this one is certainly one of the most unique.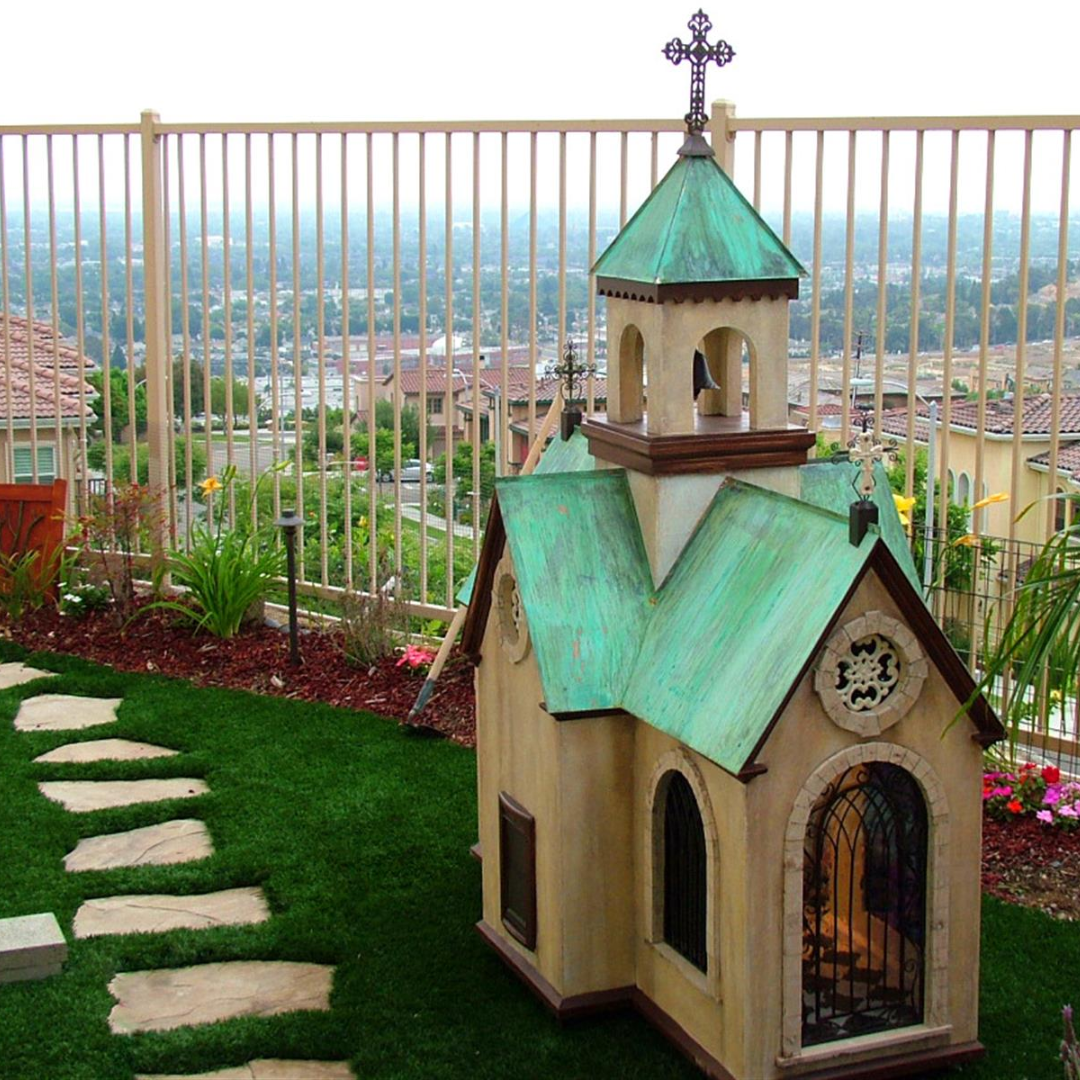 If you check out the background, you will realize that this dog house is very fitting for the style of homes that are built in this neighborhood. We bet that this dog's monthly food bill is more than what we earn!
Teepee
This is such a cute idea if you want to provide your dog with a bit more than a comfy bed. If your dog is easily startled by moving objects, screens, or people around them, this teepee tent might bring them some comfort.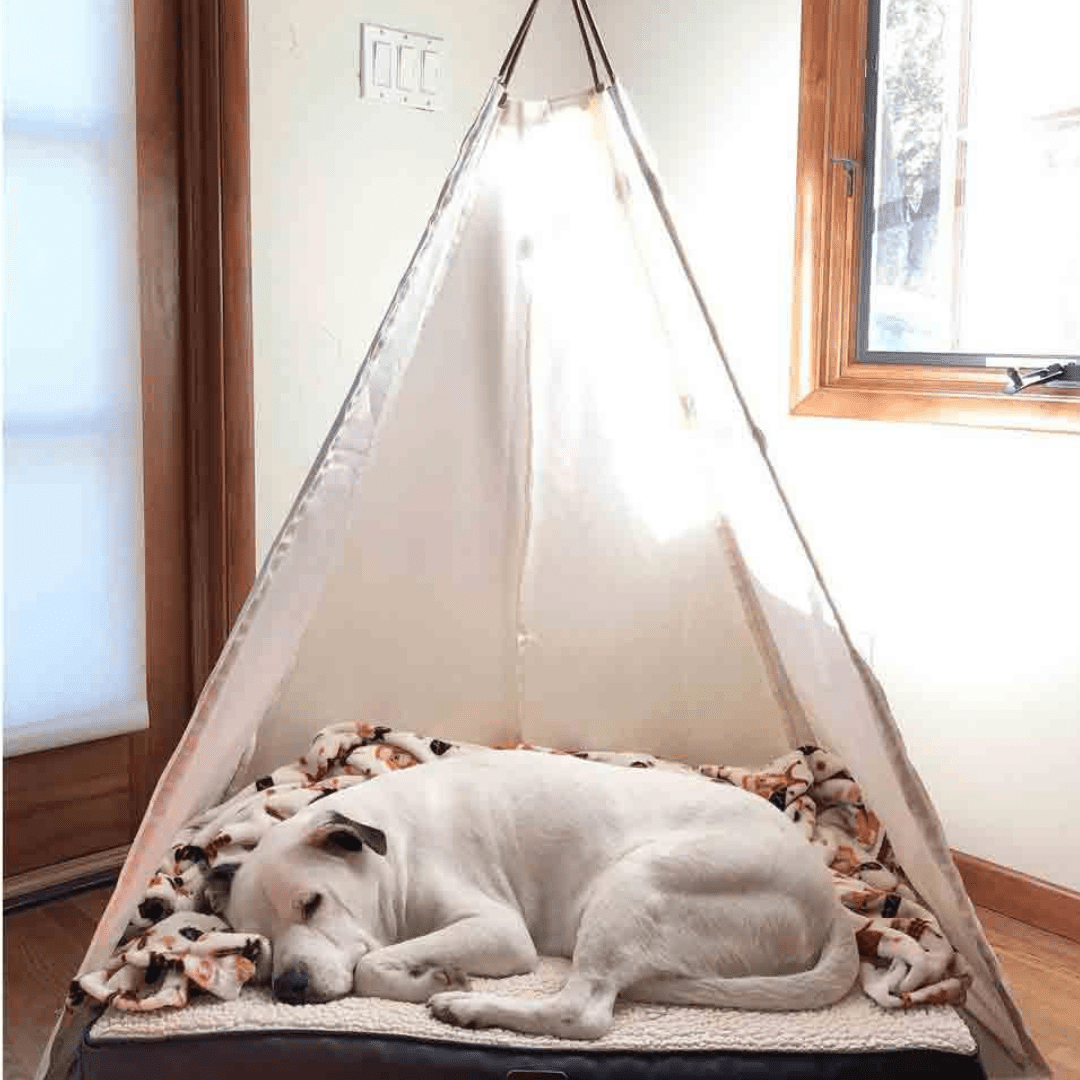 Not to mention the fact that it is pretty cute to look at, and we would love it if this was in our homes. Oh, what we would give to be that calm and relaxed pup just having the best nap of its life on a bright and early morning!
The '60s Called
The '60s called, and they are in love with the mid-century design of this gorgeous pup's home! Oh, how we love the slanted roof, the color, the sign, and even the decorative paneling on the side! It looks like the perfect home for a Husky.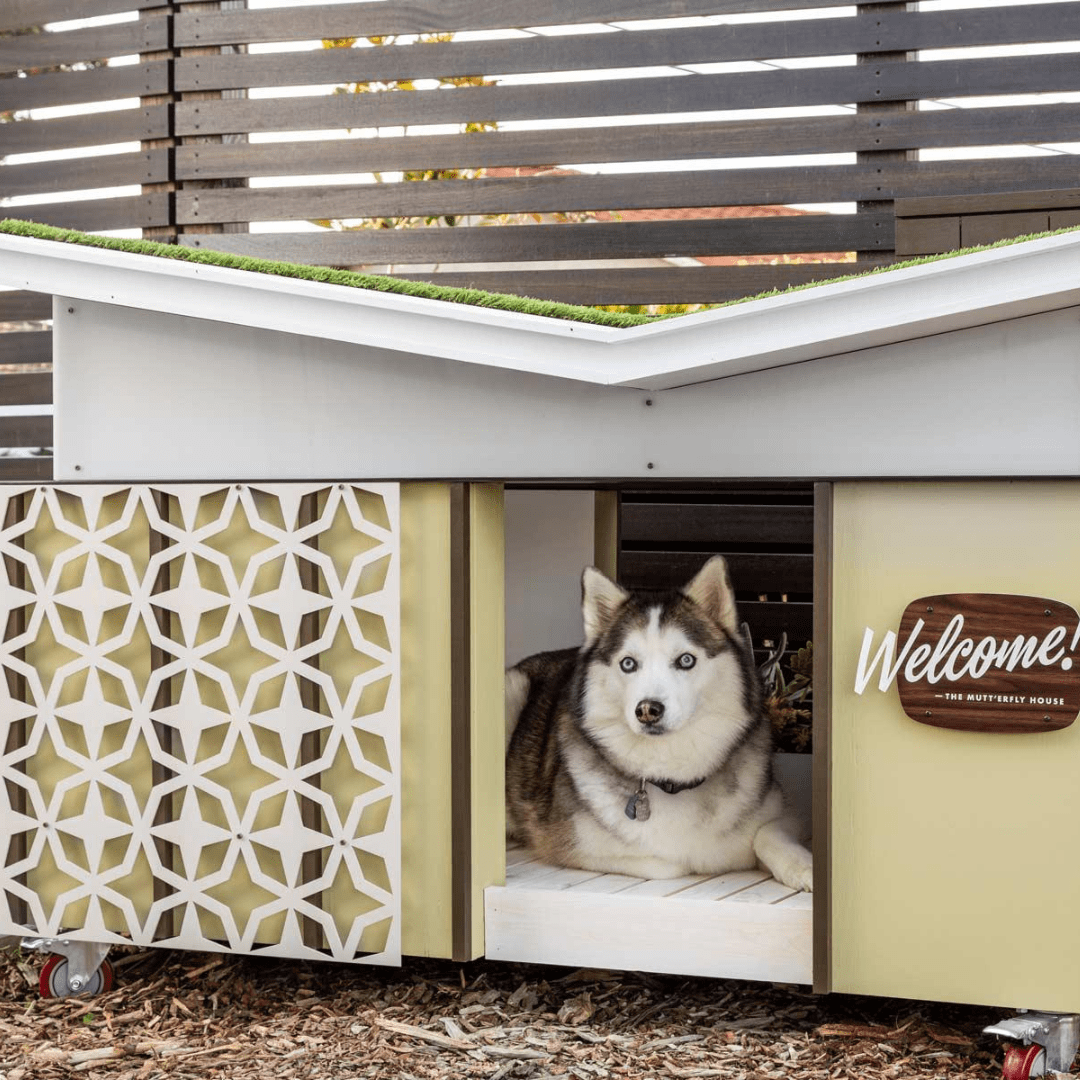 If this is what the dog's house looks like, we can only imagine how lovely the owner's house must be. This little guy seems to be just as in love with his home as we are, and we can only assume that his must be the grandest house in the neighborhood.
Doggy Retreat
This is not a dog house, no. It is a full-on doggy retreat, complete with a balcony, porch, and even a custom bone-shaped swimming pool! This dog's daily life certainly seems better than our once-a-year holidays, and we are super jealous!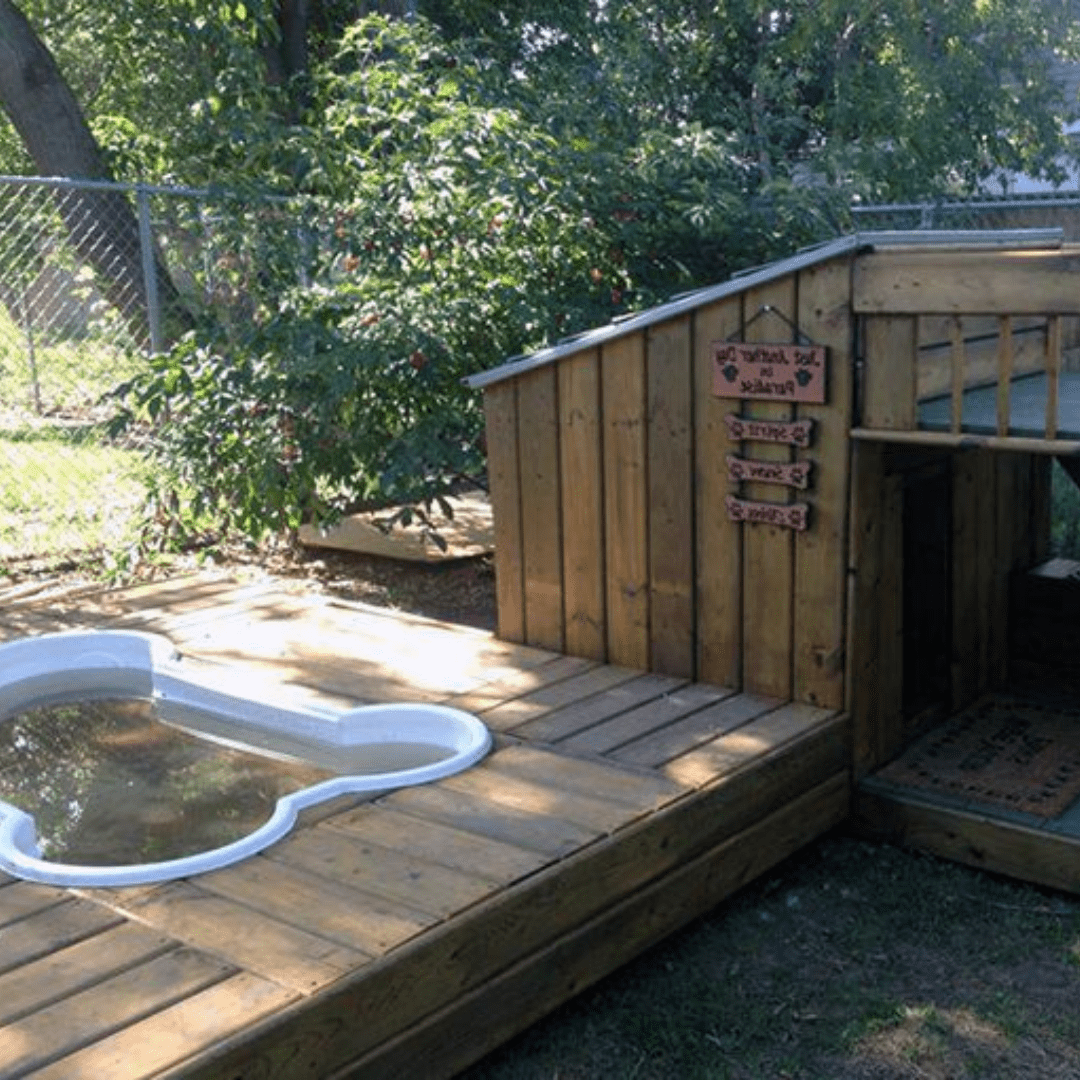 Whoever spent this much time and effort adding every little detail must love their job and dogs very much. We cannot get over that custom pool and can already picture a pup with some pool floaties and a mocktail just hanging out there in the summer.
Oriental Getaway
This is such a highly detailed yet simplistic style of a dog house, and we are in love! The patchy roof tiles and mini windows, along with the ornate rooftop, make it look super cute! Though it's not the fanciest on the list, it still brings a lot to the table.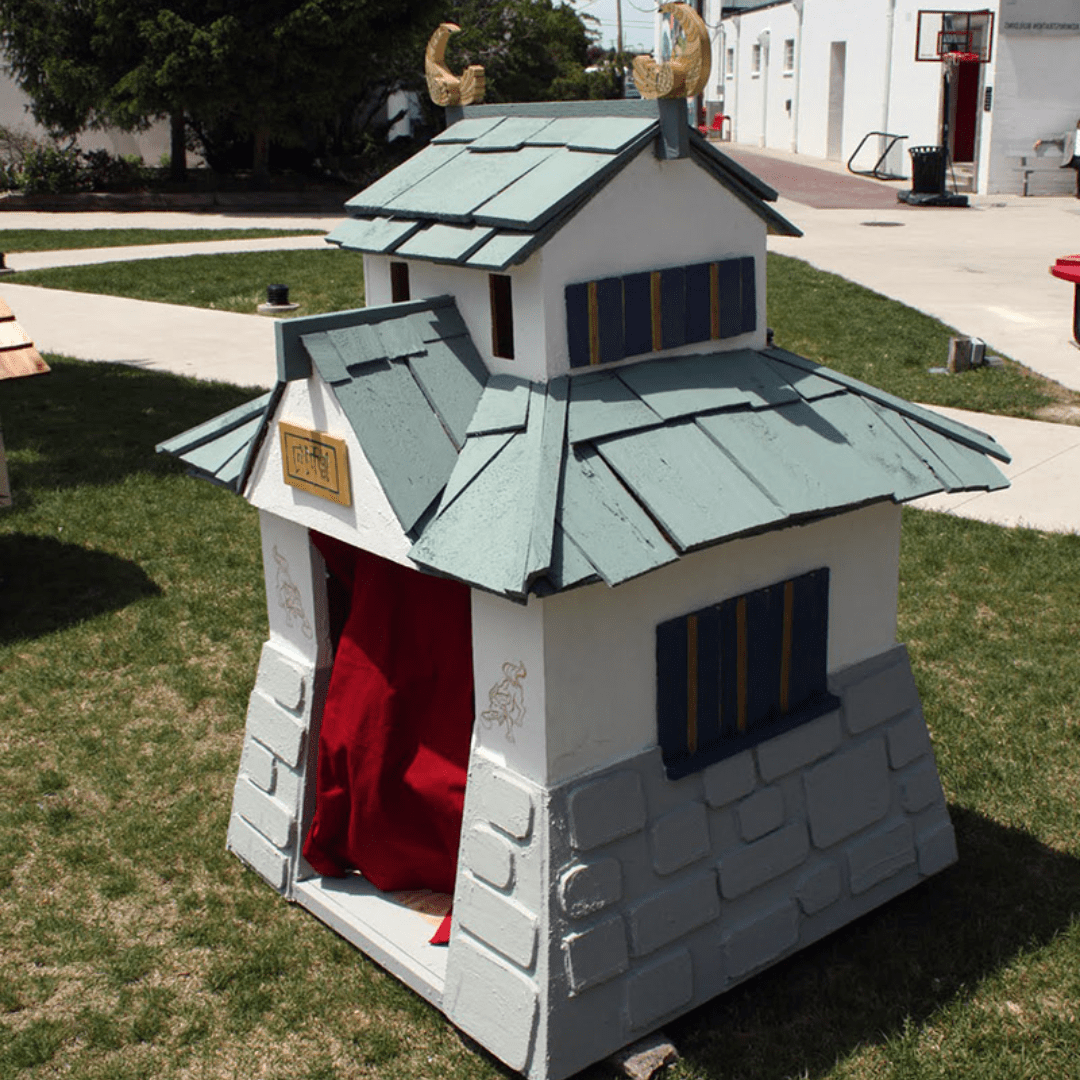 It even has a little curtain to allow the dog some privacy as it gets some shut-eye after a long day of guarding its humans. We would also love one of these for ourselves to get away from everyday life now and then!
Fortress
This super solid brick-and-mortar dog house is sure to have the wolf from the three little piggies and red riding hood's story huffing and puffing all day long! It is one of the most solid homes we have seen so far.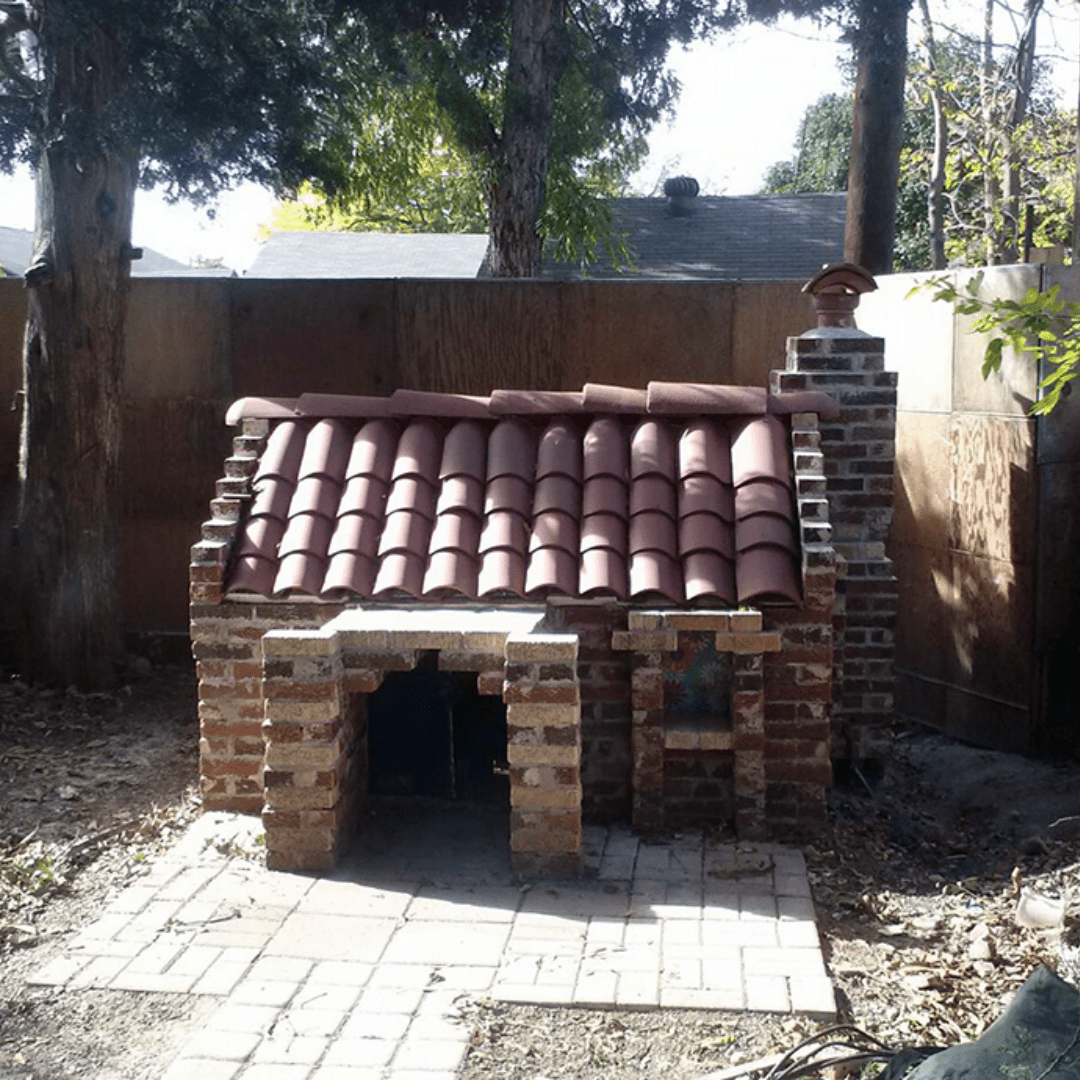 Nothing can break this house. What we also appreciate is the detail. Sure, it may look rough on the outside, but look at that awesome built-in mini chimney and the little pavement outside! We think they give the house character.
Fairy Garden
This looks like the perfect home for a little elf or fairy to live in when they are not tending to the bees, garden, and birds of your home. It has a kind of whimsy vibe about it, from the curved roof to the uneven paneling.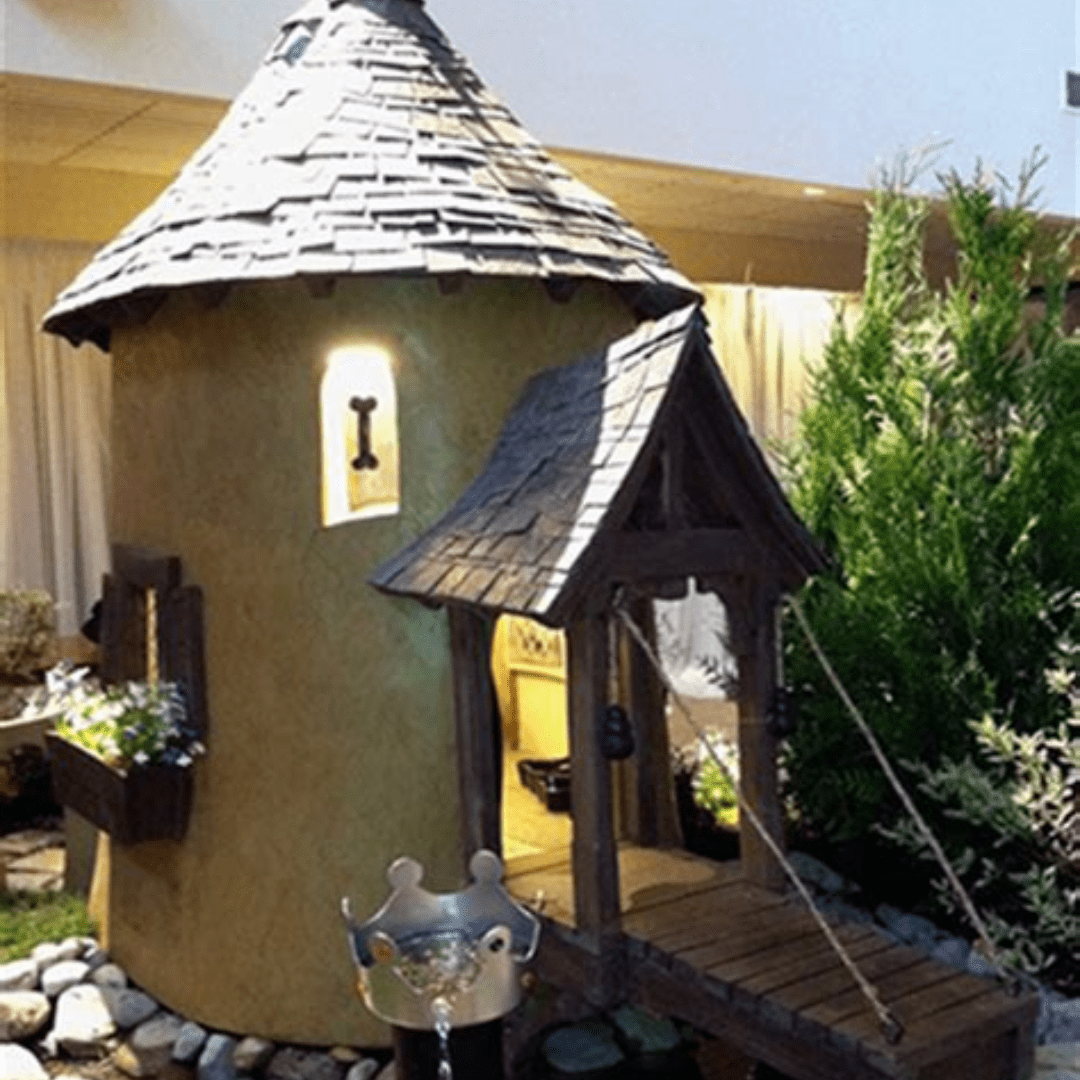 But also, notice the little window sill planters filled with bright flowers, as well as the little moat and drawbridge. We imagine there has to be a little waterfall trickling away in the background and freshly baked cookies about to pop out of the oven!
Comfort
This doghouse can be described by one single word: 'comfortable.' And you can see why by just looking at the face of the lucky pooch who calls it home. He even has a little crocheted blanket to complete the look!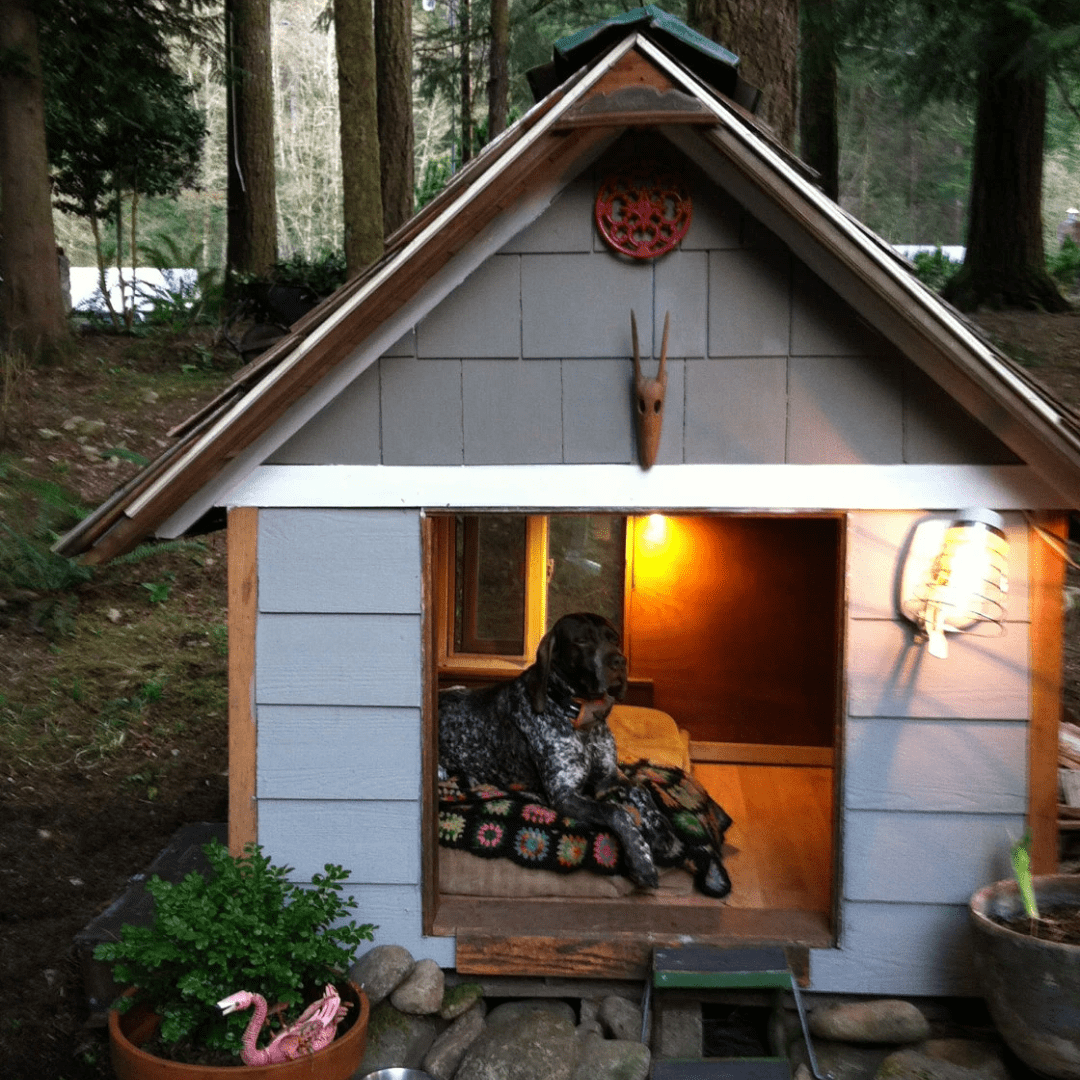 He not only has exterior working lights but working indoor lights as well. Additionally, he has a little garden at the front to make it extra homey. If this was a human-sized house we would live here forever, buried in books and gathering mushrooms in the woods whenever we need food!
Sleek
This sleek and stylish dog house is unique with its large panels of thick glass so the owners can keep a close eye on their dogs at all times. Maybe they didn't want to miss any precious moments! Jokes aside, this is a very chic design.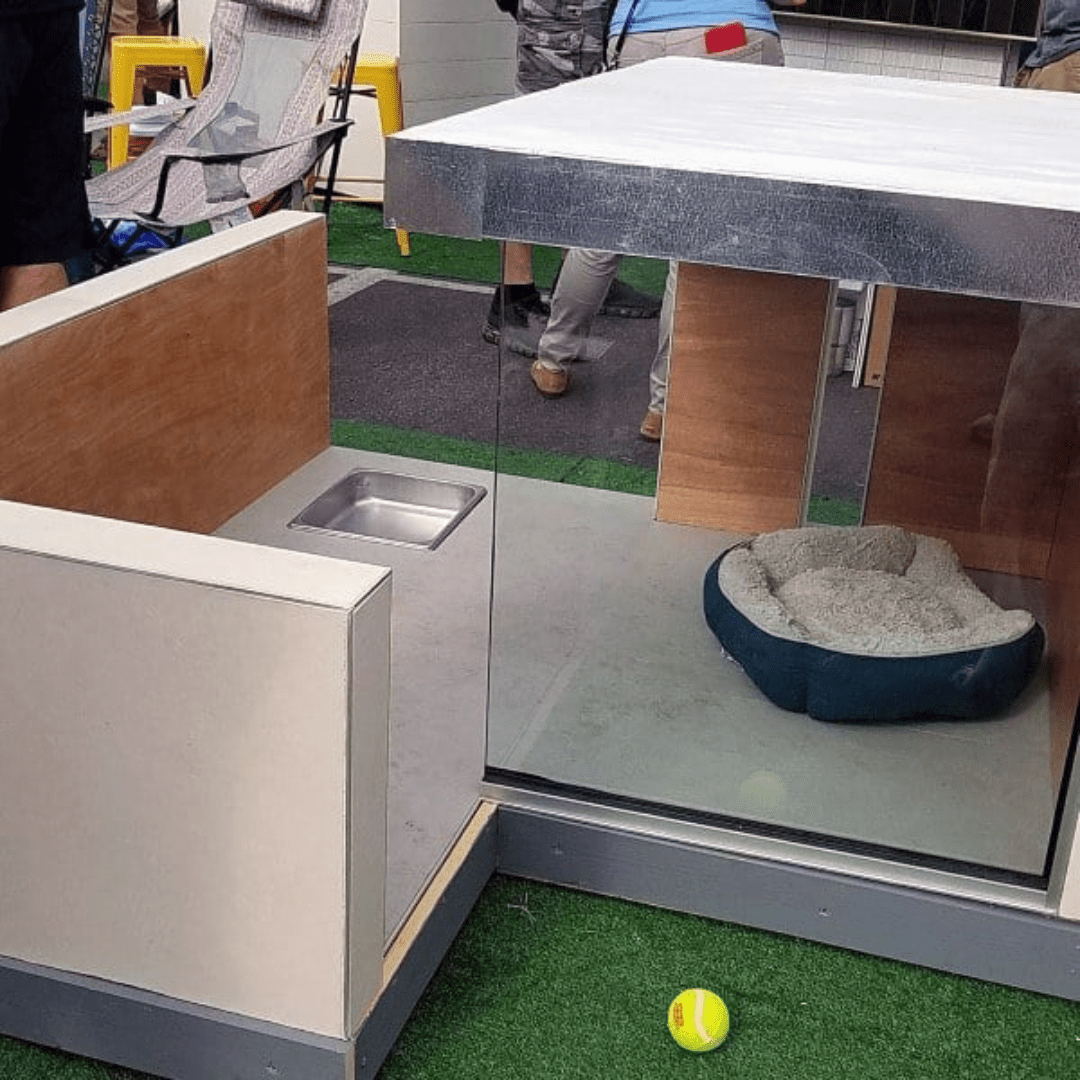 It is a simple build, but it is so effective and striking that we would recommend anyone with the skills to build this to make one for their own doggy friends! We would also probably add some art on the walls because that would certainly suit the vibe.
Full House
This doghouse has everything, from detailed windows, curtains, flowers, a rooftop balcony with another roof for additional shade, and even some classic cool lanterns to make this feel like a true farmhouse. Some dogs were just meant to enjoy a soft life!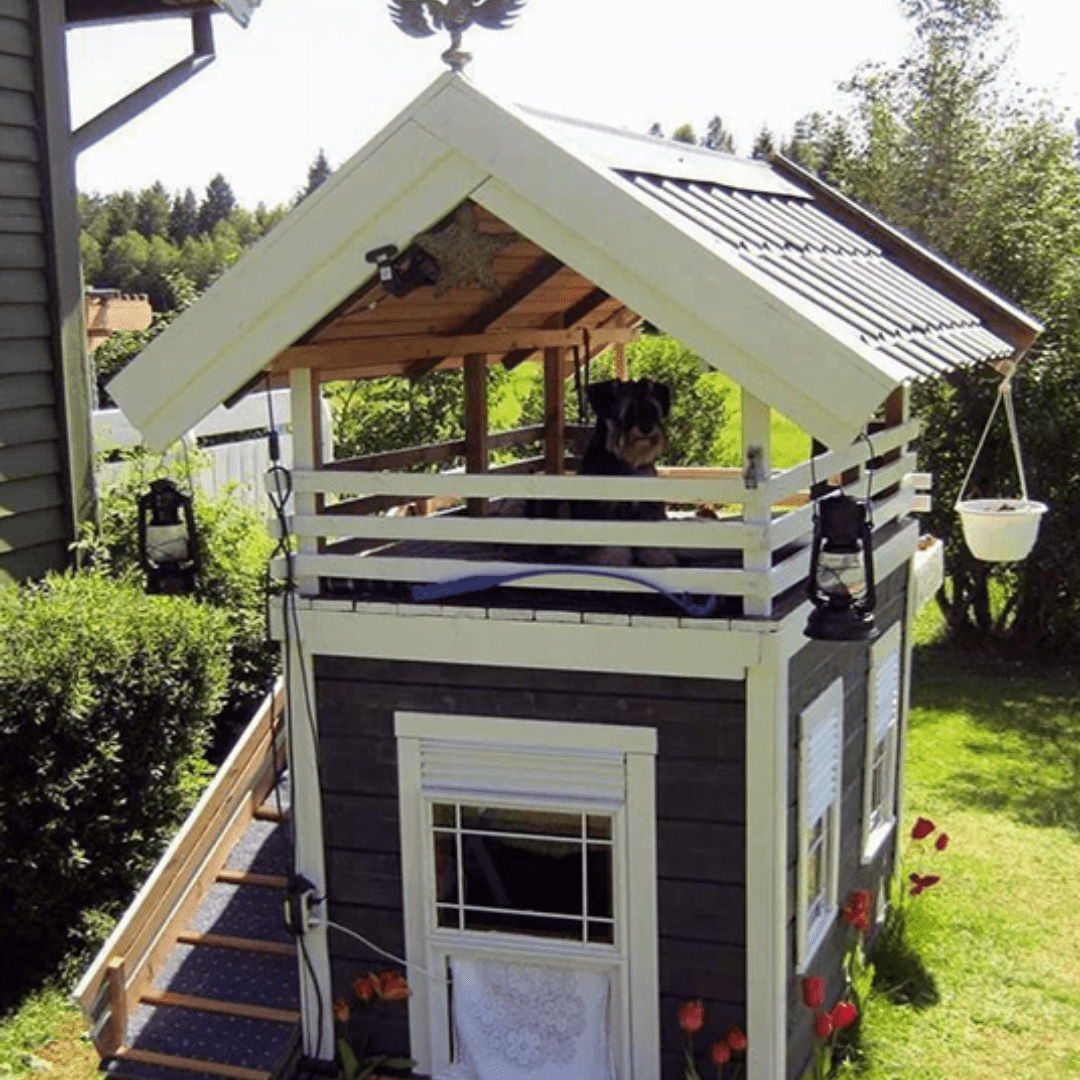 We just know that if this dog was a person, they would be the kind who bakes cookies for the entire neighborhood's kids and always brings a great casserole to any cookout. But since it's not, we hope it at least enjoys playing with the kids!