Drones Give Us The Opportunity To See The World From A New Vantage Point
By Taimoor T May 2, 2023
---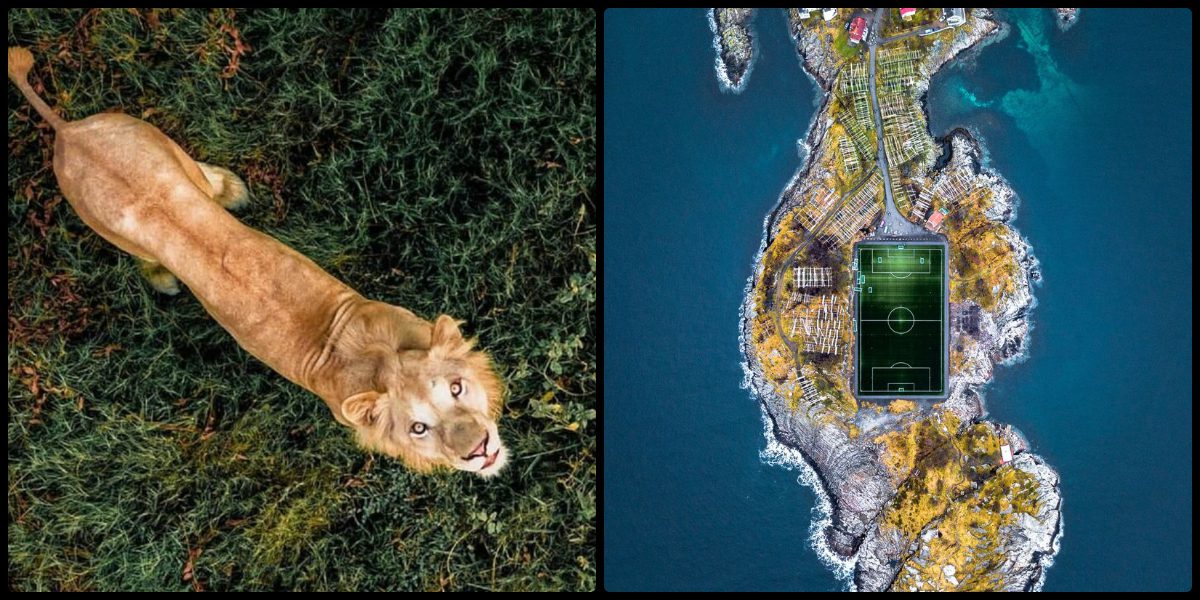 One of the marvels of technological advancement is the emergence of unmanned vehicles that can get the job done for us while we sit in our cozy confines from afar. Drones, for instance, can be used for various recon missions while being operated from a military base. But more than that, these amazing machines are now used by photographers from all over the world to capture the sort of moments that we usually miss out on largely due to our ability to fly at a particular angle or just not having wings. Here we have compiled a list of some really cool images that were taken from drones — from herds of ducks that look like white specks in the sky to fake Sasquatches!
Central Park
Occupying a massive space smack dab in the middle of New York City, Central Park is one of the most iconic parks in the world. During winters, it looks simply amazing, even if you're just taking a regular jog early in the morning.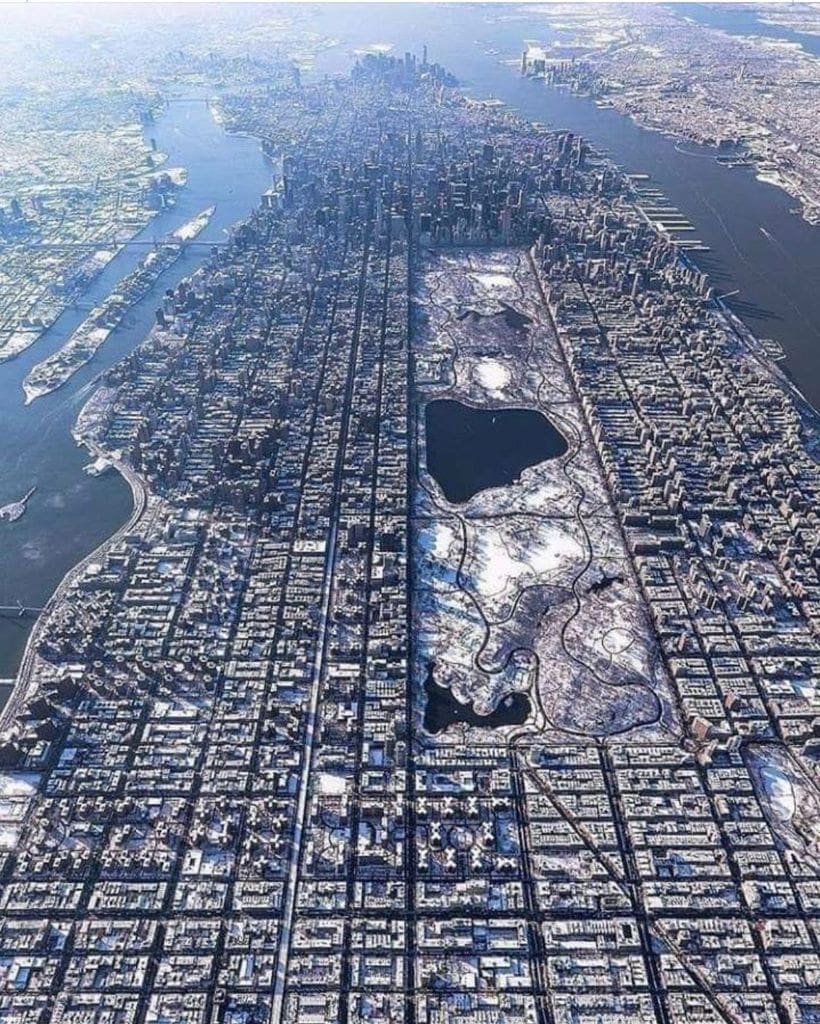 However, this image is truly stunning because it gives us a really good sense of the sheer beauty of the place during winters when temperatures drop so much that every inch of the grass is covered in snow. While New York is a city that is teeming with people too busy with their lives, Central Park gives the locals a great sense of purpose and is the perfect getaway.
Chilling By The Beach
The thing about manta rays is that these creatures are very quiet and peaceful, which is why they prefer staying glued to the bottom of the seabed and don't like to be disturbed. But when these majestic creatures take flight, it is a thing of beauty.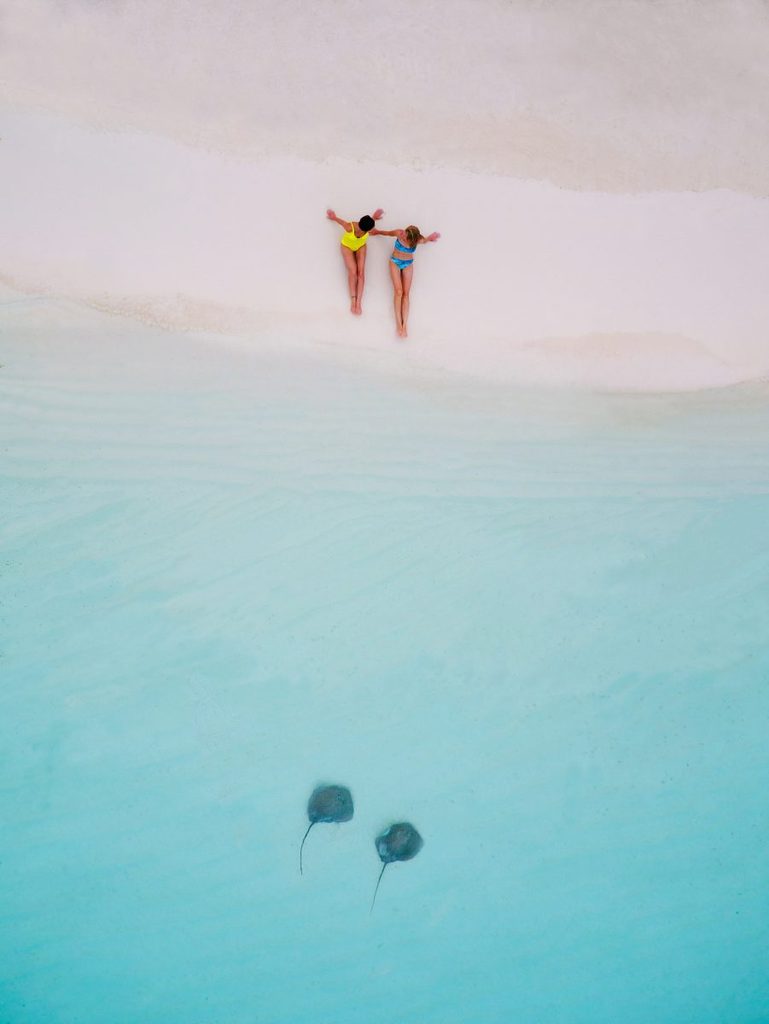 This drone image is from a beach in Sri Lanka where two ladies are relaxing on the sand and don't know that there are a couple of these rays that are quietly observing them. Could these rays be best friends grazing in the water looking out for humans? Sounds like a cool idea.
The Proposal
When we're in love, we like to do things that are completely surreal – always eager to swoon the one we love with things that we might never have done before. Indeed, love is a unique feeling and has to be celebrated the right way.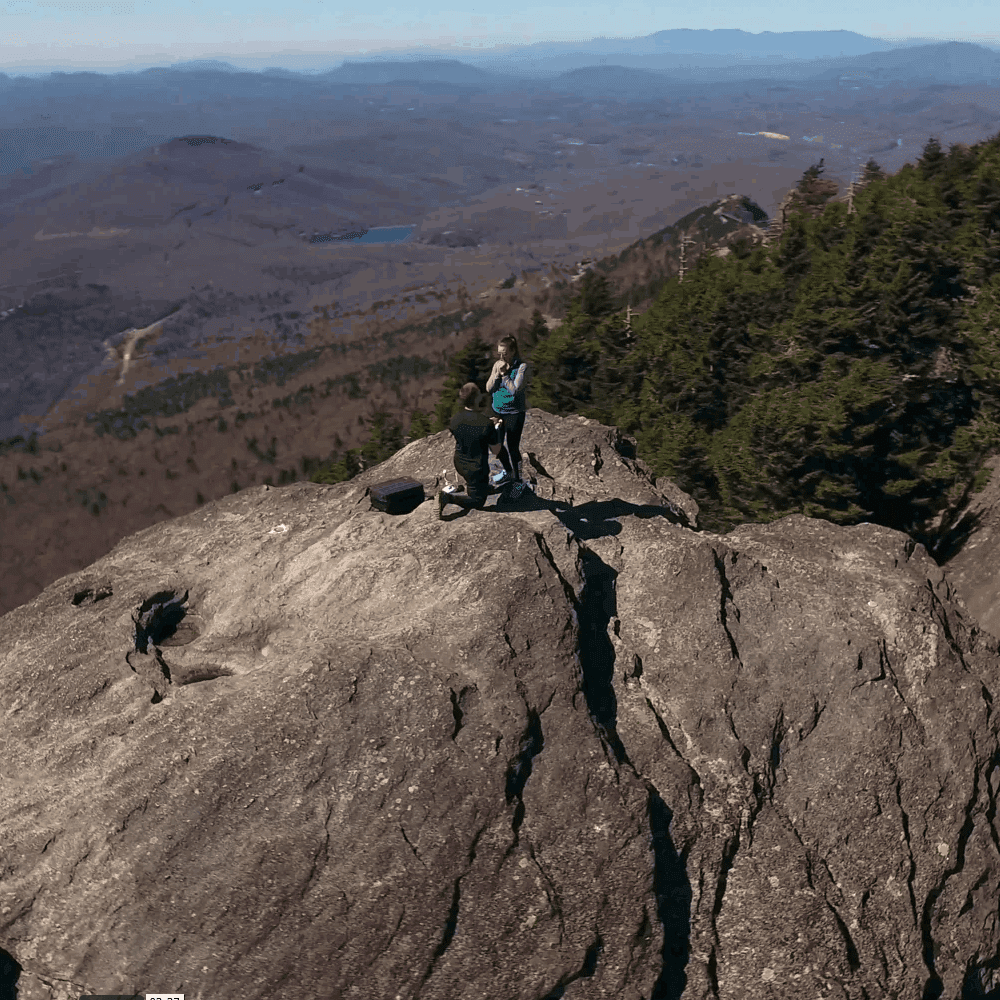 This couple, for instance! The guy had planned on taking the love of his life to the edge of a cliff and had ensured that his proposal was given all the focus and attention in the world. The drone perfectly captures the moment when the would-be fiancé gets ready to say those magical words.
From A Safe Distance
When it comes to studying the big cats, it is always recommended to do so from a safe distance. Even if their tummies are full and they're relaxing under the shade of a tree, lions do not take kindly to any sort of interference.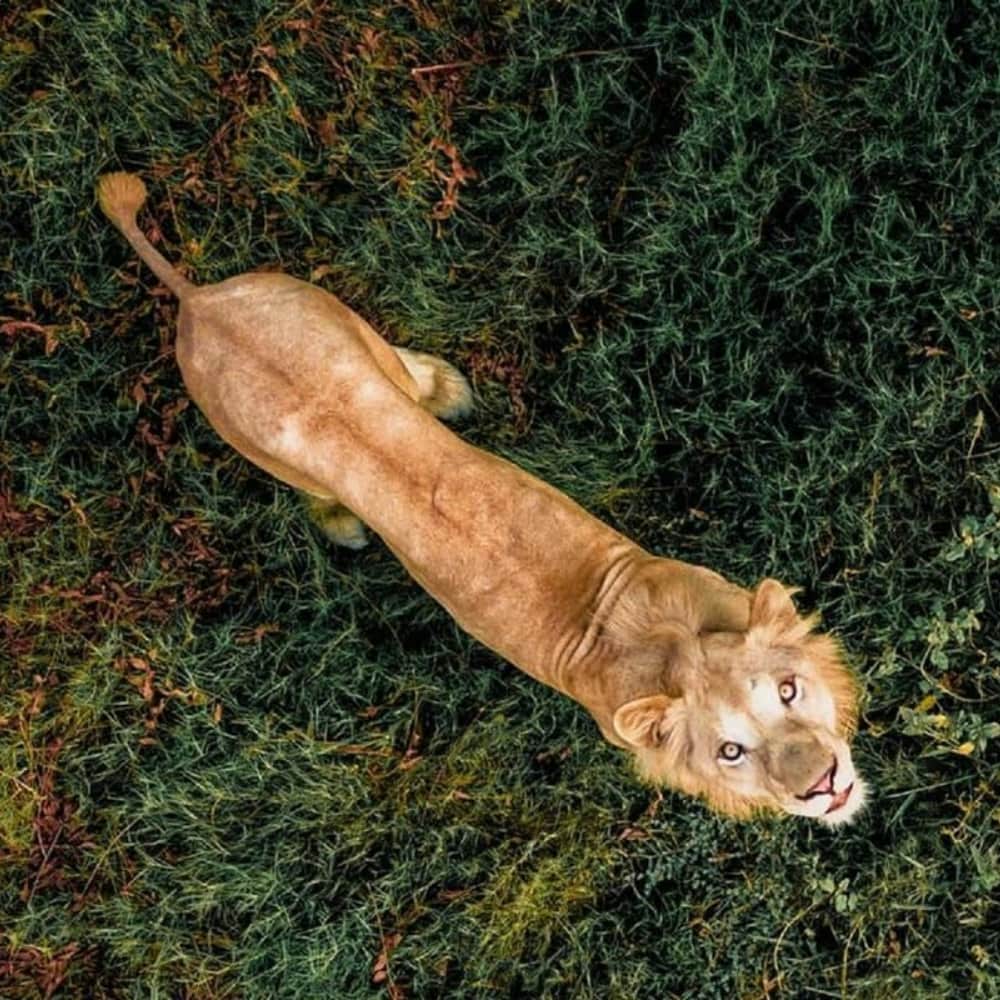 But this brave drone went high and above the normal call of duty and took the photo of this amazing beast, which we're sure was contemplating whether to leap at the drone or not. Those piercing eyes are gleaming into our souls…
Bomb's Away
Cliff diving is a thrill-seeker's dream, but in all honesty, it is one of the riskiest things you could ever do. Jumping from the top of a cliff can be dangerous because you don't really know for sure if you'd hit the water or a rock formation.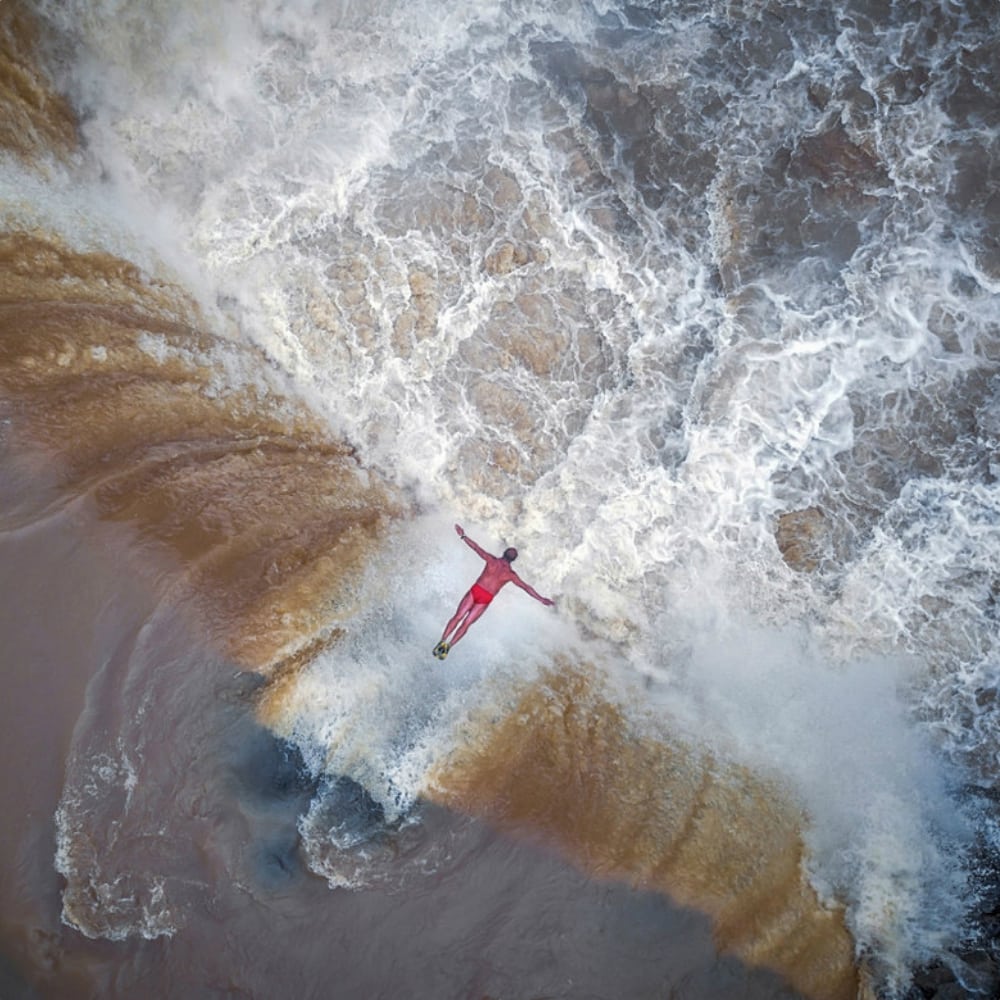 But this guy here is a Guinness record holder for these things, so we're sure that he knows what he's doing. The dive took place at a waterfall in China's Yellow River. Even though he's an expert we're still worried about those treacherous waters. Hopefully, he has some extra clingy spandex shorts!
Straight Outta Wes Anderson Flick
If you've ever been to a hotel you know that it is quite an amazing experience, since you don't have to do anything on your own. Now imagine going to a hotel where this drone is gazing upon, and you would be in for quite a life-changing experience.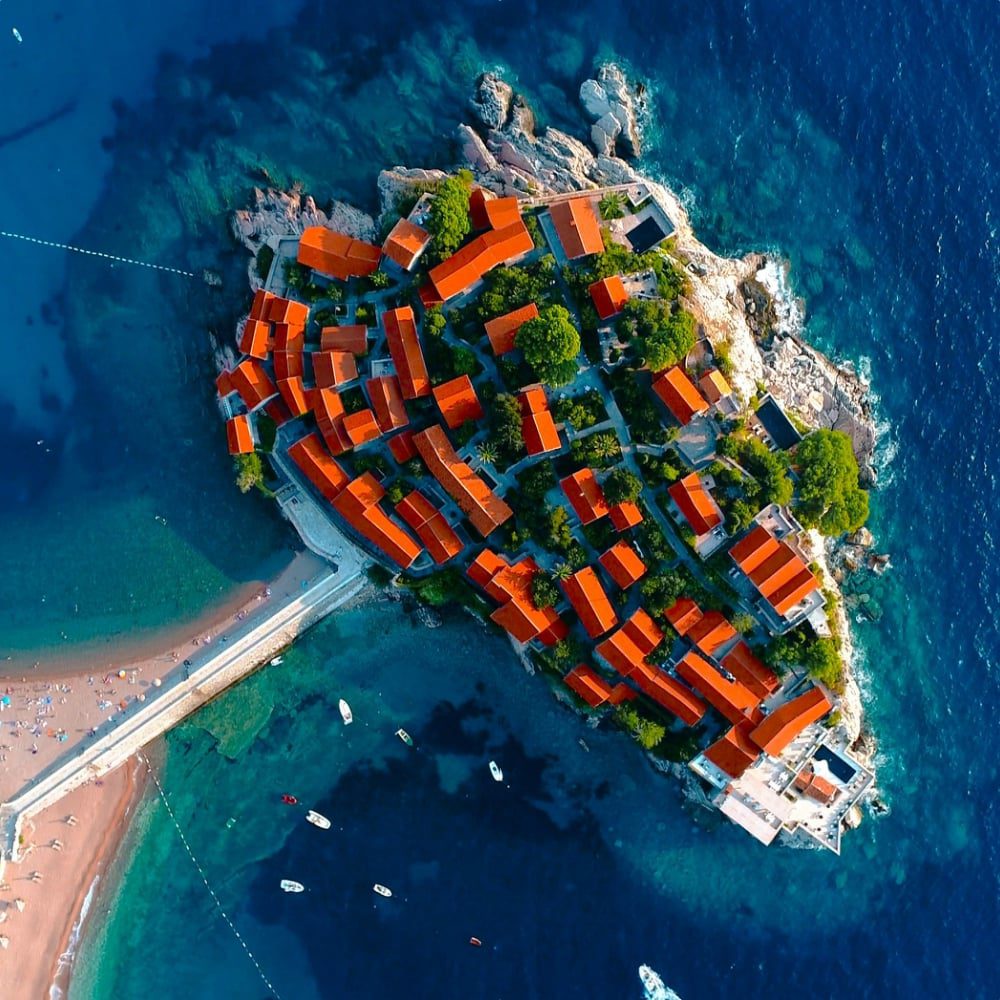 The Aman Sveti Stefan hotel is built on an island in Montenegro and spending some time here is going to be one of the best decisions you've ever made. Escape from people in this beautiful paradise island. We'd love to take a break here without any WiFi or technology.
All Mine
Russia's Mir mine for diamonds, located in the remote wastelands of Siberia, is one of the largest excavated holes on the planet and the mine had been fully operational for over fifty years. However, in 2001, open-pit mining was discontinued.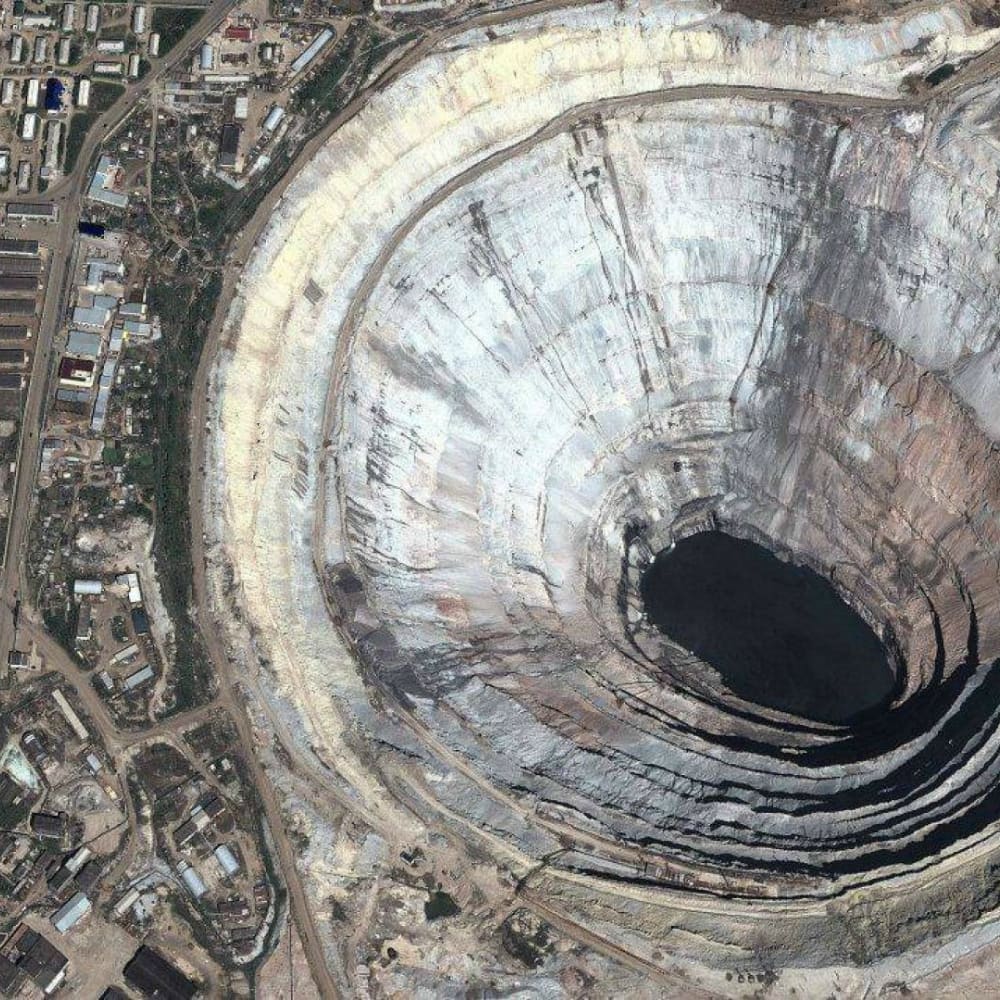 But this aerial shot is something that really scares us, because imagine if you were to fall down, how far down you are supposed to go before hitting the floor? But hey, the locals are pretty used to being around this hole so we're sure it's a pretty safe place to visit.
The Time Ship
It is amazing the things that we can find deep underwater, from strange looking creatures to relics of the past that include shipwrecks and sunken submarines. These finds take us back to a time when things seemed very different compared to how they are today.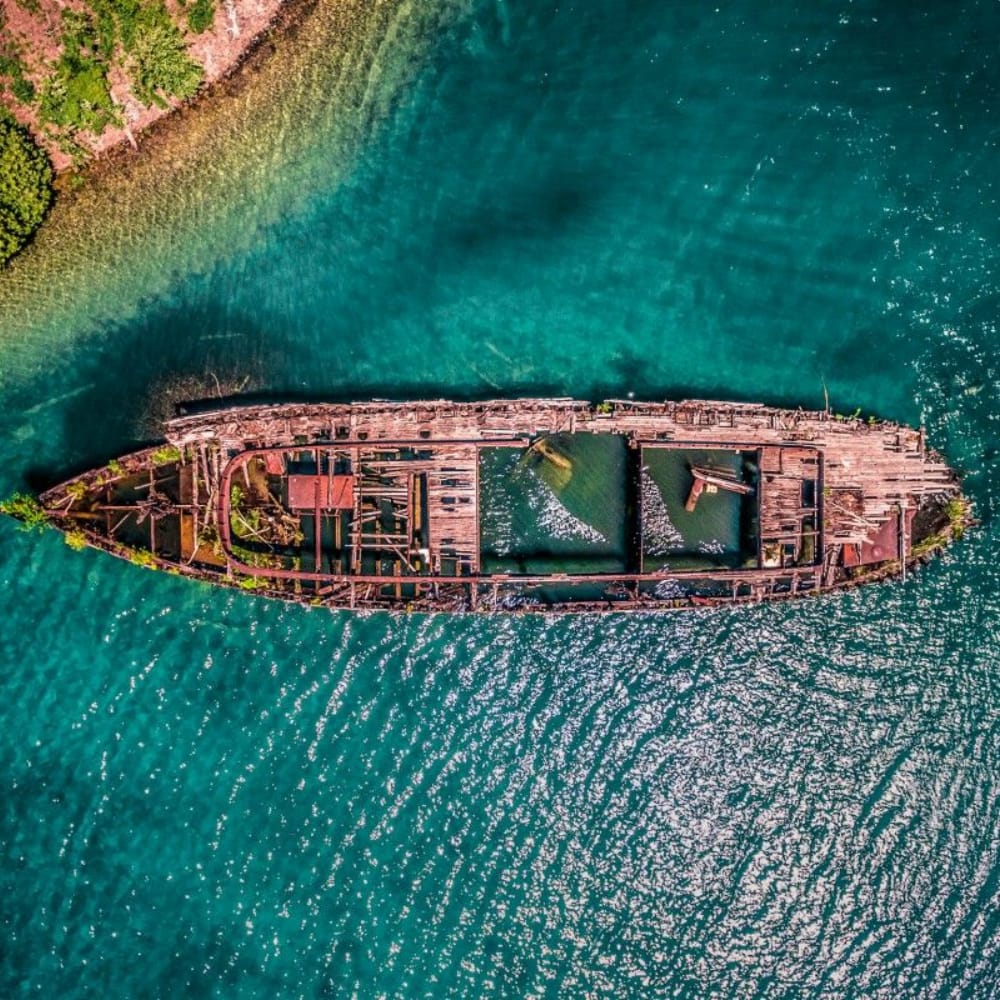 This drone picked up quite an amazing image of a shipwreck in the Palawan province of Coron. The ship was commissioned during the Second World War and has stayed there since then. In Coron, there lie multiple shipwrecks that people can dive and view at their disposal. What are you waiting for? Head on over to the Philippines!
Landwasserviaduct
In the last 50 years of the movie industry, we've seen some iconic sceneries. For us, the Bond franchise has always given us a great outlook of the beautiful scenery Europe has on offer. One of those sceneries involves the iconic Swiss railway, the Landwasser Viaduct.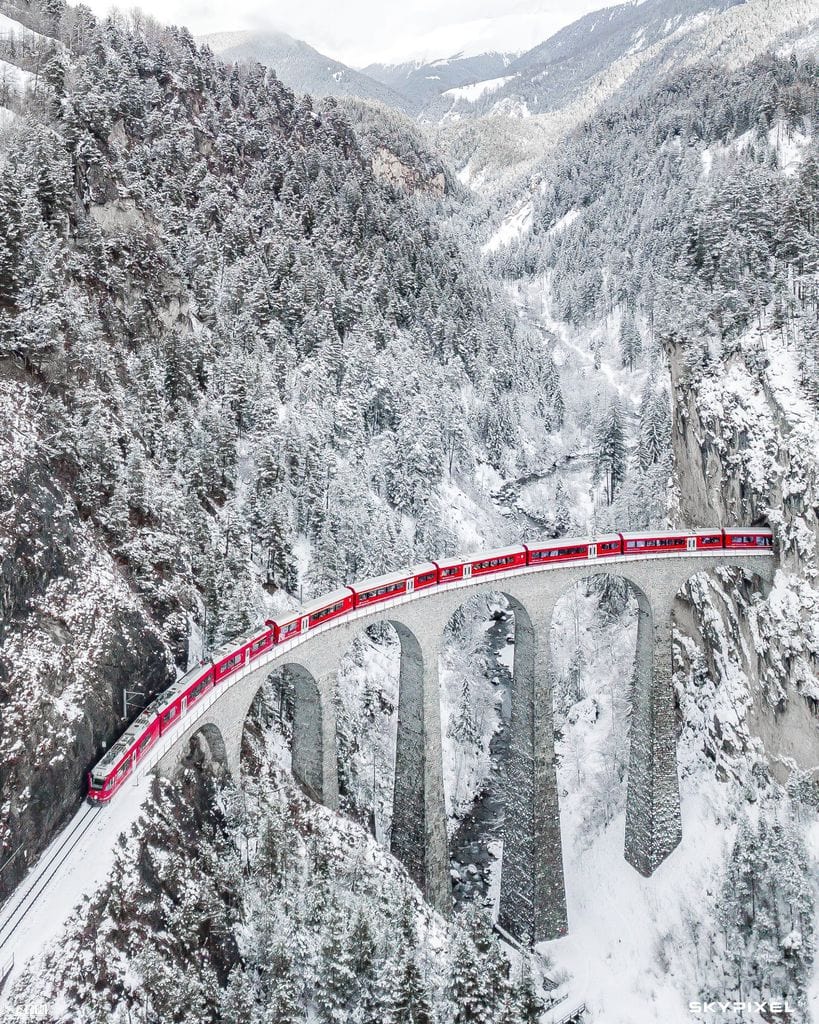 The six-arched viaduct is located in Graubunden and has been standing tall for over 100 years. If you ever happen to be in Switzerland, we encourage you to take a run on one of the red trains. Trust us…it would be worth it!
The Shipping Mall
We all love going to shopping malls and literally get so immersed in our spending spree that we lose track of time as minutes drag on to hours only to be woken up by the sound on the loudspeaker letting us know that the mall would be closed soon.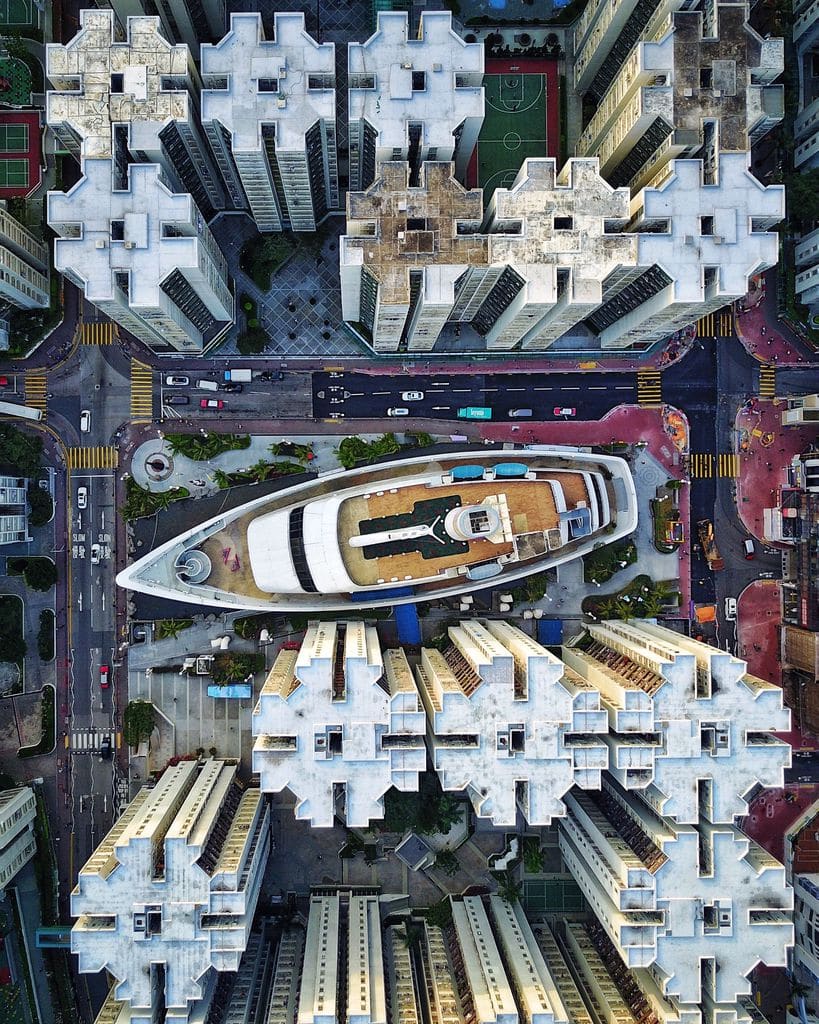 Now, look at this drone capture from the heart of Hong Kong. Don't you find it odd that there's a ship stranded right in the middle of so many skyscrapers? Well…it ain't a ship…it is in fact a really remarkable-looking shopping mall.
The Whale Comparison
In all honesty we can only truly know about the sheer size of a whale when we are up close to one of these magnificent creatures, the largest mammals on Earth. They're truly majestic and should be revered rather than hunted like crazy.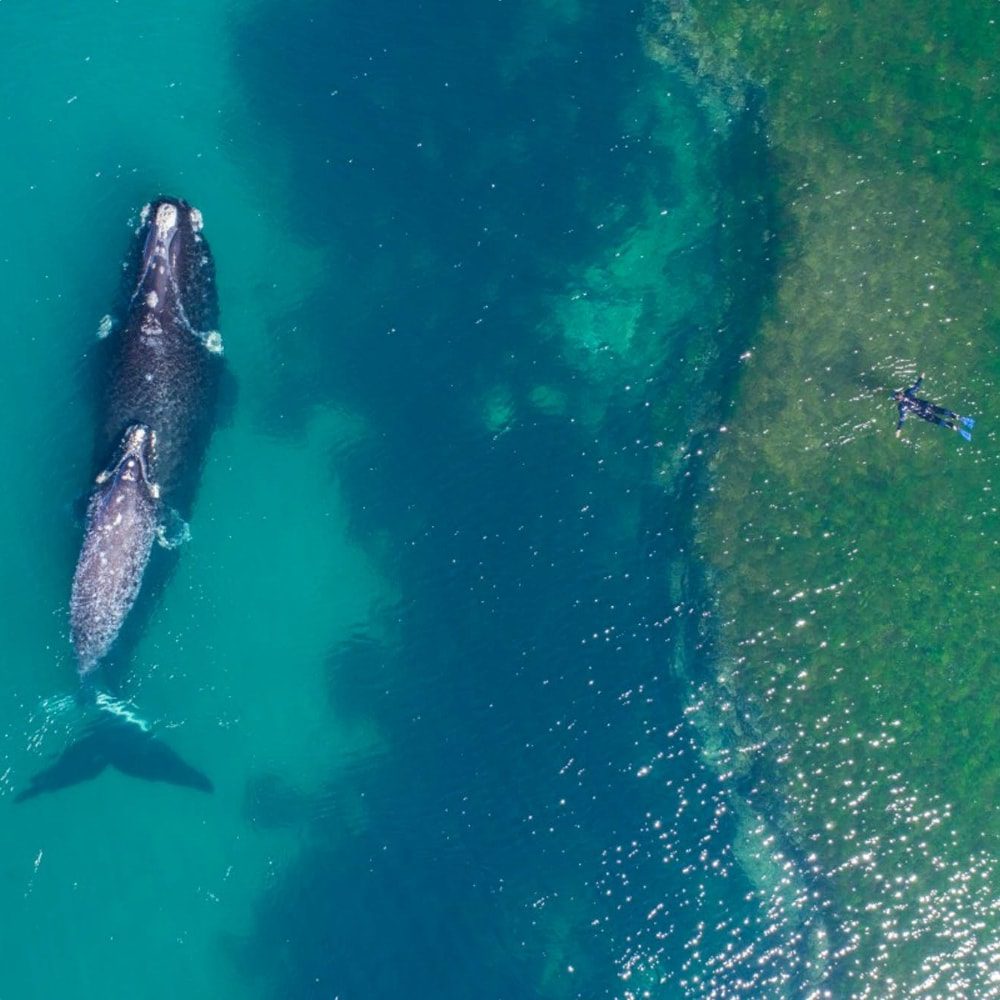 This drone image captures a perfect moment when a snorkeler is swimming close to the giant humpback whale, which is swimming peacefully, minding her business without even knowing just how amazed her human neighbor is at the sheer gulf in size between the two.
The Bond Hotel
If you take a look at the early Bond movies, the most striking feature would be the sceneries. Goldfinger comes to mind, because that movie gave us a really good idea about why it is so important to go to the Alps at least once in our lives.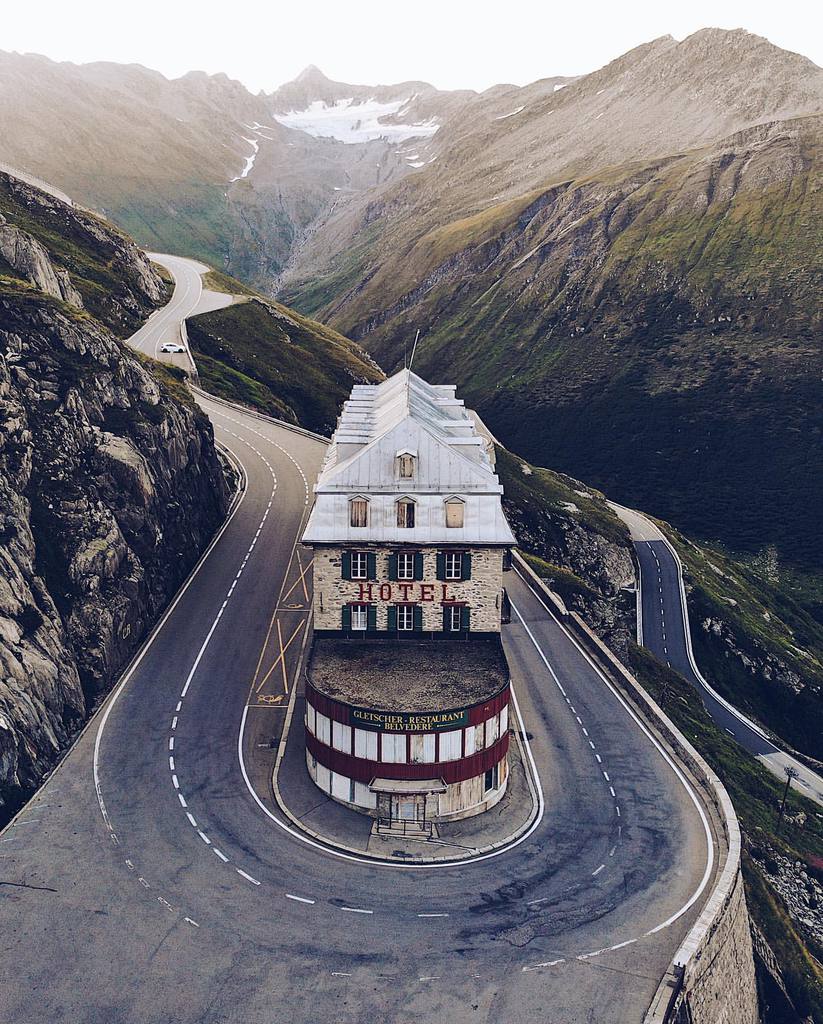 Now this drone image perfectly captures the scenic Grand Belvedere Hotel, which played host to the late Sir Sean Connery all those years ago. Clearly, this is one hotel we need to check in if we are going around the Furka Pass.
The Perverted Drone
Drones are super cool when it comes to getting footage from some really amazing angles. Where we can't go, we have these guys to be our eyes and ears. But hey, these devices can be a bit of an annoyance as well, especially if they rain on our parade when we just want to relax and not worry about anything.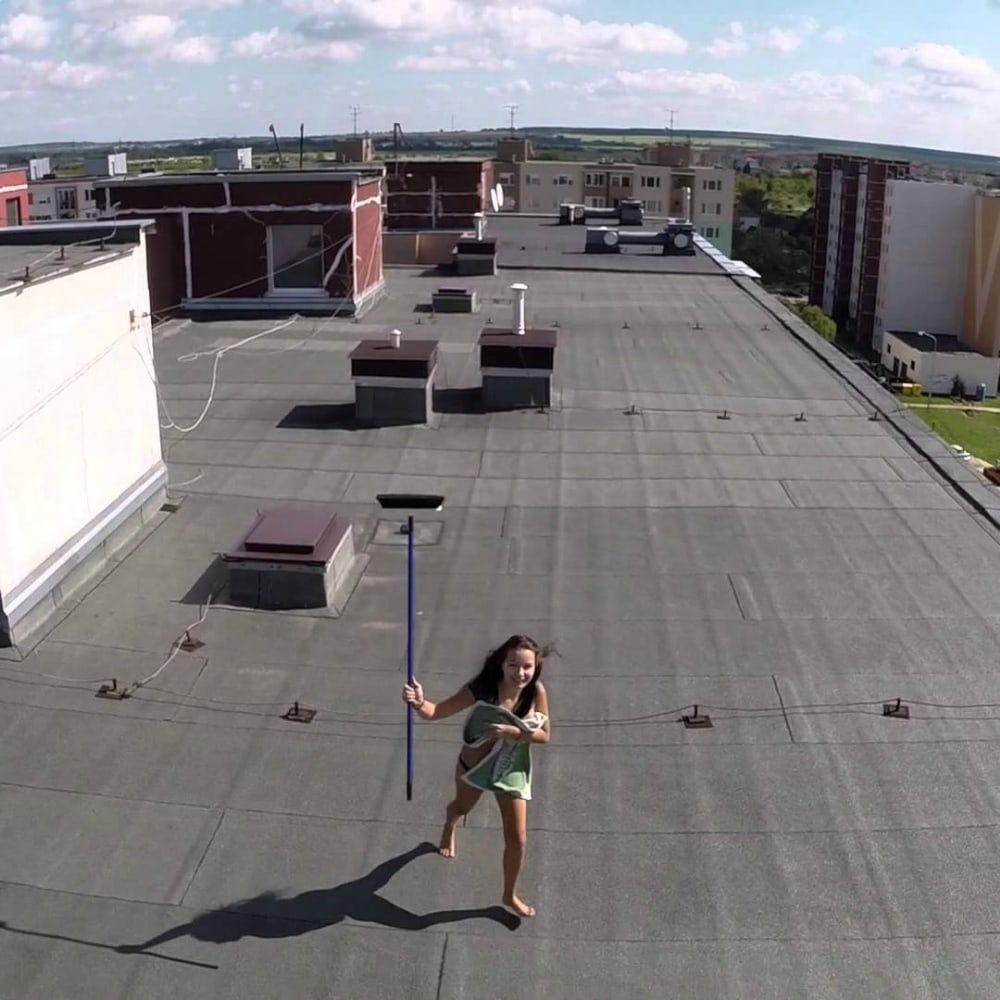 This girl for instance, was having a great sunbathing marathon before this drone came along snooping and ruined everything for her. Look at how she's chasing the drone with a broom, clearly not impressed with how her activity was cut short.
The City Of Millions
Mexico City is one of the most densely populated cities in the world. Even when you're taking a walk in the city you can see how the ground is vibrating with the constant presence of so many people. It is an amazing city, but you have to say that the picture taken from the drone really gives us an indication of how densely populated it really is.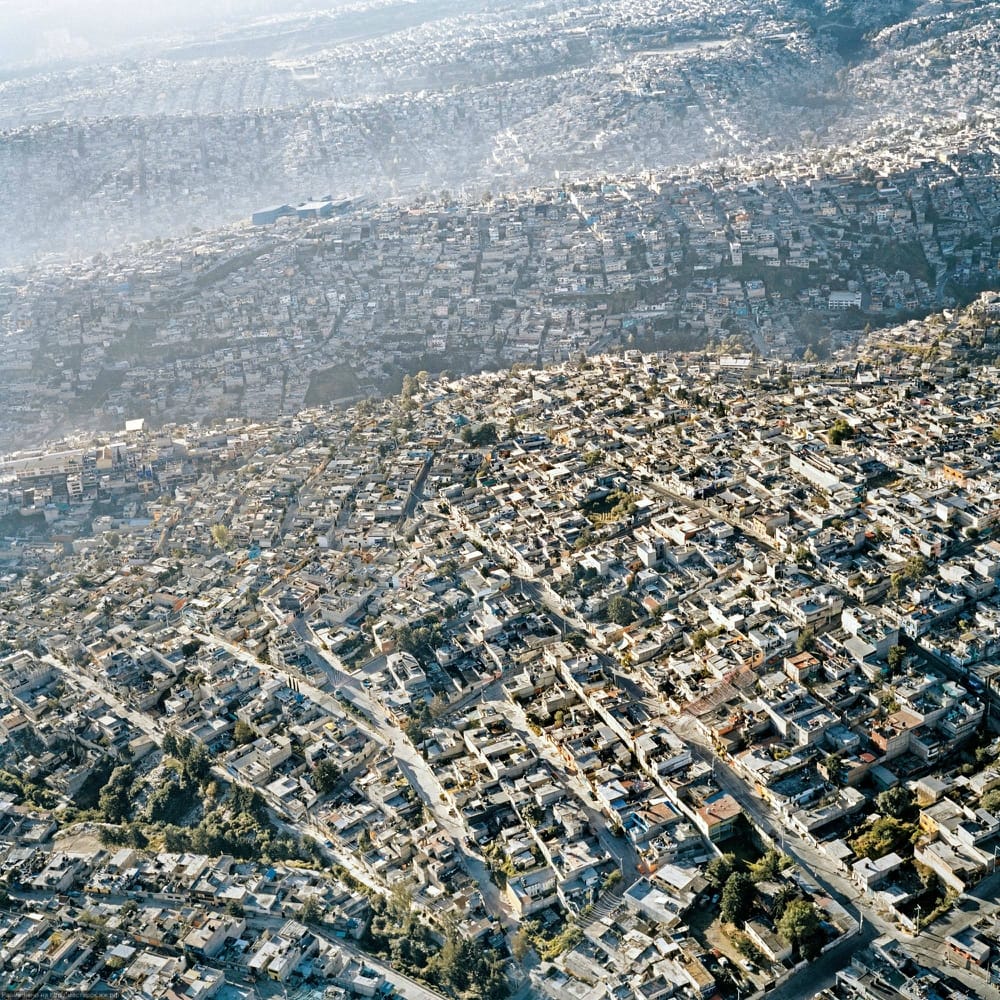 If you look at the picture you can clearly see that there are so, so many houses, rows upon rows of those. How dense can a population get? Certainly not as bad as this. From afar it looks like a different planet, don't you think?
Mount Tibidabo
If you are really into taking some amazing drone shots, we suggest you should visit Spain. In particular, a visit to the grand Catalonian city of Barcelona is going to leave you wanting to take as many amazing drone shots as possible.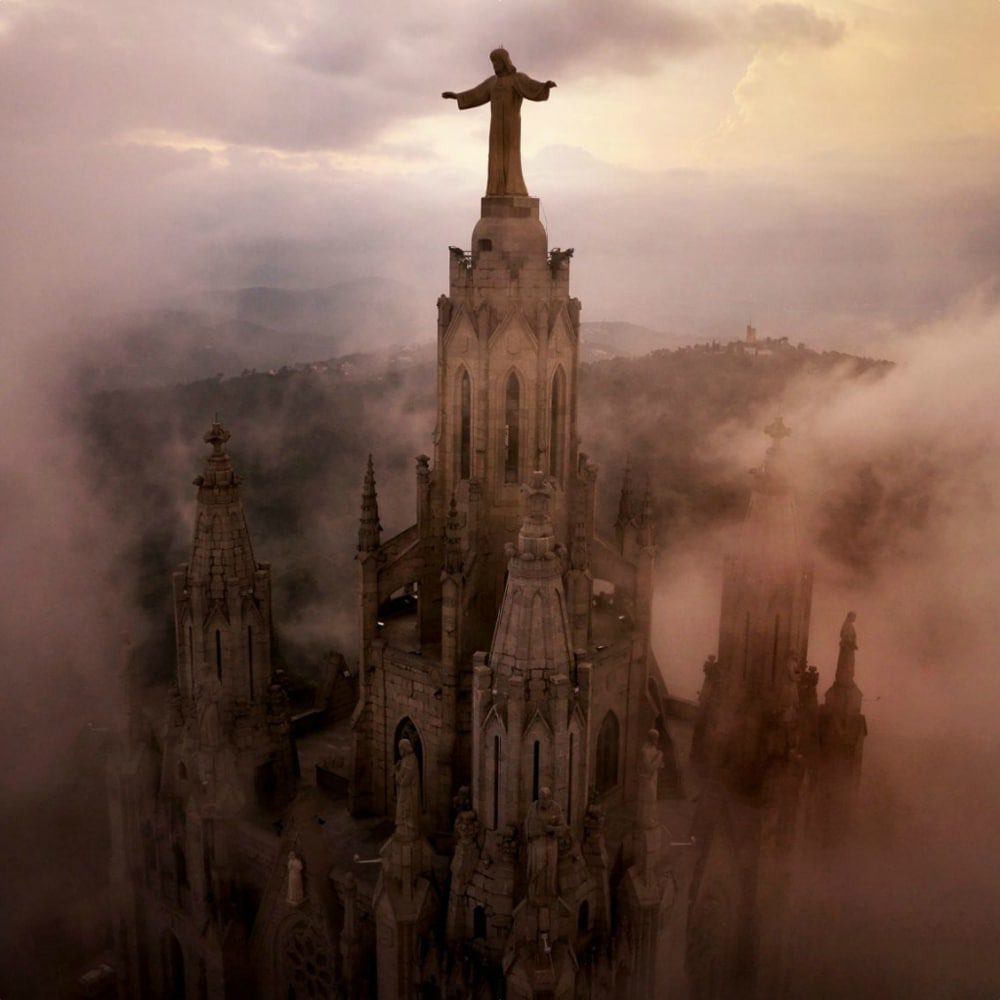 This image, for instance, is a breath-taking view of Sagrat Cor Church, which looks as if it is out of a video game involving an assassin who is working for a sacred order. The church is also known as the Temple of the Sacred Heart of Jesus. Against the backdrop of fog, it looks like this shot could have been taken from another era.
A Song Of The Ocean And The Road
There are some paths you need to travel on your own. But hey, if the path involves a drive through the Atlantic Ocean on a solid block of concrete, it is going to be an amazing journey. We'd love to be cruising down this road at some point in our lives.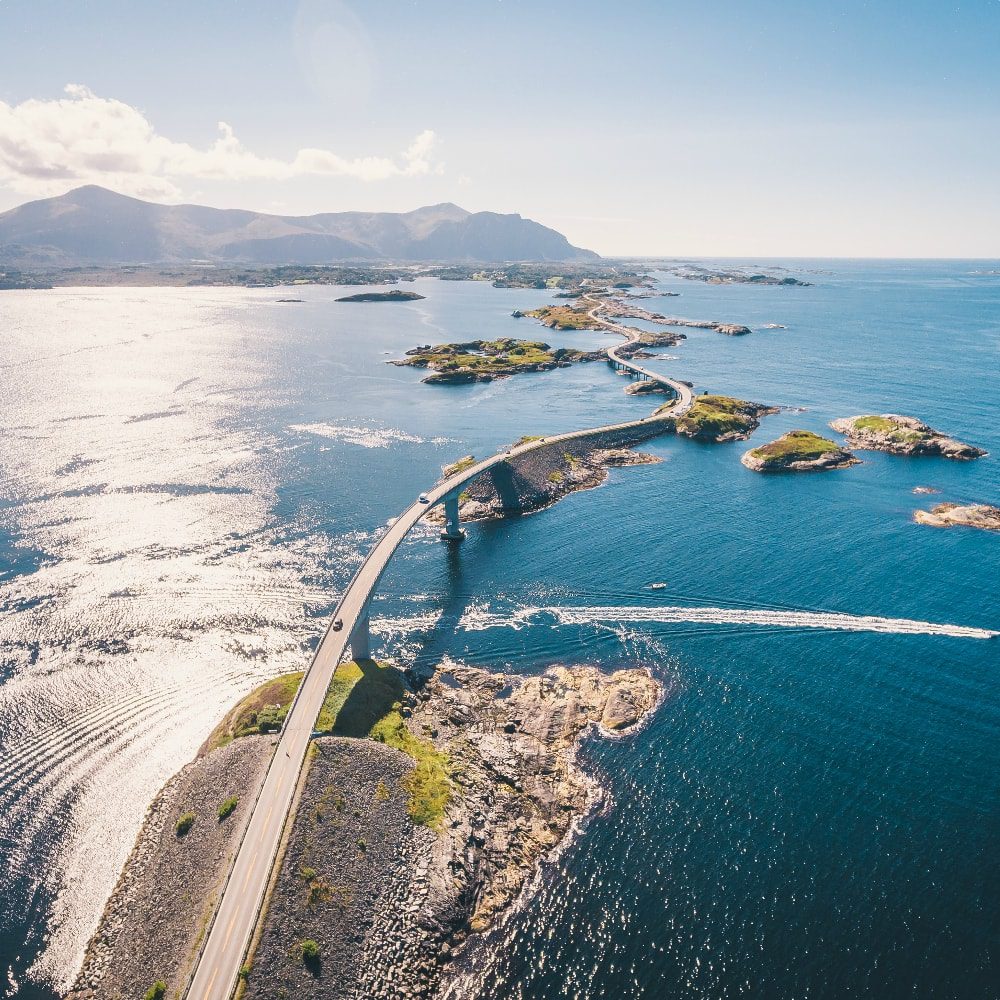 And we're not even kidding. This aerial view of the Atlantic Ocean Road is quite an epic sight. Do you know that this road ends up looking even more majestic when the ocean is in one of its moods? The road has been around for over thirty years and must be travelled if you happen to be on a road trip to Scandinavia.
Scaling Danger
In the year 2016, International Drone Footage photography awards became a thing and enthusiasts have not looked back since. People from all over the world find reason to commit daring shenanigans to grab ahold of the award and this image is one of those instances.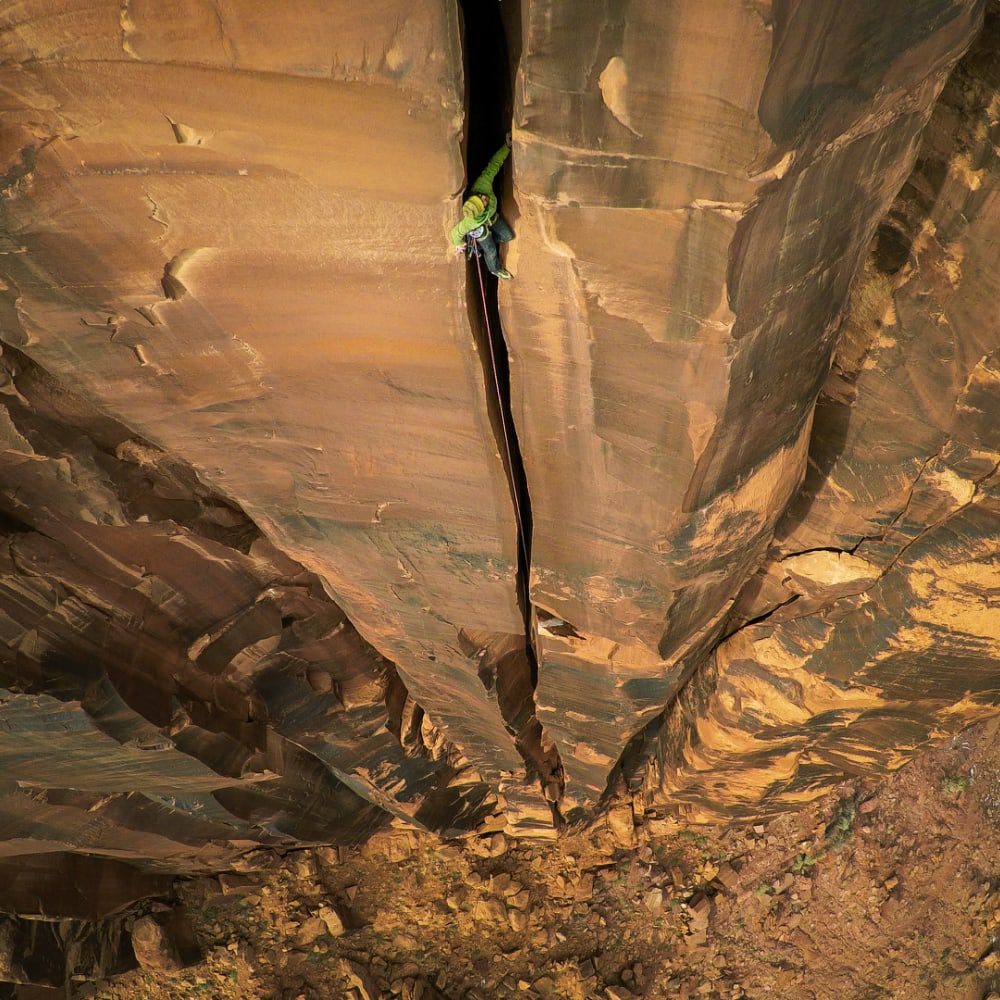 The photograph is taken of a climber as he carefully scales down the dizzying heights of the Moab Mount in Utah. This really is a breathtaking view, even though we admit having this peculiar tingling sensation running down our legs just from watching it while safely tucked on our couch.
Let's Get Higher
They say that if you need to be one with your body and your mind, you need to meditate at a place which is inaccessible to most people. This is why the monks and spiritual leaders of the era bygone used to spend a lot of time in solitary confinement. This made them think with more clarity among other things.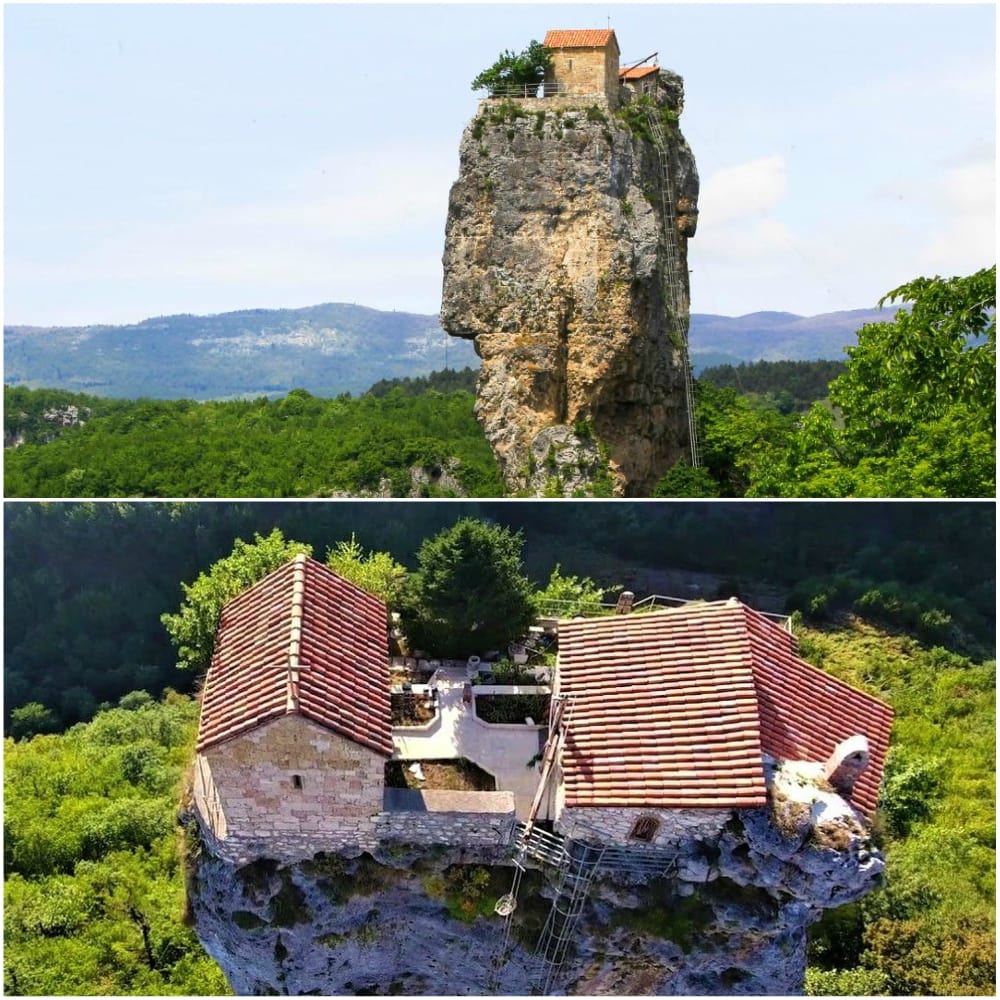 This drone image which you are seeing is actually a church built by a group of monks in the 9th or 10th century in the Caucasian mountainous republic of Georgia. The Katskhi Pillar is not an easy church to access so you can imagine the difficulties monks had to face in order to take residence there.
Rowing Through A Desert
Okay, so when you see this drone image you somehow get to wondering as to how can anyone wade across the cracked desert floor. Obviously it is not possible at all! What else could the ground be made of? Well, technically speaking, it's….water.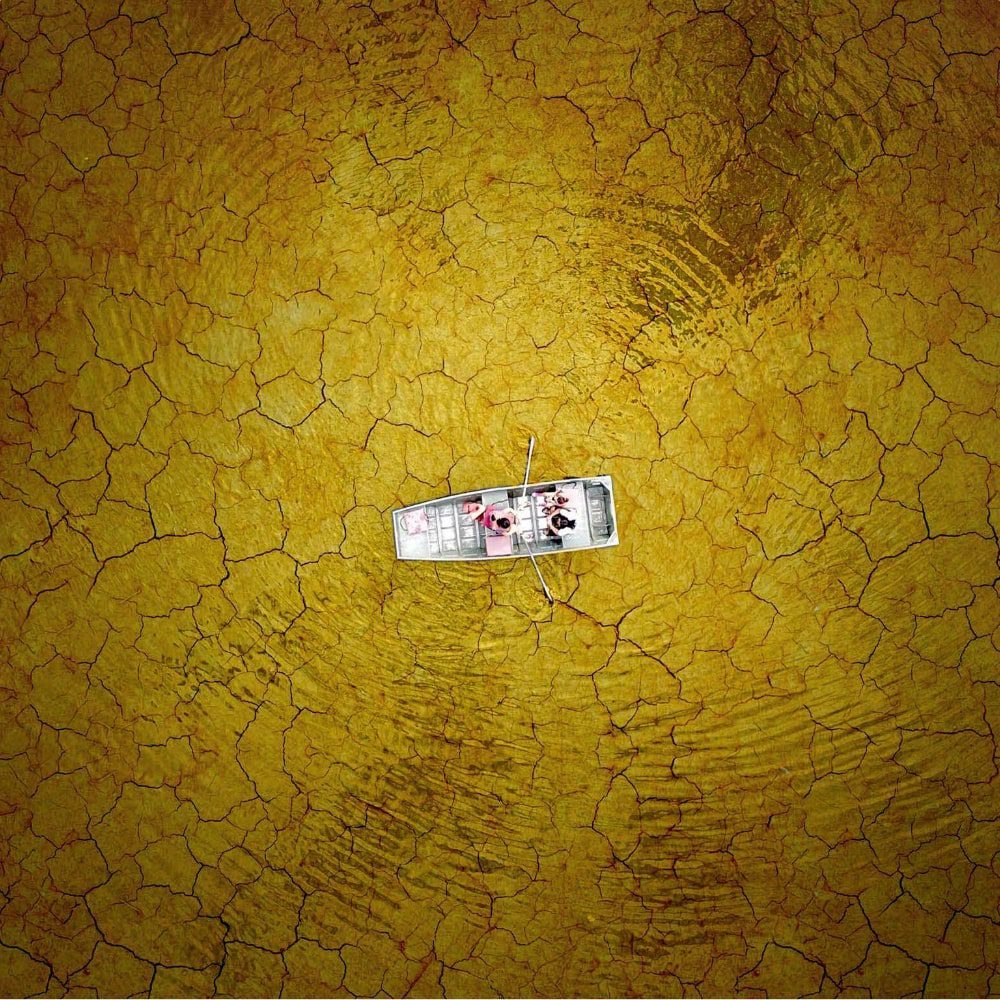 But upon closer inspection, you will notice the ripples around the boat, meaning that the water is so clear that it gives the illusion of someone wading through a desert. And if you don't believe us, why don't you go to Fairfax Station and see how many people rent out boats to enjoy this unique experience. Don't forget to save us a seat too.
A Painting Or A River?
At first glance we thought that this was one of those amazing pieces of abstract art from the early surrealist period. And who can blame us for that? It is just too perfect and too utterly mysterious and baffling to be anything else.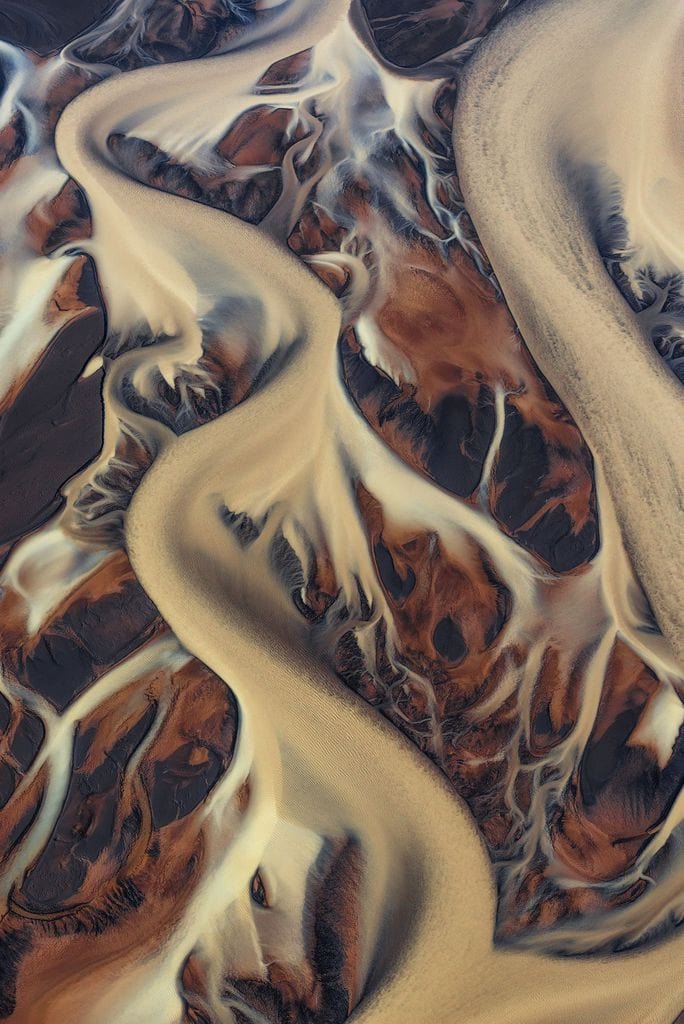 However, this was a photograph taken by Max Foster from 1500 ft above Iceland's fabled Delta River. If you take a closer look, it appears as if there are faces hidden randomly within the picture. Truly a work of art that needs to be put on the walls of every home around the planet.
The Enchanted Gardens
When you think of the UAE's crown jewel of Dubai you immediately will think of skyscrapers, huge shopping malls, Arabian nights, deserts, casinos, and camels. But hey, this unique city has quite a lot more sights if you happen to own a drone.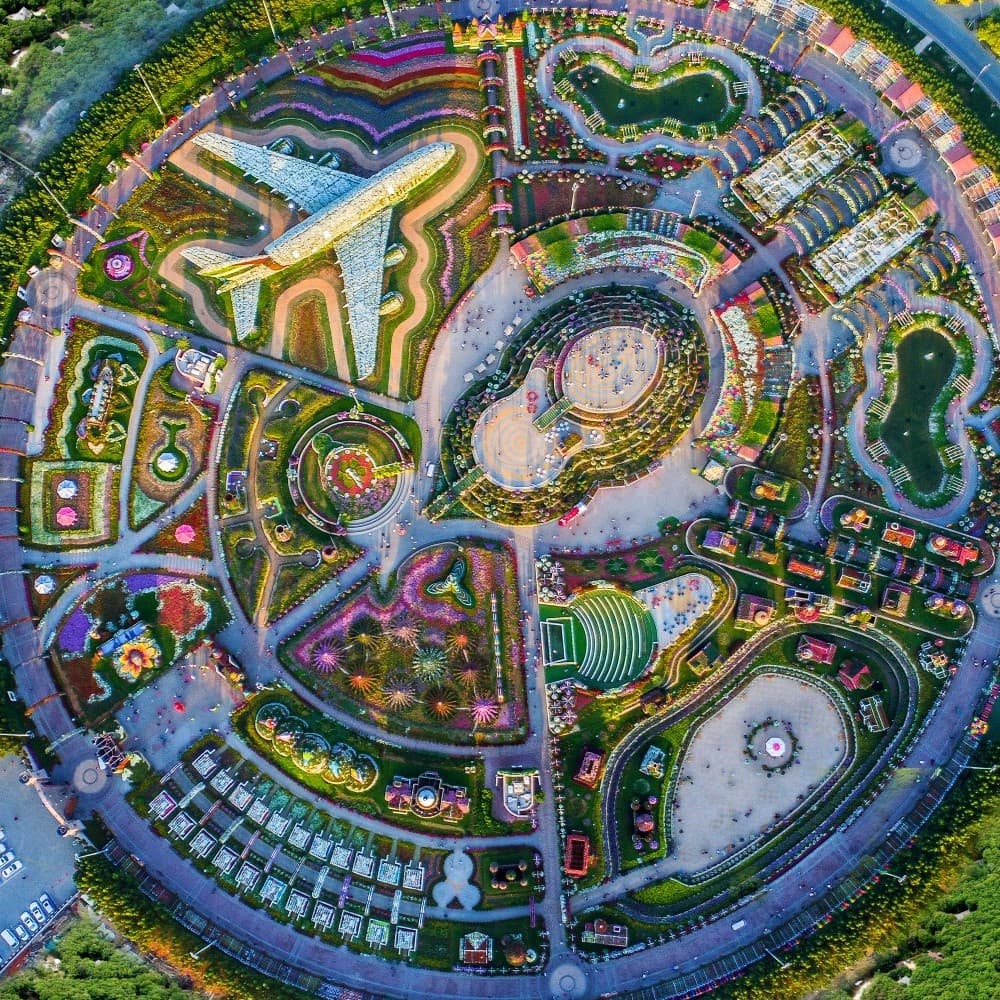 If you've ever been to Dubai and never visited the heavenly Dubai Miracle Garden, you missed out on something amazing. The image taken from above shows just how colorful this place is and how artistic every inch of the 72,000-square-meter garden is.
What Animals Are These?
Have you ever been to a lake and ended up being surrounded or perhaps chased by a whole army of ducks? It is never a pleasant experience and no amount of shooing them away is going to work in your favor.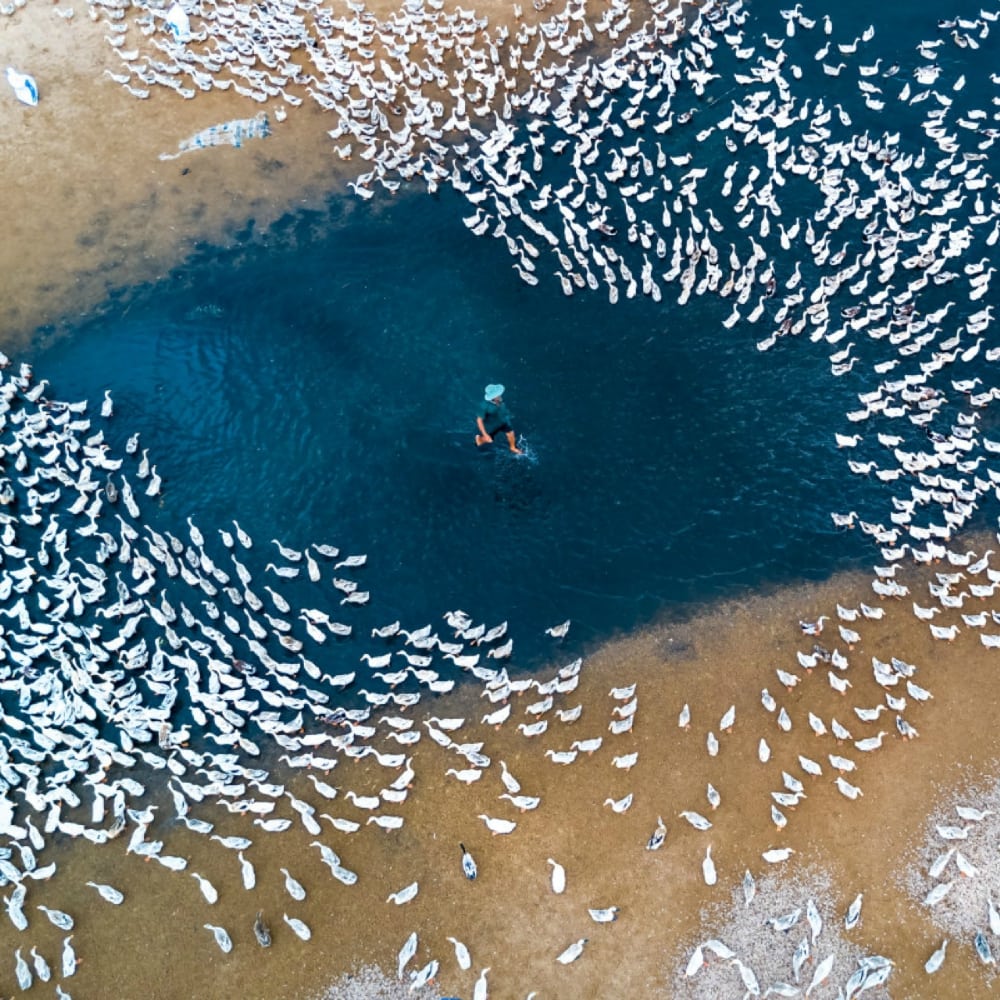 Here, the drone camera perfectly captures the moment when a poor man was surrounded by a whole battalion of ducks, who, from the looks of things, did not take kindly to him dipping his ankles in their territory. Get out while you still can!
Lord Of The Dunes
Drone photography is simply amazing. It shows us things in a light that we never imagined would be possible. For instance, the red dunes in Saudi Arabia are as mystical as they are magical. Thankfully though, Abdulla Al Nassar, a really talented drone photographer, did the whole of humanity a solid one by taking this image.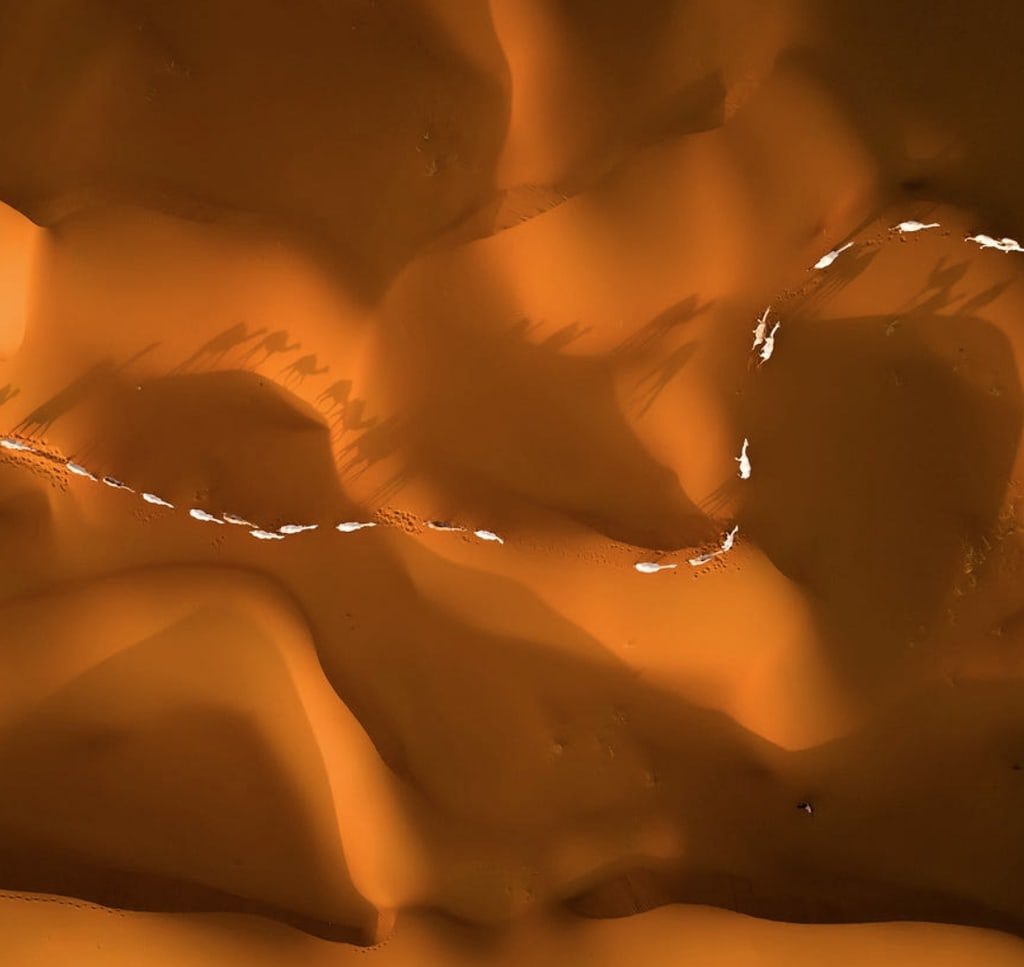 Also known as the Hidden Valley, you can see how the shadows of the camels reflect perfectly on the sand. Just amazing! Everything looks so different from afar and with this image, you can let your imagination run wild to imagine what it is.
A Field Of Marigolds
Sometimes, drone photography brings to light some amazing features of the day to day work of people from all parts of the globe. For instance, these women are pretty much used to picking marigolds on a daily basis and might not appreciate their surroundings a lot.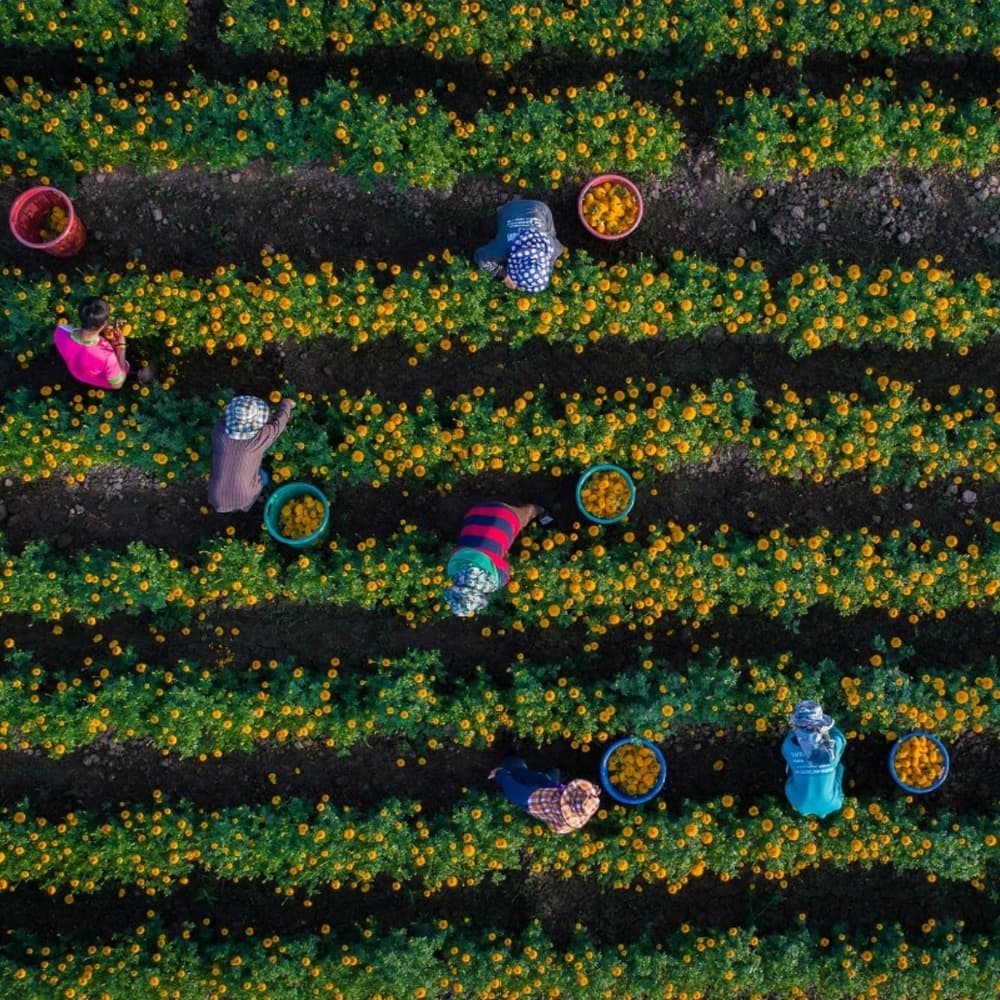 We, on the other hand, cannot wait to become part of this amazing scenery at least once in our lives. Look at how the colors are so vibrant and blended to perfection. It's almost like a Monet painting that came to life. We can almost smell the blooms!
The Led Zeppelin Inspiration
Clearly the legendary rock band visited Algarve in Portugal before going back to the studio and creating a piece of musical art that would transcend time and all manners of boundaries. If you look at this breathtaking drone imagery, you'd see a vast array of man-made stairs nestled around a lush green forest.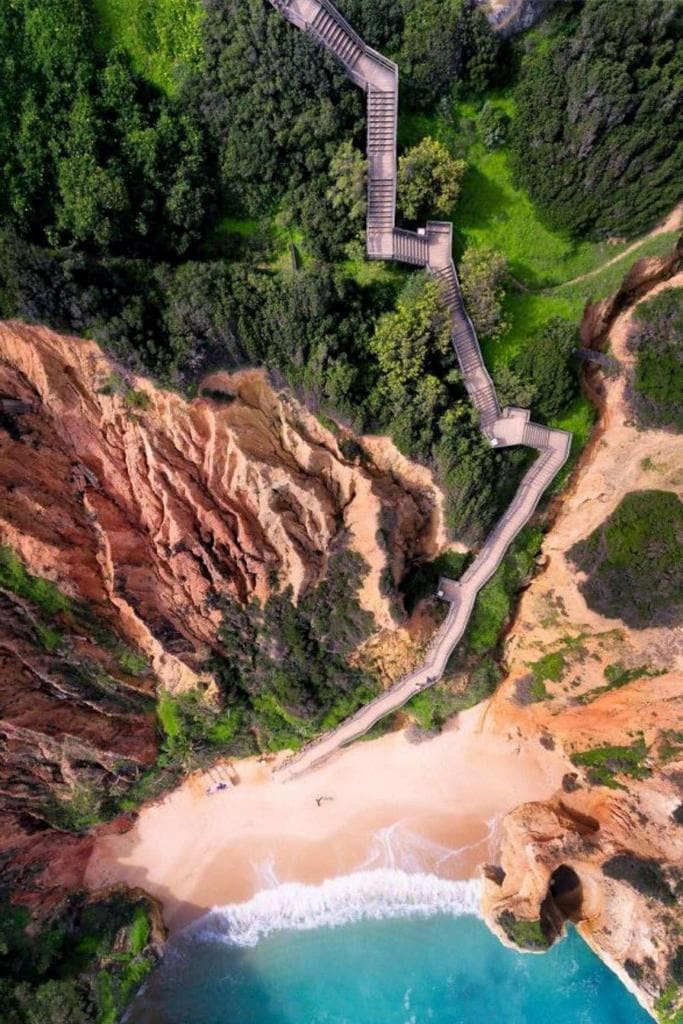 And where does this stairway lead to? It climbs up that rock face to a really cosy and secluded beach in the Faro area, which is quite a journey. What matters most is the journey after all, and not necessarily the destination, right?
Of The Land And The Water
Okay, we admit that at first glance this looks like a really great piece of manmade art. But that is not the case. The image was taken by American artist Robert Smithson and has nothing to do with human intelligence. It is all natural.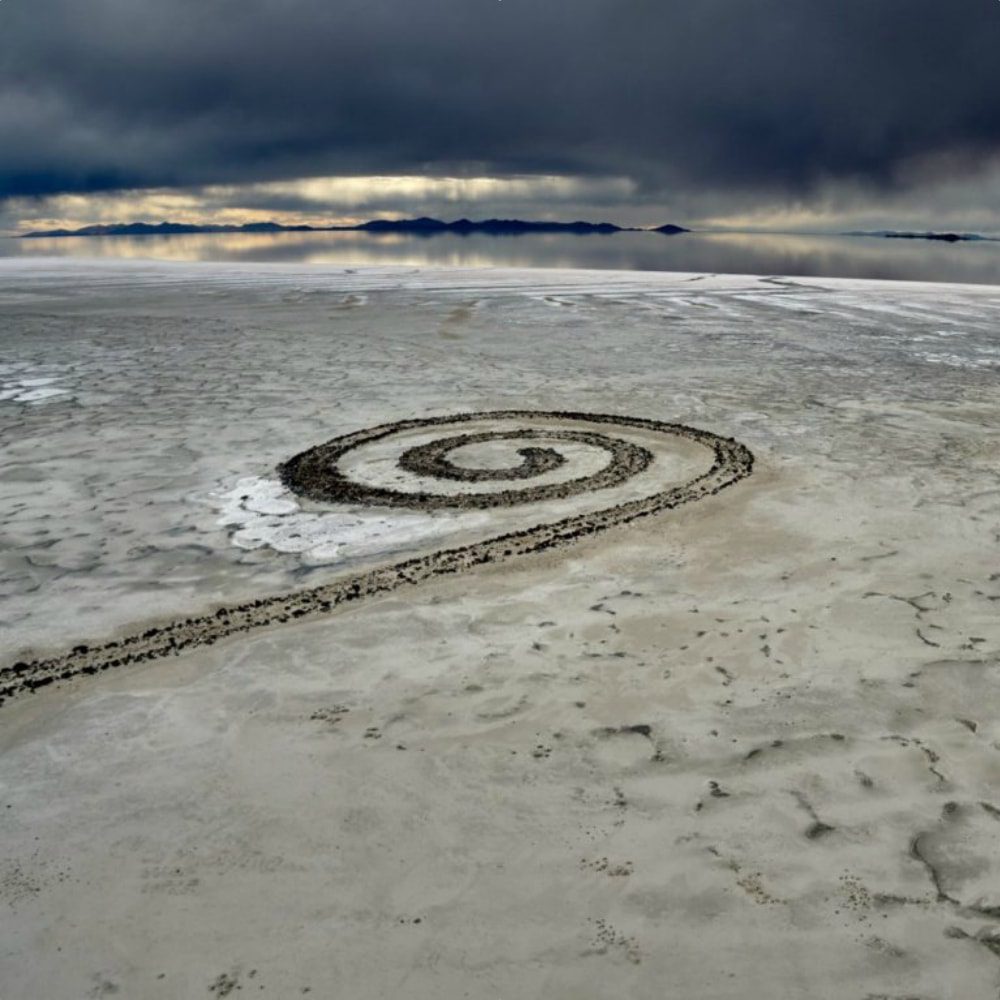 In fact, this is the sort of artwork you can witness only when water levels fall below 4,195 feet, and is a perfect image that describes the crucial relationship between land, water and sky. This beautiful artwork is a play of the 4 main elements and it feels like Aang from Avatar will pop out any second now.
Santa Maria
At the point where Santa Maria River and the Gallinas River meet in Mexico, a thing of beauty is formed – a.k.a an amazingly spectacular waterfall that ends with turquoise water and a rainbow that seems to have taken permanent residence there.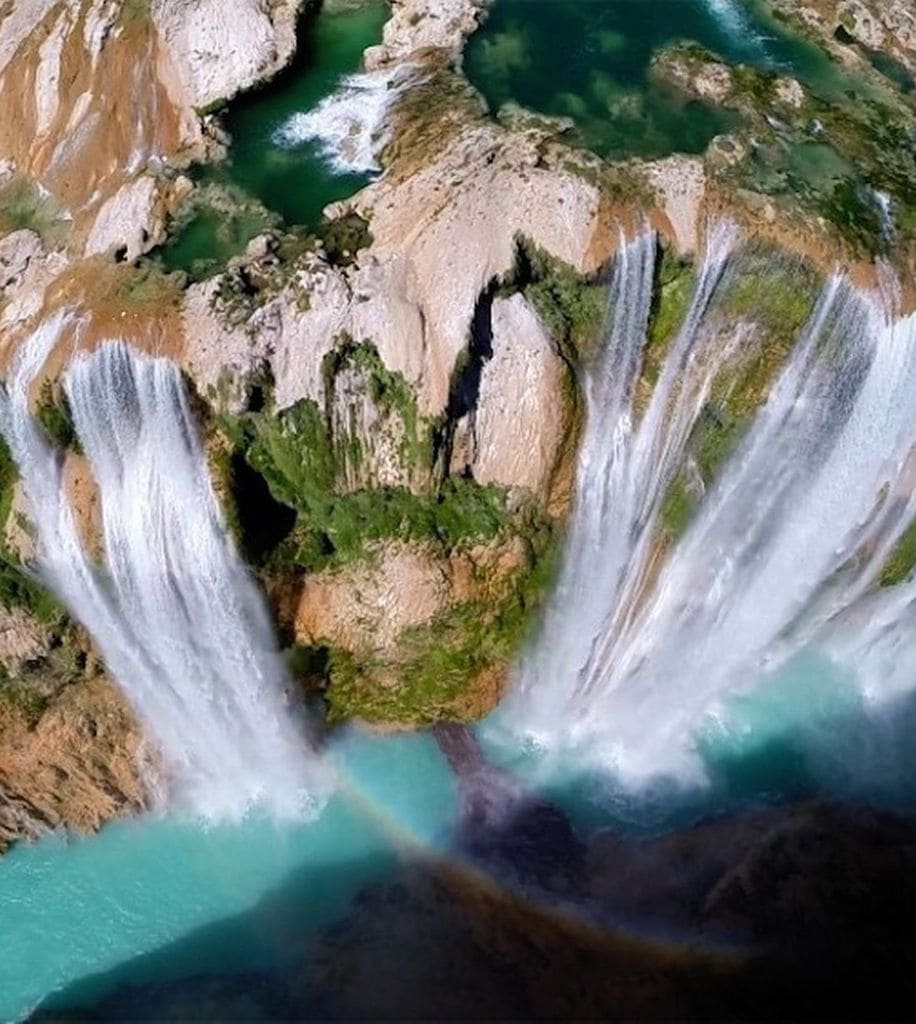 The image, captured by a drone camera, really shows us yet another spectacle this beautiful planet has on offer. So remind us why we are so hell-bent on destroying nature? To preserve beautiful views such as this one, we ought to be taking care of our environment better.
One That Can't Be Vanquished
Netherlands is a country worth visiting, thanks to an amazingly beautiful countryside and structures from the old times that have been preserved with a lot of pride. This famously flat country is filled with open-minded people, old windmills, and plenty of tulips.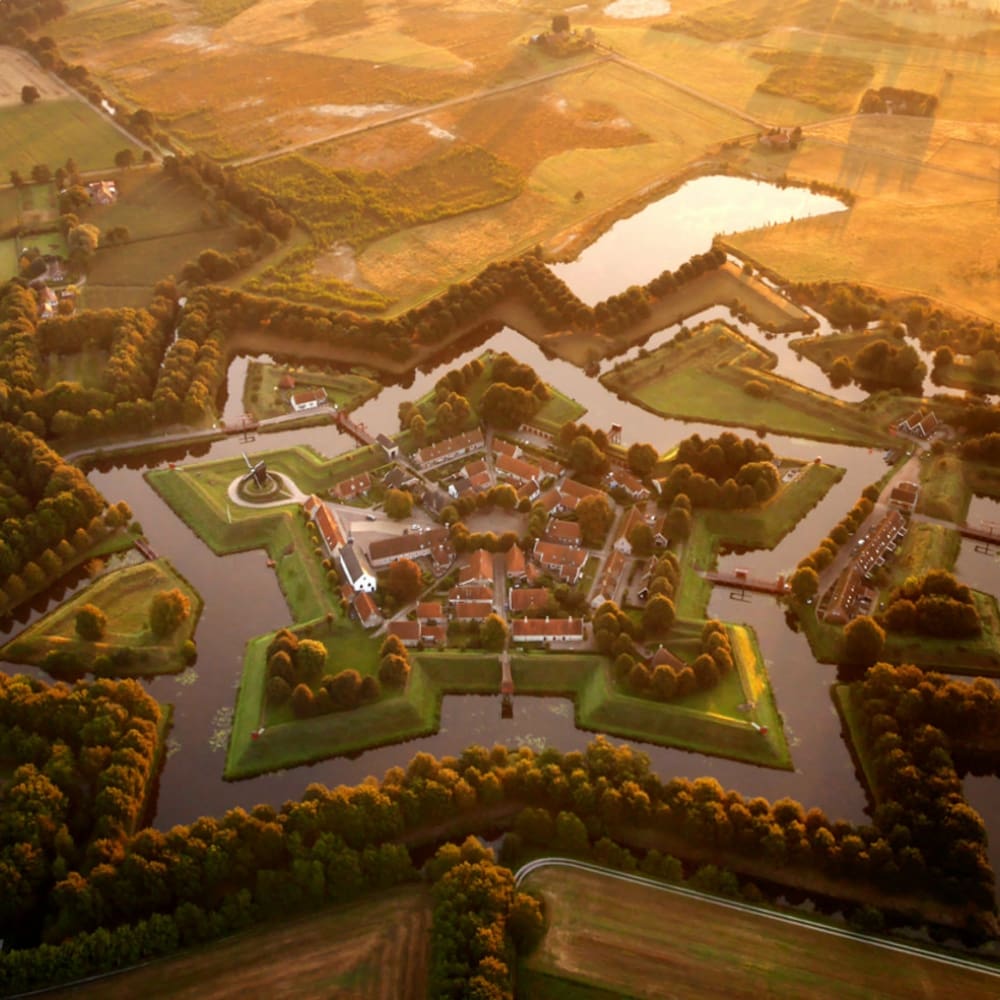 If you ever happen to visit Groningen, we recommend a trip to the Fort Bourtange. The star-shaped fort was constructed three centuries ago and is still in perfect condition. And look at that amazing view. Have you ever seen anything built or maintained to such perfection?
Football In The Middle Of The Sea
When it comes to our love for the beautiful game, nothing comes closer than setting up a pitch in the remotest corners of the world. Just by looking at this amazing image of the Norwegian archipelago of Lofoten, we can say for a fact that football is an important part of people residing here.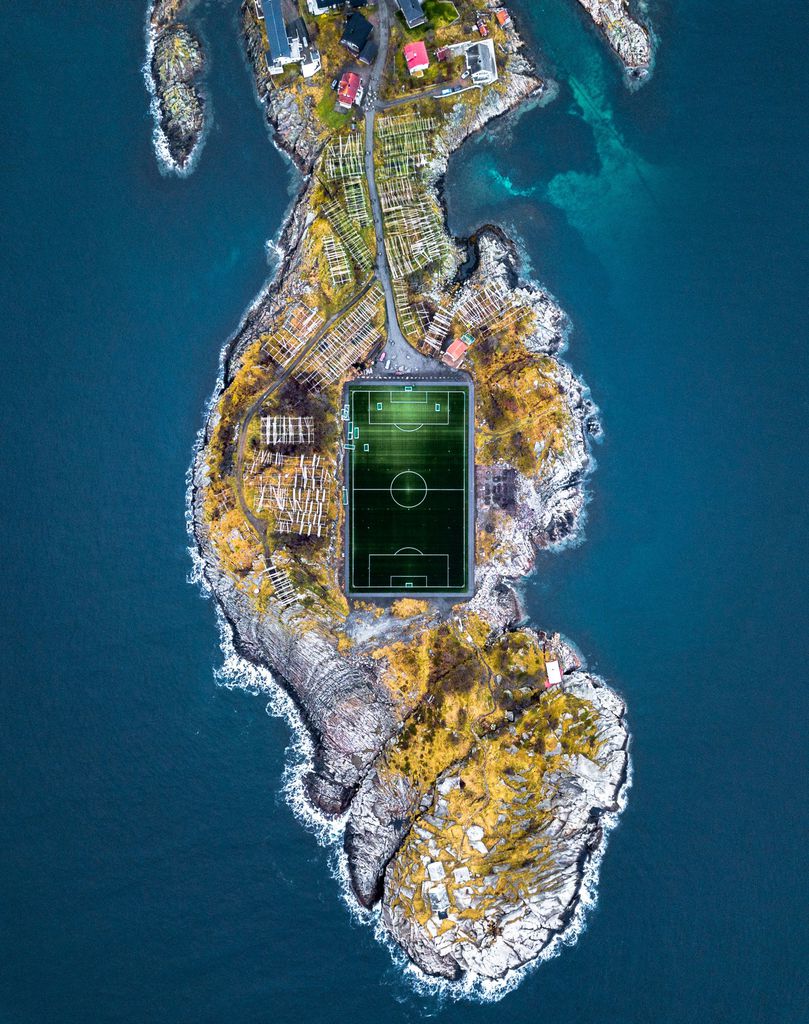 The island already looks so beautiful and having a football ground setup here adds more to its beauty. Now we know why Norway's football is on the rise and they have one of their favorite sons as the current manager of Manchester United.
What's Up, Jesus?
When has anyone ever denied that Christ the Redeemer is one of the most famous tourist attractions on the planet? The gigantic statue stands like a silent sentinel, guarding Rio de Janeiro with extreme pride and attracts people from all over the world on an annual basis.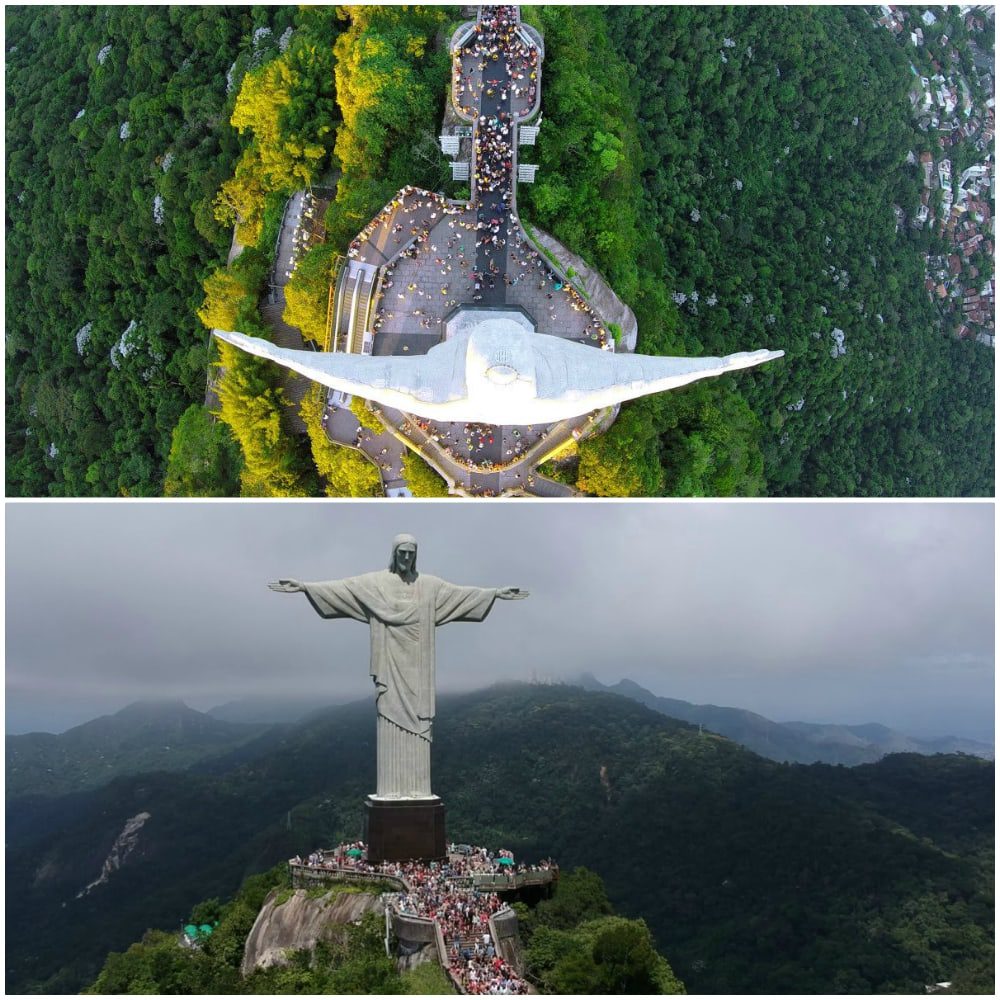 However, this drone image perfectly sums up why it is a sight to truly behold. Look at the way it is proudly perched on top of a mountain and is gazing over the hills. It looks like Jesus himself is watching over the country, protecting it at all costs.
The Long Road
So this drone was taken up for a test drive in the midst of all the amazing scenery surrounding the Pacific Northwest. With snow settling in well around the highway and trees as red as they can be during autumn, the drone captured the perfect image.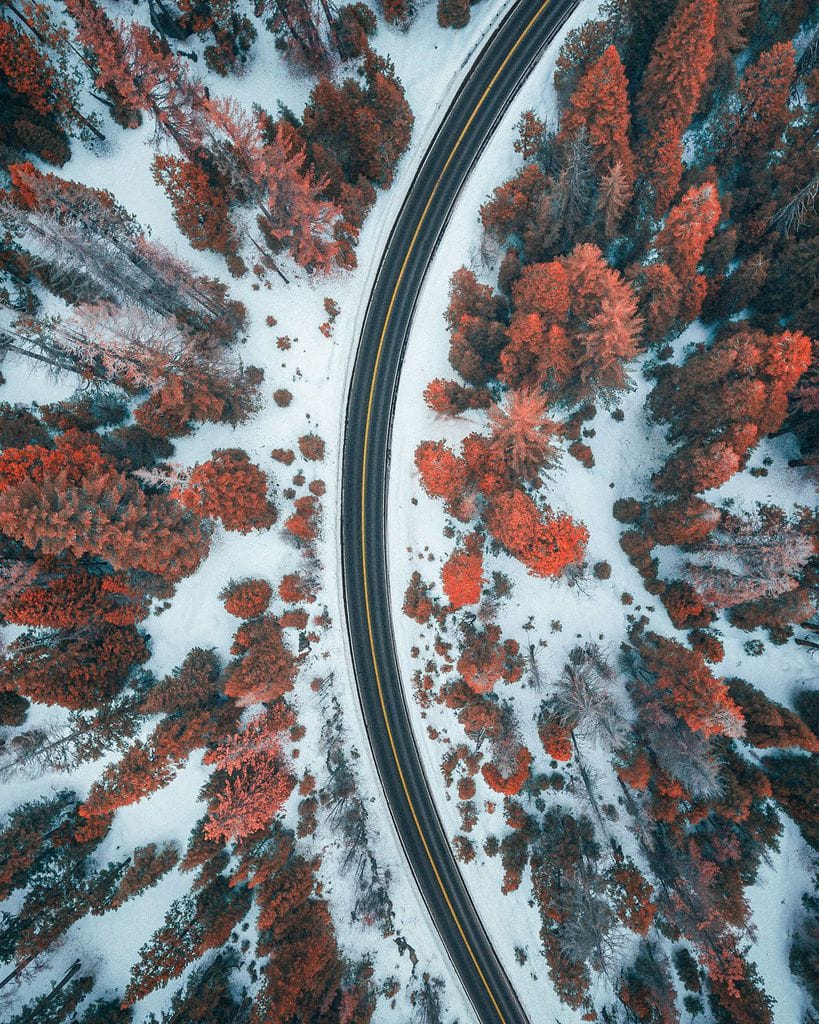 According to the photographer, the scenery was absolutely perfect for this image since temperatures at the time were -5 degrees Fahrenheit and it was very windy – thus making this snap one of the most artistic ones we've ever come across.
Optical Illusion?
Okay, so this image is definitely a very difficult one to decipher. It appears as if one side of the road is experiencing a really cold winter while the other side is still enjoying spring. This yin/yang combo would make for a beautiful poster pinned up on our walls.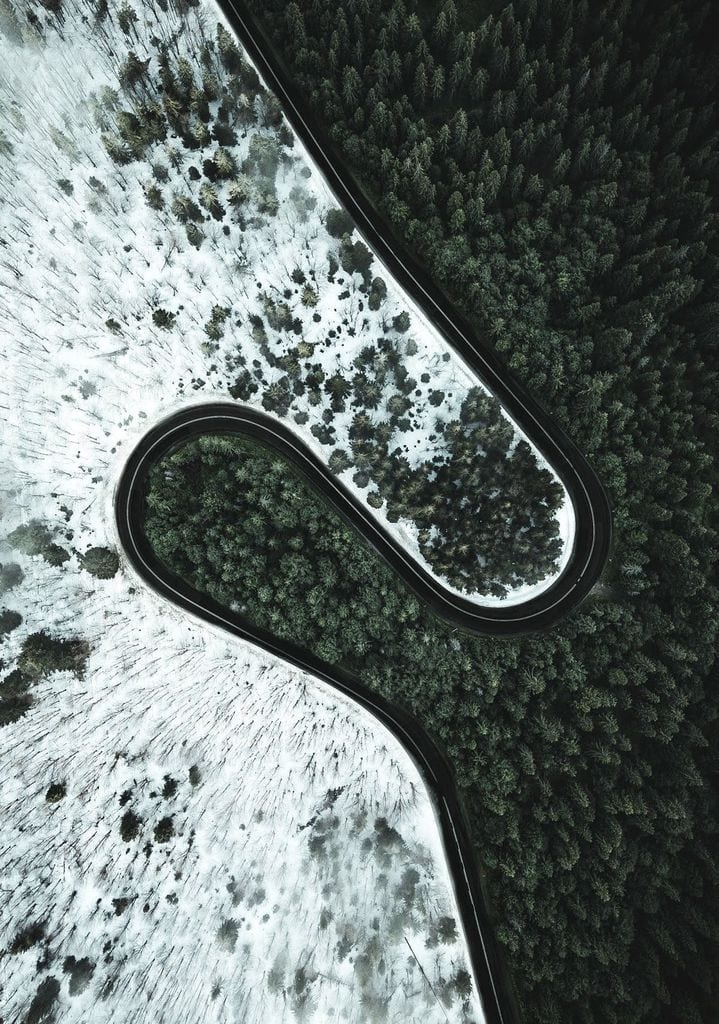 But that is not the case actually. The trick is that the photographer decided to take one image during winter and the other during the summer and then meshed them both together to create quite a piece of art. This collage isn't actually how nature looks in real life but the comparison is stunning.
Black And White
So the next drone image we're about to show you was actually taken by using a black and white filter and then went through the power of photoshop. The photo originates from Phan Rang in Vietnam, where you'd get to see a lot of sand dunes.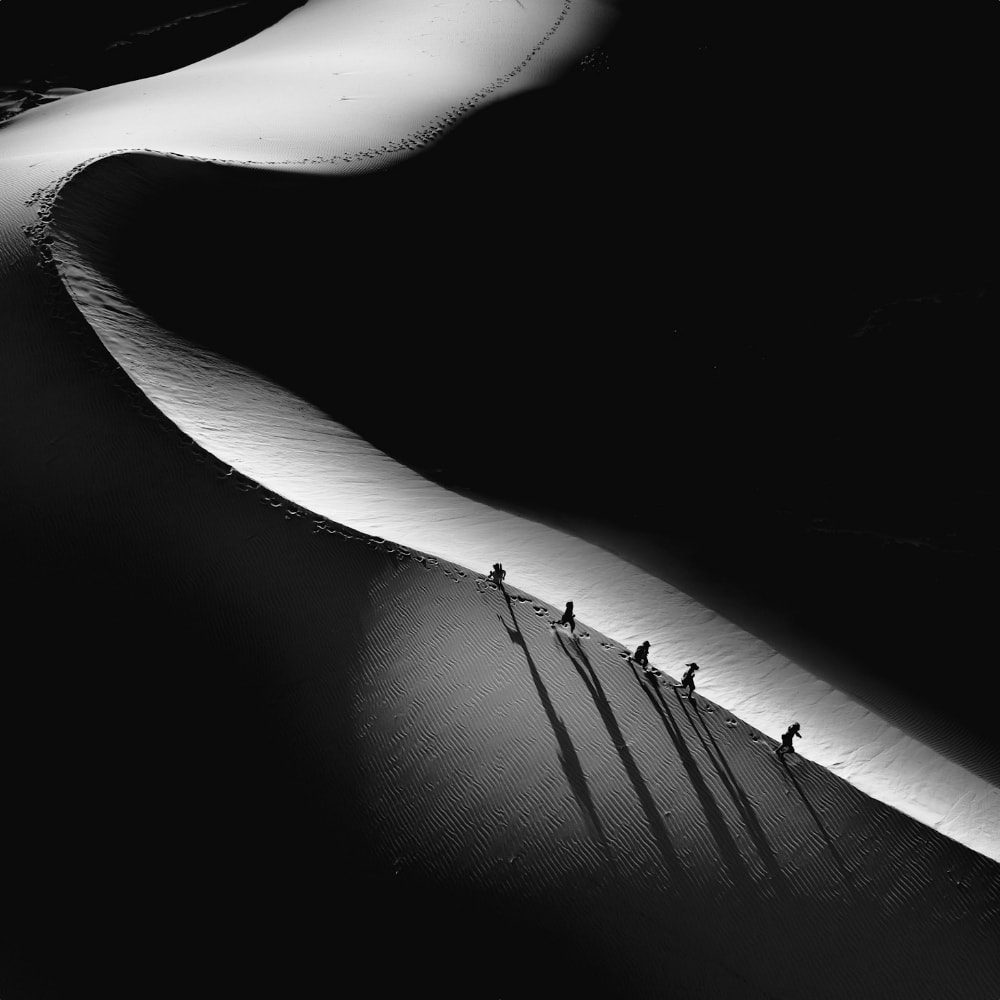 You see how the shadows of kids running through the dunes add a unique feature to this surreal background? And while there is a lot of sand in this image, we must tell you that this city has a lot of other beautiful places worth visiting as well.
Golden Falls
When it comes to tourism and backpacking adventures, there aren't many countries that can quite match the landscape Iceland has on offer. The Scandinavian island nation puts its natural beauty and extreme landmarks front and center, including this glorious waterfall.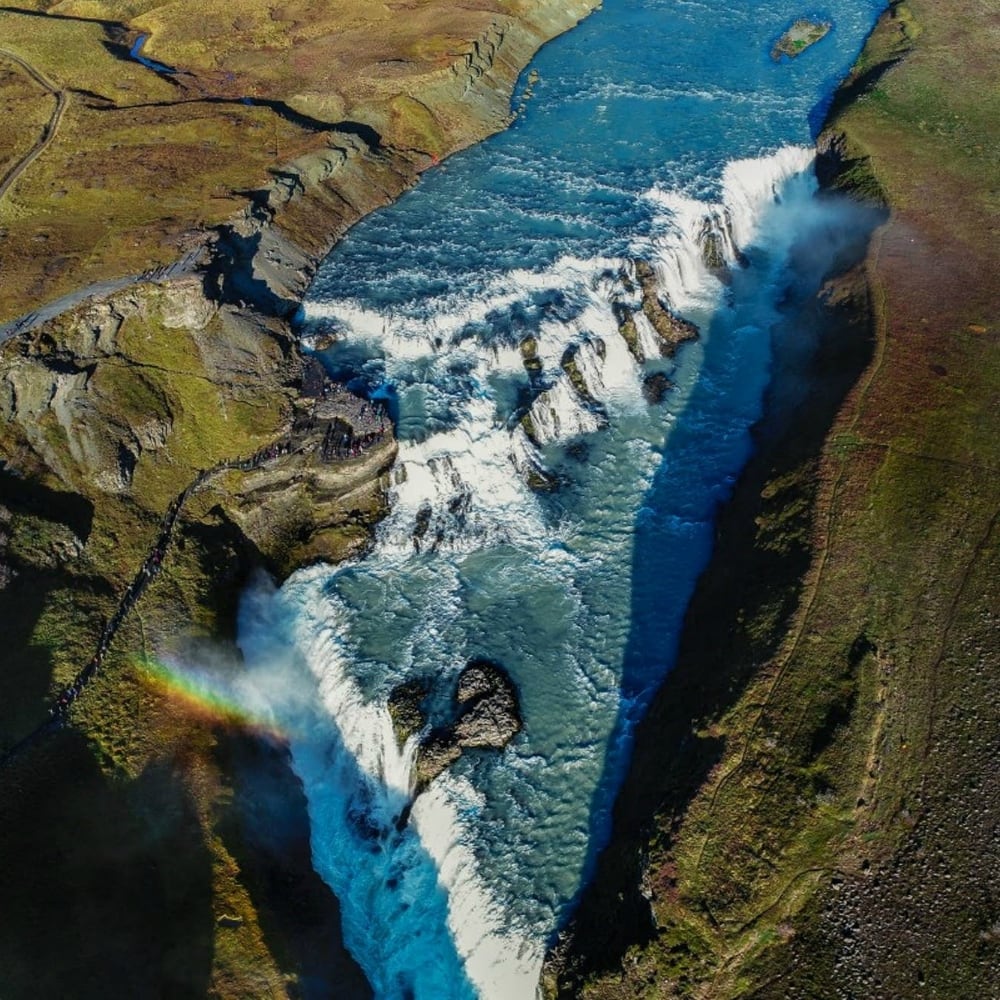 This image was captured on a drone camera and shows the majestic Golden Falls. This is definitely one item that should be on the top of your bucket list. One trip here and you may never look at life the same way ever again.
Watch Out
This isn't a still from some apocalyptic movie where the world is about to end and that giant waves are going to swallow everything whole. This is a masterful use of a drone camera from Chiang Mai, Thailand. The area is a truly majestic site with loads of water bodies including the Ping River.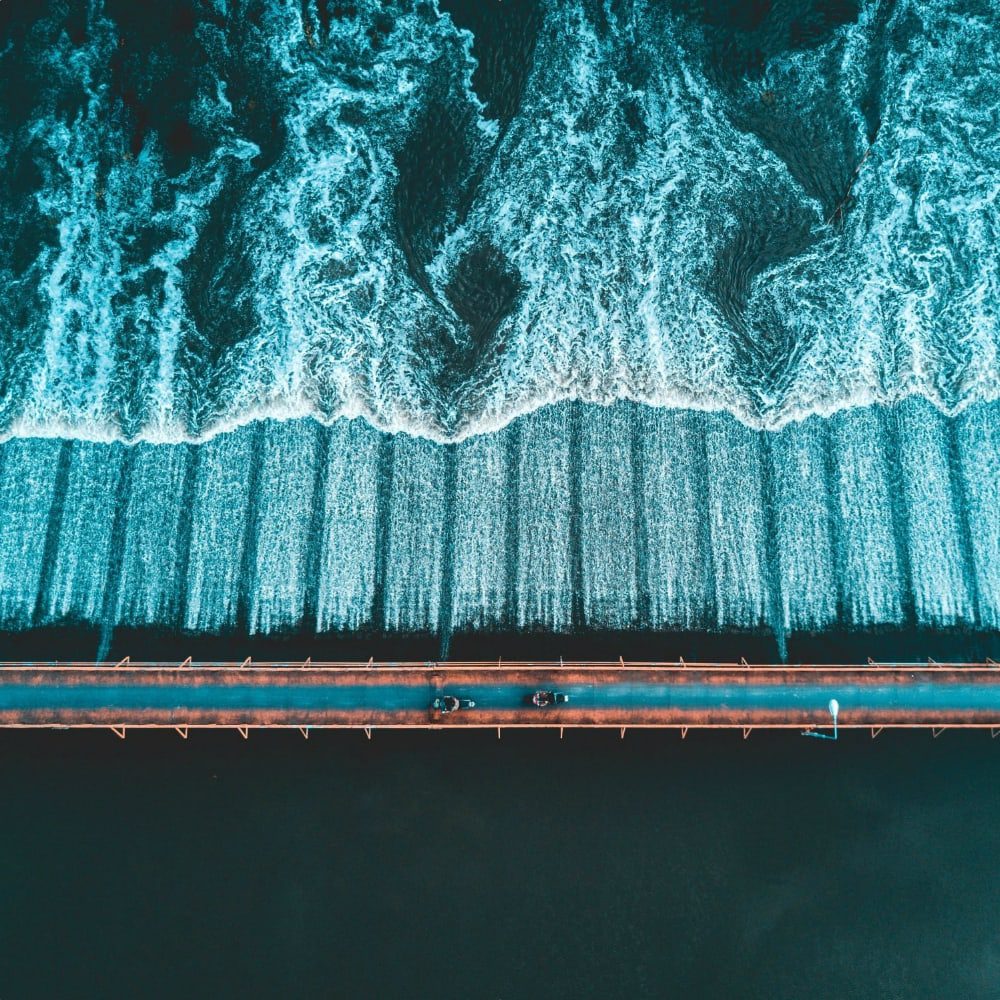 The photo is basically a great aerial view of how it looks when the waves crash against the small bridge. It looks like the river is forming ancient symbols, or like ghostly ribbons. What do the patterns look like to you?
The Lost Plane
While this may seem like a relic of the past with a story that goes on about a plane that crashed during the Second World War and never found its way home, it is actually a person's home. The drone image really creates this amazing piece of photography that can help us beef up our imagination in order for us to create a really cool storyline.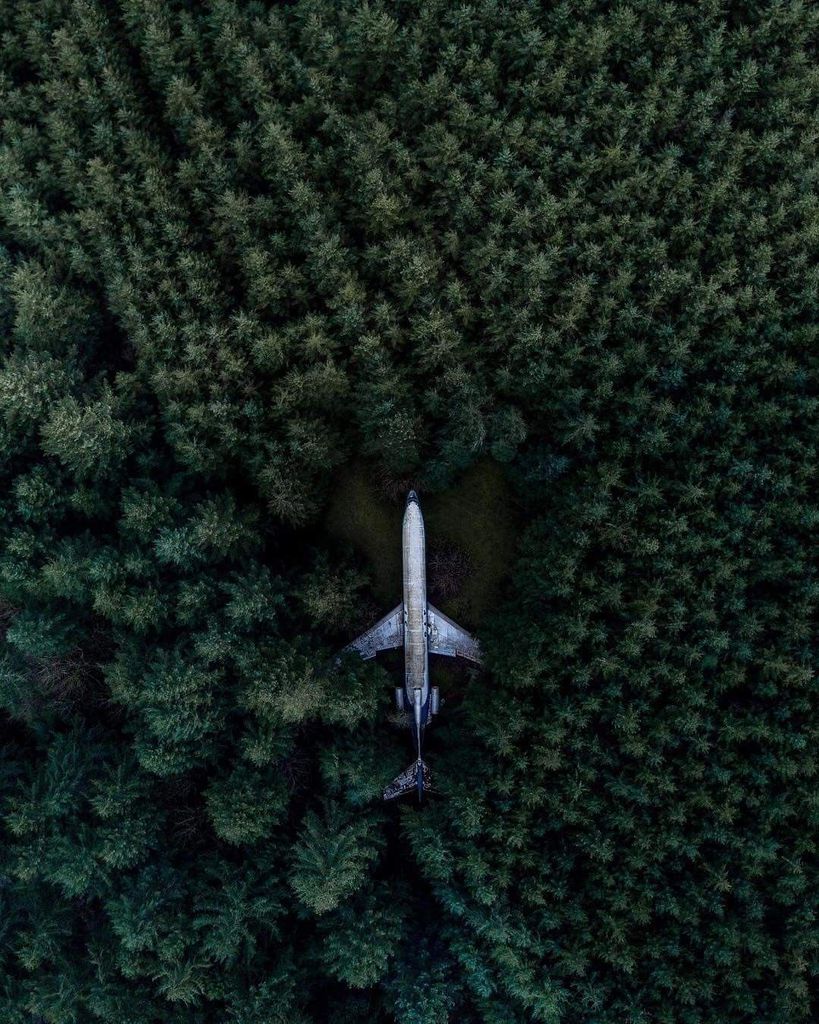 Long story short, this is actually a person's home. The man who built this home also rents it out to thrill-seekers and those thirsting for adventure. Wouldn't you want to hop on this plane too, even if meant not being able to fly?
The Mustang Gang
Now if you love muscle cars, you would love to go on a long road trip and enjoy the scenery as the car's beast of an engine roars on the gravel. This is such an epic image because it perfectly shows just how much fun road trips actually are.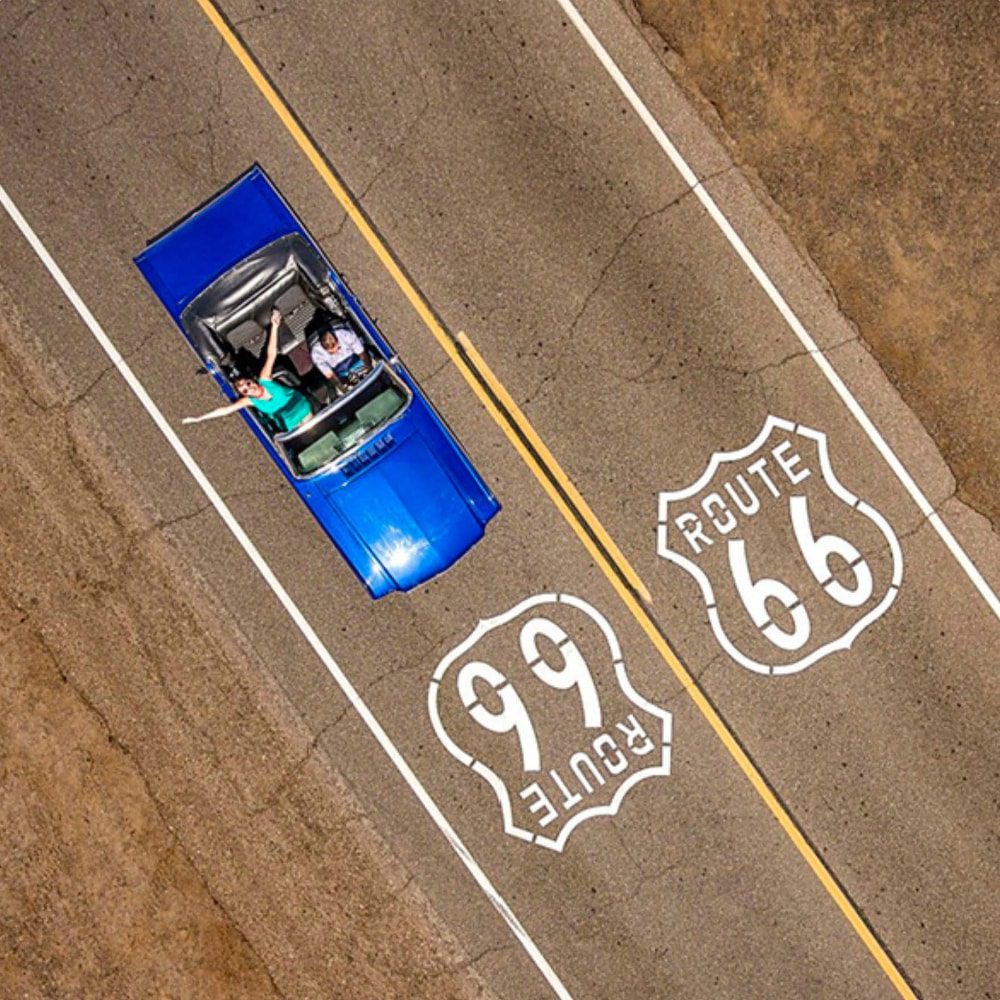 And if you're really having a great time driving a Ford Mustang on Route 66, you know that you're in for making tons of memories. This iconic road will forever be a staple in our favorite movies and we'll always dream about riding the road to Route 66.
High Tide
Alexandria Bay is a small town located on the border between New York and Canada and is home to only 1,078 people. However, its geographic location is such that rising water levels are becoming a serious cause of concern for the locals.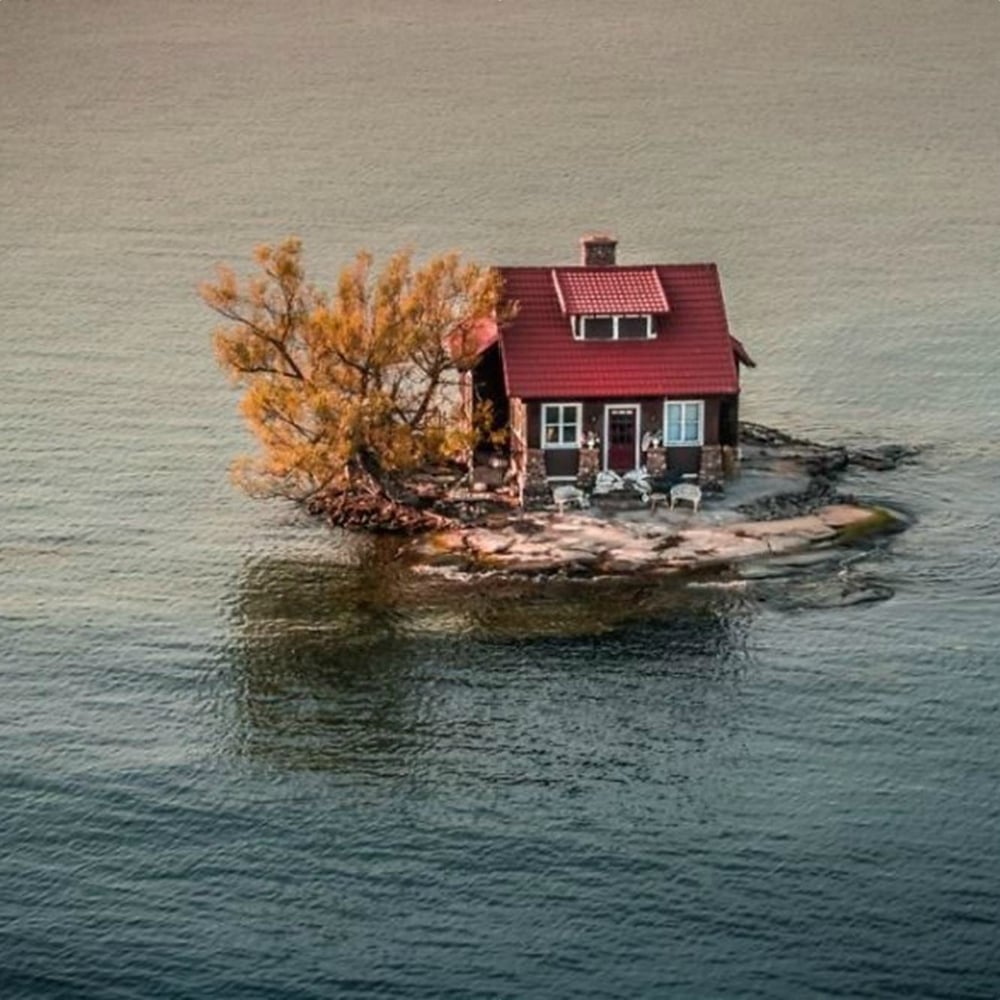 This image might look really amazing, but upon deeper thinking, we feel that it is a damning indictment of how climate change is really causing more than just a few issues to people around the world and that it is a problem which needs to be taken seriously.
Les Alpes Françaises
Mont Blanc is our favorite part of the French Alps. The view is mesmerizing and the amount of skiing you can do here really puts a lot of things in perspective. The pure joy of skiing past the frozen ground and seeing colors in a blur is something that cannot be replicated anywhere on the planet.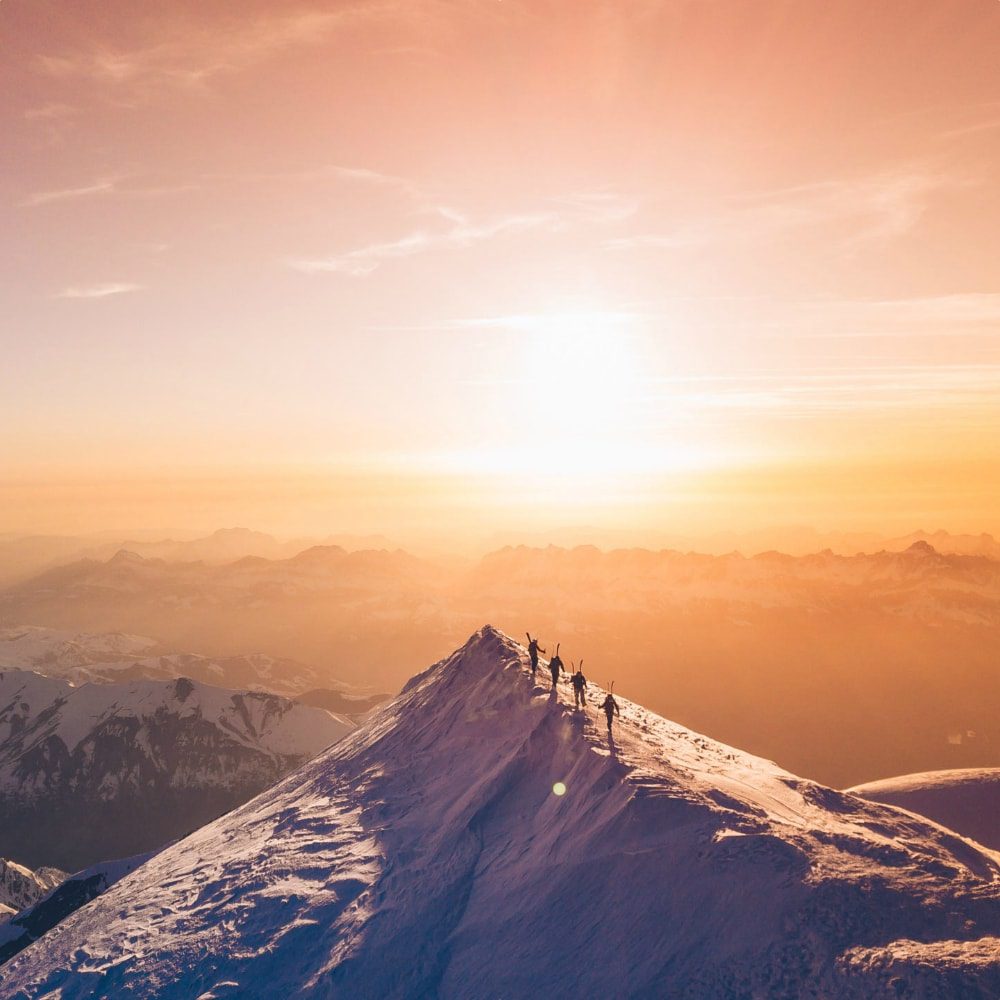 The team of Dynastar decided to reach the mountain's summit and get a drone image taken just a bit before sunset. We have to say that it looks so surreal. Climbing up this mountain isn't easy but it certainly is rewarding in every sense of the word.
Pixar Castle?
Now when you go to France, you'll always visit the Eiffel Tower and the Louvre Museum in Paris. But wait — there's a whole country outside of the City of Love. If you chose to ignore Mont-Saint-Michel, you wasted all your hard earned money away.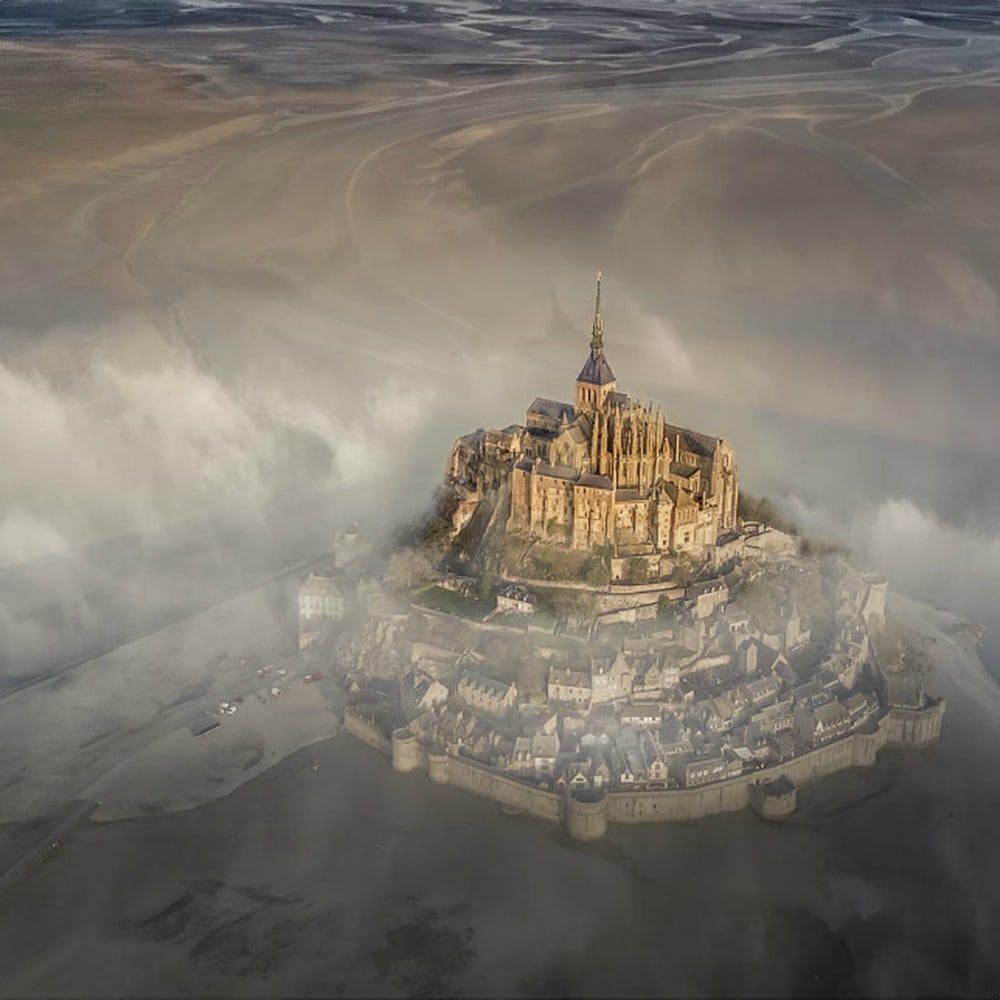 This surreal island is home to only 50 people and the castle that you're seeing is a UNESCO Heritage Site. Every year, people come visit in droves and get blown away by this amazing structure which transcends time and myth.
Rush Hour
We all hate traffic jams, especially if we need to be somewhere on time and are already running late. But did you know that being stuck in a traffic jam is just a part of people's daily lives in many big cities?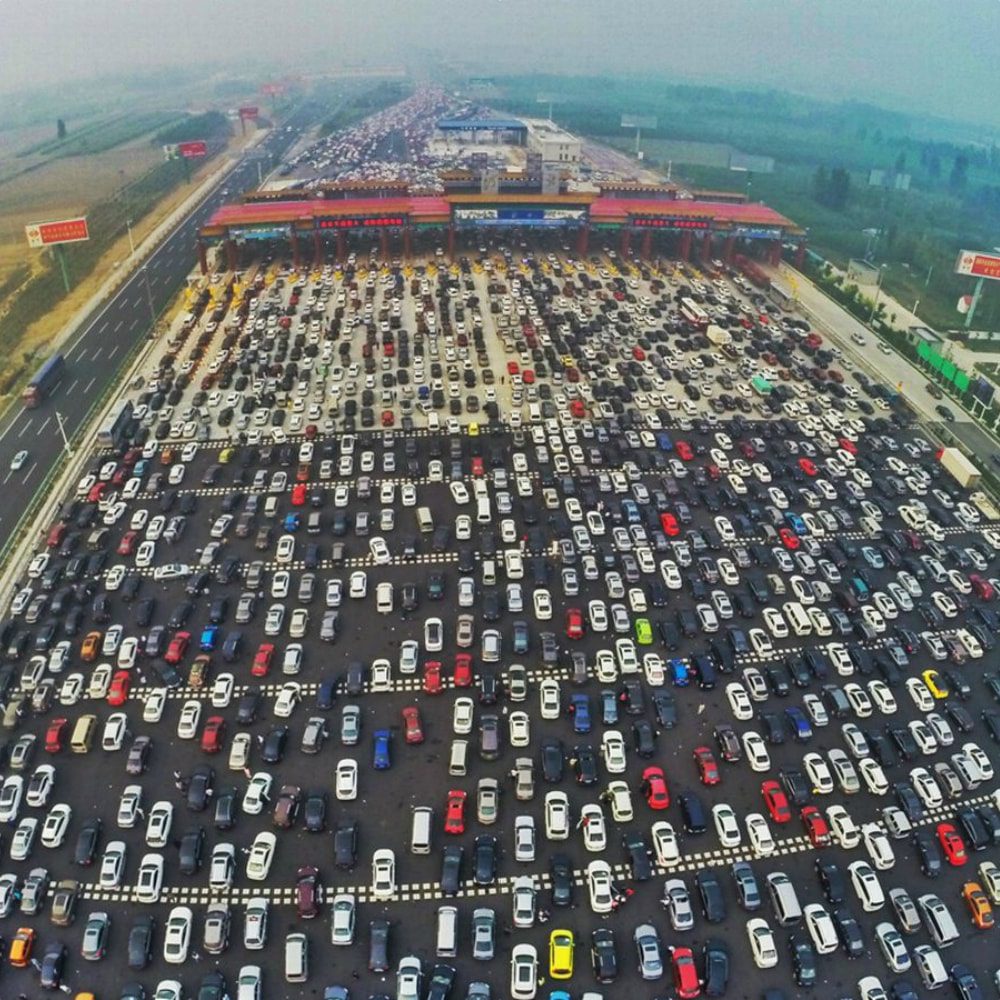 Take the example of this drone image, which was taken from a motorway in China. Look at how all the cars are almost stacked next to one another as they await passage through a bottleneck. We're pretty sure that this will take at least a couple of hours to clear up.
Drone Vs. The Ultimate Predator
Usually birds don't like seeing drones scaling the skies like they do. And why would they? They don't need to be controlled how they take flight by mere mortals, so it's fairly understandable why they look down upon these magnificent inventions.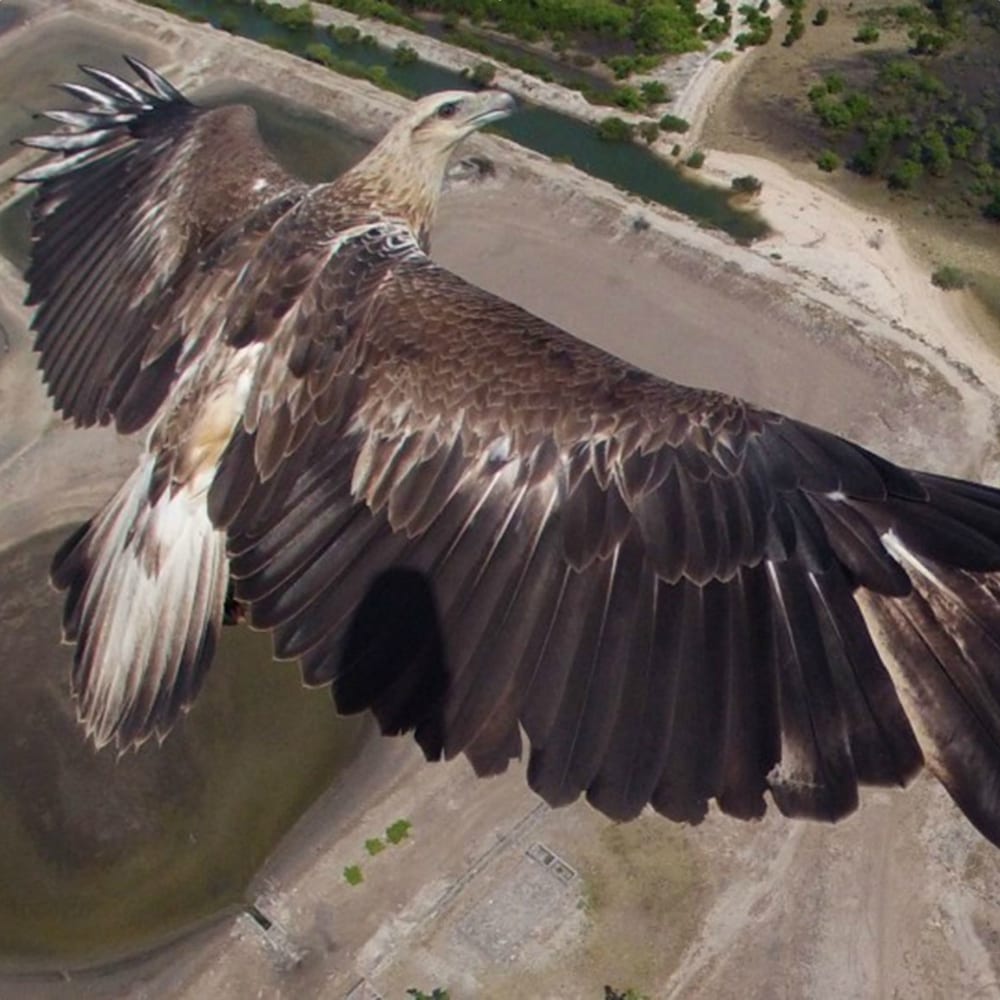 This eagle was not happy to see a drone hovering above it, killing its vibe. Luckily the drone was able to take a nice still before running away from those talons. We also hope that the latter part of our statement was true and the drone still takes flight every now and then.
Another Norwegian Waterfall
Once again we have an amazing drone image taken from Norway. Can you blame us? This country is just way too beautiful and maybe one of these days we might end up doing a list based on every majestic thing about Norway.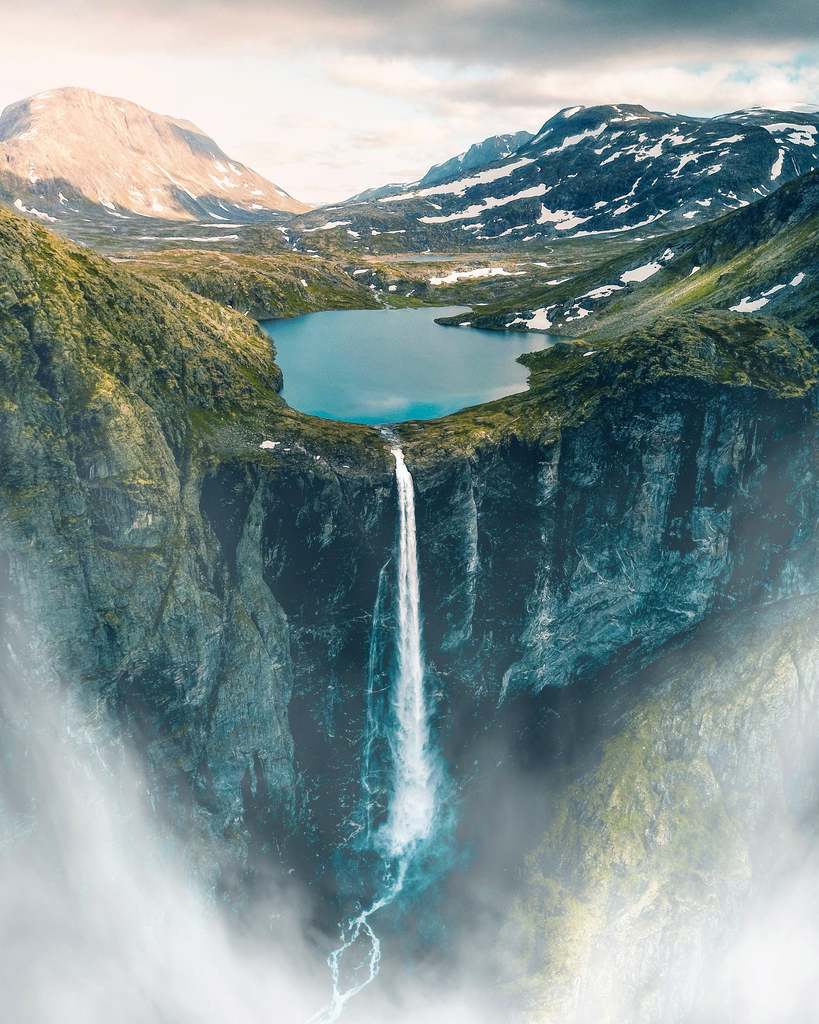 The Mardalsfossen is one of the highest waterfalls in Europe and boasts a 1,175-foot drop. It might be scary but the drone image has given this writer a new wallpaper to parade around for at least the next years.
The Truth Revealed
Remember that one time when everyone was interested in patterns forming around crops? These crop circles really did a number on our generation. Throw in the fact that the X-Files and M. Night Shyamalan were pretty hip those days and you have a story of how aliens took some time out of their very busy lives and drew intricate patterns on crops just because they felt like it.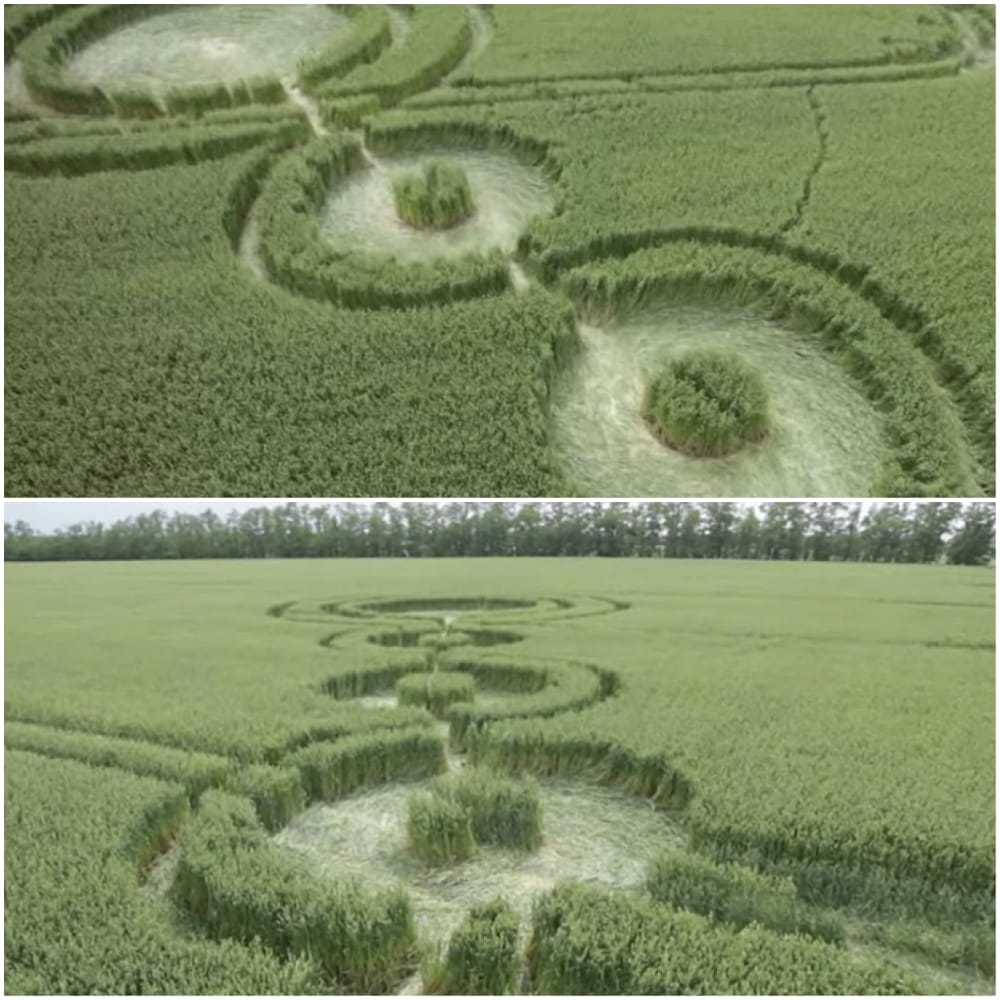 Anyway, this drone has done a pretty decent job of capturing these three circles. Was it the farmers who made this or was it really E.T. and his merry crew coming down on earth and practicing their drawing skills? We guess we'll never truly know.
Yeti Or Bigfoot? Sasquatch?
When it comes to finding elusive creatures, none come closer than the Bigfoot – a real giant of a legendary beast in the North American wilderness that has captured our imagination for ages but has never been captured. There are people who have dedicated their lives to discovering one but so far, nothing has happened.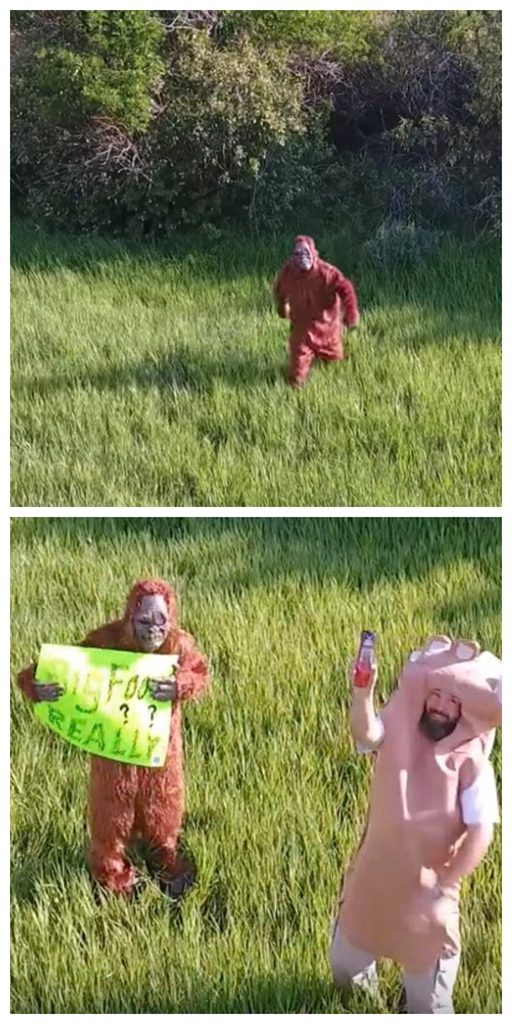 And look at this image! Just a couple of dudes trying to debunk the whole theory and making a fool out of us. Good thing the internet was able to spot this hoax. Nice trick, you guys. Now maybe resort to making YouTube videos instead of these fake images.