Smiling Faces And Wagging Tails: 45 Pictures That Define True Friendship
By Ridwan S May 22, 2023
---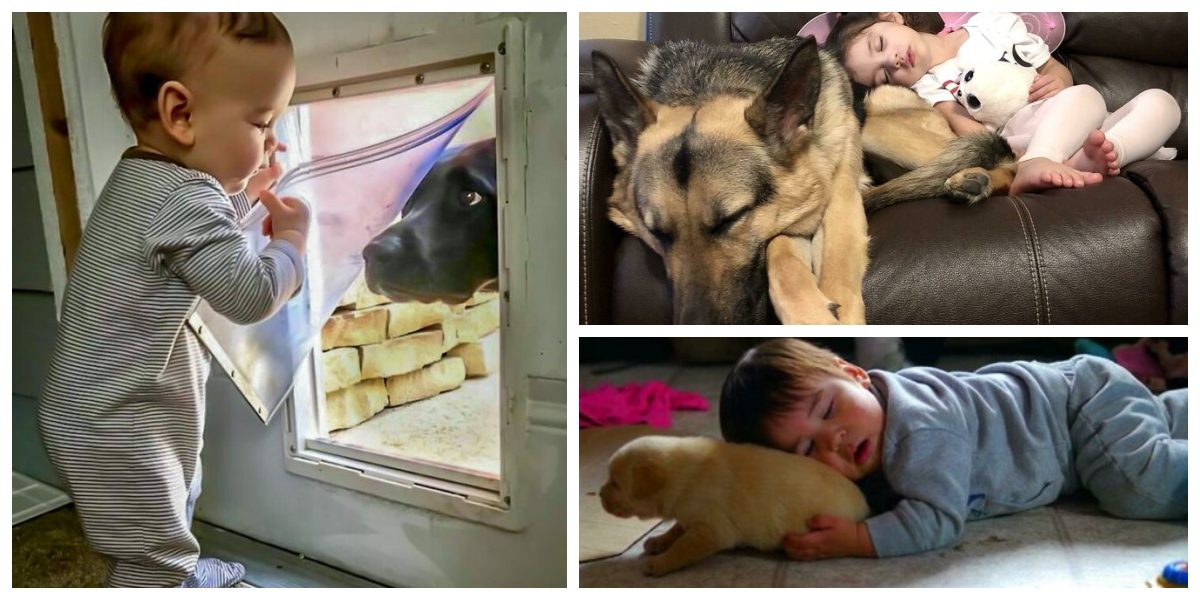 It might be cliche, but it's true that dogs are a man's best friend. A dog's love is practically unrivaled as it provides friendship and loyalty. Pets can help people feel unconditionally welcomed, and children, in particular, feel safe in the presence of pets. And that's not all. From enhancing a child's self-esteem to making them more compassionate to improving cognitive skills, there are many benefits gained from this special relationship. Children raised with dogs form strong bonds and are sensitive to their canine companion, and vice versa.
And we haven't even mentioned the reduced stress levels, lessons in responsibility, and emotional support dogs provide. If you're still not convinced that it's a good idea to adopt a dog, here's a list of 45 reasons your kid will benefit from having a dog.
New homes, New Friends
Changing environments can have an impact on everyone's life — for better and for worse. This is true for dogs, too. You'd never know by looking at the photo, but the dog is actually a rescue. His new family shared this picture with the rescue center they got him.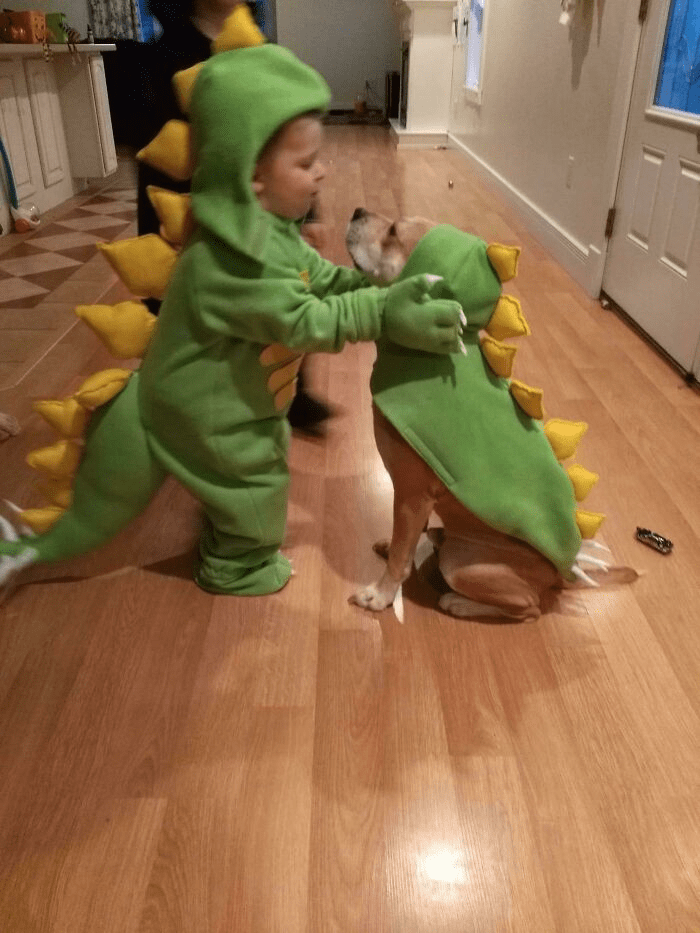 This dog found his forever home with people who will always love him. But the best part is the new friend he made. The toddler might not have signed the adoption papers at the shelter, but he changed the dog's life with the newfound friendship between the two.
Get them in twos
This is one of the most peaceful images you'll find on the internet today — a dog, a cat, and a baby in one big cuddle pile. The way the dog embraces the baby in a protective, warming hug is too pure to handle!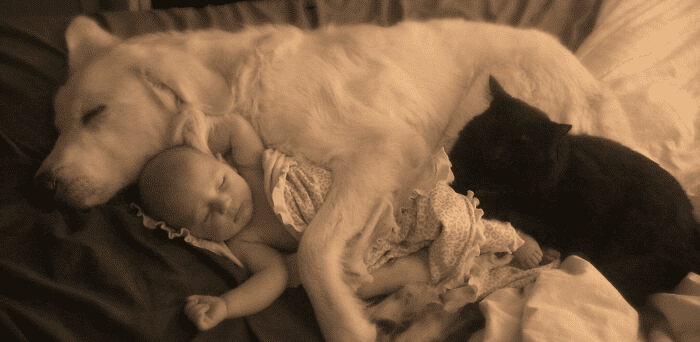 The owner is hoping to get the most upvotes on Reddit. And we believe that after seeing this image; it's worth any attention-seeking behavior because we were blessed with such a sweet snapshot. If this picture doesn't show what pet love looks like, we don't know what does.
Treat time is bonding time
People form bonds for a variety of reasons. Some people may connect over a walk, while others may bond over food, as shown in the image below. The patient doggos regularly receive treats from their neighbor, and the toddler caught on to the pattern.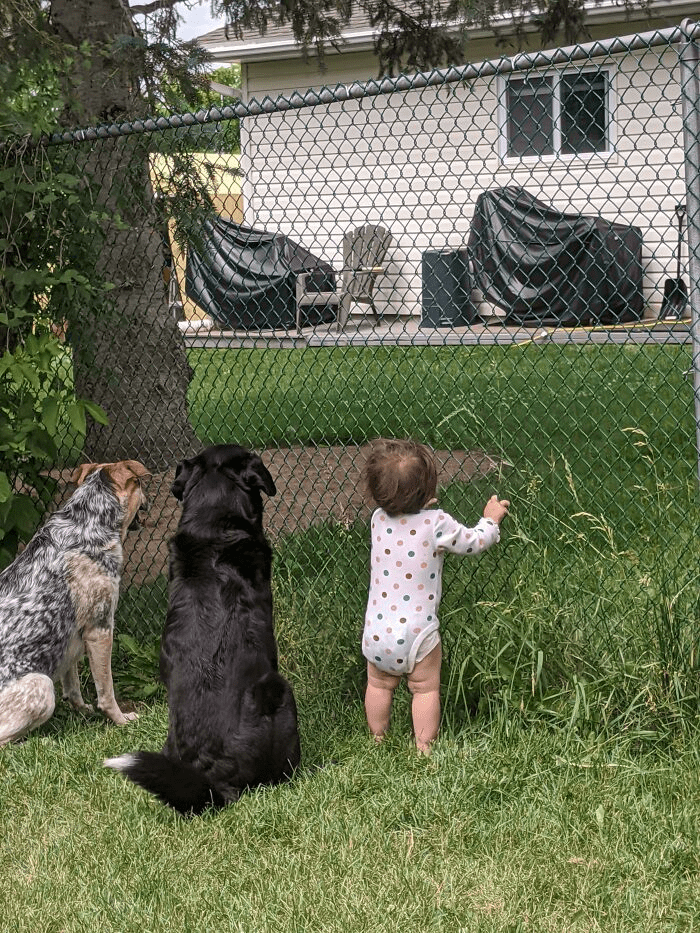 Now, it isn't just the dogs that wait for their daily treats. The neighbor has taken to bringing a snack for the daughter, too. Don't you just love the comradery between the trio? We bet that, when she grows up, this girl will know all about fairness and equality!
Netflix and Chill
For people who enjoy watching movies with their friends, a pet can serve as the perfect movie buddy. They'll sit quietly, and will listen to your reactions. And if it's a favorite film, you can tell them all about it and they won't complain about spoilers.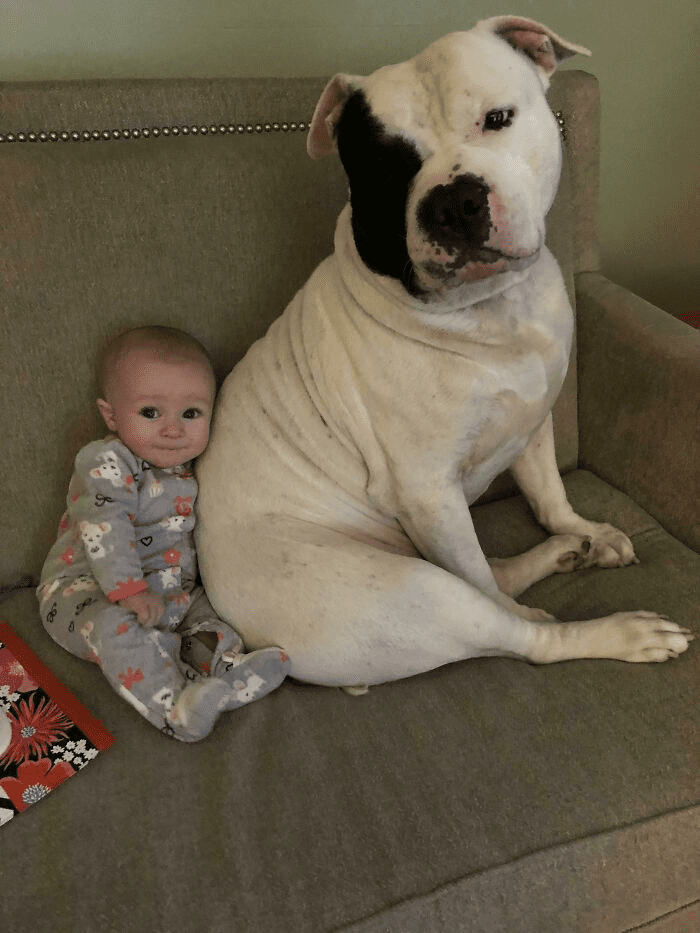 Rico is a rescue dog, and according to the person who uploaded the photo, these two are best friends. This picture was taken right after the duo finished watching Peppa Pig. The smile on the baby's face tells us all we need to know — they loved watching TV together!
Snuggle buddy
Pets can become extremely clingy to their owners. As a result, if you enjoy being clingy around your loved ones, you will enjoy clingy pets. According to the person who uploaded this image, the dog will fit into any space as long as the child is present.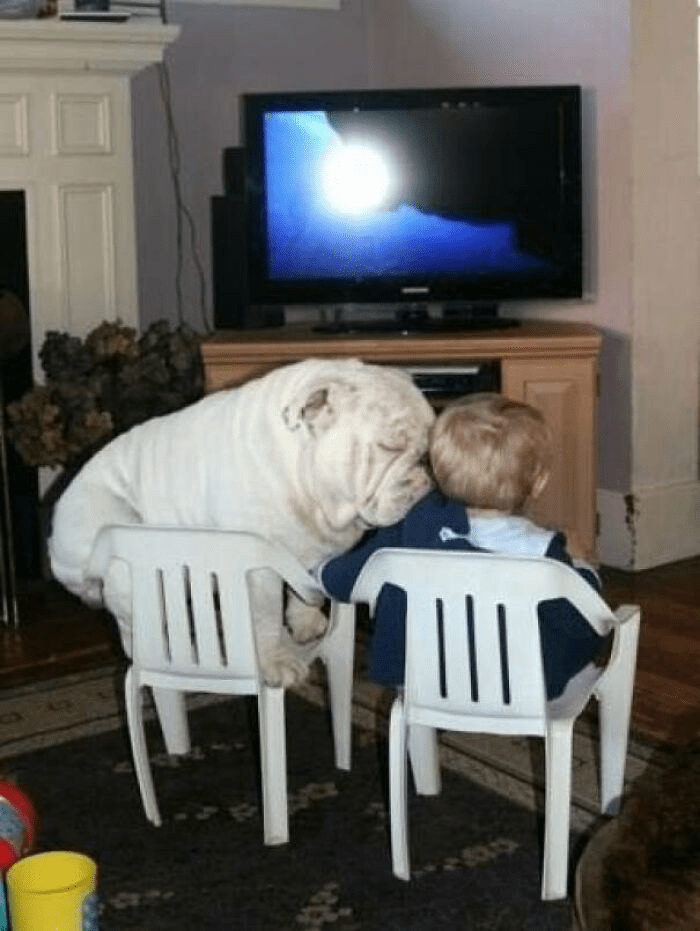 This doggo has taken on the philosophy of cats that says "if I fits, I sits" — at least, whenever his human is nearby. He might not be able to fall asleep, wedged in like that, but we can tell that the dog is as relaxed as possible. After all, his best friend is next to him!
Secret Service
All dogs, big and small, have an innate instinct to protect those they love. Some dogs take their role as guardians very seriously — like these two pooches. Their long jowls and furrowed brows make it look like they're members of the secret service.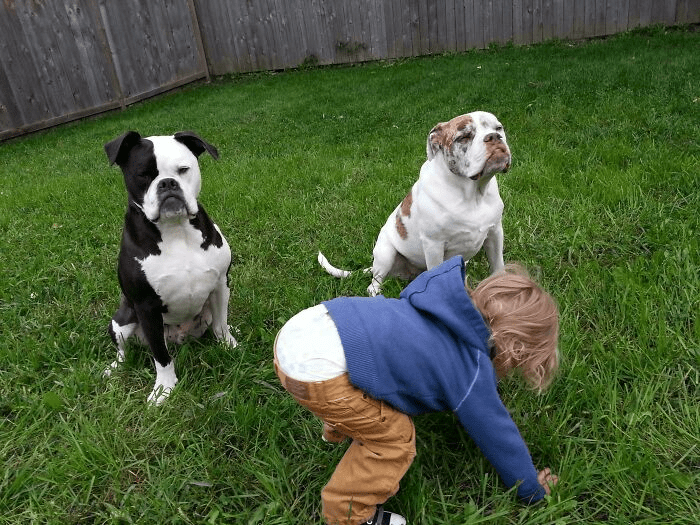 Although some dogs are big goofballs without a single mean bone in their body, any dog with a child in the house can turn into a guard dog in seconds. They won't let anything happen to the little human in their care.
Puppies are good teddies
Who needs a teddy bear when you can snuggle up with a puppy! Imagine being surrounded by these adorable creatures; you'll undoubtedly get a good night's sleep. Don't just take our word for it. This boy is clearly having a peaceful rest next to his companions.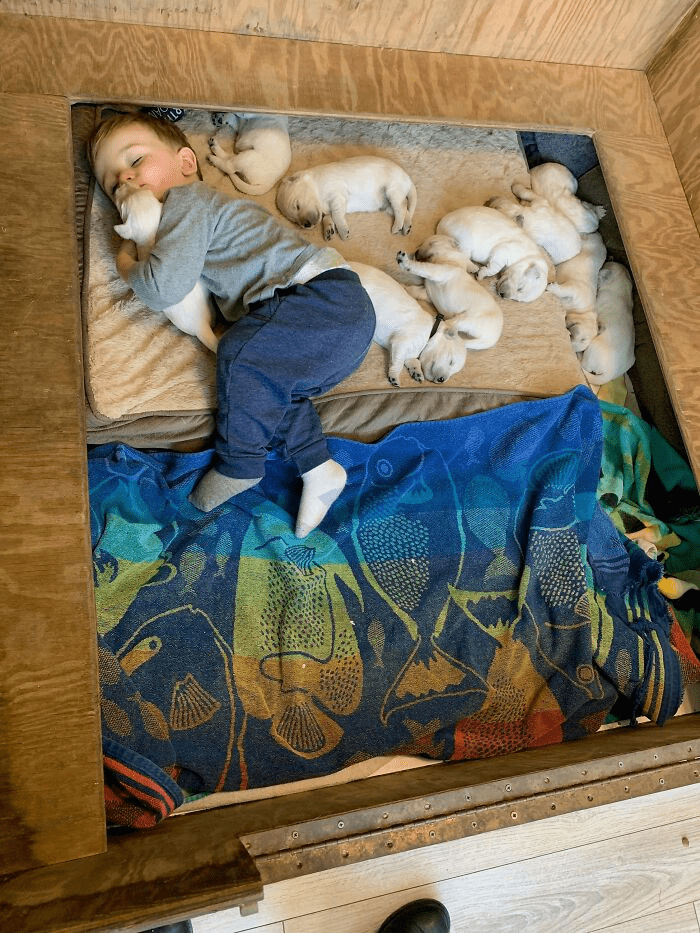 Who do you think enjoys the cuddle more: the boy or the puppies? We love how gently the boy is holding the puppy in his arms. The slow breathing, soft fur, and body heat are more comforting than any stuffed bear.
The Astronaut Walk
Walking your dog is likely one of their favorite activities. Okay, dogs love basically every activity, but walks are special. The excitement dogs show when the leash comes out can energize little kids, too. Encourage them to join you on long walks.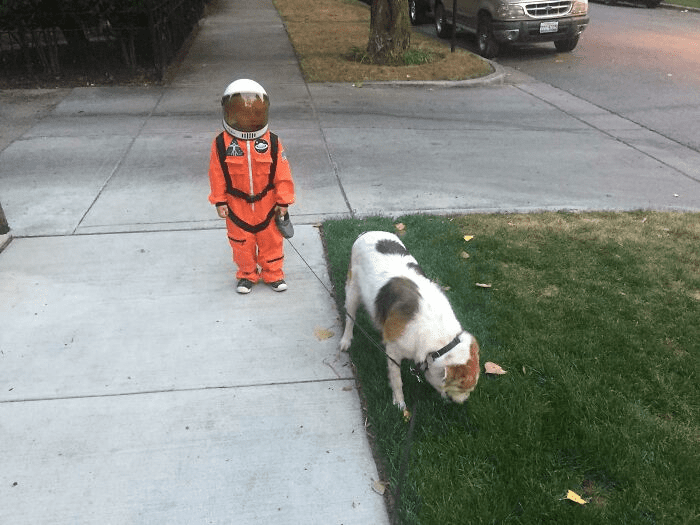 If you're lucky, your little one will offer to take the dog on a walk. This boy was more than happy to go out with the family dog, and made sure to dress for the occasion. Outfit aside, it's adorable to see children take on this kind of responsibility.
Great moments
Such images warm our hearts and make us want to get a puppy. The fascination on the child's face is tangible. And the puppy's, too. They're both intrigued by each other's presence and are curious to meet their new BFF. We love it!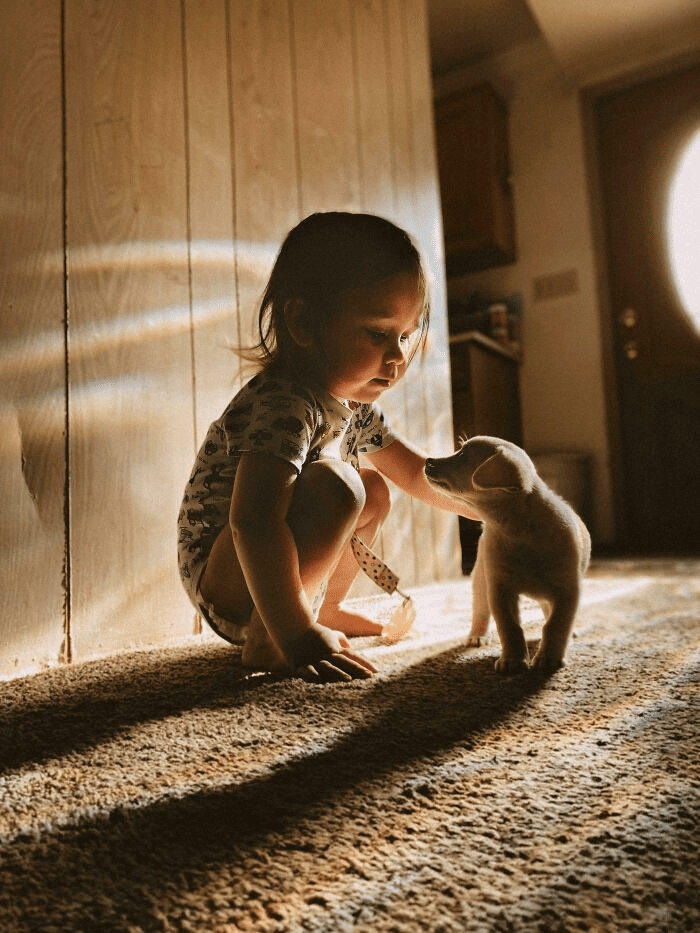 They say a picture speaks more than a thousand words, and that is true for this photo. There are no words to describe the bond between a child and their dog. The parents must have been happy to capture such a sweet moment that they could cherish forever.
Picture perfect
It's impossible not to smile when you see your child in this position. Now, imagine that innocent sleeping face curled up on a pile of puppies. This basket is one big bundle of innocence; the kid looks so relaxed and comfortable.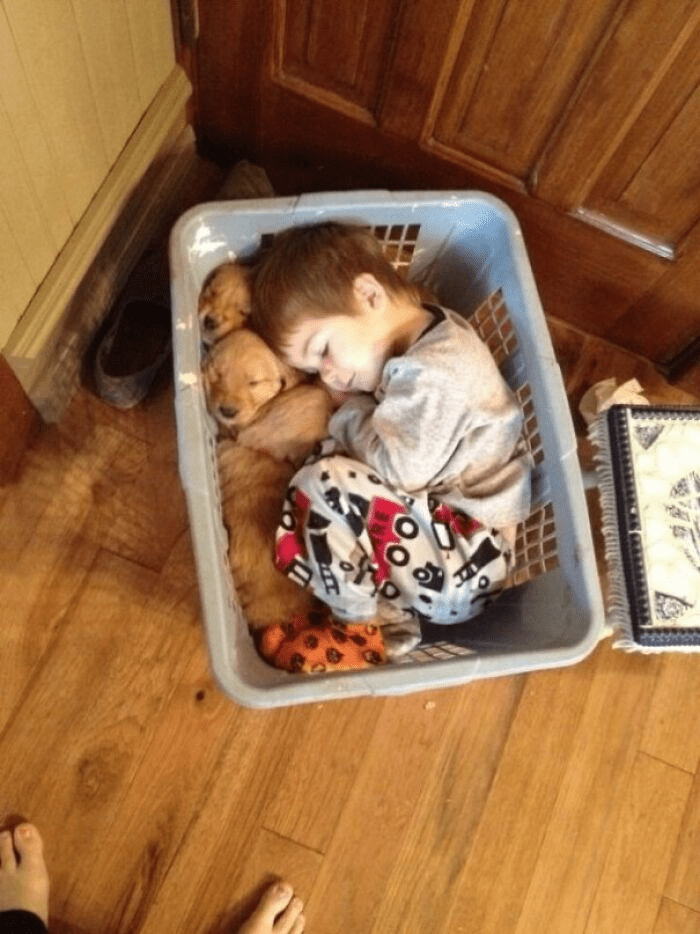 We'd think that it wouldn't be very comfortable to sleep like that, but the child and the puppies clearly find comfort in each other's presence. Spending time with a loved one is something to be treasured, and this kid understands that better than most.
Bodyguards
Babies seem so vulnerable that new parents may feel overwhelmed trying to keep them safe at all times. This child's parents had the best idea: hire some bodyguards! The dogs might be twice as big as their human charge, but we can tell that they won't hurt him/her.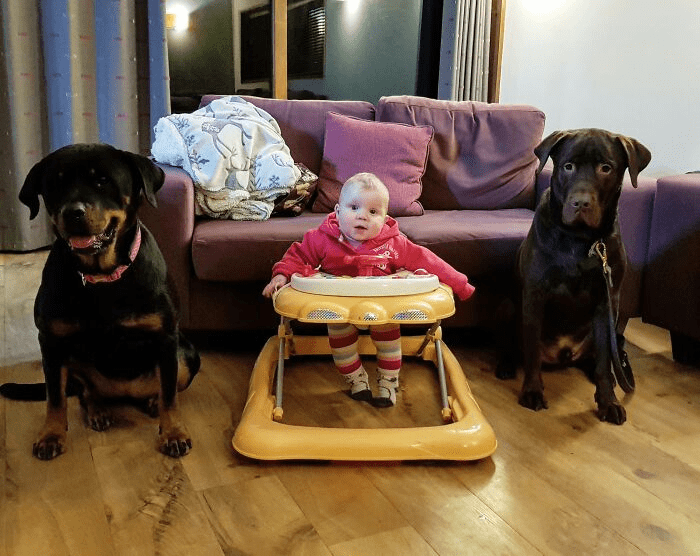 Strangers would have a hard time even approaching this kid with these two doggos standing guard. Even if they are just big softies, their mere presence is enough of a deterrent for some. And looking at their faces, all three are happy to know each other.
Hold on!
Sadly, we don't outlast our dogs, but the precious years a child and their dog spend growing up are worth it. These two images were taken 12 years apart. As the girl grew, so did her bond with the family dog.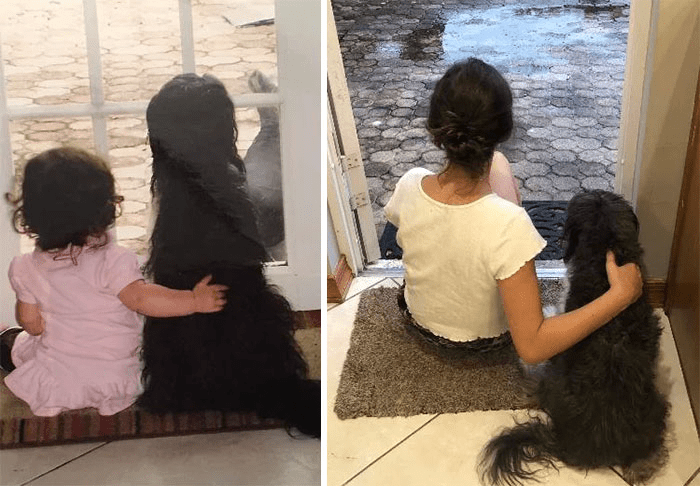 Only the photographer knows if these were staged, or if this was not an uncommon position to find the two in. At the very least, they seem comfortable together. Rain or shine, these two are always happy in each other's company.
So Adorable
Meet Archer and Nash. Archer is a two-month-old black lab, and the cutie on the right is just seven months old. While they might not grow up together — Archer is the pet parent's nephew — they're sure to bond with one another.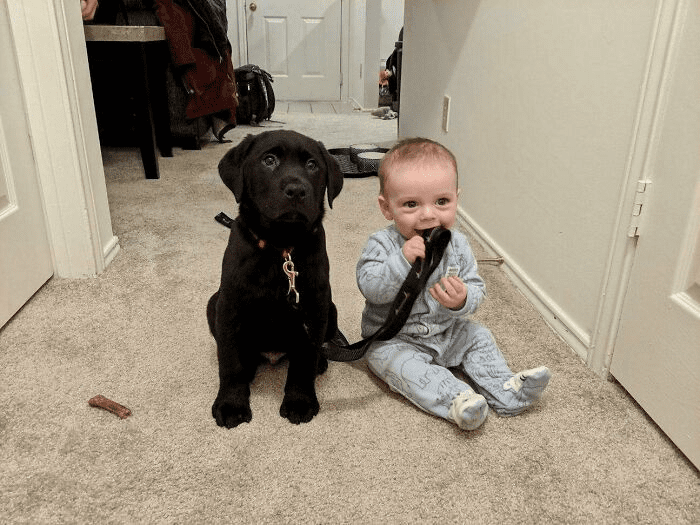 Nash is thrilled to have a new friend, and Archer looks like he wants to go for a walk and is asking if his parent will let the two go outside. We hope that the duo gets to spend a lot of time together, even if they don't live in the same household.
Party with close pals
We miss the days when birthdays were something to look forward to. A yummy cake, presents to unwrap, and a whole party celebrating you — it's a child's dream. Of course, no birthday party would be complete without your closest friends there.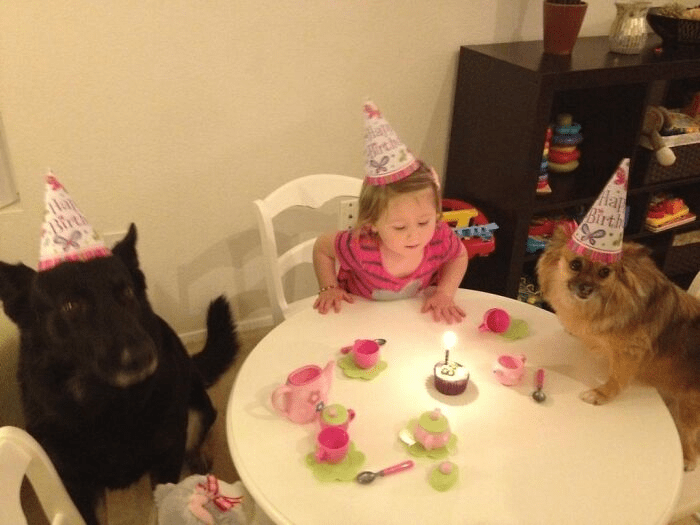 This girl is living her best life with this tea/birthday party. The dogs might not understand the concept of either, but they're more than happy to be by this little one's side. We just hope that they had some dog-friendly cupcakes to share.
Making New Friends
Not everyone has the luxury of having a pet dog, but that doesn't mean that their kids need to grow up without one. This body doesn't live with these puppies, but we honestly can't tell just by looking at the picture.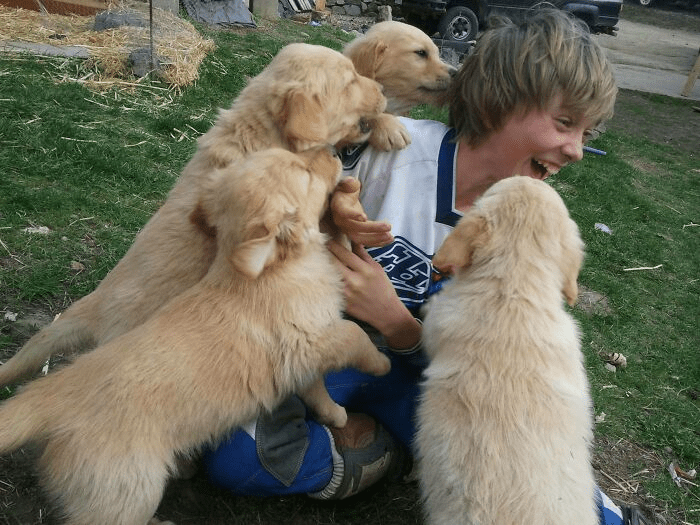 This puppy pile is too much for him to handle — and us, too. The puppies are happy to sniff their new friend, and he is learning that dogs aren't so scary. Even without a dog at home, experiences like this are irreplaceable moments in childhood.
They make you laugh
Our pets are part of our family, and that sometimes means that we treat them like people. Franky's family must treat him like a human often because he's noticed how they sit on the couch and decided to emulate them.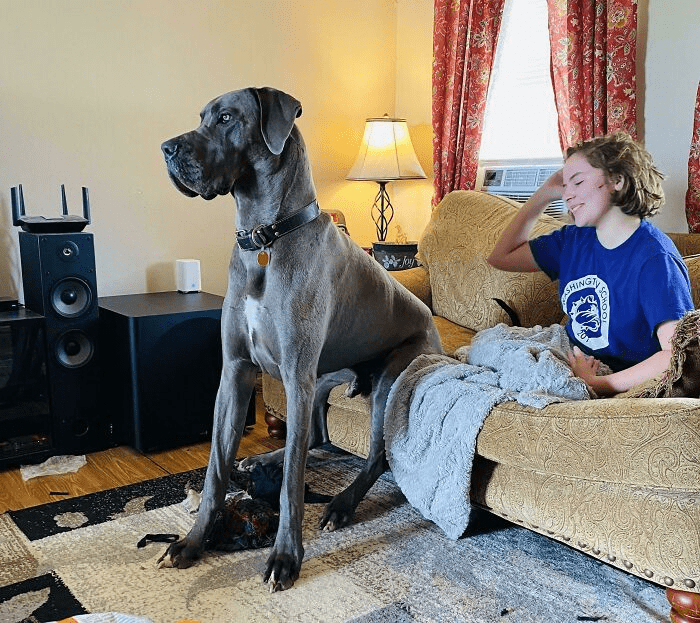 We hope Franky isn't offended that his human companion is laughing at him while he sits next to her. Honestly, it doesn't look very comfortable for him, and we bet that he's thinking, "why do they do this? My legs hurt."
Let's Talk
Most relationships start with a conversation. Whether it's at a social event, chatting on a dating app, or waiting for the bus, the interactions usually begin the same way. This baby and his dog are off to a great start…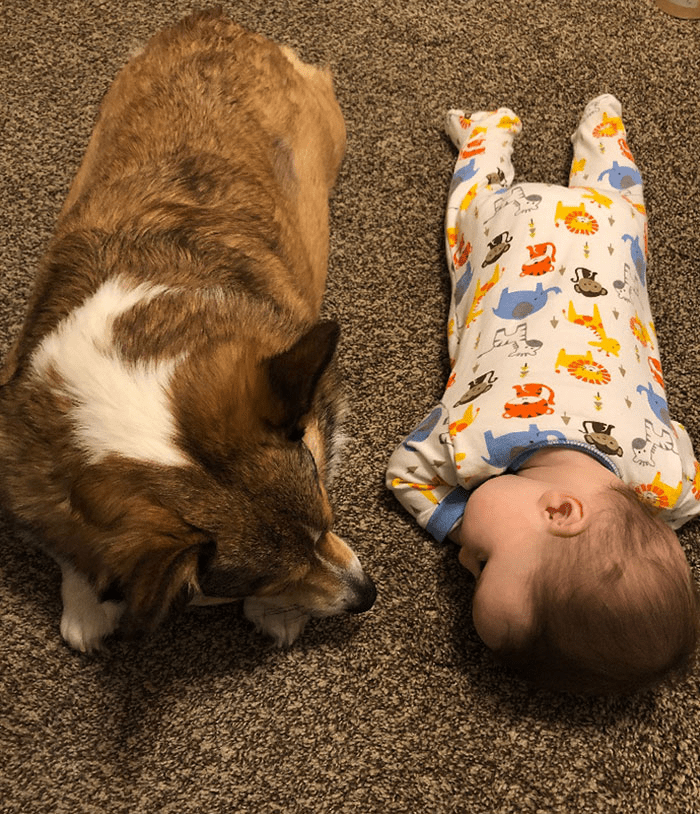 Even from this angle, we can see that the two are lost in each other's eyes. There's a connection being made that cannot be put into words. The person who shared this picture captioned it with "[the] start of a beautiful friendship," and we couldn't agree more.
First Meeting
With infants and toddlers, it can be a bit concerning when they meet dogs that are two to three times their size. But there's no need to panic when you see an image like this. That dog is a gentle giant.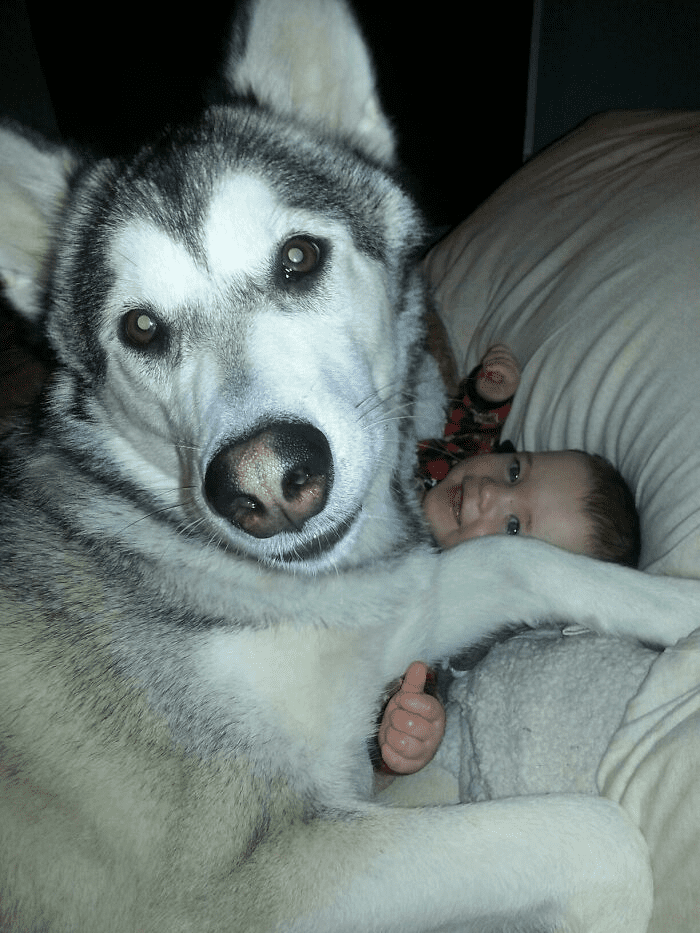 One look at the child's face and you know that this furry fellow is being as careful as can be. It's hard to capture the exact moment you connect with a new friend, but this parent managed to click the camera just in time.
Nap time
One of the benefits of having a dog is that they'll keep your child busy, especially if you're busy. A long road trip is boring for kids, and that usually means they'll bother their parents, but not if they have a friend by their side.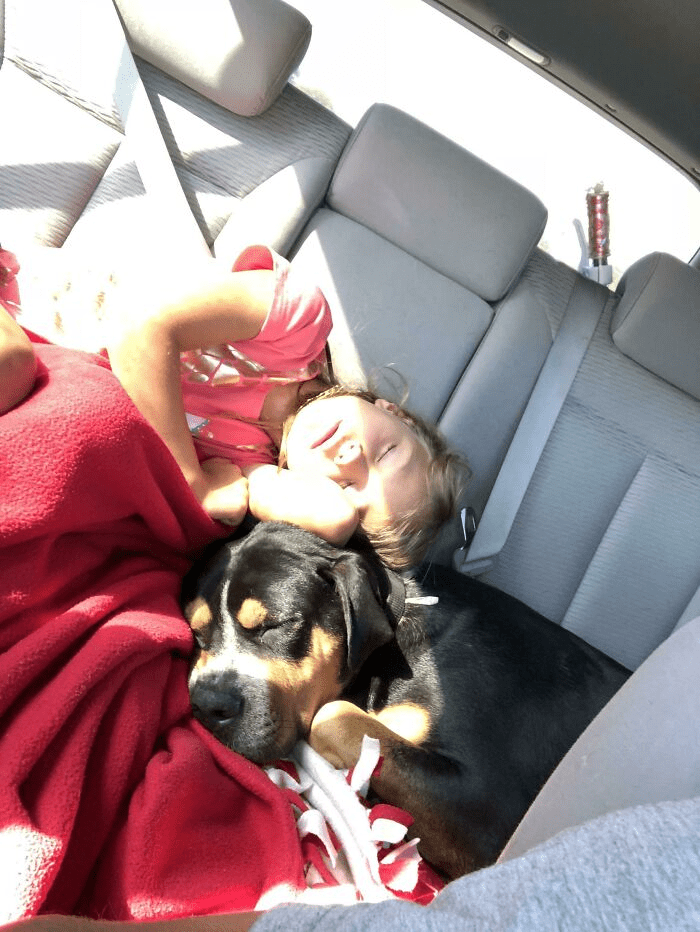 It's hard to feel stressed and anxious when you have a giant, warm teddy bear to cuddle. And the dog seems to feel the same way. These two probably had a busy morning and are recharging to get their energy back for whatever the day holds.
Breathing pillows
Some people can't sleep without a big pillow to hug, and this boy is one of them. We're not sure how the dog feels about being used as a pillow, but the boy is more than happy to drool on that soft black fur.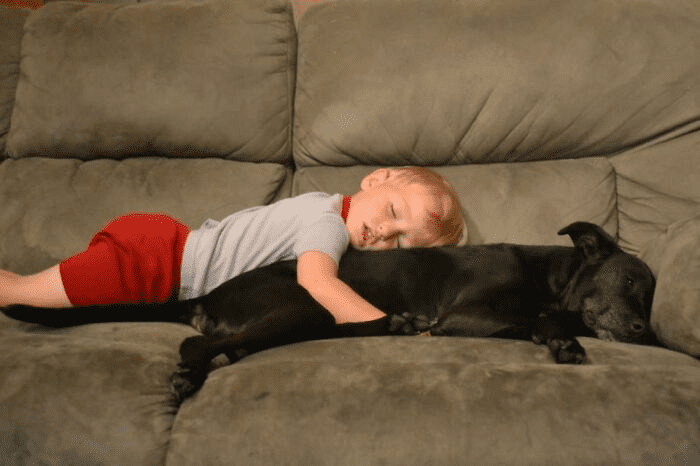 If you're anxious, being with someone that's calm can be soothing. So, having a mellow dog at home can help hyperactive kids wind down. And if they're refusing to partake in naptime, just one cuddle with their teddy bear will send them off to dreamland.
They are my friends
When you look at this image, you might be afraid that the dog will harm the baby. However, the baby's calm demeanor says otherwise. The 4-month-old is content to lay down with his two new buddies. There's nothing that could ruin this moment for him.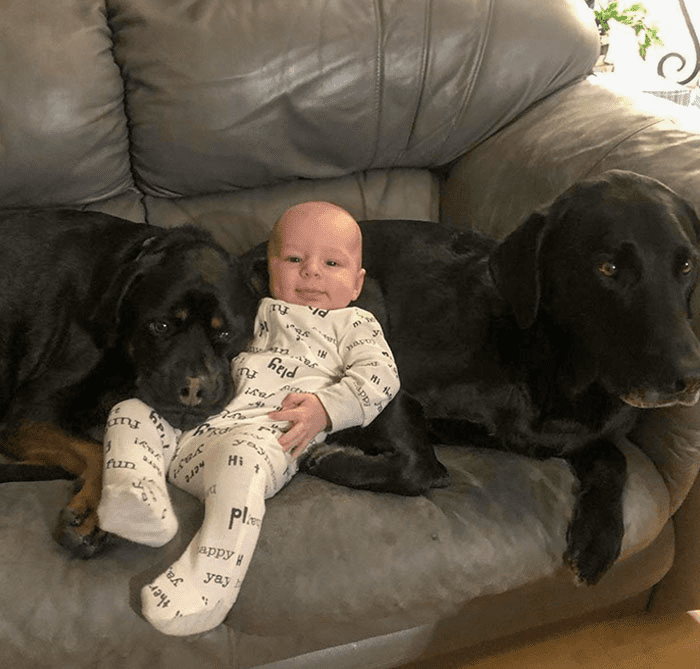 You could call the dogs his protectors as they'd only scare away anyone who wants to hurt him. The dogs look calm now, but we bet that the teeth will come out if anyone dares to disturb the infant's rest.
Get Well Soon
When you're feeling ill, having a "nurse" (certified or a caregiver at home) is comforting. Having someone take care of you and show you love is better than any bowl of soup. And, of course, that nurse doesn't need to be human…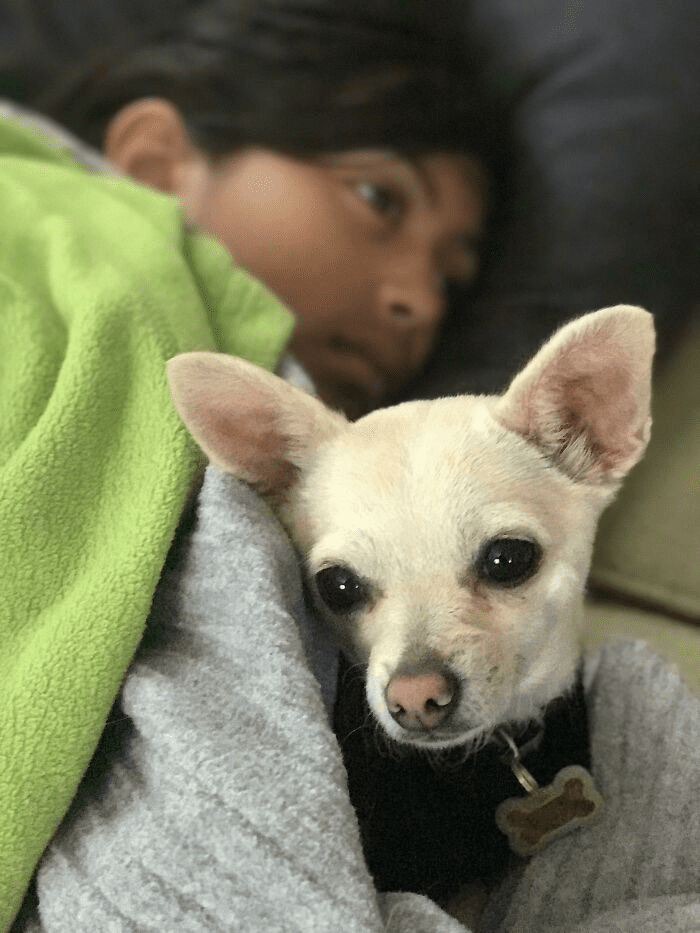 This girl was sick, so her four-legged friend stepped up to play nurse. Take a look at that sweet face! They say to rest a lot when you're not feeling well, and we're sure that the girl got plenty of rest with her dog cuddled up like that.
The happy pair
Babies have the purest hearts and will build bonds with anyone if given the opportunity. The excitement on the child's face in the shot below shines through our screens, and even his dog felt the joy and couldn't help but share a smile.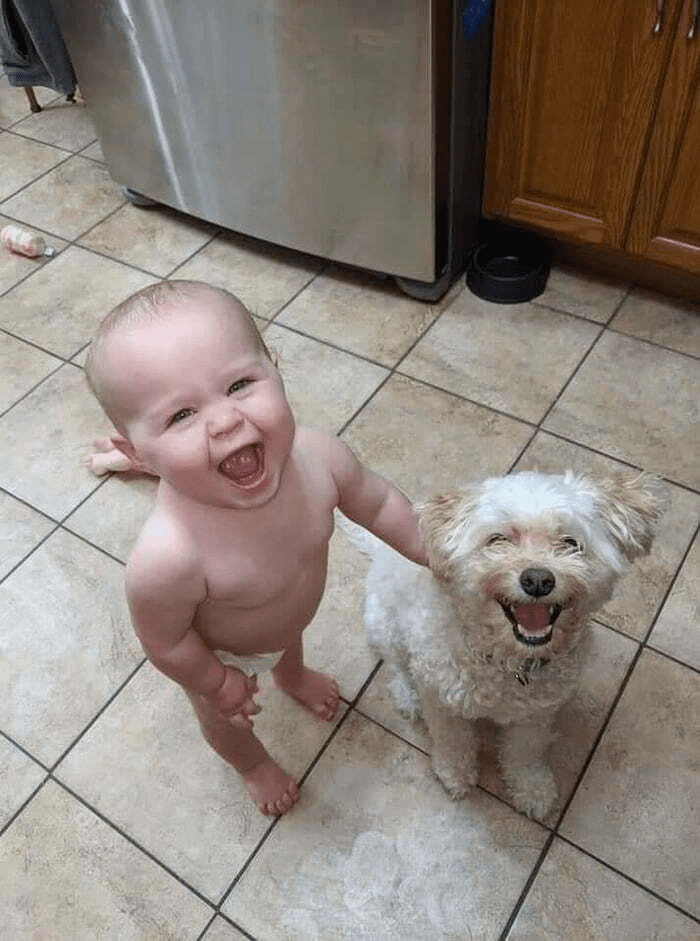 With a dog and a baby living under the same roof, you do run the risk of having two little troublemakers at home. But moments like these make it all worth it. They are clearly having a good time together, and it is difficult to determine who is the happiest.
Lincoln is on a Tutoring Assignment
One of the most important benefits of getting a dog for your children is that it teaches them responsibility. Lincoln was told to watch videos on how to train his puppy. He agreed and pulled up some YouTube videos to watch…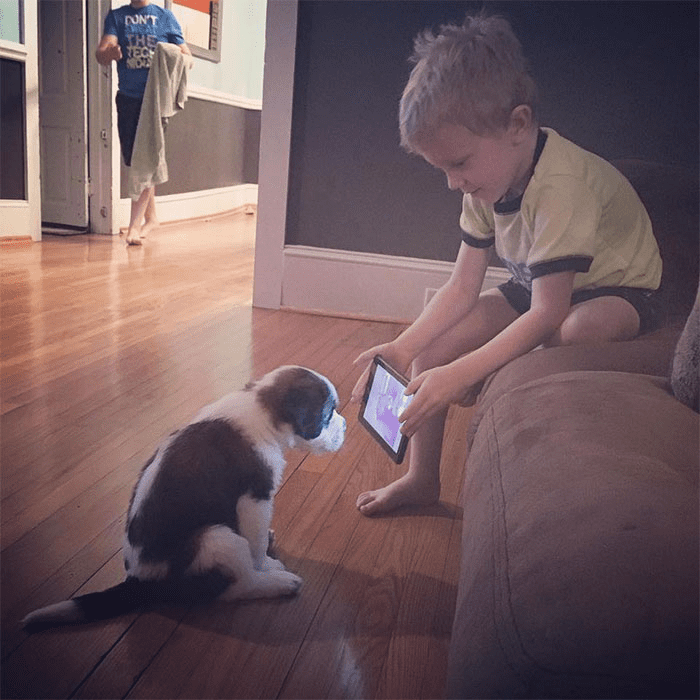 …but he turned the screen the wrong way. Neither of them seem to understand what's wrong here. Lincoln was happy to follow his parents' request, and the puppy was intrigued by the flickering lights on the screen. We almost don't want to correct them.
Where is Elsa?
The best part about having a dog or a pet is how clingy they can become. Consider Elsa who is having a good time beneath Cassidy's sweatshirt. We initially thought Elsa was wrapped around Cassidy's sweatshirt collar until we noticed her head poking out of her sleeves.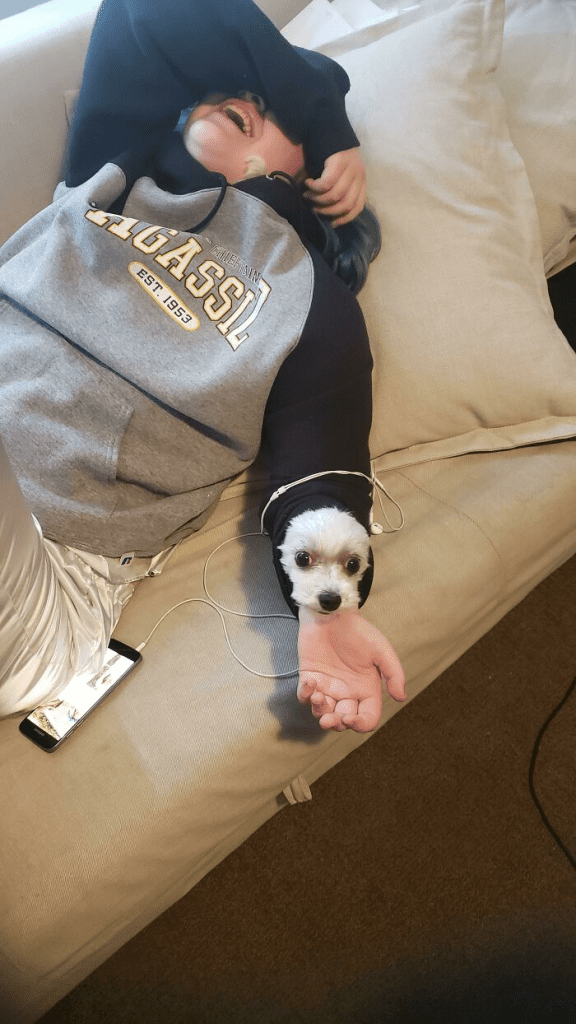 Cats aren't the only pets that will squish into whatever space makes them feel comfortable. Look at how easily the dog fits into her sleeves. Elsa and Cassidy both look adorable and at ease in this position, even though it triggered a laughing fit.
Team for life!
Children are very active and enjoy running around doing various activities. If you leave them to it, it won't be long before they come to bother you. As a result, getting a pet for them can help relieve some of their stress. They'd always have someone to play with.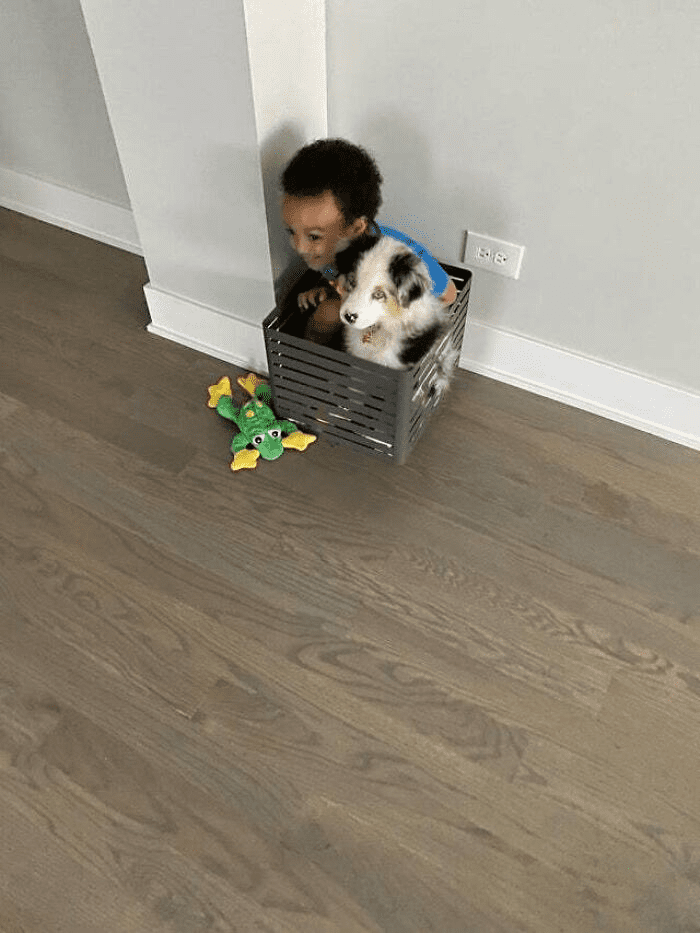 The child appears to be so content that he and his dog can fit comfortably into the basket. They're having a good time hanging with their best pal. The joy on the child's face should encourage you to get them a dog.
Best friends for life
These two are too curious for their own good. The girl and her dog might be stuck inside, but they're just tall enough to get a peek at the outside world. We love that the dog is actually as tall as she is!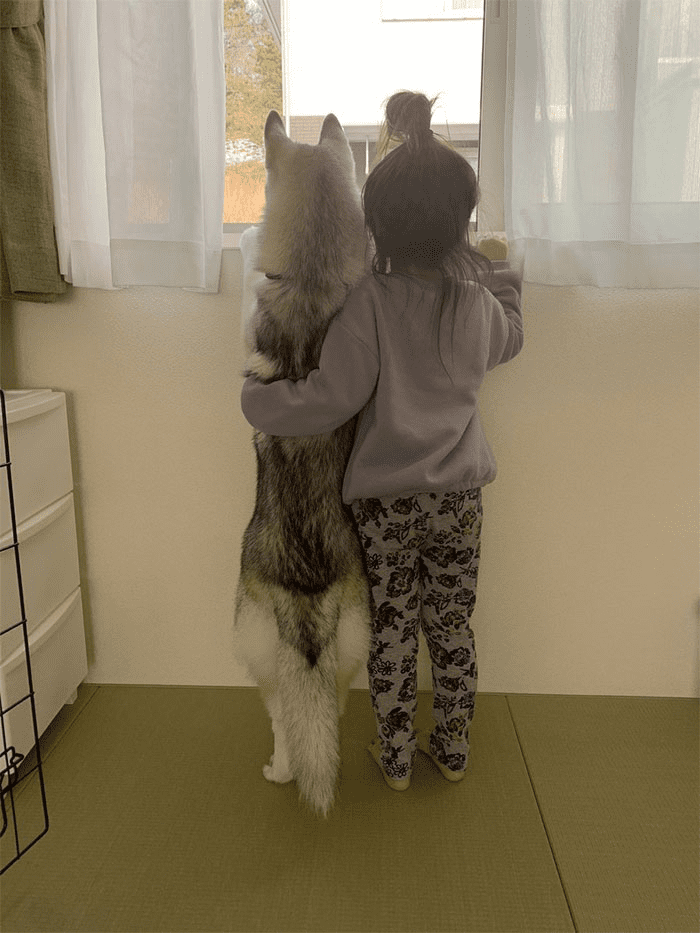 We can tell that these two will grow up and be best friends. This picture shows us just how curious the pair is. Though, we can imagine them causing the adults of the house a lot of headaches as they grow.
They are loyal
This picture is bittersweet. Griffin, the four-legged furball, passed away, likely not long after this photo was taken. The baby's parent shared that they're upset that their child will not get to meet Griffin, their child's first and forever friend.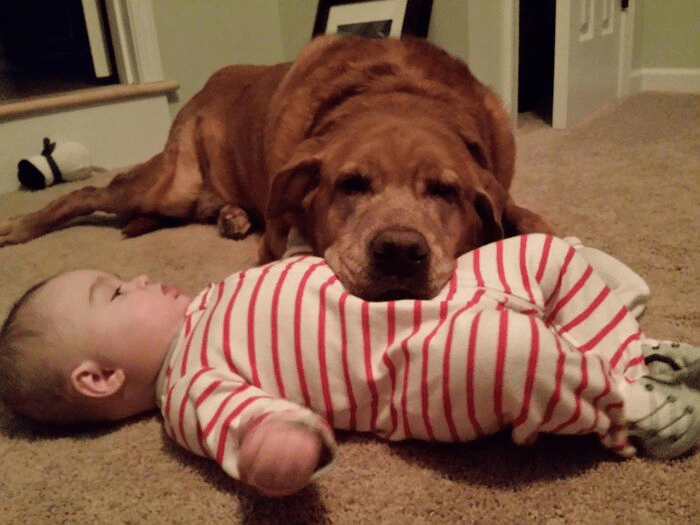 The kid might not remember Griffin, but he'll always be with the family. Bonds like these never go away, and with some pictures, there's no denying that there was a lot of love there. May Griffin's soul rest in peace.
Just for Adorable pictures
If you don't get a dog for any other reason, you should get one just to look at how cute they are in pictures. The girl is even wearing a dotted onesie to match the pup's dotted fur. Okay, that's likely just a coincidence, but it's cute nonetheless.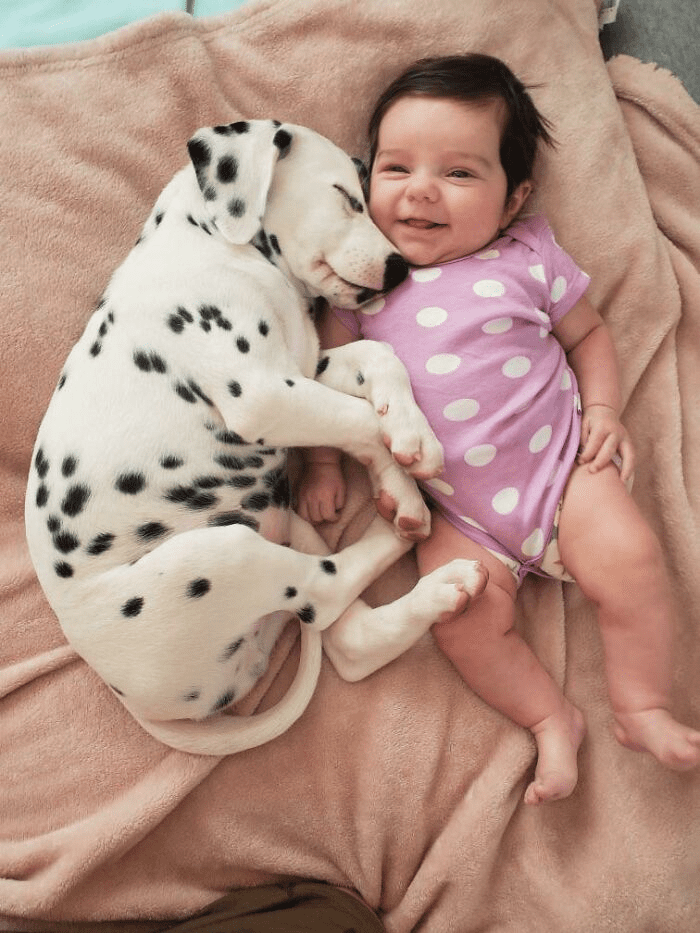 We've seen quite a few pictures so far of babies cuddled up with puppies, but this one is special. For one, the girl is wide awake while the puppy sleeps. She's beaming, showing she enjoys the cuddle, and the pup is relaxed, telling us it's comfortable with her company.
Dogs can read the room
It is common knowledge that dogs are highly cognitive creatures capable of understanding how humans feel. If you are scared or unsettled in the presence of a dog, it will sense it. If you've ever met a therapy dog, you know what we're talking about.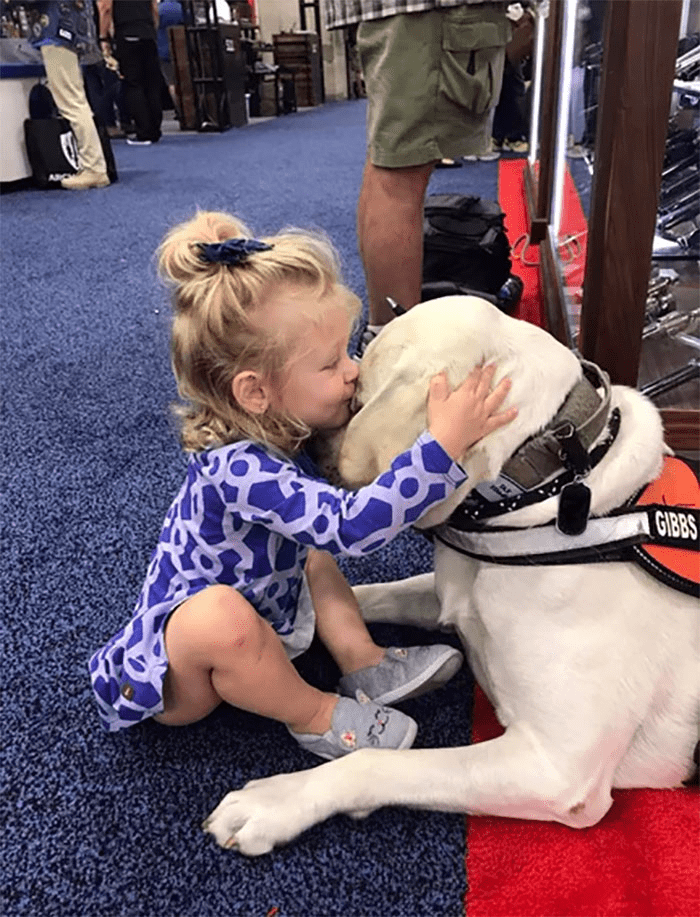 This girl was scared of dogs before she bet Gibbs. But 20 minutes with this sweetie and a lifelong dog lover was born. We don't know if Gibbs is officially a support dog, but he was one for this little girl.
Dogs Stick Around Forever
Growing up is a time when a child requires someone to have their back and protect them. A dog can effectively fill all of these gaps and ensure that your child is safe. They will also provide your child with the companionship they require.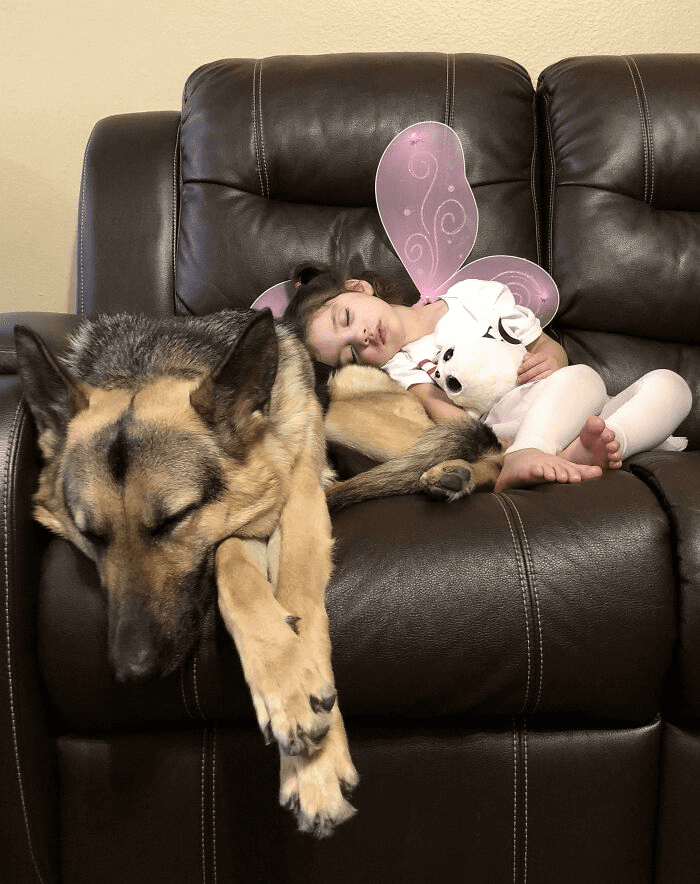 Looking at this comfy yet exhausted duo, we're guessing that the two spent hours playing nonstop and crashed on the couch. Whether it's time for dress-up, a tea party, playing in the yard, or just naptime, you can bet that this doggo will be by her side.
Dogs love kids too
New parents can be nervous when introducing their child to new people, especially pets who can't communicate with words. Understandably, little Oliver's parents were hesitant when bringing him home from the hospital. But Sophie was more than welcoming of the new family member.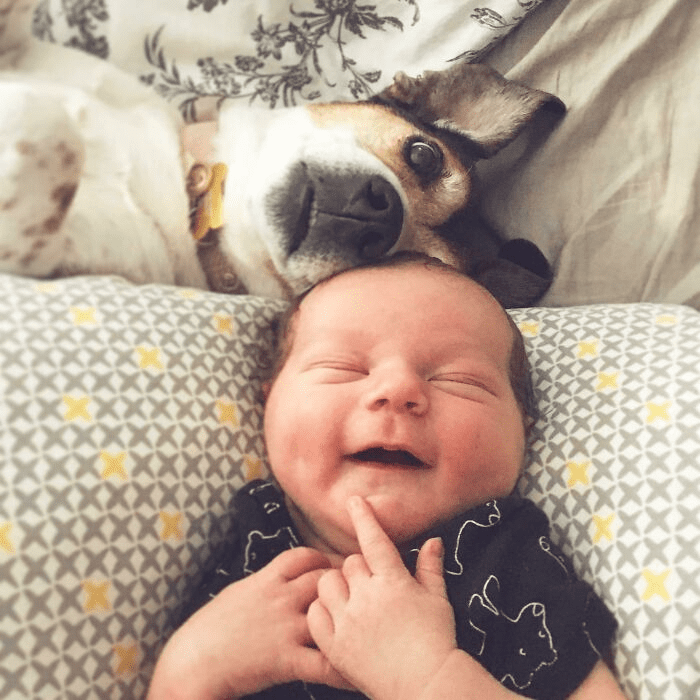 Look at how gentle Sophie is with Oliver. We can tell that she'll be there to protect him. And Oliver clearly feels the love — just look at that smile! Oliver appears to be in complete bliss and Sophie is happy to keep him company.
Cheers to Lasting Friendships
Seeing as humans are social beings, we are always eager to meet new people and form new bonds. Unfortunately, the downside of making friends is that friends may need to part ways at times. However, if you make a pet your best friend, you may never have to deal with this.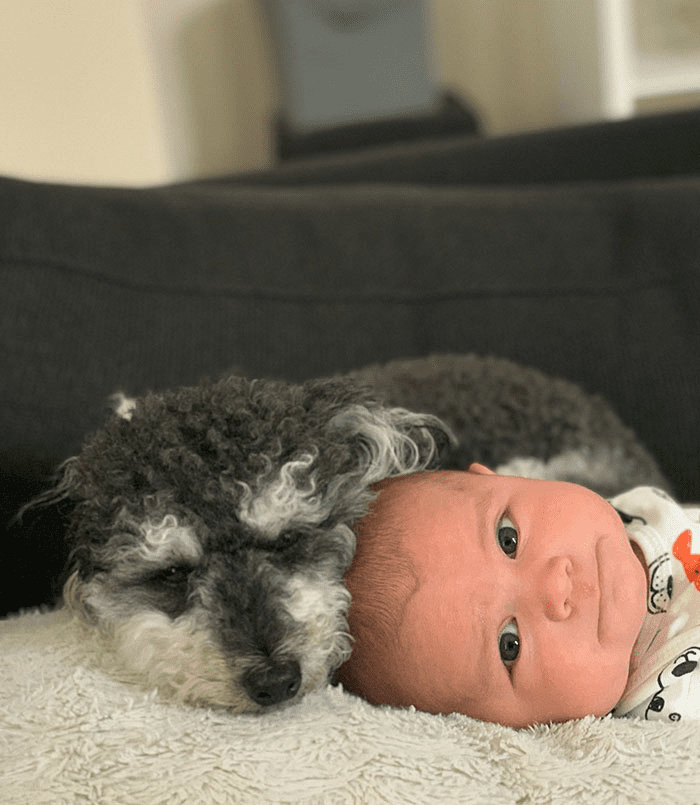 Come rain or shine, your pets will always be there for you — particularly dogs, who remain loyal to their owners under any circumstance. Adopting a dog isn't just bringing another living creature into your home; you're getting your child an everlasting friend.
Costume Contest Winner
Do you remember the little astronaut we met earlier? Well, this two-year-old must have been inspired by the other kid and decided to play dress-up with his dog. The two-month-old German Shepherd isn't training to be a police dog, but he got to pretend for the day.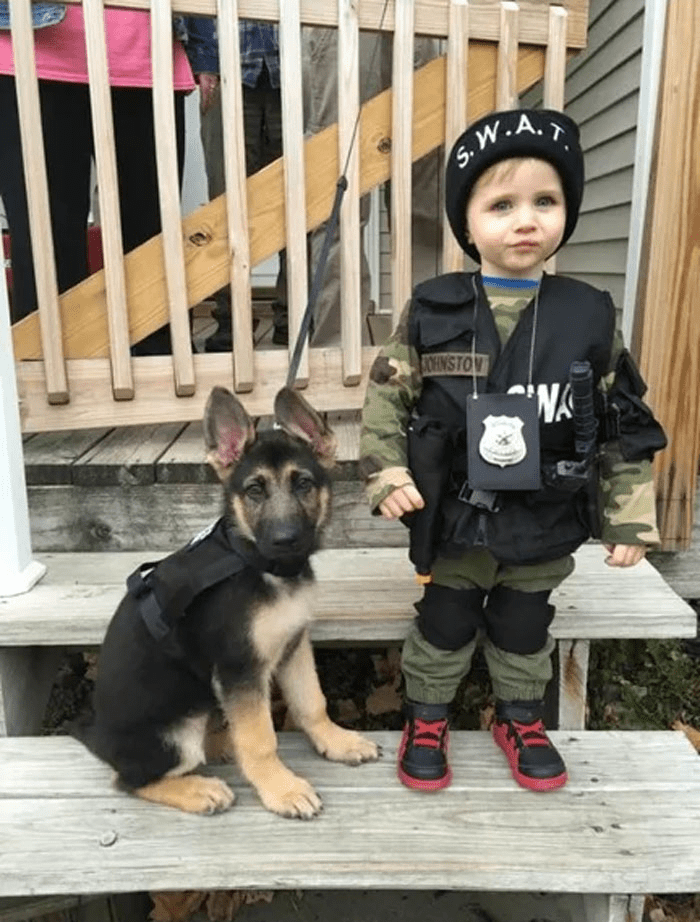 If this was a Halloween costume, we bet that the kid brought in the biggest haul that year. We love when kids involve their pets in whatever activities they are doing. Things are more fun with a friend around and there's no better friend than a dog.
Big Teddy Bear
Earlier we saw a kid using his dog as a pillow, and we're here to show you another. However, this one doesn't look nearly as comfortable. The kid is practically sleeping on the wall, but he doesn't seem to mind as long as he has his dog.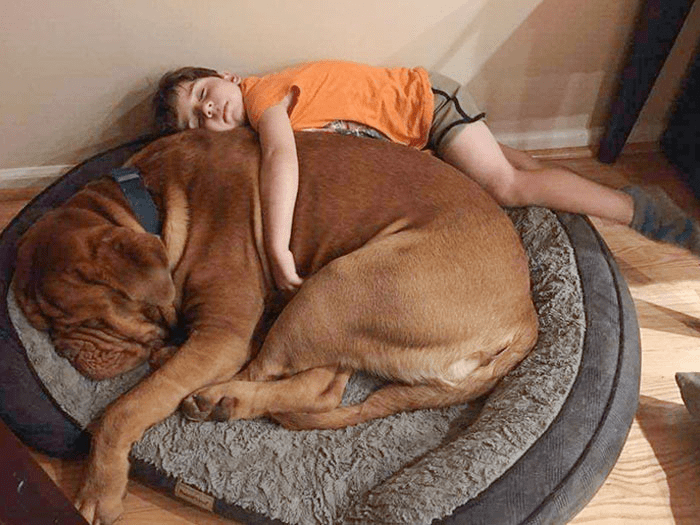 We can never get enough of these sweet pictures of dogs and kids sleeping together. Sleeping is a vulnerable activity, so seeing the contentment on their faces when they're snuggled up like this shows just how much trust there is.
Size Doesn't Matter
It's almost impossible to resist cuddling a puppy in your lap. The tiny creatures just fit so well, and watching them snooze is too precious to give up. There is a major downside, though. If your puppy is used to sitting in your lap, they'll always seek it out.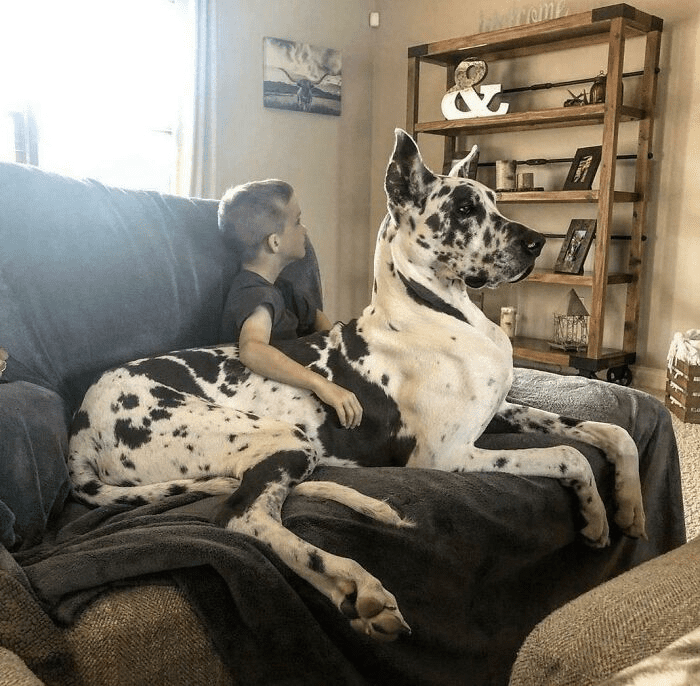 No one told this dog that it got too big to sit in this kid's lap. Well, at least the kid doesn't seem to mind. In fact, we'd bet that this is a regular position for the two of them.
Not A Puppy…
Have you seen those stories online about animals "adopting" other species as their own? Like a cat that adopts a duckling, or, in this case, a dog that saw a baby as her new pup. It doesn't seem like anyone is arguing with the arrangement.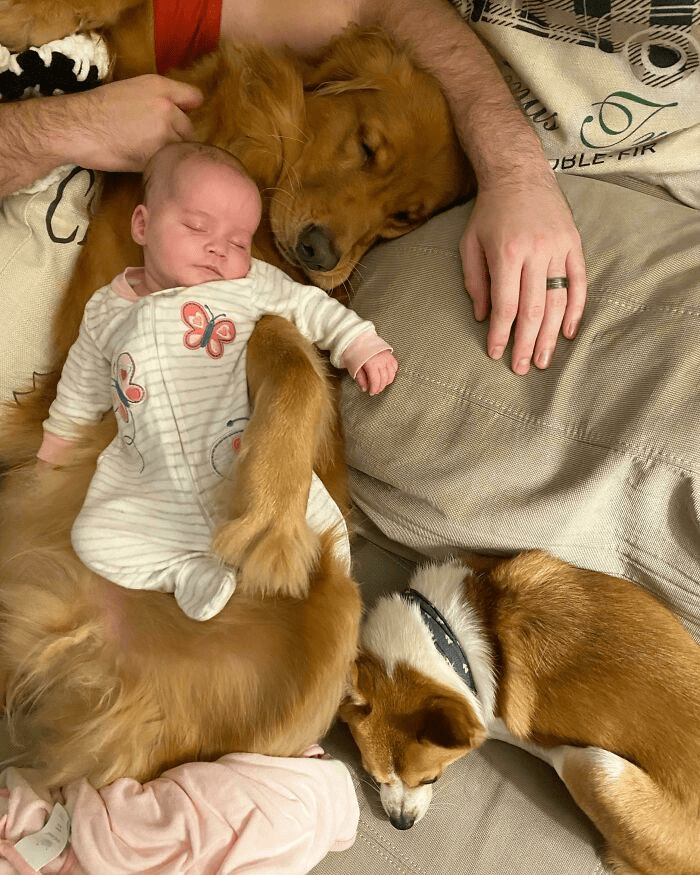 There are few things more powerful than a mother's instinct, so if this dog wants to treat the baby as her own, the parents should be thrilled to have another caretaker in the house. After all, it seems like they won't have trouble getting the baby to sleep with a crib this comfy.
Selfie Time
Okay, we know that this isn't actually a selfie. It's just a close-up of a baby and their doggy companion. The kid looks a bit miffed to have been disturbed from a peaceful rest with their four-legged buddy. The dog, however…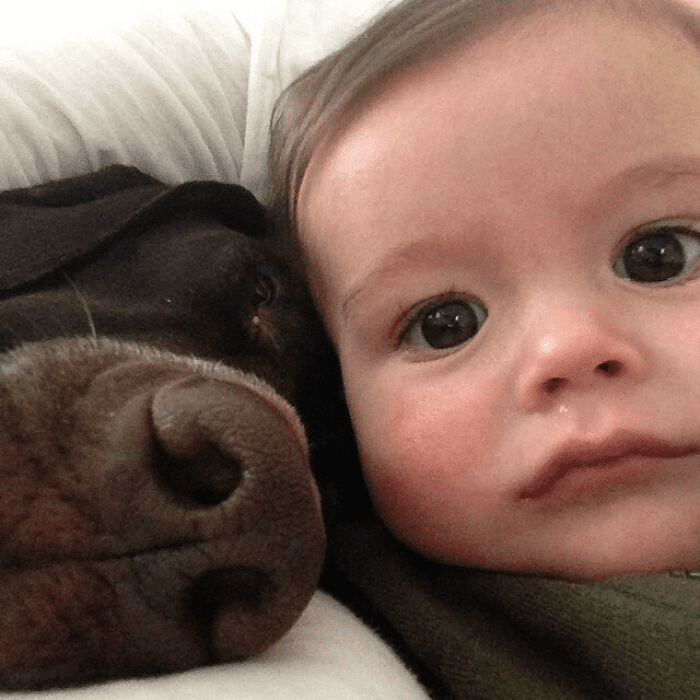 …didn't even notice the lens shoved in its face. It was too happy, and possibly sleepy, to care about anything other than the tiny human by its side. The two noses are so close together, we just want to reach through our screens and boop them both!
Spooning
When people say "spooning," you might think first of a couple embracing each other, but that's not always true. Some humans love spooning their pet pups. After all, they make the best cuddle buddies and fit perfectly between our arms.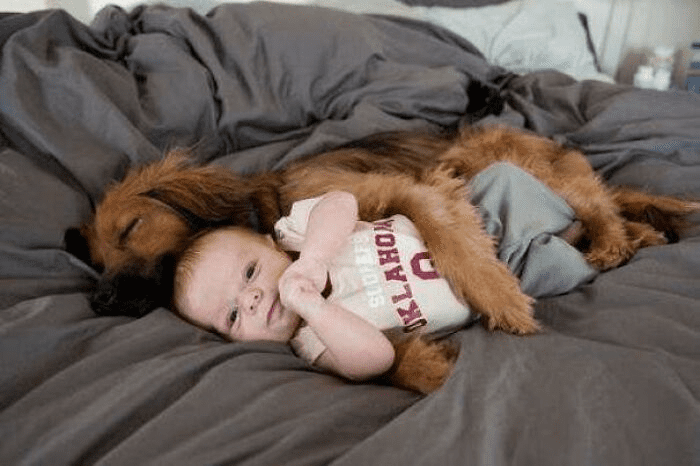 Normally it's a human spooning their dog, but the baby is too small to grasp the concept so the dog took the initiative. We love the four limbs wrapped around the baby, as if saying, without any words, "this one is mine and I shall protect it with my life."
What's That Out There?
Who do you think started this: the boy or the dog? Both seem equally interested in whatever is going on outside. The dog might not be allowed to put its paws on the furniture, but the parents probably made an exception for this scene.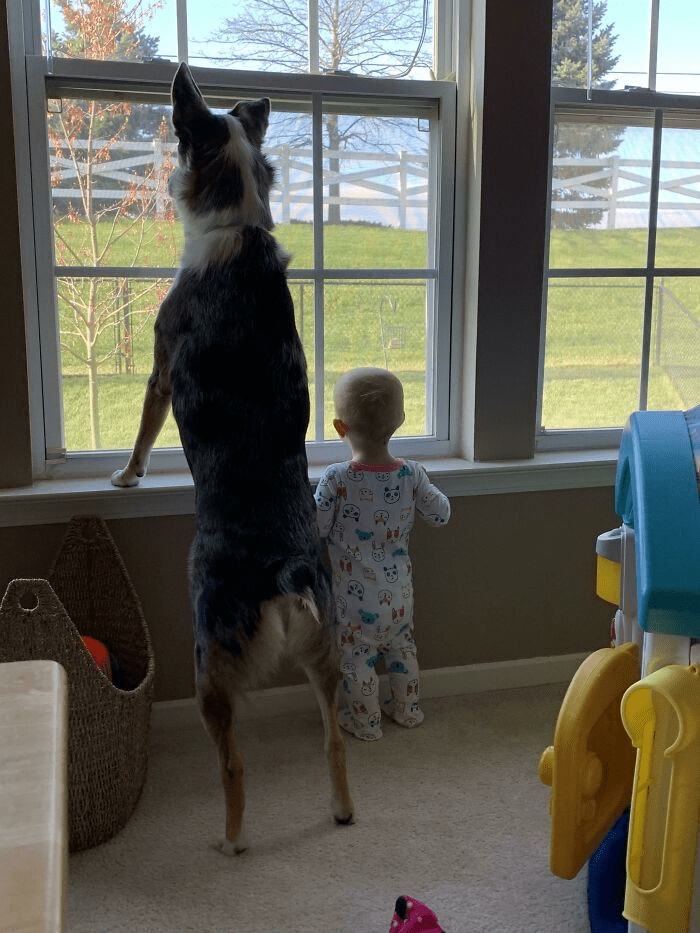 This photo is summed up well by the caption the Redditor gave it: "a kid needs a dog, and a dog needs a kid." They might not speak the same language, but we can see that they understand each other.
Step Into My Parlor
According to the person who took this photo, their son was searching for the family dog. That's one smart kid! He knew to check behind the doggy door to look for, well, a dog. Though, the scene reminded us of a child opening the door as an invitation.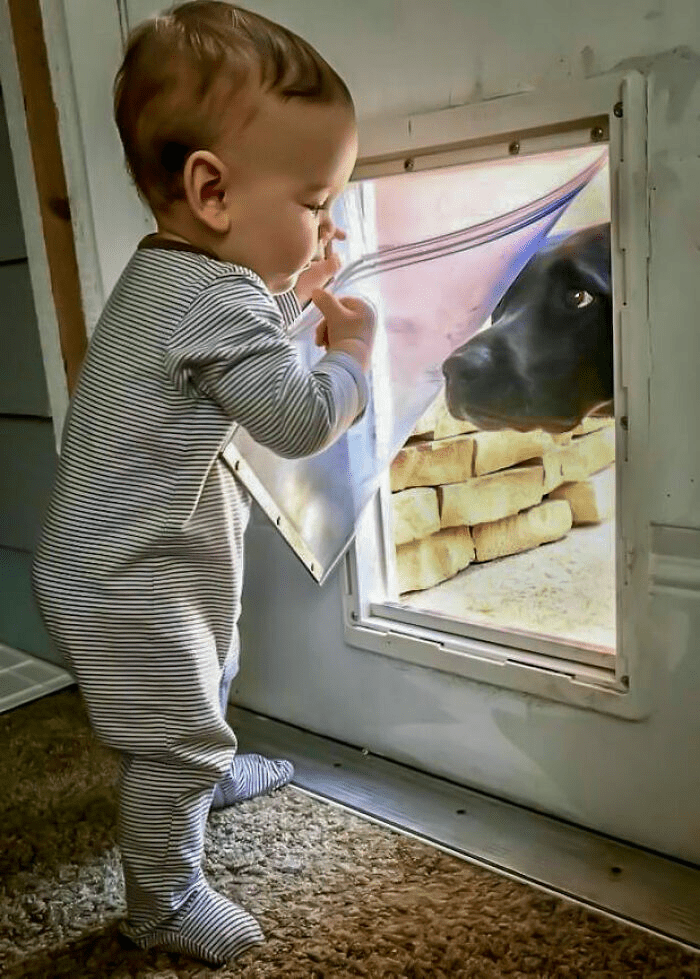 We don't know why the dog was outside, and apparently neither did the kid. Obviously, it wouldn't do for his best friend to be trapped outside, so the boy had to open the door and welcome him in for a playdate.
Let Me Go
The first thing that catches our eyes is the cute cuddly duo, but let's first look at the rest of the room. We can tell by the strewn toys that the boy just finished a very busy afternoon and was in desperate need of a nap.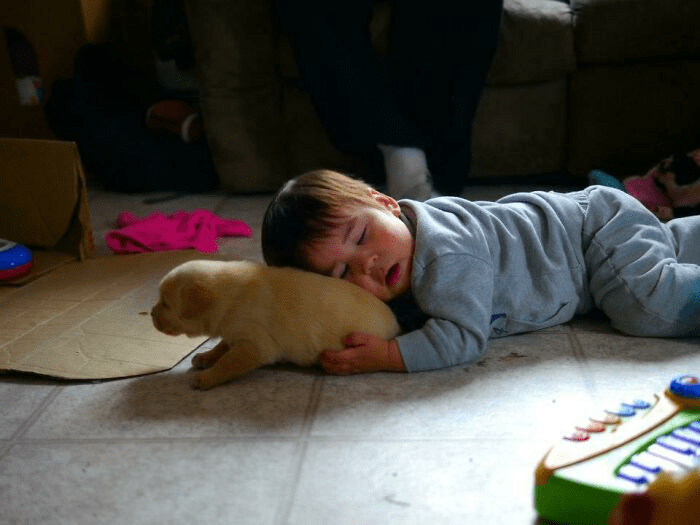 For once, we're not sure if the puppy wanted to be held like that. We'd like to imagine that it was just shifting to find a more comfortable position, rather than trying to wiggle free and trot away. Maybe they can pull an Indiana Jones and swap out the pup for a toy.
Sit With Me
As we've said before, kids don't need to have their own dogs to form a bond. This kid made friends with his neighbor's dog. One thing the Redditor didn't reveal was if this was taken in their own yard or the neighbors'!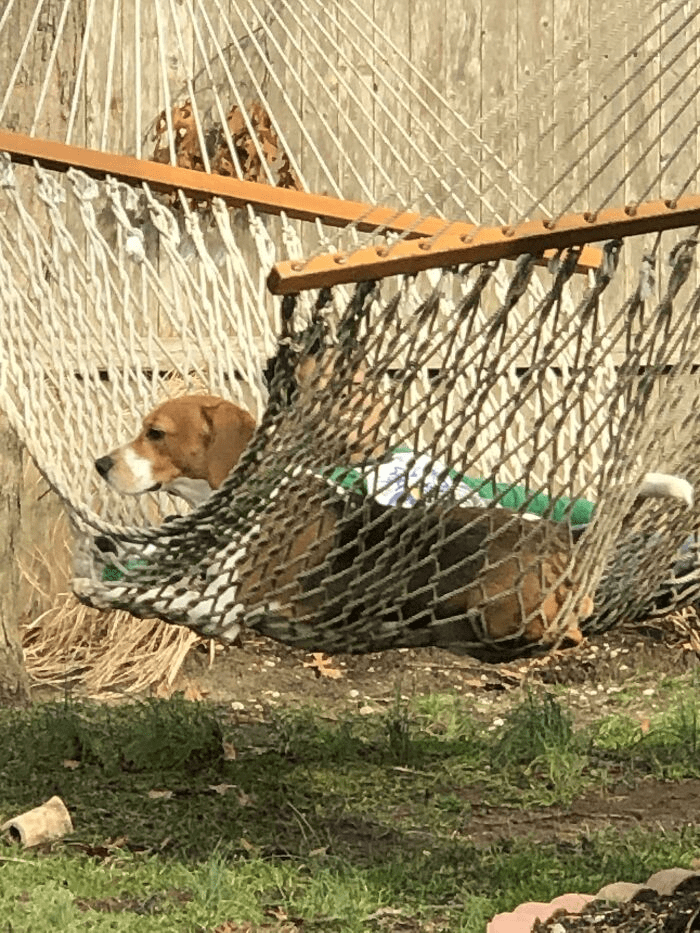 That looks like the most comfortable hammock in the world. A dog is a companion for life, and this boy knows it better than anyone. We bet that they do this often, or at least hang out whenever the kid's not in school.
Pose for the camera
This big doggo doesn't live in the same house as this newborn, but that doesn't bother him one bit. This dog is proud to be posing next to his human nephew. He's already excited for the kid to grow up a little so they can play together.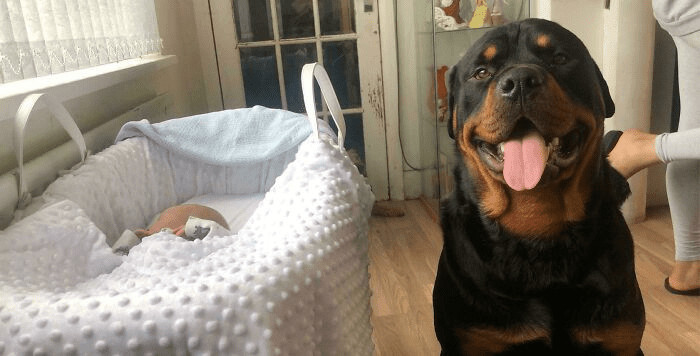 We know that dogs don't smile as we humans do, but the dog looks like he's beaming. And who wouldn't be happy when meeting a new forever friend? We hope that the parents — of the dog and the baby — take plenty of pictures as he grows up.
Big Boi
By now, we hope that you have learned that big dogs pose no threat to small children. In fact, they are safer to have around, as they can protect their small human charges. This good boy is one such dog that is always there to protect his girl.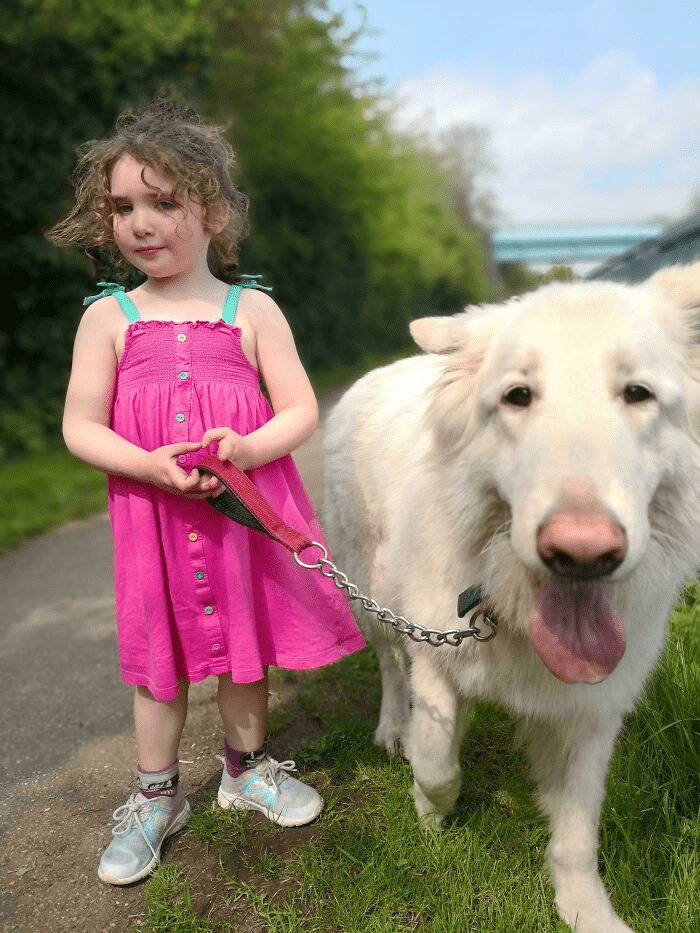 Though, we're not actually sure how much bigger the dog is. The camera angle makes it look like he's going to say hi to the photographer, distorting the proportions. Still, we have to applaud the girl for being responsible and taking the dog for a walk.